Greece has it all, historic monuments, clear blue skies, the warm Mediterranean, and a rich heritage filled with delicious food and passionate music.
Your travel senses will be on high alert whether you're sailing into a vibrant harbor in April, or relaxing on a sun-drenched deck while listening to the crashing waves in the height of July, or visiting the Acropolis museum in November.
No matter what, there's always a best time to visit Greece. Here's our picks for the best time to enjoy this Hedonists rejoice!
High Season: June. July, and August
Greece experiences its highest tourist traffic and sweltering summer temperatures, with some days exceeding 86°F. There are plenty of sights, tours, and ferries available, and hotels are charging top dollar. Beaches are crowded, but there is a terrific summer vacation vibe in the air, and is the best time to travel to Greece.
Shoulder Season: April, May, September and October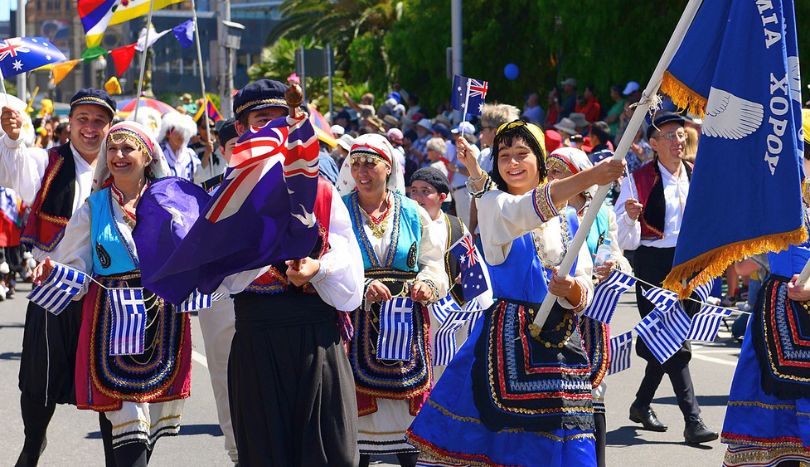 Visit in late spring or early autumn if you can, when the weather is milder and there are less tourists.
Make sure to stop by a few remote communities where you may still experience traditional culture.
Explore by renting a car. Stop for lunch, browse the neighborhood stores, and indulge in some local pursuits. A local "kafeneio," a seafood taverna adjacent to a port, and a traditional live-music venue should all be visited. Here, you'll encounter Greek culture at its most vibrant, and is the best time of the year to go to Greece.
On the first Sunday of every month, barring July and August, the historic sites in Athens provide free admission. Outside of the summer season, domestic flights and island ferries have limited timetables.
Low Season: November, December, January, February, and March
Many hotels, attractions, and restaurants close and the country is devoid of tourists, particularly on the islands. If you don't want to battle the crowds, this is the best season to visit Greece.
GREECE WEATHER
However, you might strike it fortunate and find an Airbnb or rental for a small fraction of the summertime cost. The ferry schedules are erratic, and temperatures plummet, with snowfall possible in Crete and Athens.
Here's the month by month breakdown of key events and attractions, Greece weather by month, and more.
1. Most Islands go into Hibernation in January
Travel to Greece this time of the year is a bliss as there would be less crowds. During the winter, most islands go to sleep. However, the capital and surrounding mainland welcome guests with non-tourist festivities. Count on hospitality to provide local knowledge and warmth.
Even snow is visible from Delphi and Meteora. However, key attractions are delightfully uncrowded in towns like Athens, which is still open for business. Without the crowds of tourists that accompany nice weather, you'll have the ancient remains to yourself. Just come prepared with the appropriate travel supplies!
Key events & festivals – The day of Christ's baptism by St. John is observed as a national holiday in Greece on January 6. The main ritual, which is held in Piraeus, blesses rivers, lakes, and the seas.
January contains a few entertaining events, such as Epiphany, where a cross is thrown into a body of water and swimmers are supposed to retrieve it.
The Patras Carnival is considered as the most spectacular festival of the year. People take to the streets during this time to parade, dance to loud music, and mingle with everyone who has traveled from afar to celebrate the New Year.
2. Witness Lesser Crowd in February
The best time to visit Greece is in February if you want to have the nation to yourself. Even though it's still rather cold outside, there are less raindrops, allowing you to spend more time outside.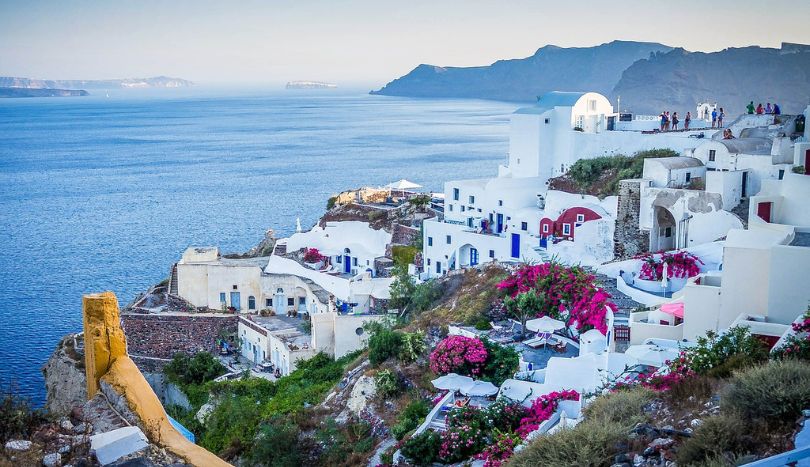 If you're traveling to Greece in February, consider visiting Santorini, where you might be able to enjoy some winter sun without the crowds, or Athens, where you can explore the country's rich history.
In every location, you'll discover costs that are significantly lower than they were during the busiest time of year.
Greece has a great time in February because it is Carnival month, which is observed all around the country.
The finest parties, however, are held in and around Athens and Crete, where citizens throng the streets to eat, drink, dance, and march.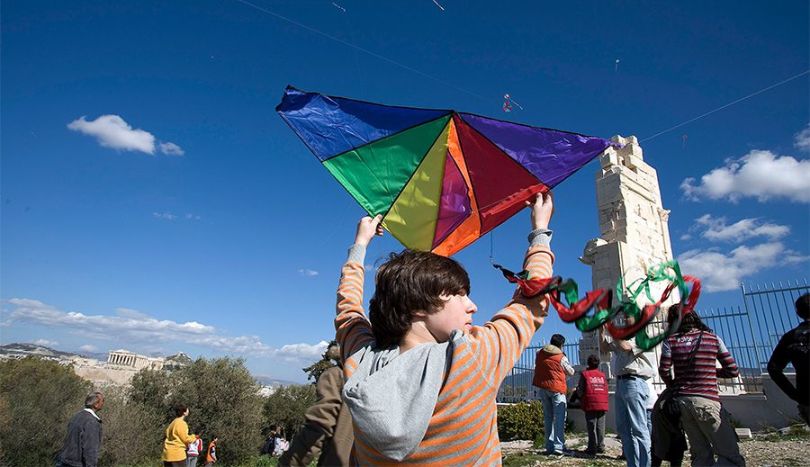 To mark the end of Carnival, there is Clean Monday, a public holiday in which people spend time outside flying kites.
Key events & festivals – Expect a riot of traditional dance, eating, and costume parades over the course of the Carnival weekends. There are regional variations: The main carnival takes place in Patra, while on Skyros, men and their male "brides" are decked out in goatskins.
3. In March, the islands are Still Sleepy but the Weather is Gearing up!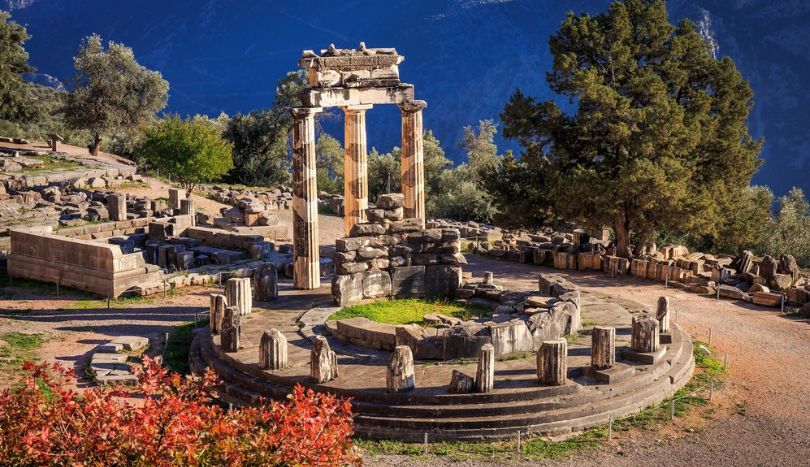 Greece's weather begins to warm up a little in March, though it's still a bit chilly, especially as you travel south. On the islands, temperatures can get as high as 70 °F, which is pleasant enough to spend some time at the beach and explore comfortably.
You can also take in some island tranquility without interruption because the tourist crowds haven't yet arrived.
March is the best time to go to Greece to tour the historic sites in the mainland. Visit Athens and Delphi without long lines or crowds of tourists.
The biggest event in March is Greece's Independence Day, when there are celebrations of every kind taking place around the nation.
Key events & festivals – March 25, Independence Day. An annual procession and dance are held to commemorate the day that pro-independence demonstrators raised the Greek flag at Moni Agias Lavras.
March normally falls almost entirely within Lent. The Orthodox Greeks customarily observe this time by abstaining from meat, fish, dairy, and eggs beginning with Clean Monday at the end of February or beginning of March.
4. The Scent of Orange Blossom Heavy in the Air in April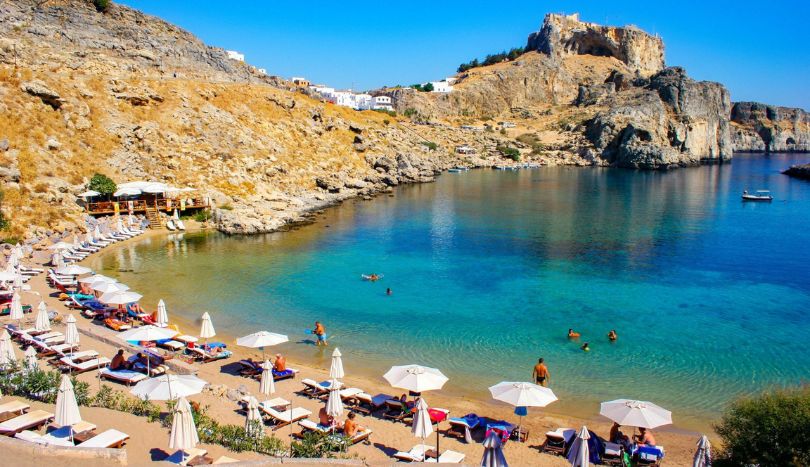 One of the best seasons to visit Greece is in April, when things really start to shine there.
Temperatures are gradually rising across the nation as the sun begins to burst through the winter's gloom. While it's still a little too chilly to go swimming, April is when the water surrounding Greece begins to warm up. It is enticing for any beachgoers visiting during this month.
A trip to Greece is being considered for April. Don't forget to bring your swimsuit if you plan on visiting Greek islands like Rhodes, Crete, Santorini, and Naxos!
The weather will be pleasant with sunny days that are ideal for lazing on the beach without being overheated, even though it won't be overly hot.
You'll experience a little peace and quiet as you travel across the nation because the tourist crowds haven't really arrived yet.
Key events & festivals – Easter, which is observed by the majority of Greeks nationwide, falls in April. There is a Holy Week that takes place before Easter, from Palm Sunday to Easter Sunday. This is regarded as Greece's holiest season of the year. You'll notice that during this week, a lot of stores are closed and churches are packed, providing you a look into the religious life of many Greeks.
5. May is a Great Time to Hot Greece's Trails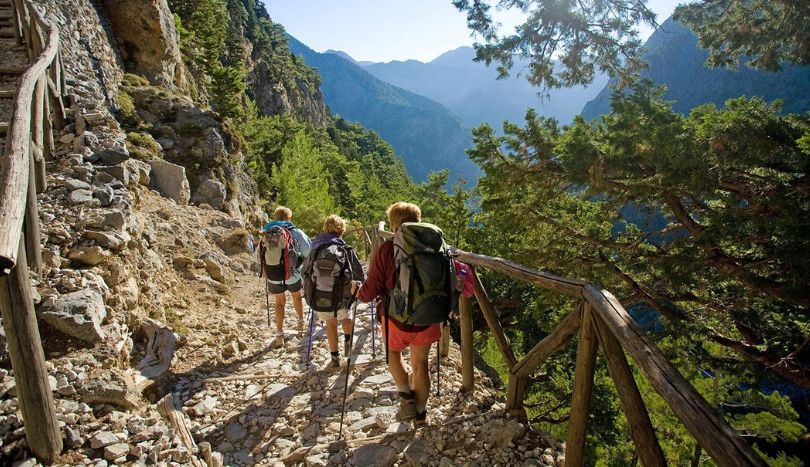 Before the summer season's influx of tourists, May is your last chance to visit Greece.
Greece in May is when the affordable lodging starts to make place for the pricey resorts and hotels that reopen for the summer. Nevertheless, the beginning of the month still offers a few decent bargains as the weather begins to warm up.
No matter where you are in the nation, the weather in Greece in May is extremely warm.
Greek islands are a great place to travel during this month because you may start swimming in the sea and actually sunbathe on the beaches.
May is a beautiful month throughout most of mainland Greece, making it a great time to go sightseeing and have good meals outside.
Key events & festivals – On May Day, the first day of the month, people flock to the countryside for picnics. To beautify homes, wildflowers are picked and put into wreaths. This day is dedicated to protecting the rights of employees.
You must attend the Salsa Spring Festival in Korinthia if you are traveling to Greece in May. It is a premier dance festival in Europe that attracts both nationals and visitors. There are dancing courses, performances, and loads of exciting fun, so don't miss out if you're in Greece during the time!
The Athens Jazz Festival, which runs for five days in May and features free jazz performances for guests, is another event. How incredible is that?
6. June Sets the Stage for Festival-Goers and International Performers!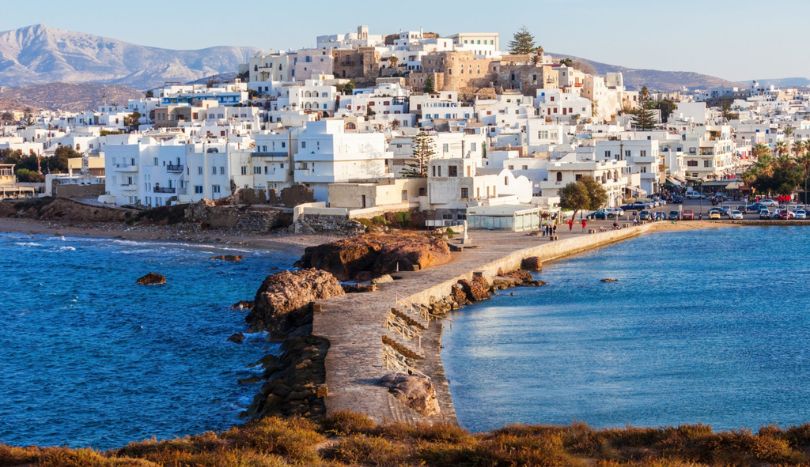 The summer season in Greece officially begins in June. There is a sizable influx of tourists from all over the world.
The weather is perfect, with high temperatures and lengthy sunny days. People travel from all over the world to Greece in June—it makes sense, really!
It turns out that this is the best time of year to visit Greece' less well-known locations like Naxos and Paros as well as major destinations like Mykonos and Santorini. Corfu, Rhodes, and Crete are all fantastic places to go at this time of year to enjoy the seaside.
The summer season in Greece officially begins in June. There is a sizable influx of tourists from all over the world.
Key events & festivals – Be sure to book your hotel early to lock in a good deal because lodging costs frequently increase in June.
June brings plenty of entertaining festivals and events to Greece alongside the flux of tourists. The biggest of these occasions is the Athens and Epidaurus Festival, which features opera, theater, and dance acts. It starts in June and continues until early September, offering enjoyment to all.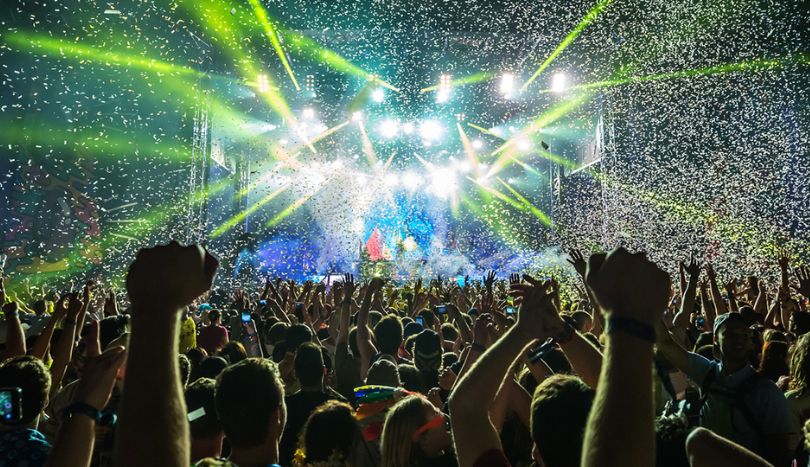 The month of June also sees the celebration of European Music Day in Greece and around the continent. A historical reenactment festival called Navy Week takes place in late June in port communities and along the coast.
If you happen to be in Crete, you'll discover that there is a great celebration for Navy Week that includes lots of boating, swimming, and music.
7. Crowds Flock to island's Beaches in July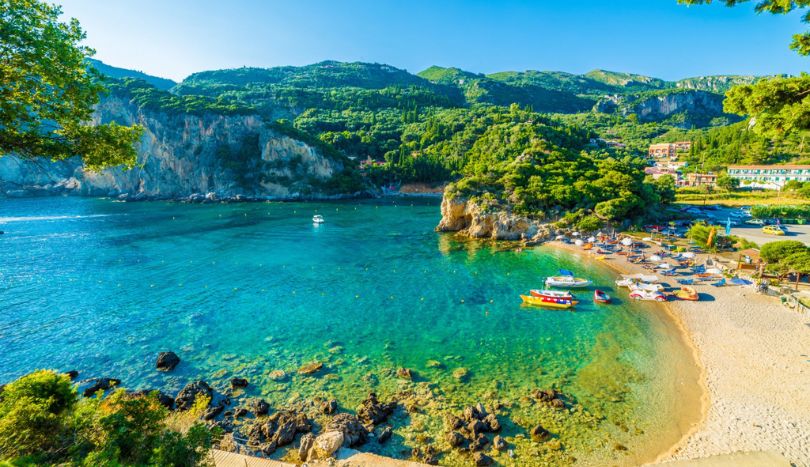 Hello July and welcome to sweltering temperatures, throngs of travelers, and beaches lined with umbrellas!
With sultry days, warm sea, and no clouds in the sky, July in Greece is the beginning of summer at its hottest. July is a very attractive time to visit the Greek islands, but costs associated with travel and lodging make it too expensive.
With typical high temperatures pushing beyond 90°F in July on the mainland of Greece, sightseeing may be uncomfortable and sticky.
Get away from the crowds by visiting destinations like Corfu, where you can enjoy the beach, or the less-traveled Greek islands.
Key events & festivals – Greece hosts a huge number of artistic and cultural events throughout the rest of the summer, starting in July. You have the Athens Festival, which has Greek music performances in historic theaters. The Festival of the Aegean on Syros Island, and the Sani Festival in Halkidiki, which is replete with jazz musicians and a lively environment.
The River Party in Nestorio, a festival with a tonne of DJs and live bands where you can tent, swim, and take in the magnificent Greek landscape, is undoubtedly a highlight.
8. Respect the High Heat of August!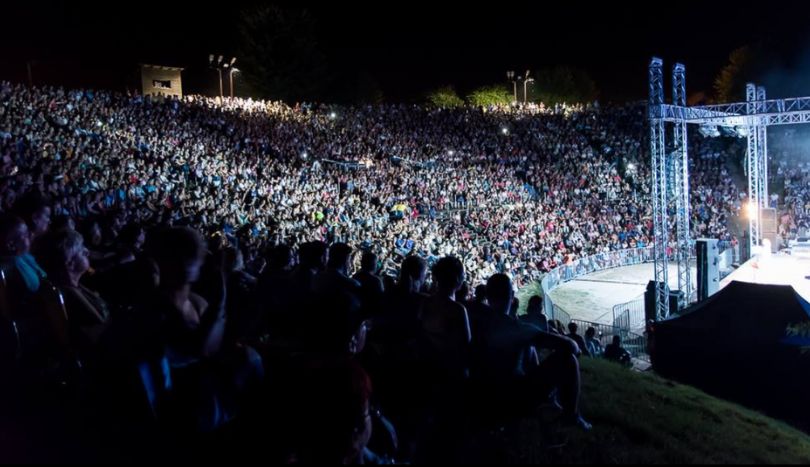 You may anticipate a visitor influx throughout the entire country in Greece in August, which is the height of peak season.
Prices are at an all-time high, beaches are overrun with people, and you can prepare for lengthy delays wherever you go.
All of August is beautiful in Greece, with long days of sunshine and no sign of precipitation.
If you decide to visit Greece in August, bring all of your swimsuits to enjoy the warm waters that have been heating up all summer.
Key events & festivals – August in Greece is jam-packed with entertaining activities and celebrations. Check out the August Moon Festival in Athens when all the city's important historic monuments are open all night for entertaining musical events.
Visitors love to partake in the Olympus Festival where you may watch plays in an old theater.
When it comes to live acts and concerts, August is one of the best months to visit Greece. To name a few, the International Music Festival of Aegina, the Houdetsi Music Festival, and the Chania Rock Festival in Crete all feature musical artists from Greece and other countries.
9. The Crowd Begins to thin in September, So Does the Weather!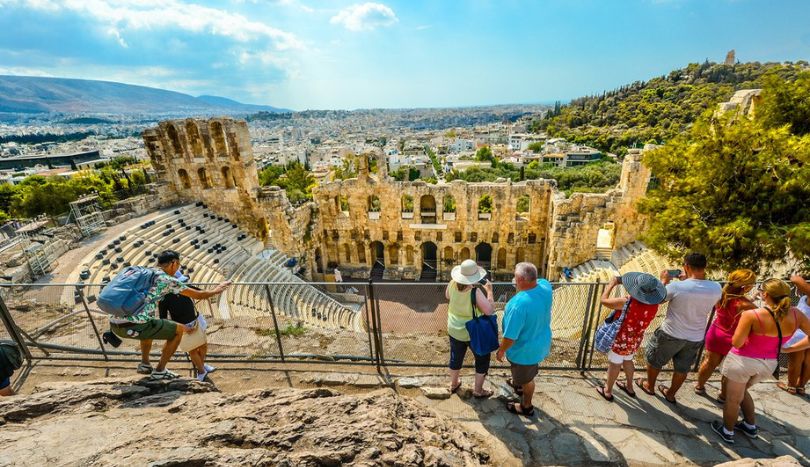 When the weather starts to cool off in September, Greece is like a breath of fresh air. Tourists are still in abundance throughout the first half of the month.
But as the month winds down, fewer people are present, giving place to a more sedate end-of-summer holiday.
September in Greece is still a beautiful month, from the islands to Athens.
You'll actually find it more delightful than the height of summer because you can take in the sights without sweating and yet get a tan on the beach.
Anywhere in Greece in September is a great time to visit, regardless of your travel preferences.
Key events & festivals – Genesis Tis Panagias On September 8, religious services and feasting are held across the nation to commemorate the Virgin Mary's birth.
At the end of the month of September, Greece hosts the 12-day Athens International Film Festival.
Other major September events in Greece include the Reworks Festival, which features acts from all over the world.
The Epidaurus Festival features Greek tragedies performed in the old amphitheater.
10. Most of the island Starts to Quieten Down in October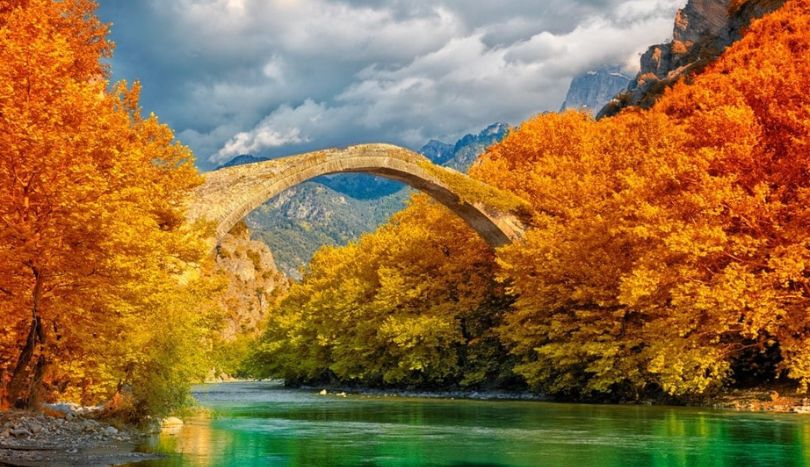 After a long, sweltering summer, Greece finally embraces autumn in October. By the end of the month, the nation is largely empty when the last of the summer visitors return home.
Seasonal establishments begin to close, but the ones that remain open are seriously discounted.
October on the smaller islands will be quite calm, although Santorini and Mykonos still have a lot going on when you travel to Greece.
On the Greek mainland, October is a fantastic month for sightseeing because the weather is perfect for exploring historic monuments and ancient cities.
Key events & festivals – Even though October is a relatively sedate month in terms of festivities, there are still a few festivals to take in in Greece. Each year, the Chestnut Festival takes place in Crete, and the Dimitria Festival takes place in Thessaloniki.
Ohi Day. When Mussolini asked for an unfettered passage through Greece for his soldiers on October 28, 1940, Prime Minister Metaxas' renowned reply was a straightforward "no" (ohi in Greek). Now a significant national holiday, the day is marked by ceremonies of remembering, parades, feasting, and dancing.
11. It's a Temperature Drop in November, Thus Heralds the off-Season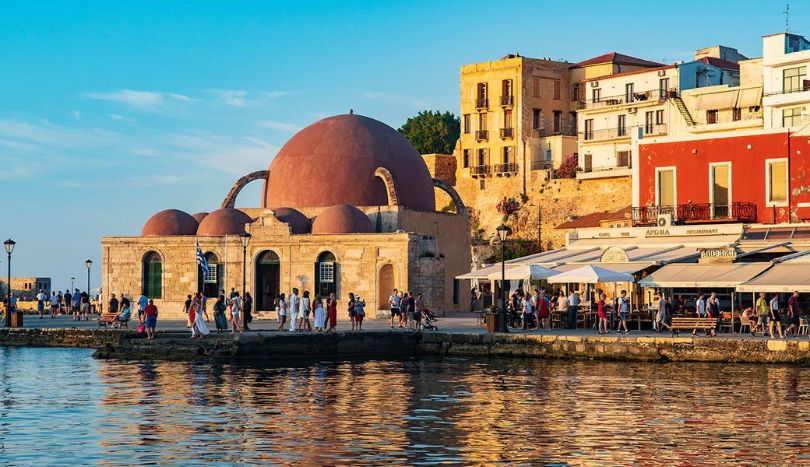 November is your best option if you want to travel to Greece off-season. You'll have the place to yourself because there are so few travelers in the country!
Despite being cool, the November weather in Greece isn't too bad. There are days when it is incredibly sunny, and there are days when it is dreary and cloudy.
The season for collecting olives is in full swing in areas like Crete, and feta production increases, allowing you to sample some very fresh cheese.
In Greece, November can see a fair lot of rain, but with pleasant days and few tourists, it's worth the hassle of packing an umbrella.
November is the best time to visit Greece for sightseeing because it's a little too chilly for the beach, and without the crowds. You can take beautiful shots of historic landmarks without having visitors in the background.
Key events & festivals – November in Greece is a very low season, so there isn't much going on in terms of events. In contrast, the Thessaloniki International Film Festival, which takes place all month long, features some of the best recent European productions.
Check Out: Best Time to Visit Australia 2022
12. Expect Cooler Temps in December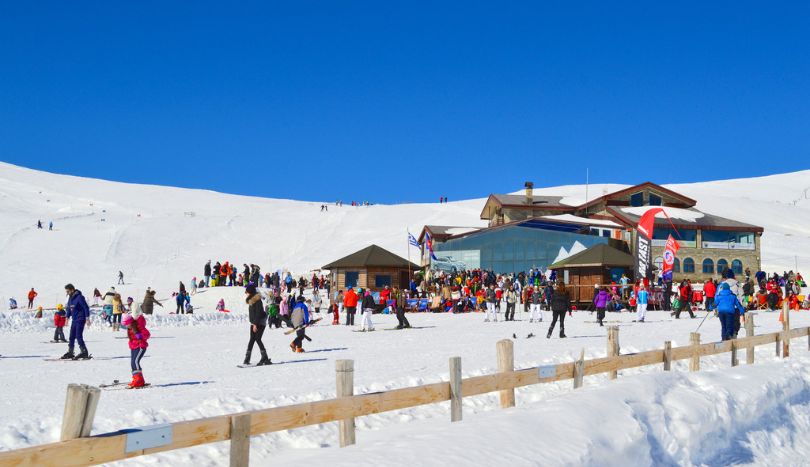 Winter arrives in Greece in December, with chilly, overcast days that occasionally pour rain. As the nation prepares for the holiday season, there is snow in the mountains that is perfect for skiers of all skill levels.
It may be fun, despite the fact that it is undoubtedly not the best time to travel to Greece.
Wrap up and visit the Athens area's historical attractions. Warm yourself in one of the many museums across the nation. Go skiing in the mountains, or even better, travel to Meteora, where the fresh snow at this time of year makes the place simply spectacular.
Key events & festivals – There are many festivities leading up to Christmas Day, making it one of the most joyous seasons of the year in Greece.
When the holidays do arrive, the streets will be adorned with festive lights, thronged with carolers, and full of people with pink cheeks.
Enjoy this enchanting vacation by taking in the bustling atmosphere in Greece!
After Christmas comes New Year's Eve, which is widely celebrated in Greece with packed taverns and fireworks marking the end of the year.
Conclusion
If you're planning a trip to Greece, there's no need to worry about the weather. The good news is there's always the perfect time to visit Greece! No matter which season you choose, you'll be sure to have a great time. Just make sure to add this list of best times to visit Greece on your travel itinerary for next year.
Also Read: