Dubai's thermostat only has two settings: warm and hot, which is not surprising given that it is located in the Arabian desert.
Dubai is a terrific winter sun retreat, but anyone courageous enough to stay in the city in the hot summer months is racing between air-conditioned pockets of cool.
If the avalanche of ideas on when is the best time to visit Dubai struck you hard, do not worry; we have all the answers.
It goes without saying that choosing the right time of year to travel is crucial to having a fulfilling experience at this Arabian Desert delight.
Dubai is best visited between November and April because the winter months are pleasant for all types of vacations. This season brings excellent weather, making it easier to engage in outdoor activities in this glitzy metropolis.
During the winter, there are plenty of entertaining activities available, including sightseeing tours and daring ones.
Here is a guide detailing the ideal months to travel to Dubai.
High Season – November, December, January, February, March, and April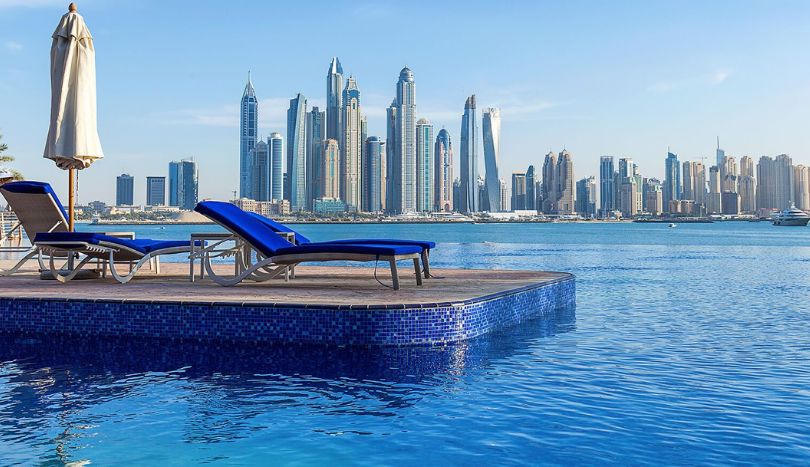 The high season runs from November to April in Dubai.
In contrast to the chilly and gloomy weather experienced in the majority of the planet, the time is characterized by exquisite weather with cool temperatures and bright winter sun.
In Dubai, the holiday season is celebrated with musical performances, live performances, shopping fairs, and thrilling excursions like dhow cruises and desert safaris. This time of the year there are plenty of things to do in Dubai.
The best time to go to Dubai for party animals is in December. People from all over the world are gathered to celebrate Christmas or New Year's Eve, creating a lively environment in bars and cafes.
This is the time of year when an influx of foreign visitors causes high hotel and flight costs.
Shoulder Season – May, September, and October
DUBAI WEATHER
Both the daytime and nighttime temperatures are warm.
With sea temperatures averaging 82°F (28°C) and the winter throngs having dispersed, these months are ideal for relaxing beach vacations.
Temperatures begin to fall in September and October, making the sea suitable for swimming and exciting water adventure activities such as jet-surfing and wakeboarding.
Around the world, it is back-to-school time, and since there are fewer foreign visitors, practically everything is more affordable.
Campfires can still be made in the desert thanks to the pleasant weather.
Low Season: June, July, and August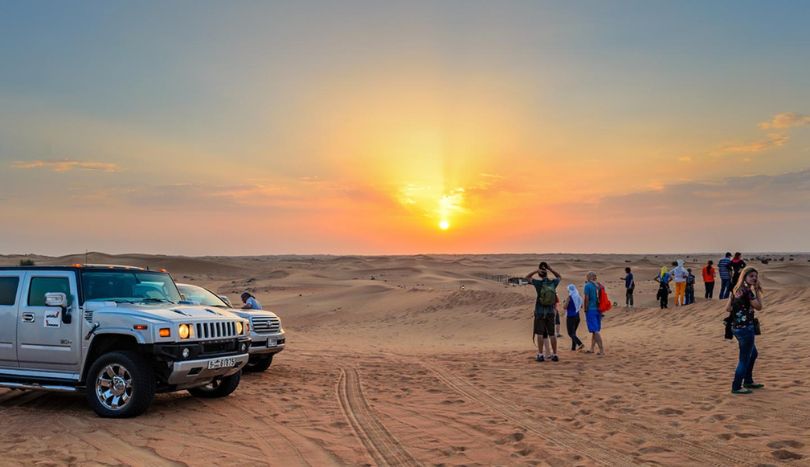 Budget-conscious travelers will find it easier to book a room at a Dubai five-star hotel during the hot and muggy summer months thanks to significant reductions.
The sun in Dubai's low season can deter even the most well-meaning tourists. Summer in Dubai lasts from May through August.
However, if you want to pursue the outdoors, this is not the best time to travel to Dubai as you will not be unable to enjoy the sea and other sea adventures.
Everyday activities move indoors, and the summer deals entice customers into the air-conditioned malls.
Here's a monthly look at what to expect in Dubai throughout the year.
1. January is When Dubai Lives to its Fullest!
Dubai experiences a wonderful January which makes you stay outdoors all day long!
The average daytime temperature in Dubai is a comfortable 77°F (25°C), while much of the rest of the world is experiencing chilly weather and post-holiday blues.
Adventure pursuits like skydiving, zip line, and hot air ballooning are made possible by the temperate weather. For divers and adventure seeks, this is the best month to visit Dubai.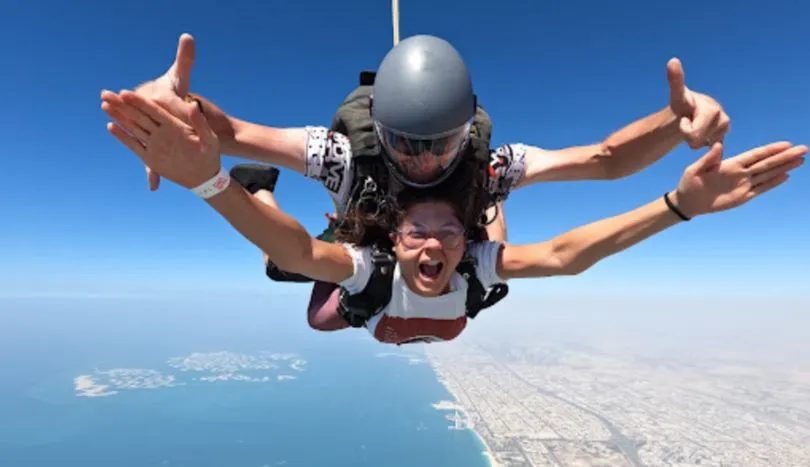 Enjoy the stunning sights of the sunrise as it illuminates the dazzling city of Dubai with a golden glow. In January, the sun rises later than it does the rest of the year. The Burj Khalifa, the world's tallest building, offers the greatest views of the sunrise from its 124th floor.
Due to the conclusion of the post-New Year's holiday season, the city also receives less visitors. Bring a light jacket for evenings out because January is still Dubai's coolest month.
Key festivals & events – But there is still much to be happy about, particularly the yearly Dubai Shopping Festival. Your inner shopaholic will be satisfied by the month-long festival's discounts at malls and high-end retailers.
The city also features fantastic live entertainment, such as Cirque du Soleil, and events, such as the Quoz Arts Festival, that will give you a taste of culture and arts.
2. February is the Kind of Weather in Dubai you Crave, all Year!
Dubai is an excellent winter getaway since its February temperatures are comparable to those of spring in Europe.
It's bright but not too hot in February, making it the best time to visit Dubai. With lows of 15°C and highs of 24°C, the temperature hovers around a pleasant 20°C. In February, expect about 8 hours of sunlight and a 16% chance of rain in Dubai.
It's perfect for enjoying outdoor activities when there are bright days and acceptable temps.
Go on a desert safari to experience camel riding, traditional desert living, and dune bashing, or take a dhow sail to enjoy the cool evenings.
Due to the fact that February is a school season for much of the world, Dubai is devoid of family crowds.
Key festivals & events – The Dubai Food Festival, Dubai International Jazz Festival, Dubai Tennis Championships, and a number of other events make Dubai a must-visit destination in February. As part of the city's ongoing effort to keep visitors entertained, you will also notice that some of its attractions have had their offerings modified.
3. March is Action-Packed Month with Warm Seas, and Warm Festivals
The weather in Dubai begins to rise in March, making it the ideal time to spend the day at the beach.
Dubai has temperatures between 17°C and 28°C in March. With spring on the way, expect 9 hours of sunshine and relative humidity ranging from 33% to 92%! In recent years, there have been a few sand storms in March in Dubai.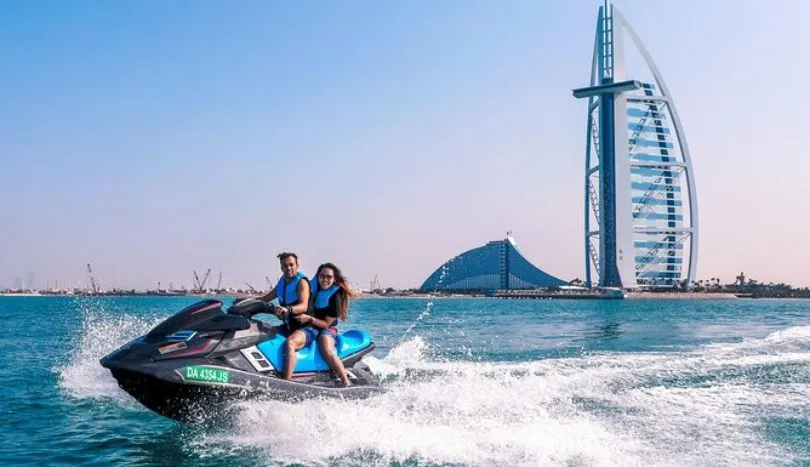 Dubai has several great beaches, including private resort beaches, and the sea temperature is ideal for swimming. If you want to get your adrenaline pumping, consider jet skiing, flyboarding, parasailing, or paddle boarding with the stunning Dubai skyline in the background.
Key festivals & events – Dubai is quickly establishing itself as a major cultural center in the Middle East, and in March the city will play host to the Sikka Art Fair and the Annual Festival of Literature. One of the final times you can spend the entire month outside in the sun is in March.
March is when the renowned Dubai Art Festival takes place. Many art enthusiasts from all over the world visit Dubai to see the innovative artwork. You can appreciate the arts at the modern art galleries created by local artists.
Visitors can also take pleasure in the Dubai World Cup, which is held at the Nad Al Sheba track and features the top jockeys, horses, and trainers.
Do you want to know what's new in the world of technology? Then go to GITEX Shopper, the region's largest consumer electronics trade show. Here, you can not only view the newest products that have been released but can also purchase your favorite device at an unbeatable price! The Dubai World Trade Center will host the event from December 14 to December 18, 2022. And it is one of the best times to visit Dubai in 2022.
4. April is Still Warm and is Perfect Weather for beach Fans and Fashionistas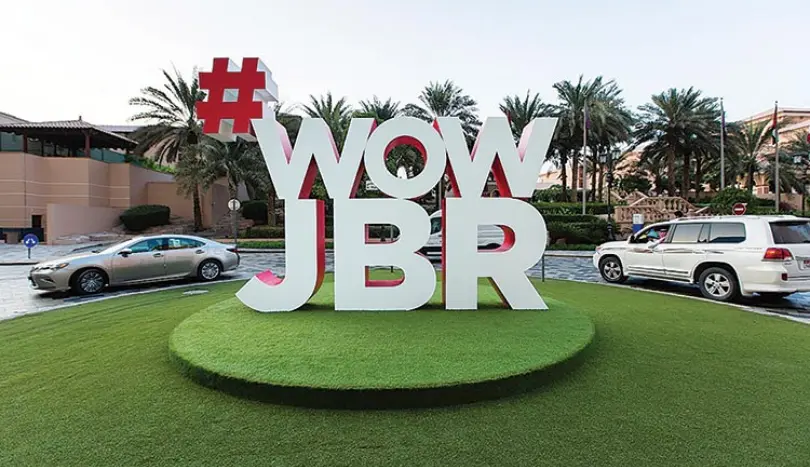 The arrival of summer in Dubai in April is evident from the rising temperatures!
The penultimate month of the tourist season, April, sees a significant drop in shopping crowds, giving you more time to take it easy and explore Dubai. It offers shorter lines at attractions and the opportunity to discover Dubai's traditional and local side.
The days grow longer and hotter, while the evenings begin to cool down, causing all of the enjoyable events to shift to the evenings.
You can take part in a variety of activities in the city's amusement parks as well as events at WOW JBR, Global Village, and other locations in April.
Take a plunge in the pool in the evening to wash the heat and dirt of the day off after a day of sightseeing!
Key festivals & events – This is the best time of year to visit Dubai for its renowned The Middle East Film & Comic-con. This historic annual event features some of the best cosplayers, top-level gamers, and the most recent breakthroughs in the fields of animation and gaming technology. The event, which often takes place at the Dubai World Trade Center, also offers the chance to meet celebrities and buy some really cool stuff.
One of the biggest multi-cultural festival parks in the world, Global Village, celebrates its conclusion during the first week of April. A taste of fun and entertainment can be found at Global Village, where stars like Jason Derulo and Shah Rukh Khan stop by. The Global Village Dubai has a lot going on, including concerts, cultural performances, stage acts, stunt shows, food stalls, retail pop-ups, and more.
5. May Wipes the Visitors in Anticipation of Summer Heat
Bring out the sunblock and hats because it's summer in Dubai in May.
Summertime in Dubai starts in May, when the mercury soars to a scorching 37°C and occasionally even above 42°C! The lows range from 24°C to 27°C, with about 11 hours of sunshine. The greatest time to tan in Dubai is in May, before the desert region experiences its sweltering summer heat.
You must design your itinerary such that you spend the majority of your time inside the wonderful shopping malls, dhow cruises, thrilling attractions, or theme parks. Take hold of your family and friends and travel to all that Dubai has to offer. You won't have to deal with the heat!
Key festivals & events – A global audience can purchase the vegetables and handmade goods from local communities at the Ripe Market in the month of May. One can visit the fairs and shop for fresh fruits, veggies, gifts, and souvenirs while receiving updates via social media. These events are typically pop-up. Other things you can participate in include outdoor movies, yoga classes, an adventure zone, a petting zoo, and more.
Early May each year sees the Al Gaffal Dhow Race. Over 100 traditional boats compete in this competition, which attracts nearly 3,000 people in the Arabian Gulf.
6. Life in June Shifts Indoors to Museums and Shopping Malls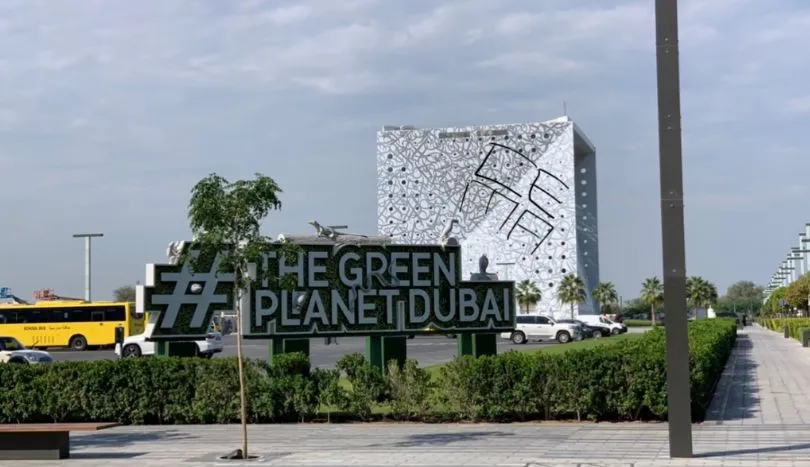 You can fit a lot of things to see and do in Dubai during the long June days.
In June, Dubai is hot and dry, with temperatures reaching 38°C! Over the course of the month, nighttime lows drop to 26°C and humidity levels fluctuate from a dry 27% to an extremely humid 89%. There are roughly 12 hours of sunshine in Dubai in June and no rain at all.
But the most important rule to remember is to remain inside all afternoon. The sun is shining brightly, and you may get sunburned, so keep sunscreen handy.
Attractions such as the Green Planet, Ski Dubai, and theme parks such as Aquaventure, IMG Worlds of Adventure, Wild Wadi Waterpark, and Dubai Dolphinarium are ideal destinations for families to spend the summer.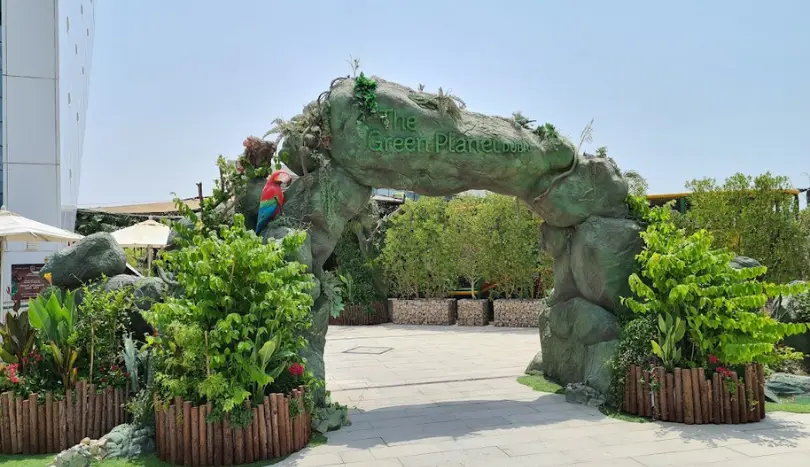 The city also has world-class museums like the Louvre, Sharjah Art Museum, and Dubai Museum that are brimming with cultural and historical treasures. The city also features a world-class Opera House where you can attend classical music.
Key festivals & events – No events and festivals are held this time of the year.
7. July is Dubai's hottest Month of the Year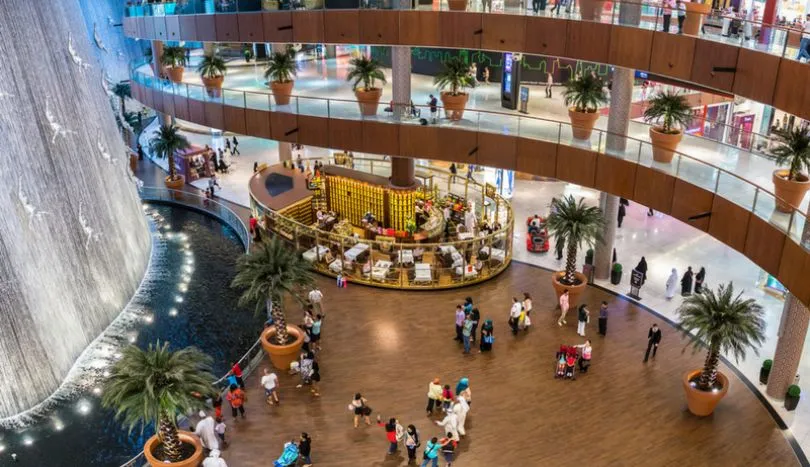 July is one of the hottest months in Dubai, and the only time you can go outside comfortably is at night. It is also the best time to visit Dubai to admire its glamor and brilliant cityscape.
Dubai, an equatorial desert metropolis, is certain to experience scorching temperatures in July! July is the hottest month in Dubai, with average highs of 40°C and lows of 30°C. In Dubai, July is a dry month with up to 12 hours of daylight.
The heat also makes it such that many foreign tourists avoid the area, which lowers hotel and airfare costs.
The pleasure, however, never stops in Dubai; shopaholics will appreciate the plentiful offerings of Dubai Summer Surprises.
You can get discounts and special offers at retail malls and theme parks, as well as attend night concerts, firework displays, and kid-friendly programmes.
Key festivals & events – In the Middle East's luxury capital, there will be six weeks of unbelievable shopping and entertainment events. You must not even consider missing out on this. The city transforms into a festival including music, fireworks, and a shopping frenzy from the first week of July through the beginning of August. This festival offers several thrilling parks for children.
8. Spend the Entire Month of August Mall-Hopping!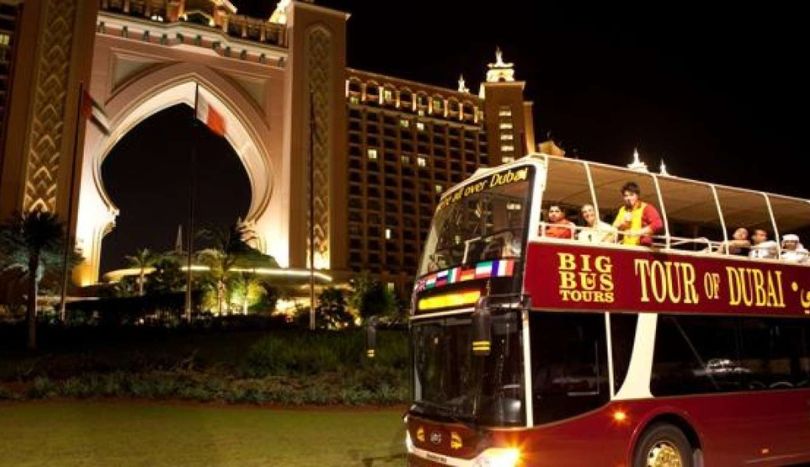 August is the height of summer in Dubai, and temperatures are climbing. Even the sea will not provide relief, with daytime sea temperatures reaching 30°C or more!
With temperatures that can occasionally rise beyond 40°C, August is the second hottest month of the year in Dubai. The least amount of tourists visit Dubai in August due to the lack of precipitation and record-high UV and humidity levels.
Despite being the international holiday season, this is the least congested month in Dubai, and rates are extremely low, with plenty of freebies thrown in. So now is the ideal time to go if you're looking for a cheap vacation in Dubai. Activities like a Big Bus Panorama Night Tour, a Dhow Dinner Cruise, or a Dubai Night Tour are still available to you.
This is the best time to go Dubai for vacation if you want to be best spent inside the cool, air-conditioned confines of museums and attractions!
Key festivals & events – No events and festivals are held this time of the year.
9. September is a Good Time to Go by sea!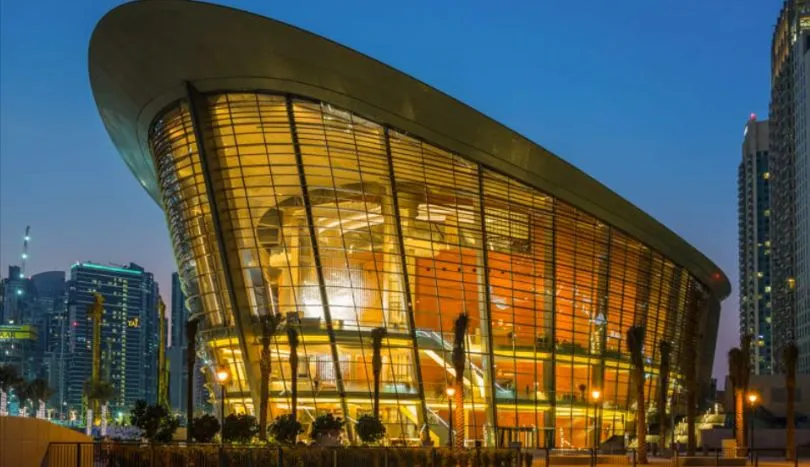 September marks the end of summer, but not quickly enough! Although September's temperatures in Dubai are generally lower, it's still hot and muggy.
You should still take care to organize your day to avoid the heat and dress appropriately.
However, as the temperatures begin to fall and the bustle of the streets returns, September has a decent amount of evening activity.
If you enjoy shopping, going to Dubai in September is a great idea! Dubai Summer Surprises is a series of activities set up in various malls and showrooms to urge people to give into their indulgence—so you can rejoice on your way to glory amid these shopping places!
There are a plethora of different activities in Dubai, including indoor theme parks, bowling alleys, museums, movies and opera concerts, trampoline and gaming stations.
Key festivals & events – The Saudi National Day, which will feature fireworks displays and celebrations all throughout the city, is the highlight of the month. September won't let you down if you like to shop and have fun in Dubai!
The live entertainment and event scene begins to take up in September with performances like La Perle Dragone and concerts at the Dubai Opera House.
10. Expect Humid and Toasty Warm Days in October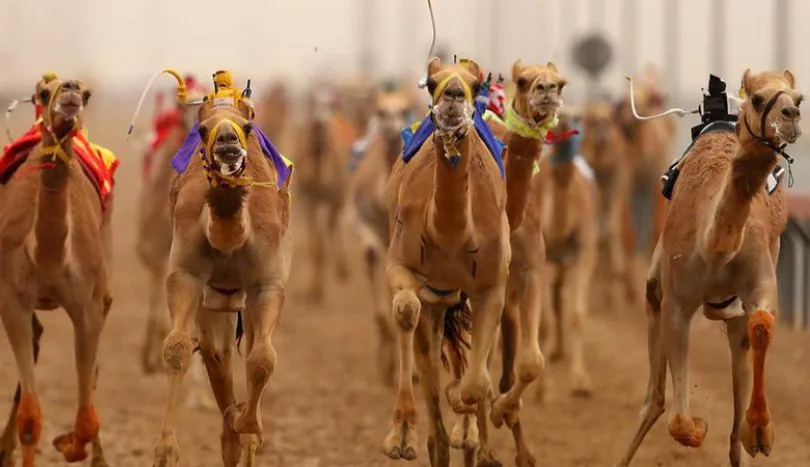 Since Dubai lies in the desert, summer lasts for a long time and there is no sign of fall. However, temperatures in Dubai continue to drop in October.
In Dubai, October signals the end of summer. The city experiences bright, sunny days with an average temperature of around 29°. Highs of 35° are expected during the day and lows of 23° at night. Sunny and clear skies dominate the skyline, with an average of ten hours of sunshine per day.
As the sea temperature drops, it once again becomes a popular destination for tourists who enjoy swimming and other water sports.
It is camel racing season in Dubai, and you can watch traditional celebrations surrounding it.
This is also a good time to travel to Dubai if you want to go out into the desert and have a camel ride for yourself.
Key festivals & events – Opera performances are still being held in the city, and Halloween celebrations are starting to pick up in the upscale eateries and shopping centers.
Latin dance styles including Salsa, Kizomba, and Bachata are the main focus of Dubai Sensual Weekend, a festival of dance and music. The carnival is focused on providing participants with workshops, performances, parties, concerts, and lots of fun.
11. Visitors from Colder Climes Flock to Dubai to Experience Balmy air in November
Dubai is the place to go if you're seeking for a winter vacation and want to escape the chilly climate that is sweeping the rest of the planet!
Given that November marks the beginning of winter, Dubai's temperatures begin to improve. Even during the day, you can go outside and engage in outdoor activities without feeling uncomfortable.
Clearly, "winter" is not a phrase invented for Dubai, as the average high in November is 31oC. The evenings do dip down to about 18oC as the sun sets at 5:30 p.m., though.
On average, there will be 11 hours of daylight and nine hours of sunshine, with only a minor possibility of rain.
You can do all of this and more with less humidity in the 11th month of the year. This is the best time to visit Dubai whether your idea of a perfect day is at the beach, or you want to indulge into retail therapy.
There's so much to do at this time of the year. Some of the activities include adventure sports like skydiving, wakeboarding, quad biking, dune bashing, desert safari, or taking a hot air balloon flight.
Key festivals & events – There are numerous international events taking place in the city, such as Dubai Design Week and Downtown Design. You can also travel to the nearby capital city of Abu Dhabi to see the F1 Grand Prix and to visit Ferrari World and Yas Water World while you're there.
The fifth edition of Dubai Design Week brings together some of the region's most well-known designers and architects. It is going to be held at various locations across the city from 8 to 13 November 2022.
This six-day, free event will feature more than 200 events throughout the city with the goal of inspiring and making design more approachable. The primary activities include a design trade fair with 150 contemporary design businesses from 25 countries and the Global Grad Show. It features over 200 creatives from 90 colleges in 40 countries showing their expertise.
12. December Marks Beginning of the Peak Tourist Season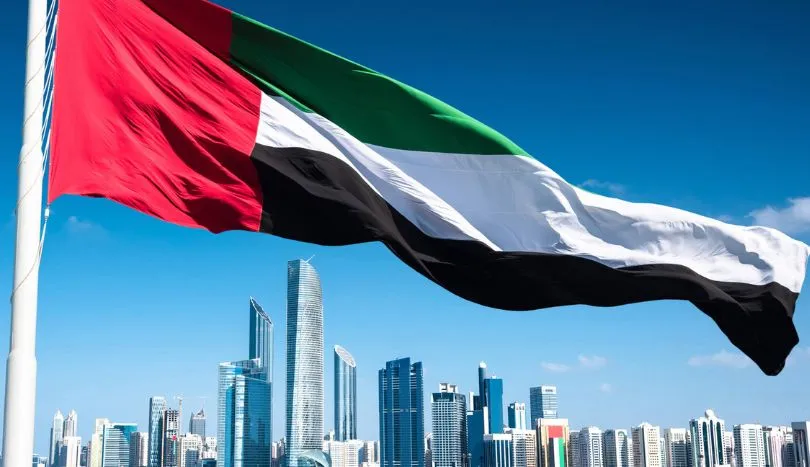 Dubai in December is gorgeous, thanks to the weather and the festivities!
It's one of the colder months in Dubai, so bring a few lightweight sweaters for the evenings when it gets chilly outside.
When is the best time to go to Dubai? There is no better time than December to visit Dubai, when temperatures range from 26°C to 14°C, making it ideal for outdoor activities.
Take advantage of the wonderful weather, amazing shopping deals, and festive atmosphere as this is by far the best month to visit Dubai.
Key festivals & events – Dubai welcomes visitors from all over the world on Christmas Eve and New Year's Eve, and the Burj Khalifa is a spectacular place to usher in the New Year! The Dubai Winter Festival will provide the necessary cheer with bargains and Christmas markets.
The month of December is jam-packed with activities, beginning with the UAE National Day, also known as the Emirates Independence Day, then the Dubai International Film Festival and the Rugby Sevens competition.
As the entire UAE celebrates their national day on December 2nd, Dubai kicks off the month of December with a week-long frenzy of carnivals, spectacular fireworks displays, and decorated automobile parades. The memorial on Kite Beach, which depicts the late Sheikh Zayed bin Sultan Al Nahyan using 4,000 UAE flags, is the most renowned.
In the End
The best months to travel to Dubai depend on your individual preferences. The optimal time period for a visit depends on whether you are going to work or play, and it is likely that you will experience multiple weather conditions during your trip.
The clarity of our research and the statistics provided should help you narrow down your options. We have put together this guide to help you choose the best time of year to visit Dubai.
Also Read: