The best time to visit Puerto Rico is between December and April because of the cool temperatures, deserted beaches, and myriad of local events. But it is also the busiest travel period for visitors. Summer and fall are ideal times to travel for less and enjoy warmer beaches, so it all depends on the type of trip the visitor desires.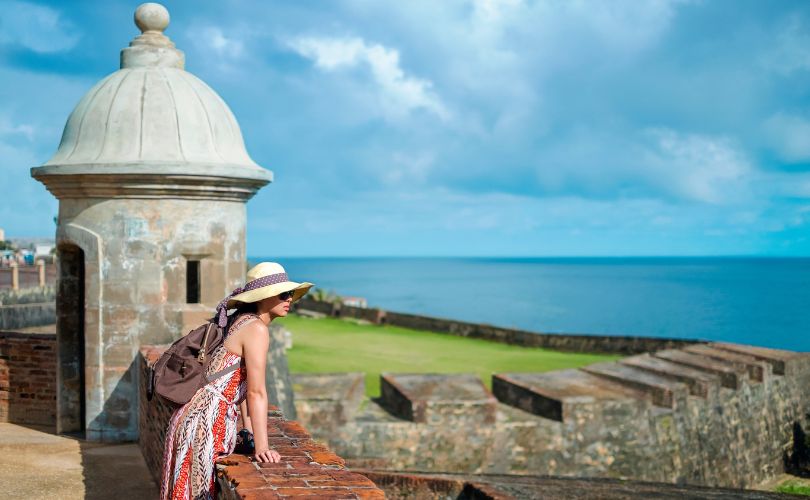 On a brighter side, it is the snow bird's dream destination with stunning beaches, luminescent bays, sultry rainforests, and a rich history that is suited for enjoying in the sun.
Fall is hot, tropical, and quiet – a peaceful respite before the hectic winter season. For the majority of fall visitors, the tranquility on the beaches outweighs the threat of tropical storms.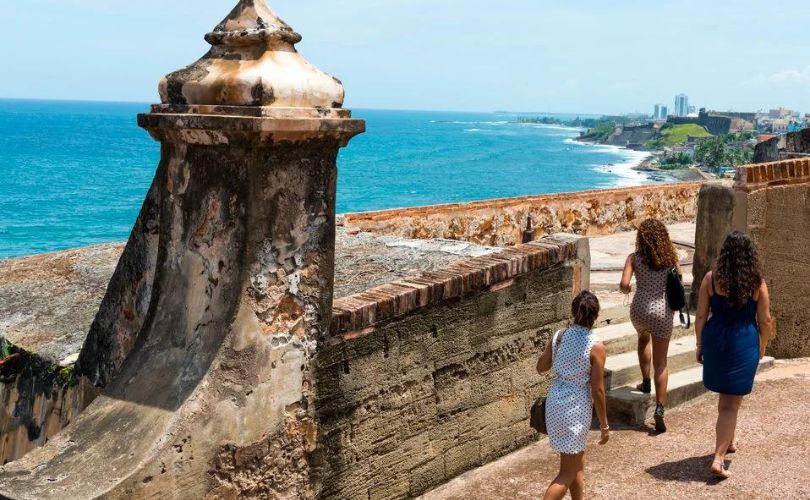 No vacation time until the spring? Don't worry, there are still nice times to travel to Puerto Rico throughout the year. There is always an event going on in Puerto Rico because of the island's packed festival calendar, and the aroma of slow-roasted pork permeates the air all year long.
It never gets chilly here, so pay heed to weather forecasts from June to November. The risk of a hurricane passing overhead is extremely real in the Caribbean, as it is elsewhere, and tropical storms are common. Here is our advice to assist you in selecting the best time to go to Puerto Rico.
January is a Terrific Month to Get Out of the Winter Doldrums
The mild winter weather combines with an influx of visitors to Puerto Rico, resulting in higher hotel and flight charges. Also, there would , as well as increased traffic and congestion in the Old City of San Juan. Travelers who are diligent should start looking for cheap flights and hotel rooms as soon as possible.
The daily average low is 21°C, and the average high is a comfortable 27°C. January is one of the driest months in Puerto Rico, with an average of 13 wet days in San Juan to the north and 6 rainy days in Ponce to the south.
This is the best time to travel to Puerto Rico thanks to the average 8 hours of sunshine per day. If you plan to visit the mountains or spend time on a boat, carry a light sweater because it can become chilly. In the winter, the sea averages 26°C, making it comfortable to swim all year.
Key festivals & events – The first day of the new year is a holiday. The majority of businesses and schools are closed because it is a public holiday. The majority of Puerto Ricans spend this holiday interacting with their loved ones.
The San Sebastian Street Festival offers a sample of the local way of life and cuisine. It occurs over multiple days in mid-to-late January in Old San Juan.
In Puerto Rico, January 6th is the date of Kings Day, one of the most well-known festivals.
A few days later, on January 8, there is a public holiday in honor of Eugenio Mara de Hostos, a well-known author who campaigned for Puerto Rican independence.
The third week of January is when the rural village of San Sebastian holds the Festival de la Novilla to celebrate a novilla (a cattle in English).
February is one of the year's Driest Months
The peak travel season continues this month, so be prepared for increased pricing and to make reservations in advance. For those with a stronger sense of athleticism, there is a half-marathon and a coffee harvest celebration.
With six rainy days on average, Ponce in the south experiences the same amount of rainfall as San Juan in the north.
The average daily temperature in February is a pleasant 28°C, with a low at night of 21°C. The sea maintains at a warm 26°C and receives an average of 8 hours of sunshine every day, making it the perfect place to visit the beach and go swimming.
Key festivals & events – Culture aficionados find it as the best month to visit Puerto Rico as the island hosts a myriad of festivities this time of the year.
San Blas de Illescas Half Marathon – Considered the greatest running event in Puerto Rico, the sporting event attracts roughly 1,500 runners and 250,000 spectators to Centro del Universo, Coamo. The event began in 1963 and has drawn athletes from more than 50 countries.
Festival of Maricao Coffee (mid-February) – The conclusion of the annual coffee harvest heralds the occurrence of most well-established festivities and customs in the nation. Festivities feature lively parades, arts and crafts booths, and music. They last for three days over a weekend in mid-February.
George Washington's birthday is commemorated on February 18. It is an official government holiday in both the United States and Puerto Rico. Expect crowds at popular tourist spots, particularly beaches.
One of the oldest festivals in the Western Hemisphere, Carnaval Ponceno (10–16 February), takes place the week before Ash Wednesday, in the final week of February. This yearly event in the town of Ponce lasts a whole week and involves a march of Vejigantes. It is a local traditional character dressed in brilliant rainbow jumpsuits, long-nosed masks, and wings. The appearance is also part of the parade.
March Brings Fewer Tourists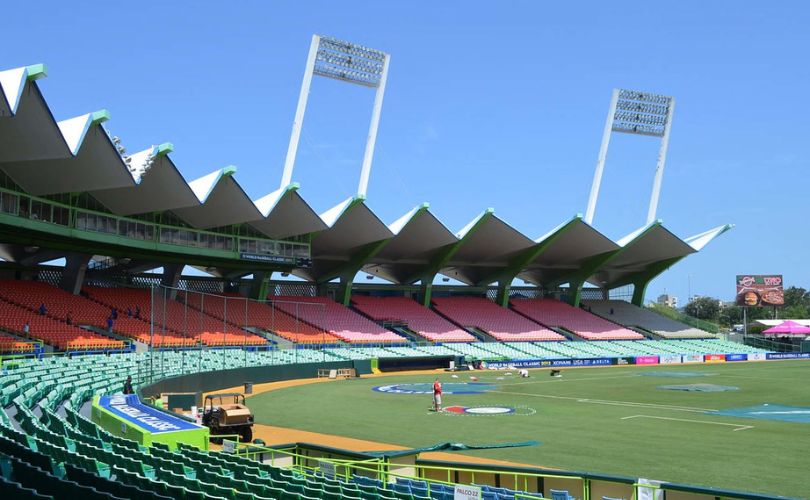 Snowbird visitors return north, but Puerto Rico's weather remains stunning, with mild temperatures and no rain. Many attractions are essentially deserted during what may be the slowest travel month of the entire year.
March has the perfect weather for spending time at the beach and swimming in the ocean. It means there will be more people on the beaches. The average daily temperature in March is 28°C, with a low of 22°C at night. There are nine hours of sunshine, giving you extra time to go on outdoor adventures and engage in outdoor activities. In March, there are typically 6 rainy days on the south coast and 10 on the north coast.
Key festivals & events – Early in March, the island's biggest salsa event, Da Nacional de la Zalsa, features a full day of performances by the top salsa performers. It takes place at the Hiram Bithorn Stadium in San Juan.
Day of Emancipation (March 22) – The day commemorates the abolition of slavery in 1873, is a recognised holiday in the Commonwealth of Puerto Rico. There are celebrations held in remembrance of the occasion that include singing, drumming, and eating Caribbean food. It is a holiday for the general public, and schools and most businesses are closed.
Festival de la Ballena (end of March): This festival honors the whale migration season and takes place at Rincon's El Faro Recreational Park. A craft market, children's entertainment, live music, kiosks, and food vendors have been part of the celebrations since 2004.
Taste of Rum (early March): Since 2009, Puerto Rico has hosted a one-day rum festival in Old San Juan, which has drawn more than 3,000 visitors. It is one of the largest rum festivals in the world. The festival promotes the local rum industry by offering over 12 different rum brands to sample.
April is the Best Time to Enjoy Outdoors
Mid-April marks the official conclusion of the hectic winter tourist season, as the last of the spring break revelers have returned home. Rainfall varies by area on the island and begins in April and lasts until November.
The temperature in April is milder than the previous three months, and there is no humidity or storms like in the summer.
By mid-month, Easter tourism has slowed, crowds have thinned, and the beaches are more relaxing with fewer visitors. The average high is 29 °C, and the average low rises to 23 °C. Nine hours of sunshine give you more time to enjoy outdoor and aquatic sports, especially now that the sea is 27°C.
Expect a little more rain in April because it's just before the wet season officially starts.
An average of 10 days of rainfall in San Juan in the north, compared to 7 days on average of rain in Ponce in the south.
This is also the best time of year to visit Puerto Rico as the pleasant temperatures draws beach goers from all across the globe.
Key festivals & events –  Good Friday is a recognised holiday in the Commonwealth of Puerto Rico. Good Friday is observed on the Friday before Easter, with all schools and businesses closed for the day.
Most businesses in Puerto Rico are open on Domingo de la Resurrección (12 April), which is a religious holiday and Easter Sunday. Typically, Christians will go to church in the morning and then spend the rest of the day with their loved ones.
Natalicio de José de Diego (3rd Monday in April) – José de Diego y Martnez, regarded as the "Father of the Puerto Rican Independence Movement". It is the subject of this official public holiday. Government employees have the day off on this holiday. The crowds are to be expected at major tourist destinations, notably beaches.
May Marks the Beginning of Harvest Season
May is also the best month to visit Puerto Rico, with an average high temperature of 87 degrees Fahrenheit (30 degrees Celsius) and a low temperature of 76 degrees Fahrenheit (24 degrees Celsius).
Travel prices are reduced throughout the month of May, which also includes one of the best jazz festivals in the Caribbean.
Puerto Rico's rainy season officially starts in May. Both coasts are experiencing more precipitation. Ponce experiences less rain with an average of 10 rainy days, compared to San Juan's average of 12 days of rain.
The rainy season in Puerto Rico lasts from May to October, which may seem like a long period, but the showers rarely last longer than 30 minutes.
Rain is frequently followed by sunshine later in the day. There is still enough time to enjoy the beach or go on a hike despite the daily sunshine decreasing to 8 hours on average.
May sees a rise in daily average temperatures to 30°C and a decrease to 24°C on average.
Key festivals & events – La Campechada is a festival of Puerto Rican culture and art, with a notable artist being honored each year. Plan ahead of time because the city changes from year to year.
Festival de Casals (May 22–June 7) — It honors the renowned cellist, conductor, and composer Pablo Casals and is regarded as the largest classical music festival in the Caribbean. The event, which was established in 1957 by Pablo Casals, brings together musicians and artists from all over the world. The festival, which is mostly held at the Luis A. Ferré Performing Arts Center, lasts several weeks and is dedicated to maintaining recollections of Casals' legacy and career.
La Parguera, an oceanfront neighborhood in the southern town of Lajas, has an annual "Pineapple Festival" each year. The event includes vendors selling locally grown pineapples as well as hundreds of other local agricultural products and fried delicacies. It features local bands, children's activities, and a 5K race through the harbor and mangrove coves.
Summer Vacation Officially Begins in June
June and July are peak months for residents but off months for international visitors as the hurricane season begins. It's the time of year when temperatures are at their highest and beach tides are at their greatest. It is also the favorite beach season for Puerto Ricans!
Also this is the cheapest time to go to Puerto Rico, but it's strongly advised to get trip insurance and keep an eye on the weather.
Satellite forecasts typically provide sufficient notice to allow for safety measures. Despite the start of hurricane season, precipitation does not increase significantly in June.
Although San Juan has an average of 15 rainy days, while Ponce has an average of 8 rainy days. The average daily temperature in June is 31°C, with a nightly low of 25°C, thus locating accommodation with AC or, at the least, a fan is essential.
Swimming is an excellent way to cool off because the average amount of sunshine rises to 9 hours per day and the sea temperature rises to 28°C.
Key festivals & events – Fiesta del Mango (June 9–11): This celebration of the mango in Mayaguez features a number of recipe competitions. Mango exhibits of all kinds are on display, along with dance lessons, artisan booths, music from various bands, and more.
For the past 12 years, Saborea (June 4-6) has been a massive 3-day gastronomy event in Puerto Rico packed with activities and events meant to promote the island as the Caribbean's gastronomic capital. During the events, 20 renowned local chefs will prepare a sit-down supper for the guests.
Puerto Ricans commemorate the eve of a feast honoring Saint John the Baptist's birth on June 23rd, or Noche de San Juan. Many hotels throw large parties to commemorate the occasion, which may be the best way to avoid being on a crowded public beach.
July brings hot weather and throngs to the beaches.
July brings oppressive heat to the island, which is often difficult to bear despite the wind.
San Juan experiences daily average highs of 32°C and lows of 24°C, with occasional excursions to 26°C.
The heat is oppressive despite the fact that the afternoon high rarely exceeds 34°C due to dampness. It can get incredibly hot and muggy at night.
The rains are generally in the form of strong showers or thunderstorms, and they provide welcome relief from the oppressive heat and humidity.
The south receives 8 days on average of rain, whereas the north receives 15 days on average of rain, which is twice as much rain.
Swimming is an excellent method to cool off because there is about 9 hours of sunshine every day.
Puerto Rican families flock to the beaches in droves during the sweltering summer months. Expect plenty of company on the sands as it is peak season for folks looking to catch some rays.
Key festivals & events – The Aibonito Flower Festival takes place in the alpine village of Aibonito from the last week of June to the beginning of July.
An official holiday is observed on the third Monday in July in honor of Luis Munoz Rivera. The poet and author battled for the US-freedom of Puerto Rico.
The Festival of Saint James the Apostle, also known as the Festival de Santiago Apóstol, includes a crowded vejigante parade.
Season for Hurricanes Begins in August
The tropical rains begin to fall at the start of hurricane season, yet the celebrations continue every weekend.
August is one of the wettest months of the year, with an average of 16 days of rain in San Juan and 10 days in Ponce.
August is the first of three months with a significantly higher likelihood of severe weather, causing tourism to slow down. There are far fewer events and festivals taking place around the island from August to October.
A humid and oppressive 32°C is the typical daily temperature, and a cool 24°C is the norm at night. On days without rain, the sea is a comfortable 29 degrees Celsius, making it perfect for swimming and beach days.
International billfish competition (August 24–30) – The San Juan International Billfish Tournament, which has been held at the Club Nautico de San Juan for almost 50 years, attracts big-game fishers from all over the world. A week-long tournament is held as part of the nautical festival, which draws skilled deep-sea fishermen and boats.
Weather Monitoring is Crucial in September
When is the best time to visit Puerto Rico for cheaper fares? Tourism in September can be severely interrupted by tropical storms and worse. The month being the most likely time for a major hurricane to strike. Travelers should keep an eye on the weather.
Hotel rooms can be found for significantly less money if you plan your trip this time of the year.
Both coasts received an average of 150mm of rain, with San Juan receiving it over 14 days and Ponce receiving it over 11 days. The average daytime temperature is a sticky and humid 32°C, with a low of 25°C at night. At 29°C, the sea is still bath-warm, but with a lot of rain predicted for September. The beach days might not be as frequent as in other months.
Key festivals & events – Labor Day is a recognised public holiday in the US and Puerto Rico on the first Monday in September. Schools, banks, and all other businesses are closed on this public holiday.
October Honors Patron Saints
Even though this is the off-peak travel period, the island's customary calendar of saints' day celebrations is spread out over the month. This month is fantastic for travel due to the lack of tourists.
San Juan on the north coast receives nearly as much rain, with 15 days on average. A brief deluge or several hours of nonstop rain are both possible during the rain. 
The average daytime temperature in October is 30°C, with a low of 24°C. It is recommended to choose lodging with air conditioning. While outdoor activities and beach days are still possible in October, they are not assured and are unlikely to be possible on consecutive days.
Key festivals & events – Christopher Columbus' landing in the Americas is celebrated on October 12 as Descubrimiento de América. The Commonwealth of Puerto Rico and the United States both observe national holidays. Every school and government facility is closed in observance of the day.
The Holiday Season Begins in November
Temperatures begin to feel cooler in October, while tides on some beaches become stronger. The possibility of severe weather is considerable, but you may still travel on a budget during the shoulder season.
Another advantage is the start of the baseball season in Puerto Rico, which lasts until January.
The hurricane season ends in November. November is one of the rainiest months in San Juan, with an average of 140mm falling over 16 days. Ponce in the south experiences a decrease in precipitation, with only 10 days of rain. A low of 22°C is experienced at night and a day average of 30°C are both recorded in Puerto Rico. 
Key festivals & events – At the end of November, the Festival Nacional Indigena honors Taino culture and Puerto Rico's indigenous traditions.
Puerto Rico Discovery Day, observed on November 19, celebrates Christopher Columbus' arrival in 1493.
The island's regional (alcoholic) flavors are honored during Puerto Rico Cocktail Week. We recommend that you order the rum.
Veteran's Day (November 11) is a day set aside to honor military veterans from the United States and the Commonwealth of Puerto Rico.
Celebrations and Festivities occur Throughout December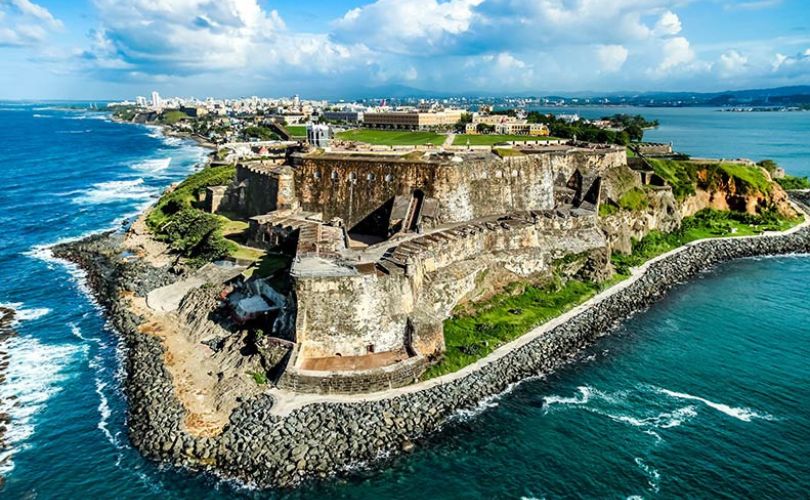 The hurricane season ends in December, and rainfall dramatically drops off, especially along the southern coast, and is a best month to visit Puerto Rico.
San Juan in the north has an average of 16 wet days, albeit 25mm less than in November, while Ponce in the south has an average of 7 rainy days.
The average daily temperature continues to fall to more pleasant levels, hovering about 29°C. The average low in San Juan is 23°C, while in Ponce, it is 20°C.
Beginning in December, Puerto Rico experiences its driest and most pleasant weather, which lasts until March. The multitude of festivities is another advantage of traveling in December. The one disadvantage is that costs may rise, but intelligent travelers can prepare ahead of time for their next vacation.
Key festivals & events – There are numerous festivities in Puerto Rico occurring this time of the year, ranging from the Hatillo Masks Festival to the Lighting of the Town of Bethlehem and the Old San Juans White Christmas Festival.
Christmas Eve, known as Nochebuena in Puerto Rico, is a perfect opportunity for travelers to check in on local celebrations. It features special Christmas meals at restaurants throughout the island.
When are you Planning your Puerto Rico Trip?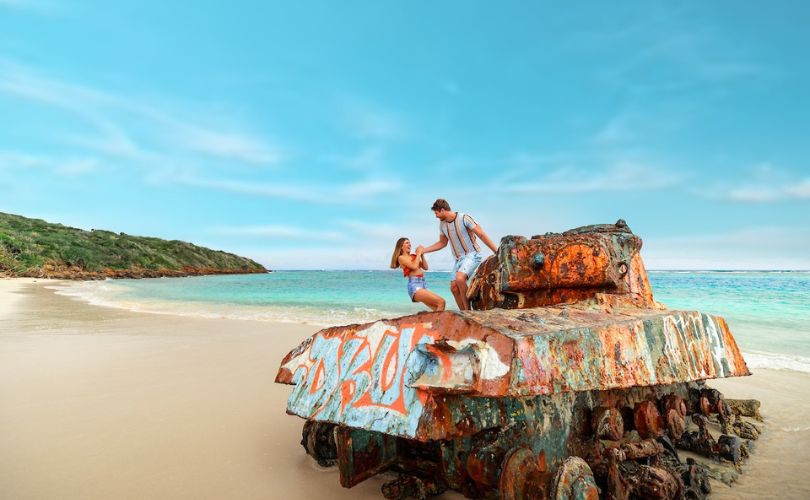 Every year, Puerto Rico is visited by an estimated 5 million people. Due to its location and easy accessibility via air, seagoing vessel, or land vehicle, Puerto Rico remains a popular tourist destination for US citizens and foreign visitors.
When deciding the best time to visit Puerto Rico, it is a good idea to keep in mind that this cultural and historical destination comes alive whenever there is an event. From festivals to parades to religious celebrations, Puerto Rico showcases its brightest colors during the times in which people come together. Therefore, it is wise to select a time of the year that best suits your needs yet will still allow you to enjoy what makes Puerto Rico so popular – vibrant culture and friendly people.
Check Out: Best Time to Visit Joshua Tree