The world recognizes Thailand as the land of smiles, scalding hot curries, white beaches and glittering temple spires. All of this is true, and more, leaving travelers with a conundrum: Where to go in Thailand?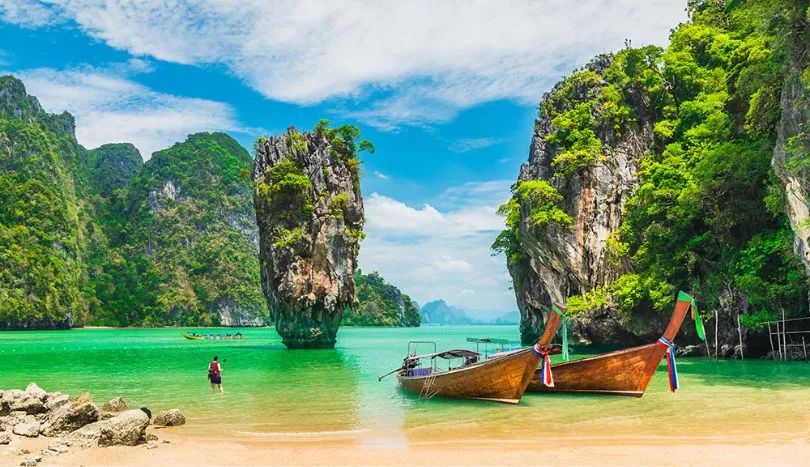 The top attractions and activities listed below can assist you in making a decision, but before you start crossing items off your bucket list. You must decide whether to travel north, south, or both directions. While the north offers the best culture, national parks, and historical sites, the south has the beaches and coral reefs.
Thailand features an intriguing railroad network and low-cost aircraft which offers end-to-end transportation.
Check out our list of the best places to visit in Thailand if you're looking for places to go and activities to do on your upcoming tropical trip.
1. Bangkok is a Strange, Tourist-Made Mirage of What the old Hippy Trail Used to be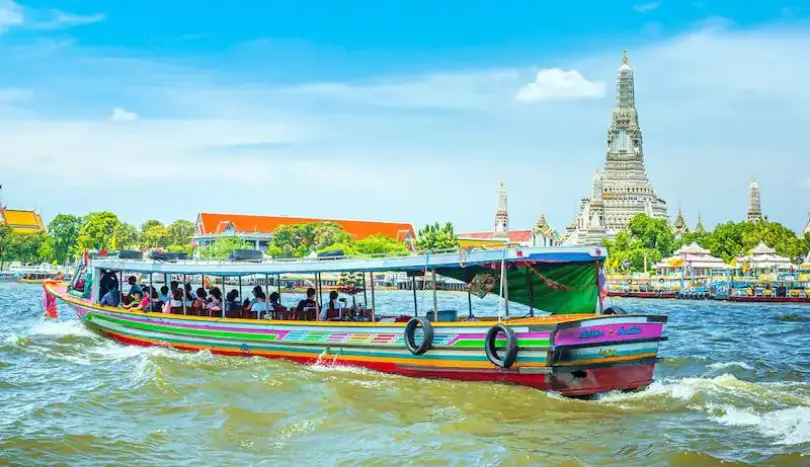 Over eight million people live in the bustling capital of Thailand. Bangkok, which is renowned for its multicultural vibe and lively street life. It serves as a fantastic entry point to the nation's most beautiful temples and palaces, and is at the top of Thailand tourist attractions.
Bangkok's heart lies on the water. There lies the robust canal network that connects its neighborhoods. The bustling Chao Phraya River offers a long-tail boat excursion.
If you're in the mood to shop, Bangkok has a tonne of malls, which features the luxurious Siam Paragon and travel-themed Terminal 21.
The city's main highlight is several old-fashioned floating markets. Nothing beats Chatuchak Market for a really unique experience – one of the world's largest outdoor marketplaces that features a maze of over 8000 stalls.
The Grand Palace is a collection of structures that includes Wat Phra Kaew (Temple of the Emerald Buddha), the Royal Reception Halls, and Wat Pho. It houses a 46-meter-long reclining Buddha wrapped in gold leaf, and is at the top of the list of things to do in Bangkok.
The Temple of the Dawn, also known as Wat Arun, is another magnificent building that is located across the Chao Phraya River.
Lumpini Park, located in the city's center, stretches out like a green oasis in Bangkok's concrete jungle. The park is an excellent area to observe local life, including large water monitor lizards and elderly people practicing Tai Chi by the lake. You may also rent boats to while away the afternoon.
Bangkok is also the location of some of Thailand's best street food. You can find vendors selling mouthwatering regional specialties on whatever side street you choose to explore. Start with neighborhoods like Chinatown and Khaosan Road.
2. Rock Climbers Will Find their Nirvana in Krabi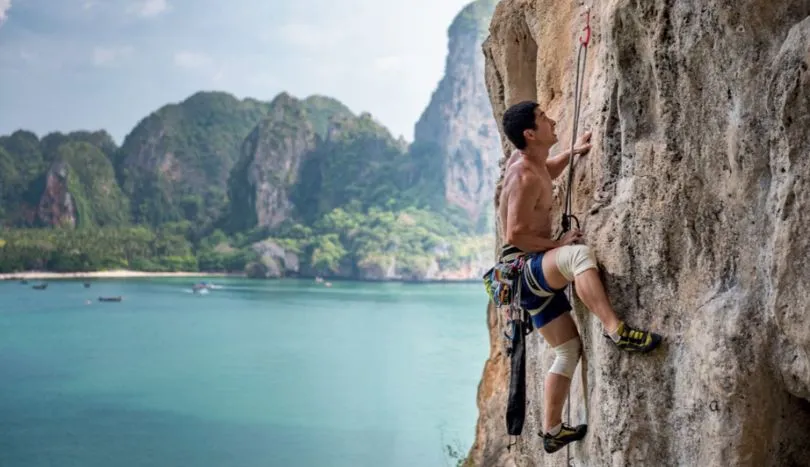 Krabi province consists of around 200 islands, with a considerable portion of land currently protected as a national park.
The area is home to some of Asia's top beaches, and is among the top tourist attractions in Thailand.
The coast of Krabi is extremely rocky and is noted for its high, vertical limestone cliffs, which draws climbers from all over the world.
The Phi Phi Islands are encircled by limestone rocks and offer coral-fringed waters as well as some of Thailand's best snorkeling. Popular activities here include kayaking, sailing, and bird watching.
Visitors seeking land activities can travel inland to Thung Teao Forest Natural Park. It is mainly virgin rainforest with warm-water natural pools and luxuriant jungle teeming with rare animals.
3. Vacay in Hua Hin if You're Looking for a solitary Retreat!
Hua Hin, once a sleepy hamlet best known for being the king's summer hideaway. In recent years it has evolved into a renowned beach resort destination. Expect gorgeous turquoise waters and bustling beach activity here. It is one of the best places to visit in Thailand for families or singles looking to tan in solitude and away from the masses.
Aside from the central Hua Hin beach, explore Cham Am Beach or Khao Takiab Beach, which is home to the Khao Takiab temple and hundreds of wild chimps.
Hua Hin is especially popular in December and January, when European tourists come to escape their own harsh winter.
The Thai-Victorian Maruekhathaiyawan Palace, constructed entirely of teak wood and was the summer residence of King Vajiravudh.
It is located a few kilometers outside of town toward the neighboring town of Cha Am (Rama VI). Try Black Mountain Water Park or The Venezia, a themed shopping complex with Gondola rides, for water activities that will get your heart racing.
Both the Pranburi Mangrove Forest and the Kaeng Krachan National Park are 1.5 hours from Hua Hin. It offers raised wooden boardwalks, waterfalls, and exotic wildlife.
4. Chiang Mai is the Northern Capital, and Majestic Monasteries Adorn Every City Block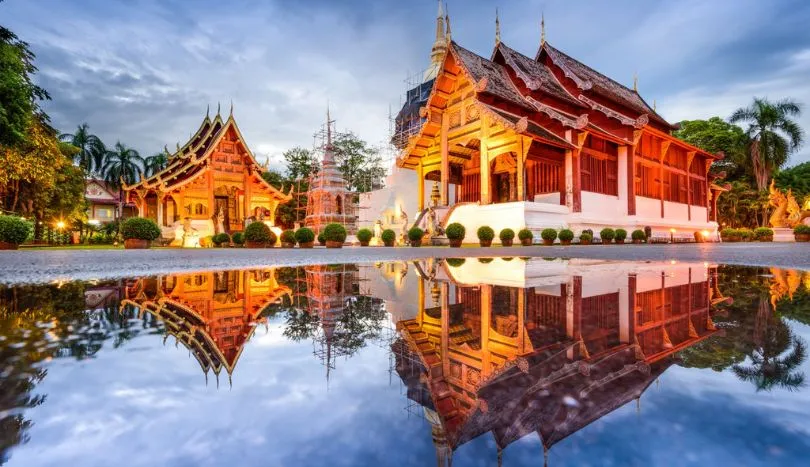 One of the best places to go in Thailand for tourists seeking to experience a different side of the country.
Chiang Mai is shrouded in foggy, densely wooded mountains and is known for its ancient structures, rainforests, and hill hiking.
Doi Inthanon National Park is a portion of the Himalayan mountain range and is home to secluded communities and breathtaking overlooks. One Of the best things to do in Chiang Mai is to pursue outdoor pursuits like hiking, biking, and climbing.
Chiang Mai has more active Buddhist temples than any other city in Thailand, including the well-known Doi Suthep (a popular viewpoint with stunning views of the city), Wat Phra Singh, and Wat Phra That Doi Suthep.
The Meo Hill tribe and the Karen tribe are two of the hill tribes that may be found not far from the city.
Organized tours can take you there to learn more about their history and way of life, as well as to purchase handicrafts made by tribal members to help them survive.
While in town, stroll down San Kamphaeng Road, a 10-kilometer stretch where local artisans congregate to sell anything from silk goods to celadon pottery and lacquerware.
5. Pattaya Escapade is Just Stone's Throw Away from the Bustling Bangkok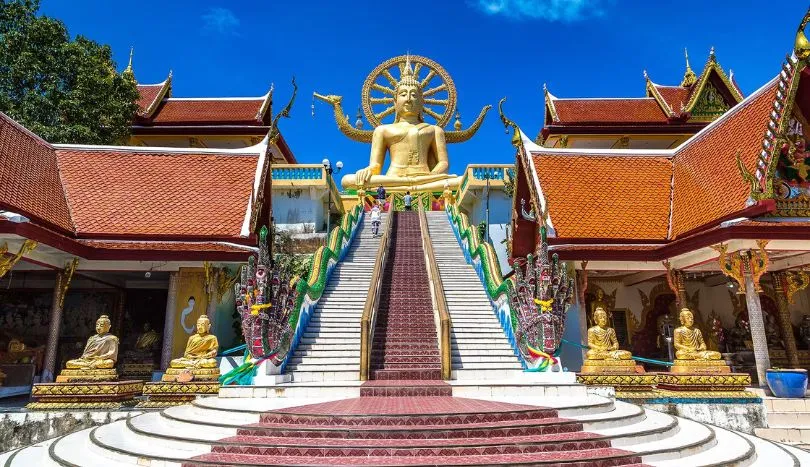 Pattaya, formerly a peaceful fishing village, is the closest beach escape for Bangkokians, and is less than two hours away, and is among the top Thailand tourists spots.
There are plenty of things to do in Pattaya, as most visitors come here to escape the bustle of the Thai capital and enjoy some sunshine.
The beaches of Hat Sai Kaew (Diamond Beach) and Koh Samet are wonderful places to start your tour because they are crowded with vibrant food booths, beach umbrellas, and luxurious beach resorts.
While Koh Larn Island is the top location for sports like parasailing and windsurfing, it is also renowned for its glass-bottom boats that give breathtaking views of the coral reefs.
The Chanthaburi Sapphire Mine is a short day excursion from Pattaya that offers interesting insight into the region's long history of mining. Alternatively, go to Siam Pattaya, an outdoor park with the prototypes of global iconic structures including the Statue of Liberty, Angkor Wat, Taj Mahal and more.
If you only visit one temple while in Bangkok, make it Wat Phra Yai Temple. This wat, also known as Big Buddha Hill, contains an 18-meter-tall golden Buddha that overlooks the entire town.
Try some of Pattaya's museums, such as Ripley's Believe It Or Not and the 3D museum Art in Paradise, for a pleasant, laid-back afternoon.
6. Explore the Complex History of WWII at Kanchanaburi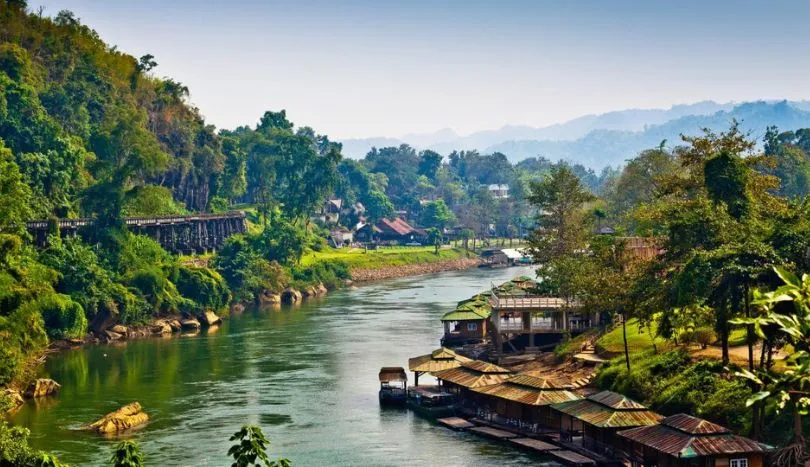 Kanchanaburi is well known for its sinister ties to WWII, particularly the building of the Bridge over the River Kwai. The bridge is noteworthy for being part of the "Death Railway," which was built to connect Thailand with Burma (Myanmar) using forced labor given by Allied prisoners of war.
During the railway's construction, almost 16,000 POWs died, including several British soldiers. The bridge was heavily bombed during the war and suffered damage, but it was soon repaired and is still in place today.
Nowadays, it is possible to travel from one side of the bridge to the other by short train or by walking across the bridge's confined side platforms. The neighboring Kanchanaburi War Cemetery serves as the final resting place for the many prisoners of war who perished here, and is one of the top places to see in Thailand.
The Thailand-Burma Railway Center uses interactive exhibits and video exhibits to tell the tale of the building of the railway and the men who gave their lives in the process.
Two specialized museums, the World War II Museum & Art Gallery and the JEATH War Museum, provide greater insight into the times. It features collections ranging from art to documents to WWII armaments.
7. Ayutthaya's Abandoned Temples and Shrines Serve as a Poignant Reminder of the Thai Past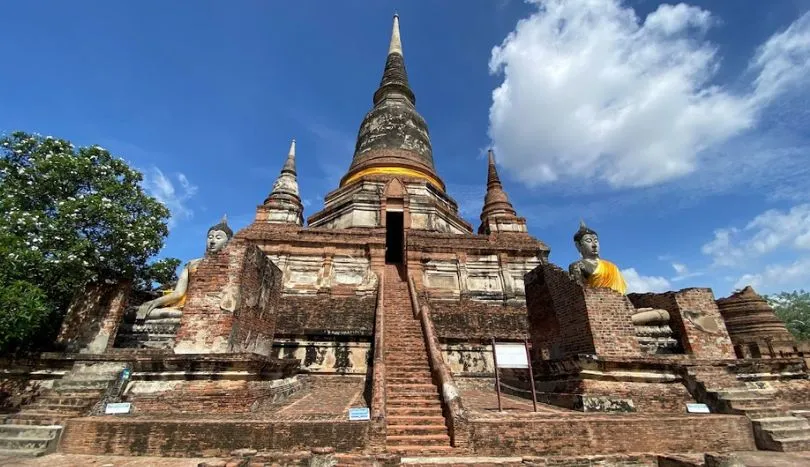 The ancient city of Ayutthaya, located about 80 kilometers north of Bangkok, was once Thailand's capital. It was the kingdom of Siam —back in the 14th century, when the kingdom of Siam was at its strongest.
Today, the ruins of the kingdom can be visited while walking through the UNESCO-listed Ayutthaya Historical Park.
The park is bordered by three rivers and steep moats. It has a total area of 289 hectares, and is a home to reliquary towers, wat, and stucco statues. It is one of the top-rated attractions in Ayutthaya.
A statue of a Buddha's head entangled in tree roots makes Wat Phra Mahathat the most well-known temple in this area, and it must be on your 'Thailand Travel Destinations' list.
Check Out: Best Places to Travel in October 2022
8. Khao Yai National Park is Thailand's Most Impressive Wildlife Haven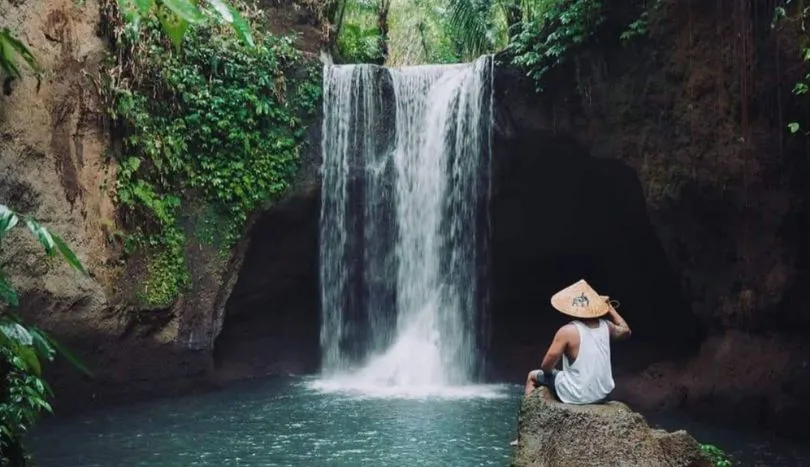 Khao Yai National Park is Thailand's oldest and one of its most popular due to its high number of wild elephants, and other exotic breeds.
This magnificent park has grasslands, mountains, and rainforests over an area of slightly under 2,000 square kilometers.
With such a wide range of topography, the park is home to gibbons, jackals, and even bears. Definitely one of the best places in Thailand to experience wildlife.
You can hike the park to get to Haew Suwat Waterfall. The venue was featured in a scene in the Leonardo DiCaprio film The Beach.
Visitors can hike and bike the paths here. Hire a park ranger that will drive you to the ordinarily isolated ponds where elephants gather to drink.
10. Explore the True Thai Culture in Mae Sariang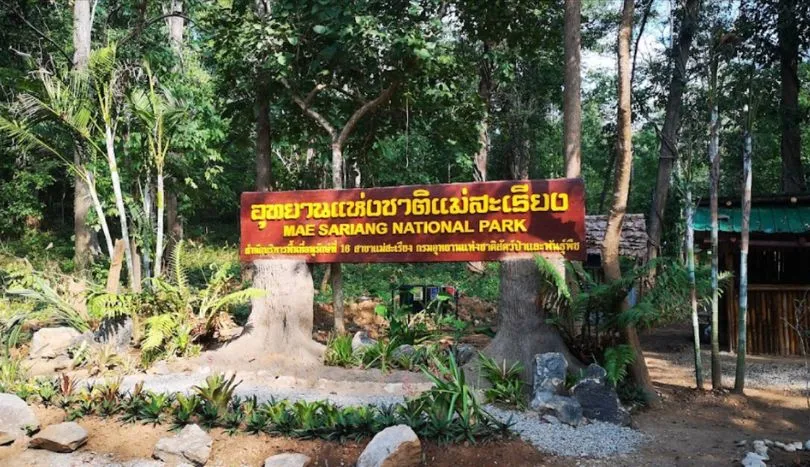 Visit Mae Sariang which gives visitors a look into a more conventional and local way of life than Pai, and is a bustling tourist attraction in Thailand.
Expect to discover lots of inexpensive guesthouses and tiny eateries because it's a hub for motorbike tourists finishing the well-known Mae Hong Son loop. Additionally, the hamlet is directly adjacent to the Salween River-cut Salawin National Park.
Mae Sariang, surrounded by undulating mountains, is one of the greatest spots to visit in Thailand to appreciate the stunning vistas of the north. For a true glimpse into daily life, visit the Morning Market.
11. Explore the Ancient Ruins at Sukhothai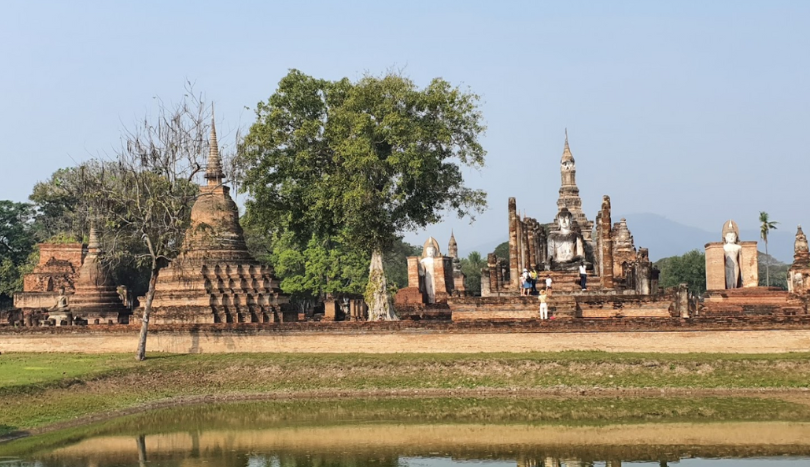 A little village called Sukhothai Thani is best known for housing the Sukhothai Historical Park. It is a UNESCO site that contains the remains of the Sukhothai Kingdom from the thirteenth century.
The park is encircled by ancient city walls, and is home to a total of 193 remains, including 26 temples, a royal palace, several stupas, and stucco statues.
Wat Mahathat is the most spectacular temple on the grounds. It features nine magnificent stupas, a pavilion, and two 9-meter tall Buddha statues.
The former royal residence Noen Prasat and Wat Si Sawai, the park's oldest temple, are two other important ruins.
One of the most popular photos is of Wat Sa Si, which is only reachable by a wooden bridge and situated in the midst of a lake.
12. Pai in Thailand is Known for its lush Forestside, Hot Springs and Backpacker Bars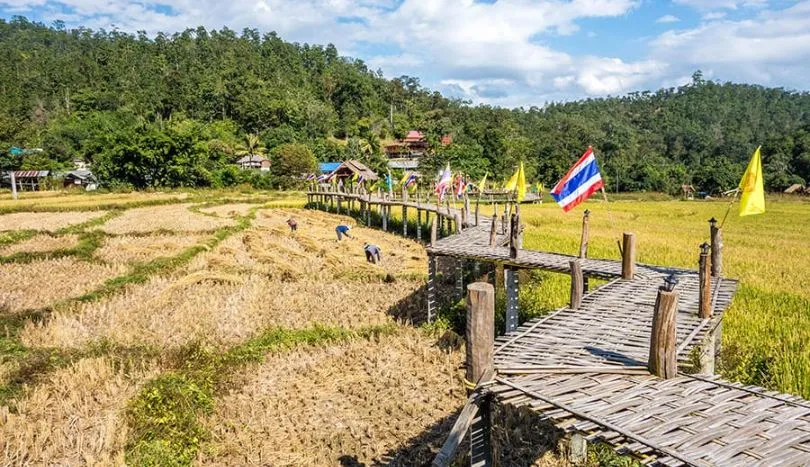 Where to go in Thailand to explore the countryside? The little town of Pai, near the border with Myanmar, has become a favorite among tourists seeking the slower, more rural side of Thailand.
Pai, once regarded only as a backpacker's paradise, is increasingly attracting hikers and peace seekers. Or, anyone looking to spend a few days exploring Thailand's less-traveled roads.
Pai is surrounded by heavily forested hills that descend into lush pastures, breathtaking waterfalls, and what seems like a limitless supply of hiking trails.
It has all the natural beauty of true Thai countryside with hints of the western bohemian lifestyle, such as organic cuisine and eccentric cafés.
Pai is a small city, yet there is plenty to do around. There are endless rice terraces, the Pai Canyon with its breath-taking hiking trails, the Tha Pai Hot Springs for a nice soak, and more.
You can take a day trip to the huge Tham Lod limestone cave system. Or simply ascend the 353 steps to Wat Phra That Mae Yen for stunning valley vistas.
13. Koh Samui has a Lot More to Offer than Just a Place to lay out in the Sun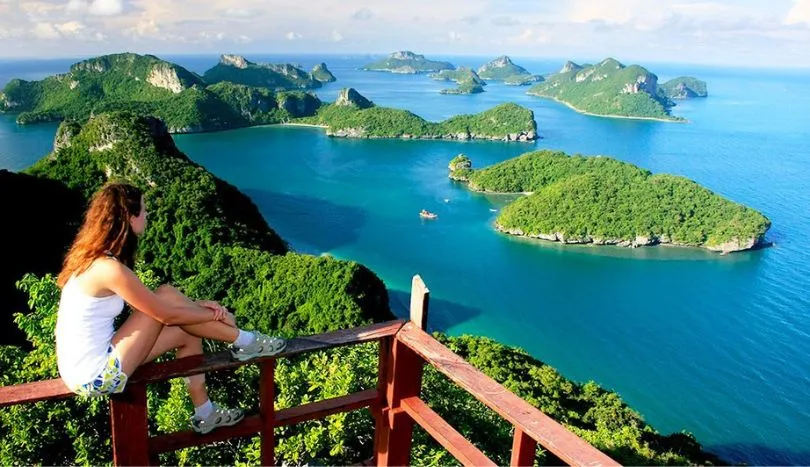 It is home to some of the nicest palm-lined beaches in the country and a variety of opulent resorts, and is among the top Thailand vacation spots.
Koh Samui, one of Thailand's most well-liked vacation destinations, is surrounded by picture-perfect beaches, lush mountainous jungles, and stunning sunsets.
There are also many spas and temples to explore in this area, including the well-known Wat Phra Yai and its 12-meter-tall Big Buddha.
The nearby archipelagos of Koh Samui are close by and have a lot to offer as well. One of the top places to go scuba diving in Thailand is Koh Tao, a little island just off the coast of Koh Samui.
Ang Thong National Marine Park (which spans 42 islands in the vicinity) is a protected area that is home to numerous unique animal species. It is an ideal place for trekking through the thick Thai jungle, and is among the top-rated things to do in Koh Samui.
14. Thailand's far North Chiang Rai is a land of Jungle Wonders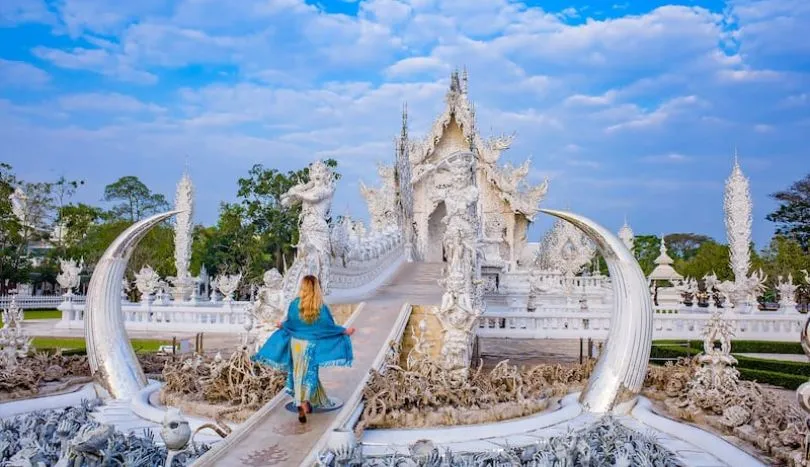 Chiang Rai, a mountainous city on the border with Myanmar and Laos, is noted for its trekking in Lam Nam Kok National Park. It features paths leading to 70-meter-tall picturesque Khun Kon waterfall, lush forest, and hilltop tribe communities, and is one of the top Thailand destinations.
Wat Rong Khun, also known as the White Temple, is the most popular temple in Chiang Rai. Wat Rong Khun is a privately owned property that was restored and reconstructed by Chalermchai Kositpipat, one of Thailand's most recognised contemporary visual artists.
Wat Tham Pla (also home to a cave and thousands of wild macaques) is another popular temple that may be reached by climbing a staircase flanked by guardian Naga serpents.
It's also worthwhile to stop by tiny Wat Phra Kaew, which gained notoriety for once housing the Emerald Buddha before it was transferred to the Grand Palace in Bangkok.
15. Phuket is a Gateway to the Southern Beaches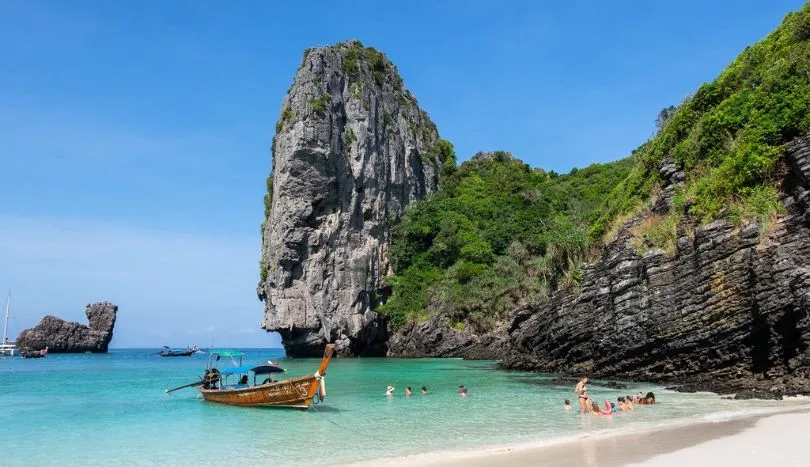 Phuket is one of the top destinations in Thailand. It is located in the Andaman Sea off the west coast of Thailand and is home to some of the nation's busiest beaches.
There are plenty of things to do in Phuket. You can visit Kata Noi Beach for peaceful scenery. Or, go to Nai Harn Beach to experience the crystal-clear waters under the shade of palm trees. Not to miss the Surin Beach that is adorned with luxury resorts and high-end restaurants overlooking the sea.
The Big Buddha, standing 45 meters tall and dominating Phuket, is located at the summit of Nakkerd Hill, The biggest temple in Phuket, Wat Chalong, is where you may find a stupa that supposedly contains a fragment of Buddha's bone.
Phuket Town is worth exploring on foot to see the Sino-Portuguese buildings that line Thailand Road, the historic shophouses that have been turned into vibrant enterprises and its bustling markets.
16. Take a day trip to Khao Sam Roi Yot National Park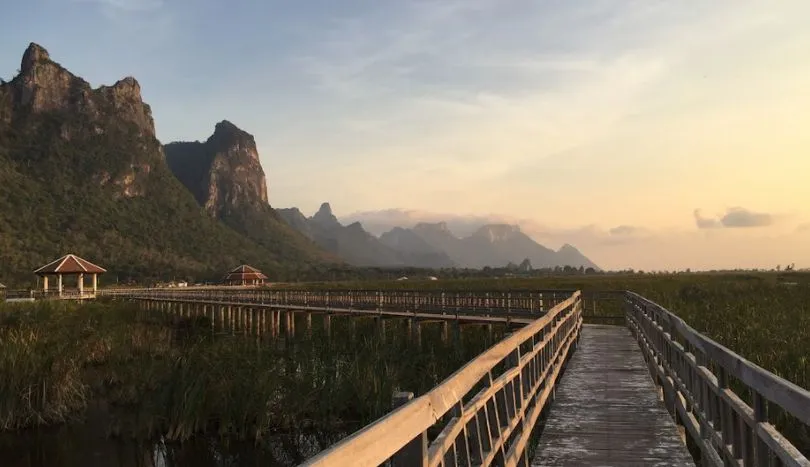 One of Thailand's famous places is Khao Sam Roi Yot National Park. It features Thailand's largest freshwater marsh, mangrove swamps, picturesque beaches, limestone caverns, and several tropical jungle paths.
There is just too much to see and do here for a day trip. Start your exploration of the park at the Thung Sam Roi Yot Freshwater Marsh in the northwest corner.
A stunning backdrop of blue-toned mountains can be seen in the distance, along with a variety of waterbird species. If you require accommodation for the night, there is a small campground and a few cottages close by.
Sam While Laem Sala Beach is primarily known for serving as the entrance to Phraya Nakhon, a sizable cave that houses a royal pavilion, and Phraya Beach. It also offers a campground and a restaurant.
A long, 30-minute uphill climb is required to get to Phraya Nakhon, but it is well worth it for what lies inside.
Sai Cave likewise involves a strenuous climb, but it provides a perspective and a cool retreat from the heat in a calcite and bat-riddled cavern.
The Khao Daeng Canal is another excellent way to explore the mangrove forests and get up close and personal with the species that live there. In the village of Khao Daeng, you can rent a boat, or you can inquire about rides nearby.
Conclusion
If you're traveling to Thailand as a part of a larger holiday that includes stops in other countries, you may find yourself with limited time. In this case, it may be best to focus on the top attractions from the north and south of the country, and see what remains further down your list for another day. It's also best to check weather forecasts and plan accordingly. Thailand experiences varying weather conditions from north to south, so prepare accordingly.
Thanks to its beautiful beaches, friendly locals, and interesting culture, Thailand has long been a popular tourist destination. There's so much to see and do that it can be hard to choose where to go in Thailand — but if you're going to visit just one location, we suggest Bangkok . It's famous for its temples, markets, and culture, but it's also now a major travel hub for the area and offers convenient international flights.
Also Check: