Vancouver is a joy to visit, so consider doing so. The best time to visit Vancouver will depend on whether you prefer to hit the slopes or lounge on the beach.
Are you okay with crowds, or do you prefer to visit during off-seasons when tourism is lower? Summer days are warm and sunny, with occasional showers. There are plenty of things to do in Vancouver at this time, including shopping, touring, and relaxing on one of the city's many beaches.
Winter provides an opportunity to visit ski resorts and see what foreigners consider more normal Canadian weather.
The shoulder seasons of spring and fall are still ideal for getting outside, albeit expect a lot of rain. If you don't mind, you may still visit the picturesque British Columbian city while enjoying less crowded areas and lesser pricing.
Whether you enjoy nature, museums, or sports, Vancouver has something for everyone, regardless of the season.
Summer Season in Vancouver – June, July, and August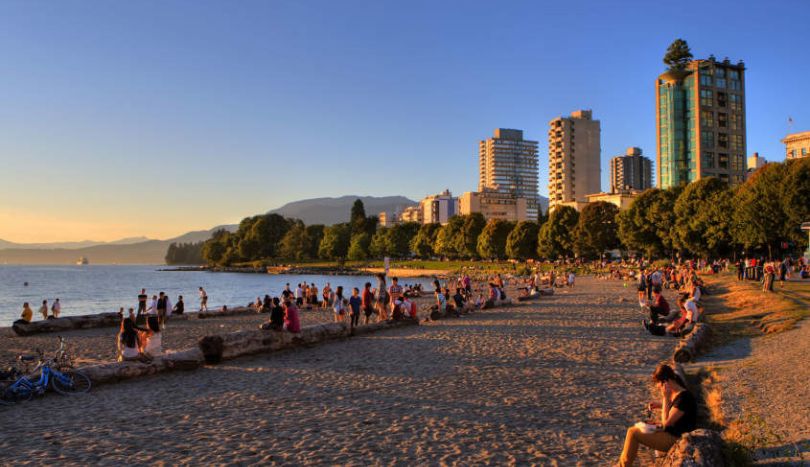 When visiting Canada in the summer, one of the main attractions is the plethora of outdoor activities. Music festivals, street parties, and other outdoor activities are popular in Vancouver during the summer months, when the risk of rain is low.
A usual high temperature of 75°F (24°C) and typical low temperatures of 60°F (16°C) indicate that the weather is pleasant.
Despite heatwaves, Vancouver's summer season allows visitors to spend the most of their time outside without getting wet or excessively hot or cold.
Shorts and a t-shirt are acceptable attire for exploring downtown Vancouver's attractions; however, save your bathing suit for lazing by the pool.
Summer months are ideal for music enthusiasts, with events such as the Vancouver International Jazz Festival taking place. The Vancouver International Jazz Festival is one of the city's largest music festivals, taking over venues all around the city. If you enjoy jazz, this is a must-see event!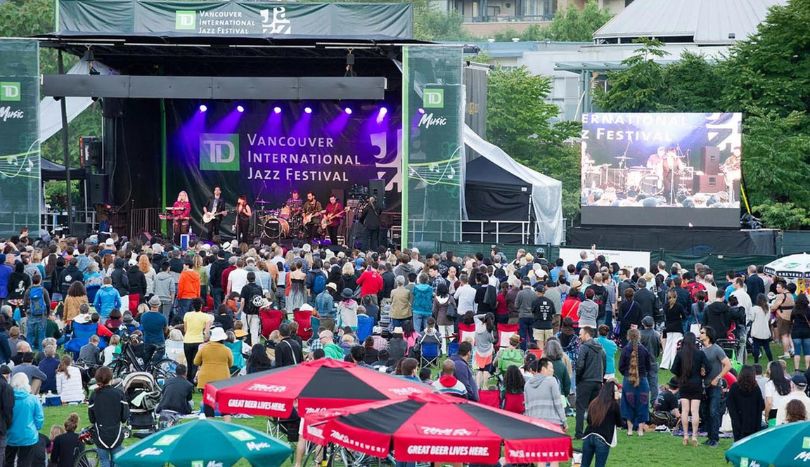 Big stars including Herbie Hancock, Kamasi Washington, and Snarky Puppy have performed at previous festivals.
In the Lower Mainland, food trucks and street food festivals appear relatively frequently. Experience fireworks this time of the year which draws a sizable crowd.
Summer is the best time to visit Vancouver BC, mostly to enjoy the outdoors in this magnificent city flanked by the Pacific Ocean and the North Shore's beautiful mountains. Within the city, you may stroll through the gorgeous Stanley Park and shop your heart's content on Robson Street or Granville Island.
The cost and the crowds are the two drawbacks of visiting Vancouver in the summer.
Hotels will be more expensive, and because it is peak travel season, you may experience throngs at major attractions to yourself.
As previously stated, ferries are frequently busy, campgrounds are usually full, and grabbing a drink on a patio can require a long wait or advance reservations.
Fall Season in Vancouver – September, October and November
VANCOUVER WEATHER
Rainfall in Vancouver begins to increase in September, and by October and November, it is quite regular, with downpours roughly half of the time.
Despite this, it is still the best weather in Vancouver BC. In October, the leaves begin to change color, producing a gorgeous landscape of reds, oranges, and yellows, while many trees remain green all year.
The weather is usually not too cold, even though it may be rainy, making it ideal for experiencing all that Vancouver has to offer.
You should bring at least a light jacket because Vancouver's typical temperature in September, October, and November is approximately 50°F (10°C).
A heavier coat is advised in November because temperatures can fall considerably below this. And that jacket should undoubtedly be waterproof with all the rain.
Don't let the fear of rain deter you from visiting Vancouver in the fall. Vancouver has many indoor activities to choose from to keep you out of the rain during the off-season.
You can also endure the conditions and go whale watching until October, if you're lucky enough to have a bright day.
Fall is a great season to visit the Vancouver Art Gallery to escape the weather, browse the many downtown Vancouver boutique stores, and marvel at the city's architecture.
The benefit of rain in the fall is that many visitors avoid visiting Vancouver, giving you more breathing room on the beaches, in the parks, and on the ferries. Early October is also a fantastic time to visit the Okanagan Valley, known for its dry climate and seemingly endless orchards of fruit. It is also the best time to visit wineries in the suburbs.
Thus, if you don't mind a little rain, autumn is undoubtedly the best time to travel to Vancouver. Don't forget to bring an umbrella and raincoat.
Winter in Vancouver – December, January, and February
Vancouver is regarded as a real winter destination in December, despite the fact that the city itself typically experiences more rain than snow during this time of the year.
A little dusting falls on the city center on occasion, but to experience a winter wonderland, head to North Vancouver and the peaks of Grouse, Seymour, and Cypress. If you're up for it, you may also take the Sky Highway to Whistler, which offers top-notch skiing and hotels.
In addition to skiing and snowboarding, these locations provide snowboarding, and other winter sports in certain circumstances.
Winter months serve the best weather in Vancouver BC for exploring the great outdoors because there are less people than in the summer. During the winter months, you may take a stroll through Stanley Park. Even in the dead of winter, you're unlikely to encounter snow in the downtown Vancouver park.
You'll take advantage of the Christmas vibe if you decide to visit Vancouver in December. There are Christmas markets all across the city, and some of them are open until early January. Winter is also a fantastic time to visit indoor attractions such as the Vancouver Art Gallery and other covered popular places.
In the winter, storm watchers often flock to Vancouver Island, particularly Tofino, on the exposed west coast of the island.
Hotel rates will be slightly lower in the winter. The lift tickets to Grouse Mountain and other nearby hills will be cheaper as the ski season draws to a close in March.
The absence of wildlife during the winter in Vancouver is another disadvantage. The chances to see whales are almost nonexistent, and the bears have long since gone into winter hibernation.
Spring in Vancouver – March, April, and May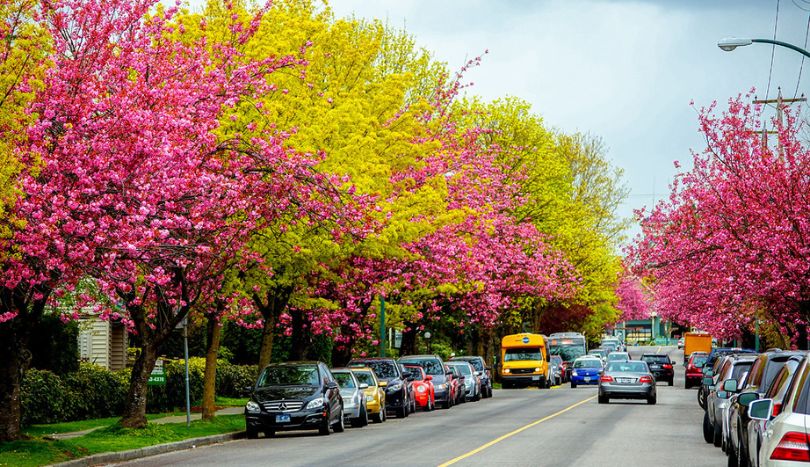 Spring in Vancouver is when tourists and locals may enjoy the benefits of the abundant rain that fell from the fall to the winter.
The city's cherry blossoms are in full bloom at this time of year. Everything by now is green and budding, and is the best time of the year to visit Vancouver..
Spring temperatures in Vancouver reached up to 65°F (18°C) in May, a significant increase from the average high of 50°F (10°C) in March.
Regardless of whether spring month best suits your travel plans, you'll need to bring clothes for most seasons due to the wide range of weather. Pack layers to stay warm in the morning and evening. In May, a t-shirt will suffice in the late morning and afternoon.
As inhabitants emerge from their winter hideouts, spring is the best time to visit Vancouver, BC . The city hosts many events, and it's a perfect time to go on food tours, wine tours in the Okanagan, and explore the many Vancouver area parks.
Spring visitors to Vancouver will benefit from less crowds while still being surrounded by the natural splendor of the Lower Mainland.
This is an excellent time to rent a car and drive the Sea to Sky Highway in search of wildlife. You may see one or two bears by the side of the road as they start to emerge from hibernation.
Compared to the winter, the hotels in the city will be much more affordable.
The one disadvantage of visiting in the spring is, once again, the weather. There's still a higher likelihood of rain than in the summer, and you'll need to bring a variety of outfits to accommodate the temperature and weather variations.
Month-by-Month Breakdown Weather, & Key Events in Vancouver
1. It's the Winter Time in January, and slightly lesser crowd
The coldest days in Vancouver have arrived. The highest temperature measured was 6 degrees Celsius, while the lowest was 1 degrees Celsius.
Vancouver experiences some of its wettest months in January. Vancouver still has a lot of indoor activities available, even though this can be a deal-breaker for outdoor fans.
What better way to enjoy the cold weather than with a culinary adventure at the Dine Out Vancouver Food Festival?
One of the most eagerly awaited events each January is this two-week long culinary feast.
Many restaurants join and present their menus to individuals who want to try the best of their delicacies without spending a fortune.
Don't forget that the Canyon Lights Christmas Display at the Capilano Suspension Bridge is closing soon. Every year, the area is decorated with spectacular lights and beautiful displays. This is the best month to travel to Vancouver if you want to avoid the Christmas crowds.
Key events & festivals – Dine Out Vancouver Food Festival, Lunar New Year, Robbie Burns Day, Vancouver Hot Chocolate Festival
2. February Heralds the end of Winters, and the Arrival of Love Birds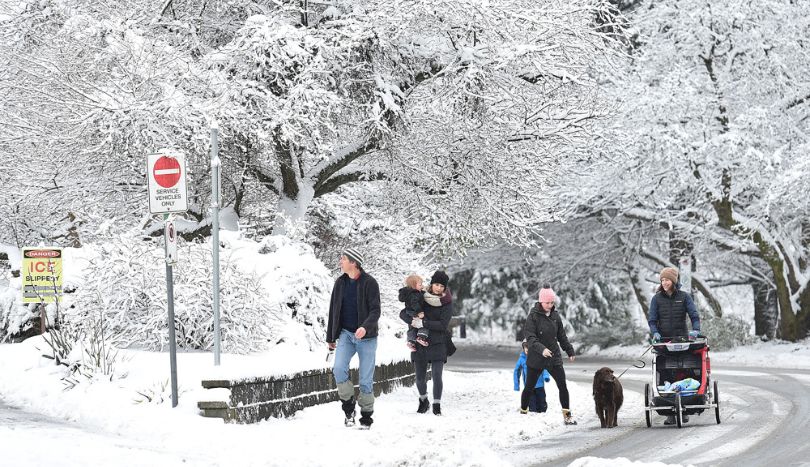 The winter season has come to a close. The highest temperature measured was 8 degrees Celsius, while the lowest was 2 degrees Celsius.
Couples on romantic getaways for Valentine's Day are drawn to Vancouver in February by the comfortable weather.
The city is also at its loveliest, with many institutions providing special packages appropriate for the event and season. This is the best time to go to Vancouver if you want to spend time cuddling with your loved one.
Bicycle around the neighborhood or go on a wine tour. Spend time in galleries or under the sky. Romantic tourists have a plethora of options.
February is also the month for corporate events and annual social gatherings commemorating various local highlights.
Key events & festivals – Vancouver International Boat Show, Vancouver International Wine Festival, Valentine's Day, and Family Day
3. Spring Blossom to its Fullest in March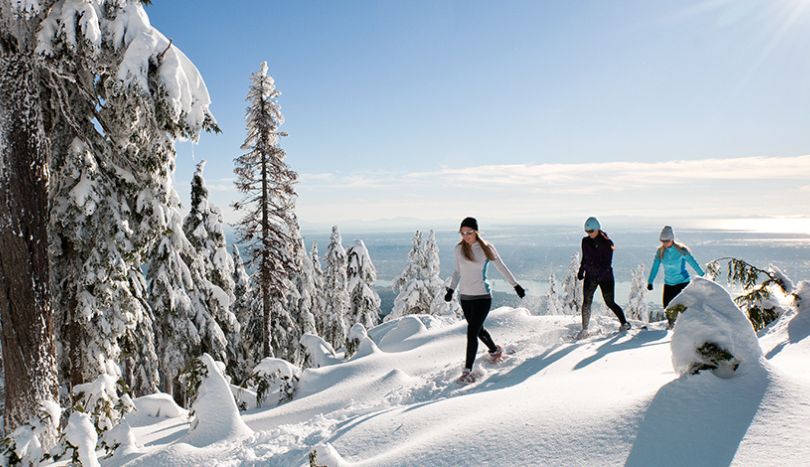 Spring has officially arrived. The lowest temperature is 3 degrees Celsius, while the highest is 10 degrees Celsius.
This time of year is off-season in Vancouver, so expect less crowds and a more relaxed travel environment.
This is the best time to visit Vancouver, especially for those visiting on a budget. There is also a chance of storms nearby.
Take part in the 24 Hours of Winter at Grouse Mountain before winter officially ends.
Grouse Mountain is jam-packed with winter activities that last until the small hours, so you can ski, skate, and snowboard to your heart's content. Make sure not to miss the torch parade.
This month also sees the Festival du Bois. If you enjoy Canadian folk, Celtic, and world music, this is the greatest time of year to visit British Columbia.
This event attracts a large number of Francophone festival aficionados.
Key events & festivals – Vancouver International Dance Festival, Festival du Bois, Persian New Year Fire Festival, CelticFest Vancouver, and St. Patrick's Day.
4. April is the Best Time to Enjoy Outdoor Activities!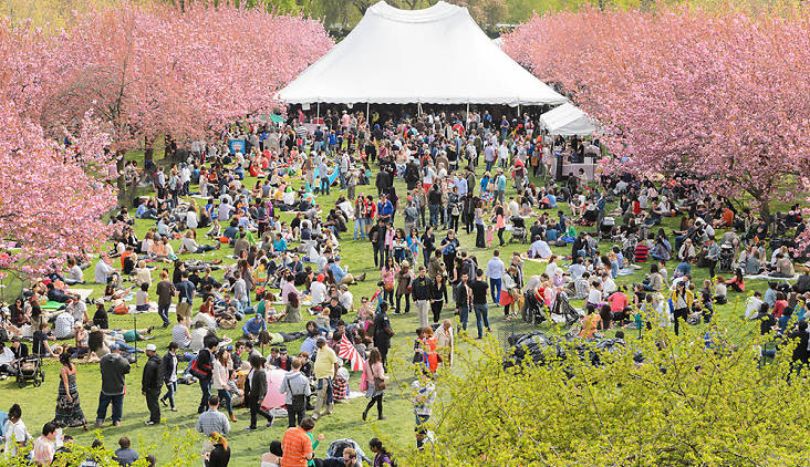 It's officially springtime. Maximum and minimum temperatures are 12 degrees Celsius and 5 degrees Celsius, respectively.
Plan your agenda carefully, especially if it includes a lot of outdoor activities. In April, Vancouver is wet, which may interfere with your plans for nature trips and the like.
In contrast, the Vancouver cherry blossom festival is held each year in April. One of the best months to visit Vancouver when the entire city exhibits red and green hues everywhere you see.
If you love these gorgeous flowers, now is the time to travel to Vancouver, Canada.
To allow residents to enjoy being surrounded by the pink blooms, the community organizes bike and sightseeing tours. For everyone who likes Asian culture, the Sakura Night event in Stanley Park is a must-see.
Key events & festivals – Easter, Vancouver Vaisakhi Parade, 420 Vancouver, Vancouver Opera Festival, Vancouver Cherry Blossom Festival, and Sakura Days Japan Fair.
5. Days and Night get Warmer in May, and by now the Tourists Arrive in Vancouver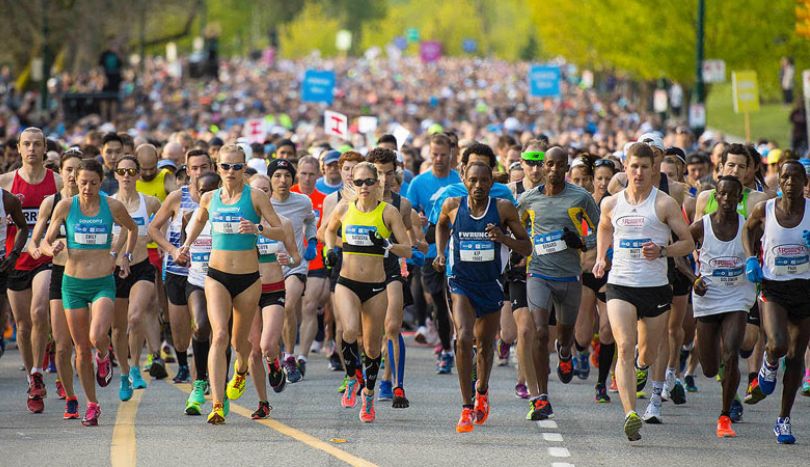 The end of spring brings warmer days and nights.
The highest temperature recorded was 16 degrees Celsius, while the lowest was 9 degrees Celsius.
People begin flying into Vancouver to take advantage of the wonderful weather that arrives between the end of spring and the beginning of summer.
The best time to visit Vancouver for gastronomic discovery is typically during this time of year, when a number of food places open.
Beginning in May, the area will be served by the well-liked Richmond and Shipyard Night Markets.
May is also the month of the eagerly awaited BMO Vancouver Marathon, a beautiful event with routes that brought to a halt well-known landmarks.
Key events & festivals – All British Field Meet, Victoria Day, BMO Vancouver Marathon
6. June Brings the Summer and the city's Busiest Tourism Season!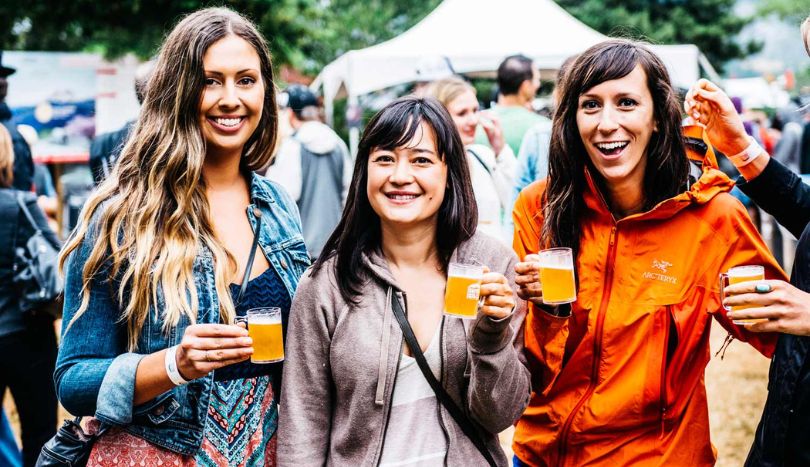 Summer has officially arrived in Vancouver. The highest temperature recorded was 19 degrees Celsius, while the lowest was 11 degrees Celsius.
Even though summer has arrived, June should still see a few sprinkles. The peak tourist season in Vancouver begins in June, so plan ahead of time if you plan to visit Vancouver, BC.
This month, there will be a jazz festival in Vancouver. Several concerts in various venues across Vancouver are held during this event, which brings together high-profile performers to celebrate music with fans from all over the world.
Vancouver Craft Beer Week is also just around the way.
Key events & festivals – Squamish Beer Festival, Surrey Greek Food Festival, Scotiabank Half Marathon, and Vancouver Dragon Boat Festival.
7. July Boasts a Cool, and Crowded Vancouver!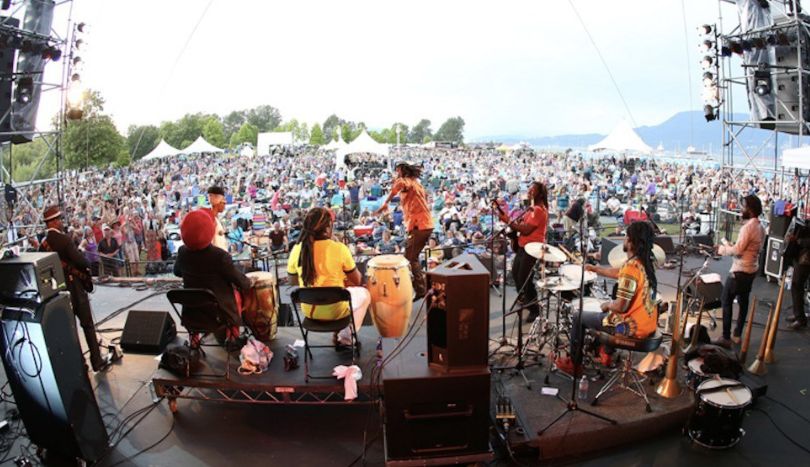 Summer will be cool and bright.
The highest temperature recorded was 21 degrees Celsius, while the lowest was 13 degrees Celsius.
The peak tourist season in Vancouver is in full swing as the weather turns hot and dry at this time of year.
People come to the city to celebrate Canada Day, so the entire area is bustling with locals and tourists going about their business.
When the Vancouver Folk Music Festival takes place in July, you'll see a lot of folks visiting Jericho Beach instead of swimming.
Witness local performers and world-renowned musicians perform live for three whole days. Along with the music, there will be food stalls and craft fairs for everyone.
Key events & festivals – Bastille Day, Canada Day Festivities, Vancouver Chinatown Festival, The Vancouver Folk Music Festival, Gastown Grand Prix, and Vancouver International Jazz Festival.
8. Expect Rains and Festivities Galore in August
Summer is drawing to a close, and the rainy season is on its way.
The highest temperature this time around would be nearly 22 degrees Celsius, while the lowest 14 degrees Celsius.
When August arrives, you may look forward to more sunny days and fewer days of rain. Enjoy the outdoors while you can by visiting Stanley Park, a well-liked spot that the whole family may enjoy.
This is the best month to visit Vancouver for the Bard on the Beach Shakespeare Festival, which has been going on for two months at this point. This event is worthwhile since it's entertaining and instructive.
The Vancouver Chinatown Festival and the Vancouver Pride Parade are two other events that will soon be taking place.
Key events & festivals – Vancouver Pride Parade and Festival, Bard on the Beach, Kaleidoscope Arts Festival, Vancouver Bach Festival, Vancouver Mural Festival, and Richmond World Festival.
9. September Marks the Arrival of Autumn and Nature's Splendor!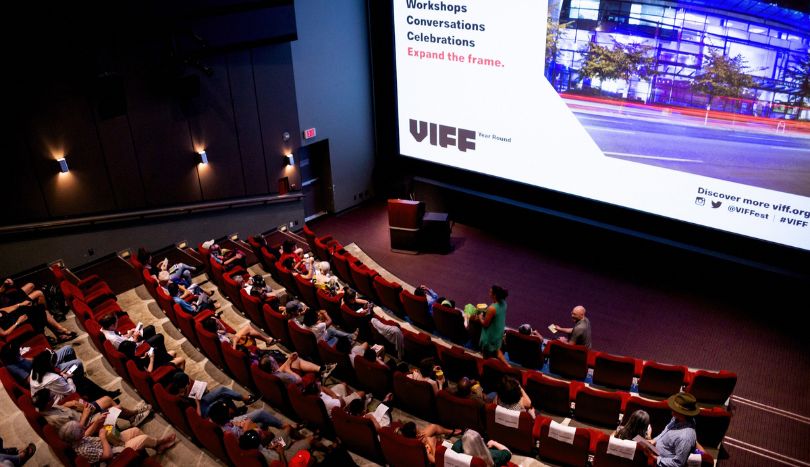 It's officially autumn.
The highest temperature is 18 degrees Celsius, while the lowest is 11 degrees Celsius.
September in Vancouver tends to be wet in the latter few weeks, so if you want to perform any outside activities, do so before the beginning of the month. This time of year, the beauty of the fall season is on full display.
For those who enjoy and make movies, September is a terrific month. This month marks one of North America's largest film festivals, the Vancouver International Film Festival.
Key events & festivals – Labor Day, Vancouver Fringe Festival, The Vancouver International Film Festival, and Fire Dragon Festival.
10. Expect Rains, and some Harshness in Weather in October
Rain is anticipated as the fall breeze becomes cooler.
The highest temperature would be roughly 13 degrees Celsius, while the lowest looms around 7 degrees Celsius.
Go to Vancouver in October if you don't mind traveling in cloudy, dreary conditions.
Furthermore, there are other indoor activities that you may take advantage of, many of which are worth traveling to. Consider visiting museums, libraries, indoor pools, and massive aquariums.
As the entire neighborhood prepares for Halloween activities, Vancouver transforms into a giant eerie location, and is the best time to visit Vancouver Canada.
In order to participate in Vancouver's haunted and ghost tours, plan your trip to arrive in October if you enjoy this kind of event. The colorful Vancouver Halloween Parade will round out your visit.
Key events & festivals – Oktoberfest, Eerie Illusions, Halloween Events, Vancouver Halloween Parade, and Diwali Fest.
11. November Marks the beginning of Ski season and Winter Sports!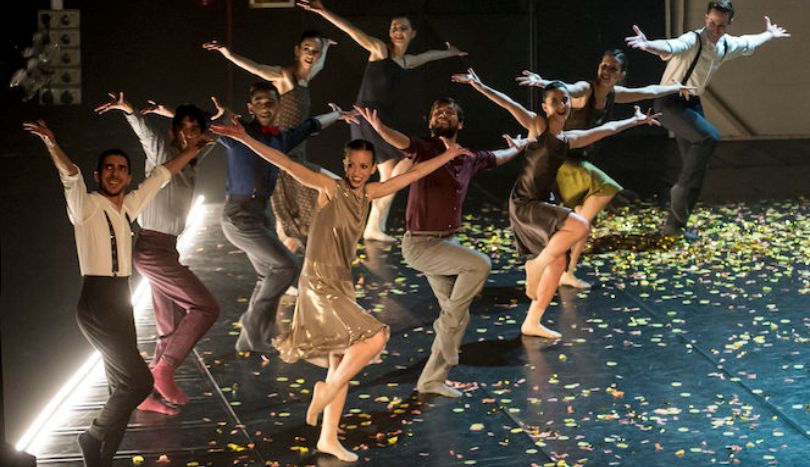 Expect plenty of rain this time of the year. The highest temperature goes nearly 8 degrees Celsius, while the lowest runs around 3 degrees Celsius.
November is considered the off-season in Vancouver because the holidays have yet to begin and the snow has yet to accumulate.
The weather will have a big impact on a lot of the activities you have planned for November in Vancouver. No surprise this is not the best time to travel to Vancouver, British Columbia.
If there is snow, you can enjoy a day of winter activities. The Grouse Mountain is scheduled to open this month, this heralds the arrival of ski season.
Christmas attractions open as early as this month, so it's a good idea to visit them before the holiday crowds arrive.
The Hopscotch Festival and the Vancouver Eastside Culture Crawl are major attractions this time of the year.
Key events & festivals – The Hopscotch Festival, Bear Creek Light Festival, Thanksgiving, Black Friday, Vancouver Eastside Culture Crawl, and Chutzpah Festival.
12. It's the Winters and Christmas vibes in December!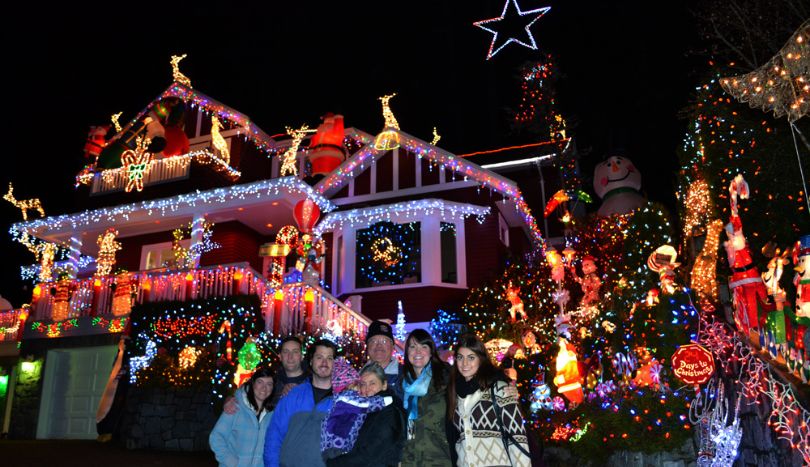 The winter season has officially begun.
The highest temperature would be around 6 degrees Celsius, while the lowest dips to 1 degree Celsius.
Vancouver is totally enveloped in darkness by five o'clock in the afternoon. Make sure to organise your outside activities accordingly.
While this shortens your sightseeing trips, it extends your evening plans by a couple of hours.
The best time to visit Vancouver is during the Christmas season. Check visit the Vancouver Christmas Market for a day of fantastic food, great buys, and a hearty dose of seasonal fun.
The Christmas season at Canada Place is something you should not miss! The gigantic, brightly lit Christmas tree and the enormous gingerbread guys are two of the main attractions.
The VanDusen Festival of Lights is a must-see in Vancouver throughout the month of December.
See the botanical garden come to life with Christmas lights strung across acres of luscious countryside.
Key events & festivals – Christmas at Canada Place, VanDusen Festival of Lights, Vancouver Christmas Market, and New Year's Eve Celebrations.
Bottomline
Any time is a fine time to visit British Columbia and the city of Vancouver, and the best time to visit Vancouver depends on your preferred activities, your appetite for crowds, and your budget.
If you enjoy winter sports and Christmas markets, winter is great. Fall and spring are also great travel seasons because there is a lot of nature and fewer people around.
Summer is the busiest season for tourists in Vancouver, but with good cause. The weather is pleasant, the beaches are popular, and the outdoor activities, attractions, and festivities are abundant.
Vancouver is a must-visit city for anybody visiting Canada because of the breathtaking scenery, top-notch museums and other attractions, and apparently infinite opportunities to experience wildlife.
For more inspiration:-