Straddled on the California and Nevada border is a 22 miles long and 12 miles wide riverside retreat that is studded with pristine pine forests and snow-capped mountain peaks, you can visit this American beauty any time of the year regardless of any season. Yes, you heard it right! The best time to visit Lake Tahoe in any month, as different times of the year offer different activities and attractions to experience.
For nature lovers and outdoor enthusiasts, Lake Tahoe is a year-round destination. Bushwalking, trekking, cycling, and water skiing are some of the most popular summertime activities.
In addition, Lake Tahoe is also a winter wonderland from December to April, with plenty of activities to look for such as cross-country snowboarding, tubing, snowmobiling, and sleigh rides. The world-class alpine ski resorts in the Lake Tahoe area are legendary.
We'll get straight to it in this quick post about when is the best time of the year to visit Lake Tahoe. This post will cover the following topics:
Lake Tahoe Weather & The Ideal Time to Visit Lake Tahoe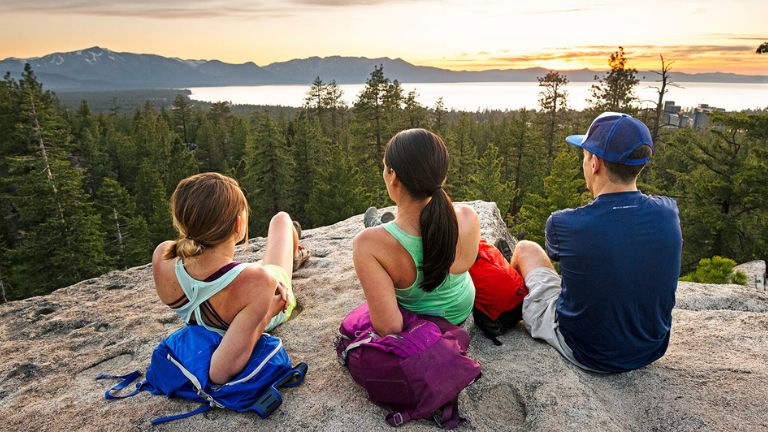 It's critical to visit Lake Tahoe at the appropriate time of year for your scheduled events. The weather in the mountains can be fickle, but in general, the best time to visit Lake Tahoe is when it's either dry or snowy.
Visit Lake Tahoe in the summer if you want to enjoy warm weather and infinite alpine sunshine. For sunbathers, June to September is the greatest season to explore Lake Tahoe.
Do you want to get your hands on those treasured white granules? Do you want to go skiing or snowboarding? Then late December to March is the best time to explore Lake Tahoe.
Visiting Lake Tahoe in the fall is a great experience if you want fewer crowds, lower accommodation fees, and enjoyable activities. Here's how to figure out when to leave:
September – September in Lake Tahoe is marked by nice weather with a tinge of cold nights, a lot of activities across the lake, and the lowest footfall.
October – It's one of the prettiest times of year, and it's ideal for everything outdoors. Trekking, bicycling, mindfulness, and other activities are available in the lovely autumn colours.
Best Time to Visit Lake Tahoe in Summer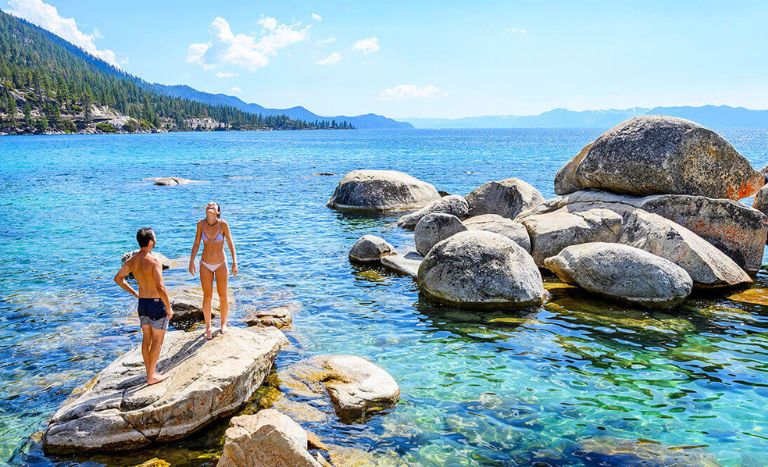 During June, July and August, the weather in Lake Tahoe is often nice and warm. Temperatures range from 70 to 90 degrees during the day and drop to thirties and forties at night.
The majority of the snow has melted, making now an excellent time to go outside and explore. It is, however, the biggest season for visitors visiting Lake Tahoe. There are crowds apparently everywhere, traffic can ramp up, and lodging prices are at an all-time high.
If you're interested in the following activities, June, July and August are the best time to visit Lake Tahoe in summer:
Visit the Scandinavian-style castle in Vikingsholm.
Take a part in the Summer Concert Series at Valhalla Estate.
Take a sun-bath at Kings Beach.
Bask under the warm summer rays at D.L Bliss State Park..
Go Scuba diving at Sand Harbour State Park.
Best Time to Visit Lake Tahoe in Winter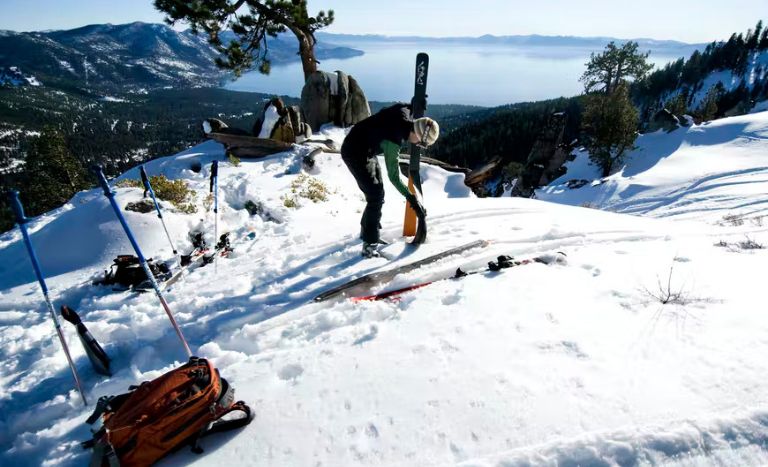 Tahoe is beautiful in the winter. The landscape is quite the opposite of the summers. A winter wonderland in the snow. An area where ice sheets sparkle with frost. Where the peaks are strewn with new snow. This is the best time to visit Lake Tahoe for skiing and snowboarding. Yes. Lake Tahoe is a beautiful place to visit. In the winter, it's a lovely place to be.
If you're planning to visit Lake Tahoe in Winter, the best months would be from November to March where you can indulge in following activities –
Visit the Squaw Valley for Alpine Skiing
Try cross-country Skiing
Explore miles groomed wilderness trails at Camp Richardson
Go Snowmobiling in the South Lake Tahoe's backcountry
Try tubing and sledding at Heavenly Resort, Kirkwood Resort, and Sierra-at-Tahoe.
Best Time to Visit Lake Tahoe in Spring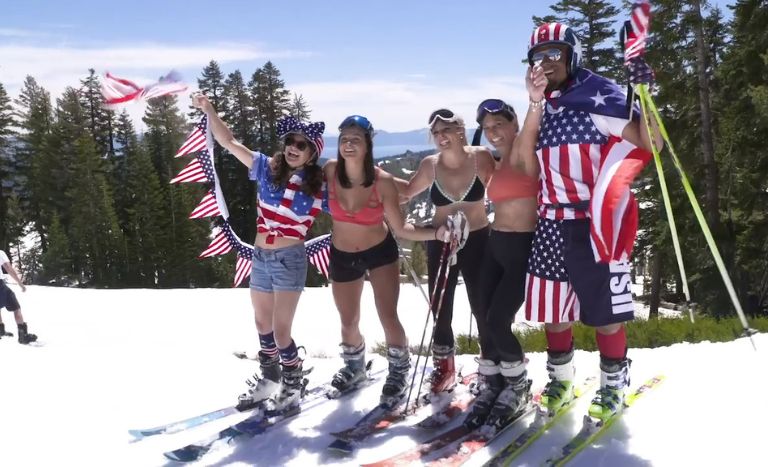 Mother Nature celebrates the melting of the snow in Tahoe by bringing delights and eye wonders. The amazing spring experience in Tahoe South includes showers, late-season snowfall, and beaches inviting vacationers with toasty sands.
April and May are the best time to visit Lake Tahoe when the peaks reveal its full magnificence. A cacophony of multi-coloured daisies populate the hills amidst green blotches, and young leaves sprout from branches as life begins to burst through the icy blanket. The wide, crystal-clear lakes mimic the rays of the sun.
Visiting this time of the year here connects you with nature, that let indulge in the following activities like –
Visit Horsetail Falls or Lower Glen Alpine Lake Falls
Grab a mountain bike at Saxon Creek Trail.
Trek to Shower Lake
Best Time to Visit Lake Tahoe in Fall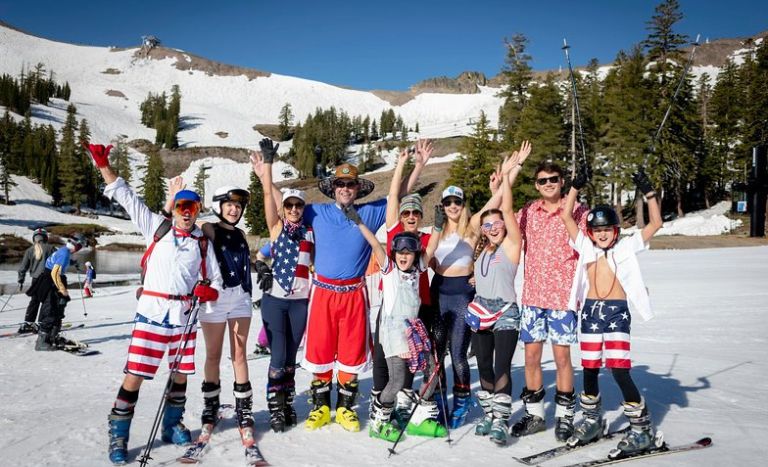 There are so many things to do around Lake Tahoe in the fall. The lake is completely full. The 72-mile rim of the lake is lined with tall pine that rises well up into the mountaintops. Juniper and alder groves transform to fall magnificence, framed by coniferous trees.
While each season has its own set of benefits, the autumn season is particularly beautiful. If you have a long weekend and wish to go to Lake Tahoe for a fall escape, you will undoubtedly create memories of a lifetime.
There are numerous outdoor activities to choose from as the September and October is the best time to visit Lake Tahoe for warm weather and the following activities –
Look for amazing fall colours especially at the cottonwoods.
Enjoy Hiking at Tahoe Rim Trail or Incline Flume Trail
Spend some time at Sand Harbour
Take a stroll along Tahoe East Shore Trail
Go cycling along the lake.
Enjoy stand-up paddleboards into the fall.
Lake Tahoe Weathere During Each Season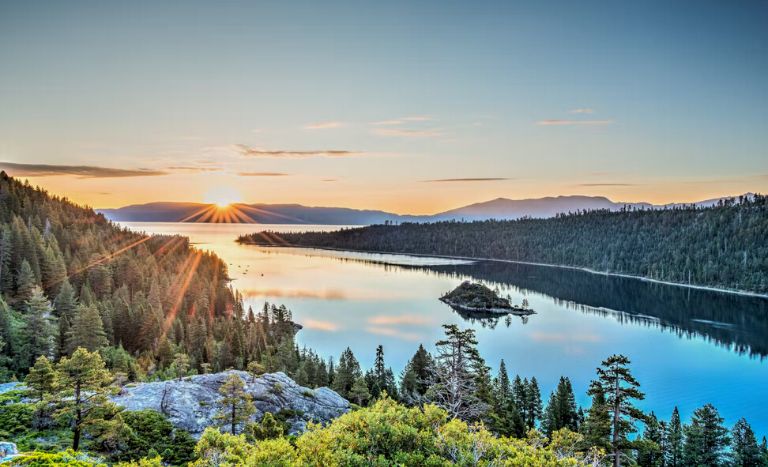 Let's understand how the weather lasts every month in Lake Tahoe, which activities are suitable, the nightly accommodation and much more.
January Means Snow, Snow and Snow!
Lake Tahoe sees a lot of visitors in January. There will be additional snow in January. You won't be besieged the entire month, due to typical temperatures in the 40s °F. January, like December, will bring more tourists and greater rates to Lake Tahoe. As a result, expect to pay more for everything.
Plan ahead of time. The months of December through February are considered the busiest and the best time to visit Lake Tahoe for snow.
People of San Francisco and Sacramento who live nearby rush to the area when the first snowfall of the season is predicted.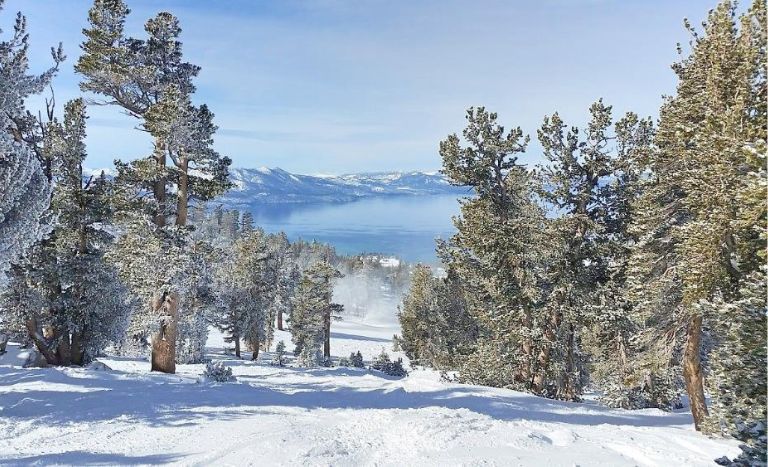 As a result, make sure you plan ahead of time and book ahead of time. Do not fall for last-minute travel plans for this month.
How is the weather in January – The month of January is known for its frigid spells. Temperatures will be about 18 °F on a daily basis. In January, temperatures rarely rise above 32 degrees Fahrenheit, while they rarely fall below 4 degrees Fahrenheit. Extreme cold!. But, on the other hand, this is a famous winter wonderland that you must see in person to appreciate.
February is for Couples at Lake Tahoe!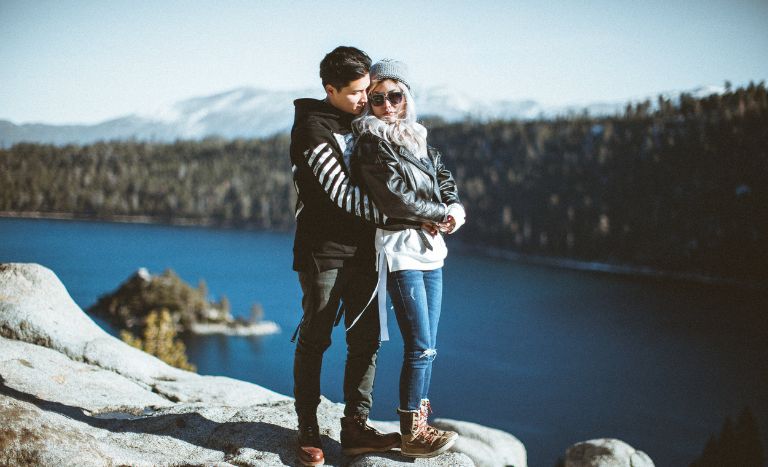 In Lake Tahoe, February marks the end of the winter season. But it was still very crowded due to Valentine's Day festivities.
And if there was ever a heaven on the earth for the couples, it would undoubtedly be this beautiful refuge.
Snow is expected in February. Temperatures will also be relatively cold. This is also the best time to visit South Lake Tahoe.
SOUTH LAKE TAHOE WEATHER
How is the weather in February – In February, much of the swimming and mountaineering will be closed. Especially when there is a lot of snow. Average temperatures are expected to be about 23 °F with a low of approximately 7 °F. In February, the high temperature rarely rises beyond 33 degrees Fahrenheit.
Enjoy the Best of Both worlds and Weather in March!
In Lake Tahoe, March is on the verge of becoming Spring. March is considered a shoulder season, despite the fact that it is still a winter month.
The winter rush hour is drawing to a close, while the summer rush hour hasn't fully resumed.
In March, you can anticipate a little bit of everything. From snowy cold snaps to pleasant sunny days and everything spectacular vistas in between.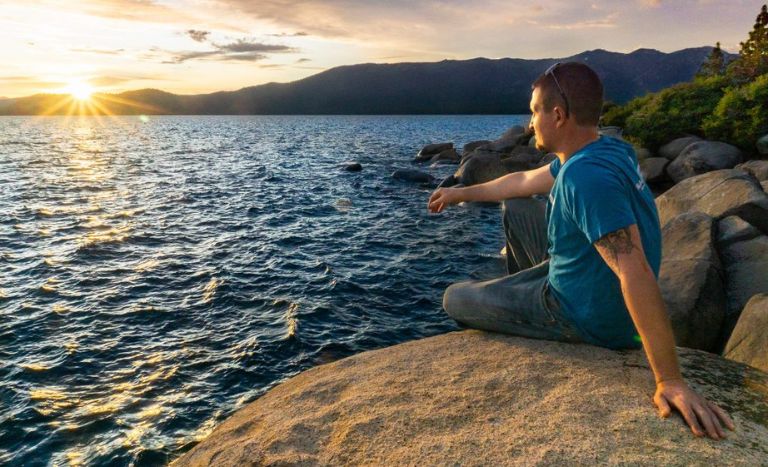 What's the best part? In Lake Tahoe, there is still plenty of snow in March. All of the ski resorts are still open. During the month of March, all of Tahoe's chair lifts are operational, you'll have the perfect skiing settings.
It's a time when snow granules commonly freeze in bundles at night and melt the next day in the blazing sun. This is also the best time to visit Lake Tahoe Nevada for skiing and warmer weather at the same time.
How is the weather in March – The average temperature in March in Lake Tahoe is roughly 27 degrees Fahrenheit, with lows seldom falling below 12 degrees Fahrenheit and highs rarely exceeding 35 degrees Fahrenheit. It's the perfect weather for skiers and snowboarders who want to rip up the slopes. What's the best part? In March, you'll discover fewer visitors, cheap hotel tariffs, and perhaps plenty of winter sports.
April is Synonymous with Beach Time at Lake Tahoe!
In April, Lake Tahoe is a retreat for those wishing to avoid the crowds. It's the time of year when ski resorts are still open for business.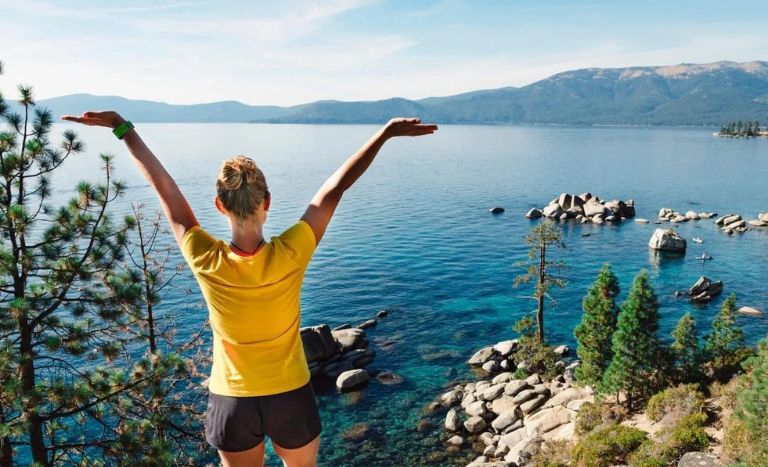 The days are getting longer and the nights are becoming shorter. The length of the day lengthens substantially from the beginning of April until the end of the month. In reality, it increases by 1 hour and 9 minutes, resulting in an additional 2 minutes and 23 seconds of daylight per day.
On a nice sunny day, drive down to the white sand beaches while the water is still too cold to swim in.
Hit the beaches of Sand Harbour on the north, or Emerald Bay Beach on the south, where you can see Fannette Island.
It is the time of the year where the cost of nightly accommodation is low and the best time to visit Lake Tahoe for skiing and plenty of activities.
How's the weather in April – Expect temperatures to linger around 32 degrees Fahrenheit with lows usually falling below 18 degrees Fahrenheit and highs rarely topping 39 degrees Fahrenheit.
Lake Tahoe in May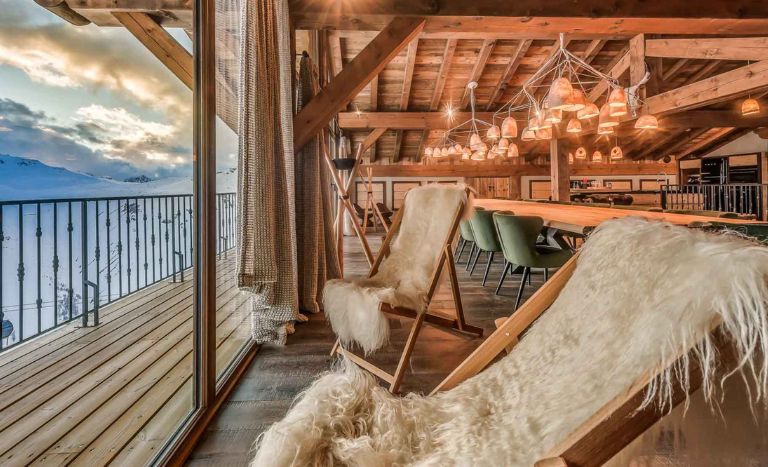 You can do all ranges of activities this time of the year. From trekking, and climbing to taking a sunbath on the golden beaches, Lake Tahoe turns into the perfect summer destination.
The outdoors activities are more enjoyable thanks to the crisp air that makes the weather pleasant and not too hot to handle.
Although you won't get the same discounts as you would in April, most hotels and BnBs are still a bargain compared to what you'll pay during peak season, which runs from July through September.
Given that, this time of the year, there's a high chance you'll be able to find some worthwhile deals on hotels at a dirt-cheap price.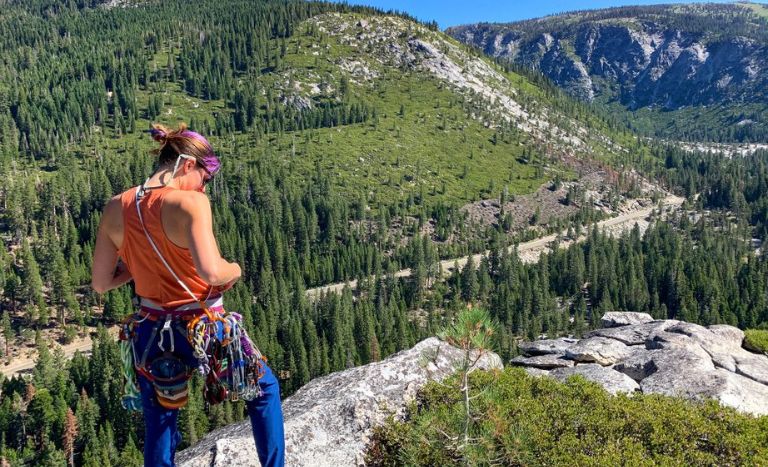 How's the weather in May – In May, Lake Tahoe signifies the end of the spring season and the start of summer. Be prepared for a wide range of temperatures. Expect warmer temperatures in Tahoe with temperatures as high as 70 degrees Fahrenheit. This is the best time to visit Lake Tahoe for warmer weather.
Pack to Experience the Pleasant Weather of June!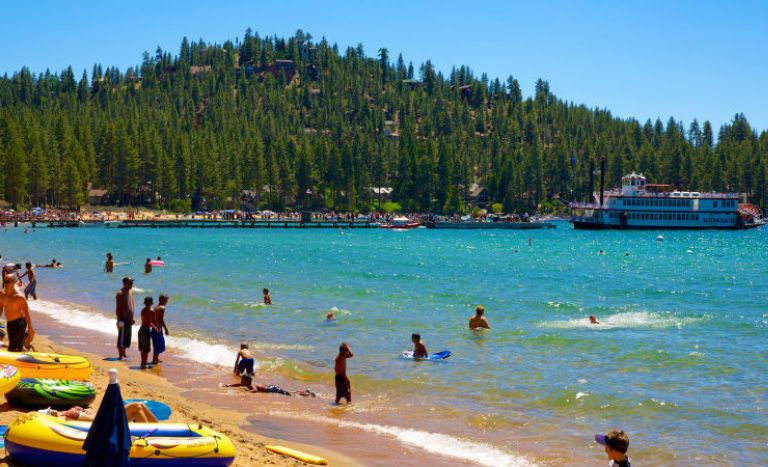 The high season in Lake Tahoe begins in June. It's that time of year when travelers rush to this place for its golden sands and Alpine woods. This is also the best time to visit Lake Tahoe for hiking.
From hotel to dining to activities, expect to pay extra for almost everything in June. Plan to book months in advance if you want the hotel accommodation of your aspiration.
How's the weather in June – In June, temperatures in Lake Tahoe can range from 34 degrees Fahrenheit to 77 degrees Fahrenheit. There is never a time when the temperature is too hot. While you may certainly enjoy the lake, even in June, the water will be cooler. However, this is some of the nicest weather in the area for hiking in and around Lake Tahoe.
Enjoy Lake Tahoe's Shakespeare Carnival in July!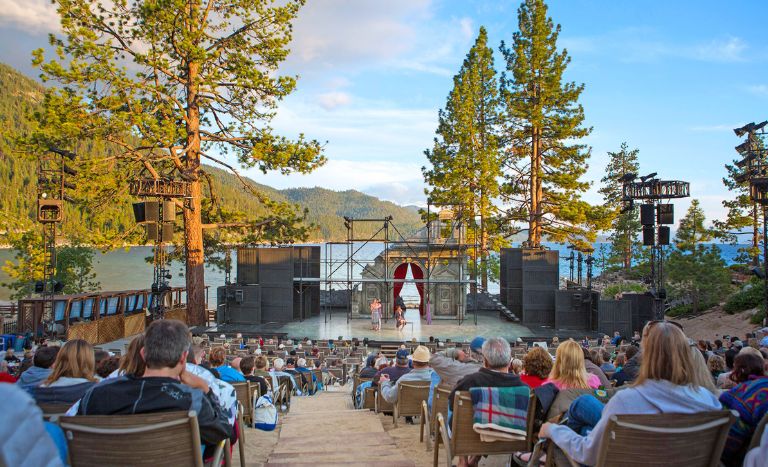 In July, Lake Tahoe is at its busiest. Expect to pay a higher price. Plus, be prepared for crowds. The beaches are packed with visitors. The hotels will remain 100 percent occupied. This is the best time to visit Lake Tahoe for outdoor activity and to get everything done.
The summer months of July and August are by far the busiest in Lake Tahoe. It is strongly advised that you do the advance booking in the month of June or early in July.
This is the best time of the year to visit Lake Tahoe for the main attractions like the 4th of July Parade and the Lake Tahoe Shakespeare Festival that are held in downtown Truckee.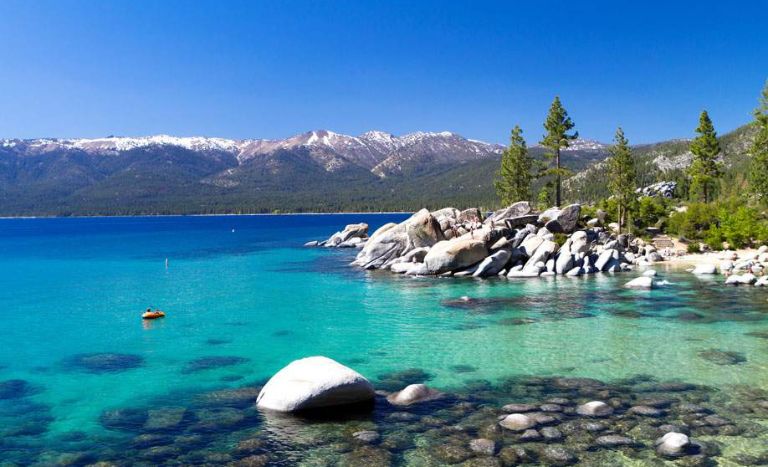 How's the weather in July – Temperatures range from 40 degrees Fahrenheit to 82 degrees Fahrenheit this time of the year. While the dry crisp air is lovely at 70 degrees, and the lake is now warm enough for swimming. The rentals, and parking would be crowded — and expensive.
August – The Perfect Time of the Year in Lake Tahoe for Winter Sports!
Lake Tahoe is also bustling with vacationers in August. The beaches and shoreline are overcrowded. The hiking trails, golf courses and hotel remain jam-packed.
The main attraction this time of the year is the winter sports at the Truckee Mountain Bike Park. Everything related to the outdoors is worth the dime. You would be under the perfect setting of majestic Alpine forests and snow-capped cliffs that will leave you awestruck.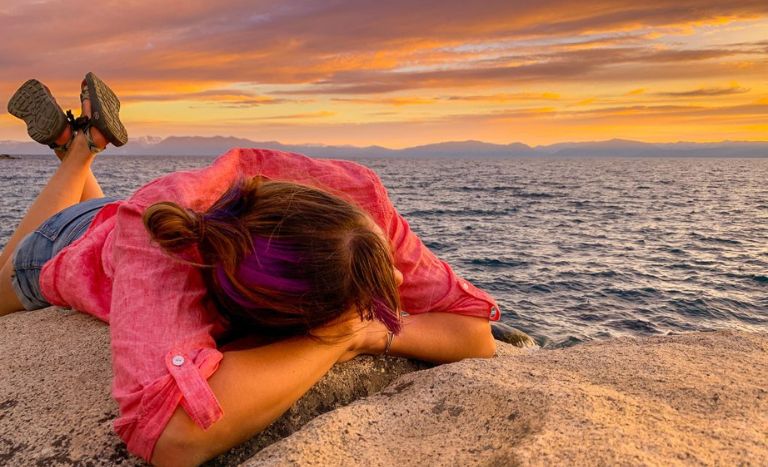 How's the weather in August – Temperatures in August range from 38 degrees Fahrenheit to 87 degrees Fahrenheit. In August, you'll have a lot of options for things to do in Lake Tahoe. The weather is warm, and visitors are likely to experience the breathtaking splendour and the Lake Tahoe best time to visit in August.
Lake Tahoe Offers Attractive Deals on Hotels and Activities in September!
This is the best time to visit Lake Tahoe for calm and peaceful vibes. Lake Tahoe is still crowded in September. But, you won't be fighting for space on the beaches and hotels as you would in the peak seasons. For this reason, it is the best time of the year to visit Lake Tahoe as hotel rates are pretty cheap.
How's the weather in September – Temperatures in Lake Tahoe will range from 38 °F to 78 °F in September. The temperature drops in September but only by a small margin.
Enjoy Lovely Autumn Foliage in October!
October marks the end of summer at Lake Tahoe. You will expect a low crowd and don't expect to pay much for the accommodation.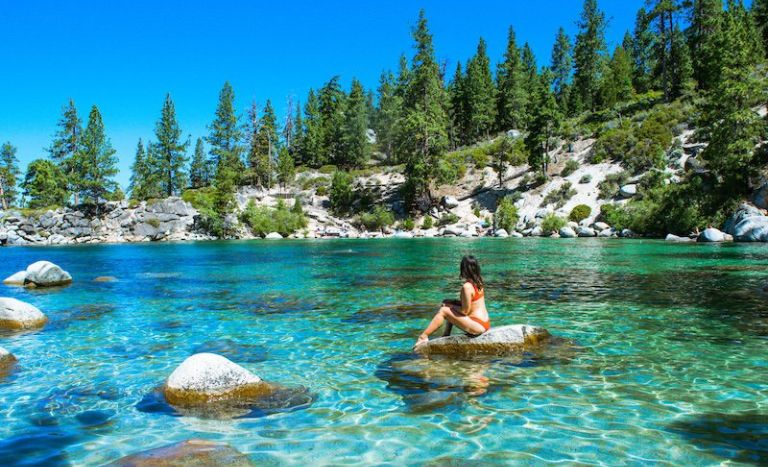 It's the best time to visit Lake Tahoe near the end of summer if you want to avoid the crowds, whether you're dining or going to the beaches for the view.
It's one of the prettiest times of year, and it's ideal for everything outdoors. Trekking, bicycling, mindfulness, and other activities are available in the lovely autumn colours.
How's the weather in October – October, like September, is a mild fall month in Lake Tahoe, California, with average lows of 32.4 degrees and highs of 58.8 degrees Fahrenheit.
Celebrate Thanksgiving With Your Family in November!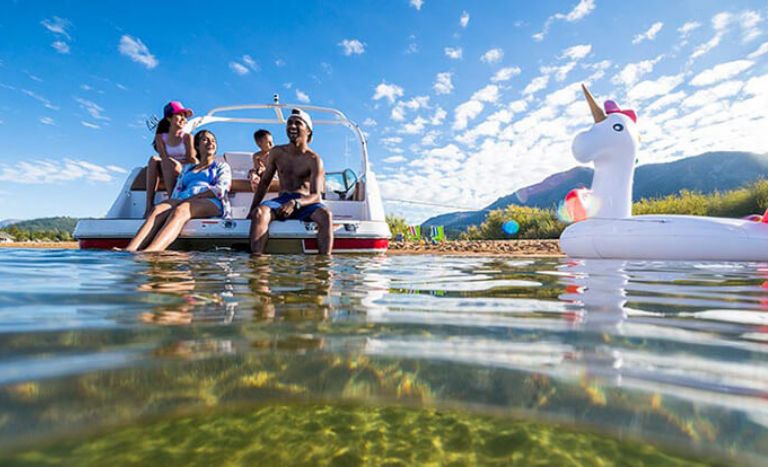 September through November is one of the best times to visit Lake Tahoe. You'll be able to get a better deal. However, there are also lower temperatures.
This is referred to as the shoulder season. It's when the summer tourists have thinned out but the winter crowds haven't yet arrived.
Everything costs a little heftier due to Thanksgiving and the holiday season to begin with. Accommodations will continue to operate at current holiday prices.
You may love the scenery while potentially seeing a glimpse of snow on the highest summits.
How is the weather in November – In November, you can engage in a wide range of activities. From trekking and fishing to skiing, there's something for everyone. The month of November is perfect. In November, the average temperature in Lake Tahoe is around 40 degrees Fahrenheit. The high temperature is normally around 65 degrees Fahrenheit. The low will be approximately 14 degrees Fahrenheit.
Dial Lake Tahoe for Winter Holidays/Festivities in December!
Lake Tahoe in December is a sight to behold. The mountains are draped in snow. Frequent snowfall brings a feeling of tranquillity.
Walking in the snow in Lake Tahoe is one of those feelings that is difficult to put into words. There's a seductive sense of calmness that instils a sense of nostalgia in you that will last for years to come.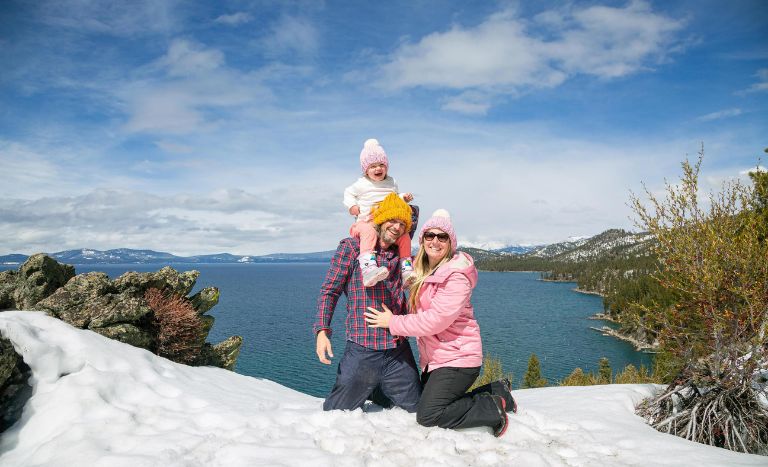 You'll probably still be able to avoid the masses in early December. When the snow hits, however, you can count on a large influx of local tourists eager to bask in the snow this time of the year. Looking for something special? This is the best time of the year to visit Lake Tahoe for snow and all other winter activities you desire.
Travel to Lake Tahoe will be substantially more expensive starting around Christmas. Not only are the accommodations in the area more expensive, but so are transportation, ski permits, and other activities.
You'll also have to cope with crowds. Hundreds of thousands of visitors are expected to visit Tahoe over the Christmas vacation.
If you want to see Lake Tahoe in December, start planning now. If you wait until the last minute, you will not only spend extra, but you will also most likely miss out on the accommodations of your aspirations.
Make a reservation as soon as possible. The greatest spots are the first to fill up.
How is the weather in December – The average high temperature looms around 39° while the average low hangs on 14°. On average, Lake Tahoe receives 75 to 100 inches of snow every winter.
Find the Best Month to Visit Lake Tahoe for Activities
Are you ready to plan your journey to Lake Tahoe? Check out the list below to identify the best time for your dream vacation and some fun activities!
| | | |
| --- | --- | --- |
| Activity | Best month to visit | Why? |
| Water activities | Summer | Summer is Lake Tahoe best time to go for water sports and cruises around the lake. You can also take part in fishing, and water skiing. |
| Tahoe Brewfest | June | For beer lovers who really want to enjoy the varieties of droughts and craft beverages |
| Lake Tahoe Shakespeare Festival | July-August | Dress to immerse yourself in the Shakespearean world |
| Brews, Jazz & Funk Fest | August | The ideal fest where you can enjoy jazz music, beer, and global delicacies |
| Lake Tahoe Autumn Food & Wine Festival | September | If you're into wines and cuisines, this is what you need to heal your soul and of course your best time of year to visit Lake Tahoe. |
| Camp Richardson's Oktoberfest | October | The legendary German festival offers plenty of food, family entertainment and beers. |
| Skiing | Winter | The ski slopes and alpine resorts at Lake Tahoe are well-known. A winter trip is ideal if you want to experience snowfall and Winterfell. |
| Hiking Trails | March-September | The warmer months are ideal for trekking and mountain climbing. Numerous routes get accessible this time of the year. |
For more inspiration:-