Lake Tahoe is a site of breathtaking beauty that will leave even the most seasoned traveler spellbound. Mark Twain called the stunning expanse of shimmering sapphire-blue waves "the loveliest picture the whole globe gives."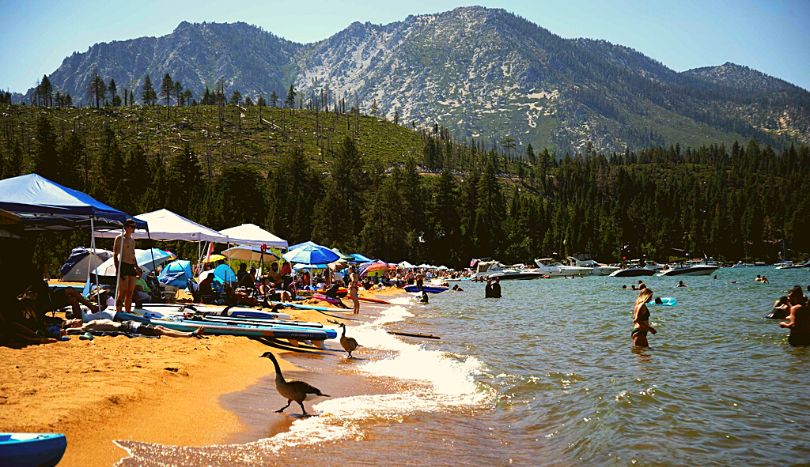 The lake's dazzling topaz color is attributable to its depth of over 1,640 feet. It is surrounded by pristine pine forests and snow capped mountain peaks. It is the snowmelt that gives its water the crystalline quality.
South Lake Tahoe spans 22 miles from north to south and 12 miles across the border between California and Nevada. In good weather, it would take at least three hours to drive around the entire lake, and is one of the best things to do in South Lake Tahoe. However, if you want to stop and visit the attractions or go hiking, plan considerably more time.
Outdoor adventurers and those who enjoy the outdoors can travel to South Lake Tahoe all year long. Nature walks, hiking, cycling, and water sports are some of the most popular summer activities.
South Lake Tahoe is a winter wonderland from December to April, featuring downhill and cross-country skiing, sledding, snowshoeing, and sleigh rides. World-class alpine ski resorts are found here and is one of the best times to visit Lake Tahoe region.
With this list of the top Lake Tahoe attractions, you can learn about the best spots to visit and plan your travels.
1. Visit the Emerald Bay State Park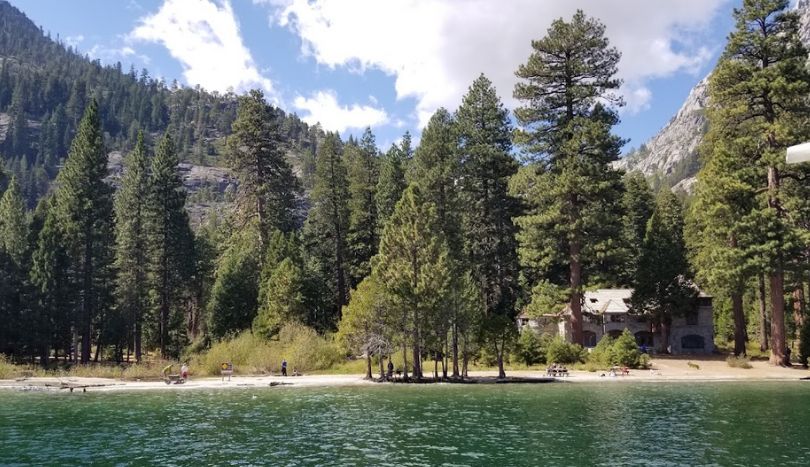 It is a tiny, protected area on the western shore. It is ringed by granite hills that have been carved by glaciers. It also features a small islet in the middle. The bay's waters have a stunning blue-green hue due to its significantly lesser depth than the rest of Lake Tahoe.
Its most appealing feature is the water, which changes from cloverleaf green to light jade depending on the angle of the sun.
Ideally situated in the middle of the park is Fannette Island, the only island in Tahoe. There are panoramic stops all along Highway 89, notably at Inspiration Point, and is one of the top places to see in South Lake Tahoe.
A picture-perfect view of Cascade Lake and Emerald Bay can be seen to the south as the road shoulder disappears just to the south.
A maritime heritage underwater trail debuted in Emerald Bay in 2018. Divers and snorkelers can examine sunken boats and seagoing vessels at four distinct points along the path.
2. Bask into the Sun & Tan at The Kings Beach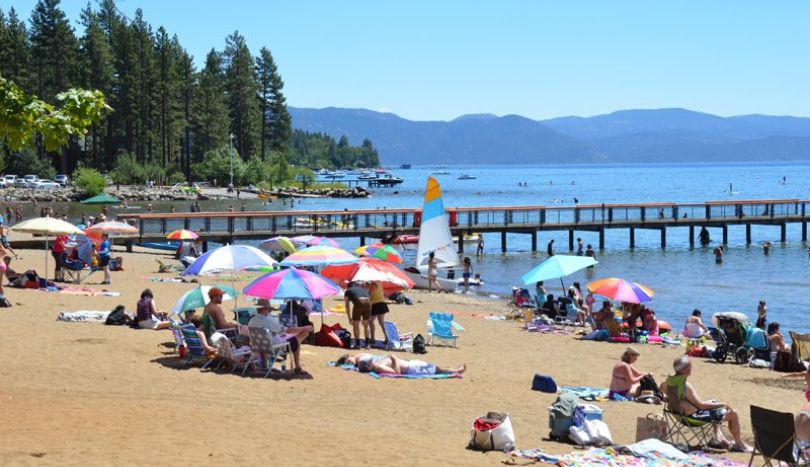 Adorned with Jeffrey pine forest, the beach is perfect for relaxing, swimming, and boating in the summer. The North Shore of the Kings Beach receives full sun from early morning into late afternoon. To get a desired sun tan and gorgeous vistas, the venue is a must do in South Lake Tahoe.
The Kings Beach State Recreation Area is well-designed for tourists, with lots of parking, public restrooms, picnic tables under cover, BBQ pits, a playground, and locations. It is also where you can rent kayaks and paddleboards.
Many motels, restaurants, casual diners, chic boutique shops, and street sellers cater to tourists in Kings Beach.
3. Van Sickle Bi-State Park is None less than a Heaven for Hikers
The 725-acre park, which spans both California and Nevada, offers day-use options for hiking, cross-country skiing, and snowshoeing. Snowshoeing is not permitted for visitor safety reasons.
Van Sickle Bi-State Park, one of the easier to get parks in the Tahoe Basin, is just a short stroll from the casinos in Stateline, Nevada. A short ascent from the trailhead whisks visitors away to the tranquility of the woodland, and is among the top places to visit in South Lake Tahoe.
The park's simple to difficult trails are dotted with rock outcroppings that offer spectacular views of the area's peaks and deepest alpine lake.
The famous Tahoe Rim Trail, listed by National Geographic Adventure magazine as one of the top ten routes in the country, is connected by the Rim Trail Connector.
Hikers, bicyclists, and horseback riders are all welcome in the park.
4. Marvel at the Majestic Lower Eagle Falls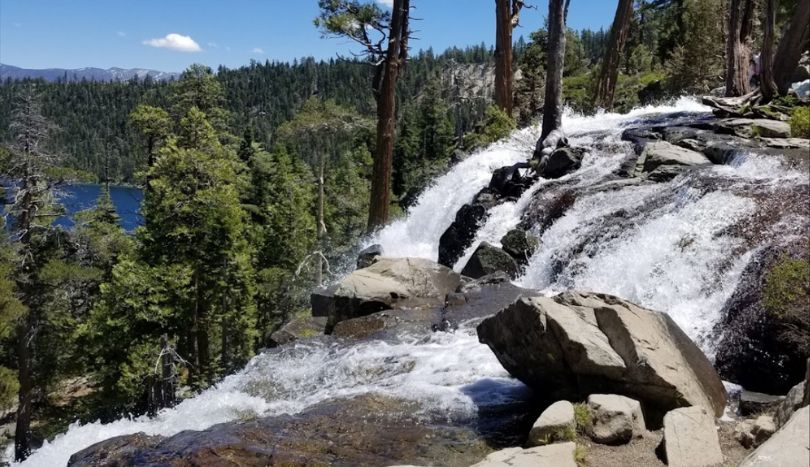 This 140-foot-tall waterfall ensures a refreshing experience as it is set against the magnificent Emerald Bay backdrop.
This cascade is a must-see on any list of the top attractions in South Lake Tahoe. This cascade, surrounded by enticing natural beauty and wilderness, will revitalize your senses.
Plus, getting there is a lot of fun, especially for nature enthusiasts.
Wear hiking boots and climb to the top of this cascade.
When you get to the waterfall, sit back, take in the aroma of the surrounding trees, and listen to the peaceful sounds of nature.
5. Enjoy the Tantalizing Natural Beauty at Lakeside Beach
This beach is accessible to everyone with passes even though it is privately administered by the Lakeside Park Association.
If you're seeking fun activities to do with your significant other in South Lake Tahoe, Lakeside Beach is the ideal choice.
This beach is a good place to unwind with your sweetheart because of its peaceful atmosphere and alluring natural beauty.
Take a refreshing swim, have a picnic on the beach, or treat yourself to a delicious lunch at Lakeside Beach Grill.
Breakwaters, playground equipment for children, and picnic tables are also available.
6. Marvel at the Vikingsholm Castle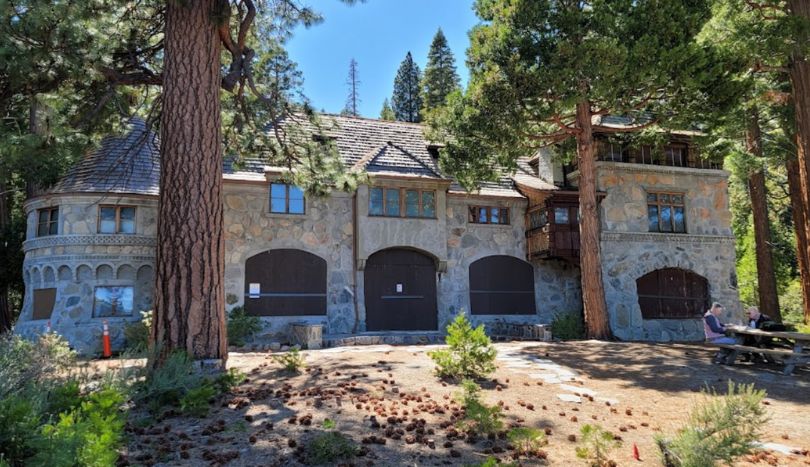 A rare and striking example of Scandinavian-style castle that overlooks the glistening waters of Emerald Bay.
The Heiress Lora Knight's castle is a one-of-a-kind historic summer vacation property in this picturesque setting, and is the main attraction of the Emerald Bay State Park.
It was finished in 1929 and boasts several surreal design features, like its domes that bloom with daisies in the late spring.
A one-mile steep pedestrian track leads to Vikingsholm, and is among the top South Lake Tahoe activities. Throughout the summer, from Memorial Day weekend through September, guests are welcome to take the tour of the castle's interior.
7. Soak up the beauty at D.L Bliss State Park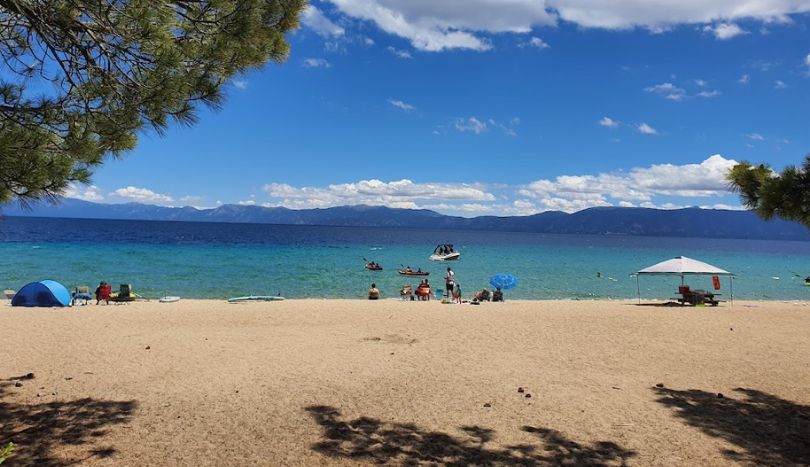 The late 19th and early 20th centuries saw the rise to wealth of timber entrepreneur Duane L. Bliss, who made his money in banking, lumber, and railroads.
The Bliss family gave 744 acres of their own property to the state park system in California in 1929.
Today, visitors can enjoy this public park's magnificence, including its excellent picnic places, relaxing lakeside areas, and lovely sandy beaches.
The beaches feel secluded because they are hidden in heavily forested groves and require a strenuous two-mile trek to reach them.
Lester Beach and Calawee Cove in the park rank among Tahoe's most romantic beaches.
Divers love the crystal-clear waters, sunbathers love soaking in the warm summer sun, while water sports enthusiasts love the conditions here which are for fishing, and kayaking.
8. Go Hiking at South Lake Tahoe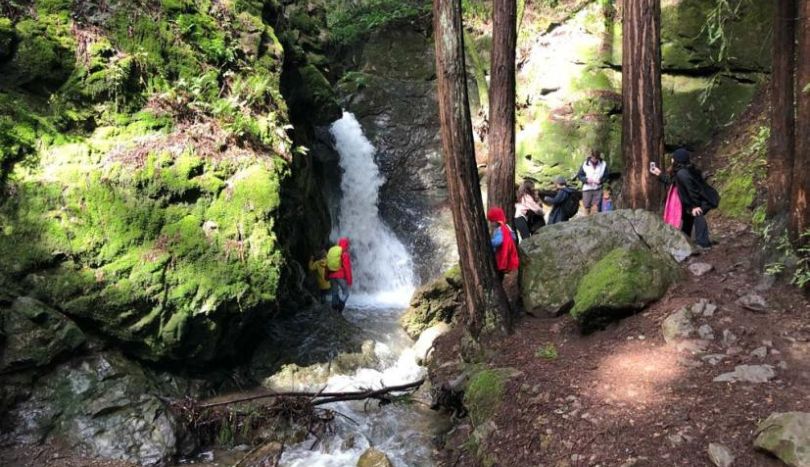 Lake Tahoe is popular among outdoor enthusiasts because of its natural beauty.
The trails surrounding South Lake Tahoe have some of the most stunning hiking locations. These lakeside and lake-view walks provide revivifying alpine vistas and intense trekking.
The Cascade Falls Trail is an easy two-mile loop that leads to Cascade Falls and offers breathtaking views of Lake Tahoe along the way. It is a beautiful and great family trek.
The 2.5 mile Fallen Leaf Lake Trail is a leisurely trek that leads from the Fallen Leaf Campground to a tranquil lakefront location. You will pass by a picturesque promenade that you'll remember forever!
The rocky beach of Emerald Bay is home to a well-known Lake Tahoe trek. The Vikingsholm Castle is located along the Rubicon Trail as it travels from D.L. Bliss State Park to Emerald Bay State Park.
This 4.5-mile track winds around a ridge overlooking Emerald Bay and has a mild climb. This lofty vantage point provides expansive panoramic views, and is one of the best things to do in South Lake Tahoe.
9. Enjoy the Miles of Sandy Beaches at Sand Harbor State Park
Sand Harbor State Park, located on the Nevada side of North Lake Tahoe, has miles of sandy beaches. It also features hidden coves and shaded pine forests. Summertime outdoor activities are enhanced by the magnificent scenery.
The 55-acre park provides access to Lake Tahoe's crystal-clear waters for kayaking, scuba diving, and swimming. From Memorial Day through Labor Day, there are lifeguards on duty. The docks at the boat launch are valued by those who enjoy sailing, kayaking, and boats, and are among the top activities to do in South Lake Tahoe.
Visitors can enjoy scenic treks along the Sand Point Nature Track, a short stroll with excellent lake views, and the Sand Harbor to Memorial Point Trail. It is a half-mile trail providing access to quiet beaches and rocky coves.
Sand Harbor State Park also provides shaded picnic spaces sheltered by fragrant Jeffrey trees. Other amenities include the Sand Harbor Visitor Center and Gift Shop. It also got a casual restaurant.
The Lake Tahoe Shakespeare Festival is a must-attend event for book lovers. Shakespeare's most well-known plays are featured in a number of performances that the festival offers. The engaging shows will take place in a magnificent outdoor theater nestled among a grove of towering pine trees. The tranquil scenery and starry night skies contribute to the unique experience.
10. Soak in the Views of Fannette Island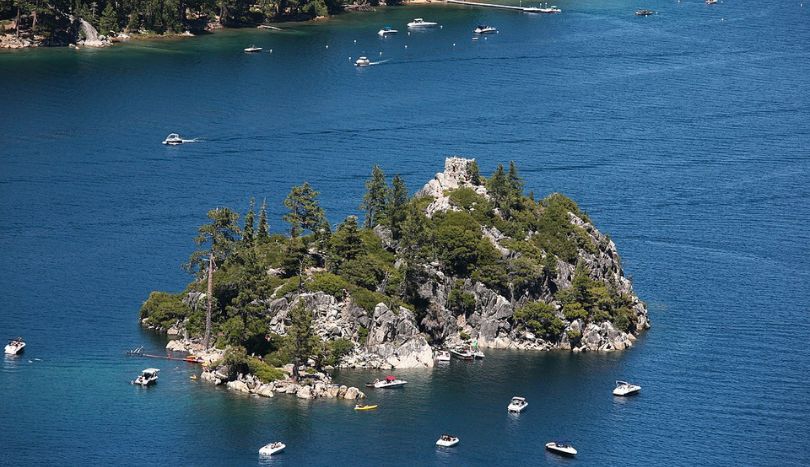 The sole island in Lake Tahoe is this uninhabited rock sliver in Emerald Bay State Park.
It houses the vandalized remnants of a little 1920s teahouse owned by heiress Lora Knight. She frequents with visitors here from the Vikingsholm Castle, her Scandinavian-style home on the bay.
Boat transportation is available to go to Fannette Island, except when Canada geese are laying their eggs.
You can rent boats at Meeks Bay or South Lake Tahoe. The latter offers guided bay cruises and speedboat tours, and is one of the terrific things to do in South Lake Tahoe this weekend.
11. Enjoy the Scenic View Atop the Clouds With a fun Balloon Ride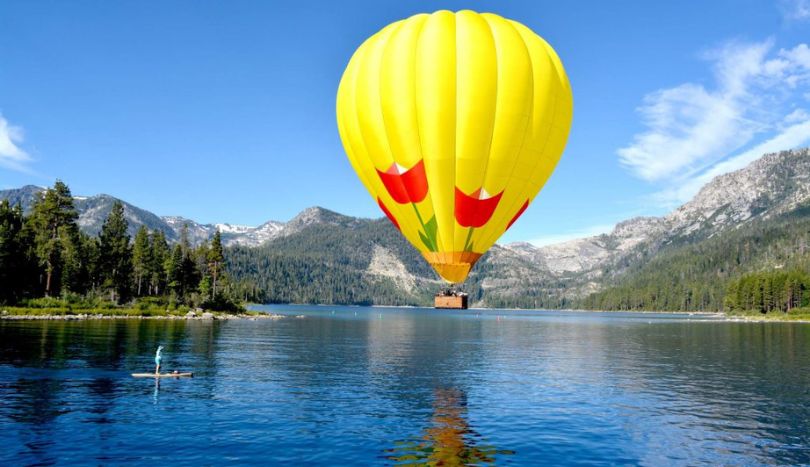 This firm has been pleasing passengers with its amazing aerial tours since its inception in 1992.
Are you looking for some fun things to do in South Lake Tahoe, California?
So, on this unique excursion, you're going to have a blast.
This balloon flight will take you above Lake Tahoe, giving you breathtaking vistas of the Desolation Wilderness and Emerald Bay.
Take their sunset tour for a once-in-a-lifetime experience.
You'll never forget this magnificent encounter, which features beautiful views and brilliant hues over sunset.
12. Tour the Historic Estates at the Tallac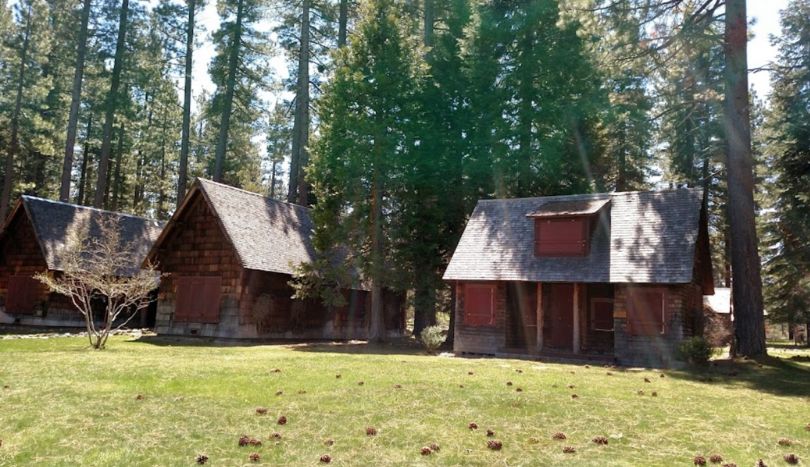 Each home on the Tallac Historic Site has a unique colorful past and a defined modern use to help illustrate the evolution of Tahoe as a summer resort.
The Baldwin estate, which at one time housed a lavish hotel with a bar, casino, string orchestra, and ballroom, was eventually demolished and transformed to a vacation residence for Dextra Baldwin. She was Elias "Lucky" Baldwin's granddaughter and the heir to his estate.
The house she built in 1921 is modest in comparison to the others on the property. It presently functions as both a gift shop and a museum with exhibits about the Washoe and Baldwin families.
Visitors can join a docent-led tour of the Pope House to learn more about how Tahoe's wealthiest people lived at the turn of the century.
Built in 1894, the Pope estate was sold, remodeled, and expanded before being purchased by George Pope in 1923. The Popes lifted the residence to new heights of prestige. They hired 10 gardeners to maintain their arboretum. They also hosted notable guests like Albert Einstein, Winston Churchill and Rudolph Valentino in the 1920s. The Pope estate now hosts tours, art displays, and historical seminars.
Walter Heller owned Valhalla from the time it was built in 1924 until the 1940s. In addition to hosting private parties, Valhalla also hosts concerts and cultural events in the summer.
Camp Richardson is an excellent option for individuals who want to stay overnight in the area. An "Old Tahoe"-style hotel, a beachside inn, cottages, and campsites are all features of this historic lakeside resort, which also includes a tiny beach.
The resort is an excellent location for hiking, biking, and boating in the summer. Popular wintertime activities include cross-country skiing, sledding, and snowshoeing. On a positive side, this is one of the top places to go in South Lake Tahoe California.
Hiking is another reason people visit D.L. Bliss State Park, particularly the Rubicon Trail, which provides breathtaking views of Lake Tahoe. There is a two-mile extension track that passes the Vikingsholm Castle. You can continue on this 4.5 miles trail to  reach Emerald Bay State Park.
The Lighthouse Trail leads to an old lighthouse and is one of the best things to do in South Lake Tahoe. On the other hand, the Balancing Rock Nature Trail houses 130-ton granite "Balancing Rock,", and is a spectacular sight to behold.
D.L. Bliss State Park campground provides 150 campsites with restrooms and hot showers throughout the summer. Booking in advance is advised for this well-liked family-friendly camping spot.
13. Go Gondola Ride at the Heavenly
This 2.5-mile gondola trip from downtown offers breathtaking bird's-eye views, making it a truly must-see destination.
The Heavenly Gondola is without a doubt one of South Lake Tahoe attractions and most recognisable sights.
Enjoy stunning views of the surrounding mountains and the emerald waters of Lake Tahoe as you ride in the gondola.
Stop by the 9,123-foot-high Observation Deck for some great Pics.
After that, ascend to the top to take advantage of a number of facilities and attractions, such as a mountain coaster, hiking trails, and ski slopes.
14. Enjoy the Sunny and Sandy Escape at Pope Beach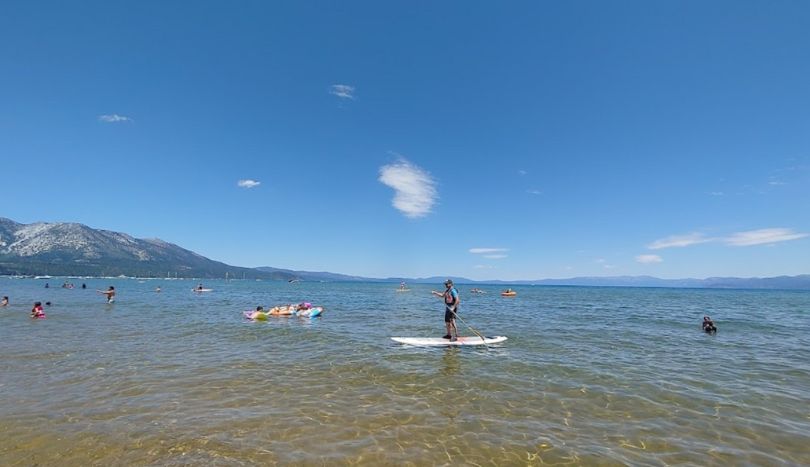 This 0.75-mile stretch will take you to a sunny and beach retreat and is well-known for its beautiful views and outdoor activities.
Spend some time relaxing on this laid-back beach to escape your busy city life.
This retreat is perfect for families because of its sandy beach, shallow waves, and abundance of services.
Swim in the water's crystal-clear waters or sunbathe while taking in the sights of the mighty Sierra Nevada Mountain which is one of the picture-perfect things to do in South Lake Tahoe.
Rent a kayak and explore the local waters to make your trip to the beach more fun.
15. Shop, Wine and Dine at Heavenly Village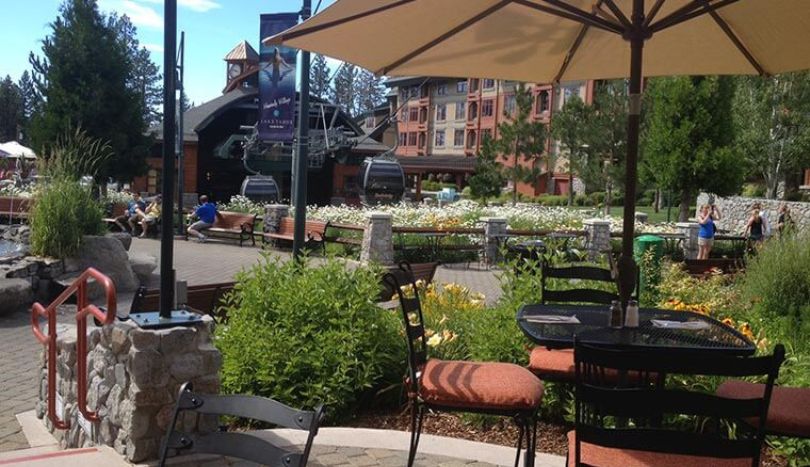 This complex—which is ideally located for dining and shopping—is located beneath Heavenly Mountain Resort.
Do you have a strong desire to shop? This complex, which has more than 40 stores and restaurants, is the best spot to go for some shopping therapy.
A movie theater and an ice skating rink are just two of the many leisure options available.
Consume some delectable American, Latinian American, or Hawaiian snacks after a day of skiing and trekking.
The performances and live music at these places are also fantastic, and is among the top entertaining activities in South Lake Tahoe to watch out for.
You can also take part in any of its seasonal events.
Best Places to Eat in South Lake Tahoe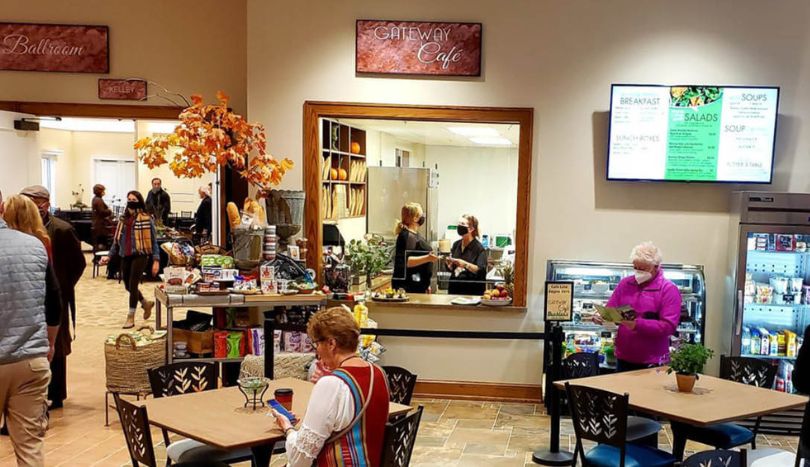 South Lake Tahoe is a beautiful vacation city and perfect place to embark on an epic gastronomic adventure. It is where you can sample international cuisine, flavorful pizzas, homemade pasta dishes, salads cooked with the freshest ingredients, tender steaks, and much more.
Dine at establishments that provide mesmerizing waterfront views, a refined ambience for exclusive occasions, a laid-back vibe for a calm dinner, cheap cuisine options, tastefully adorned interiors, and so on.
We've put together a list of the top restaurants in South Lake Tahoe so that you can better understand which eatery is the ideal fit for your appetite.
Read on to be ready for your next fun-filled getaway!
(i) The Gateway Cafe
The cafe features laid-back vibes, indoor and outdoor dining facilities, courteous staff, a chalet backdrop, and delicious kid-friendly menu options. Do you favor sweeter breakfasts? Try the French toast with coconut flakes. It includes fresh bananas and a homemade coconut cream sauce. Those who like something savory for brunch should choose the Smoked meat Burgers. It consists of thinly sliced pastrami, sautéed red onion, Swiss cheese, cabbage, and thousand island dressing on grilled marble toast.
Address – 3140 US-50, South Lake Tahoe, CA 96150
(ii) Evan's American Gourmet Cafe
It is a great place to spend time with friends and family while dining out. This restaurant has won awards and is known for its outstanding service, elegantly presented food, and scenic setting among towering palm trees. If you want delicious appetizers to wake up your taste buds, get the Sauteed Veal Sweetbreads. It features seasonal fungi, a risotto savarin, olives, a vinegar sauce, and more.
Address – 536 Emerald Bay Rd, South Lake Tahoe, CA 96150
(iii) Cafe Fiore
Awarded fine dining establishment Cafe Fiore specializes in classic Italian fare. It offers a sizable selection of genuine Italian food, a cheerful decor, beautifully presented dishes made from scratch, and a sizable wine list. If you like pasta, you must try spaghetti with di pesce. Olive oil, prosciutto, spinach, garlic, Italian sausages, fresh tomatoes, and crushed red chilies are a few of the ingredients. If you enjoy dishes that contain shellfish, try the Aragosta Melodia. It consists of lobster, tomatoes, mushrooms, fettuccine pasta, a lemon tarragon sauce, and garlic.
Address – 1169 Ski Run Blvd, South Lake Tahoe, CA 96150
(iv) Sprouts Café
It is ideal for those on a specific diet or who are health-conscious, as it serves dishes made from organic food and the freshest ingredients. To try a popular meal, order the Real Tahoe Turkey. It consists of healthy wholemeal bread, hormone- and preservative-free chicken breast, guacamole, peppers, red onions, melted Monterey grated cheddar cheese, diced cucumbers, freshly chopped cabbage, and other ingredients.
Address – 3123 Harrison Ave, South Lake Tahoe, CA 96150
Best Places to Stay in South Lake Tahoe
Are you trying to find a quiet spot to relax, away from the noise and activity of your neighborhood? You ought to visit South Lake Tahoe.
Visitors who are just looking for an experience will find that the city in California has a lot to offer. Visit the Van Sickle Bi-State Park to witness the rich wildlife and flowers, which are ideal for sightseeing.
If you enjoy outdoor activities, consider skiing or parasailing in Lake Tahoe during the winter at one of the city's renowned ski resorts.
The top hotels in South Lake Tahoe are listed below for your convenience:
(i) Edgewood Tahoe Resort
This hotel, which is situated on the South Lake Tahoe shore, offers all the amenities you could possibly want. This should be on your list of outstanding South Lake Tahoe hotels with a view. The hotel is an exceptional destination in and of itself because to its excellent location, making it ideal for weddings. It's a great place for honeymooners and other romantic holiday seekers. They can take in the views and sounds while roaming the grounds or partake in a wonderful supper by the lake.
Address – 180 Lake Pkwy, Stateline, NV 89449
Phone number – +1-855-681-0119
(ii) Lake Tahoe Resort Hotel
Heavenly Village is only minutes away from Lake Tahoe Resort Hotel. With the Sierra Nevada mountains all around it, it's one of the nicest places to stay in South Lake Tahoe. Tourists can stay at the facility in an all-suite setting. Every room has a kitchen that is furnished with a refrigerator, a microwave, and a coffee maker. Young children will like the indoor pool.
Address – 4130 Lake Tahoe Blvd, South Lake Tahoe, CA 96150
Phone number – +1-530-544-5400
(iii) Tahoe Lakeshore Lodge and Spa
Tahoe Lakeshore Lodge and Spa has 45 hotel rooms and 35 condominiums. You should absolutely check out this resort when you're in the South Lake Tahoe area. Enjoy a leisurely stroll along a section of Lake Tahoe shoreline. You don't have to worry about crowds because that stretch of land is private property. You can always prepare your own breakfast if you'd like to since the hotel-style rooms are equipped with a kitchen.
Address – 930 Balbijou Rd, South Lake Tahoe, CA 96150
Phone number – +1-530-541-2180
(iv) Tahoe Ridge Resort
Because of its proximity to the ski slopes, this is one of the most popular hotels around you. For an awesome vacation, go skiing at Heavenly Mountain in the winter. After your session, you won't have far to go to get back to the hotel thanks to the proximity of the chairlifts. You can go to nearby Lake Tahoe on warmer days.
Address – 400 Ridge Club Dr, Stateline, NV 89449
Phone number – +1-775-588-3553
In The End
South Lake Tahoe is an ideal getaway for those who want a beautiful landscape, sunshine, and activities that make being outside seem like no work at all.
If you're planning a trip to South Lake Tahoe, don't miss the opportunity to experience everything that the area has to offer. We've highlighted some of the best things to do in South Lake Tahoe above. Whether you enjoy outdoor activities or are just looking for a great place to relax and unwind with your loved ones, there is something for everyone.