With legal limits extending into Caldwell and Burke counties, the city of Hickory is the primary city in Catawba County. The city is located in North Carolina. The tavern built out of timber under a hickory tree in the 1850s is where the term Hickory got its start.
It adopted the name "City of Hickory" in 1889. Since the early 1900s, the city's arts and culture have developed alongside its industrial expansion. Use the comprehensive range of things to do in Hickory, NC to explore the streets of this foothill town.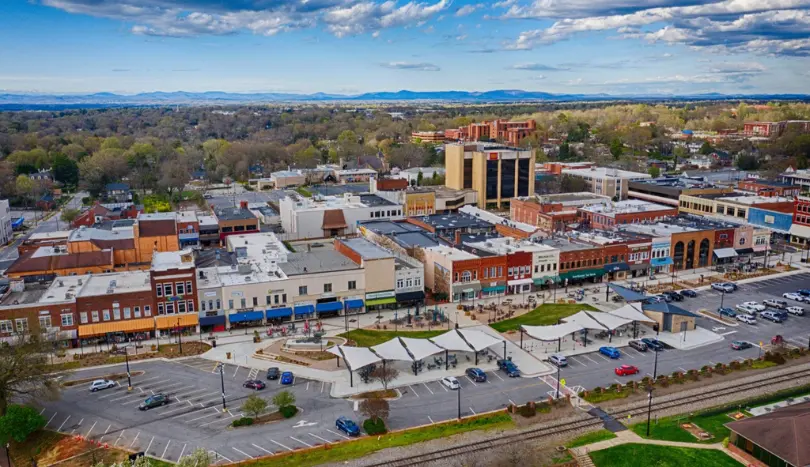 What to Do In Hickory, NC?
Although furniture manufacturing has a long history in Hickory, North Carolina, this is just the beginning of the experiences you will find here. Lake excursions, delicious regional eateries that are reshaping the food landscape in this historic area, and more scenic outdoor exploration.
The city's tourist industry has been molded by contemporary leisure concepts. Nowadays, finding things to do in Hickory is simple. So, enjoy your time in the city to the fullest.
1. Hike the Bakers Mountain Park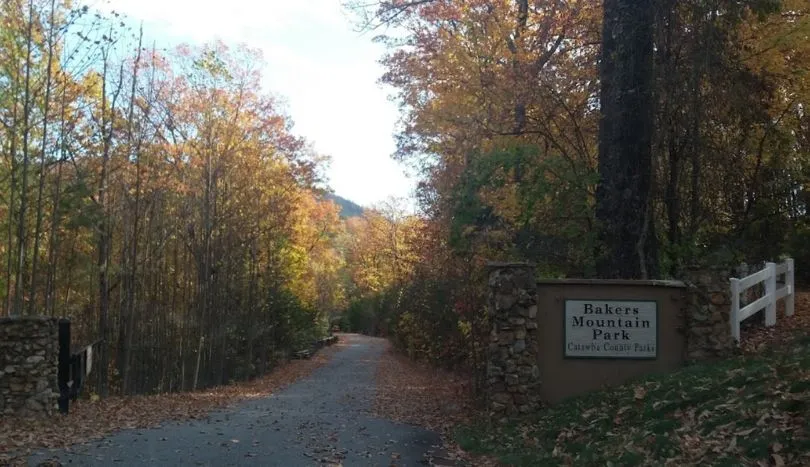 The highest mountain in Catawba County is where Bakers Mountain Park is situated. With almost 6 miles of paths, the park has 189 acres of dense chestnut oak woodland. You will encounter a variety of native North Carolina mountain animals and vegetation.
The Carolina Thread Trail is a mile-long section that travels along the yellow and red routes to the Knoll Spur at a height of 1280 feet. Hikers may take in stunning vistas of the western part of the North Carolina foothills from the path. An on-site park ranger is available to provide more park history.
2. A Unique Concept at Cafe Pedal Works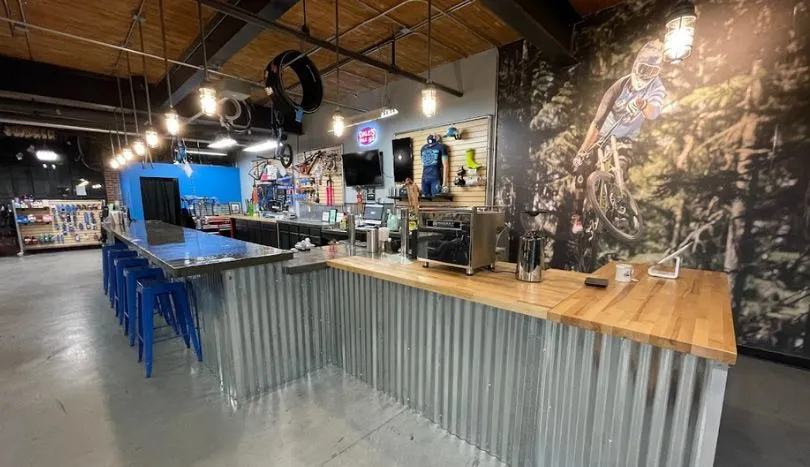 In the vicinity of Hickory, mountain biking is a favored activity. The region's foothill terrain deserves credit for this. Several stores provide bike services. The Carolina Pedal Works is one of them. The store's distinctive setup offers a unique thing to do in Hickory, NC.
A charming coffee shop and bar are located on the property. The full-service bike offers sales, servicing, and accessories in addition to a coffee bar. Cafe Pedal Works also has five taps of local craft beer. Visit them for a mid-ride cappuccino, or a North Carolina drink after a ride.
3. Leisure Time at Henry Fork River Regional Recreational Park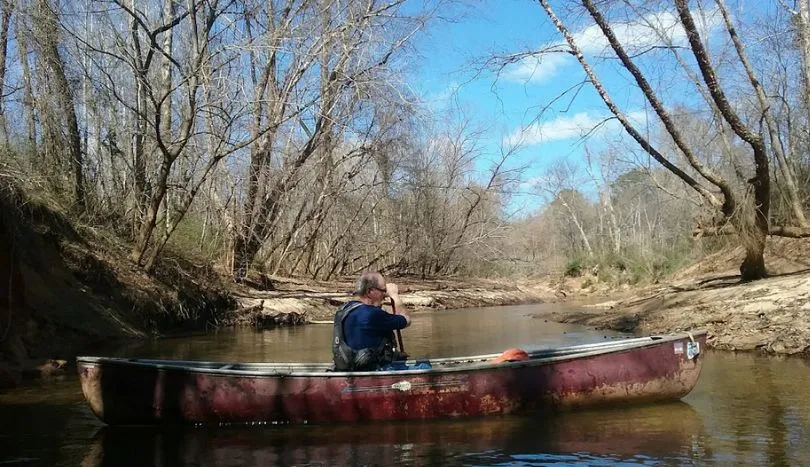 Predominantly a soccer facility, Henry Fork River Regional Recreational Park boasts several amenities. Eight football fields, two playgrounds, the Alpine Tower ropes course, a concession canoe stand, a paved walking track, and horseshoe pits are some of the activities in Hickory, NC offered at this picnic area.
On a relaxing afternoon, bring your takeout to the complex and watch a soccer match at one of its grounds. You will have the opportunity to watch different athletic events, including corn hole, field hockey, and archery.
4. Kiwanis Park for People of All Ages and Abilities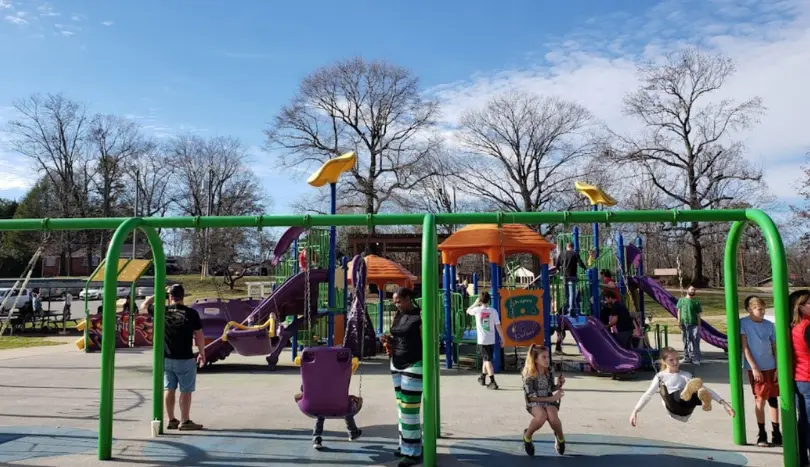 In Hickory's park system, the Zahra Baker All Children's Playground and the Treehouse in Kiwanis Park are well-liked sites that provide a warm play area. This well-liked playground is dedicated to Zahra Baker and has accessibility features for people with disabilities and other things to do in Hickory, North Carolina.
The park has several games that can be played on the ground, educational and sensory components, and inclusive playthings. Kiwanis also features the Charles D. Dixon Memorial Splash Pad, two playgrounds, a tennis court, an outdoor basketball court, four illuminated baseball fields, two batting cages, and a walking trail.
5. Power-Packed Concert at The Hum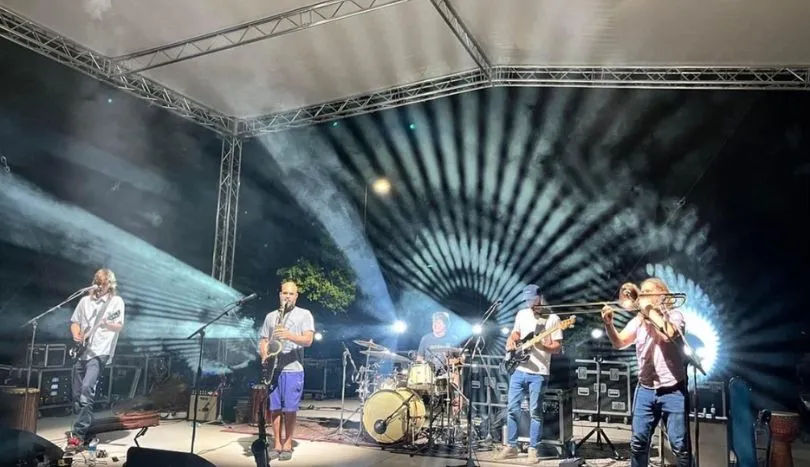 The Hum was created as a result of the desire of music lovers and civic-minded individuals to offer Hickory and the surrounding counties an outdoor recreational concert and event venue. The Hum is a short stroll from Downtown attractions in Hickory, NC.
The concerts at The Hum are power-packed. Check out their event calendar and walk downtown. They even provide a variety of alternatives for each event with the revolving food and beverage vendors. Each event features food trucks, brewers, wine, seltzers, and more to guarantee guests an exclusive experience.
6. Catch the Sunset at Lake Hickory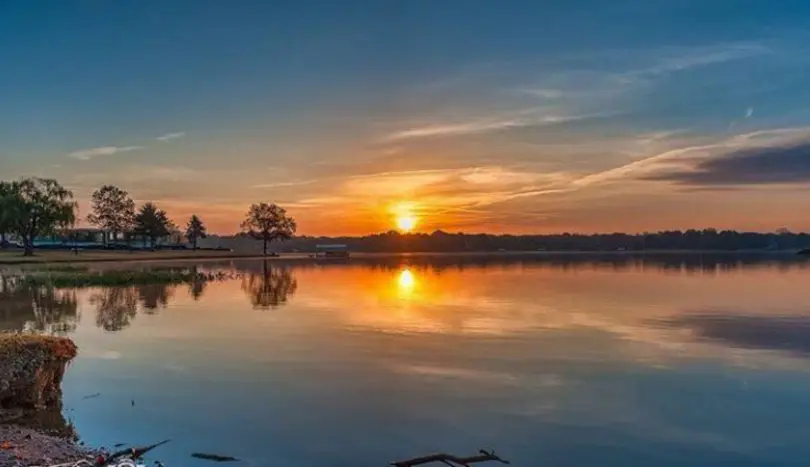 When the Oxford Dam, located 11 miles northeast of Hickory, was finished, Lake Hickory was built on the Catawba River. Lake Hickory, which borders the northern part of the city, bears that name. Along the lake's shores, there are many different ‌fun things to do in Hickory, NC.
Several recreational companies offer dinner, holiday, and private charter boat cruises on Lake Hickory. There are several activities to partake in, including fishing cruises, holiday specialty cruises, public dinner cruises, and private charter cruises. Even a short swim and a stroll down the coastline will offer a memorable experience.
7. Learn About Local Artists at Hickory Museum of Art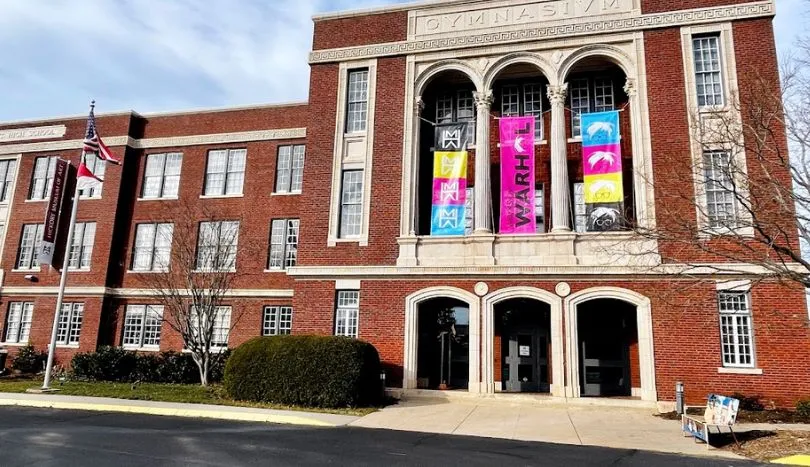 To gather, promote, and conserve American art, the museum was established in 1944. In that year, eight pieces were purchased, and today, over 75 years later, the museum's collection has almost 1,500 art pieces. It encourages the Unifour area to be a hub of inventive innovation and an inclusive community.
They frequently create new exhibits to promote regional art, which is the best solution for what to do in Hickory, NC. To find out more about their current displays, you must visit their website. The best thing about them is that entry to the art museum is free on Wednesday, Friday, and Saturday.
Check out: Best Things to Do in Fayetteville NC
8. Peek into the Past at Henry River Mill Village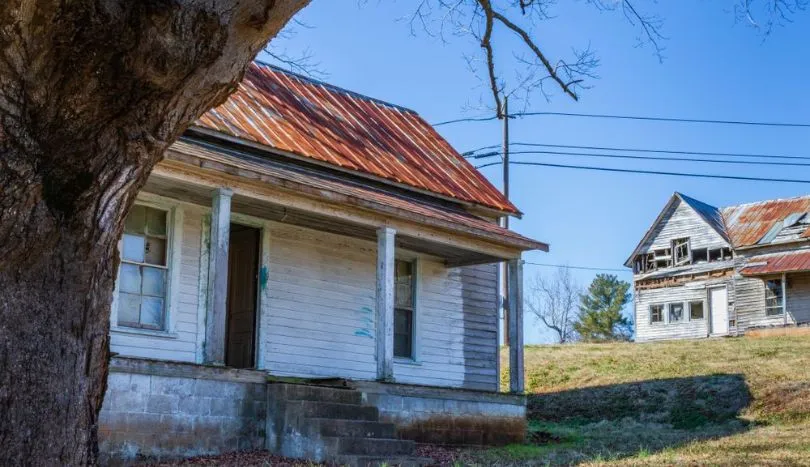 The Henry River Mill Village provides visitors with an opportunity to travel back in time and get a glimpse into the colorful history of mill towns in western North Carolina. It depicts the early days of producing cotton yarn to its more recent depiction as District 12 in the Hunger Games movies.
Hickory is around 11 minutes away from Henry River Mill Village. For a family-friendly North Carolina vacation option with daily excursions, overnight accommodations, and seasonal special events, drive down to the village.
Note: Paranormal Tour is an exciting guided thing to do near Hickory, NC.
9. Come see the Square Grand Pianos in Harper House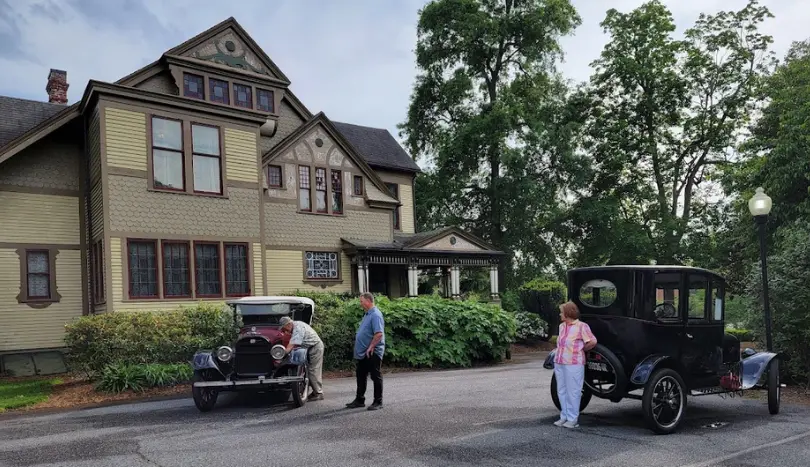 Built in 1887 by Daniel Webster, the home features classic Queen Anne architectural features, such as a pitched roof and scalloped wooden panels, with tinted glass panels. Visitors get to learn about the growth of Hickory's economy in the 1800s. From Thursday through Saturday, tours are offered to the public.
In one of the rooms on the main level, you may locate the Shops at Lyerly. The distinctive, one-of-a-kind bookshop and gift shop are stocked with several works by local writers as well as antiques from the Victorian era. After exploring the gardens, feel free to shop as every purchase helps to preserve this stunning historic landmark.
10. Experience 19th Century Farmland at Maple Grove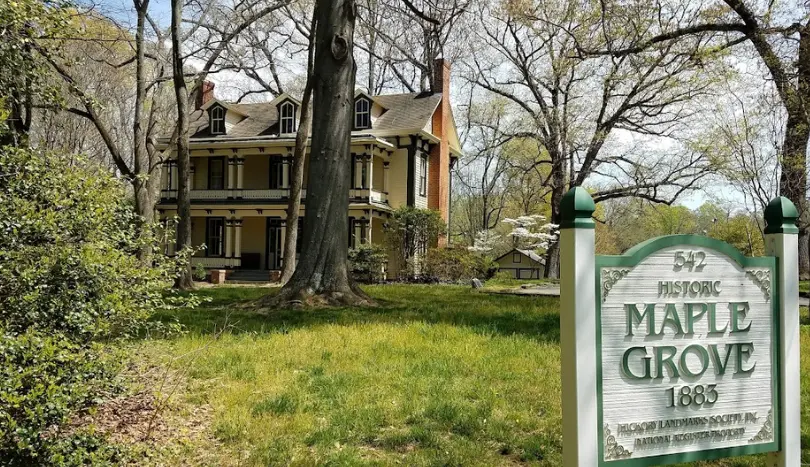 An elegant farm home in the Italianate style and ‌Hickory, NC attraction that has been renovated and opened to the public as a house museum. Visitors may view and experience Maple Grove as it was in the middle of the nineteenth century.
Skilled carpenters constructed this farmhouse, which is one of the oldest still-standing structures in Hickory. Among some of the displays in the rooms are actual family heirlooms and furniture. Public access to the 30 to 60 minutes self-guided tours is free Monday through Friday.
11. Divine Feeling at Houk's Chapel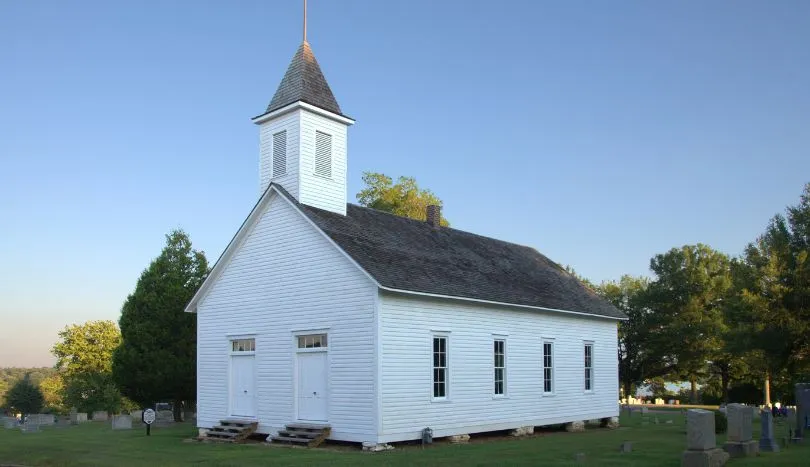 The oldest existing place of worship in Hickory, Houk's Chapel, has been renovated and maintained as a historical monument for the benefit of the general public. A group of volunteers constructed it in 1893, with a distinctive German design and architecture.
Houk's Chapel may be seen among the unique things to do in Hickory, NC. The period hall exhibits original furniture and antiquities. Go experience the divinity of the place and appreciate the elaborate and add it to your travel book.
12. Classic Date Night at The Vintage House
The premier fine-dining restaurant in the region is The Vintage House. In Hickory's historic Abernathy home, which was constructed in 1915, elevated versions of traditional American bistro cuisine are served. This fine-dining restaurant has preserved vintage artifacts, and the decor elevates the overall mood.
They only accept reservations. To enjoy a classic date, reserve a table for two. Complementing the ideal Italian cuisine, the wine list is carefully chosen. Their small plates are the perfect way to start your meal, and their homemade Italian sweets are the perfect way to end a romantic evening.
13. Fun Crafts at Bisque 'N Beads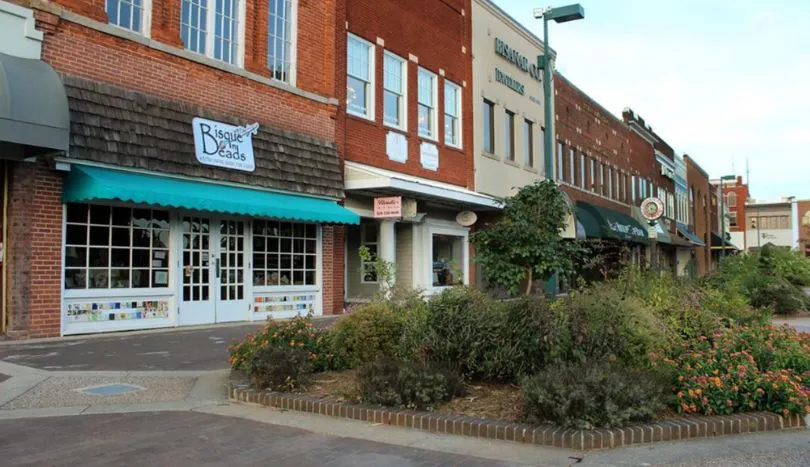 Paint your own ceramics or bead a bracelet at Bisque 'N Beads. This unique studio offers to repair jewelry in addition to doing glass fusing, hand-building with clay, and life-casting. There are no fees or prerequisites, and it is an open studio for fun activities in Hickory, NC.
This charming store offers a tranquil retreat for visitors of all ages and is a craft lover's heaven on earth. Visit this retreat for crafters to enjoy hanging out with friends, watching your young ones happy, or even having some quiet time.
14. Attend a Concert at Western Piedmont Symphony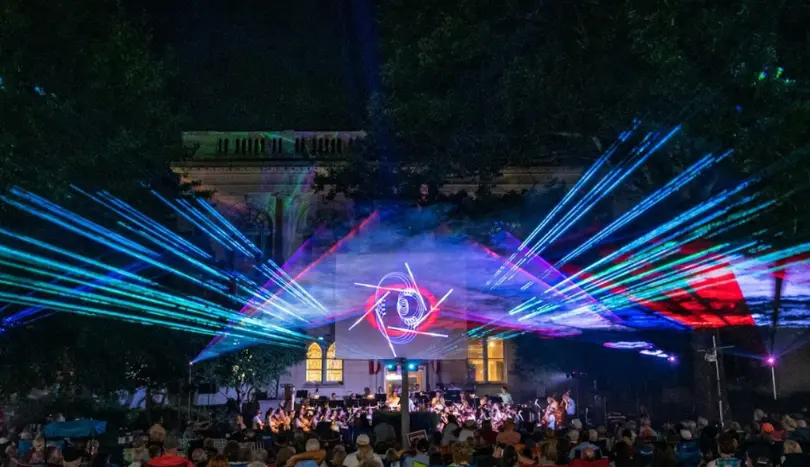 The Hickory Symphony is the antecedent of the Western Piedmont Symphony (WPS). The Hickory Symphony was renamed the Western Piedmont Symphony in February 1972. The legacy of organized music has been taken care of by this organization.
WPS must be your destination if you desire for some fun things to do in Hickory, NC. They regularly hold concerts. Both local talents and well-known performers are invited and supported. You may have a lovely evening provided you purchase your ticket for WPS.
15. A Unique Date at Nailed It DIY Studio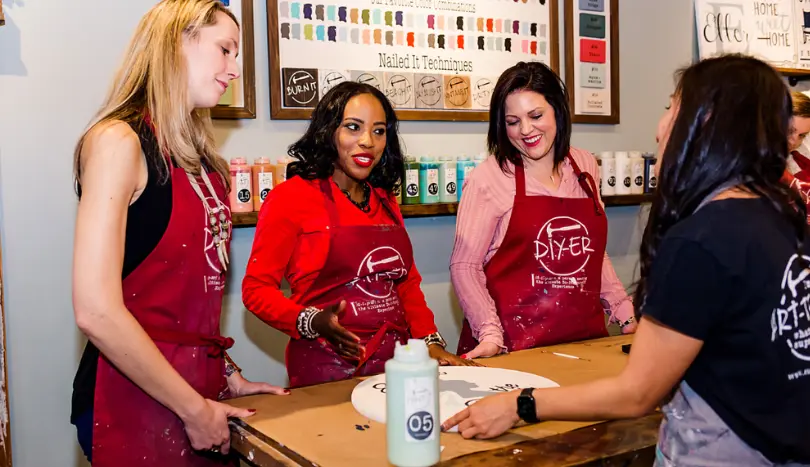 On September 9, 2014, the inaugural class of the first Nailed It DIY Studio was an immediate success. They now offer the setting where you may indulge in the perfect DIY experience, and anyone is invited to join to have fun! They will instruct and help you produce memorabilia.
Both individuals and groups can participate in the enjoyable activities in Hickory, NC at their inclusive studio. They provide every component required for a project. All you have to do is turn up and have fun with your friends, kids, or on an exciting date.
16. Sip Your Favorite Wine and Paint at Wine & Design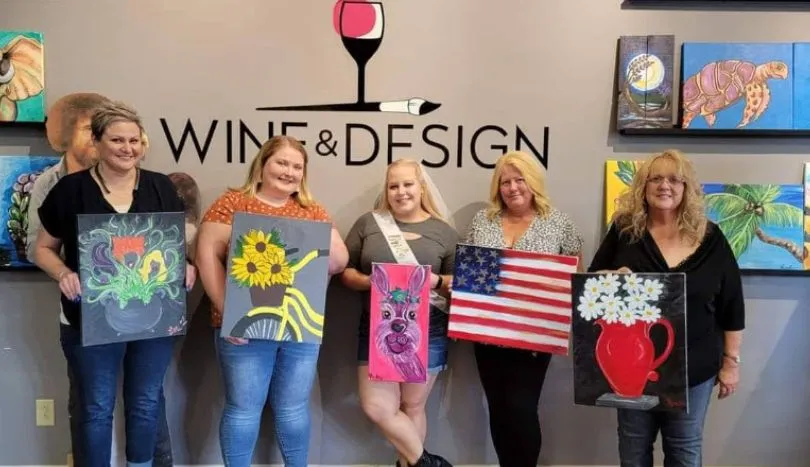 It is always fun to raise a glass for a fun day with friends. Wine & Design creative place to make memories and works of art. During one of their two-hour sessions, take your pals or loved ones and sip wine. You must bring your own beverage for this two-hour session.
Glasses, paintbrushes, and canvases will be provided, and a local artist will lead you through the activities stroke by stroke. They will walk you through every step so you can finish your own take-home artwork. So, bring your favorite wine, beer, or soft drink.
17. Aircraft Geeks Must Visit Hickory Aviation Museum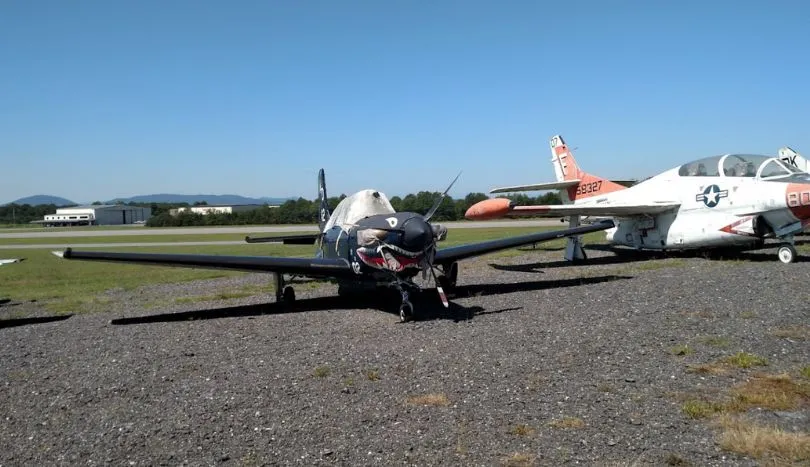 The Hickory Aviation Museum is a great attraction in Hickory, NC because entry is free there. The museum's interior is filled with antiques, memorabilia, and relics from WWII to the present. The displayed model of aircraft illustrates the evolution of the design process from the Wright Flier to the F-18 Hornet.
You get to examine the flying suits and ejection seats closely. They have an aircraft collection outdoors for a detailed tour. There is also a Wall of Honor inside, commemorating local soldiers and their families. The Memorial Wall at the museum honors the deceased.
18. Reserve the Chef's Table Experience at Cafe Rule & Wine Bar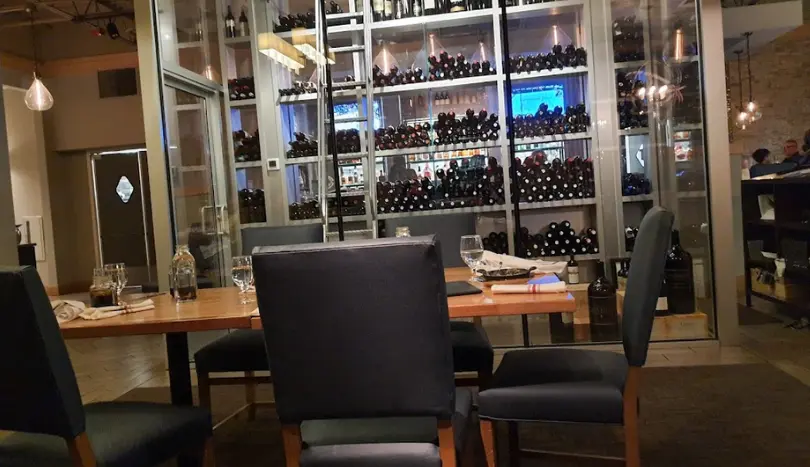 Reserve the opportunity to create a memorable evening just for your loved one at Cafe Rule & Wine Bar. Their cutting-edge culinary skills and modern innovations will transport you on an extraordinary adventure. Chefs will explain recipes, provide comments, and serve samples of what they are cooking.
Start your supper with snacks and unique beverages after all the things to do in Hickory, NC. Everyone is considered while designing their three-course menus. Each visitor will get a salad, meal, and dessert that is tailored to suit your budget. Refilled appetizers can be added, and you can sip wine from their distinguished wine collection.
19. Catawba Science Center for Curious Minds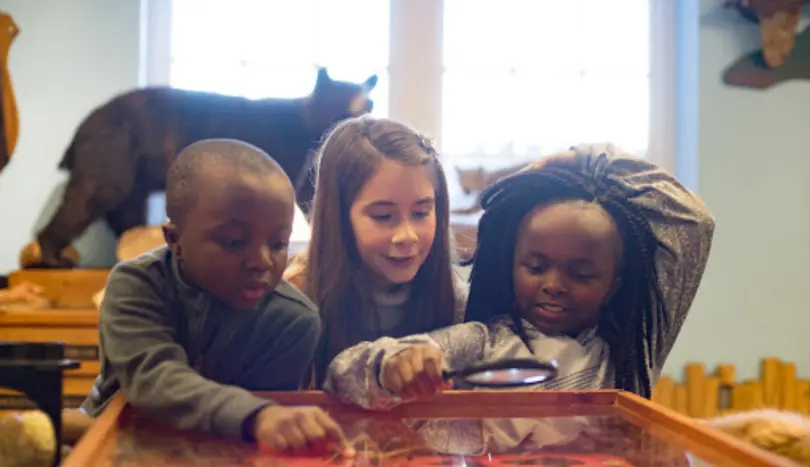 Visit the Catawba Science Center, a 35,000-square-foot children's science and technology museum that has interactive exhibits, galleries for freshwater and saltwater aquariums, and a cutting-edge digital planetarium theater.
The Catawba Science Center's Gross Labs, Nano, Energy Avenue, Outdoor Science Courtyard, Naturalist Center, Treehouse Adventure, and Velocity exhibits are all permanent displays. You and your kids will have a fun-filled day with ‌Hickory, NC attractions for very little entry cost on a weekend.
20. Trampoline Time at Defy Gravity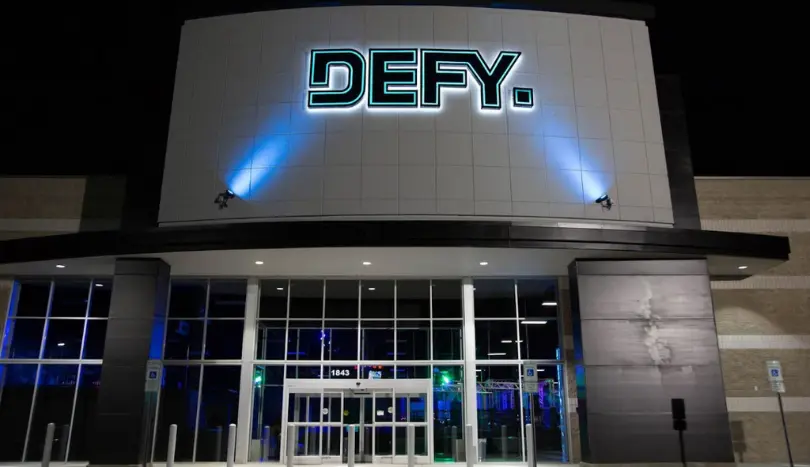 One of America's most innovative infrastructures, Defy Gravity, guarantees unlimited adventures. In a 40,000 square foot space, this indoor trampoline park offers about 35 trampolines, featuring the well-known angled wall trampolines, a variety of extreme air sports, launching decks, and a few additional surprises for your fun.
Basketball, battle beams, extreme doge, high-end air track, kid jump, ninja course, open jump, parkour, stunt fall, trapeze and aerial skills, wall tramp, and zipline are the prominent areas of the park. The activities in Hickory, NC lined up in these zones will definitely give an adrenaline rush and offer the best hours.
21. Try Local Delicacies at Downtown Hickory Farmers' Market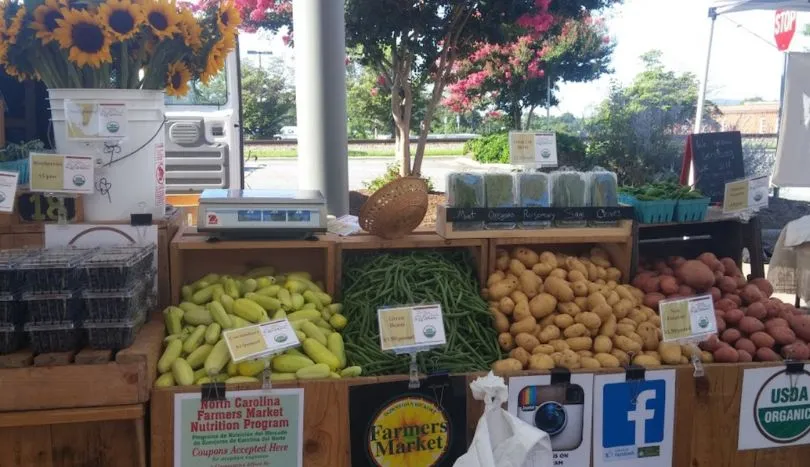 The vintage breezes and contemporary laughter create a warm feeling when you visit the farmer's market. Meet new people, shake hands with farmers, dance to the music, and sample dishes from local chefs made with farm-fresh produce. They guarantee the splendor of a fine harvest, meats, honey, dairy, baked goodness, marinades, and pickles.
Fresh flowers, potted plants, transplants, fresh & dried herbs, heritage & artisan crafts, street delicacies, and more offer the cultural experience of Hickory. On the grounds of the farmers' market, there are unique things to do in Hickory, NC all year round. Seasonal bargains make weekends memorable.
22. Emerson's Café and 3 Little Chicks Bakery for Sweet Treats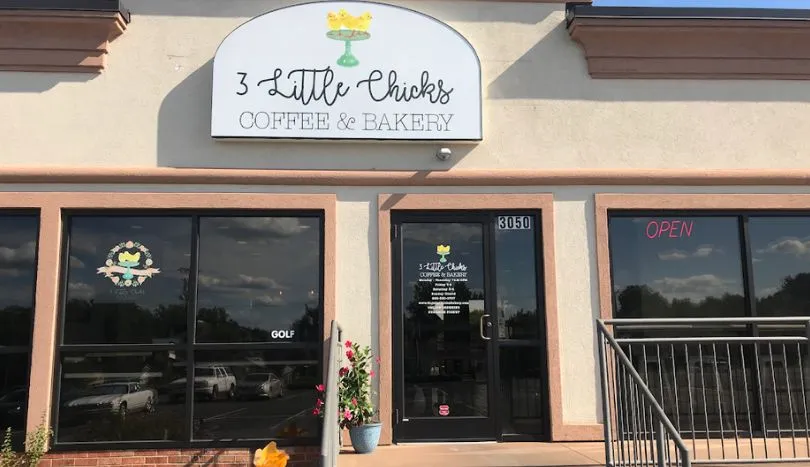 Providing freshly baked goods, gourmet coffee, and sweet delights, Emerson's Café and 3 Little Chicks Bakery are neighborhood, family-run coffee & bakery. You may enjoy live music on the terrace, cold treats, a cocktail, or their 18-hole putt-putt course. They have something in store for the entire family.
On their patio, they provide a distinctive yoga hour. You may unwind and enjoy the freshly brewed dose of caffeine that you have to order in advance. Their best-selling items are elaborately decorated cupcakes, frappes, oatmeal crème pies, and cold brews.
23. Walk Your Dog at Civitan Park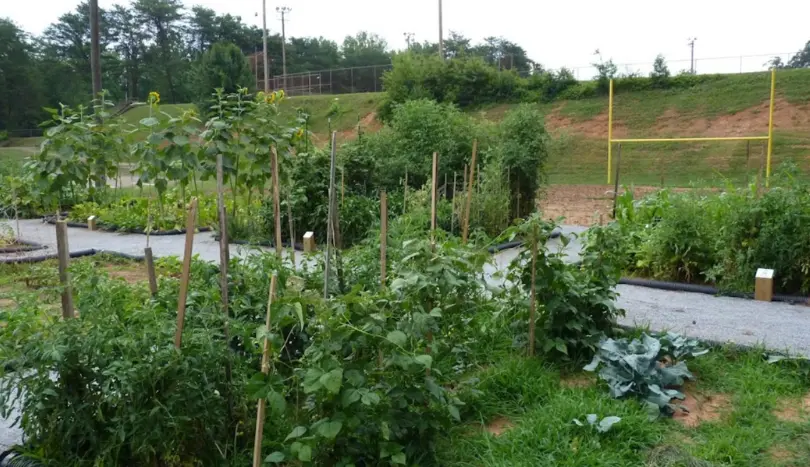 Civitan Park was built to benefit the residents of Hickory and is a fully equipped attraction in Hickory, NC for enjoyment. Families like visiting here in the afternoon or evening to unwind. There is lots of room in the park for activities like strolling, running, yoga, and reading a book in the shade.
Other prominent features of the green space include a playground, a community garden, restrooms, a concession stand, an outdoor basketball court, a lit softball field, two tennis courts, and a picnic pavilion with seating and grills. While at the park, you are allowed to stroll with your dog on a leash.
24. Get Your Hands Dirty at Mud Mama's Studio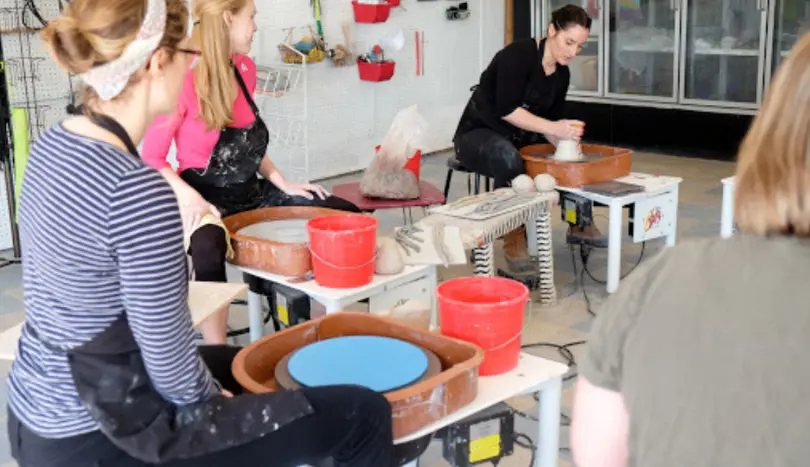 In Hickory, North Carolina, there is a community pottery workshop called Mud Mamas. They warmly welcome everyone- women, men, and children. We provide workshops for those who are interested in learning, as well as a community space for experienced potters who just need a place to work.
At regular intervals, they conduct fun things to do in Hickory, NC for kids. Everyone interested in ceramics may find something here, and they would love to host you. You must check their schedule and attend their open studio hours where they host locals.
25. Live the Thrilling Air of Hickory Motor Speedway
Near Downtown, there is a short track called Hickory Motor Speedway. In 1951, the track made its debut as a 0.80-kilometer dirt track. The Birthplace of the NASCAR Stars is its illustrious nickname. It is one of the most legendary locations for stock car racing and Hickory, NC attractions
The Whelen All-American Series continues to hold its races in Hickory. A complete meet is also included at the circuit for the CARS Tour, which involves touring series cars from the Late Model and Super Late Model at the same event. When in town, you must absolutely take part in the event.
26. Try Craft Beer at Olde Hickory Brewery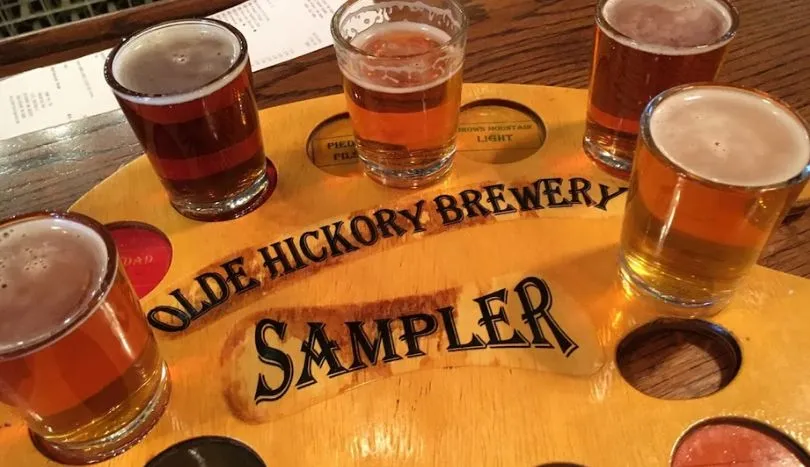 In Hickory, which is tucked away in the Blue Ridge Mountains' foothills, Olde Hickory Brewery has been offering distinctive traditional ales and lagers. They carefully attend to the brewing process to produce great beer. They produce beers without the use of chemicals, using premium grains, and cultured yeast.
The tap room has a relaxed and unhurried atmosphere overall. For groups to unwind and catch up, their taproom is available on the weekends. When traveling, the ethereal scents of North Carolina will strike the right chord.
27. Spooky Evening with Lake Hickory Haunts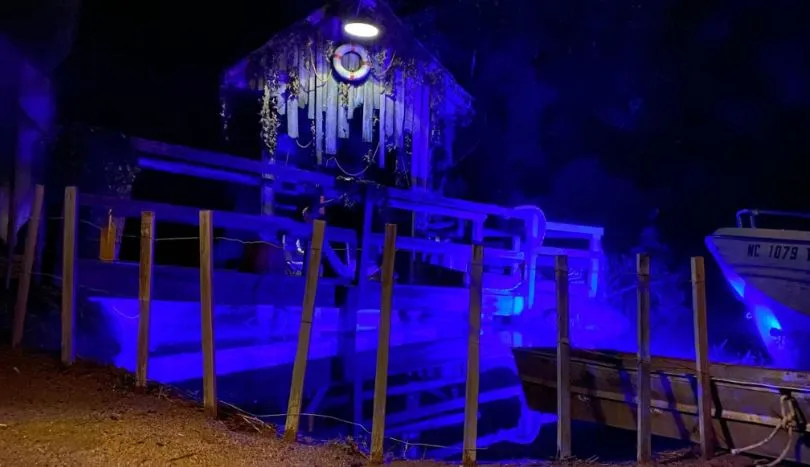 For a spooky evening, a haunted house is the best choice, and Lake Hickory Haunts is the best in town. You will pass through outdoor attractions, indoor attractions, and even walk through creepy things to do in Hickory, NC on your tour of a spooky evening.
As you proceed through the main tour, you will pass through the following attractions: Big Top Circus In 3D, Slaughterhouse, Aquaphobia, Mangler, Extinction, Aftermath, and Nightmare Factory. The tour takes around forty-five minutes to an hour to complete, excluding time spent on the Midway of Mayhem.
28. Unique Cocktails at Fourk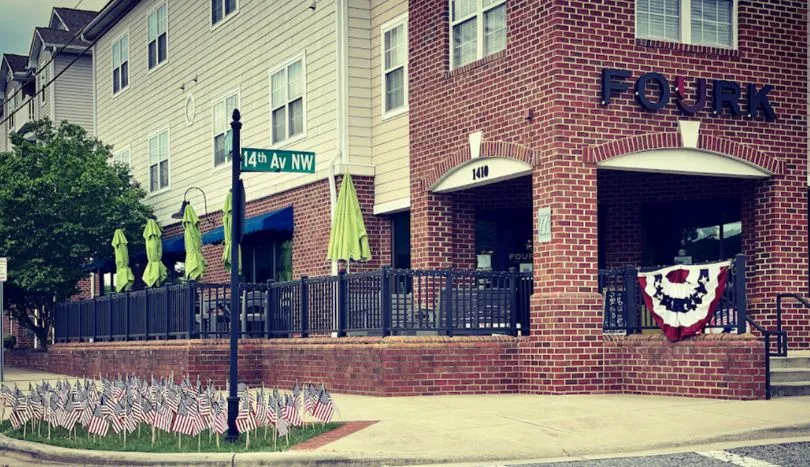 The distinctive and exciting ambiance at Fourk, a contemporary neighborhood restaurant providing fresh American cuisine, has welcoming and unique things to do in Hickory, NC. Traditional dishes including steak, fish, poultry, and salads are served at Fourk, but they are all cooked with unique flavors and sauces.
To guarantee that each meal is distinctive and delectable, they choose premium meats, high-quality seafood, and fresh veggies. Additionally, their bar has a literal spin. They prepare your unique drink right in front of you. Fresh fruits, spices, and herbs are incorporated into each cocktail for their signature touch.
29. Family Time at Bruce Meisner Park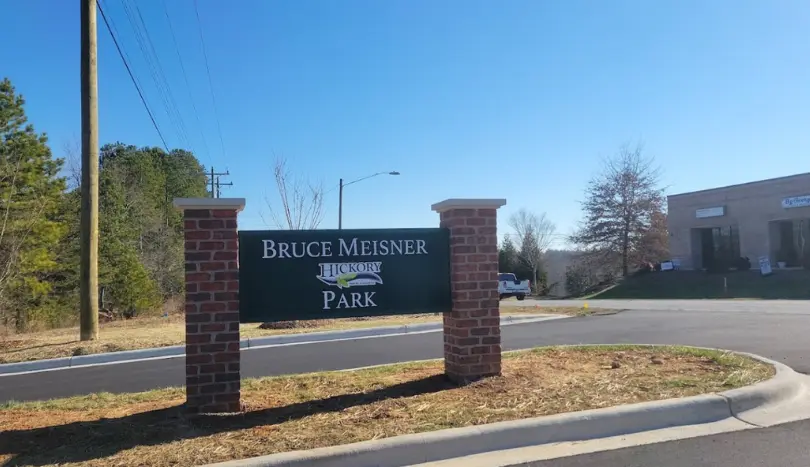 The 73-acre Bruce Meisner Park is located at the junction of Cloninger Mill Road and North Carolina 127. The remarkable site offers panoramic views of Lake Hickory and about half a mile of Falling Creek. The park's easy accessibility makes it a popular attraction in Hickory, NC for families.
The park currently features a paved walking path or pier, a picnic shelter, outdoor grills, and a restroom. These facilities enable guests to take advantage of the park's many recreational opportunities as well as the surroundings' unmatched natural beauty.
30. French Breakfast at Café Gouda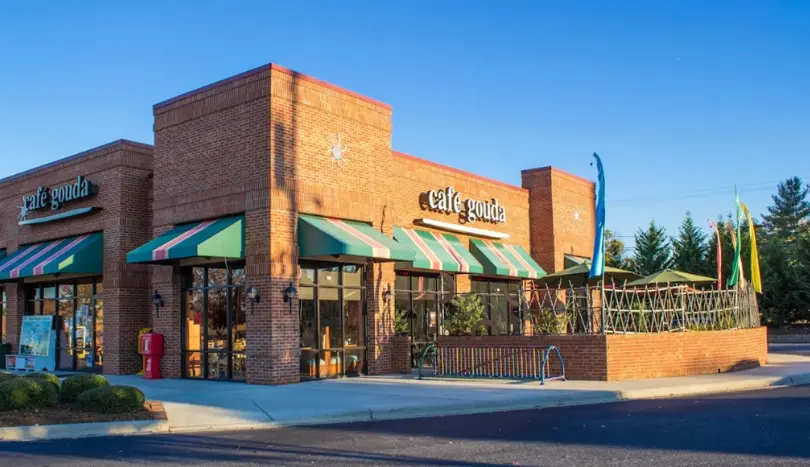 Café Gouda, which opened in November 2000, is a well-liked place for breakfast, brunch, lunch, and supper in the Hickory region. The warm decor of the place is quite welcoming for guests. Breakfast options include filled French toast or an egg wrap on a classic platter.
They serve a wide selection of creative and delectable soups, sandwiches, and extravagant salads for lunch. They provide the lunch menu for dinner along with gourmet pasta and pizzas, and every night they offer a special dinner dish. Enjoy while dining, as Café Gouda, also offers beer, spirits, and wine and then visit other Hickory, NC attractions.
Where to Stay in Hickory?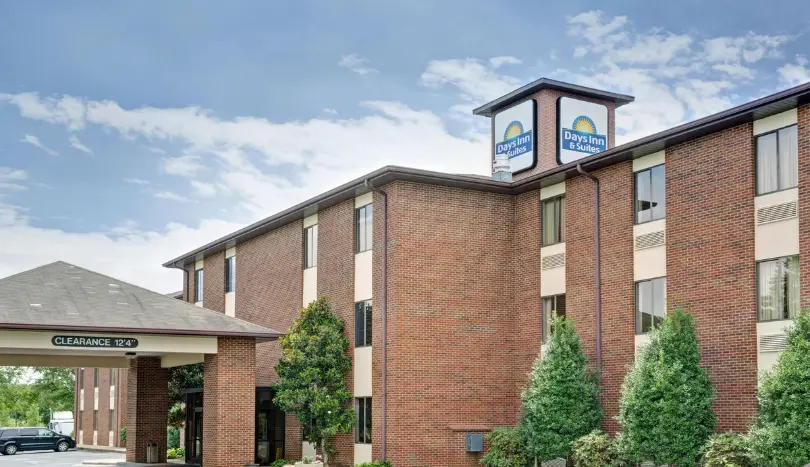 Only when you have a nice stay on vacation will it be great. Crowne Plaza and Baymont by Wyndham provide their visitors additional pampering in addition to the standard facilities. The best options for your budget are Days Inn & Suites and Comfort Inn Hickory if you can make up with simple accommodations.
Final Words
Nestled at the foothills of several mountain ranges, there are enough unique things to do in Hickory NC. The city provides a distinct sense of Southern Culture and is home to the second-oldest art museum in NC.
You will be enchanted by the beauty, whether you go on an extravagant family vacation or spend a few days as a backpacker. You'll be enchanted by the city and leave with a box full of precious memories.