Bendigo, one of Victoria's largest regional cities, is alive with cultural landmarks and hopping cafés and eateries. From Ballarat, it takes roughly 90 minutes to get there. The profusion of art galleries and cathedrals, large tree-lined boulevards, and opulent European-style buildings with a decidedly Australian character provide a pleasant surprise around every corner. Provided there are plenty of things to do in Bendigo.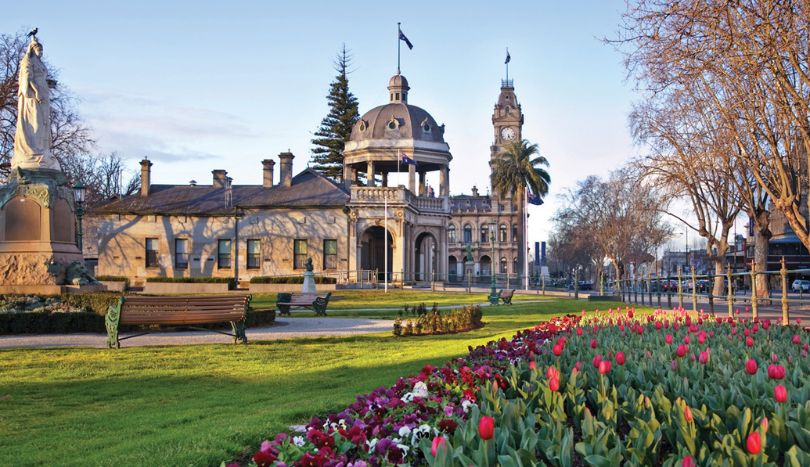 Join an underground tour at the Central Deborah Gold Mine for a glimpse into Bendigo's gold mining past. Bendigo also has a lengthy Chinese past. The heritage-listed Bendigo Chinese Joss House serves as a poignant reminder of the significant contribution that Chinese immigrants made during the gold rush.
There's a superb Golden Dragon Museum that further examines this history with enthralling exhibits of Chinese art and cultural items.
Bendigo offers a lot of attractions for those who enjoy art and architecture. In addition to its outstanding collection of European and Australian paintings, the Bendigo Art Gallery is one of Australia's biggest and oldest regional art galleries.
The beautiful Sacred Heart Cathedral is the most recognizable feature in Bendigo and one of the biggest churches in Australia. Bendigo Pottery is Australia's oldest operating pottery and an excellent place to find a one-of-a-kind gift.
The Discovery Science & Technology Center features over 100 kid-friendly interactive exhibits, and Serene Rosalind Park. It is a good site for a picnic or a quiet walk in the heart of the city.
Many of these attractions can be explored on a Bendigo Tramways tour, which is a narrated hop-on, hop-off adventure through the city.
Still, you are wondering what to do in Bendigo? Here are the 15 top things to do in Bendigo –
1. Tour the Bendigo Art Gallery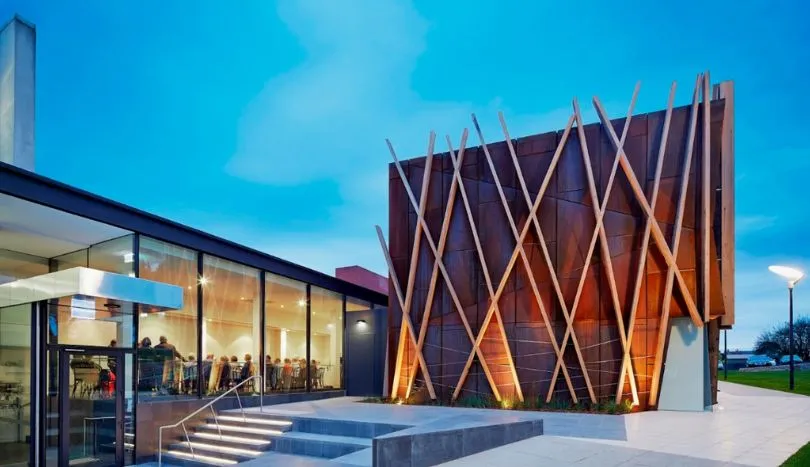 The Bendigo Art Gallery was founded in 1887 and expanded out of the Volunteer Rifle' chamber over time, and is among the top places to visit in Bendigo.
The striking sculpture gallery was erected in 2001 and was created by Melbourne's Fender Katsalidis Architects, and is among the most recent collection in the house.
The collection of the Bendigo Art Gallery includes decorative arts, works on paper, sculpture, and paintings from the 19th, 20th, and 21st centuries.
The collection has a strong emphasis on 19th-century European and Australian painting. It features the works of notable artists such as Ernest Waterlow, Charles Conder, Pierre Puvis de Chavannes, and Arthur Streeton.
The museum hosts a variety of entertaining temporary exhibitions. It includes everything from ancient artifacts lent by the British Museum to 20th-century cultural icons.
2. Rosalind Park has Some of the Best Views of the City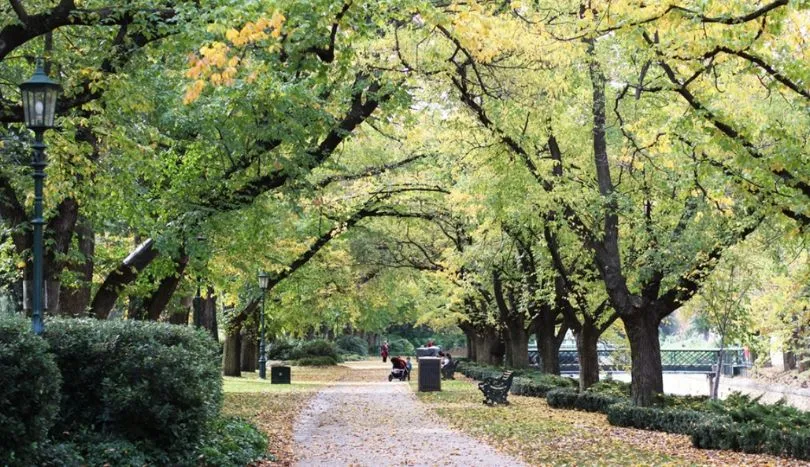 Rosalind Park is located at the intersection of View Street and Pall Mall.
Before the 1850s, the area was a grassy woods bordered by giant Eucalyptuses along the Bendigo Creek.
It used to be the main source of food and water for the Dja Dja Wrung people, and is one of the top tourist attractions in Bendigo.
Today, it features 60 acres of open space that are covered in plush grass and towering trees.
Rosalind Park also includes a sizable playground, a greenhouse, a fernery, an elevated viewpoint deck, various gardens, and elaborate statues strewn across the area.
Climb to the top of the Poppet Head lookout tower for some of the best views in town.
3. Marvel the Architecture at the Great Stupa of Universal Compassion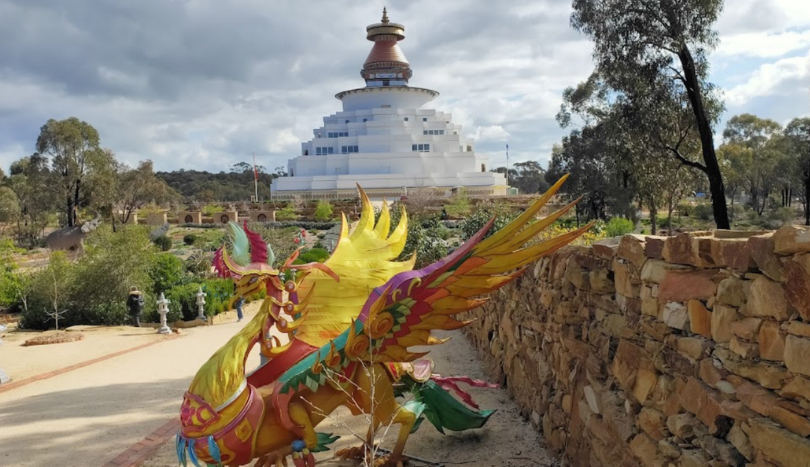 The Great Stupa of Universal Compassion in Bendigo is the largest stupa in the Western World, measuring the same size and shape as Tibet's Great Stupa of Gyantse.
This striking structure has a base width of 50 meters and rises 48 meters over Bendigo's bushland. It is intended to survive for a millennium.
Among the many revered things within is the Jade Buddha for Universal Peace, the world's largest Buddha made of gemstone-quality jade.
In 2000, Canadian authorities discovered the enormous boulder from which it was cut. This and many more artifacts can be seen during a tour that departs from the stupa's visitor center and sheds light on Asian culture, Buddhism, and art.
Visitors can sign up for guided tours, which begin with a video introduction and take you through the Peace Park and inside the stupa.
You can learn about Buddhism and Asian art and culture as you stroll around this attraction and view artifacts and relics. And is among the top spiritual stuff to do in Bendigo.
4. Take a stroll at Bendigo Chinese Gardens Reserve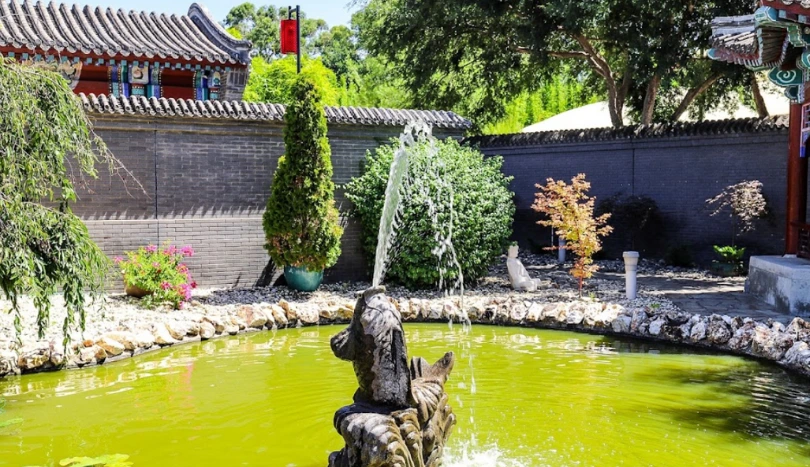 Chinese people have lived in Bendigo since the time of the gold rush. The museum standing here is the testament of Chinese tradition and culture. It is located on the site of one of the city's first Chinatowns.
This 1991-opened attraction explores the life of these residents and how Chinese culture has shaped the city from the 1850s to the present.
Since it is Australia's primary center for Chinese cultural activities, the Golden Dragon Museum enjoys a high level of national recognition, and is one of the top Bendigo tourist attractions.
The collection's centerpiece is a beautiful collection of late-nineteenth-century processional regalia, including stage outfits brocaded with gold leaf.
The earliest artifacts in this location date back to the 16th century.
They are also thought to be the world's oldest and longest imperial dragons.
Sun Loong, for example, is over 100 meters long and has been a staple of the Bendigo Easter Festival since 1901. We must also emphasize the authentic gardens, which were inspired by the Imperial Palace in Beijing and include the Buddhist Temple of the Goddess of Mercy.
5. Marvel at the Bendigo Pottery Making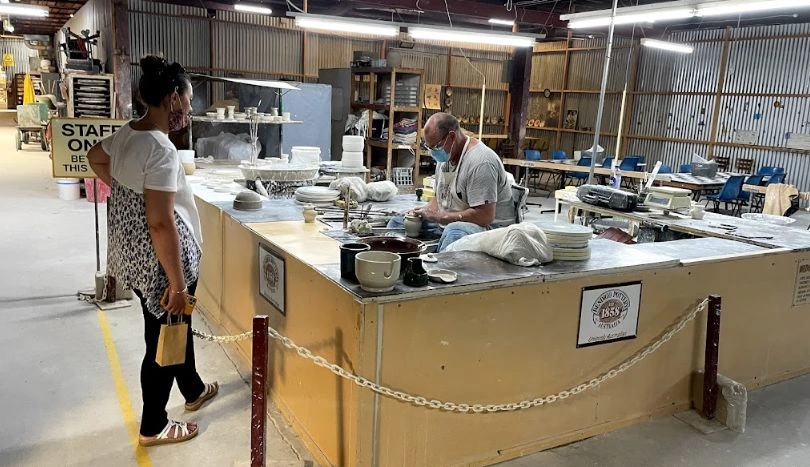 Bendigo is where Australia's oldest operating pottery was founded in 1858, and has seen a rebirth since the 1970s. Since then, Bendigo Pottery has earned a reputation for excellence and innovation.
At this ancient location dominated by wood-fired kilns, you can learn about the history of pottery and the traditional skills currently used by Bendigo's experienced potters.
You can observe live performances and operate a pottery wheel for yourself and it is one of the unique things to do in Bendigo.
There is a huge assortment of modern and traditional ceramics in the sales gallery. It also features antiques and collectibles centers and studios with resident artists producing jewelry, sculpture, painting, textiles, and more.
6. Take a leisurely Stroll around Alexandra Fountain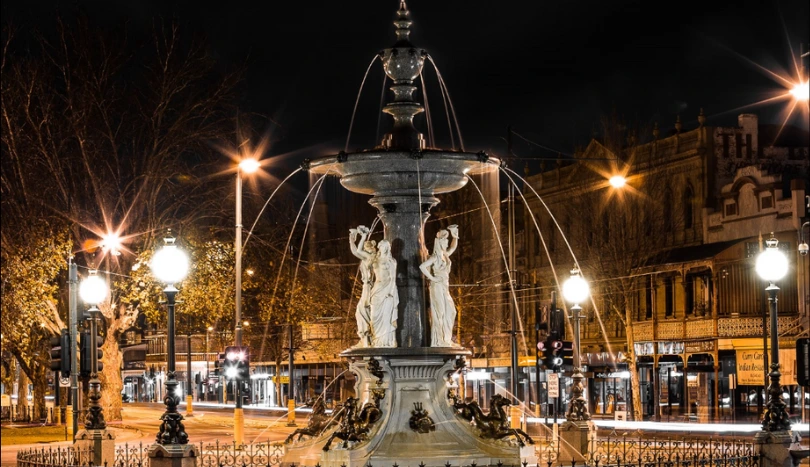 Alexandra Fountain, which can be found near the junction of Pall Mall and View Street, is one of the best places to visit in Bendigo.
The Charing Cross is a convenient crossing that is also one of Bendigo's busiest and most significant intersections. It is situated right in the middle of the city.
The Alexandra Fountain was constructed as a grand tribute to the prosperity of the Goldfields and the Bendigo area. It is the second-largest municipal fountain in Victoria, towering 8.5 meters tall and situated in a 15-meter-diameter circular pool.
It was named for the Princess of Wales when it was constructed in the 19th century. The structure is made of a combination of painted stone, iron, and Harcourt granite, and it features a group of four allegorical women above spouted dolphins and mercenaries.
The late Victorian-style fountain was created by local architect William Charles Vahland, and it has a very captivating design.
7. Peruse the Beautiful Lake Weeroona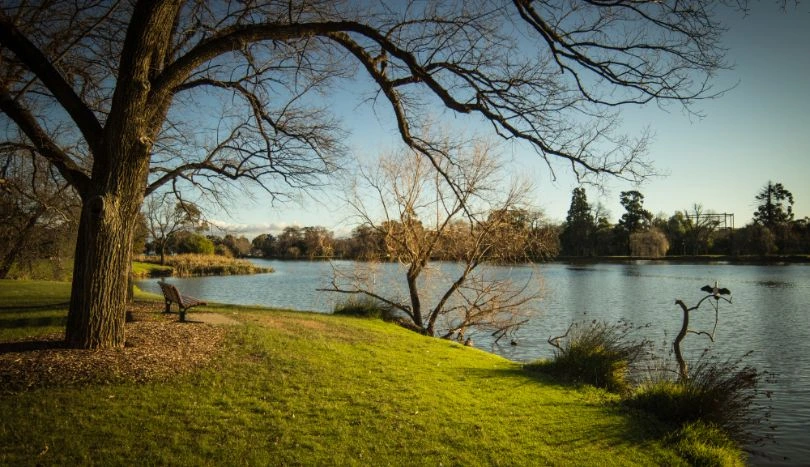 A lovely artificial lake and reserve called Lake Weeroona may be found on Napier Street, and is among the top things to see in Bendigo.
Before it was turned into a lake in the 1870s, this decorative lake, which spans 18 hectares, was a mining area.
The Melbourne Botanic Gardens' William Guilfoyle served as its art director during its creation.
The lake is accessible via a historic tram that travels from the city center to the lake.
There is a sizable playground, lodging options, a parking lot, and lots of delectable restaurants and BBQs.
The lake can be visited by anyone who chooses to walk, jog, or ride a bike; the walk takes about 20 minutes to complete.
In front of Lake Weeroona's serene waters, you can also savor some delectable cuisine products.
8. Explore the Bendigo Botanic Gardens' Many Attractions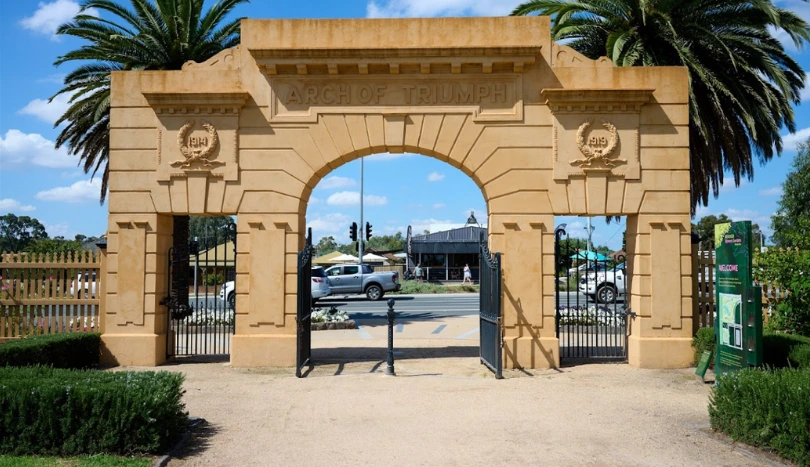 The Bendigo Botanic Gardens was the city's first public garden and one of Victoria's oldest regional botanic gardens.
It was built in 1857 and is situated in White Hills. Visitors adore it for its numerous appealing features, and is one of the best things to do in Bendigo.
The botanical garden has a walk-through bird aviary, a lovely lake, a musical adventure playground, tiny gardens, and excellent BBQ facilities, to name a few.
Swings, slides, a suspension bridge, and a hammock make the playground popular with kids.
The Bendigo Botanic Gardens also have a billabong, historical tree collection, lavender collection, cottage garden, WW1 Arch of Triumph, grape walk, and a real picnic pavilion from the early 1900s.
9. Obtain and Sample Wine at Bendigo Wine Region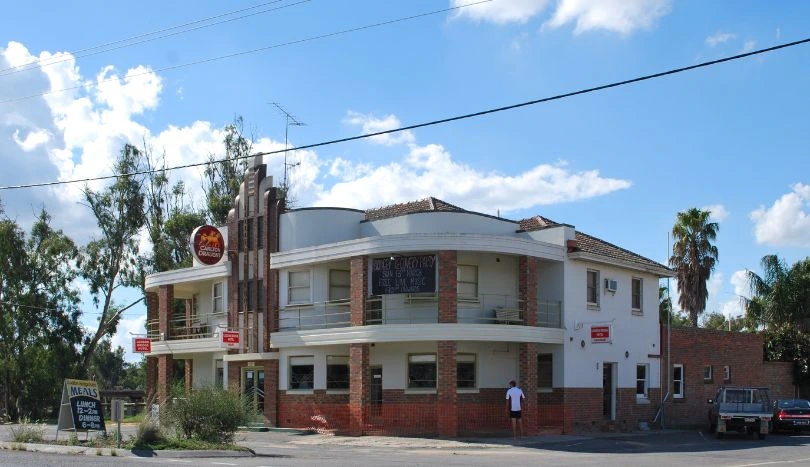 The Bendigo Wine Region refers to wineries located across the city, as well as at Bridgewater on Loddon, Madurang, Marong, and Harcourt.
The first grape vines were planted in 1856, and several families came and stayed to establish several wineries.
Several wineries may be found in the area, including Balgownie Estate, BlackJack Wines, Connor Park Winery, and Glenwillow Wines.
Local grapes are hand-picked and hand-crafted by the growers into the wines brewed here.
Restaurants, local wineries, and cellars all offer samples of wines from the Bendigo Wine Region.
You'll be begging for more since the wines are so good, and it is one of the great activities in Bendigo to look around.
10. Enjoy the Ride at Bendigo Tramways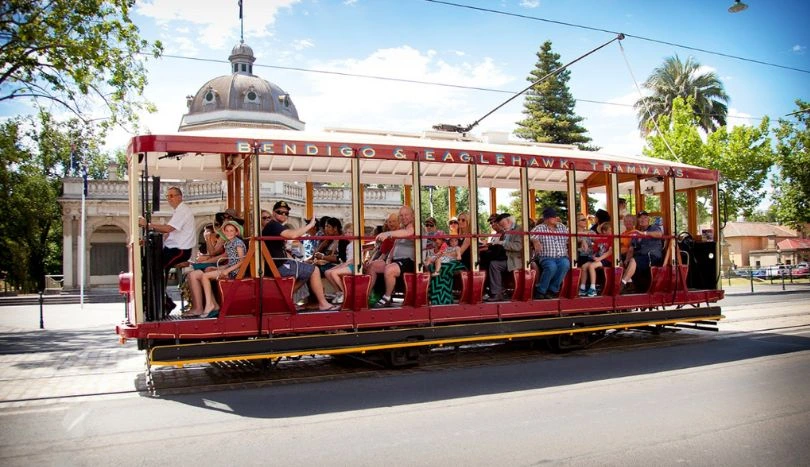 The city has had a tram system since 1890, and it is still open to visitors as a tourist attraction.
The 19th century Bendigo Tramways have been powered by battery, steam, and finally electricity.
The network proved too expensive to run as a commuter service in the postwar years. It was finally closed down in 1972, only to be revived as a historical landmark.
North Bendigo and the Central Deborah Gold Mine are both accessible via tram through the city's center.
The majority of Bendigo's top attractions may be seen in a hop-on, hop-off tour while riding a heritage tram.
The Dja Dja Wurrung Tram departs at the Central Deborah Gold Mine at 10:00 every Monday, Wednesday, and Friday. It narrates the 40,000-year story and traditions of Bendigo's earliest inhabitants.
There is also a monthly "Blues Tram" with live music and a "Yarn Bomb Tram" featuring crocheted seat covers, cushions, blankets, and bunting.
The public can take self-guided tours of the former tram depot off of Hargreaves Street.
11. Sacred Heart Cathedral has a Tranquil Atmosphere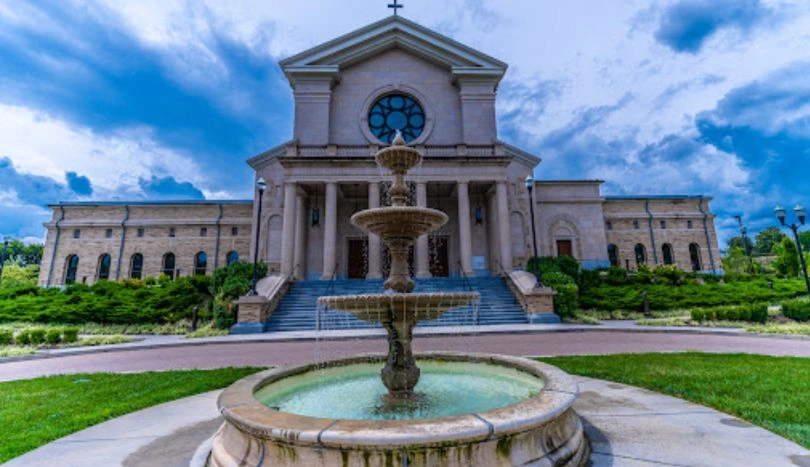 Sacred Heart Cathedral, located on MacKenzie Street, is the Diocese of Sandhurst's main church and the seat of the Bishop of Sandhurst.
The cathedral, designed by Reed, Barnes, and Tappin in 1895, is one of Australia's largest churches and the country's third tallest structure.
Baptisms, weddings, and other sacraments can be held there, and it is always available for organizing masses and other activities.
The Gothic Revival style complements the building, which is constructed completely of Geelong sandstone and features light-weight steel-framed spires.
The Sacred Heart Cathedral is the ideal location to find tranquility in this busy metropolis, and is one of the top tourist attractions in Bendigo.
12. Discover Fortuna Villa's Elegant Rooms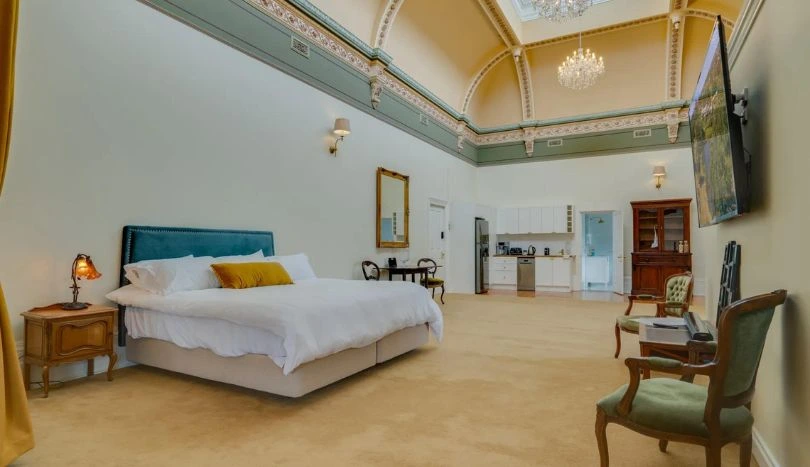 The Fortuna Villa on Chum Street has a lake, gardens, a Roman bath, and the Pompeii Fountain.
The 7.57-acre attraction is set in gorgeous green landscapes, and is one of the top things to see in Bendigo.
Aspirational real estate's center of attention is the magnificent residence itself.
In 1871, George Lansell, a wealthy businessman, purchased Fortuna Villa and the 180 Mine. It was linked to the New Chum Reef.
The villa is remarkably unaltered as a residence despite being a busy business for 65 years. This venue frequently hosts a variety of public events.
13. Discover Science and Technology Centre's Planetarium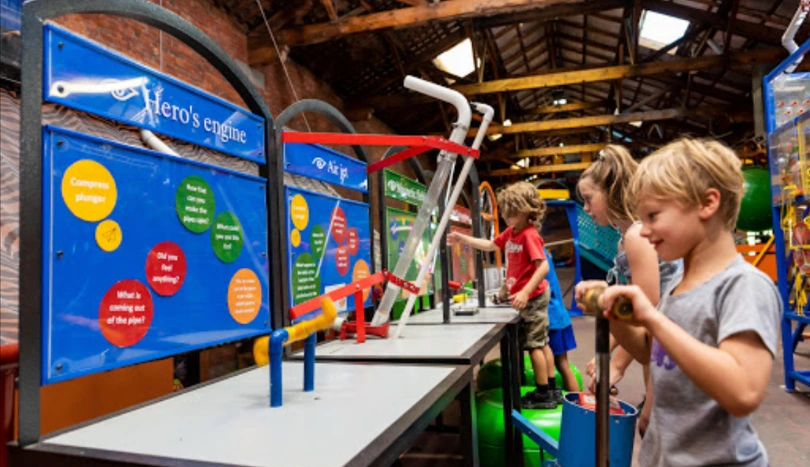 It is well known for inspiring scientific interest in its visitors, especially children, with a fun and exciting approach, and is one of the top things to do in Bendigo.
Along with a planetarium and a Kaleidoscope early learning center for kids under six, there are more than 100 fascinating displays that visitors can check out.
Kids will be astounded by the planetarium as well, where they may relax on a beanbag and learn about the stars, planets, and solar system.
There are also some thrilling attractions, such the tallest vertical slide in the Southern Hemisphere.
Visitors are invited to the scientific and planetarium performances that the Discovery Science and Technology Center is renowned for.
People of all ages can enjoy themselves to their heart's delight at the facility.
14. Explore the Central Deborah Gold Mine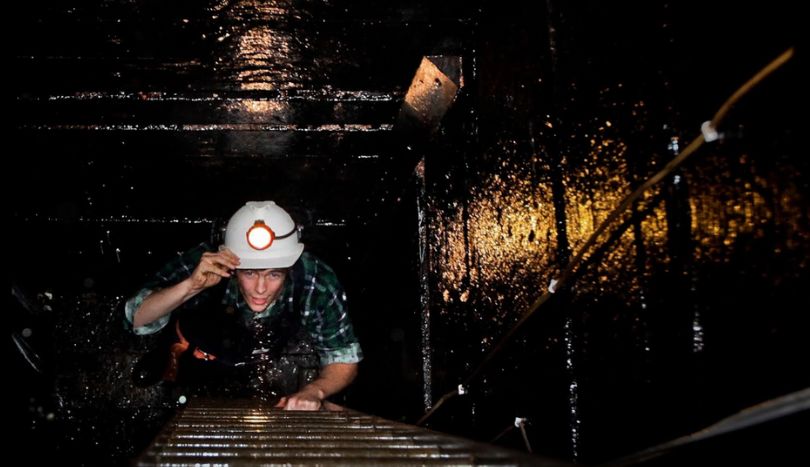 In the mid-90s, this mine near Bendigo's city center produced about a metric tonne of gold. The Central Deborah Gold Mine opened during the city's gold industry's resurgence, and activities continued until WWII.
This has been a popular tourist destination since 1986, and the narrow main shaft was enlarged to improve guest comfort.
Your level of adventure will determine how much of the mine you see, and is one of the fun things to do in Bendigo.
To get a sense of this maze of tunnels, the basic Mine Experience, for instance, plunges you 61 meters below the surface.
This tour lasts around an hour. If you're feeling courageous, you can attempt the Underground Adventure at 85 meters or the Nine Levels of Darkness tour, which descends to 225 meters below the earth's surface in the original miners' cage.
This subterranean excursion will last more than three hours, during which you will eat a miner's lunch and climb ladders.
15. Catch Sporting Events at Bendigo Stadium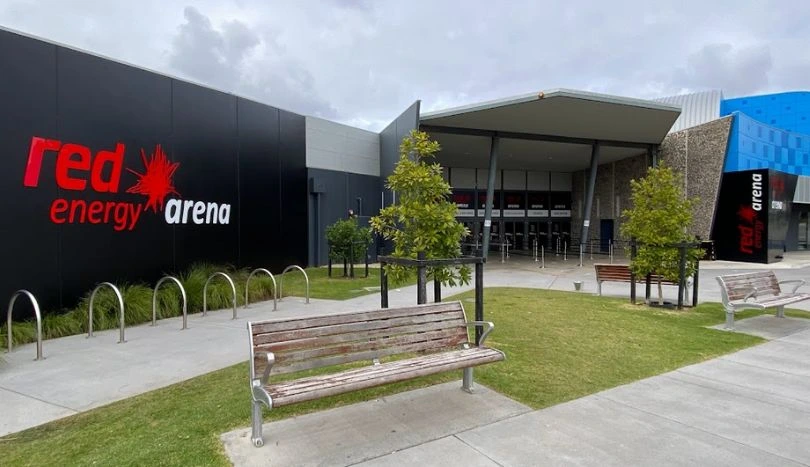 Bendigo Stadium, which is situated along Inglis Street, is a premier venue for athletic events, and is among the top tourist attractions in Bendigo.
It has become a popular venue for major athletic events because it is the largest indoor stadium outside of metropolitan Melbourne. It is the most substantial sports facility in rural Victoria.
Bendigo Stadium's popularity may lead to an uptick in local travel and tourism. The hospitality, tourism, and retail sectors, in particular, gain from hosting these events.
Check Out: 20 Top Rated Things to do in Melbourne
Best Places to Eat in Bendigo
Bendigo is still merely a gold-mining town to the out-of-the-loop Melburnian. However, we are aware that this community is sitting on a totally different kind of gold: a variety of delectable foods that will please even the most snobbish Melbourne critic.
A two-hour drive to Bendigo from the CBD is very achievable and worth it just for these delectable beauties. After a day of seeing the National Park, taking one of the city's many Heritage Trams, and shopping till you drop in its laneways, here are the best locations to grab a delicious bite to eat.
(i) The Woodhouse Restaurant
The Woodhouse Restaurant's smokey's char-grill scents greet you as you enter, giving you a taste of the temptations to come. Though vegans and gluten-free dieters are catered to, and Snapper, Tiger Prawns, Pork Belly, and Lamb Shoulder are all available on the large menu, The Woodhouse Restaurant's passion is clearly for beef in all of its forms.
Address – 101 Williamson St, Bendigo, VIC 3550
(ii) Harpoon Social Club
This amazing tiny Japanese fusion restaurant calls itself a "Ramen Bar & Drinking House." Here, ramen is ostensibly the main attraction, and wow, are their steaming bowls of deliciousness! An intriguing toppings complement the chewy noodles and thick, deep broths. The Yuzu Chicken Ramen, which includes Chashu Chicken, Dumplings, Chicken Broth, Citrus Kosho, Sansho, Sticky Rice, and Onsen Yolk, satisfies every flavour want.
Address – 36 High St, Bendigo VIC 3550
(iii) The Dispensary
The Dispensary's food is designed to be shared. The Goat Cutlet – Soybeans, Zucchini, Blackberry & Chestnut from the smaller plates is one of the best because the savory miso perfectly balances the flavorful meat. The Moreton Bay Bug Spring Rolls with Yuzu Mayo & Samphire are a good choice if you like seafood. It's a fantastic take on a traditional dish.
Address – 9 Chancery Lane, Bendigo, VIC 3550
(iv) Out of Order
First off, the locals here purchase their coffee from Cartel Coffee Roasters in Geelong. They also boast having the widest selection of coffee beans in the area. We can't vouch for that, but we do know that our double shot latte was potent, robust, and had a wonderful mouthfeel – exactly how we like it. They offer a breakfast or snack option better than a freshly baked baguette with delicious fillings.
Address – 352 Hargreaves St, Bendigo, VIC 3550
Best Places to Stay in Bendigo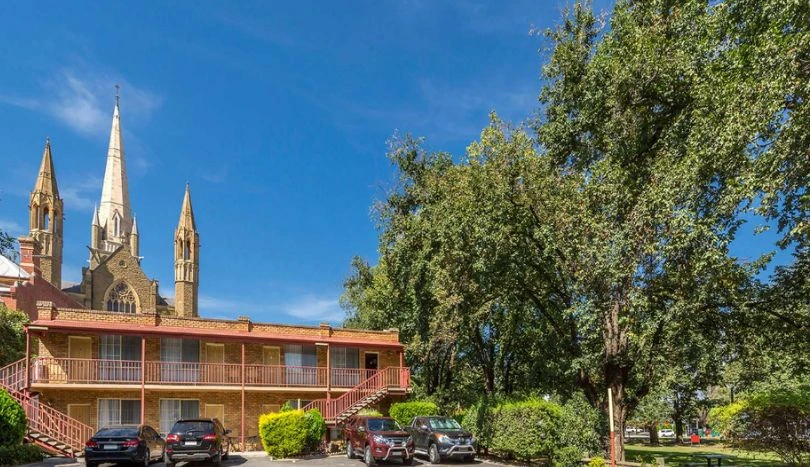 Bendigo offers a wide variety of lodging options. Barclay on the View is one of our favorite places because of its convenient location. You are transported back in time by View Street's majestic structures. Here are our list of top places to stay in Bendigo.
(i) Barclay on the View
The location of Barclay On The View, which is in the center of Bendigo, is ideal for families who want to explore the city on foot. With an indoor spa, a sauna, and exercise equipment, it is not your typical hotel. The rooms have just undergone renovation. We stayed in a triple room, which isn't particularly roomy but is fine if you have a young family.
Address – 181 View St, Bendigo VIC 3550
(ii) Best Western Cathedral Motor Inn
In close proximity to the Cathedral lies the Best Western Cathedral Motor Inn. On the map, it is situated between the Central Deborah Gold Mine and the city's core. There are several beds in the family area, and they are all quite cozy. Because it is not in the heart of the city, the rates were lower than in other places. The renowned Beechworth Bakery, which is nearby, offers kids lunch bargains all day long that come with an activity book.
Address – 96-102 High St, Bendigo VIC 3550
(iii) City Center Motel Bendigo
In the heart of the city, it is in an excellent location. Given that it offers apartments with two and three bedrooms, it should be ideal for families like ours with more than two children. It offers WiFi, parking, and complimentary breakfast.
Address – 26 Forest St, Bendigo VIC 3550
(iv) All Seasons Resort Hotel
450 guests can be accommodated in the cutting-edge banquet space at the upscale All Seasons Resort Hotel. Each air-conditioned room has a beautiful view of the city or surrounding area. A toddler room, an Xbox and PlayStation room, and indoor and outdoor children's playgrounds are also available at the All Seasons Resort Hotel. Relaxed suites include minibars, flat screens, complimentary Wi-Fi, and living rooms with sofa beds. Six people can stay in a family room. A hot tub, sauna, fitness area, and heated indoor pool are available.
Address – 171/183 McIvor Hwy, Strathdale VIC 3550
In the End
The city of Bendigo is diverse, with magnificent parks, interesting museums, serene lakes, and excellent dining options.
While the city is well-known for its pottery, it is also home to several gold mines, and visitors are welcome to tour their subterranean tube systems.
Save this list of the top activities in Bendigo, Australia, to your favorites and take an unique Australian trip!