The city that bears its name from a famous French aristocrat who fought in the Revolutionary War as a major general in the Continental Army, is renowned for its rare museums and heritage trails. Fayetteville honours the difficulties of the area's early residents.
The city is blessed with enchanting landscapes that will appeal to any naturalist. It is rich in spectacular natural terrain, which is home to a variety of flora and wildlife.
Perhaps better, the city actively promotes artists and many cultures, as shown in its art galleries and public gatherings.
Here are the top things to do in Fayetteville, NC, if this sounds like an enticing place to get away from it all.
1. Learn the City's and Wartime History at the Museum of Cape Fear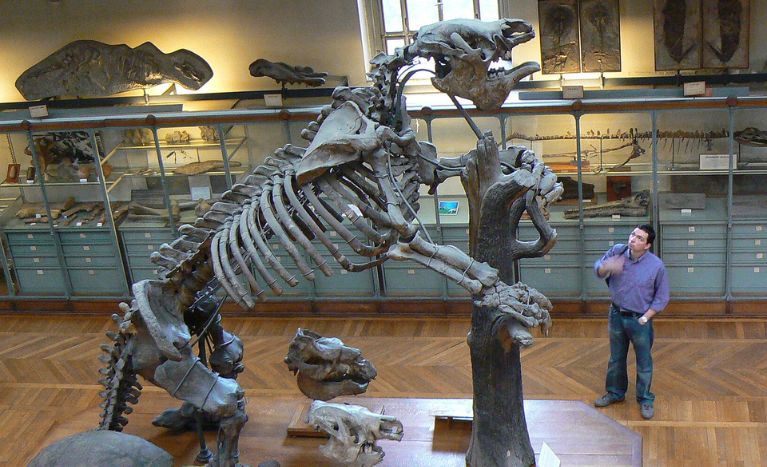 Your first trip to Fayetteville should be to the Museum of Cape Fear if you want to learn about the local history. For someone visiting the city for the first time, it is one of the most enlightening Fayetteville attractions.
Two storeys of exhibitions make up the museum itself, which covers North Carolina's history from the time of the Native Americans up until the early 20th century.
With antiques from the town's original settlers, the Civil War, and more, it is one of the best things to do in Fayetteville NC for history lovers.
Why you should go – A building dedicated to preserving the history and culture of southern North Carolina is a must-visit attraction in the city.
It comprises two floors of displays that showcase the region's history going back more than 400 years.
What to do – Discover more about Native Americans, the naval supplies industry, slavery, nd Fayetteville during the Civil War. In addition, you can partake in folk events, ceramics workshops and special exhibitions on European settlers.
2. Explore The Lush Green Forest at Cape Fear River Trail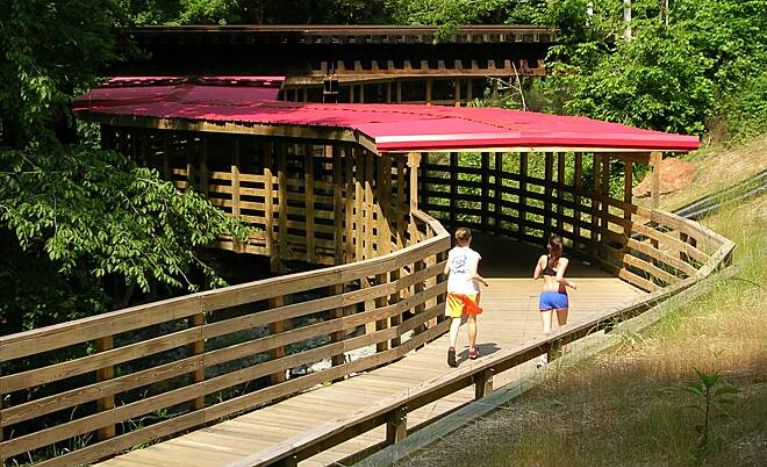 A paved, ten-foot-wide path that can be utilized for biking, cycling, running, or strolling makes up the Cape Fear River Trail.
The 5-mile walking trail leads visitors past wildlife, lovely wildflowers, impressive oaks, and more. This is one of the best things to do in Fayetteville NC this weekend.
Why you should go – This venue is home to hundreds of different plant and animal species. It is also a spectacular refuge for joggers, cyclists, and hikers who wish to start their mornings by burning calories.
What to do – Through wetlands, ponds, and forests, you can take a hike, ride, or jog on miles of routes that include bridges and a boardwalk. Get ready to capture wildlife with your DSLR.
3. Visit the Airborne and Special Operation Museum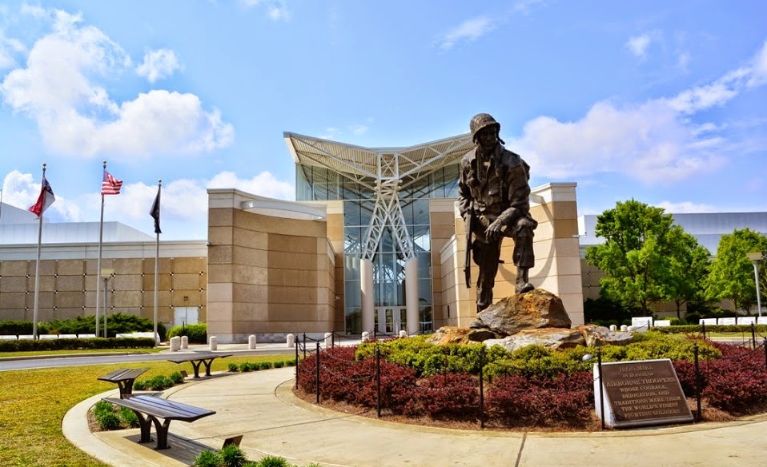 Located in the heart of Fayetteville, it is easy to access for those who want to learn more about the military history of America. The museum is one of the most preferred tourist destinations in Fayetteville.
Why you should go – The stories of the US Army's Airborne and Special Operations Forces throughout history are highlighted in this interesting museum's cutting-edge exhibits.
Flashback to 1940, when the first Airborne unit descended from the sky to engage in combat.
Discover displays emphasising the Cold War, the Vietnam War, World War II, and its ongoing war on terrorism.
What to do – The Airborne and Special Operations Museum has received five stars on a constant basis. It is one of the free things to do in Fayetteville NC. Entry is free to exhibitions featuring valiant warriors, interactive games, and even a virtual simulation experience.
View stunning miniature models, old photos, and important relics as you recall the sacrifices the Army made for the United States.
4. Take a Walk to J Bayard Clark Park & Natural Centre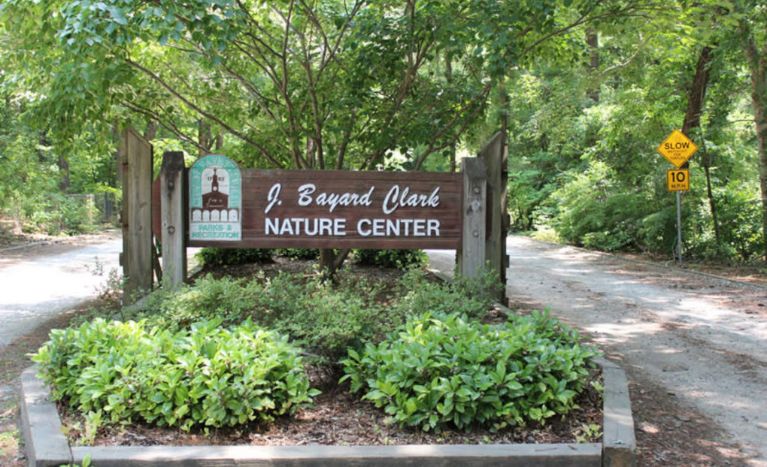 Located about two miles from the north of the historic centre of Fayetteville, the Cape Fear River borders its eastern boundary.
From this park, you may access the 5.5-mile Cape Fear River Trail. A variety of animal, plant and environmental exhibits can be found in the nature centre.
It has a diversity of native plant species and is a fantastic area to see birds. There are several beautiful locations that look out over the river.
Why you should go – If you are looking for unique things to do in Fayetteville NC head to J. Bayard Clark Park & Nature Centre. It offers the biodiversity that thrives on Fayetteville's fertile landscape.
What to do – You may explore the park's lovely walkways while taking in its creek, marshes, and magnificent waterfall.
The indoor arboretum offers a plethora of excellent educational opportunities. This park offers a wide variety of activities for your children. You may view several animals here, including reptiles like snakes and turtles.
Additionally, there are several conch shells and skulls and skeletons of various species on display.
5. Indulge in The History Tour of 1897 Poe House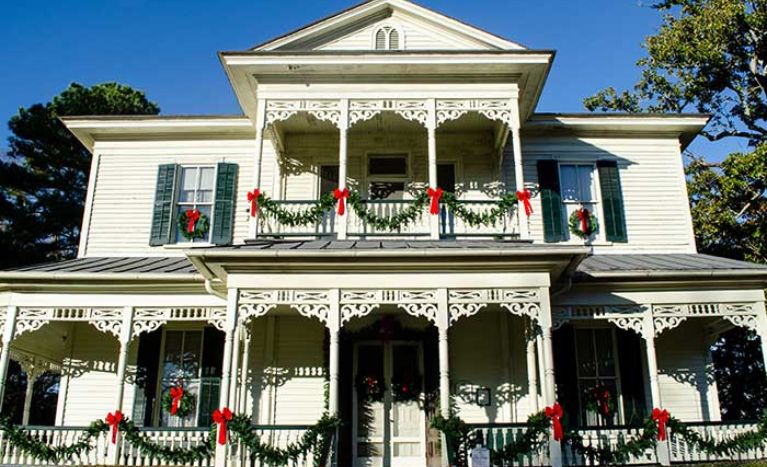 Unsurprisingly, E. A. Poe, a well-known Fayetteville businessman who resided here with his wife Josephine, built the 1897 Poe House that year.
You can take a tour of the house with a professional guide who will share the history of the house and the neighbourhood. The house is now a part of the Cape Fear Historical Complex and has been converted into a museum.
The home is furnished with antiques and mementoes from the era and is almost unchanged from how it was in the early 20th century.
Why you should go – Local merchant, E.A. Poe constructed this lovely house for his wife and 8 children in 1897. One of the most intriguing things to do in Fayetteville, North Carolina, today is to visit the house!
You can discover more about living for a wealthy family in North Carolina in the early 20th century as you explore the lovely gardens and residences.
Many of the original furnishings and decorations are still present in the house, which has been scrupulously conserved.
What to do – Enjoy going back in time to the eras of Amelia Earhart, Pepsi, Kinetograph, William McKinley, the women's suffrage movement, the Spanish-American War, and more. If you're a history lover this is also one of the fun family things to do in Fayetteville NC .
6. Take a Day Out for Lake Rim Park
Whether you're looking to have a picnic with friends or family, play a few games of soccer, or go for a walk along the mile-long nature trail that winds through wetlands to Bones Creek, the Lake Rim Park has everything for everyone to unwind or engage in outdoor recreation.
Why you should go – Visitors can engage in a variety of outdoor pursuits. Soak in the stunning scenery of the lake, or take in the rich greenery at Lake Rim Park. There are abundant recreational things to do in this park.
As long as they are always on a leash, dogs are welcome in the park.
What to do – Take a stroll through the wetlands on the 1-mile trail that circles the lake. Play a game of soccer or volleyball, plan a family picnic or just go swimming. The lake Rim Aquatic Centre's pool and waterslides are available to families with young children.
Visitors who are feeling more daring can go on a kayak tour or spend the day fishing. One of the best things to do in Fayetteville with pets is to spend the day at Lake Rim, so feel free to bring your four-legged companions!
7. Attend the Boardways at Cape Fear Regional Theatre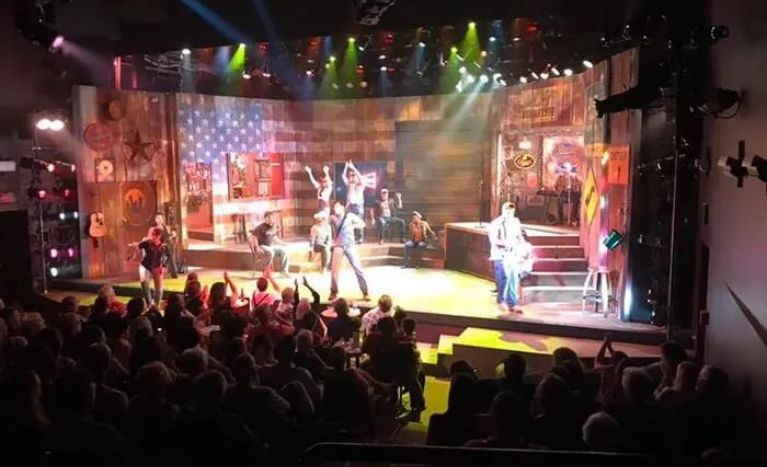 The Cape Fear Regional Theatre on Hay Street in Fayetteville, North Carolina, for many years has pleased visitors through family classics, off-beat Broadway productions, old comedies, and extravagant musicals since inception.
Why you should go – The theatre produces a number of plays, special events, and performances throughout the year that instructs, uplift, enlighten, and amuse both performers and spectators.
Each year, the mainstage season includes six different performances. In addition, there are street plays, workshops and educational initiatives for audiences of all ages and schools from all across the region.
What to do – There's nothing better than seeing local talent live on stage, as the theatre hosts a range of shows throughout the year. At CFRT, partake in shows with well-designed sets and costumes, well-trained actors, and a high level of direction. Attending a Broadway show here is one of the best things to do in Fayetteville NC at night.
8. Soak Into the City's Cultural Heritage Walk
America's Hometown is undoubtedly rooted in history with its more than 750 miles of themed driving paths.
Fayetteville has the ideal route planned for whatever your interest may be. Whether it be visiting the Cape Fear Botanical Gardens on the All-American Adventure trail, watching a live performance at the Cape Fear Regional Theatre on the Patri-Arts & Gardens trail, or seeing the locations that our namesake Marquis de Lafayette visited on his grand tour on the Lafayette Trail. Taking a heritage walk is one of the top fun things to do in Fayetteville NC.
Why you should go – Depending on the category they come under, these heritage walks connect the majority of the top attractions in Fayetteville. The heritage trail allows you to delve into Fayetteville's extensive cultural past.
Some of the best include Gaelic Beginnings Trail, the Fish and Game Trail, the Civil War Trail, the African-American Heritage Trail, the Antiquing Trail, and many others.
What to do – Looking for a low-cost approach to learn about the city's fascinating past?
Select a period of Fayetteville history that interests you, then have fun picturing the occurrences that helped define the city.
9. Plan Your Child's Day Out at Fascinate U-Children Museum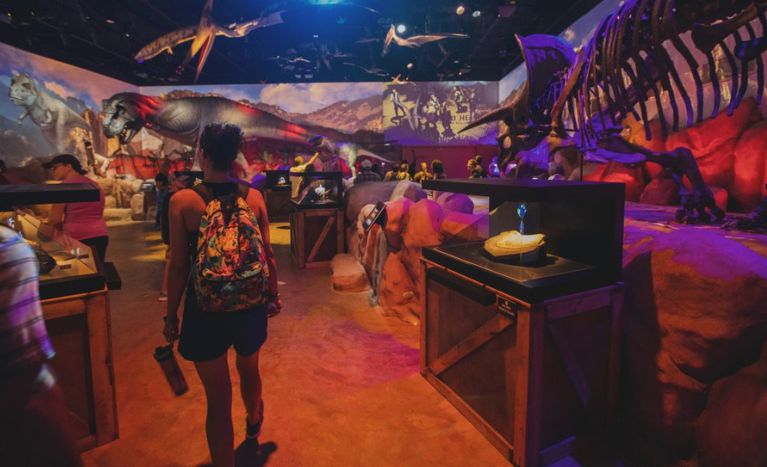 A nonprofit organisation called Fascinate U-Children's Museum is located in Fayetteville's picturesque downtown. It is set up like a tiny city for kids and is a haven for kids aged 12 and under.
Why you should go – Children are encouraged to explore the world around them via imaginative and enjoyable role-playing, interaction, and manipulation at the hands-on, interactive museum.
In addition to classroom space and static displays, Fascinate-U offers a choice of interactive and secure exhibits.
Children can practise dentistry, dress up as soldiers, appear on television, operate a business, and do other activities in hands-on exhibits. The museum appears to look like a tiny city. It's definitely one of the best things to do in Fayetteville NC for kids.
What to do – Here, kids can be anyone they want to be. Children can stroll through and purchase their preferred groceries at a miniature farmers' market. At the WNUZ studios, kids can present programmes and anchor news.
A mini-theatre, a mini-bakery, a mini-farm, and other interactive displays are available.
10. Feel The Historic Vibe at Market House Downtown District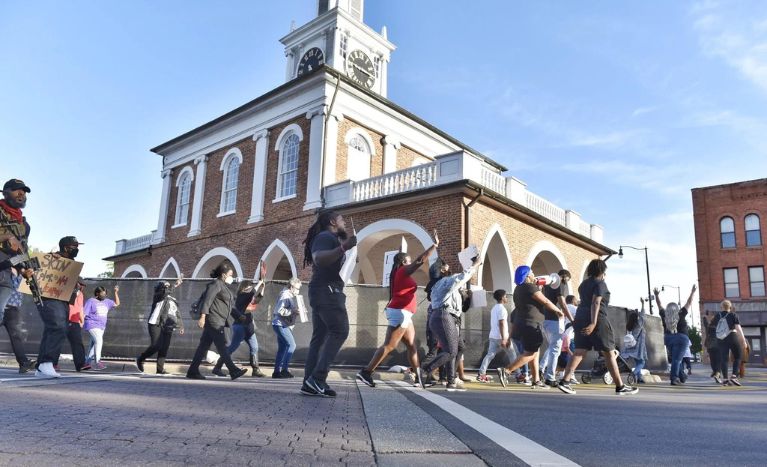 The Market House, the lone landmark in Cumberland County, is one of the fifty National Landmarks in the state of North Carolina.
The former State House had burned down in 1831 as a result of the Great Fire. It serves as a location in history where the state's delegates approved the United States Constitution.
This venue is the live testament of the historical Civil War combat that took place right in front of Market Hall.
Why you should go – Because it is a historical site, tourists come to North Carolina to learn more about the political history of the nation and how the site contributed to it.
In the days of slavery, the black slaves were sold here.
People gather here to honour the black population, which endured much suffering in this facility throughout the 19th century.
What to do – Explore the Market House. Farmers, butchers, bakers, and other merchants offer their exquisite fare on the open-air bottom level.
The town hall, where the city's political power brokers operated, is located upstairs. In 1911, this structure started off as a post office before becoming a library.
The Arts Centre, run by the city's art council, used its drab appearance as a blank canvas. A public art gallery is located there and is open to the public. This is one of the best things to do in Fayetteville NC for couples.
11. Plan Camping with Family at Fayetteville Rose Garden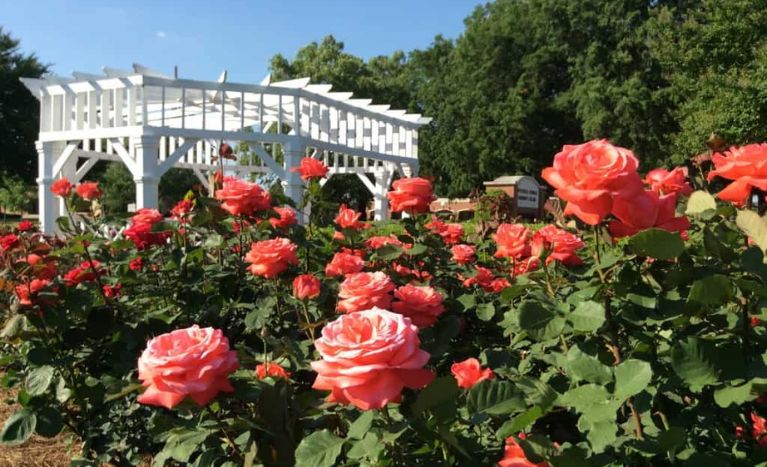 Incorporated into Fayetteville Technical Community College in the 1970s, the Fayetteville Rose Garden has a long history. One of the must-visit attractions in the city houses over 1,000 exquisite rose bushes. You may stroll through and take in the sights and fragrant scents of the roses for nothing.
Why you should go – Over a thousand roses can be seen in the picturesque Fayetteville Rose Garden.
The garden has walkways, picnic spots, water fountains, and campsites. It gives you plenty of reasons for camping and is one of the best things to do in Fayetteville NC.
Weddings and birthday celebrations can be held there as well as other special occasions.
What to do – Visit the garden to experience the roses' beauty and delightful aroma.
You are welcome to stroll freely along the authorised routes. Some horticulturists can show you around as they answer all of your questions if you'd like to understand more about them and how they're grown.
Check out the webpage if you're thinking of hosting an event while in Fayetteville.
12. Visit The City's Best Attraction – The Arnette Park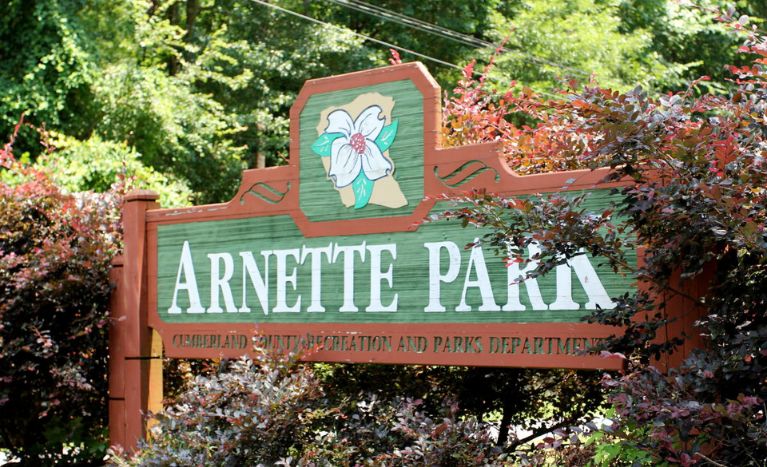 Arnette Park is a 100-acre wilderness area located about 10 minutes from the centre of town.
Take a stroll along the mile-long perimeter road or have lunch while sitting at a picnic table beneath some trees for shade.
For those who want to delve a little deeper into this beautiful paradise, there are also bike and nature paths!
Why you should go – Any time of year is a good opportunity to visit this park! You can play sports during the summer, attend a baseball game, or take the kids to the playground for the day.
Take a stroll amidst vibrant fall foliage that is still around. Arnette Park is transformed into a winter paradise each year as the locals rush to celebrate the Christmas festivities in the park.
What to do – Bring some food with you and embark on a leisurely trek through miles of wooded trails. You can also relax here and watch the team play volleyball, tennis, or disc golf.
13. Learn About the Afro-American Community at Fayetteville Transportation and History Museum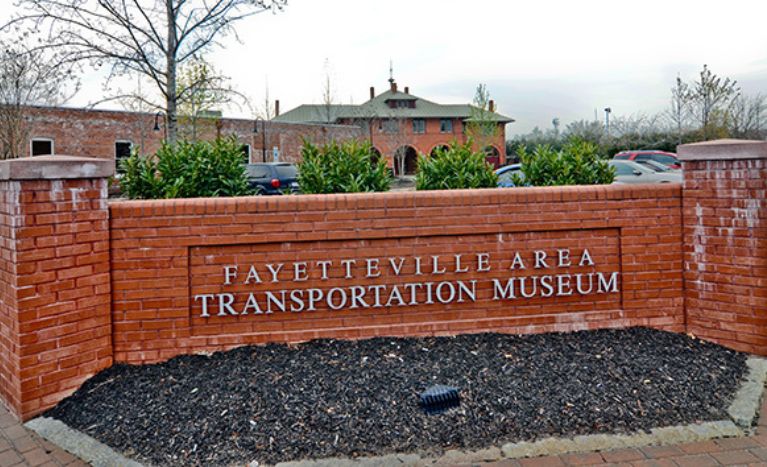 One of the best things to do in Fayetteville, North Carolina, is the Fayetteville Transportation and Local History Museum which dates back to 1890. It is nestled inside the historically significant and painstakingly restored Cape Fear and Yadkin Valley Railroad Depot.
Why you should go – The African-American community of Fayetteville is gratified to have their work highlighted by the Fayetteville Area Transportation and History Museum.
Volunteers from the community who work at the museum are delighted to give you a tour and educate you about local African-American history.
This museum houses a wide variety of exhibits on African-American history and also serves as a research facility.
What to do – The museum's model railway room, interactive riverboat exhibit, and rebuilt station agent's office are its highlights.
In addition, there are exhibits covering trains, cars, and other modes of transportation. Even a recreated 1920s gas station and vintage autos are inside!
Learn about the history of the local fire department and law enforcement after studying about Fayetteville's transportation history.
Additionally, there are displays about farming in the area. If you're looking for family-friendly activities in Fayetteville, this museum is ideal!
14. Indulge in Fishing at Milton E Mazarick Park
The Mazarick Park, which spans over 80 acres, provides a variety of outdoor recreation activities.
Why you should go – It is renowned as the place to go if you want to get outside and appreciate nature. The park's central Glenville Lake, one of its distinguishing features, is known for its abundance of native species and is a popular place for fishing.
What to do – A lake for fishing, numerous sports fields and game areas, a picnic pavilion, walking routes, a playground, and more can be found in the multipurpose municipal park.
There are fishing chances at the Glenville Lake Pier in Mazarick Park, however, guests must adhere to the fishing licence laws of the state.
The park hosts a range of educational events as well.
15. Sample The Wine From Your Hand-Picked Grapes at Auman Vineyards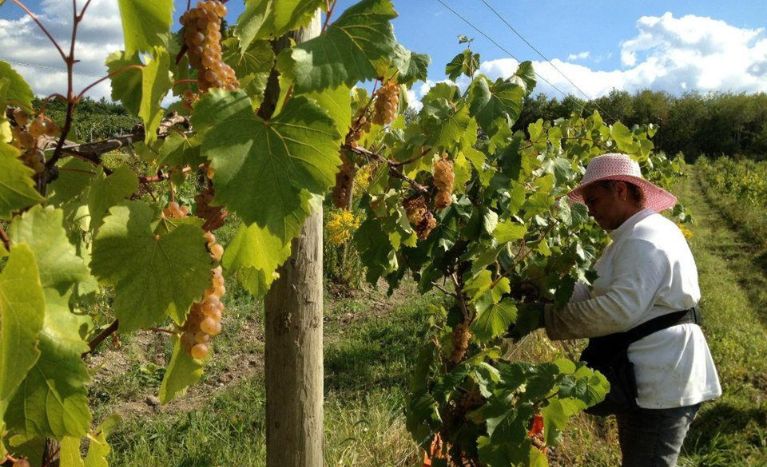 Auman Vineyards, tucked away on 71st School Road, provides "You Pick" service all during the harvest period. The vineyard bears Loyd Auman's name, who was the first owner.
Auman relocated to Fayetteville in 1937 to teach agriculture at Seventy-First High School.
His life was devoted to teaching, but the land had always held a special place in his heart.
Auman's son-in-law Roger McLean and his son Andrew look after the vineyard now.
From Auman's initial vines, McLean and his son have added 250 rows, all of which are growing Muscadine and wine grape varietals.
They've also switched to organic food, which is crucial for encouraging visitors to eat directly from the local produce.
Why you should go – Auman Vineyards has been allowing guests to pick their own organically cultivated muscadine and wine grapes for about 40 years.
Additionally, locally produced honey and chestnuts are offered.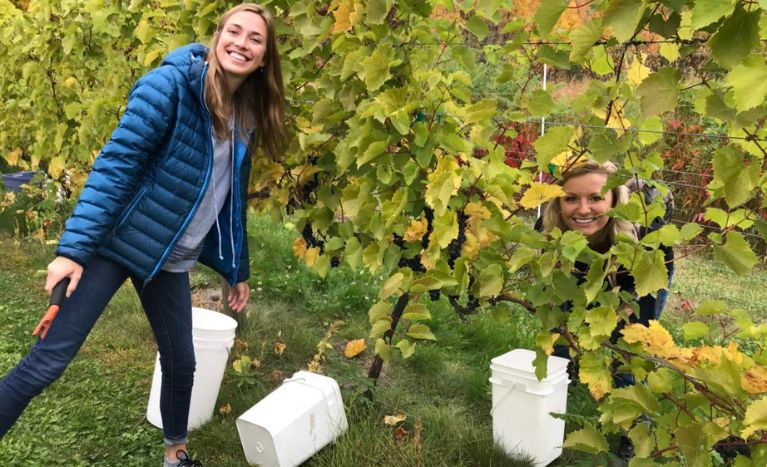 What to do – Learn about the flavours of North Carolina's fruits and vegetables as well as the history of the state's grape production.
After that, choose the size of your basket and enjoy harvesting your own grapes!
Additionally, you are welcome to pack a lunch to eat at the picnic tables. This is one of the best things to do in Fayetteville NC for couples.
16. The True Fun in Fayetteville Begins at ZipQuest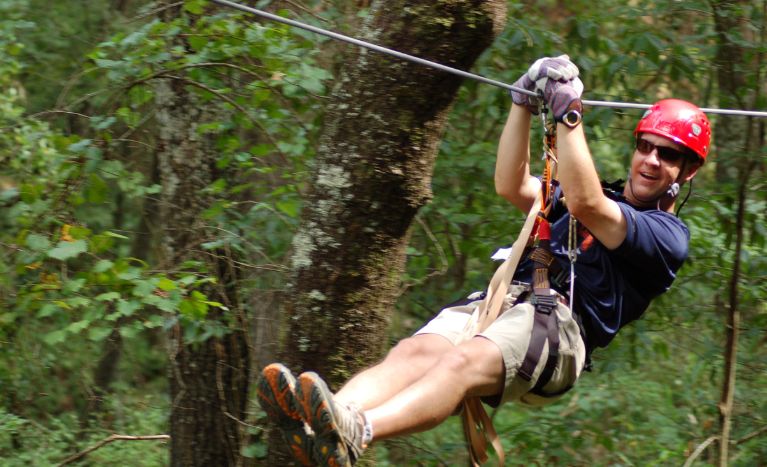 In Fayetteville, North Carolina, ZipQuest is a top-notch zipline tour and outdoor adventure that has been named one of USA Today's 10 Great Ziplines!
Zippers will enjoy the rush of soaring over the treetops of the most pristine forest in the area as they take in breathtaking views of Carver's Falls.
For sure, one of the fun things to do in Fayetteville, North Carolina.
Why you should go – With ZipQuest, you can experience Fayetteville's natural forests and treetops from a whole new perspective. Additionally, the zipline lifts you above the breathtaking falls, wildlife, and lush oak forest.
What to do – Prepare to swing through the woodland of Fayetteville by selecting one of ZipQuest's two courses.
You zip from tree to tree while navigating suspension bridges to get to the succeeding tree.
17. 82nd Airborne Division War Memorial Museum is Worth Your Visit
The 82nd Airborne Division War Memorial Museum, which is on Fort Bragg, displays artefacts from the actual warfare. It traces the history of the renowned 82nd Airborne Division from its inception to the current War on Terror.
You may find almost every aircraft used by paratroopers since World War II on the seven-acre grounds. You can also locate monuments honouring the nation's best citizens for outstanding acts of bravery.
Why you should go – This free, cutting-edge museum does a fantastic job of illuminating the 82nd Airborne Division's history.
The museum's interior offers climate control, toilets, a gift shop, and all the amenities you would expect.
Easy-to-read descriptions are provided for each display. There are some memorials outside, as well as roughly 20 aeroplanes and army equipment, for viewing.
What to do – One of the free things to do in Fayetteville NC where history comes to life. Here, displays from the Korean, Vietnam, Desert Storm, and other wars also come alive. Bring your children and grandchildren; they will understand the value of freedom.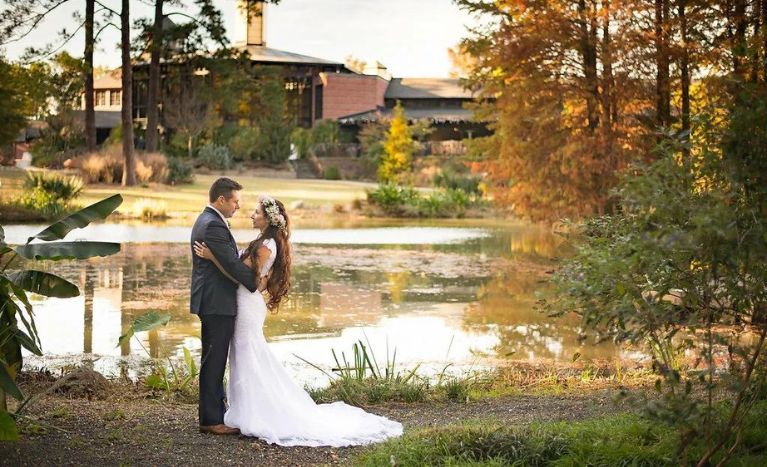 The 80-acre Cape Fear Botanical Garden is situated between the Cape Fear River and the swirling Cross Creek just northeast of downtown. On a stroll through a hardwood forest here, you can easily re-establish contact with nature while listening to the birds sing.
The botanical garden still has around two-thirds of its original, untamed state. The other part has 2,000 different species of flowers and ornamental crops in meticulously maintained gardens.
Why you should go – The 80 acres of lush, picturesque land that make up Cape Fear Botanical Garden are decorated with themed gardens filled with rare plants and flowers. It attempts to inform and reintroduce people to nature.
What to do – Include this gorgeous botanical garden on your list of things to do in Fayetteville, NC. If you're seeking a location to have a peaceful picnic in North Carolina.
Enjoy the lovely view of the Cape Fear River and the grounds from a seat in the garden.
Visitors can also host special events there.
Fayetteville may have its own set of traditions, but there are plenty of things to do in Fayetteville that will appeal to visitors. The city is home to a wide variety of recreational activities and entertainment that bridges the gap between the modern and the historic. Whether you want to visit a muse, go hiking or even attend one of the city's festivals, Fayetteville is an ideal destination for anyone looking for fun things to do.
Other things to do in North Carolina –