You may get a true sense of Vietnamese living by plunging into Hanoi's bustling metropolitan streets. The nation's capital is a thriving economic hub that fiercely holds on to cultural heritage, striving to be an exhibition of both traditional and contemporary Vietnam.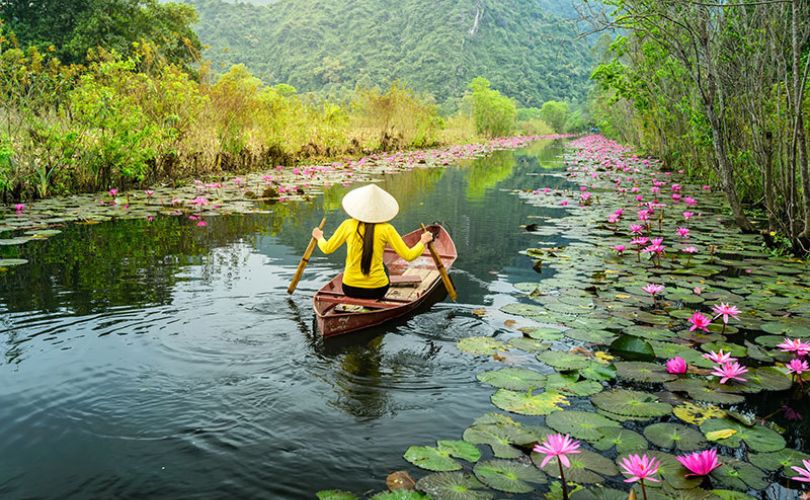 Hanoi's biggest tourist destination is the old quarter district. It buzzes with activity from street vendors, and the cafés and restaurants are lively, modern settings. Trying to cross a road here might turn into an adrenaline-fueled adventure.
Hanoi offers a variety of destinations to visit where you may retreat for some peace and quiet when the crowds start to wear you out.
The Vietnam Museum of Ethnology and the Temple of Literature are two of the best locations to visit to reflect on Vietnam's illustrious history, while Hoan Kiem Lake offers a tranquil haven right in the middle of the city.
Visit our list of the best attractions to see and things to do in Hanoi.
1. Browse the Hanoi Military History Museum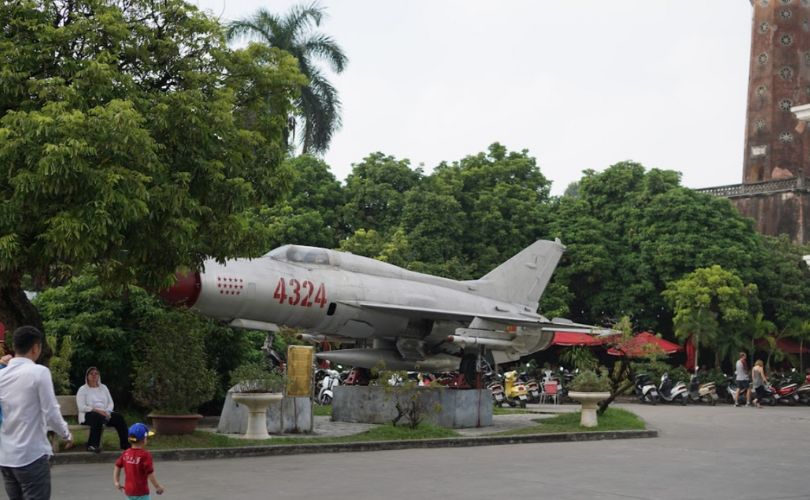 An eclectic collection of weapons and military equipment, including tanks, downed French and American aircraft, and a Soviet MiG fighter aircraft, are on exhibit here.
Inside the structure, there is a wealth of information on the wars with both France and the United States. There are also exhibitions of weaponry that will appeal to people interested in Vietnam's 19th century history.
The typical visitor finds the museum most interesting for its courtyard chaos of planes surrounding a stocky flag tower.
2. Pay a Visit to the Hoa Lo Prison Museum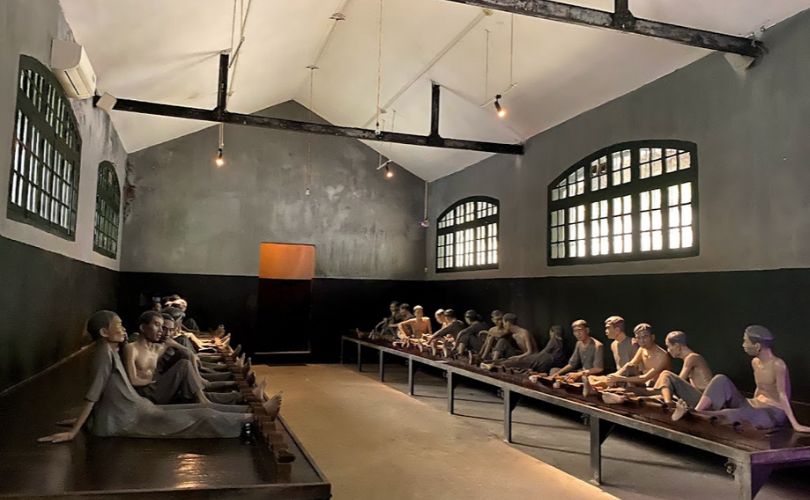 Hoa Lo Prison Museum was initially built by the French colonial administration in the late 19th century to house Vietnamese revolutionaries and any other opponents of French rule.
However, for many foreign visitors, it is better known as the jail where American POWs were kept during the Vietnam War. John McCain is the most well-known former inmate from a foreign country.
The French guillotine is on exhibit on the prison grounds, along with the communal jail cells, solitary cells, and courtyard.
There is a wealth of material here on Vietnam's lengthy war against French colonial domination, and is one of the unique things to do in Hanoi.
Two rooms also depict the tale of the American Warriors held here, with a video chronicling their detention and final release as well as the captives' own souvenirs.
3. Discover the Old Town of Hanoi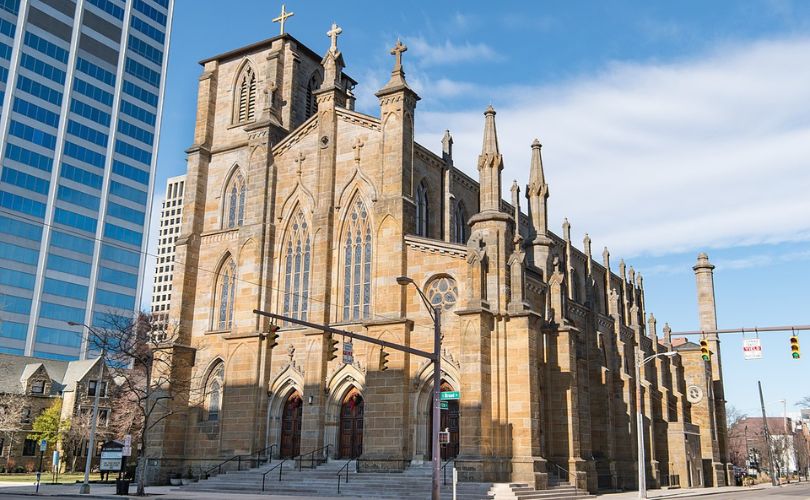 The main draw for many tourists to Vietnam's capital is a stroll through the historic district.
This maze-like neighborhood of tiny lanes is the commercial hub of the town and has a 1,000-year history.
It's a beautifully decaying town, with the odd piece of medieval era architecture clinging to the present bustle of speeding motorbikes, street vendors, and pulsing commerce.
While exploring, keep an eye out for the area's many examples of vernacular shophouse architecture. Historically, business owners would live above their stores in extremely long and narrow two-story homes that were crammed together on the back alley rows.
The backstreets here are a terrific place to take in the energy of street life, and are among the top places to visit in Hanoi.
There is an abundance of street cuisine to choose from, as well as numerous sidewalk vendors selling fruits and vegetables. There are also kiosks offering traditional medicines and Buddhist religious relics.
St. Joseph's Cathedral (Nha Tho Street), a vestige of French Colonial control in the center of the old town quarter, was completed in 1886 and is a magnificent example of neo-Gothic architectural style.
The façade is ornately ornamented, with two bell towers and beautiful stained glass window embellishments. The offices at the back of the church provide access to the interior at other times.
4. Visit the Fine Arts Museum in Hanoi
What to see in Hanoi to understand its rich heritage and culture? Art aficionados and museum goers should surely pay a visit to this museum, which houses a variety of Vietnamese artwork ranging from ancient times to contemporary era.
Some of the artifacts on show here are Buddha statues from the Mac and Mau Dynasties, ceramic and marble sculptures from the Nguyen and Chola dynasties, and ornate representations of the deity Guan Yin.
There is also a large collection of ceramics from the 11th and 12th centuries, as well as a large exhibition dedicated to folk art.
5. Catch a Performance at the Water Puppet Theater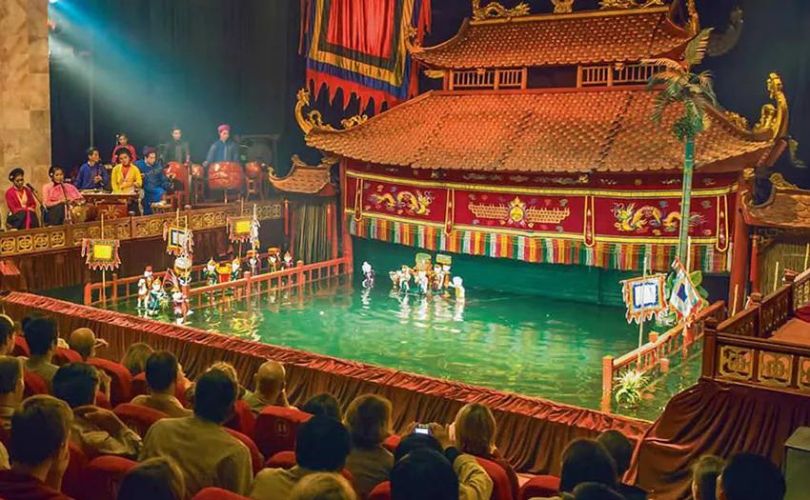 The water puppet shows in Hanoi are an amazing family evening activity and a wonderful way to see traditional Vietnamese art and entertainment.
Originally developed in Vietnam's rural areas during the monsoon paddy field flooding season. This ancient art movement is now largely performed indoors, in specially modified swimming pools.
A live band playing traditional Vietnamese instruments frequently plays with performances that focus on well-known folk tales, and is among the Hanoi's must see attractions.
Five performances are held in the Municipal Water Puppet Theater each day, making Hanoi the center of the modern water puppet theater.
6. Take a leisurely Stroll around Hoan Kiem Lake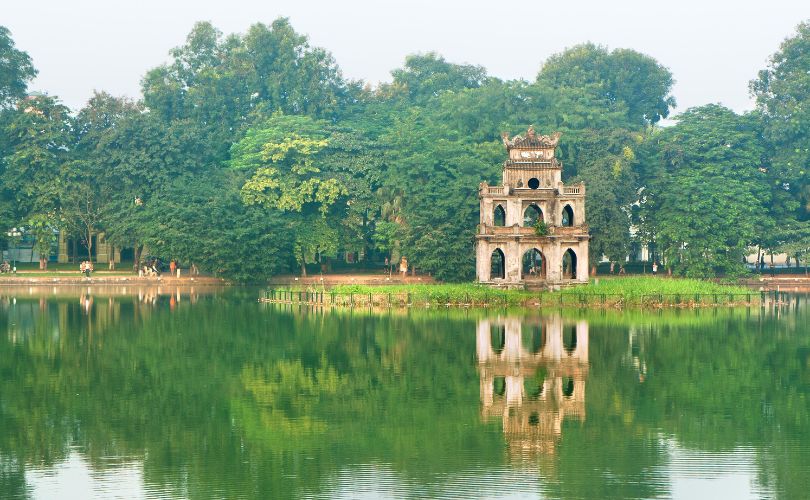 The serene Hoan Kiem Lake, located just outside the old town district, is Hanoi's must see attractions.
Ngoc Son Temple, located on a small island across the lake and connected by a red bridge, is the lake's main tourist attraction. It is devoted to three significant Vietnamese historical figures: La To, Van Xuong and Tran Hung Dao.
Another small island in the lake's southern half houses the stocky Turtle Tower, which is best observed from the bridge.
7. Enjoy the City Views at West Lake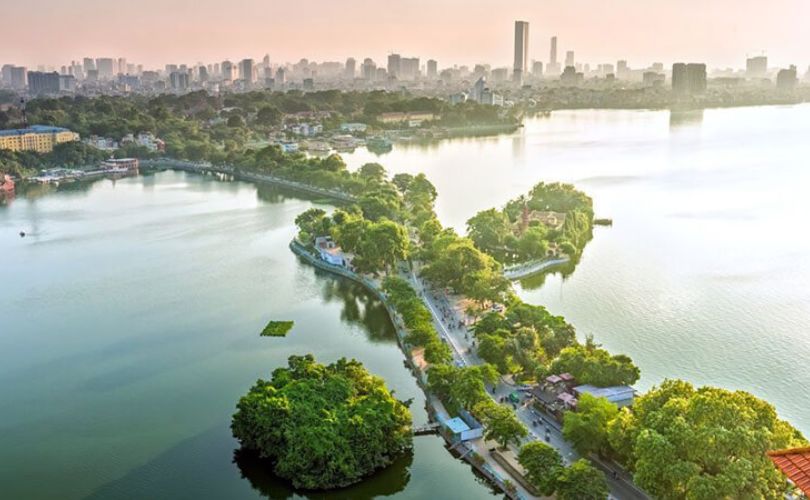 Hanoi's largest lake, Tay Ho (West Lake), has a 15-kilometer-long shoreline.
Majority of Hanoi's crowd come here to exercise or ride bicycles along the trail that round the beach, and is one of the best outdoor things to do in Hanoi, Vietnam.
Tay Ho Pagoda is a beautiful temple dedicated to the supreme deity, while Tran Quoc Pagoda is one of Vietnam's ancient temples.
For most visitors, West Lake is an excellent site to get a skyline view of new Hanoi as well as eat fresh seafood at one of the many eateries along the lake's edge. West Lake is located on Thuy Khue Street.
8. Take a look at the Imperial Citadel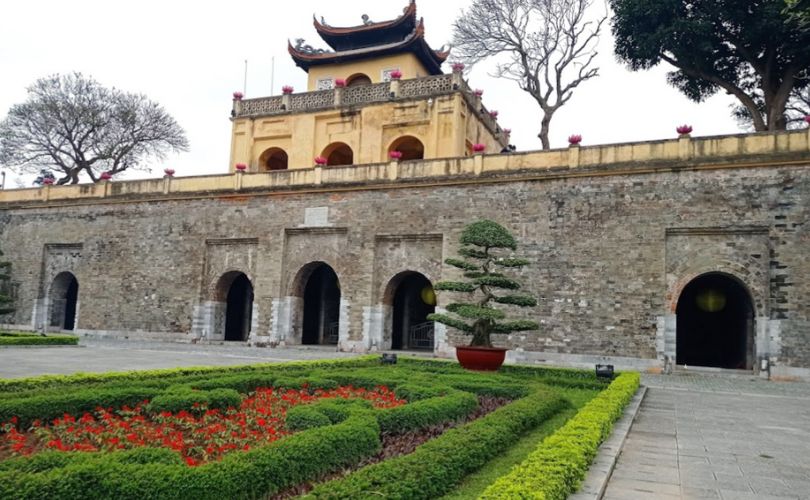 Even though it may not seem like much at first glance, Hanoi's Imperial Citadel district previously served as the city's key military command center. This venue played a crucial strategic role up to the 1960s and the Vietnam War, and is one of the incredible places to visit in Hanoi.
The site was designated a UNESCO World Heritage Site in 2010 for its lengthy history in Hanoi. The archaeological excavation has revealed the remains of many palaces that originally stood on this site.
Additionally, a bunker from the Vietnam War is located here, and it is filled with military maps and equipment.
9. Visit the Hanoi Memorial House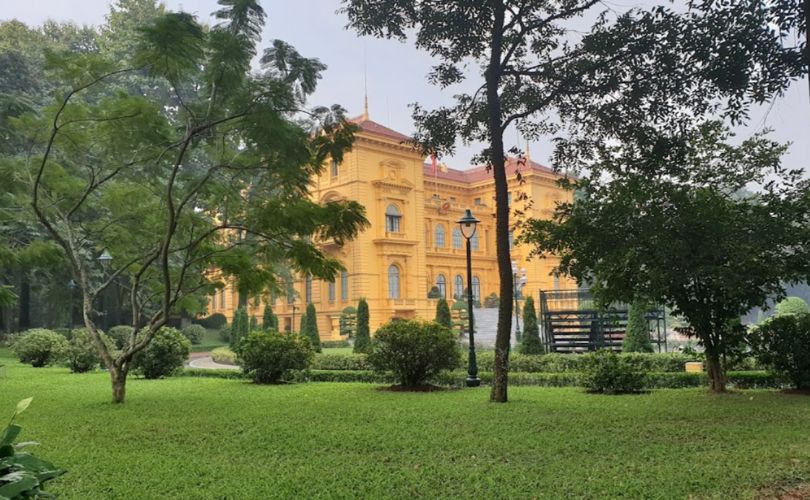 A visit to Memorial House is Hanoi's must-see while in the city for anyone curious about what life must have been like for the citizens of Hanoi in the past.
This beautifully renovated merchant house is located in the old town center. It has been decorated to resemble a regular vendor's home, packed with antique furniture and daily stuff dating back centuries.
The house includes many traditional architectural features and is laid out according to the ancient custom of feng shui, which promotes healthy energy flow into the dwelling.
You can observe local artisans at work creating baskets and calligraphy in a few of the rooms.
10. Tour the Temple of Literature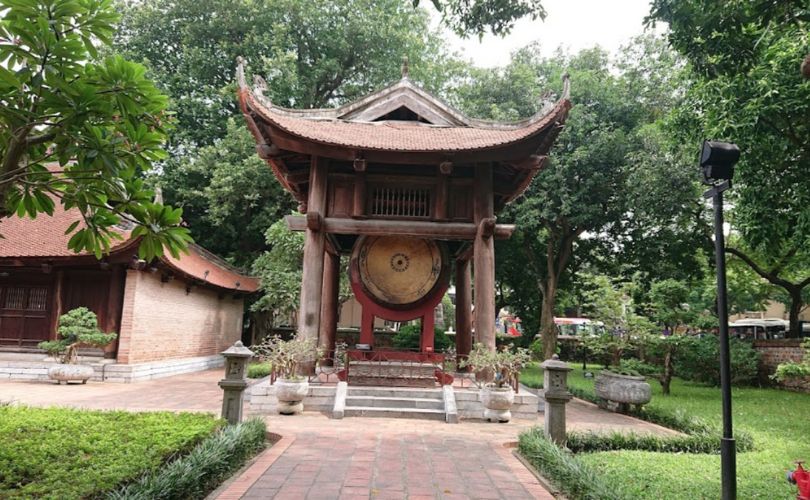 This stunning Confucian temple, which was first constructed as a university in the 11th century, is one of the most fascinating things to see in Hanoi.
Today, the Temple of Literature exists as a memorial to the nation's scholars.
Confucianism and literature were taught here during the Middle Ages. One of the major highlight is the name of former pupils carved onto a row of pillars next to the entrance.
A Confucius monument is located inside a well-preserved pagoda that is connected to pavilions by a succession of well-kept gardens.
11. Tour the Co Loa Citadel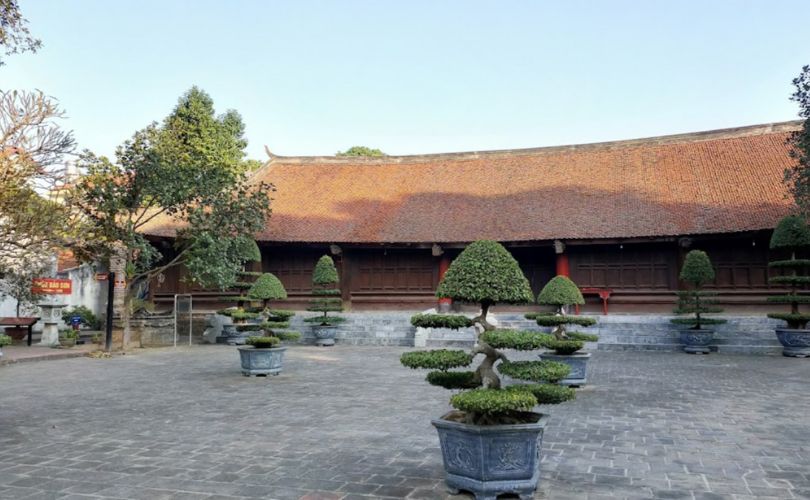 Co Loa Citadel, located 16 kilometers northeast of central Hanoi, is an excellent day trip location, and is one of the best things to do in Hanoi, Vietnam.
One of the most significant archaeological sites in the vicinity is this walled village, which has been inhabited since the Bronze Age.
It is believed to have been the first city in Vietnam since it served as the seat of government for the Au Lac Kingdom in the north of the country in the third century BCE.
The settlement has a collection of temples from various periods, the newest of which dates to the sixteenth century. There are also the ruins of the earthen ramparts that formerly covered five kilometers.
12. Take a Photo of Train Street in Hanoi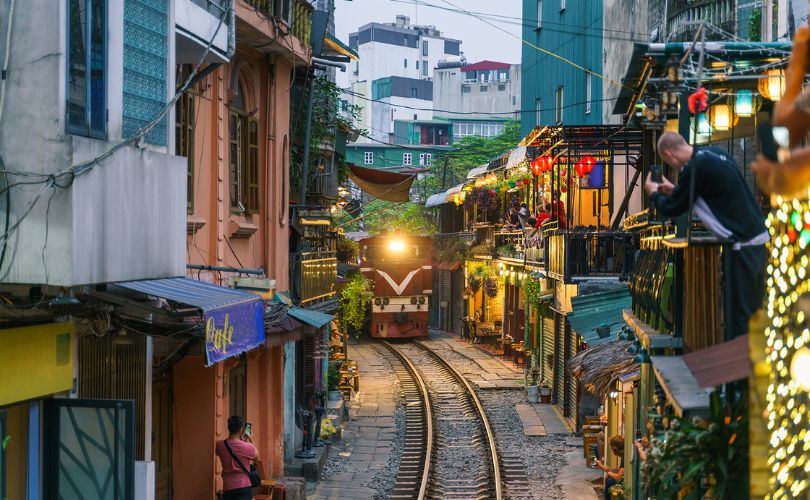 This venue has become globally famous in recent years due to passing trains passing with barely a 20-centimeter space between the train and the alley's dwellings. And, of course, one of the top things to do in Hanoi, Vietnam.
Due to tourists acting irresponsibly and failing to get out of the line of incoming trains, the authorities decided to ban tourism on the street in 2019 and close the alley's cafés due to safety concerns.
Since then, there has been some attitude softening, and a few of the cafés along the path have reopened.
If you're here to take pictures of the trains, abide by the requests of the people on the street and the personnel of the cafe as the train approaches.
The train timetable is subject to frequent fluctuation, but weekends typically offer more chances to observe the passing trains.
13. Check out the Ho Chi Minh Mausoleum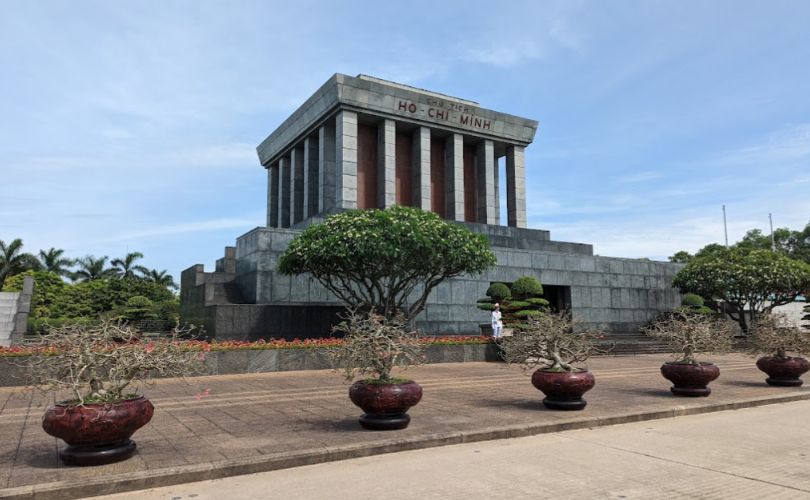 The Ho Chi Minh Mausoleum is a huge complex nestled amid the city's gardens that holds Ho Chi Minh's grave as well as various museums and monuments. One of the top places to visit in Hanoi, is a place of pilgrimage for many Vietnamese.
The tomb itself is an austere marble structure in which Ho Chi Minh's embalmed body is displayed in a glass case.
Within the complex it offers a diverse collection that features Ho Chi Minh's personal belongings and a tonne of info about the background of the Vietnamese Revolution.
The One Pillar Pagoda and the stilt house, which was once home to Ho Chi Minh, are also worth a visit.
The ancient temple from the 11th century was demolished by French colonial forces, and this pagoda is a restoration of that structure.
14. Boat Ride to the Fragrant Pagoda Complex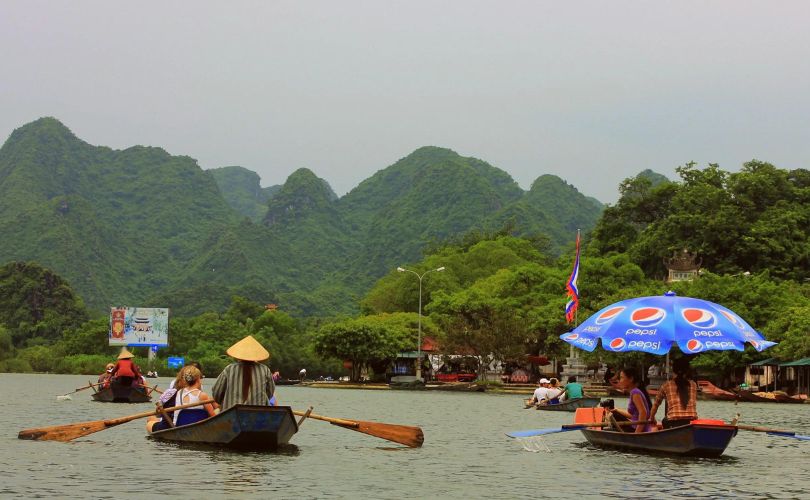 This Buddhist temple complex, also known as Huong Pagoda, is located on the cliff tops and slopes of Huong Tich Mountain. It is a popular day trip from Hanoi, both for the pagodas themselves as well as the gorgeous drive there.
After a 60-kilometer journey south of the city, you need to catch a one-hour ferry along a river surrounded by lush karst mountain scenery to Huong Tich Mountain.
From there, you can either take a cable car with fantastic mountain views up to the temple complex or climb the mountainside.
One of the best things to see in Hanoi, the pagoda complex is a significant site of pilgrimage for Buddhism.
15. Explore Vietnam Museum of Ethnology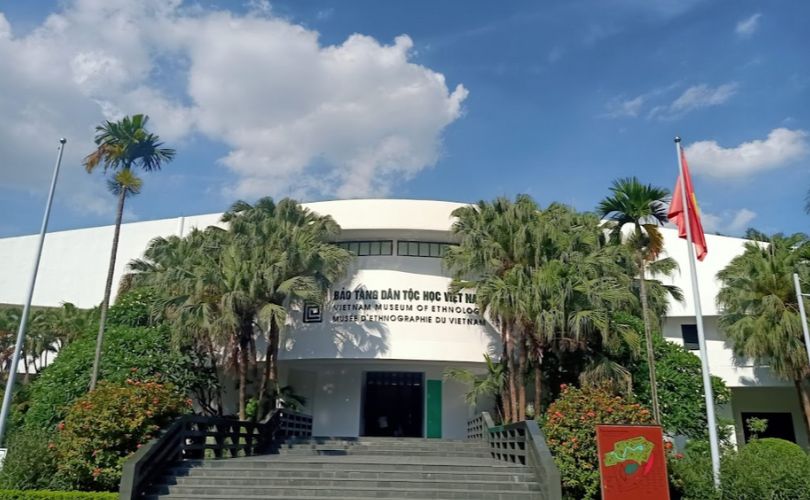 Hanoi's Vietnam Museum of Ethnology displays the enormous national collection. Besides, it offers the narrative of Vietnam's varied civilizations through a series of superbly produced exhibits.
Here, magnificent exhibitions of relics and art that feature metallurgy, woodwork carving, and traditional garb draw attention to the enormous number of ethnic minorities that call Vietnam home.
The most fascinating exhibits are located in the garden area outside the main structure. The intriguing Giarai tomb can be found here, along with the rustic homes utilized by the various ethnic communities in Vietnam.
16. Shop at Hanoi's Artisan Villages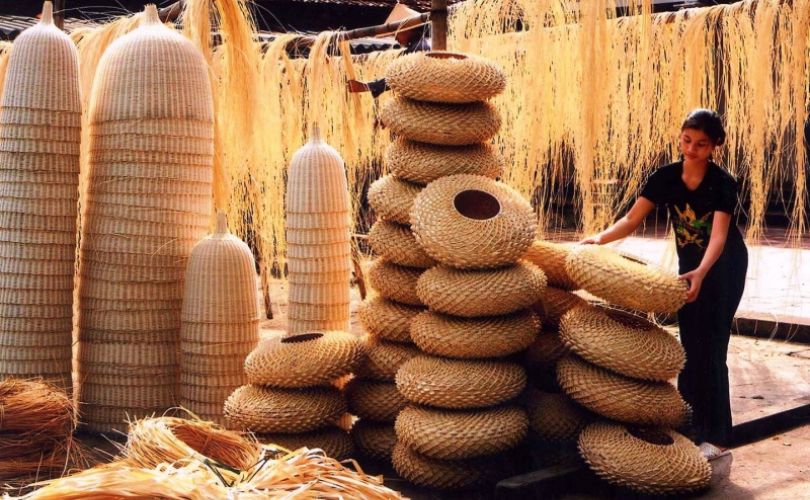 Several towns on the outskirts of Hanoi are known for their traditional craftwork production, making them excellent excursions out of the center if you're seeking for gifts.
The village of Van Phuc, 10 kilometers southwest of the center of Hanoi, is where you should go if you want to buy any silk stuff. The several weavers of Van Phuc make all of the silk garments and accessories for sale in these shops.
The town of Bat Trang, which is 16 kilometers southeast of the city center, is known for being a center for ceramic art.
You can find several large ceramic shops here that offer the same items that you've probably seen in all of the boutiques in the city center but at lower costs.
17. Enjoy an Egg Coffee in the Old Quarter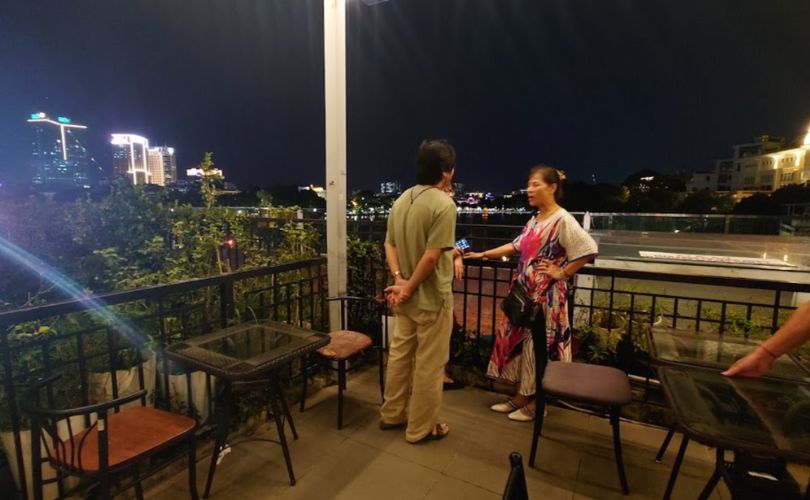 Espresso, sugar, condensed milk, and egg yolk are all combined to make egg yolk coffee, also known as ca phe trung.
The whisked egg yolks are used in cappuccino as a substitute for the then scarce milk. That approach propelled this frothy, aromatic, and characteristically Vietnamese brew to national prominence.
Several towns in Vietnam are home to Ca Phe Trung, but the original location and source of the dish's original recipe is Cafe Giang in Hanoi's Old Quarter.
One of the best things to do in Hanoi is to visit the Note Cafe. The cafe is not only famous for its coffee, but also for its beautiful walls. Its walls are covered in countless hand-written messages as reviews left by customers from across the globe.
18. Try Craft Beer in Hanoi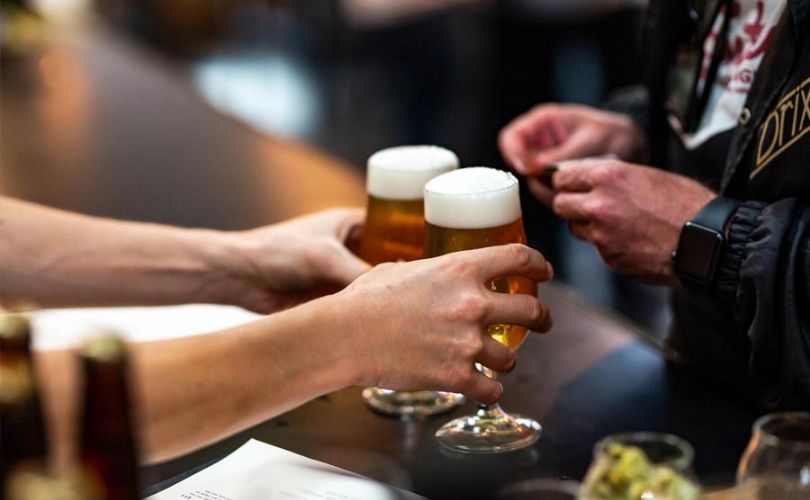 While beer is clearly the beverage of preference in Vietnam, the craft beer scene has been surprisingly sluggish to emerge, and Hanoi still lags behind Ho Chi Minh City in this regard.
Still, there are a few laid-back microbreweries to visit.
There is a Hanoi Craft Beer Pub in the Old Town that offers a good variety, live sports, and ultra prompt service. However, for a more genuine experience, visit Hoa Vien Brauhaus for Czech style beer.
If you're really into it – or don't want to go it alone – there's also a highly rated Hanoi Craft Beer tour you can take!
19. Take Halong Cruise from Hanoi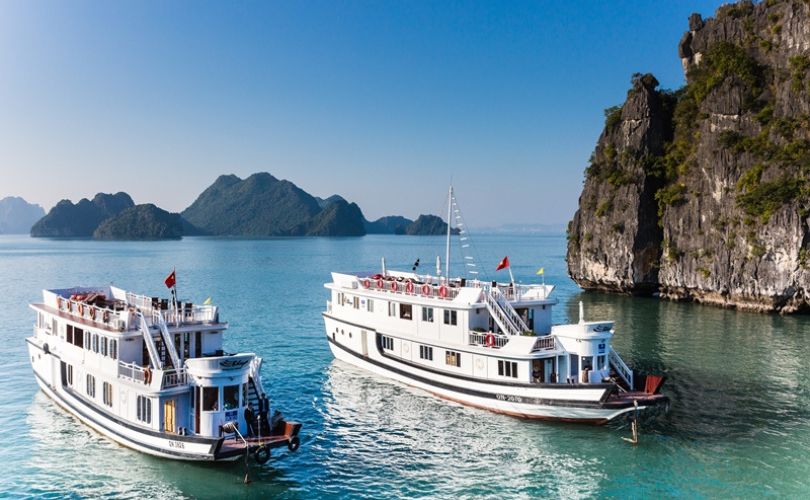 The most well-known tourist destination in Vietnam is certainly Halong Bay. It is a UNESCO World Heritage Site and one of the best places to visit in Hanoi.
Don't expect to have the place to yourself, but if you book an outstanding Halong cruise early, you can expect a lovely night on a boat, kayaking around the moor hills, amazing beverages, cuisine, and possibly even a culinary workshop tossed in. Unquestionably, an overnight cruise is the best way to visit Halong Bay.
The greatest cruises sell out quickly, so make your reservations early and do your research: We have a few suggestions, and if you book through a trustworthy internet agency.
There are tour operators in the city that have a stellar reputation to fall back on if something goes wrong.
Otherwise, sit back, order a few mojitos, and watch these ancient stone giants pass by your cabin window!
20. Learn Vietnamese Cooking Hanoi Culinary School
What better way to understand a culture than through its food? Fortunately, Hanoi and Vietnam as a whole have some of the best food in the world.
One of the best things to do in Hanoi is to enroll in a Vietnamese cooking class. You can also visit the neighborhood market to find the freshest ingredients, and try your hand at preparing delicious soups, spring rolls, or even cocktails with local booze.
Furthermore, preparing a dinner from scratch at home is a much better method to wow your friends than a two-hour slide show!
Best Places to Eat in Hanoi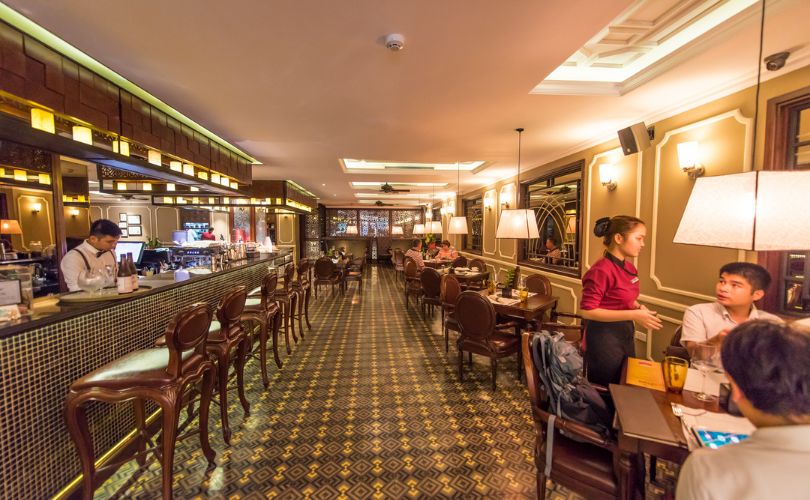 Hanoi was the origin of a lot of the Vietnamese food you are familiar with. Making the most of high-quality ingredients and maximizing flavor in straightforward dishes has long been a tradition in this city. Excellent eating experiences are guaranteed when you blend together some incredible international cuisines. Some of the best recommendations include –
The Hanoi Social Club – As its name suggests, is a favorite gathering place for Hanoi's sophisticated and fashionable socialites. They frequently invite musicians to play, creating intimate performances with a calm ambience. Mediterranean food is the focus of the menu, which also includes several fantastic vegan options. This is a good option whether you're seeking somewhere to go for brunch or to spend a romantic night.
Address – 6 Ng. Hội Vũ, Hàng Bông, Hoàn Kiếm, Hà Nội
Red Bean Restaurant – It serves outstanding Vietnamese food in a luxurious setting, and is conveniently close to Hanoi's Old Quarter. There are set meals for various palates as well as an à la carte menu with wonderful international cuisine. Along with serving some of the best meals in the city, this establishment also serves all of your favorite wines, cocktails, and freshly squeezed juices.
Address – 94 P. Mã Mây, street, Hoàn Kiếm, Hà Nội 100000
The Hung Snake Restaurant – Have you ever considered the taste of a snake? This is the location where you may sample this specialty of Vietnam. They are situated at L Mount, also known as Snake Village, a well-liked Hanoi day-trip location. You can try snake prepared in a variety of ways, including grilled, roasted, braised, and even poached in porridge. And when you're done, sip on some snake whiskey to finish it all off!
Address – Số 8 ngách 64 ngõ 161 phố, Hoa Lâm, Việt Hưng, Long Biên, Hà Nội 10000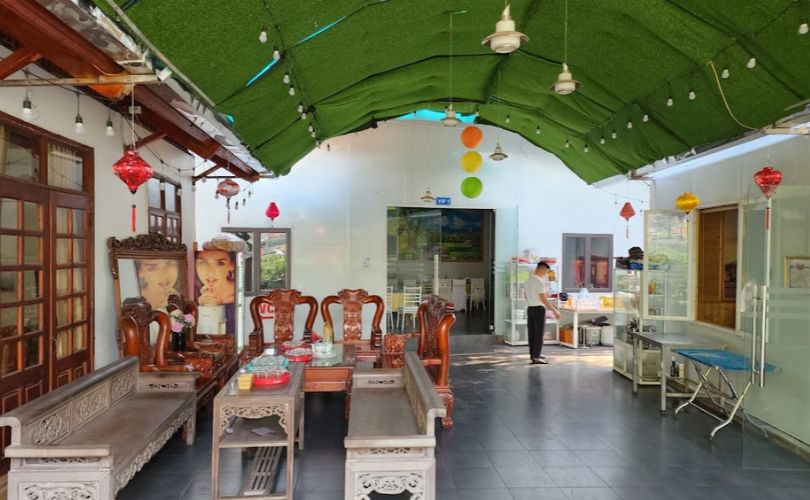 Pizza 4P's Tràng Tiền – In Vietnam, the name Pizza 4P's is synonymous with delicious pizza. You can depend on them to be reliable because each of their eateries is among the best in its own neighborhood. They source their products locally whenever possible, collaborating with farmers to make cheese and toppings for their delectable pizzas. If you're hungry for pizza, don't just go to any restaurant.
Address – 43 Tràng Tiền, Hoàn Kiếm, Hà Nội
Best Places to Stay in Hanoi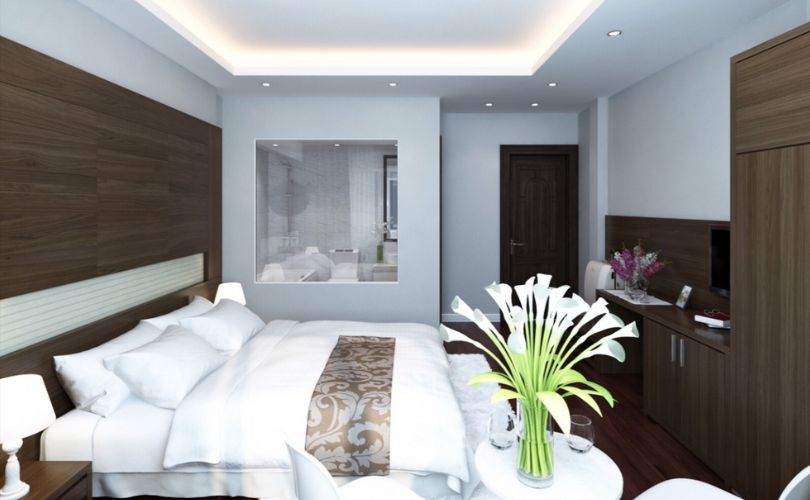 We recommend the following high-quality Hanoi hotels near key attractions like the Old Quarter:
Serenity Diamond Hotel – Apart from the numerous dorm room alternatives in local hostels, this low-cost hotel is one of the cheapest in the neighborhood. The accommodations come equipped with all the required comforts, including wi-fi, air conditioning, and clean water. The rooms are contemporary, spotless, and roomy. Numerous Old Quarter sights and busy locations are conveniently accessible a short 5-minute walk from this hotel.
Address – 1E P. Cửa Đông, Hàng Bồ, Hoàn Kiếm, Hà Nội
Eco-Luxury Hotel Hanoi – This hotel provides an opulent stay in the heart of Hanoi at a very reasonable cost. All of the rooms offer air conditioning, TVs, separate bathrooms, and WiFi. The hotel provides a wide range of amenities, including a concierge service in addition to renting bikes and cars. This hotel is also conveniently positioned in the lively Old Quarter.
Address – 17 P. Cửa Đông, Hàng Bồ, Hoàn Kiếm, Hà Nội
Au Co Art Classic Hotel – In this area of Hanoi, this is one of the most cutting-edge luxury hotels. The hotel has boutique-style rooms with a contemporary, artistic appeal. This hotel provides rental services, tour booking services, massage and spa services, and more. All major attractions are within a 15-minute stroll of the hotel, which also features a restaurant.
Address – 8 P. Huỳnh Thúc Kháng, Thành Công, Ba Đình, Hà Nội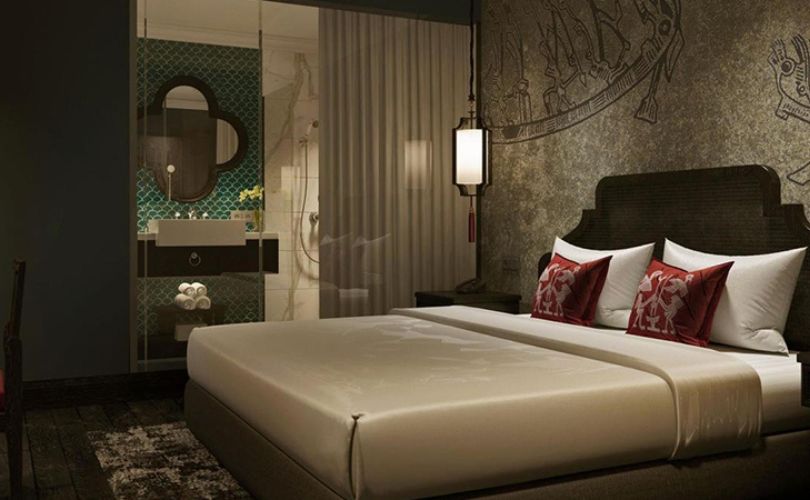 Pan Pacific Hanoi – Due to its location in Ba Dinh, this premium hotel is nonetheless on the more affordable side. The Pan Pacific offers fantastic accommodations and outstanding amenities. The hotel has a swimming pool, a full spa, and an excellent rooftop view of the Westlake. The hotel is centrally positioned in Ba Dinh, providing easy access to a wide variety of nearby dining and shopping options.
Address – 1 Đ. Thanh Niên, Road, Ba Đình, Hà Nội 10000
When are you Planning your Trip to Hanoi?
Hanoi, the capital of Vietnam, is a backpacker's delight. One can get lost in the streets of Old Quarter, the lively and vibrant marketplace where the locals work for days, talking to the stall owners who will tempt you into buying some snacks or bargaining back and forth until you finally break down and buy their crafted wares. You can also visit Hoan Kiem Lake, a serene lake that boasts an old pagoda that has stood even before Hanoi had been established on its banks.
You should visit Hanoi on any occasion whether it is a family vacation, your honeymoon trip or just for pleasure. This city has a lot more to offer than you might expect and we think that you will come back again and again, enjoying the mix of lovely climate and historic sites.
Check out: Best Time to Visit San Francisco, California