Montauk, a lovely village on Long Island's South Fork, is recognized for its famous centuries-old Montauk Point Lighthouse. There are many other attractions and activities to do here all year. There are miles of hiking routes, campsites, delicious seafood, and stunning Atlantic beaches to explore. Provided, there are abundant things to do in Montauk NY.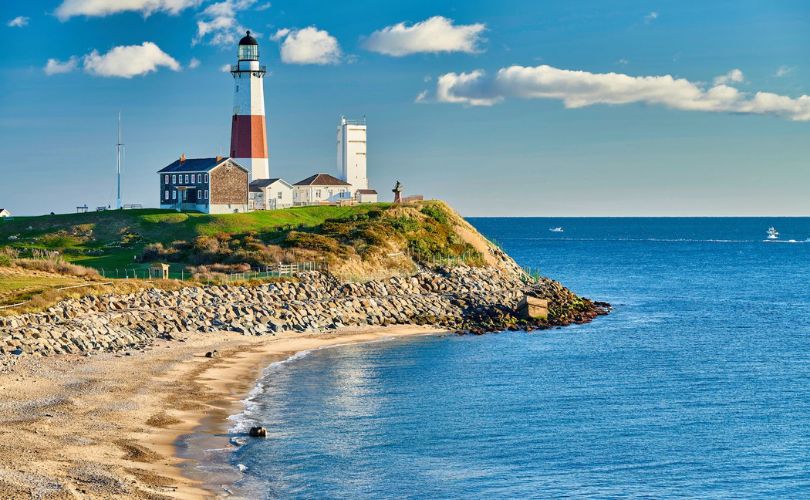 Montauk is located in East Hampton, one of the two townships that comprise New York's legendary Hamptons (the other is Southampton). It is accessible by automobile and public transportation, and if you have the money, a helicopter flight from New York City will take you here in less than 30 minutes.
While most visitors to the Hamptons stay in prominent seaside communities like Sag Harbor, Bridgehampton, and Amagansett. Those who venture further east can enjoy a nice and tranquil escape full of outdoor activities and historical value.
Seabirds, harbor seals, dolphins, and even humpback whales can be seen on the bluffs and beaches of Montauk State Park. This is where the lighthouse is located. The state parks, beaches, and other attractions make this unspoiled region a popular tourist destination.
Discover more places to go with our list of the best things to do in Montauk.
1. Sunbathers Must head to the Kirk Park Beach
Kirk Park Beach is another popular sandy beach for sunbathers in Montauk. It is a few miles west of Ditch Plains Beach and spans about 500 feet.
Kirk Park Beach is conveniently positioned next to hotels like The Montauk Beach House and The Surf Lodge and offers lifeguards during high season.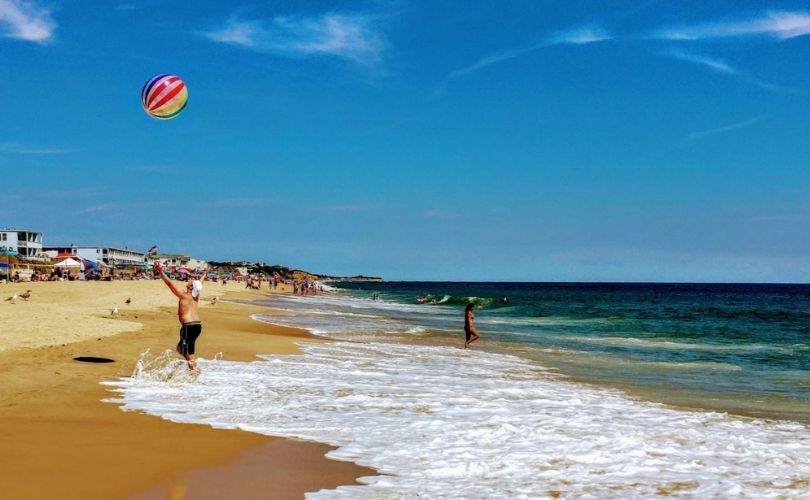 This sand-dune-backed beach is popular in the summer, owing to free parking and closeness to hotels. Bring your own chairs, umbrellas, and coolers because there are no amenities at the beach. The adjacent IGA store is a convenient stop for food and beverages.
After a day at the beach, visit the adjacent John's Drive Inn, an iconic throwback eatery serving sandwiches and homemade ice cream.
2. Navigate a Boat on Lake Montauk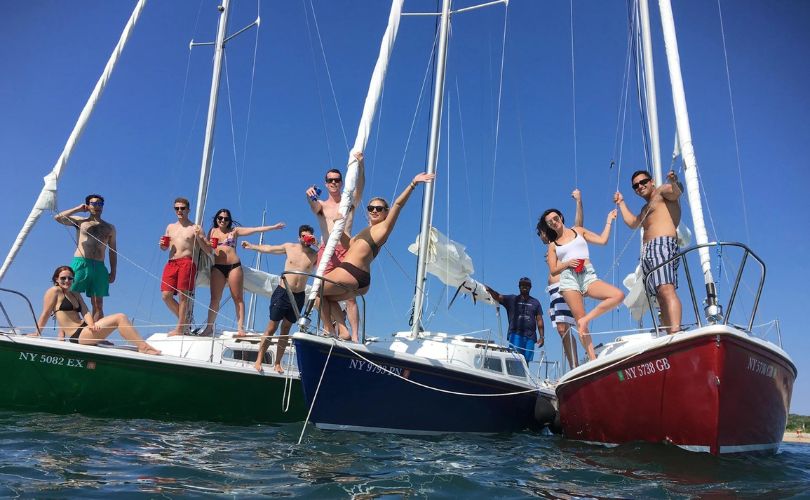 The history of Montauk Lake is intriguing.
Miami Beach developer Carl Fisher blasted the sandbar dividing Montauk Lake and the Long Island Sound in an attempt to transform a section of Montauk into the "Miami Beach of the North."
When he did this, he had no idea that it would one day become one of prime attractions in Montauk.
People now throng to see this artificial salt lake year-round, making it one of Montauk's busiest tourist destinations.
There are many boating activities going on there, so it is quite a busy area.
There is also a ferry system that transports people to surrounding destinations.
Visitors can go to Martha's Vineyard, New London, and Connecticut during the summer by ferry, as well as the surrounding islands of Block Island.
Several seafood eateries, including Westlake Fish House, The Crow's Nest Inn & Restaurant, and Gosman's Dock, are situated along the lake's shoreline. They serve fresh seafood and have outside seating that overlooks the water. In July and August, Gosman's Dock restaurant hosts free Sunday music on its outdoor stage.
3. Tour the Montauk Point Lighthouse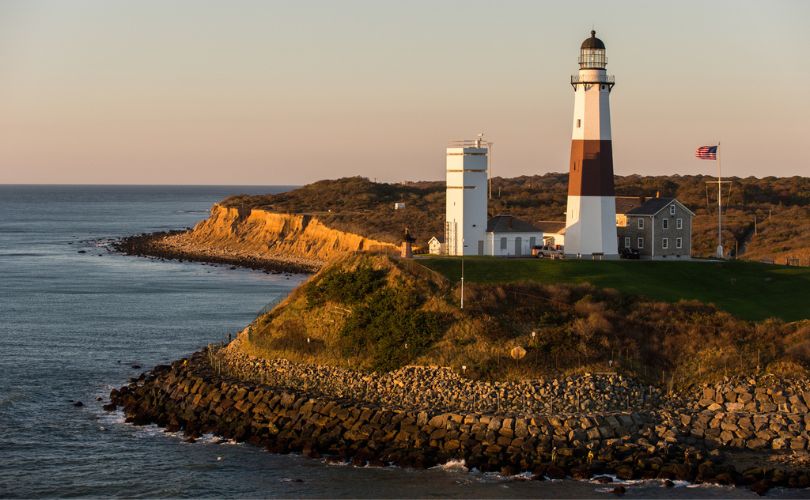 A journey to Montauk would not be complete without seeing the town's well-known lighthouse. It is a national historic landmark situated at the unspoiled tip of the peninsula, and is among the top Montauk attractions.
The top of the hill is where the lighthouse is located that offers panoramic views of the Atlantic Ocean and Block Island in the distance.
It was built in 1796 as part of a public works project for the newly created United States and is the oldest lighthouse in the state of New York. This still-operational lighthouse was intended to warn passing ships of the treacherous rocks at Montauk Point.
Maritime relics, portraits, and historical documents signed by George Washington and Secretary of State Thomas Jefferson can be found in the 18th century Keeper's House. Spend some time during your stay ascending the lighthouse's 137 iron steps for sweeping views.
This is where you can watch the sunrise over the Atlantic and is a beautiful sight to behold.
4. Shadmoor State Park is a Great Place to Admire Nature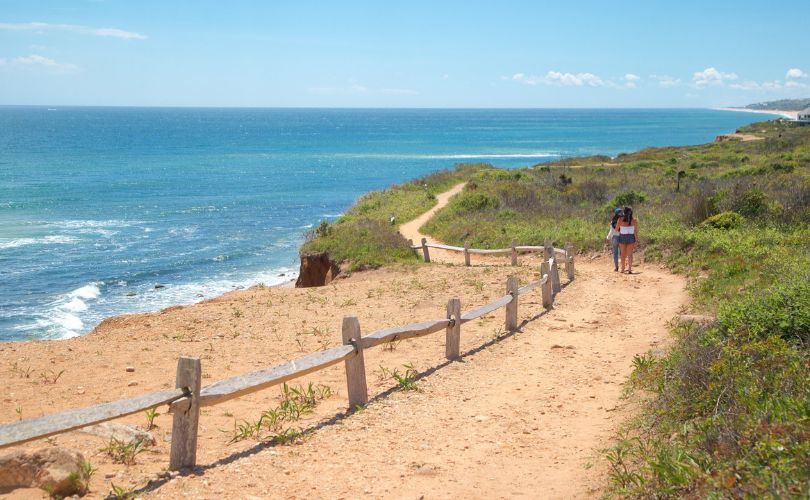 The 99-acre Shadmoor State Park, located near Montauk Village, has a magnificent beach that may be reached via two stairways. The park is called for the shadbush that grows on the moors.
Visitors can go trekking, observe birds from elevated platforms, and take in the breathtaking seashore.
Take a leisurely walk, go fishing, or have a wonderful afternoon picnic with friends and family. Those traveling with canines may bring two leashed pets to the day usage zones.
The park's moniker, "the bunkers," comes from two concrete bunkers constructed during World War II.
5. Visit Double D Charters to Go Sport Fishing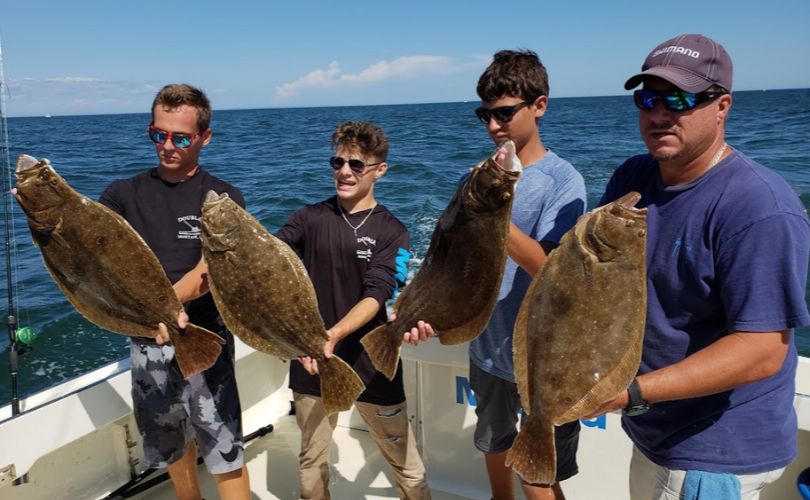 In Montauk, Double D Charters provides some of the best chances for sport fishing. The company has been in operation for more than 20 years.
When it comes to sport fishing recommendations, Double D Charters is usually the first name that comes up.
The Atlantic Ocean is a great place to catch sea bass, swordfish, and tuna.
Double D has a variety of packages for you, all of which offer the best experiences.
If you're really looking for the fun things to do in Montauk, partake in one of their sunset cruises for a once-in-a-lifetime experience.
6. Discover Montauk Point State Park
Montauk Point State Park is bigger than just the lighthouse. Keep an eye out for seals lounging on adjacent rocks.
Hikers and cross-country skiers can enjoy breathtaking views of the ocean and the rocky shoreline from nature trails.
Besides, the surf anglers can choose a location anywhere on the beaches to catch the prized rockfish or striped bass .
Surfers may enjoy the North Bar waves on Long Island from mid-December until the end of March.
One of the more well-known trails is the 125-mile-long Paumanok Path, which runs through four towns and connects the state park to Rocky Point on Long Island's North Shore.
The trail winds along the picturesque seashore, from Montauk's bluffs to the inland woodlands. The park also features a playground, picnic spots, and public restrooms.
7. Book your Stay on the lake
One of the most opulent things to do in Montauk NY is to book a stay beside a lake.
Gurney's Montauk Resort & Seawater Spa is the most opulent location smack dab in the middle of nothing.
The resort and spa, located on the Star Island in Montauk Lake, provides visitors with a distinctive and tranquil experience.
The resort has 107 premium waterfront rooms, suites, and villas, as well as a world-class spa, restaurants, meeting rooms, and a private beach.
The facility can also be used for a wedding, with indoor and outdoor options available. It features the Waterfront Ballroom which has panoramic views of the lake.
Visitors can dock just outside the hotel while on vacation thanks to Gurney's marina.
When you walk onto the site, you'll be met by a replica of the historic Montauk Lighthouse.
You may relax and reenergize yourself in the villas, suites, and on the private beach.
8. Attend a Concert at the Montauk Playhouse Community Center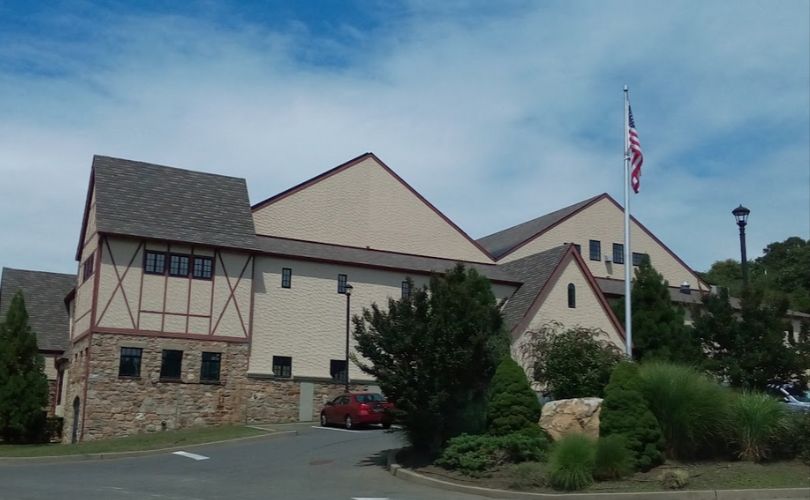 Visitors may nearly always find something exciting to do at the multi-use Playhouse Community Center in Montauk.
The Montauk Tennis Auditorium, also known as the Montauk Playhouse, is located in the village of Montauk, New York's Suffolk County, right below Montauk Manor.
The tower was built in 1928-1929 to serve as the showpiece for Fisher's proposed resort in the 1920s.
The Montauk Playhouse Community Center hosts an array of events, such as plays and concerts, some of which are performed outside.
The complex's aquatic center provides swimming lessons and a variety of other activities.
9. Visit the Camp Hero State Park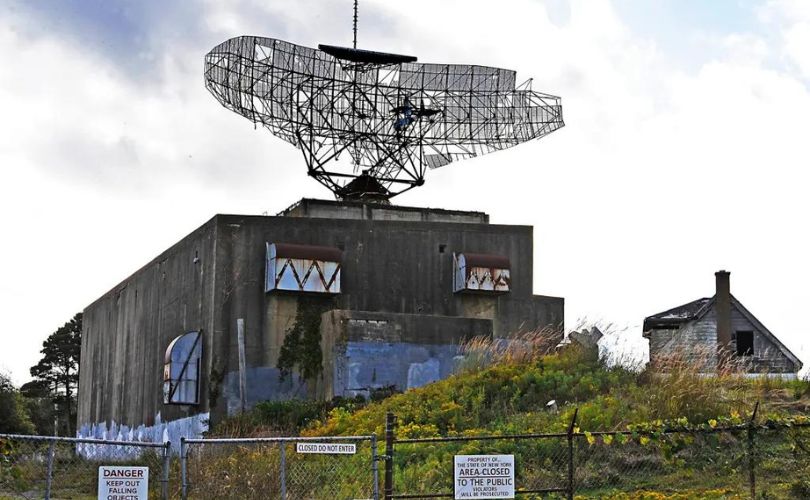 Camp Hero State Park is located south of the highway and is another protected location worth visiting on your vacation out east. The state park has marine woods, marshes, and natural fauna. It was formerly a "Camp Hero" military base during World War II.
Hike, cycle, or take your dog for a leisurely walk down the coast, or enjoy a nice afternoon picnicking with friends and family with spectacular ocean views.
One of the best things to do in Montauk, New York for history buffs where they explore the ancient Montauk Radar Tower and various artilleries from the historical wars.
Since the 1980s, rumors have circulated that Camp Hero served as the site of a covert project, which the US government used to undertake studies on multiverse theory as well as psychological warfare methods.
The Montauk Project was really covered in a number of novels by Preston Nichols, and it served as the basis for the wildly successful Netflix series Stranger Things. This also explains why Montauk is mentioned in the tragicomedy from Jim Carrey and Kate Winslet's Eternal Sunshine of the Spotless Mind about erasing memories.
10. Riding at Deep Hollow Ranch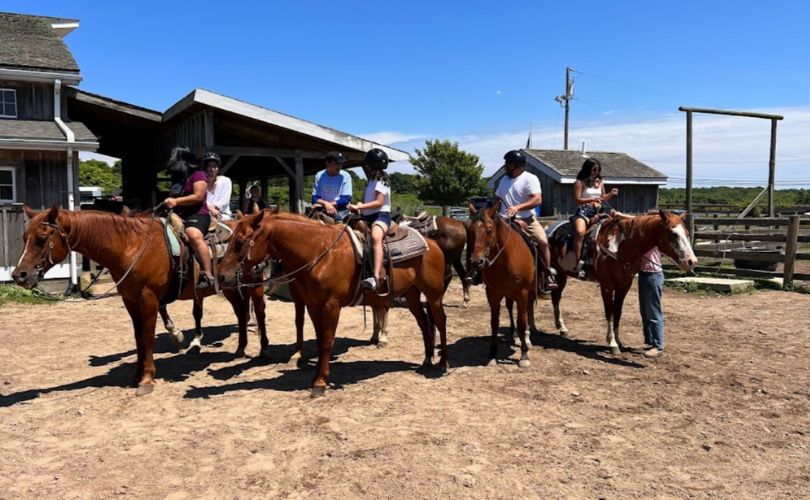 You don't have to travel to the Wild West to get a glimpse of the past. Visitors may relive the days of cowboys and cowgirls at Deep Hollow Ranch in Montauk.
Reputedly it is the oldest operating ranch in the nation. You can count this as one of the most fun things to do in Montauk.
The ranch, which is set among acres of magnificent coastline property, invites tourists to see their beautiful horses. You can ride them along pristine beaches and through the pastoral countryside.
The ranch also has a summer programme for kids that includes pony rides and time with the horses. The distance between Deep Hollow and the Montauk Lighthouse is five minutes by car.
11. Experience surfing at Ditch Plains Beach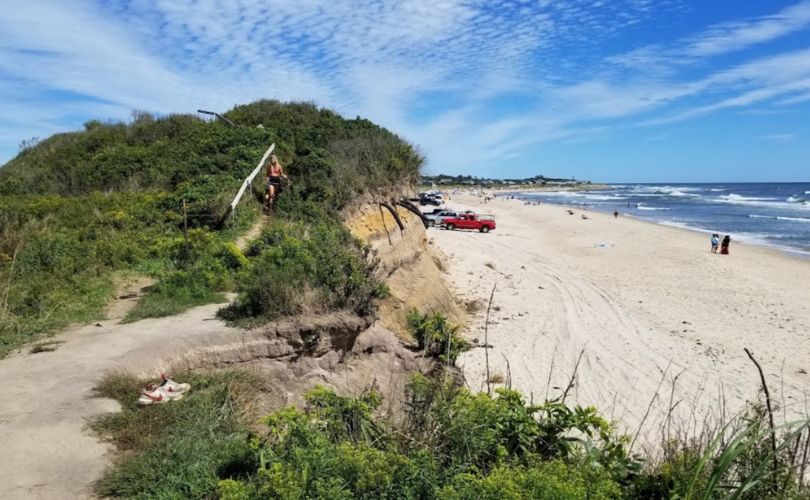 One of the more well-known beaches in the Hamptons is the Ditch Plains Beach, which is surrounded by towering green cliffs. It is extremely popular with wave riders who come from all around the island to ride the long breaks.
If surfing isn't your thing, you can still relax and eat wonderful meals while soaking up the sun. The Ditch Witch Food Truck is a local institution and offers beachgoers a variety of meals, including quesadillas and Ditch Witch Cubanos.
However, if admiring all of those surfers makes you want to learn, enroll in lessons at the neighboring Air and Speed Surf Shop. They also rent out wetsuits and surfboards.
Check Out: Things to Do in Binghamton, NY
12. Enjoy Luxury at Navy Beach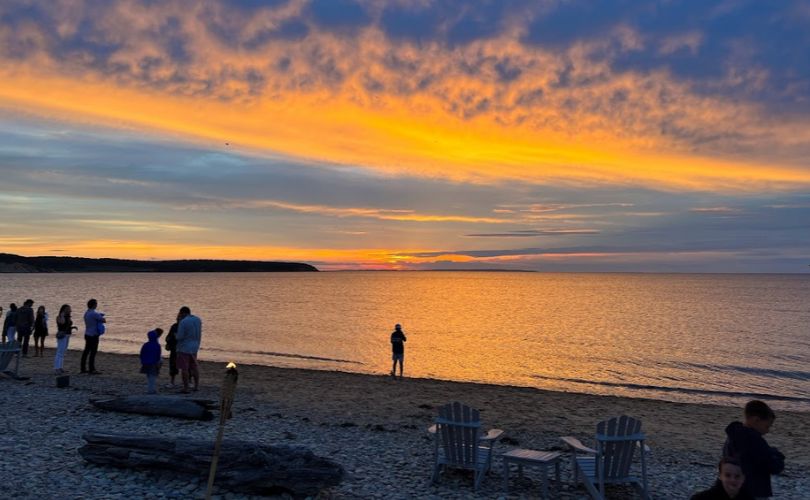 One of the top places to visit in Montauk is Navy Beach, which embodies luxury at every breath and gaze. It should be your first choice if you wish to visit a beach that has a Hamptons-like atmosphere.
Navy Beach has historical significance as well.
During World War II, the government took torpedoes out of the area to test it.
This beach is home to world-class resorts, spas, and dining establishments. Do sample the mouthwatering seafood that is offered here.
There are also some fantastic cocktails that you must try.
Celebrities frequently visit Navy Beach, so don't be surprised if you see a few of them there!
13. Splash Around with the Whole Family at Gin Beach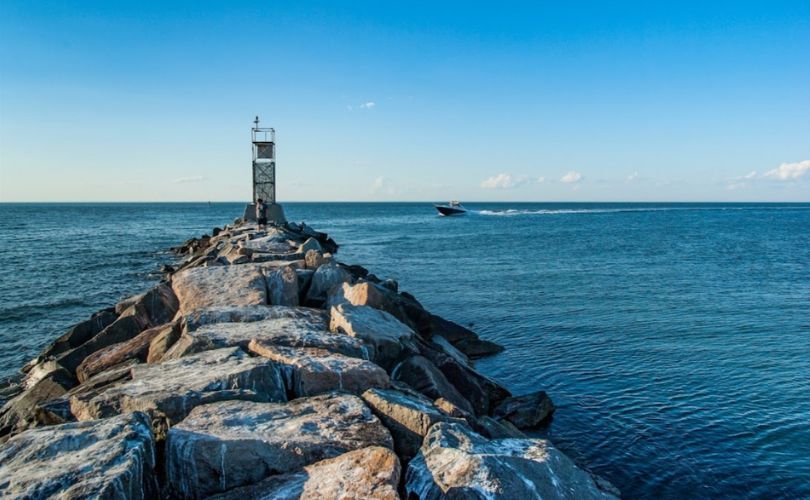 Are you trying to find inexpensive activities that the whole family can enjoy? On the eastern edge of Lake Montauk, Gin Beach provides calmer waves and a welcoming environment for families.
Rip tides and currents are less severe here than on other beaches, and is ideal for families with small children. Additional safety measures include lifeguards and a rope designating appropriate swimming zones.
One of the top-rated things to do in Montauk where you and your loved ones can enjoy a fun-filled day together at this lovely shoreline.
Burying your children in soft sand, making sandcastles with them, enjoying a picnic straight on the sand, and taking a dip in the chilly ocean are all excellent beach activities.
Beach activities like burying your kids in the smooth sand, making sandcastles with your family, eating a picnic on the sand, and taking a plunge in the chilly water are all excellent choices.
Alternatively, you may lounge on the beach and cuddle up to your special someone while the sun sets.
14. Camp at Hither Hills State Park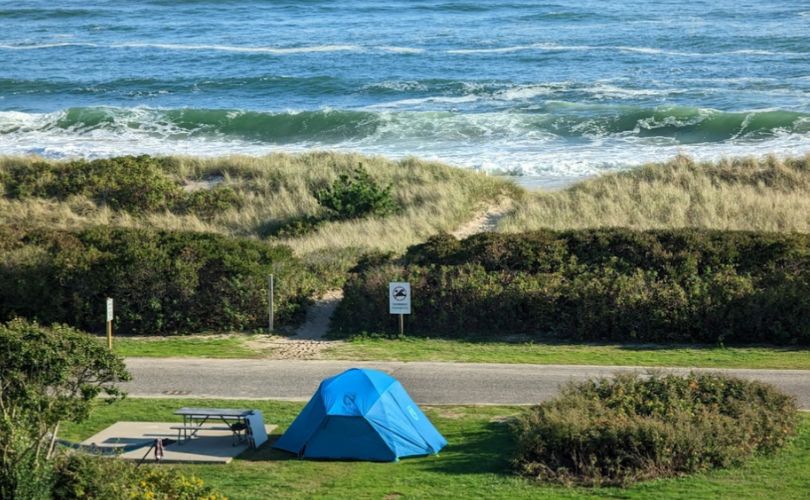 The lone campground in town, Hither Hills State Park, which is situated between the Napeague walking dunes and the Atlantic Ocean, has 190 public campsites. It is the epitome of camping in Montauk.
Depending on the time of year, one could spend days fishing, hiking, bicycling, seeing animals, and cross-country skiing at this state park.
The park features a two-mile sandy beach, a 40-acre freshwater lake, handicapped-accessible picnic sites, grills, playing fields, and a playground.
An attractive feature of the park's eastern boundary are the walking dunes of Napeague Harbor.
You will see trees sticking out of the sand and sand dunes along the three-quarter-mile walk. A bog filled with cranberry plants, wildflowers, and other vegetation marks the trail's conclusion.
The RVs and campsites fill up quickly, so make sure to make reservations well in advance. They include public toilets with showers. During the summer, you can buy any products you need for your stay at the on-site convenience store.
15. Join the Viking Fleet to Go Whale Watching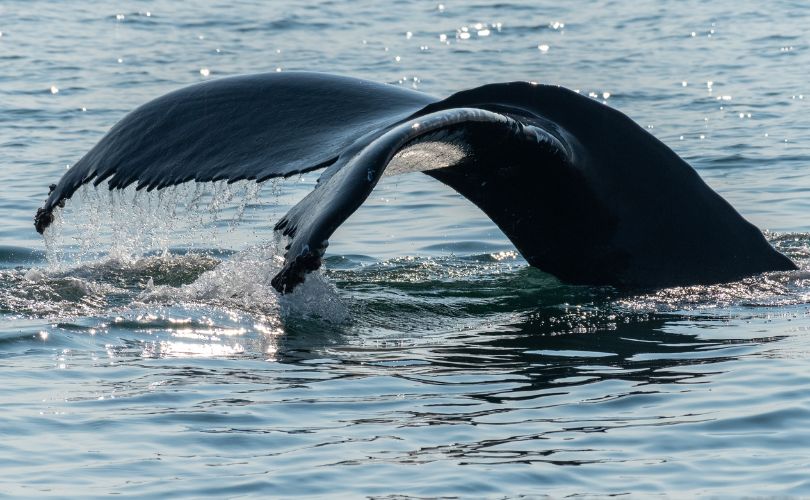 Passenger ferry service is provided by the Viking Fleet between Montauk, New York, Block Island, Rhode Island, New London, and Connecticut.
The Viking Fleet has something for everyone. It includes a ferry ride off the coast of Montauk, fishing trip to catch the bass and whale-watching cruises.
You'll have access to breathtaking and emotionally exciting unusual encounters. In a whale-watching expedition, you may also encounter aquatic turtles, dolphins, and whales.
During peak season, they also offer private charters and sunset cruises.
Best Places to Eat in Montauk NY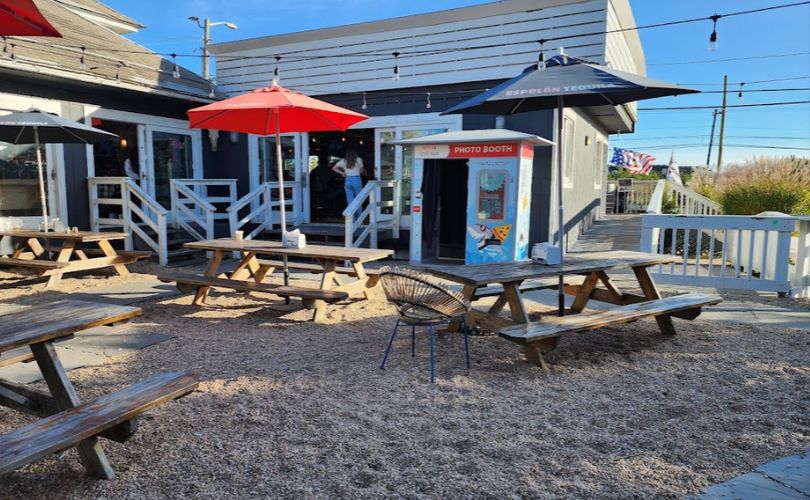 Montauk offers mouthwatering seafood staples. The Atlantic Ocean is visible from dozens of beach eateries that are positioned along the coast.
Given its location at the point of Long Island, it is often regarded as "The Last Resort."
One of the most common settings here is outside dining, whether it be on a veranda or a sandy beach.
The greatest way to meet the locals is to sample the food at a neighborhood diner.
A memorable nightlife is completed with pubs and taverns. Come to Montauk with your pals to see how delicious seafood can be.
For your culinary excursion, scroll down to explore the top Montauk eateries that I personally recommend.
(i) Sel Rrose
Without this creative and lively spot, no list of the best Montauk restaurants would be complete. To find out what makes these oysters so exceptional, order the exclusive Le Sel Rrose Plateau. Six shrimp and six oysters make for a substantial meal. To complete the course, combine it with The Fountain, one of the bar's highly coveted artisan cocktails. You'll discover a distinctive flavor you'll adore in this combination of gin, lemon, and grapefruit.
Address – 4 S Elmwood Ave, Montauk, NY 11954
(ii) TT's Montauk
Are you interested in dining at one of Montauk's hippest fast-food establishments? With pink accents all over, TT's Montauk has basic yet endearing designs. For kids who enjoy small snacks, it's a terrific place to eat. Try their own hot chicken sandwich with blue cheese and side fries. Get a 16-oz margarita to discover why TT's Montauk's margarita is so well-liked by so many visitors.
Address – 466 W Lake Dr, Montauk, NY 11954
(iii) Westlake Fish House
You should visit here because of the delicious sushi it serves, which is why it has become so well-known. Order the Westlake roll to experience the wonderful flavor of shrimp tempura, avocado, and shiso. Along with that, they serve sea bass and fluke. You should sample its clam chowder and grilled hamburger because guests have also praised them.
Address – 352 W Lake Dr, Montauk, NY 11954
(iv) Best Pizza & Dive Bar
This establishment is great for those who wish to taste cuisine other than the traditional seafood delights the city is known for. It's a laid-back bar and pizzeria in the heart of Montauk and Amagansett. If you want conventional flavors with a minor twist, try the restaurant's white lasagna or flatbread pizza. Best Pizza employs a wood-burning oven to offer a traditional dining experience. For a meal's balance, consume a veggie salad. Drink a "Big Apple," a guava and rum-based cocktail, over ice.
Address – 2095 Montauk Hwy, Amagansett, NY 11930
Best Places to Stay in Montauk NY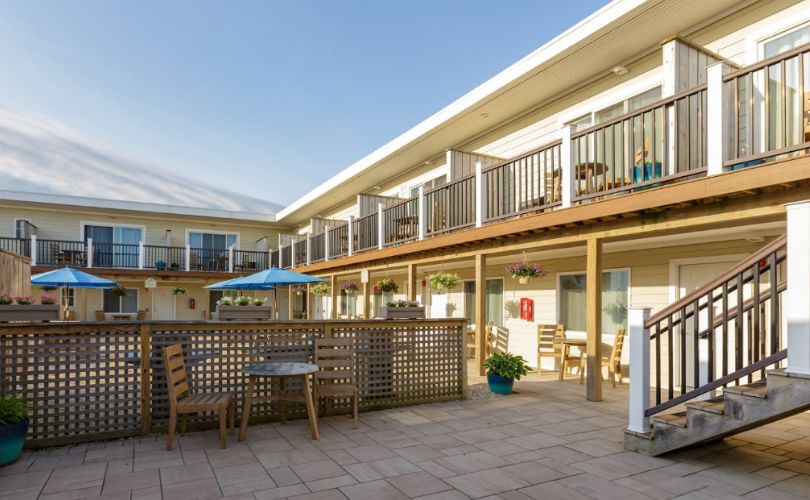 You've struck gold with this New York state town. Montauk, often known as Fish City, is the port on earth and is best renowned for fishing. While staying at one of these Montauk hotels, you may get your fill of fresh air from six state parks.
(i) Aqualina inn Montauk
The majority of the accommodations in Montauk are only available during the summer. The Aqualina Inn Montauk is a top-notch seasonal mid-range hotel. It offers cozy and contemporary rooms with spacious baths in Montauk Village's historic district, just a short stroll from the shore. An on-site restaurant, free parking, a saltwater pool, and guest-use bicycles are just a few of the amenities. Breakfast is complimentary.
Address – 20 S Elmwood Ave, Montauk, NY 11954
(ii) The Ocean Resort Inn
The Ocean Resort Inn, located just feet from the beach, is another excellent mid-range option. The hotel offers cozy rooms and suites with a beach motif. Microwaves and refrigerators are also included. Although there is no restaurant on-site, the central location means that food options are within walking distance. A saltwater pool, BBQ grills, and free parking are available as property amenities.
Address – 95 S Emerson Ave, Montauk, NY 11954
(iii) Montauk Manor Hotel
This property is a welcoming place for families. It isn't on the beach, but it is strategically positioned. There are various combinations of rooms and suites with kitchenettes. Among the amenities are a restaurant, a pool, tennis courts, and free parking. A concierge is also on-site to assist with dinner bookings and activities.
Address – 236 Edgemere St, Montauk, NY 11954
(iv) Daunt's Albatross Motel
A good low-cost option comes with upgraded rooms that have extra large couches, blackout curtains, and minifridges that is only one block from the beach. There is a pool, free parking, and Wi-Fi available on the property. There are also bicycles available, and childcare can be arranged if you need to leave the kids alone while you go out to dine.
Address – 44 S Elmwood Ave, Montauk, NY 11954
When are you Planning Your Trip to Montauk, NY?
Montauk is a lovely village to visit, and since it is considered by many as the most family–friendly destination in the Hamptons. There are plenty of options for the entire family—adventure seekers can go surfing, scuba diving, and hiking, while there are also more relaxing beach activities for families who prefer to bask in the sun. Montauk is one place you shouldn't miss if you're traveling upstate.
Also Read: Best Day Trips From NYC