Few areas in Wisconsin can match the beauty of Bayfield when it comes to romantic getaways. There are so many wonderful things to do in Bayfield. The smallest town in Wisconsin, Bayfield is best recognised for serving as the entry point to the renowned Apostle Islands. But it's much more than that.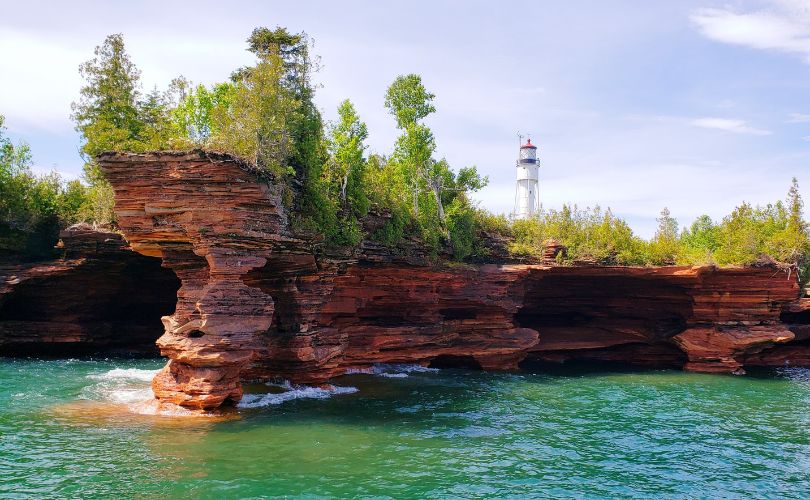 Bayfield, Wisconsin adorn the beaches of Lake Superior, and has been among the top coastal small towns. It's a great spot to get away from the hectic pace of daily life. This is where you can re-establish connections with the natural world thanks to the abundance of unspoiled natural beauty nearby.
Bayfield won't let you down if you plan to stay there for two to three days.
Here are some fun things to do in Bayfield, Wisconsin for the next several days.
Things To Do In Bayfield, WI
1. Enjoy the Sights and Sound at Pike Bay Marina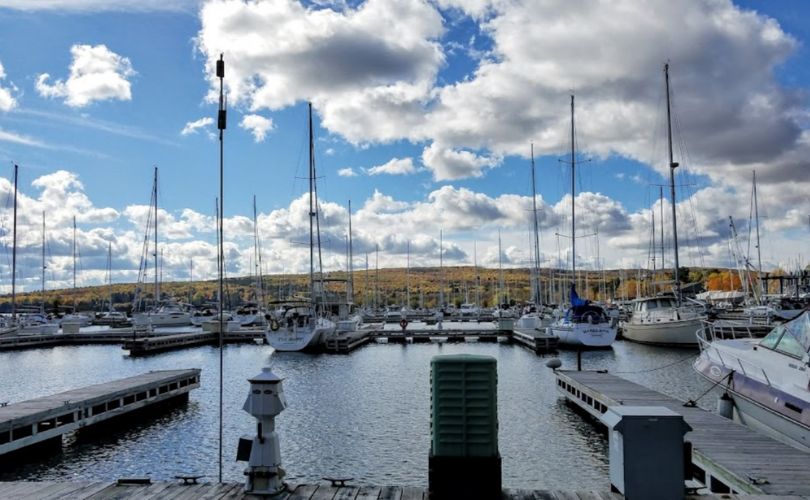 Another notable attraction in Bayfield is the Pikes Bay Marina.
You may spend around three hours here, taking in the sights and sounds.
This is the ideal location for you if you enjoy being near the water and boats.
After supper, take a quiet walk to admire the boats tucked away and the waters of Lake Superior.
Surprisingly, some of these boats are available for hire. This is a far more unique experience than the typical bed and breakfast rentals and motels.
2. Nature Lover Must Head to the Big Ravine Trail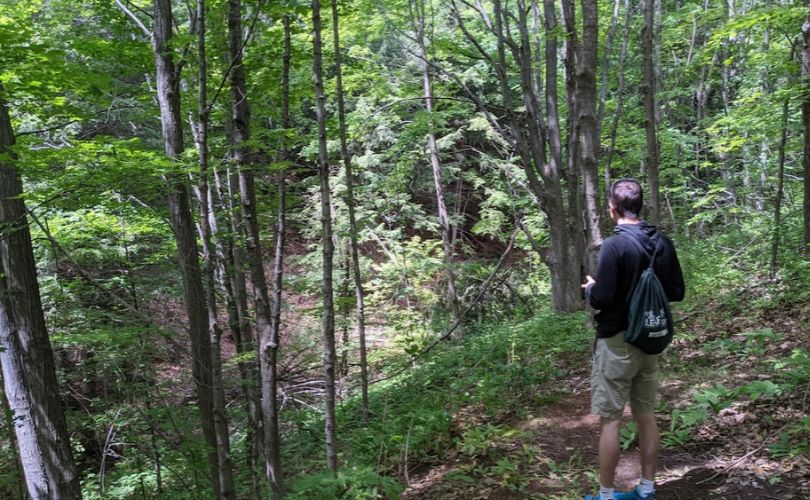 Here's the best alternative for hikers and environment enthusiasts. You should plan on spending one to two hours on the Big Ravine Trail.
It promises to be a fun experience. Surprisingly, this path contains a geocache, which promises to be a great pastime.
The walk is magnificent, and the natural splendor will be soothing. This trail requires you to climb a large hill, and the vista promises to be stunning.
If you happen to be in Bayfield in the fall, don't miss out on this lovely trail.
It's breathtaking to see the autumnal foliage and colors.
And here's one more piece of advice. Despite the beauty of a hike in the night, be prepared to deal with bugs. Most of this trail is covered with trees.
3. Sample Wines at Copper Crow Distillery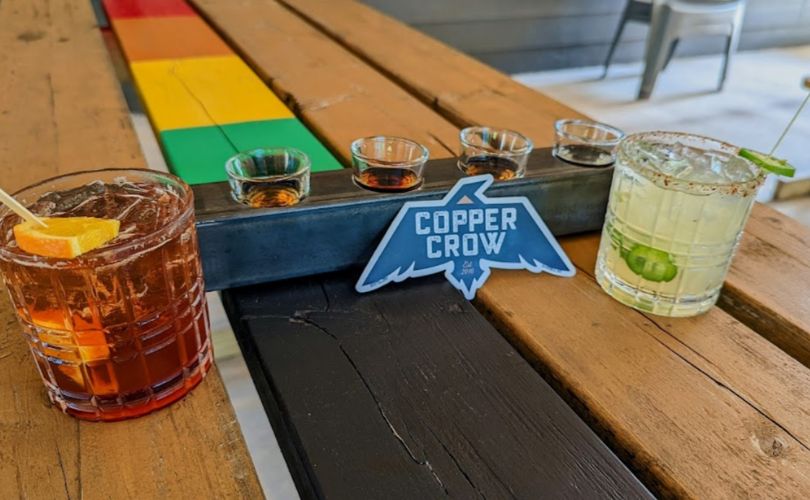 What is a vacation without a great drink? The Copper Crow Distillery is the greatest place to visit in Bayfield for this.
The best place to buy some of the best brews and grab a quick drink is here.
You can sit and enjoy your drinks at this location's picnic-style bench seating.
The distillery's wooded environment makes it the ideal place for a relaxing day of drinking.
4. Explore the Apostle Islands National Lakeshore Ice Caves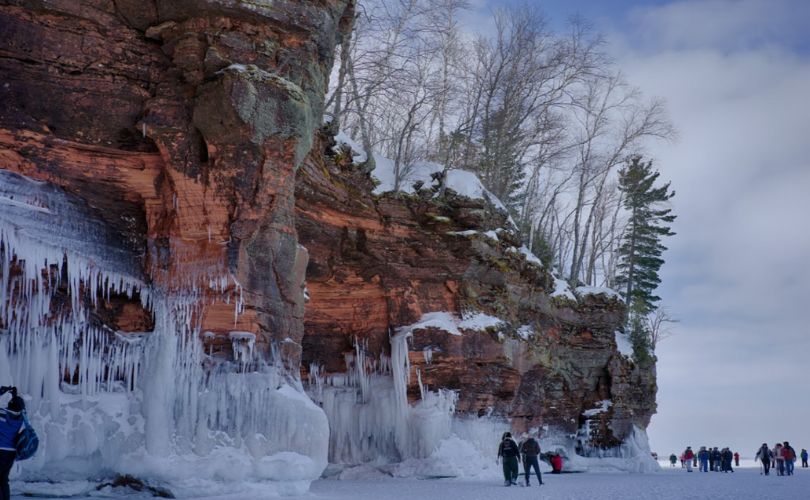 This epic excursion to the Apostle Islands National Lakeshore Ice Caves should be on your must-visit locations list if you enjoy the outdoors and visual beauty.
You're guaranteed a lovely time on this excursion across the lovely waters.
It will only get better from here.
The trails past cliffs and sea caves in Lake Superior to the north of Wisconsin. These sea caverns are stunning to look at and include delicately carved ice sculptures. Ice Caves here are just a stone's throw away.
Check Out: Best Things To Do in Keswick
5. Experience the Farm-to-table Delicacies at Hauser's Superior View Orchard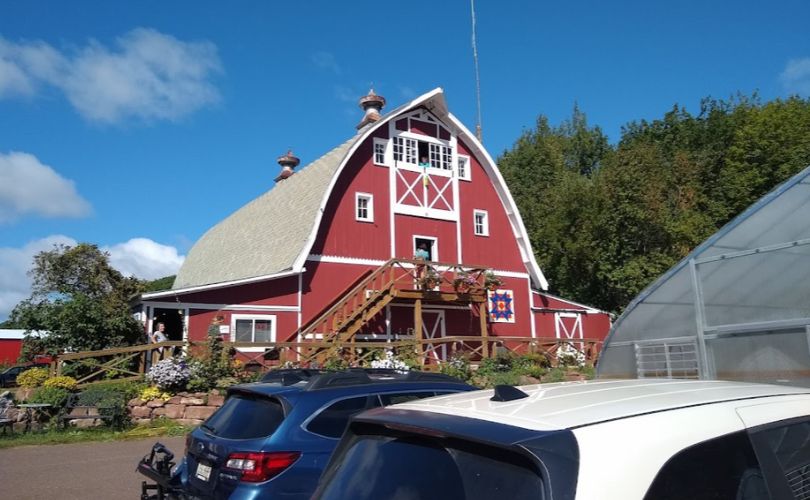 If you plan on touring farms and orchards, Hauser's Superior View Orchard is a must-see in Bayfield. It is one of the nicest spots to spend a day.
The view from this orchard is more than exceptional; it is superb. Both field exploration and cider tasting will be fun for you.
Please be sure you take the "Apple Tour" when you visit the location; it looks like a lot of fun.
The personnel are well-trained and pleasant. They assist you in sampling before you make an informed purchase.
6. Learn Clay Pottery at Eckel's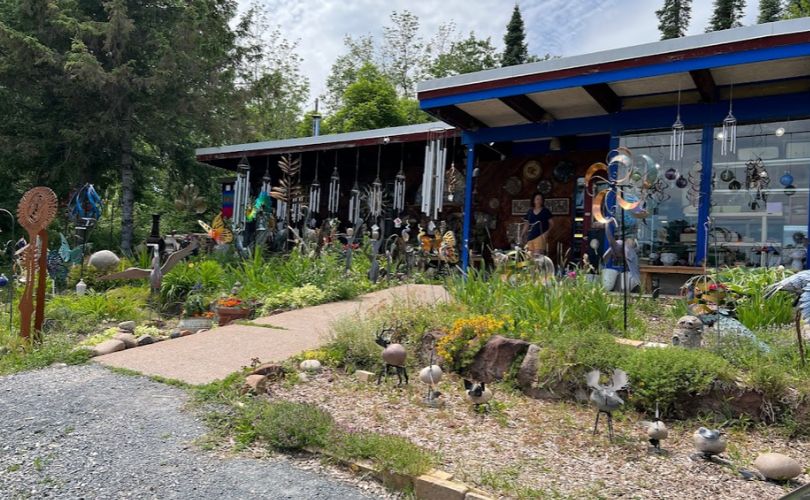 Visit Eckel's Pottery and Fine Arts Gallery if you love clay pottery and are looking for something artistic.
There is pottery in all sizes and shapes, made of clay and stoneware. You can use these objects as both home adornment and practical elements.
This shop sells artwork by local and national artists, and is among the top Bayfield Wisconsin attractions.
You can purchase handcrafted pottery in addition to other items like woodwork, jewelry, and garden decor.
You may sit and watch as a visitor while something is being made out of clay at every stage. There are not many places where you can find that.
7. Enjoy Ski at Pike's Creek Mt Ashwabay Ski Trails
If you enjoy skiing, head to Pike's Creek Mt. Ashwabay Ski Trails. This trail is a hidden gem and is stunning, especially in the winter, and is among the fun things to do in Bayfield Wisconsin.
The wooded terrain is ideal for skiing at all levels.
There is also a ski hill, which is ideal for family enjoyment. The trails are well-kept and maintained, and they also provide fantastic opportunities for mountain biking.
So, if you're in the Bayfield area and looking for an intermediate-level route, this one should be on your list.
The dogs ski for free, but there is a little cost for everyone else.
8. Tour the Old Bayfield County Courthouse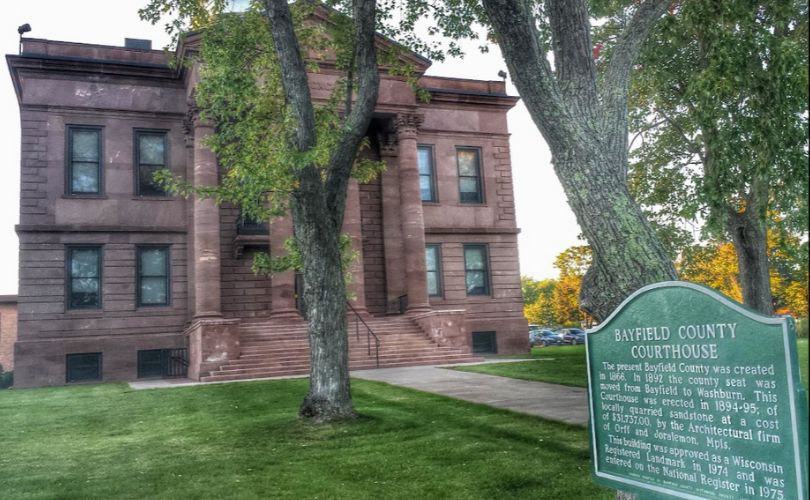 This lovely brown structure houses the Apostle Islands National Lakeshore Visitor Center.
This building's architecture is a visual treat in itself and is currently housed in what was once the historic courthouse.
Before beginning your tour of the islands and caves, this is an excellent spot to actually start.
There is a twenty-minute film available where you may learn a lot about the area and the locals.
9. Visit the Bayfield Apple Company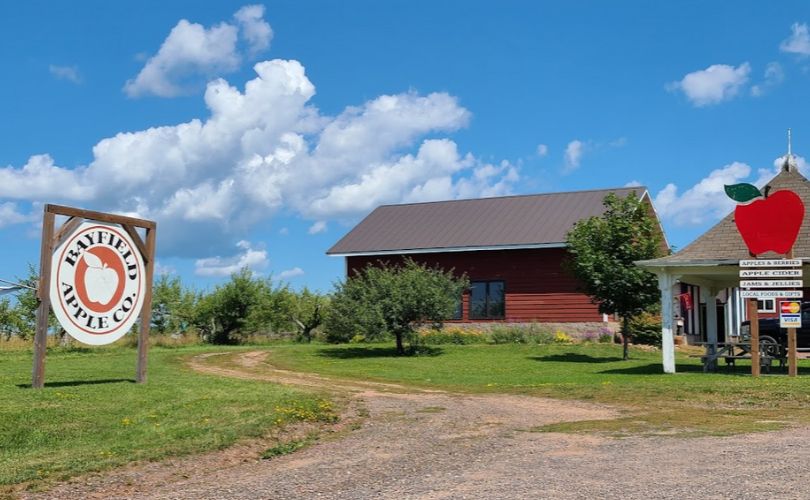 The Bayfield Apple Company, located on the fruit farm loop, is another notable attraction in Bayfield. You may find a large variety of local fruits here.
Additionally, you may purchase a variety of goods from here ranging from jams, honey, fresh produce to many local favorites.
Additionally, if you're lucky, you can purchase farm-fresh strawberries. The owners are extremely pleasant and helpful.
A visit to the Bayfield Apple Company will be worthwhile.
10. Enjoy the Outdoor Fun at Brownstone Trail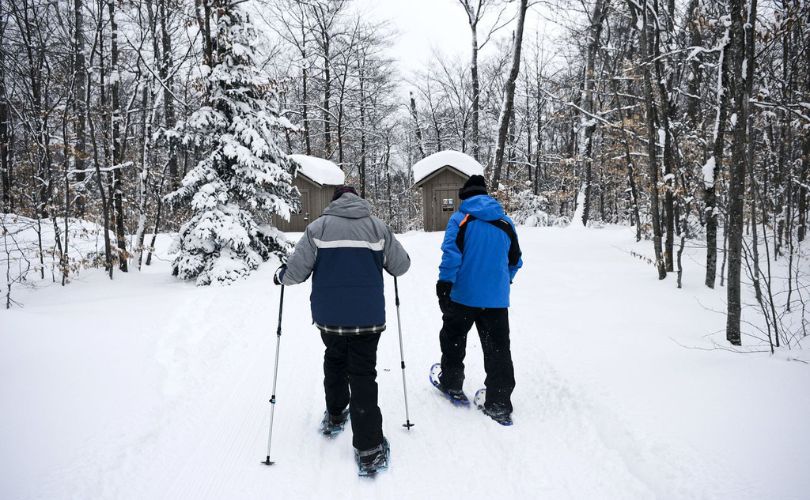 You can tour the Brownstone Trail if you have around a couple of hours to trail. One of the best things to do in Bayfield WI as the entire section is beautiful and well-kept. It is a haven for those who love the outdoors.
The Brownstone Trail, which runs 4.2 miles (roundtrip) along the brownstone cliffs on Lake Superior's shore, is suitable for walking or bicycling. It's also ideal for cross-country skiing and snowshoeing in the winter.
The sideways-blooming wildflowers and the lush forest vegetation promise a nice and tranquil trip.
11. Pay a Visit to Les Voight State Fish Hatchery Visitor Center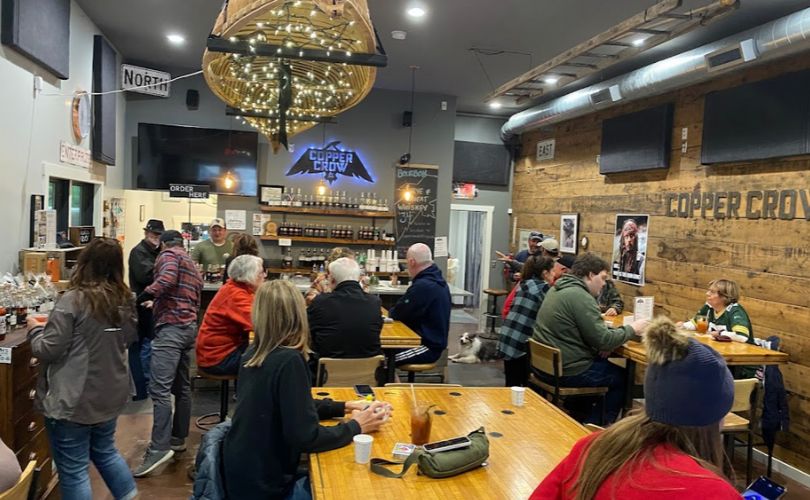 The Les Voight State Fish Hatchery is a historic fish hatchery near Bayfield, located about 2.3 miles offshore. This brownstone hatchery was erected in 1897.
This hatchery was vital to the Lake Superior fishing business.
The tours here require advance booking. The crew is quite excited and will show guests how they work to preserve native fish species, tag fish, and discuss the various initiatives that are currently underway.
Lake trout, brown trout, and splake are grown here to stock Lake Superior. Such work is done in a number of substantial fish tanks.
The visitor's center's information is excellent and really educational.
Check Out: Things To Do in Kansas City
12. Offer Prayers at Christ Episcopal Church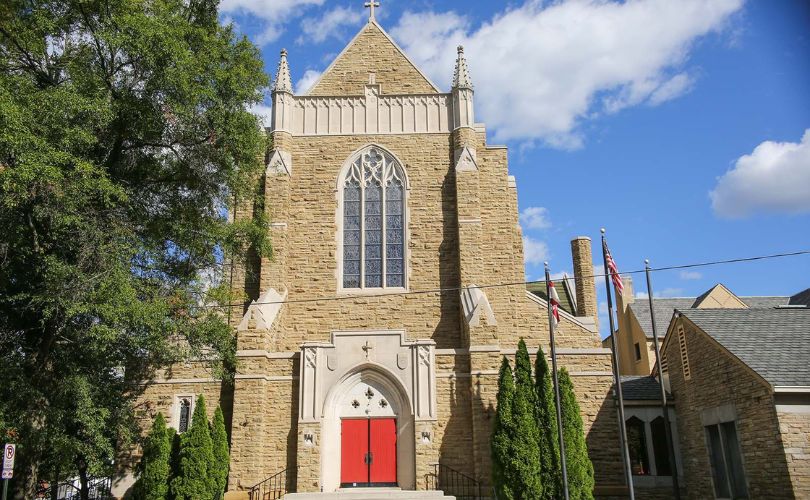 Christ Episcopal Church is a lovely venue of worship in Bayfield.
This church has a stunning exterior that is a photographer's dream.
You can pray to Our Lady of Walsingham by lighting a candle inside this 18th century church.
This church has a fantastic concert series. The pet-blessing ceremony that takes place here is another intriguing aspect that draw visitors from all across Wisconsin.
The majority of these attractions are close to one another, allowing you to see several of them in one trip.
13. Explore Sea Caves at Meyers Beach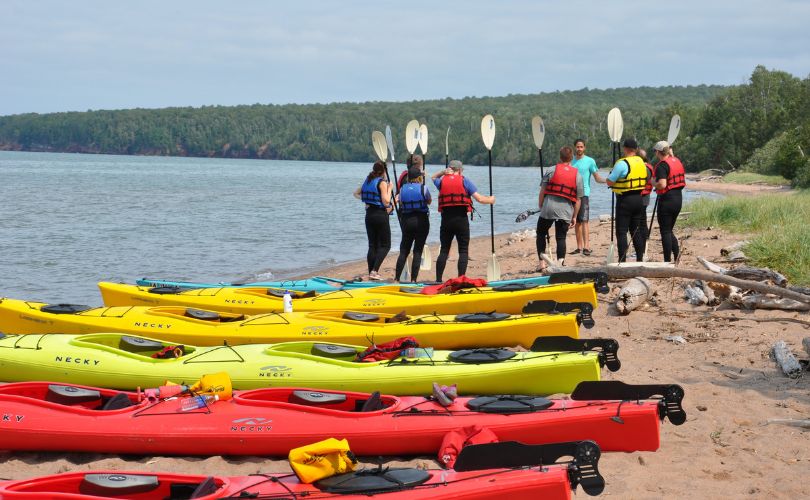 The Meyers Beach Sea Caves are the next Bayfield attraction and kayaking through these caves is one of the main draws of this location.
These are some of the largest and most popular caves in the world.
Additionally, you have the option of taking the night trip, which gives you a completely serene opportunity to view the Lake Superior shoreline.
One more sight that will stick in your mind from this excursion is the eerie illumination of the submerged Fedora shipwreck.
But first, a word of caution. It's not among the simplest hikes to reach the Meyers Beach Sea Caves. But if you do, it is one of the most fun things to do in Bayfield WI.
14. Farm and Pick up Berries at Blue Vista Farm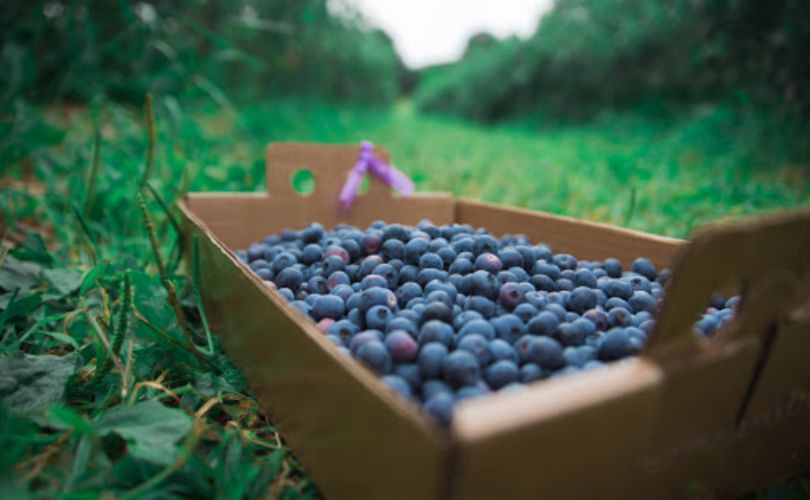 Beautiful orchard may be seen at Blue Vista Farm which features a lovely view of the gardens and barns. It is suitable for daytime activities in Bayfield WI.
The farm has a barn and a garden with raspberries, flowers, apple trees, and blueberries.
Visitors can pick berries, buy honey, jam, and many other things, as well as feed the goats.
Take in the surrounding scenery and bring your camera if you want to capture lovely images to share on social media about your visit.
15. Attend the Performance at Lake Superior Big Top Chautauqua
This is a music arena and performing arts center located in Bayfield. There are 900 seats available at this location, and it is among the top Bayfield Wisconsin attractions.
The beauty of this facility is that it is an all-canvas-tent theater.
Since the late 1980s, this performing arts complex has been a fixture in the community. It operates largely in the summer.
It has played host to legendary musicians and is still a top draw for both residents and tourists.
16. Admire art at Stone's Throw Art Gallery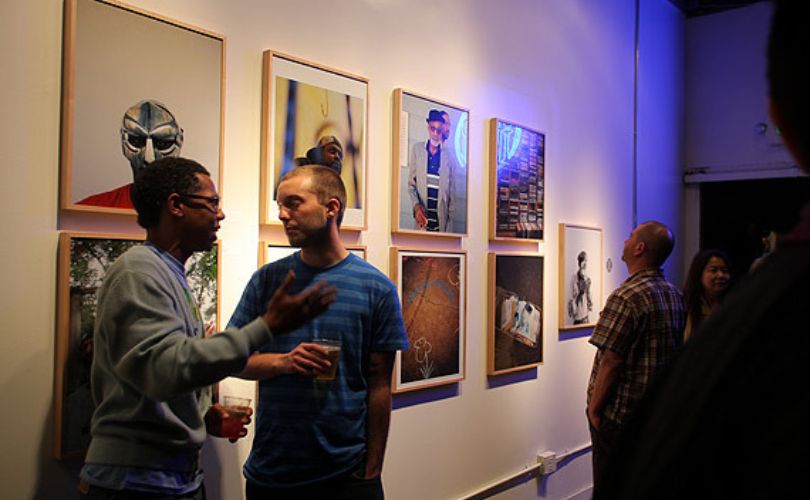 If you enjoy art, the Stone's Throw Art Gallery must be on your bucket list. It will take less than an hour to visit. However, the visit promises to be remarkable.
This charming little store is a favorite with visitors, and there are plenty of items to peruse. While you browse, the in-house artists can create something amusing for you.
This shop is more than just a souvenir shop, and it promises to bring back many happy memories.
Also, if you need to buy gifts for a large group of people, this business will not disappoint you with its lovely choice of sophisticated art pieces for sale.
Jewelry and ceramics are a couple of intriguing items you might buy as gifts for loved ones. The staff is very kind and accommodating, and they will go above and beyond to tailor goods to fit your budget.
17. Take a Step Back in Time at Bayfield Maritime Museum
You will enjoy visiting the Bayfield Maritime Museum if you enjoy the thought of traveling to islands and caves.
This museum preserves the region's vibrant nautical history. One of the free things to do in Bayfield WI where it hosts roughly 15000 guests. Feel free to partake in a virtual tour of the museum.
18. Fulfill your Sailing Adventures with Superior Charters and Yacht Sales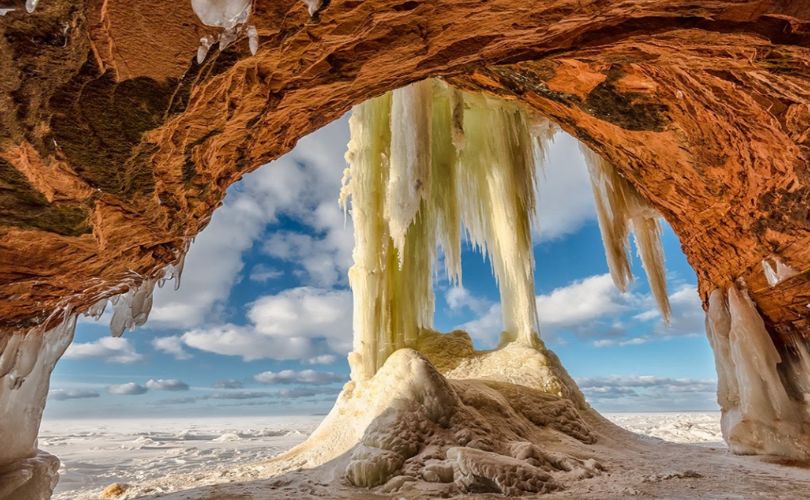 To have an unforgettable experience sailing through the gorgeous Apostle Islands Lakeshore, ride with Superior Charters and Yacht Sales.
It must be on your bucket list and is one of the most exciting things to do in Bayfield, WI.
Visitors can take part in the Captained Trips and enjoy sailing over the crystal-clear, large freshwater waters of Lake Superior while also getting stunning views of the Islands.
Additionally, the US Coast Guard-licensed Captain gives visitors plenty of chances to sail the boats on their own.
Riding here is a lot of fun; you can choose to relax and enjoy the sound of the running waters dashing over the boat's body.
19. Enjoy Guided Boat Trips with Whitecap Kayak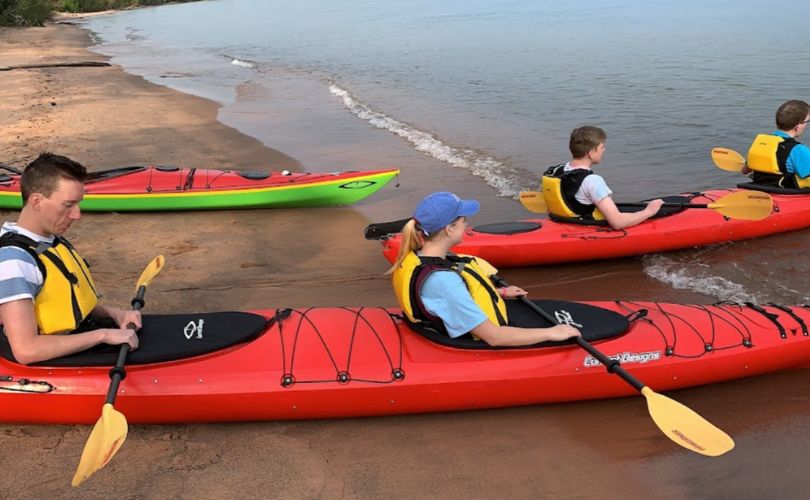 On the Apostle Islands National Lakeshore and Lake Superior, the Whitecap Kayak offers guided boat tours. It offers a variety of kayak alternatives, from day outings to overnight boat cruises.
The operator additionally offers ACA certification classes, weekend outdoor leadership programmes, and Wilderness First Aid to clients.
This location is unquestionably the best choice if you want to go kayaking with loved ones. You should also carry a camera so you can capture amazing pictures to share on Instagram.
Best Places to Eat in Bayfield Wisconsin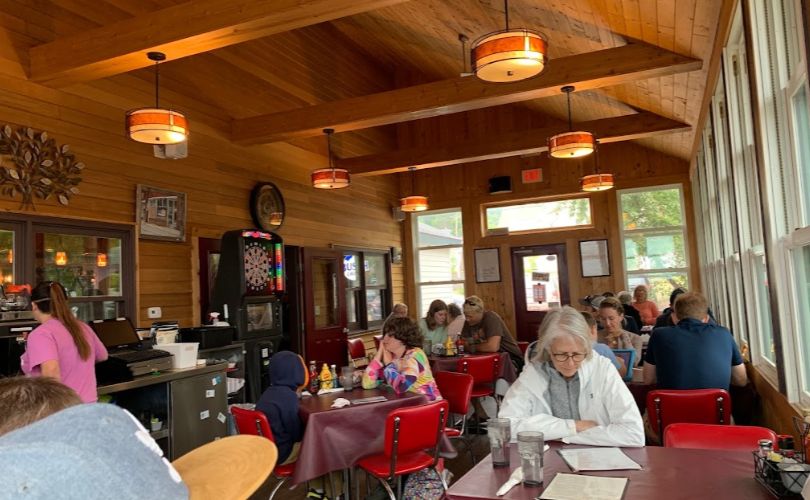 For a small town, Bayfield has a lot of dining options. For people who enjoy good food, Bayfield is one of the greatest places to visit in Wisconsin because of its numerous tempting restaurant selections, which range from fine dining and haute cuisine to quaint breakfast cafes and traditional ice cream shops.
The local chef community here draws daily inspiration from the fresh harvest of berries, apples, and other locally grown fruit in Bayfield as well as the day's catch of fresh Lake Superior fish. Try hot out of the oven pies and seasonal soups and casseroles while sipping locally roasted coffee. Don't pass up the opportunity to sample some of the fantastic local fish served at several of Bayfield's eateries. For the more daring diners, try the local delicacy, sautéed whitefish livers! Some of the top recommendations include –
1. Manypenny Bistro
According to the reviews, the house serves perfectly cooked Meatballs, tzatziki, and cheesesteaks. Ordering delicious French toast, pancakes, and biscuits is the best thing you can do. There are reviews of the beer here that are wonderful. A must-try while at Manypenny Bistro is superb coffee, hot chocolate, or lemonade.
2. Landmark Restaurant At Old Rittenhouse Inn
French cuisine is popular with tourists here. This restaurant serves delicious bisque, fish, and duck. It makes sense to order delectable crème brûlée, sundaes, and fudge. Every visitor can find something on the wine list to suit their taste due to its diversity. A good cup of coffee can enhance the flavor of your meal and encourage you to return. Many guests comment on the staff's creativity.
3. Landmark Restaurant At Old Rittenhouse Inn
French cuisine is popular with tourists here. This restaurant serves delicious bisque, fish, and duck. It makes sense to order delectable crème brûlée, sundaes, and fudge. Every visitor can find something on the wine list to suit their taste due to its diversity. A good cup of coffee can enhance the flavor of your meal and encourage you to return. Many guests comment on the staff's creativity.
4. Pier Plaza Restaurant
Taste deliciously prepared smoked salmon, sauerkraut, and chicken wings. Try delicious fruitcake, raspberry pie, and ice cream. You'll probably visit Pier Plaza Restaurant again later to sample some mouthwatering draught beer, champagne, or red sangria. The ice tea, coffee, and lemonade at this location are world-renowned. Guests may unwind and enjoy themselves here because of the welcoming atmosphere.
5. The Deck
It's true that you'll enjoy good seafood tortillas, prosciutto, and salmon. It's time to try some delectable French toast, strawberry waffles, and muffins. You can enjoy delicious wine, draught beer, or brandy at The Deck. The nighttime features live performances by musicians.
Best Places to Stay in Bayfield Wisconsin
Spend more time in Bayfield and the Apostle Islands to reclaim your vacation days. For any traveler, the region offers a range of accommodation options.
In search of a romantic getaway? Pick a charming bed & breakfast or old-fashioned inn where you may discover comfortable rooms and kind owners who will attend to all of your needs.
Are you looking for some of Bayfield's top Big Lake views? The shores of Lake Superior are home to a wide variety of Bayfield Inns, motels, cabins, and cottages.
Want something a little more rural? Look into the numerous tent- and yurt-camping sites where you can spend the night outside. You might even catch a glimpse of the northern lights.
Some of the top recommendations include –
1. Lucy's Place
The property offers lake views and free WiFi in Bayfield, 5.5 kilometers from Madeline Island Historical Museum and 500 m from Bayfield. The room has air conditioning and a Jacuzzi bath. Private bathrooms are fully furnished and have hot tubs and hair dryers. Visitors can go hiking and diving nearby, and there is a garden with a BBQ at this property.
2. Woodland Lodging
Woodland Lodging is located in Bayfield, Wisconsin, and offers free WiFi and private parking. Each apartment offers a terrace, a kitchenette with a microwave, a dining area, and a seating area with a flat-screen TV, as well as a private bathroom with a shower and a hairdryer. Additionally, there is a coffee maker, a fridge, and a toaster. There is a terrace in the unit, and breakfast is provided free of charge.
3. Pinehurst Inn Bed & Breakfast
This bed & breakfast in Bayfield has rooms with eco-friendly design and a hearty daily breakfast. You'll find air conditioning, bathrobes, a hairdryer, and a seating space in each of the Pinehurst Inn's rooms. A refrigerator and microwave are available in the communal area. Breakfast is complimentary.
4. Wild Rice Retreat
Wild Rice Retreat, located 7.7 miles from Madeline Island Historical Museum, has a restaurant, a bar, and rooms with a patio and free WiFi. Each unit has a kitchenette with a dining area and a private bathroom with complimentary toiletries and a shower. A sauna is provided by the lodge.
When you Planning your Bayfield Wisconsin Trip?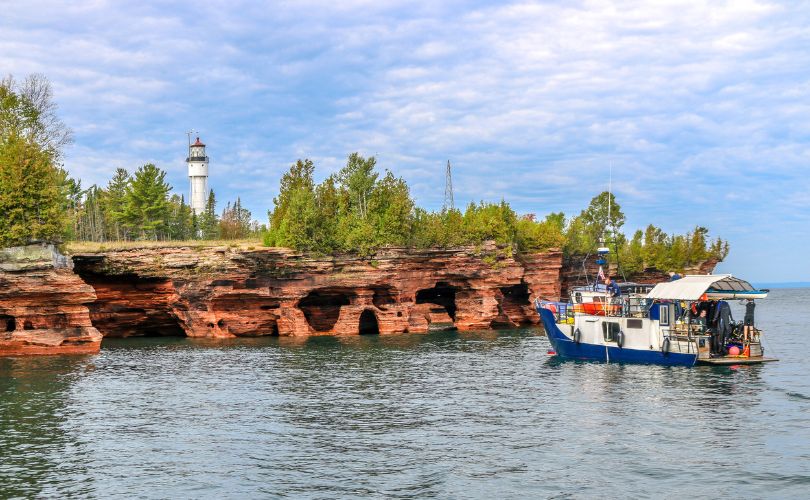 Bayfield is a quaint little town that's somewhat off the beaten path. It's peaceful, full of natural beauty, and an excellent place to get away from it all. Sure, much of Bayfield is oriented toward summer tourism, but there are still activities to enjoy year-round. If you have yet to go there, I hope that this list will give you some ideas!
Perhaps we can help you to craft an itinerary allowing you to discover everything that this small town has to offer. From the historic Bayfield cruise tours to the Apostle Island boat tours, there are so many wonderful things to do in Bayfield and beyond. There's no shortage of exciting activities for couples and families alike.