Kansas City is frequently overlooked in favor of larger Midwest towns such as Chicago and St. Louis, but this should not dissuade you from going. What Kansas City lacks in size, it makes up for in character, culture, dozens of world-class attractions, and delectable cuisine.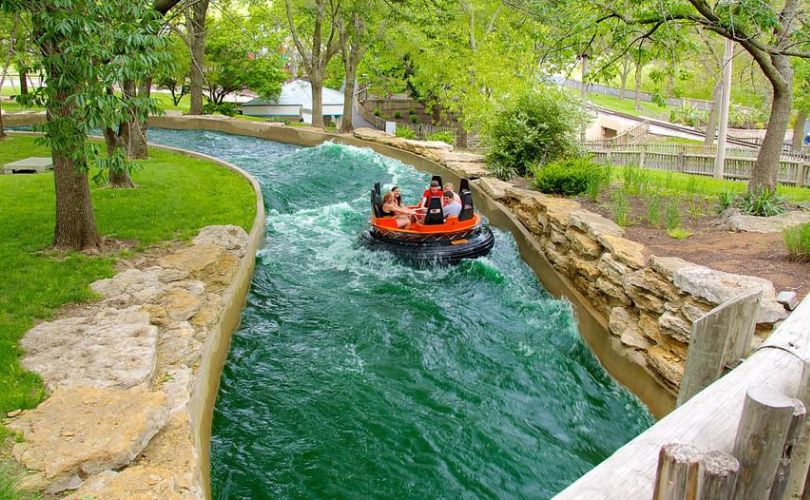 With this in mind, the fun things to do in Kansas City for adults this weekend include an emerging arts scene, a range of restaurants providing classic KC cuisine, and, surprisingly, a plethora of fountains.
The Historic Jazz District, where jazz legends like Big Joe Turner and Charlie "Bird" Parker formerly performed, is a place where one may learn more about the city's past in jazz history.
The Westport Neighborhood is a different historic district that offers a tonne of activities in Kansas City including antique shopping and river cruises. The Nelson Atkins Museum of Art, the Arabia Steamboat Museum, and the Toy and Miniature Museum are all excellent museums in Kansas City.
Using our list of top attractions in Kansas City, Missouri, you can plan the best spots to visit in this world-famous city.
1. The Money Museum is Among the Most Unique Places to Visit in Missouri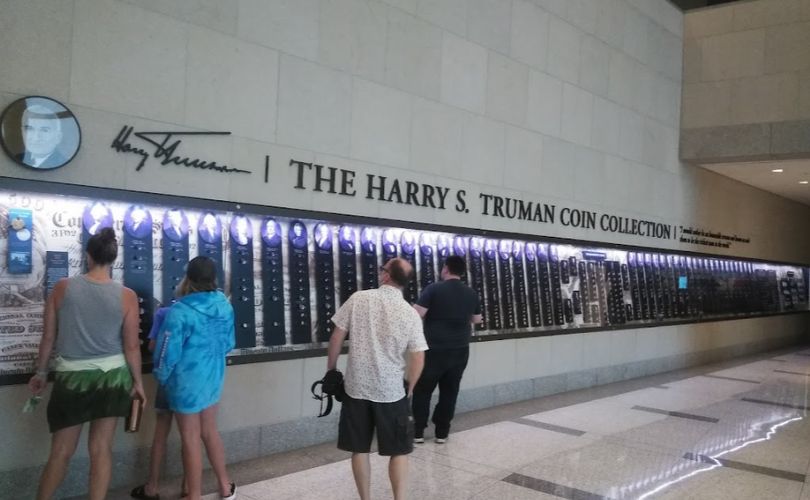 For anybody interested in the history and growth of American currency, the Money Museum at the Federal Reserve Bank of Kansas City is a fantastic free tourist attraction.
Among the permanent exhibits are the Harry S. Truman Coin Collection, a solid gold bar, an educational display about rising prices, and a hands-on personal financial exhibit.
Additionally, the museum features a wide range of regularly changing exhibits, many of which concentrate on the social implications of money and currency as well as economic education.
2. Take a Leisurely Stroll at Westport Neighborhood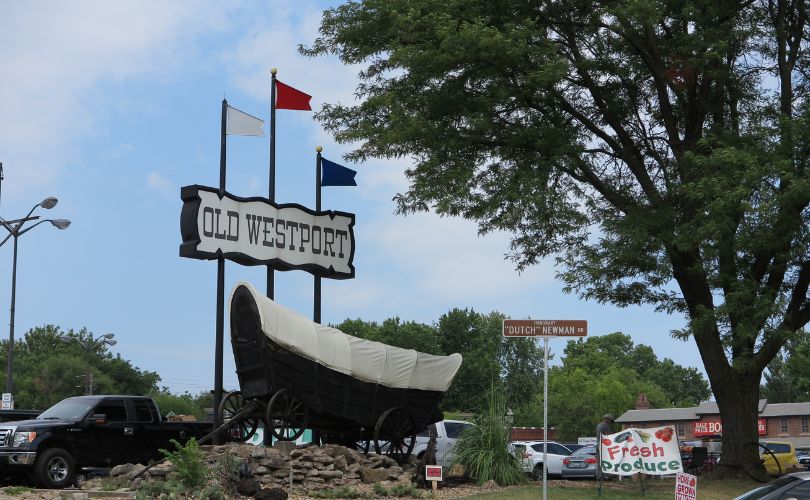 Westport, one of the city's oldest and most well-liked Kansas City tourist attractions, is great for visitors seeking for a beautiful neighborhood to explore.
It was named for its location as the "final stop" one of the tourist attractions in Kansas City before pioneers moved out west.
Historically, it was also the site of the Battle of Westport, which was the testament of a vital victory that ended the Civil War.
The 1855 Harris House Museum is also located in this neighborhood.
Nowadays, it is a hip neighborhood with lots of shopping opportunities at its upscale boutiques and antique shops as well as the newest restaurants.
Festivals, performances, and holiday gatherings are also held throughout the town.
3. Tour the Science City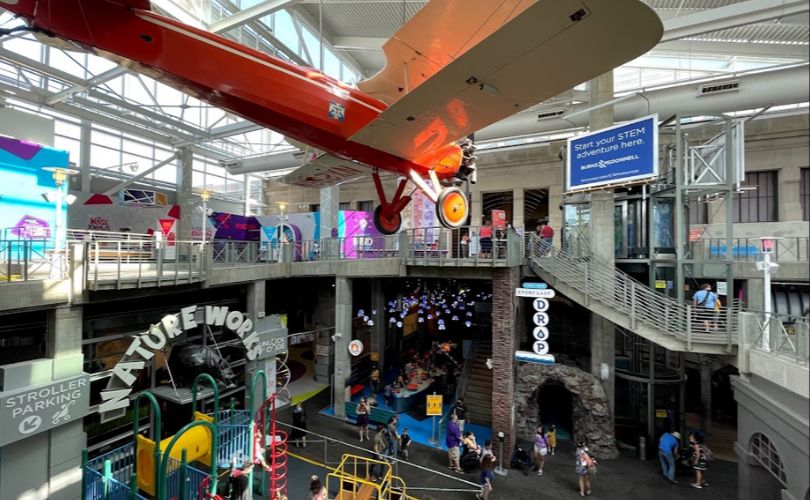 Families visiting Kansas City should not miss Science City, which is situated in Union Station, and is one of the best things to do in Kansas City Missouri this weekend. The interactive exhibits cover a variety of scientific topics so that visitors can gain knowledge through first-hand experience.
Force and Motion, a place where you can experiment with and learn physics, is one of its most well-liked permanent displays. Similarly, the Every Last Drop exhibit delves into the unique features of water, from its flow and strength to the various ways you can rely on it, as well as the importance of water conservation in our day-to-day life.
While smaller children will enjoy the Dino Lab, where they can learn about paleontology by making their own discoveries, the genetics lab will captivate the entire family.
Other interactive exhibits include routine Demo Area activities, a test kitchen where youngsters can learn about the characteristics of food, and a park with brainteasers. A planetarium, nature center, and special events are all features of the museum.
4. Visit the National World War I Museum at Liberty Memorial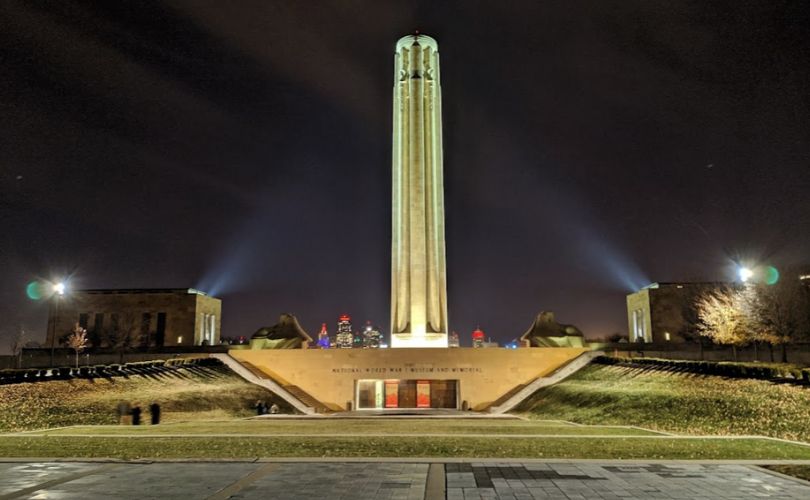 The National World War I Museum in Kansas City is located at the foot of the Liberty Memorial. An imposing Egyptian Revival-style monument dedicated in 1928 to the men and women who served and died in the war, and is among the top attractions in Kansas City.
The museum's holdings contain a wide range of artifacts, documents, videos, and other historical items collected between 1920 and now.
The collections and exhibitions provide a comprehensive glimpse of the war's global impact.
One of the major highlights is the re-creation of the crater that was left behind after a howitzer round strikes a French farmhouse. Visitors can go inside the crater and hear and see what it was like inside the trenches through six recreated scenes.
Other exhibitions tell moving experiences from those who lived during the conflict, both on the front lines and at home.
Other relics on exhibit include a Renault FT-17 tank damaged by a German shell, guns, clothes, and personal things brought into battle by soldiers. With more than 75,000 objects in total, the collection is among the biggest in the world.
5. Crossroads Arts District, Fun places in Kansas City
The eccentric and fun activities in kansas city Crossroads Arts District features everything from live music to eateries.
Every year, the most thrilling and well-attended event in the city draws thousands of residents and visitors.
Jones Gallery, Weinberger Fine Art, and the Green Lady Lounge, which are ideal for live music, are among the most fascinating art galleries.
Additionally, you can shop at various nearby stores like Hammerpress and Raygun which makes it one of the best places to visit Kansas City.
You can also stop by one of the many eateries, which include Grinder's Pizza, Lulu's Thai Noodle Shop, and Christopher Elbow Chocolates.
Arriving early at the Crossroads boosts your chances of finding on-street parking, despite there are multitude of parking options in the vicinity.
6. Visit Airline History Museum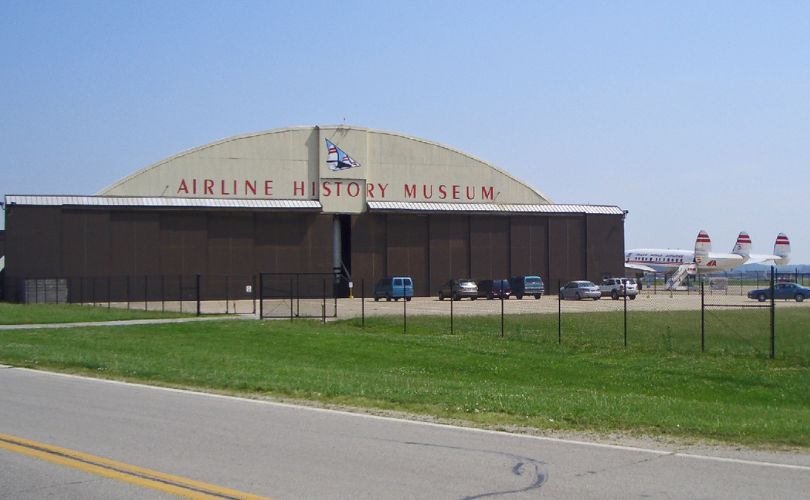 Any aviation enthusiast's heart is sure to race when they visit the Airline History Museum at the Downtown Airport on the northern fringe of the city.
You may revisit the era that Kansas City served as TWA's corporate headquarters and when individuals used propeller aircraft to fly over the Atlantic.
Veterans of the air will be more than happy to share their experiences, and visitors can take in the variety of aircraft on show.
The TWA Moonliner, a scale model of the legendary passenger rocket designed by Howard Hughes, Walt Disney, and Wernher Von Braun, is one of the museum's primary attractions.
7. Bring Along the kids at National Museum of Toys and Miniatures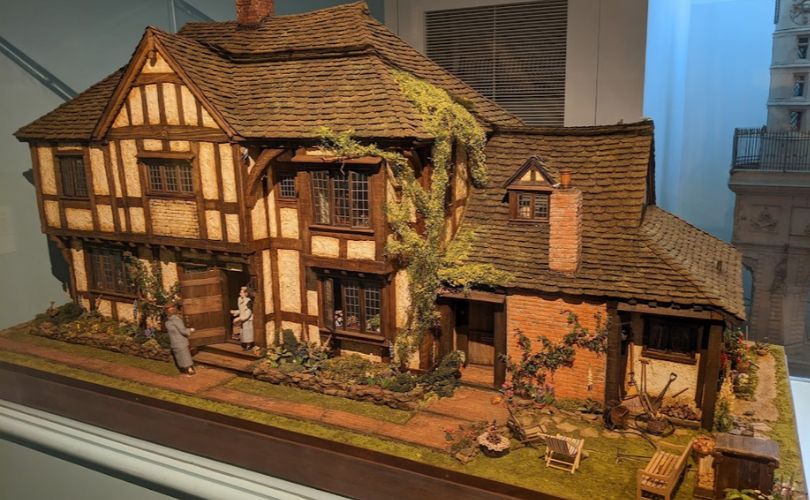 The genetics lab will captivate the entire family, while younger children will enjoy the Dino Lab, where they may explore paleontology by making their own discoveries. The museum began in 1982 with the personal collections of Mary Harris Francis and Barbara Marshall and has now expanded to 33,000 square feet.
A large assortment of old toys, including dolls, figurines, games, model trains, and more, are available for visitors to browse. The other highlights include Agate marbles, a set of lead soldiers with molds, and Ovaltine's 1938 Telematic Radio Orphan Annie Pin.
The miniatures is the world's largest, with accurately scaled copies of original art and antiques, and is among the top Kansas City attractions for adults and kids.
Among the most impressive items are a 1955 Singer sewing machine miniature and a tiny ornate cabinet in 1:12 scale made of ebony and gold. The museum also holds unique occasions that let grownups relive their youth, such as marble games or Saturday morning TV with a huge bowl of cereal.
8. Tour the Nelson-Atkins Museum of Art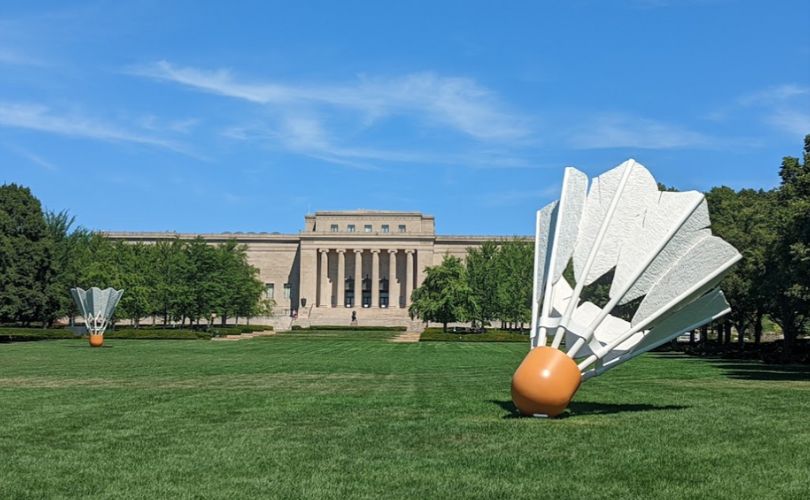 What to do in Kansas City mo to marvel at the arts and artifacts? The outstanding collections at the Nelson-Atkins Museum of Art span the continents of North America, Europe, Asia, and Africa. 
The exquisite inner coffin of Meret-it-es, an Egyptian item from the second millennium BC, is the newest addition to the collection of antiquities. The collection also includes Greek, Byzantine, Far Eastern artifacts.
The African art collection spans 2,500 years of craftsmanship, with over 400 works in a variety of mediums ranging from wood to ivory. Pots, baskets, and elaborate quill- and beading are examples of Native American objects.
The museum's collection of European art dates from the Middle Ages to the 1800s. It focuses on 19th-century Impressionist and Post-Impressionist paintings alongside 17th-century Italian Baroque art.
9. Pay a visit to the Country Club Plaza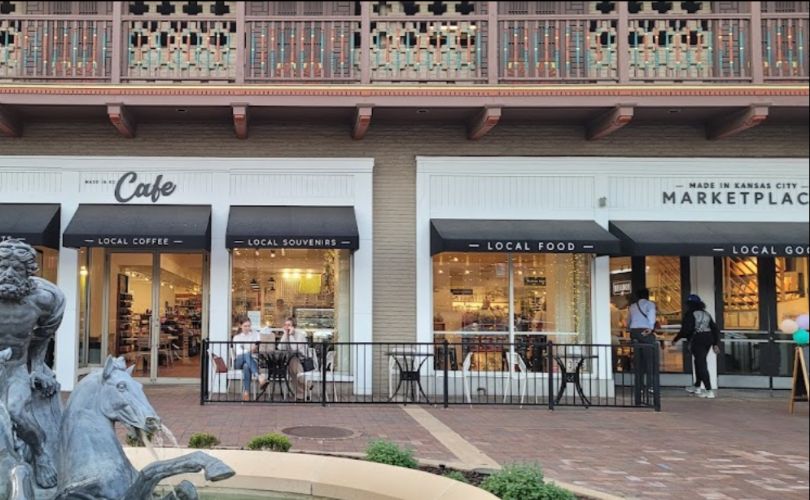 The 1920s country club plaza is an auto-centric area with Spanish architectural influences such as murals, statues, and mosaics.
These fantastic stores and restaurants offer a whole new level of luxury.
During Thanksgiving week, the season of lights' illuminates the neighborhood with beautiful lights.
Many high-end brands, like Michael Kors, Kendra Scott, and Kate Spade, are available for purchase in the plaza.
You can also eat at one of the many eateries, such as Rye, the Classic Cup, and Gram & Dun, which all serve delectable and cozy Midwestern fare.
You can also delight in magnificent events like live music and art exhibits.
10. Get Personal with sea Creatures at SEA LIFE Kansas City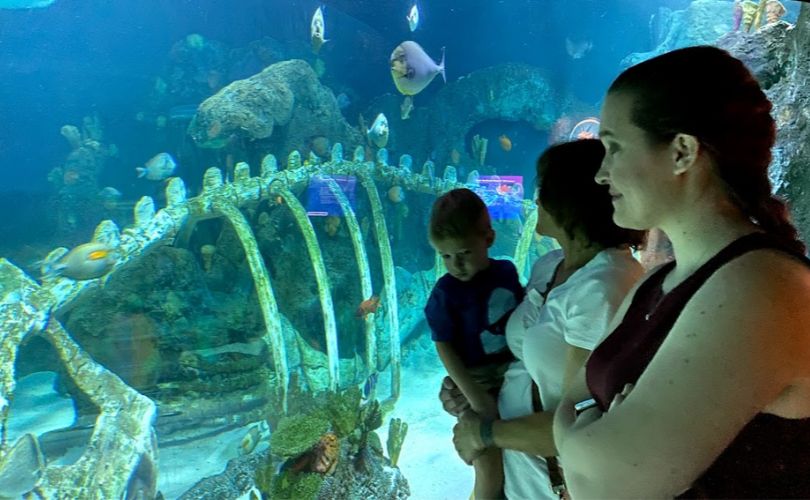 SEA LIFE Kansas City has a 260,000-gallon tank with a walk-through ocean tunnel that is housed in the same Crown Center as LEGOLAND.
Visitors to the Tropical Ocean Exhibit can observe sharks, sea turtles, piranhas, and other aquarium inhabitants from inside the clear tunnel.
The Sea Turtle Rescue Center, which houses numerous green sea turtles rescued, is one of the aquarium's most popular displays.
The Interactive Touchpool, where visitors may hold sea creatures like starfish and sea urchins, is popular with children, and is the fun stuff to do in Kansas City.
Doodle Reef, where kids can see their drawings come to life, is a great place for budding painters.
11. Marvel the Artworks at Kemper Museum of Contemporary Art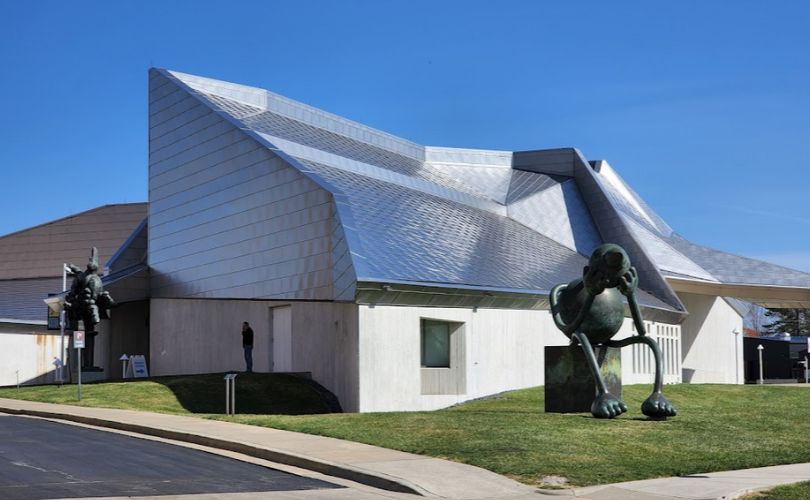 The permanent collection at the Kemper Museum of Contemporary Art began with the Bebe and Crosby Kemper Collection. Later, modern art was introduced in the house with the likes of Georgia O'Keeffe, Robert Mapplethorpe, and William Wegman.
There are free drop-in tours every Saturday that are available to the general public without reservations. A group of 10 or more can schedule for a free docent-led tour.
The museum also offers workshops and activities designed to interest a range of audiences, including children, teenagers, adults, and the entire family, and is among the top things to do in Kansas City this weekend with kids and families.
12. Experience the Top City's Attraction at Legoland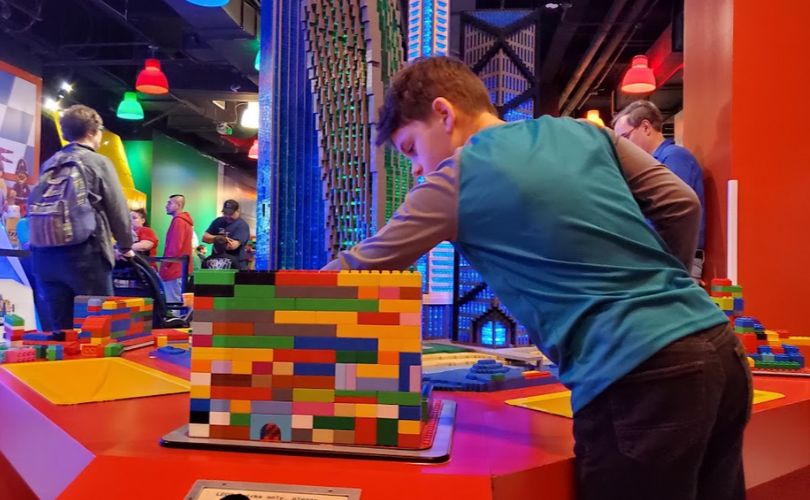 LEGOLAND, located inside Kansas City's Crown Center, is one of the top family attractions Kansas City for both young and young-at-heart people. Using more than 1.5 million LEGO bricks, a precise replica of the city is displayed here.
All of the city's notable structures, including the Crown Center, Union Station, Country Club Plaza, the World War I Memorial, and Arrowhead Stadium are represented in the models.
Aspiring builders of all ages can also speak with expert builders and attend courses tailored to their ability and age level. Children can pose for photos with their favorite LEGO characters.
Throughout the day, visitors can enjoy a selection of shows at the 4D Cinema, where each show includes a comprehensive sensory experience. There are also interactive rides, such as Kingdom Quest, which allows riders to "kill" the crooks who have kidnapped the princess.
The Merlin's Apprentice allows kids to fly in a virtual reality experience. Kids who need to burn off some energy will enjoy the Ninjago "training camp," a laser maze with a variety of physical tasks.
13. Enjoy Binge Shopping at City Market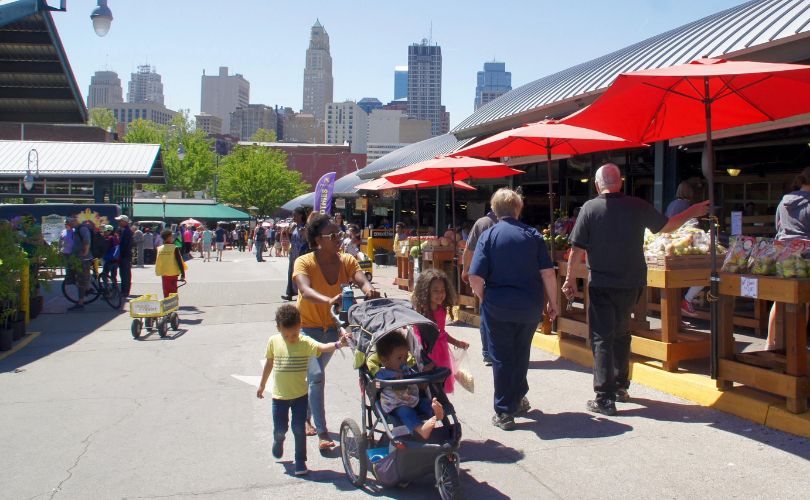 For 150 years, the City Market has been a local fixture.
It is the ideal location to indulge in a wide range of Kansas City activities, including fresh fruit from neighboring farms, decorations, bouquets, confections, and premium cuts of meat.
The market is held outdoors, creating an atmosphere that is cozy and welcoming for guests.
Additionally, it is home to a large number of genuine restaurants, cafés, and shops selling regional goods.
City Market, located in Kansas City's lovely river market district, offers the city's largest farmer's market.
Walking inside the market, without a doubt, one of the free things to do in Kansas City!
14. Shop and stroll at Union Station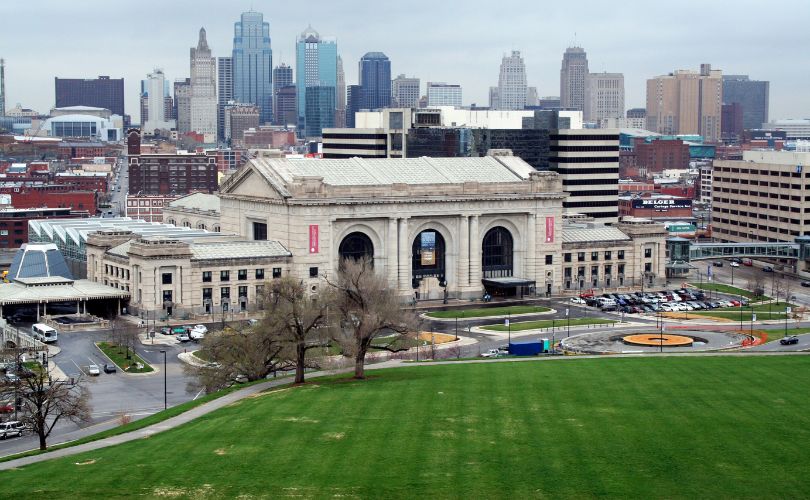 Union Station was erected in 1914 and could handle thousands of passengers. It had a waiting area with space for up to 10,000 people.
The station was shut down in the 1980s, had extensive remodeling, and reopened in 1999 with stores, restaurants, and other amenities. Given that it now serves as an Amtrak stop, the train service is substantially less extensive.
One of the best things to see in Kansas City, the edifice itself is pretty stunning. Additionally, it has a lot of unique attractions like Science City, the Regnier Extreme Screen Theater, the Arvin Gottlieb Planetarium, and the City Stage Theater.
There are also chic boutiques, stores and an abundance of restaurants.
15. The Origin & History of Greeting Cards is on the Display at Hallmark Visitors Center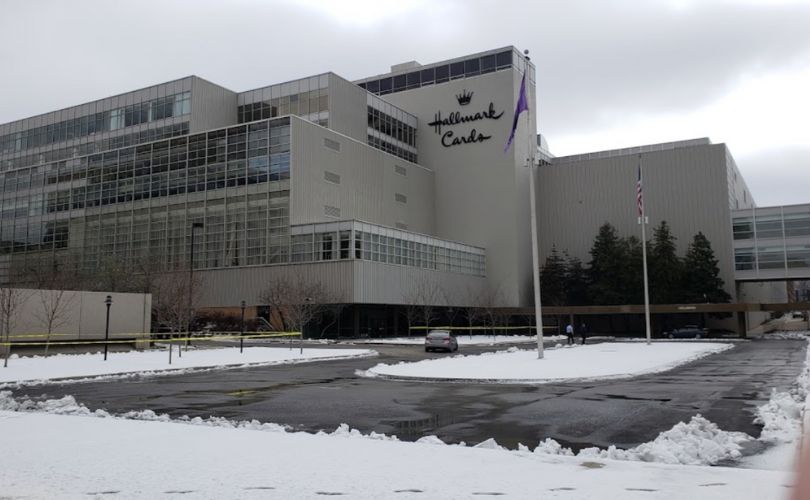 The Hallmark Visitors Center, which is a part of the Crown Center complex, offers insight into the growth of the greeting card business, and is among the top places to visit in Kansas City Missouri.
It chronicles the rags-to-riches journey of Joyce Hall as she established a global organization founded on compassion.
A video and interactive stations are among the exhibits at the center that examine the company's history.
Additionally, it is the location of Kaleidoscope, a facility for young artists where children can work with a variety of mediums. The free, 50-minute seminars are guided by members of Hallmark's own creative team.
16. Experience the Unique Reenactment at Arabia Steamboat Museum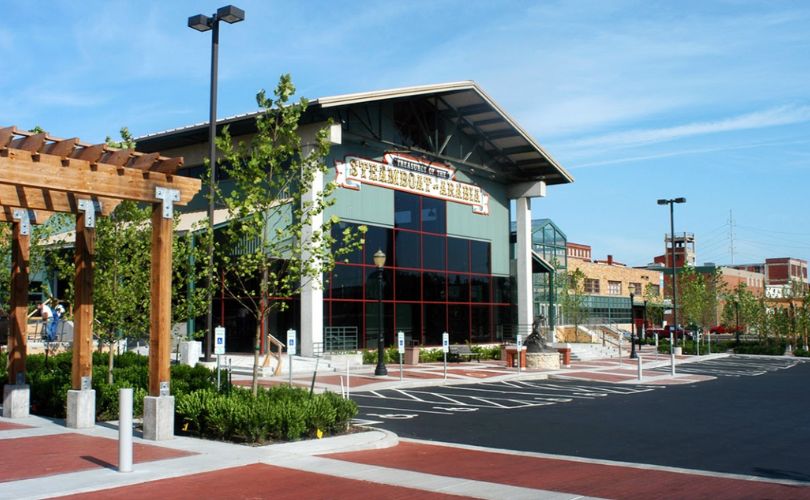 On September 5, 1856, a riverboat carrying 400,000 pounds of supplies bound for Midwest general stores sank in the Missouri River, approximately six miles from Kansas City.
The Arabia had been lost for more than a century until being unearthed 45 feet beneath a cornfield by an amateur archaeologist.
The boat's wreckage and cargo were buried in soil and preserved as if in a massive time capsule as erosion changed the path of the big river. As a result, there is a vast collection of pre-Civil War antiques that represent the items and food that pioneers used on a daily basis.
In fact, there were so many items discovered that the museum's staff is still maintaining the relics' cleanliness today.
Visitors to the museum can observe this process, and things are continually added to the exhibitions as they are repaired.
Toys, tools, cooking, and even china sets are among the many commonplace goods found in collections.
The museum also features displays about the heyday of steamboats on the Mighty Missouri, a river that was the death trap for hundreds of steamboats.
Ain't it one of the interesting things to do in Kansas City MO?
18. Have a Few Drinks at Boulevard Brewing Company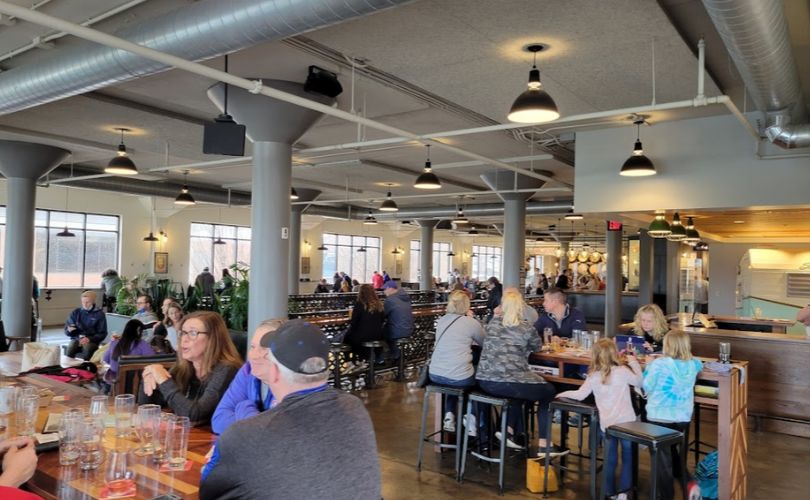 For more than 30 years, Kansas City's largest independent brewery has been producing a smooth Pale Ale which is also fairly priced.
It is located just south of Kansas City on the scenic banks of the Missouri River.
On a trip to Europe in 1989, the proprietor of the Boulevard brewing firm had an epiphany after tasting some of the silky Belgian beers.
The company exclusively uses the finest ingredients in its brews and adopts sustainable business procedures.
Beverages include unfiltered wheat beer, American Kolsch golden lager, beer with tangerine peel and sea salt, and jam band beer ale, among others.
Check out it: Best Places to Visit in Missouri
19. Reserve Your Evenings For at Ewing and Muriel Kauffman Memorial Garden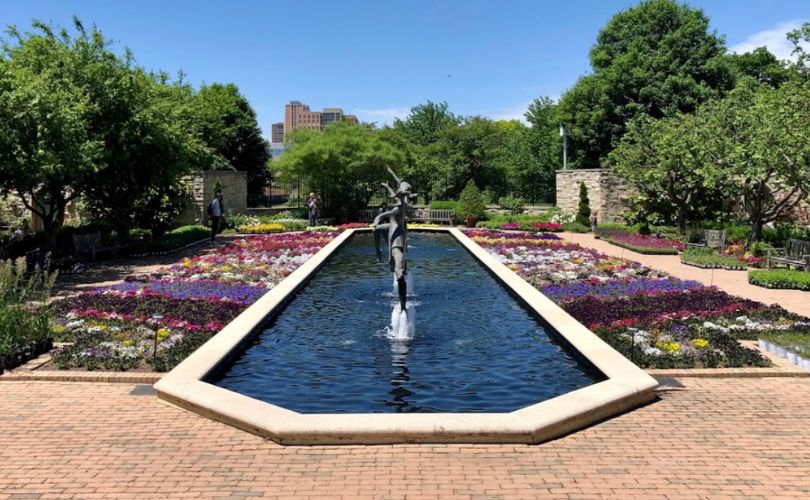 The Kauffman Memorial Garden, which spans two acres, is serving as a haven for outdoor pursuits to the citizens of Kansas City.
The gardens have a mix of ornamental and shade trees, as well as beds with both perennials and annual plants that are switched out seasonally.
The park also features many bronze sculptures by artist Tom Corbin, as well as fountains and stone landscaping.
Parking and admission to the gardens are free. The entire park is wheelchair accessible, and is among the best places to visit in Kansas City.
The 75-acre public park known as Jacob L. Loose Park is another fantastic green spot. It has a 1.5-acre rose garden with about 130 different species.It also has recreational facilities such as tennis courts, fountains, and a spray park where kids can indulge into fun things to do Kansas city mo.
20. Jazz Lovers Must Head to the American Jazz Museum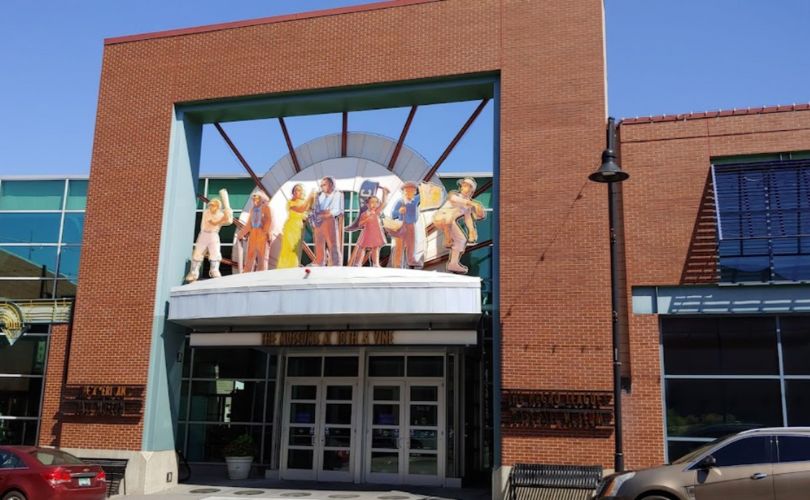 The American Jazz Museum is located in the Historic Jazz District of Kansas City.
It was previously home to some of the genre's most prominent musicians, including Big Joe Turner, Count Basie, and Charlie Parker.
One of the unique things to do in Kansas City, the visitors to the museum will be immersed in all facets of jazz, from its history to an examination of the music itself.
Personal objects like Charlie Parker's saxophone and Ella Fitzgerald's gown are kept in collections along with souvenirs like posters and portraits.
Listening stations, mixing boards, and films are among the other exhibitions.
The museum also houses the Blue Room, a jazz bar with live music several nights a week, and the fully restored 1912 Gem Theater, which presents a diverse range of events and shows.
21. Encounter wildlife at Kansas City Zoo
Following extensive upgrades in recent years, the Kansas City Zoo has emerged as one of the region's favorite family destinations, and is one of the fun things to do in Kansas City mo.
It is home to approximately 200 kinds of wildlife from throughout the world, with special emphasis on each animal's habitat and quality of life.
African elephants, tigers, leopards, giraffes, marsupials, and various primate species, including Rare and endangered orangutans, blue chimpanzees, gorillas, and others, are among its 1,700 residents.
The zoo is also home to animals that live in the ocean, such as crabs, manta rays, and other aquatic life. There are animals that swim occasionally such as penguins and sea lions.
The Helzberg Penguin Plaza is one of the zoo's most well-liked exhibits; it is an outstanding ecosystem made of ice and stone that nearly matches their natural habitat. Visitors can witness the energetic birds slide, swim, and play on the ice, in the water, and in fresh snow that falls from the sky in their environment. In addition, astute observers will notice eight camouflaged nesting boxes within the rocks, where the occupants nurture their young.
The Kansas City Zoo has also made significant investments in its primate habitats and continues to expand its facilities to improve the lives of its animals. A more recent facility called "Orangutan University" offers the orangutans opportunity for both exercise and education.
Other highlights include a 1,300-gallon jellyfish tank. Do not miss the StingRay Bay, a 20,000-gallon touch-tank that nestles southern and cownose stingrays alongside whitespotted bamboo sharks.
The zoo also provides unique opportunities for visitors to interact with Aldabra turtles, rhinos, horses, dolphins, and elephants.
Best Places to Eat in Kansas City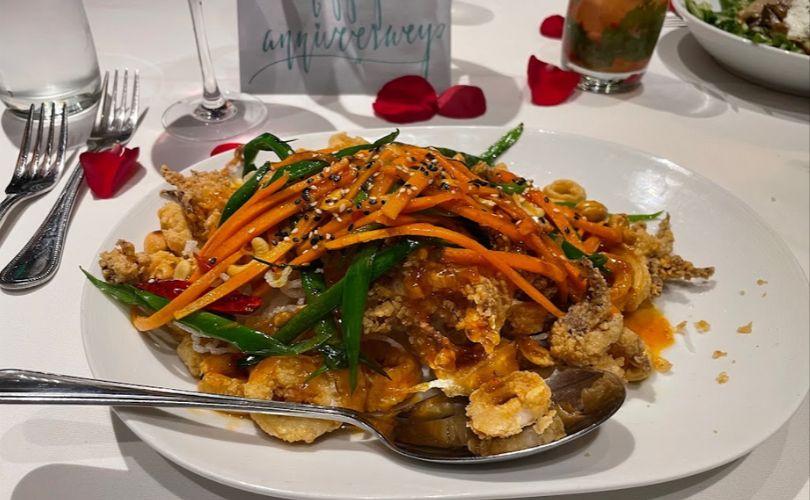 The first thing that typically springs to mind when you think about Kansas City's top-notch barbecue.
Furthermore, while this is true, you'll be happy to learn that KC has much more to offer than just chops and burnt ends.
In reality, this Midwest city has a thriving culinary scene, allowing visitors to sample delicacies from all over the world, including Italy, Ethiopia, and Mexico.
Therefore, if you have any plans to visit Kansas City soon, think about stopping by one of the top eateries on the list below.
Eddie V's Prime Seafood
Eddie V's Prime Seafood is the most elegant seafood restaurant in Kansas City. Fresh, high-quality ingredients are used in their dishes, which are well complemented by their wide assortment of cocktails. In addition to its delicious seafood options, the classy restaurant also has a fantastic steak menu and cocktail lounge.
Address – 700 W 47th St Ste 115, Kansas City, MO 64112
Cascone's
This 1954-founded, family-run Italian restaurant serves both classic and contemporary Italian cuisine. There aren't many places to go in Kansas city where you can start your meal with breaded shrimp and Italian nachos. Linguine and bolognese alfredo are two of their pasta dishes, which are cooked with fresh veggies and parmesan. For customers who want to taste everything, Cascone's combination plates are a big favorite.
Location – 3737 N Oak Trafficway, Kansas City, MO 64116
Corvino Supper Club
If you're in Kansas, make sure to eat at Corvino. One of the city's most exquisite dining establishments combines two different concepts into one space. The restaurant has a Supper Club and a Tasting Room. You can order one of the many sharing plates and seat down in the dining area at the Supper Club. However, if you can get a seat in the Tasting Room, you may observe the experts preparing an incredible dinner.
Address – 1830 Walnut St, Kansas City, MO 64108
Jasper's Italian Restaurant
Since 1954, Jasper's Italian Restaurant has been serving high-quality Italian food. The menu of the restaurant offers a wide variety of traditional Italian foods, including pasta, bruschetta, soups, salads, and paninis. The succulent Sicilian pork chop, eggplant Othello, and pesce San Pietro are among the restaurant's most well-known dishes. The eatery also provides six different veal meals for those of you who enjoy veal.
Location – 1201 W 103rd St, Kansas City, MO 64114
Best Places to Stay in Kansas City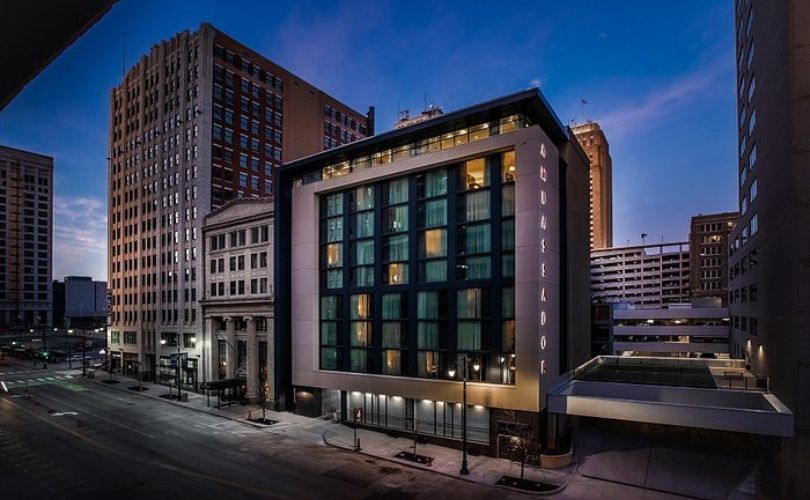 The primary attractions in Kansas City are concentrated in the dynamic city center, which also houses many of the greatest hotels. The National WWI Museum at Liberty Memorial is one of the historical landmarks in the south section of downtown that attracts tourists. The Power and Light District, further north, is the newest entertainment district, home to eateries, boutiques, and music venues. Here are a few recommended hotels in good areas:
The boutique Ambassador Hotel is housed in the renovated 1920s Neoclassical Gate City National Bank building. It is a short stroll from City Hall and offers 43 opulent rooms with excellent service.
Address – 1111 Grand Blvd, Kansas City, MO 64106
Families will appreciate the large, luxurious rooms, indoor/outdoor pool, and towering Sheraton Kansas City Hotel at Crown Center. This hotel offers a free local shuttle service and is located directly across the street from LEGOLAND. Breakfast is complimentary.
Address – 2345 McGee St, Kansas City, MO 64108
The Westin Kansas City at Crown Center offers lovely views of the city and is connected to the Hallmark Visitors Center and Union Station via skyway. It also offers a complimentary shuttle service. Other amenities include outdoor pool, spa, and the fitness center.
Address – 1 E Pershing Rd, Kansas City, MO 64108
A few kilometers south of the city center, the Best Western Plus Seville Plaza Hotel boasts Spanish-themed decor and is close to Kemper Museum of Contemporary Art.
Address – 4309 Main St, Kansas City, MO 64111
When are you Planning Your Trip to the Kansas City MO Attractions?
And although the best activities to do in Kansas City have been briefly described, these should just be a starting point for travelers. As has already been mentioned, Kansas City is a city with a lot of history, but that also means it's a place with plenty to see and do. The tourists that brave the cold for this Midwestern metropolis will not be disappointed.