In the English county of Cumbria, Keswick is both a civil parish and market town . It is located within Lake District National Park. Derwentwater is a panoramic body of water to its north. This area was inhabited in prehistoric times and has several remnants.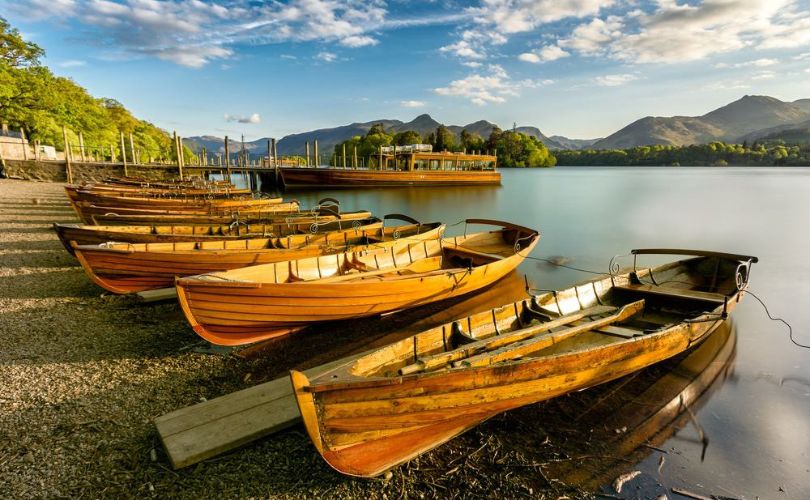 The area has a long history of being a popular vacation spot. For over 150 years, tourism has served as the country's main sector. Evidently, there are a lot of things to do in Keswick for tourists.
It gained fame due to its connection to several poets like Robert Southey. Poets published the town's picturesque attractiveness to readers in England and across. This lovely town contains many historical buildings and is worth a trip.
Top Things To Do in Keswick, Cumbria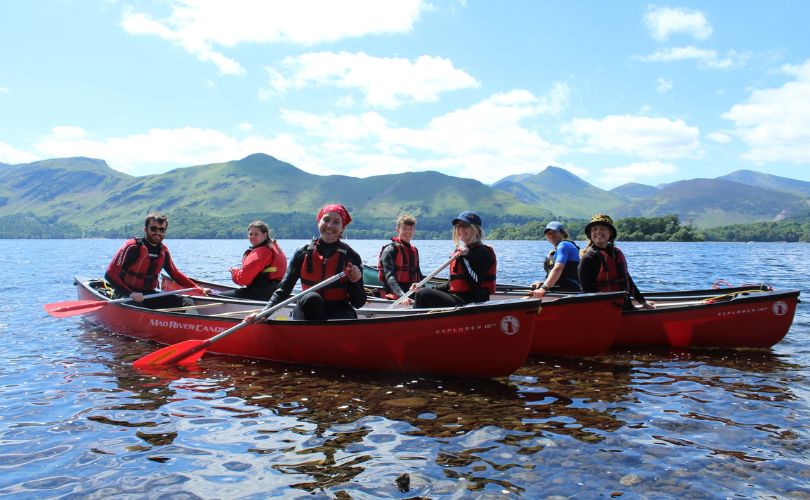 Whatever your idea of a vacation is, Keswick will undoubtedly offer you something that will interest you. It is a small town in the county of Cumbria. It has a unique culture, a richness of history, and a peaceful atmosphere.
Situated along Derwentwater Lake, this town features some breathtaking landscapes. Beyond the natural wonders, this town near Lake District National Park has trendy entertainment areas. You can now prepare for a detailed trip to Keswick.
1. Watersports and Scenery are Highlights of Derwentwater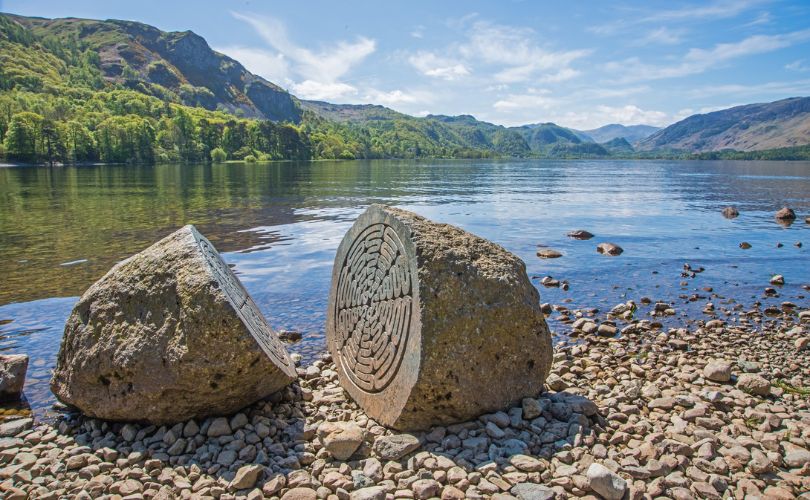 Keswick's top attraction, Derwentwater, is a ten-minute walk from the main street and features a shoreline. It is primarily overseen by the National Trust. The lake is about 3 miles in length, and you can complete the eight-mile circular trail in about half a day.
On a bright summer morning, wake up early to capture a snap of the lake's crystal reflection. The lake's steep edges and the epic valley of Borrowdale give it a touch of elegance. Lastly, don't miss the opportunity to engage in multiple watersports.
2. Learn more About Prehistoric Era at Castlerigg Stone Circle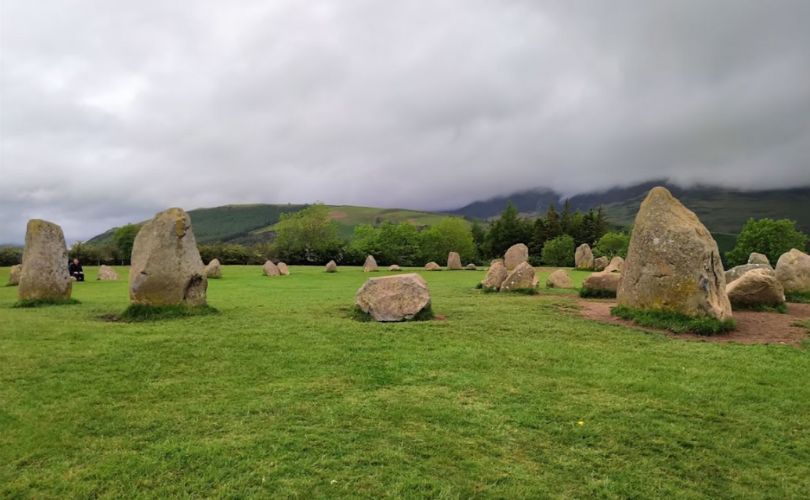 It's difficult to imagine a prehistoric structure in a more beautiful setting than that of Castlerigg Stone Circle. It is surrounded by High Rigg, Skiddaw, Castlerigg Fell, Blencathra, and Clough Head falls.
Ancient occupants may have found this location highly significant.
It is believed that groups traveled from the coastline in the west to the Eden Valley.
They would have gathered at Castlerigg.
There are 38 standing stones that are approximately three meters high.
Evidently, the circle is one of the oldest in the United Kingdoms.
3. Climb to the Summit of Cat bells
In the English Lake District, Catbells' top is close to Keswick. It is considered to be among the ideal walks in the Lakes. It is among free things for you to do in Keswick. Moreover, the climb is suitable for people of all ages.
Due to its proximity to this town, the walk is very well-liked. It offers one of the best views of the entire town and the nearby fells. It is a great trek for beginners because it's very short. The amber color adds to the charm of the route in the fall.
4. Keswick Museum for History Enthusiasts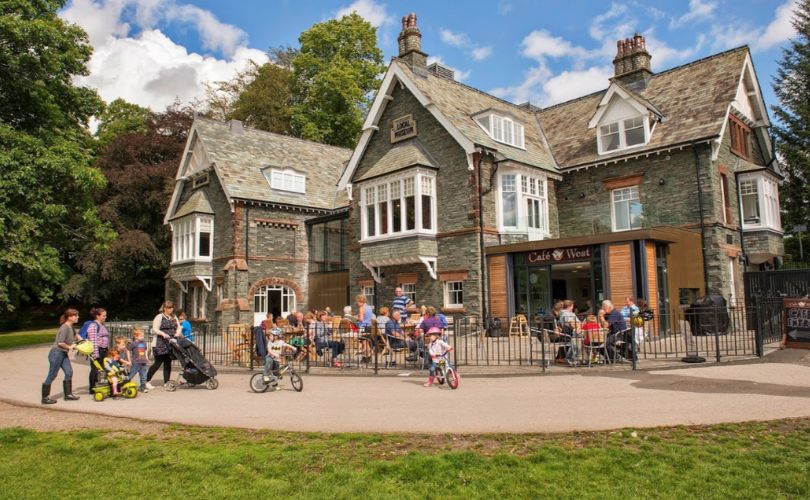 The Keswick Literary & Scientific Society established the Keswick Museum in 1873. Initial collections included the geological samples of James Clifton Ward. Those were primarily devoted to natural history.
Electricity was installed in the 1905 addition to the Art Gallery.
After extensive repairs and expansions, the museum was reopened in 2014.
It has a reputation for having peculiar exhibitions.
One of these is an eight-octave lithophone made of extremely hard hornfels called the Musical Stones of Skiddaw.
Other items include:

a teacup that belonged to Napoleon,
an ancient preserved cat,
a row of exhibited taxidermies.
5. A Romantic Dinner at Casa Bella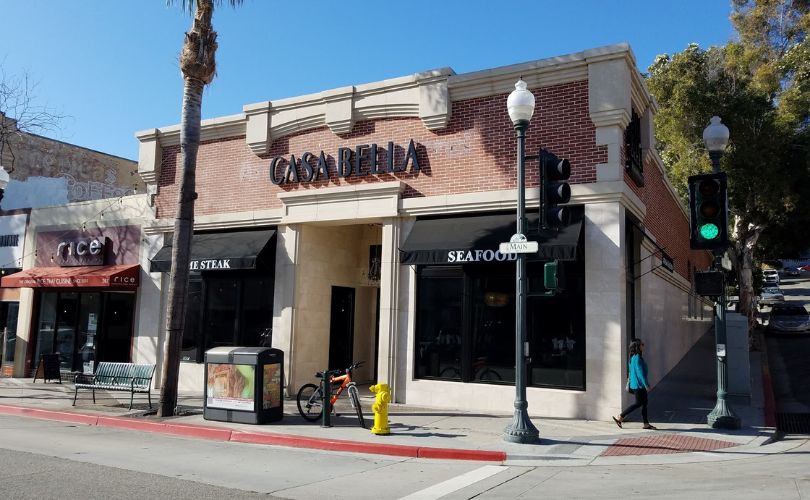 In the lively center of the town, Casa Bella is situated. There are three venues in different areas of the town. Either a lunch for two in a romantic nook or a large family meal can be enjoyed here.
The laid-back ambience is perfect for a quick coffee or a small meal. Regional and homegrown are common features in everything they create. It serves as the basis for all they do, adding local charm and distinctive taste.
Their menus include daily specialties in addition to classic Italian cuisine. The star of their menu is gelato. So, finish the meal with something sweet.
6. Theater by the Lake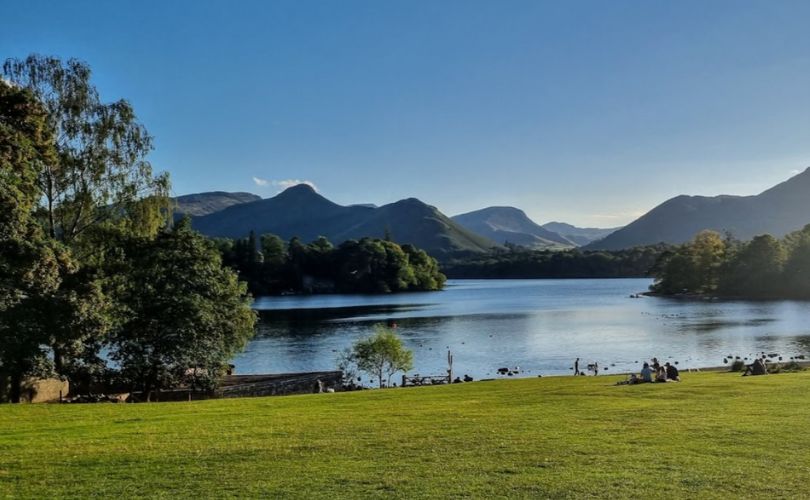 By Derwentwater in Keswick, there is a playhouse called Theater by the Lake. Artists from a local company perform six plays from May through November. The theater also puts on two spring productions and a Christmas performance. These artists are talented in giving marvelous performances.
The theatre hosts festivals and events throughout the year, including
Words by the Water
Keswick Film Festival
Jennings Keswick Jazz Festival
Programs for the Keswick Mountain Festival.
Theater by the Lake also hosts dramas, musicals, dancing, comedy, and cinema. All in all, you will love your time here
Note: You can check their calendar and book for your favorite play.
7. Kids will Find Derwent Pencil Museum Interesting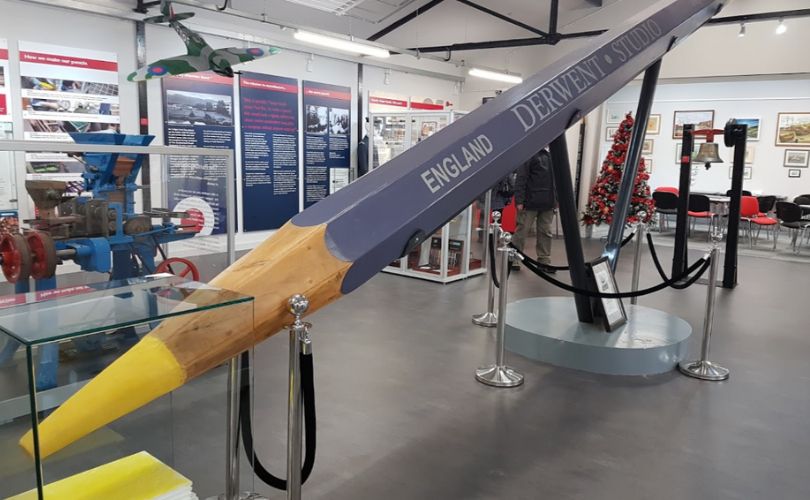 At the entrance of the Derwent Pencil Museum, you will find a replica of the Seathwaite mine. It was at this mine that graphite was first found.
There are sufficient signs, images, and meticulously preserved equipment.
You can follow the development of pencils here.
Even the current method for making pencils is accessible.
The Derwent Pencil Shop is stocked with a whole line of Derwent Fine Art Pencils.
The shop is accessible for free.
A cafe with free WiFi is here for visitors to relax in.
You can get a cup of coffee and homemade pastries.
The museum is a great year-round family activity.
8. Hope Park Games and Cafe: Good Food and Beautiful Gardens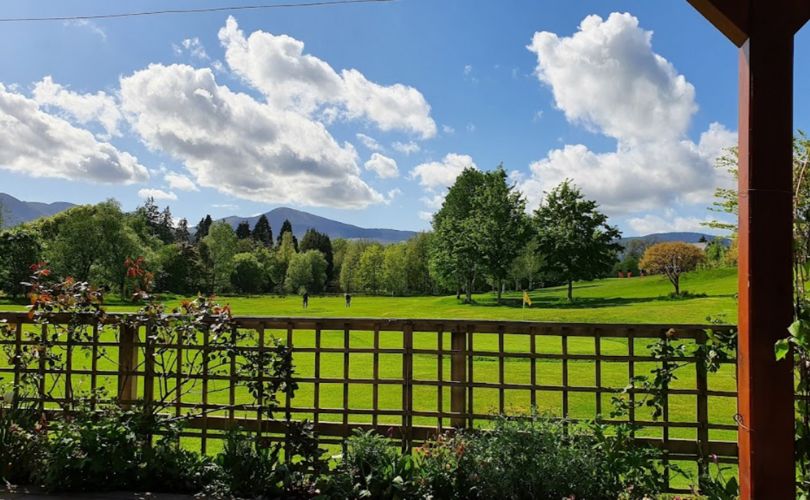 Hope Park Games and Cafe may be found just a short stroll from the town's main attractions. It ranks among the best family activities in Keswick. The lovely park offers
lovely flowers
classic games and pursuits
a bird hide
a nature trail
Top Keswick attraction includes the presence of picnic spots and a warm cafe with both indoor and outdoor seats. When visiting, be sure to bring your camera because the area is surrounded by breathtaking landscapes. Enjoy a tasty English Lakes ice cream. Play a round of golf while admiring the stunning Catbells.
Note: The park and its amenities are accessible all year round.
9. Moot Hall: A Prominent Landmark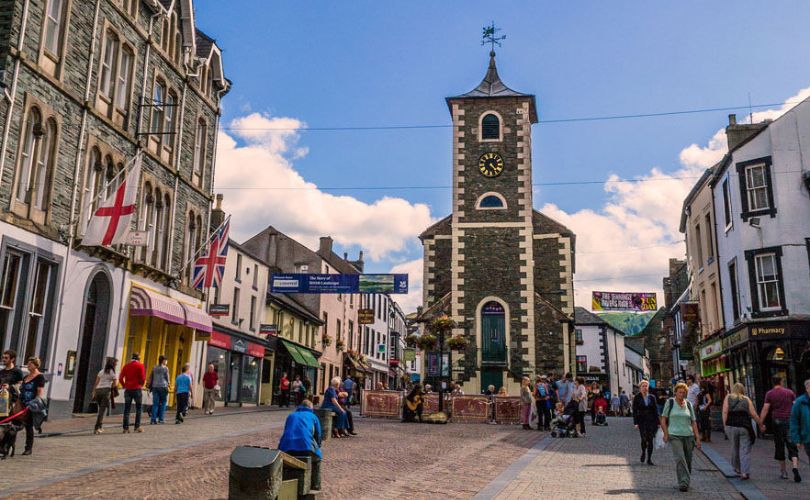 In the Lake District town of Keswick, the current Moot Hall was constructed in 1813. The building serves as a marketplace, museum, gallery, and information center.
The structure dominates Market Square in the center.
Moot Hall serves as both the beginning and end of a number of Lake District adventures.
The Keswick Tourist Information Centre is now located on the ground floor.
Periodic art exhibitions are held at the gallery located upstairs in the hall.
Before going on a hike, you should visit and find out more about the heritage.
There may even be an interesting art display here.
10. Drive Down to Whinlatter Forest Park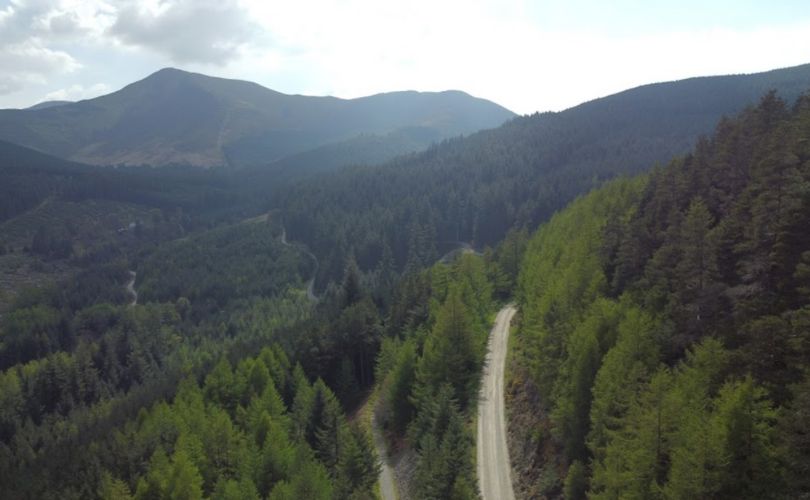 Just by the limits of the town, Whinlatter Forest Park is a beautiful location. There are many things to keep tourists interested. Some of them are covered below.
Although the wooded roads are not marked, horse riders can explore the area.
Mountain biking is a new method for navigating the forest.
Combining forest roads with sections of Quercus mountain bike route will enable you to see the wild.
The Sensory Walk is conducted mostly on forest roads.
You might want to get the Making Walks Sensory toolkit prior to going.
It offers suggestions for organizing walks and some engaging exercises for the senses.
11. Whinlatter Forest Park Forest Segway – an Unique Adventure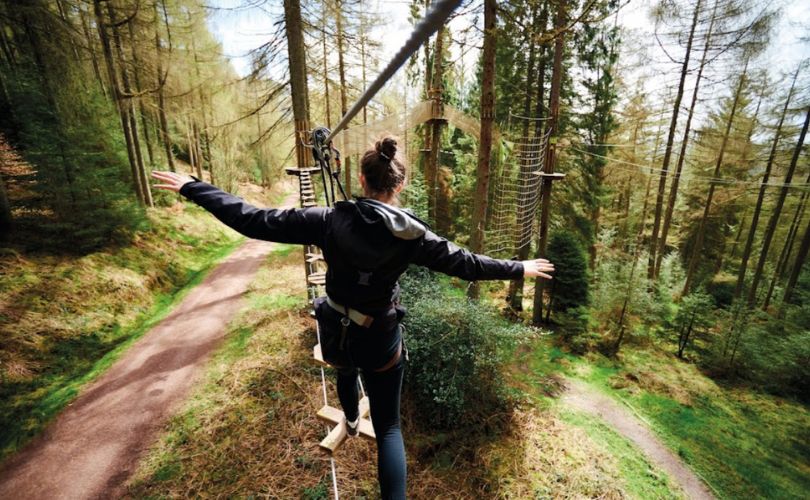 Get some unmatched views of the wilderness by boarding an all-terrain Segway. Visitors are taken to spectacular viewing locations by the Go Ape crew. Here, you can take in the scenery from Skiddaw to Helvellyn.
Before you set out, you will receive instruction and have the opportunity to practice. This hour-long, circular trip along winding routes is both pleasurable and relaxing. Go Ape takes great satisfaction in making their trips accessible to those with disabilities.
Tip: Contact them or drop by the office to discuss any requirements you may want to discuss.
12. Pheasant Inn to Dine and Relax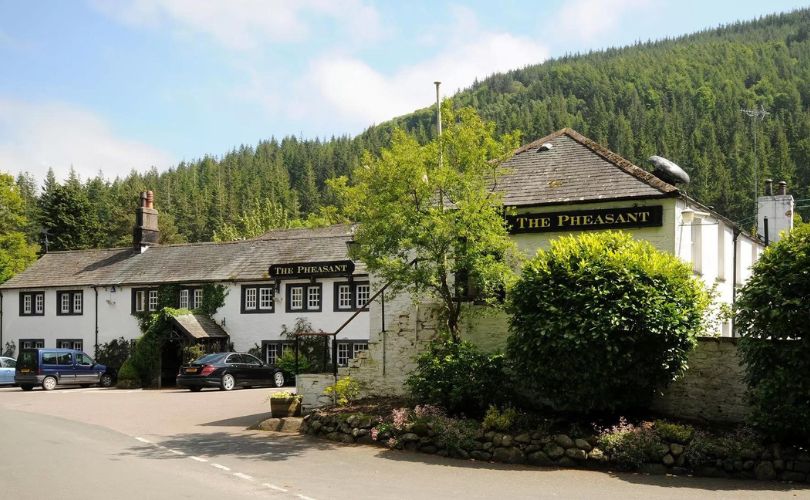 The Pheasant Inn is situated on Crosthwaite Road. It is beside the northwestern entry to Fitz Park. It is a small establishment that offers top-notch cuisine and regional drinks.
There are dining options both indoors and out.
They are proud to prepare and serve some of the best local traditional cuisine.
The house specialties include homemade steak pies, fish pies, and pork Cumberland sausage.
Top highlights include the pan-seared sea bass filets, regional Venison Bourguignon, and Cumbrian Lamb Henry.
Their wonderful flavor goes well with a variety of regional beverages.
The Pheasant Inn accurately reflects the local nightlife.
13. Head to WildPlay Trail with Kids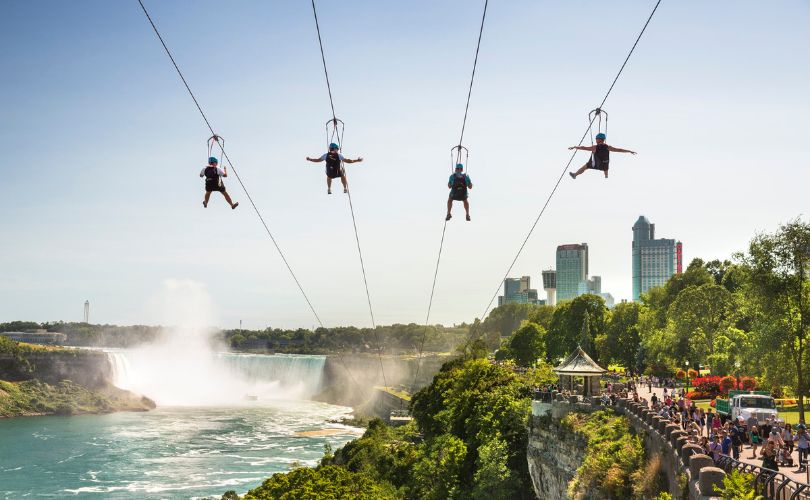 This mountain forest trail was created keeping children in mind. They offer about nine play areas in lovely natural surroundings. It has several things for families to do in Keswick with young children.
There are slides through the trees, splash pads, and swings. Moreover, a fun play space has also been created by them. You can have fun and participate in challenging activities with your children here.
Even a wall or a huge wooden climbing frame are options for them to try. The WildPlay Trail's appeal is enhanced by the log swings. This route can be planned alongside other park activities.
14. A Short Trek at Walla Crag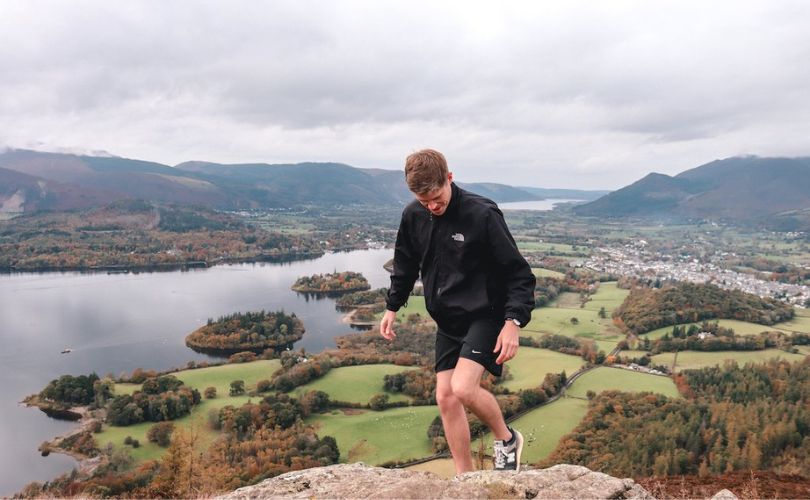 The Walla Crag hike starts from the charming town. It offers breathtaking views of Derwentwater and the neighboring fells. Before reaching the peak, you'll walk through some lovely trees and rivers. Starting at Moot Hall in the town center, proceed to St. John's Street and turn left.
St. John's Church will shortly be on your right.
Take a right onto Springs Road as the street makes a left turn and begins to ascend.
Great views are promised throughout the route.
Additionally, it passes through famous landmarks.
Hence, it's a fantastic opportunity to get to explore the town.
15. Get a Souvenir at Keswick Market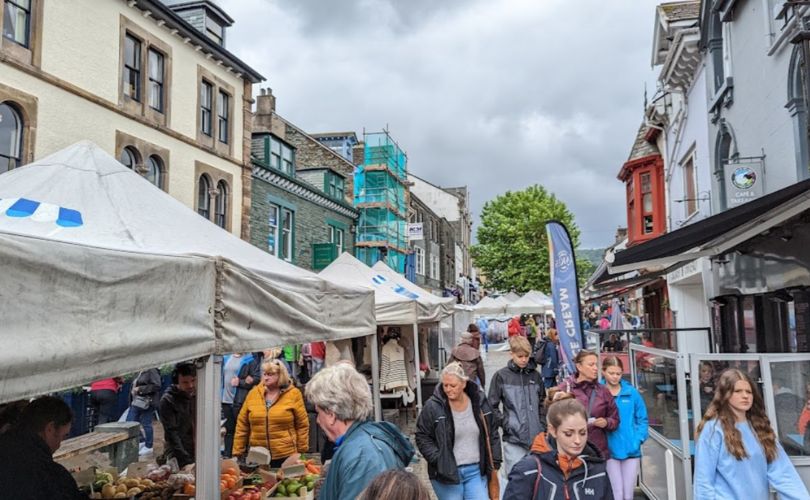 In the Lake District, Keswick Market is often recognized as the finest market. It draws residents and tourists to the town throughout the year. The market extends from Market Square to Bryson's bakery. On foot, you can explore the entire area.
Several vendors put up their stands with a variety of goods.
Most things available here are made locally.
It includes food, drinks, clothing, footwear, paintings, handicrafts, and souvenirs.
The food vendors sell

Locally sourced meat and seafood
Fresh veggies
Homemade bread
Baked goodness
A variety of preserves
Finally, enjoy some delicious hot local food or pack it for a picnic.
16. Merienda: For the Best Lunch
Known to use only the best seasonal, locally sourced ingredients, Merienda is a great place for having lunch. They have artisan coffees, pastries, and sandwiches, as well as a continental evening menu. Visit there with friends to indulge your palate. To top it all off, dogs are welcome at the restaurant.
They prepare great, hearty meals that will satisfy you. Their welcoming staff extends great service to dogs and tired guests. They enjoy providing people who are hungry with food and water to help them get ready for the day. And finally, they are open every day of the week.
17. Take Prior Permissions for Lodore Falls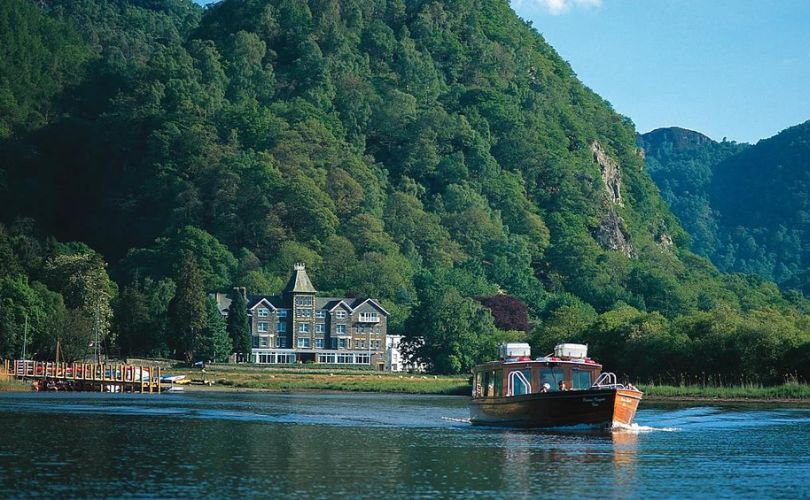 By the Grange, later part of Derwentwater, there is a place called Lodore Falls. Visiting the waterfall is an unusual thing to do in Keswick.
The Watendlath Tarn beck flows over giant rocks to create it.
It is a site of scientific interest in an oak forest on personal land and Lodore Hotel provides access.
The falls are, however, impressive during periods of intense rain.
It dries up during extended dry spells.
Although it is preferable to visit it after rain, it is worth seeing in any season.
Note: Robert Southey describes the waterfall in his poem "The Cataract of Lodore."
18. Old Keswickian Fish & Chips Restaurant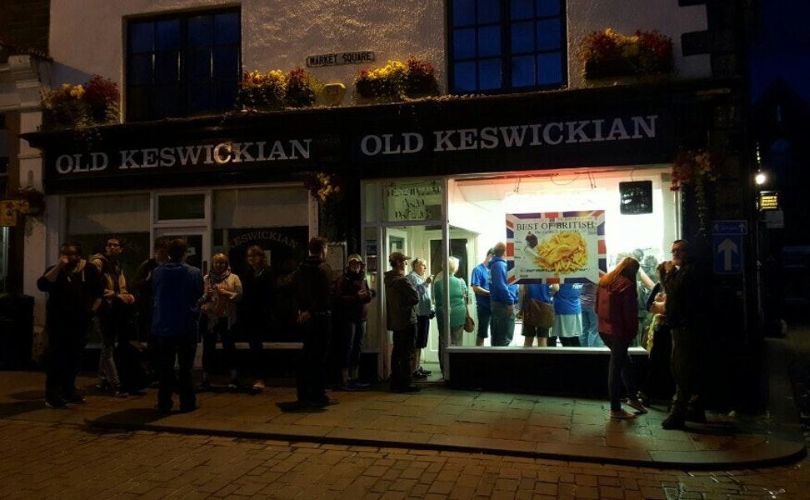 For more than 40 years, the Old Keswickian Fish & Chips Restaurant has been operating to serve people. Its location makes it an excellent setting for typical British fish and chips.
Recently, they expanded their menu by adding a variety of home cooked meals prepared with native ingredients. It contains the well-known Cumberland sausage. It's a fiery regional specialty prepared in Keswick. You could even try their other well-liked meal, which is homemade steak, ale & mushroom pies.
Note: For reservations, you must get in touch with them. Furthermore, takeout is offered on the weekends as well.
19. A Romantic River Cruise with Keswick Launches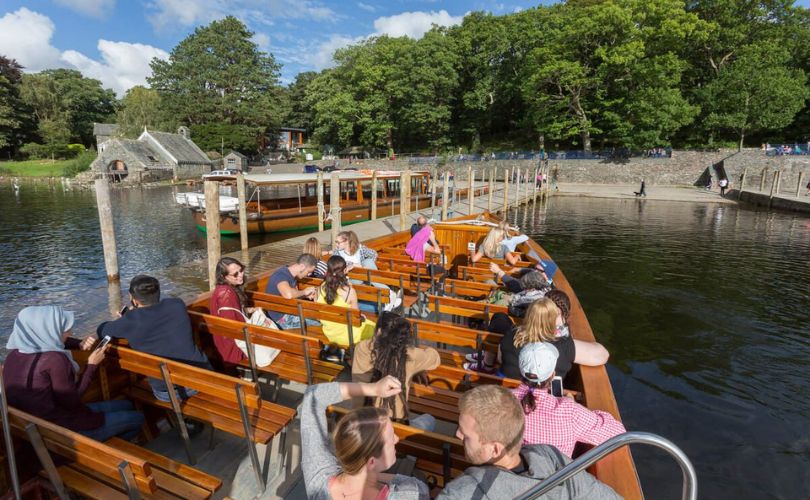 This town in the Lake District may be explored in a very unique way by taking a cruise on Derwentwater. Take a lake boat ride via one of the Keswick Launches to see stunning scenery. Views of the Jaws of Borrowdale, Catbells, and Skiddaw are particularly beautiful.
Go on the 50-minute round-trip river cruise with your family. Take a walk after arriving at one of the eight piers along the way. All over the year, their four launches run on a regular basis. Even a special, intimate launch with your loved ones can be scheduled.
20. Family Fun at Puzzling Place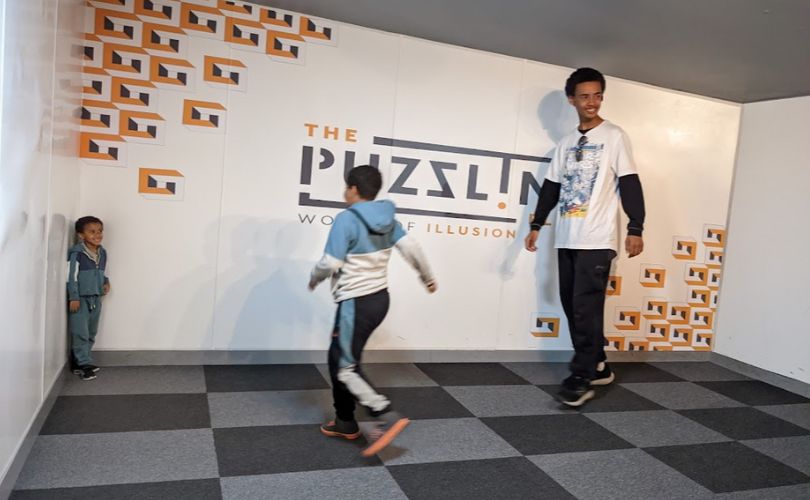 Illusion serves as the central concept of The Puzzling Place. Their Eyelusions Exhibition, Ames Room, Anti-Gravity Room, and Hologram Gallery are located there. This journey into the marvelous arena of optical illusions is extremely interesting and enjoyable.
This illusion world is perfect Keswick activities to engage and enjoy alongside loved ones. The optical illusions have appealed to people of all ages. The facility is open all year long. As a result, tourists can enjoy themselves on the weekends.
Note: The timings vary during the summer and winter. So, before going, check with them.
21. Latrigg is Perfect for Adventurous Travelers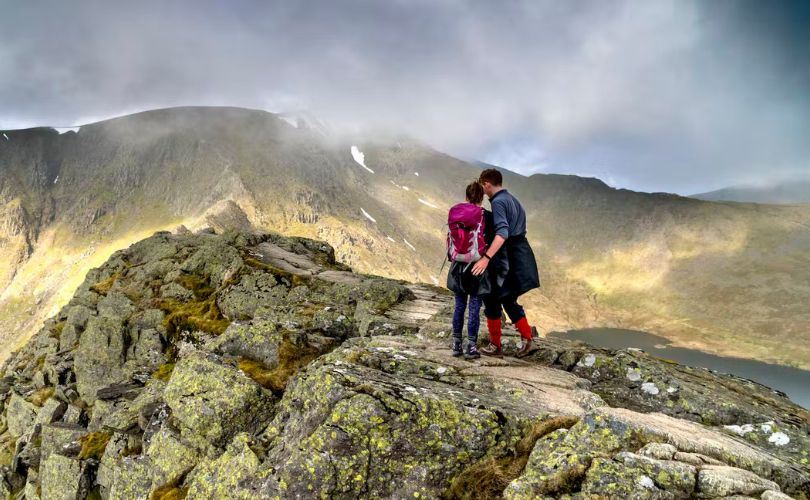 You should visit Latrigg because it is just a 6 minute drive from the town. The views, especially those of Keswick and Derwentwater, are stunning from the peak.
Even the Skiddaw Range is perfectly visible from here.
It is a simple uphill and downhill path through Spooney Green Road.
A circular path around leads to the top.
There is a small parking area at Gale Road with a limited mobility path to the viewpoint.
In case you can't go to the top, stop by the viewpoint.
Latrigg is the ideal location for a short yet fulfilling hike.
22. Stop for a Cricket Match at Fitz Park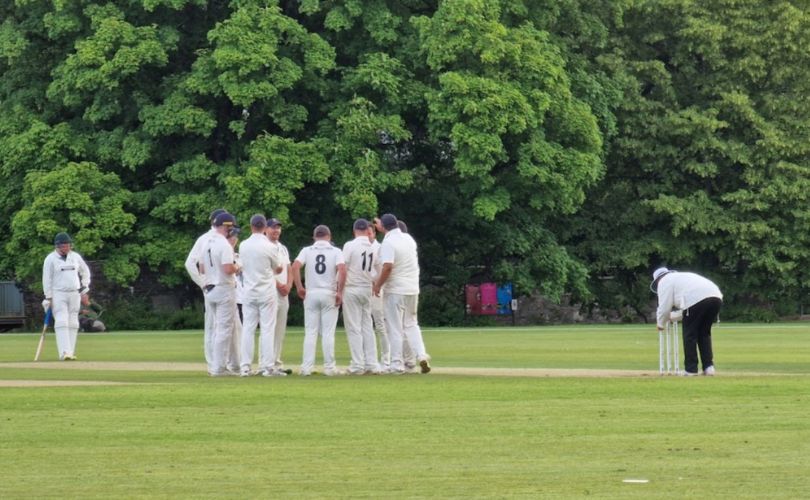 Fitz Park has a riverbank location and is just a short stroll from Keswick Market Square. It provides breathtaking, unrestricted panoramas of Latrigg and Skiddaw. It's a great place for picnics because of the setting.
Along with a multipurpose sports area, the Upper Park also offers:
fitness equipment
BMX track
Recreational area
Children playground
The Lower Park even features a bowling alley, tennis courts, and gardens. When traveling here, check the schedule at the cricket pavilion and swing by to catch a few thrilling overs.
23. Don't Miss Brossen Steakhouse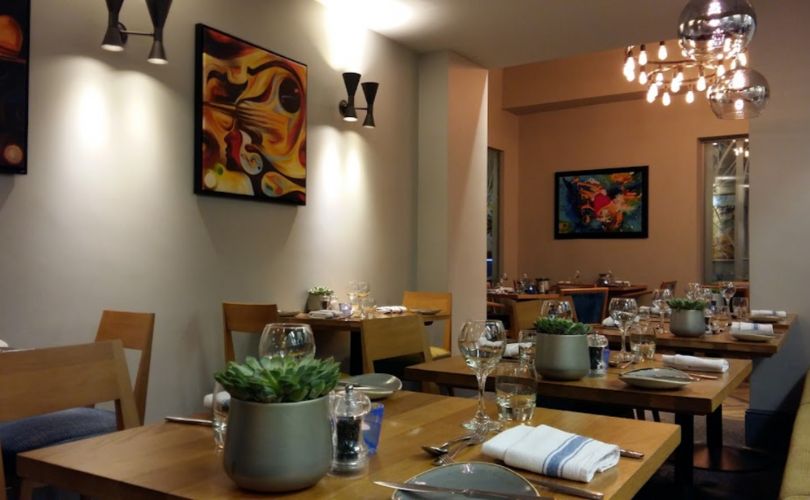 The focus at Keswick's Brossen Steakhouse is on lavish steaks and authentic cuisine. They provide incredibly flavorful meat along with a variety of locally sourced items.
From succulent chops, oak-smoked rump, filets, and succulent steak to the supreme Chateaubriand, they have it all.
Everything is perfectly grilled and prepared to your preference.
Enjoy selecting from a superb assortment of drinks while taking in the ambience.
The guests can see the live cooking through the large windows.
You will undoubtedly have fun.
Call them or go online to reserve a table for friends or a date.
24. Square Orange Café: A Pet-Friendly Cafe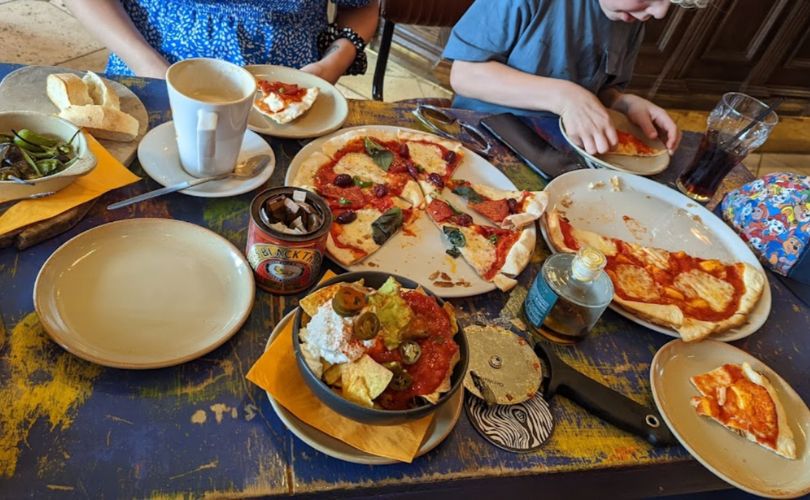 The locals like Square Orange Cafe, a hidden gem in the center of the town. It is a fantastic location to chill out with a unique coffee selection. Freshly baked pizzas and live music will complement your evening.
In order to experience unique blends, try their Cumbrian guest roast. They provide a variety of nachos and tapas. They have everything, whether you're looking for a quick snack or a complete supper.
Moreover, they offer a rotating menu complementing their usual one. Last but not least, because it is a dog-friendly area, you don't need to worry about your pet.
25. Enjoy a Lavish Spread at Thyme Bistro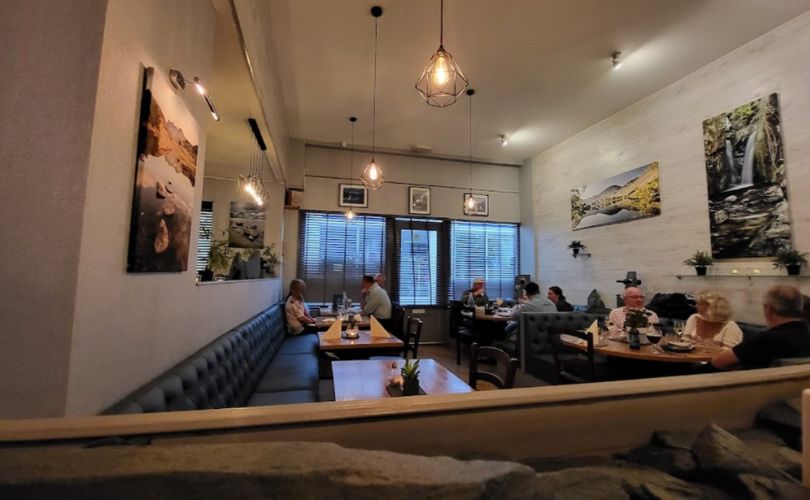 Thyme Bistro takes great satisfaction in providing warm, welcoming service. They simply seek to serve freshly prepared meals. It features a designated romantic zone for special date nights.
The restaurant offers a variety of foods that are all freshly made.
They extensively use fresh, regional ingredients and West Coast seafood.
When looking for an old favorite, this is your destination.
They confidently satisfy every desire.
Here, you can find a variety of pizza toppings, a broad range of pasta sauces, and gourmet burgers.
You may even indulge in a multi-course meal after doing all the best things in Keswick.
26. Look for Famous Memorials by Friars' Crag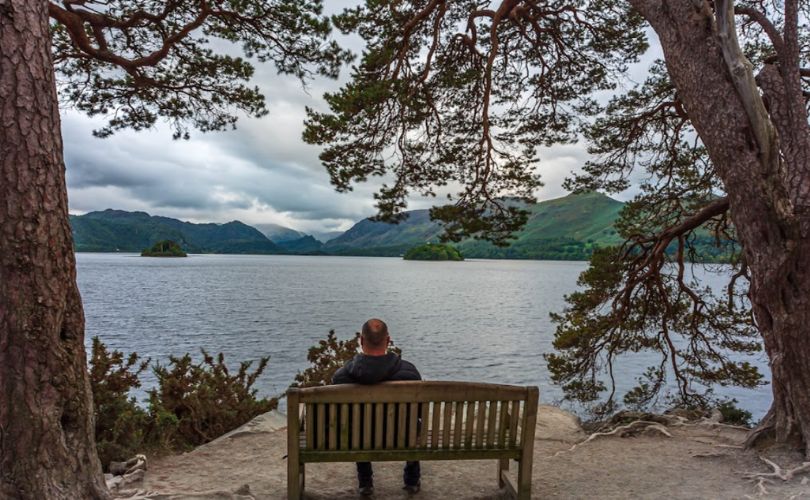 Close to Keswick, Friars' Crag is a headland with a view of Derwentwater. It attracts a lot of visitors. It is renowned for its literary and creative connections to individuals like J. M. W. Turner, Robert Southey, Arthur Ransome, and John Ruskin.
A memorial to John Ruskin, built in 1900, is located not far from the Crag. From Market Square, walk down Lake Road to the viewpoint. You will travel through Hope Park's lovely gardens before reaching the overlook. The environment is ideal for a romantic trip.
Tip: Pick a takeaway and head to the viewpoint for a lakeside date.
Best Hotels for Visitors in Keswick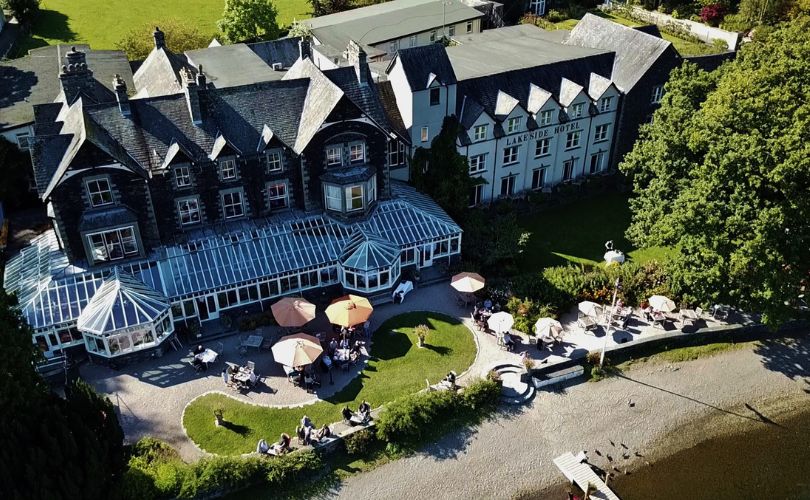 This town in the mountains boasts breathtaking views all around it. When you stay somewhere with beautiful views, everything just becomes better. Places with great services and breathtaking scenery include
Highfield Hotel
Derwentwater Hotel
Hazeldene Quality Guest House
It can be difficult for families traveling with pets to obtain accommodations. However, if you have pets Dovestones and Holly Cottage are great choices.
To save some extra cash, you can always choose some inexpensive lodgings like
To Sum it up,
There is something in Keswick for everyone. Therefore, you have the option of a romantic holiday or going backpacking. It is the perfect destination for a winter excursion because of the nearby mountain ranges. There are several activities in Keswick to keep you entertained. Finally, you can sample traditional European flavors at locally owned restaurants and cafes.