You might not be familiar with Tempe unless you know someone who attended Arizona State University. Most people on the east coast simply view the Phoenix metro region as one large city, but Tempe is actually a stand-alone travel destination. There are some the great things to do in Tempe AZ.
This thriving city is more than just a college town; it is packed with exciting and pleasant things to do, making it the ideal destination for people of all age groups.
Naturally, the majority of people will immediately conjure up images of spa resorts in Scottsdale or Tucson. Or, trekking in Sedona or the Grand Canyon, when you mention Arizona. But allow us to tell you what Tempe offers that those places do not.
Tempe is firstly cheaper. During the busiest times of the year, the Tempe Mission Palms Hotel has rooms for less than 100 USD per night. For the same night, the Hyatt Regency in Phoenix bills you 450 USD a night.
Second, there are so many different things to do. Tempe has activities for everyone, whether your kids are looking for fun and be active, or you want to unwind by a pool with a beautiful view or enjoy the best of both worlds. Tempe would not disappoint you.
As the last point, Tempe is quite accessible. You don't need to spend an entire day driving for your weekend getaway. Phoenix Sky Harbour International Airport, which has direct flights to 117 domestic destinations and 23 international cities, is only 12 miles from Tempe downtown. For an audience that is on a tight budget, the walkable downtown also helps to keep costs at bay.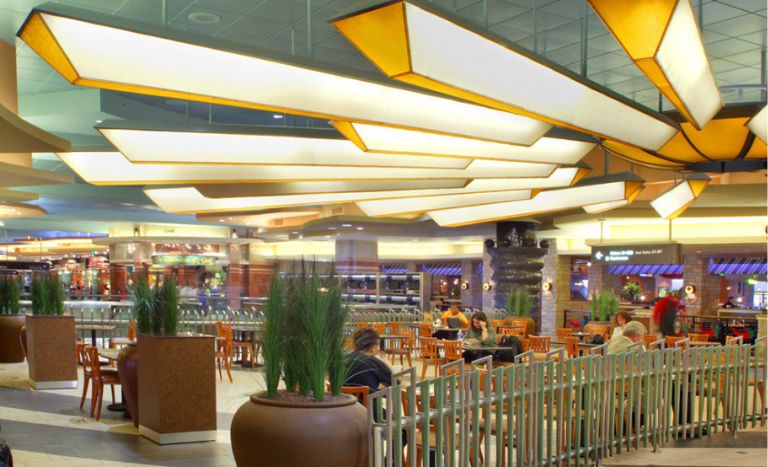 So now we have convinced you that Tempe is a great destination for people of all age groups, we have handpicked 19 fun things to do in Tempe.
1. Start Your Exploration with the Downtown Tempe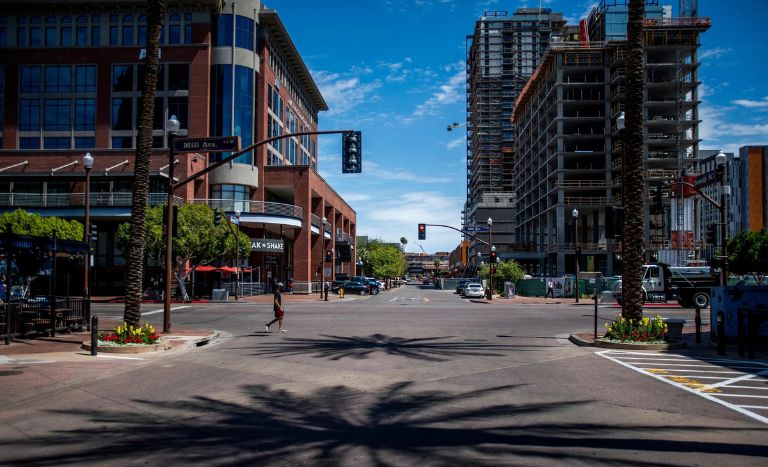 Located on South Mill Avenue near Arizona State University in Downtown, and is one of the great places to start, and one of the best things to do in Tempe AZ. It's noted for its brick pavements, as well as its numerous bars that offer the vibrant nightlife.
Why you should go – There are numerous things to do in Downtown Tempe within a mile radius. You can savor diverse cuisines, sample award-winning microbrews, browse locally, explore modern artworks, attend a Broadway performance, hike, paddle by the lakeside, and visit one of the country's largest university campuses. It is unlike any other downtown in Arizona.
What to do – At downtown, you can browse artworks that inspire you, make you laugh, give you a new perspective, or help you appreciate the marvel around you.
Tempe is a city where paintings, engravings, and artworks are used to promote the arts. Fortunately for you, all of these works of art can be found in Downtown Tempe. Indulge in a self-guided tour of Downtown Tempe that features 50 works of public art,
If you're interested in learning more about Tempe's art scene, we recommend taking a self-guided driving tour of some of our best Tempe artworks. You'll be astounded by the amount of ingenuity on display across the city. If you're with your family and loved ones, it is one of the most fun things to do in Tempe AZ.
2. Switch to an Outdoor Mode at Desert Botanical Garden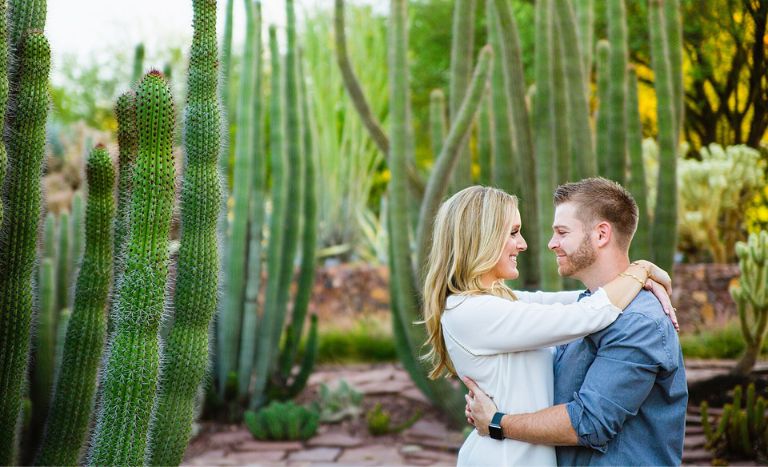 Spanning 1500 miles between Tempe and the Phoenix, the Desert Botanical Garden is a magnificent venue that merges art and nature. The grounds are dotted with artworks, which gives this lovely area another dimension.
Tens of thousands of plants reside in the 140-acre complex, which also showcases samples of desert vegetation from around the world. This is an excellent area to spot hummingbirds and butterflies, as the special ecosystem is created to draw these creatures.
Why you should go – Papago Park has picturesque pathways that wind through dramatic rock formations, making it a haven for outdoor enthusiasts and environment lovers.
It is also the ideal location if you want to save money as this is one of the free things to do in Tempe AZ.
Numerous camping sites, sports fields, a pet-friendly park, a botanical garden, and the enormous Phoenix Zoo are all included in this park.
What to do – Spend a wonderful day at this attractive park with your significant other, family, or friends and create new memories.
Enjoy outdoor pursuits like trekking along scenic trails. There are playgrounds for your kids amidst the lovely scenery. Indulging yourself in a game of basketball, volleyball, or baseball, is one of the best things to do in Tempe AZ with kids and families.
3. Marvel is the Best Artwork on Display at Arizona State University Art Museum
Opened in 1950, a one-of-a-kind museum nestled at the Arizona State University houses a massive collection of over 12,000 works of art.
Why you should go – This museum offers a variety of galleries with frequently changing exhibitions and is housed in a gorgeous modern structure. Along with a variety of arts and crafts, the main emphasis is on contemporary, Latin, and folk art.
There are many examples of new multimedia, pottery, and other crafts, photographs, and art from Arizona and the Southwest, in the permanent collection.
The gift shop, which has a selection of things similar to the original artwork on show in the gallery, is recommended for visitors to stop by.
Top art periodicals have rated the museum as one of the nation's top locations for modern art.
What to do – Traditional and contemporary Native American art can be found in the museum's exhibit galleries and outdoor courtyards. This is an excellent site for kids and families to learn about Native American history and view traditional arts.
Outside, you can stroll through the outdoor sculpture garden or join a museum garden tour. The museum also boasts a lovely outside café with courtyard seating and a rotating menu that includes special meals to go with the latest show.
Looking for one of the free things to do in Tempe Check out the new 'Lustre and light' show that exhibits? Dazzling materials are used to convey cultural or social values, frequently to draw attention to abuses of power and riches.
4. Paddle at Tempe Town Lake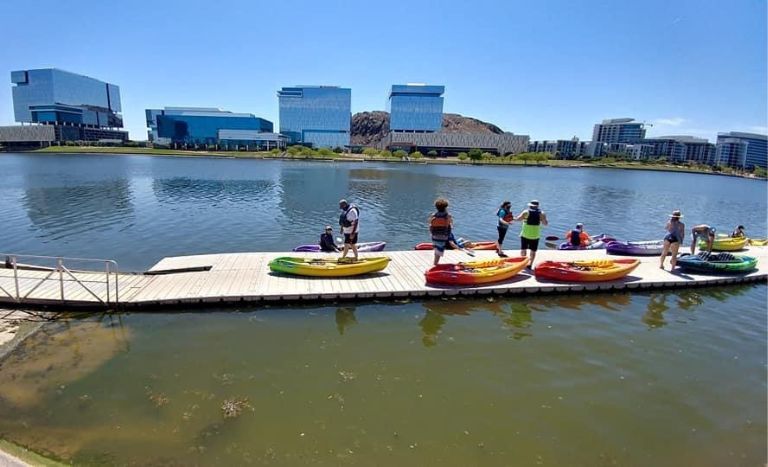 In the midst of the desert, Tempe Town Lake is a bit of an unexpected discovery. It is located in the center of Tempe. With bridges spanning it at various locations across the city, it seems to be more like a river than a lake.
Why you should go – We are 100 percent certain that Tempe Town Lake is the most picturesque location in Tempe. We all adore the lake images. If you have a thing for beautiful sunsets, with bridges, Tempe Centre for the Arts, and the peacefulness of the open area surrounding it.
What to do – One of the fun things to do in Tempe AZ is to indulge in paddling around the lake. Alternatively, you may go paddleboarding, kayaking, or have a family time out on an electric boat tour.
Check out the pricing plans with Boat Rentals of America that will help you awesome rides around the lake at a reasonable cost.
The park also holds a variety of events, including ultramarathons, musicals, and festivities. Additionally, it hosts a special program called the Living Tree Memorial Program, which enables you to plant a tree in honor of a loved one.
5. Accomplish your kid Goals at Sea Life Aquarium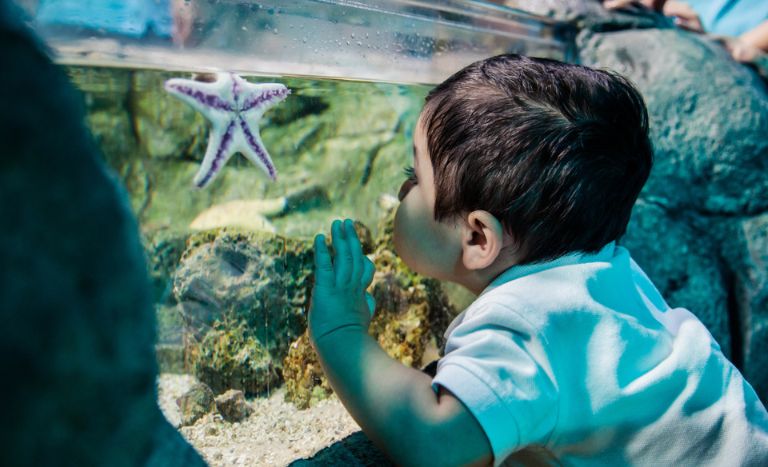 The 26,000-square-foot Sea Life Arizona Aquarium is a highly recognized aquarium with a first-of-its-kind 360-degree ocean tunnel.
Why you should go – Sea Life Arizona is sure to be a hit with the whole family. Scores of aquatic creatures live in the 26,000-square-foot immersive aquarium, which also includes a 360-degree ocean corridor and interactive touch pools. The aquarium is rich with incredible marine life, including sea urchins, octopus, sharks, and stingrays that wander around in the instructional aquatic facility. This is, of course, one of the fun things to do in Tempe with kids.
What to do – At this fantastic aquarium, you can marvel at the beauty of sea life with your kids and families. View a variety of aquatic animals, including predators, tiger sharks, stingrays, lionfish, crabs, and more.
You can also engage with creatures like tortoises, reptiles, and tarantulas while watching live nursing practices, or attending a lecture on marine species preservation.
6. Hike 'A' Mountain to Capture the Stunning Views of the City at Sunrise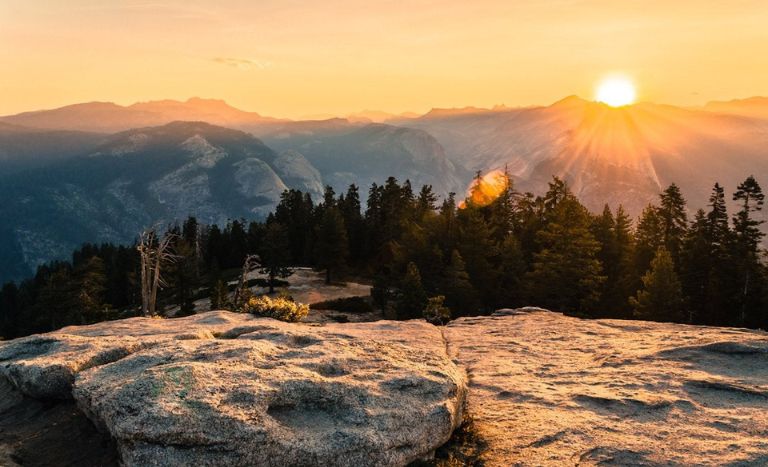 Hayden Butte, sometimes known as "A" Mountain, is one of Tempe's most famous geographical features. "A" Mountain is an accessible trek with some excellent views, especially at sunrise is one of the amazing things to experience in Tempe AZ.
Why you should go – Are you interested in the outdoors and looking for one of the free things to do in Tempe AZ. If so, talk a walk through Hayden Butte Preserve. The 0.7-mile journey ends at a picturesque lookout point from where you may take in the breathtaking scenery of Tempe's landscape.
What to do – The trail ascends and crosses Tempe Butte's "face" after beginning in the center of Tempe. As you climb to the summit, you'll even pass by the letter "A."
The hike is considered to be very easy, but there is a little bit of a hard climb at the beginning as you gain altitude. You should be able to get to the top in about 15 minutes.
When you get to the letter "A," the trail's paved lower section changes to a rocky route.
It is recommended to set your sail 30 minutes before sunrise. As soon as you get to the top, you should be greeted to a stunning pink and orange dawn. See the colors radiating off Tempe Town Lake while watching planes take off from Phoenix Airport above you.
7. Understand the City's history and Legacy at Tempe History Museum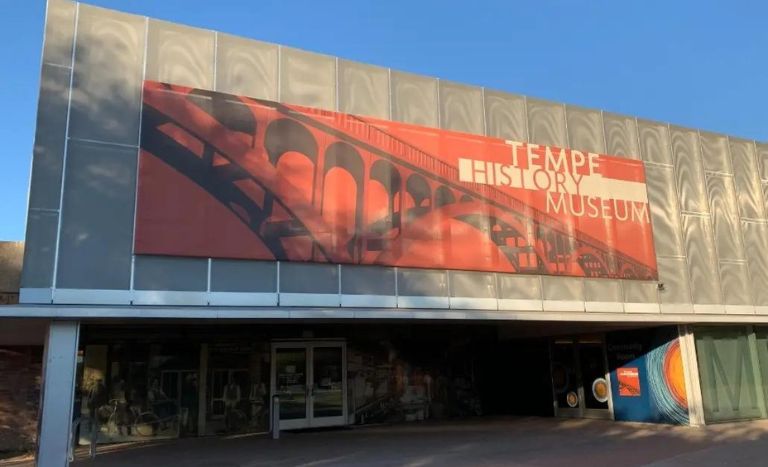 The Tempe History Museum chronicles the tales of the residents of Tempe, from native American progenitors to the present. The exhibits and programs are made to engage both the local populace and tourists who are interested in learning more about this city.
Why you should go – This is a very well-kept facility and a terrific find for families as there is plenty of entertainment for the kids here.
With a variety of displays on fascinating and thought-provoking subjects, the museum contains a wealth of authentic knowledge about Tempe's past.
The museum is surrounded by a lawn that frequently hosts live performances of music from all different genres.
Additionally, there is a charming café inside where you can get delectable appetizers as well as hot and cold beverages.
What to do – The museum includes a children's area, and a community room. There are permanent installations that focus on themes like Surviving in the Desert, Rebuilding Our Community, University Town, and Kumbaya culture.
Tempe: Distinct, Diverse, Dynamic is a primary exhibition that one must attend that utilizes a range of mediums to portray Tempe's history and legacy.
Temporary art exhibitions are held at the Community Room Art Gallery. The Changing Exhibits Gallery and the Community Room can be booked for events like meetings and plays.
8. Shop Til You Drop at Tempe Marketplace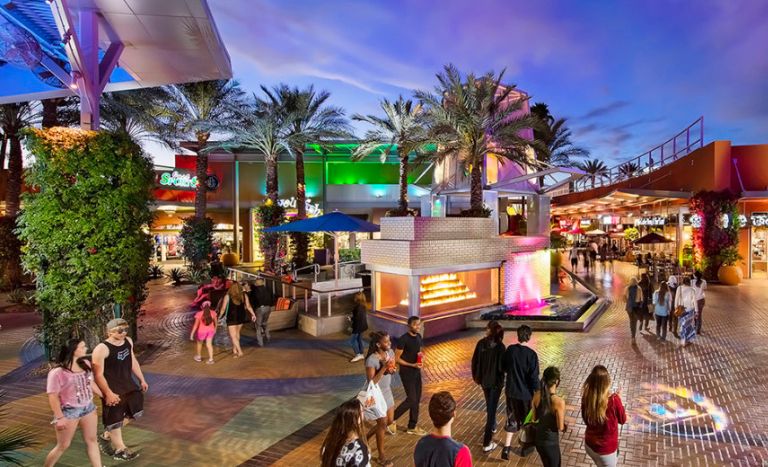 Along the Salt River in Tempe, on East Rio Salado Parkway, is a sizable outdoor shopping mall called Tempe Marketplace. The shopping center offers more than a million square feet of retail space and is perched on 130 acres of land.
The shopping complex is separated into two areas: an outer ring that houses large retail establishments and an inner ring called the District that comprises smaller businesses.
It has more than 120 retailers, entertainment facilities, and restaurants.
Why you should go – Why not consider spending a pleasant afternoon at the Marketplace which is one of the fun things to do in Tempe for families.
A 1.3 million square foot shopping center that is home to a veritable array of stores, eateries, coffee shops, and theatres.
A highly pleasant environment to roam around is created by the artistic layout, which also includes spectacular visual and laser effects, one-of-a-kind water features, and patio fireplaces.
While the parents enjoy an afternoon of shopping, the kids can go to the movies.
What to do – With numerous large superstores and chic boutiques, it's one of the best places in Tempe to shop. The District, a section of Tempe Marketplace, is the ideal place to hang out with friends and get a nibble while shopping.
You can also enjoy the live music at night, at the heart of the shopping complex. The outdoor stage is the ideal place to soak into the spectacular Arizona sunset, the pleasant weather, and some cuisine from adjacent establishments. Definitely, one of the best things to do in Tempe at night.
9. Catch a Live Show at ASU Gammage Auditorium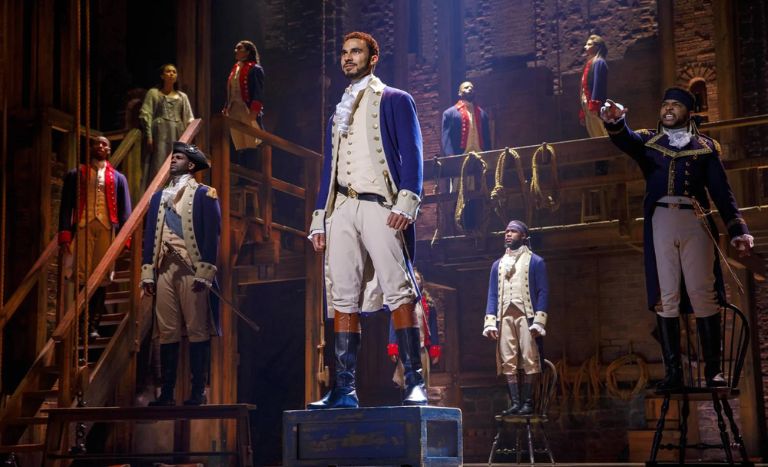 Located on the Arizona State University campus, the ASU Gammage auditorium is a sight to behold. The historically significant structure is an architectural marvel since it was the final project of the renowned architect Frank Lloyd Wright.
The auditorium has three levels of seating and can accommodate 3,000 people. It is renowned for its excellent acoustics and symphony ring. Operas, symphony performances, instrument recitals, theatricals, and many other events are held in the auditorium.
Why you should go – When searching for cool attractions, this is one of the best paces to go in Tempe AZ.
It has several art exhibits spread throughout the facility and kiosks providing a variety of delightful appetizers and alcoholic beverages. Depending on the current productions, the lobby also sells broadway merchandise.
What to do – Take out a couple of hours in the evening to attend a breathtaking live performance at the ASU Gammage Auditorium.
You may experience events like Broadway musicals, operas, theatrical plays, and a ton of other fantastic selections. This is one of the incredible things to do in Tempe at night.
10. Commit to 'Being a Better You' at Phoenix Rock Gym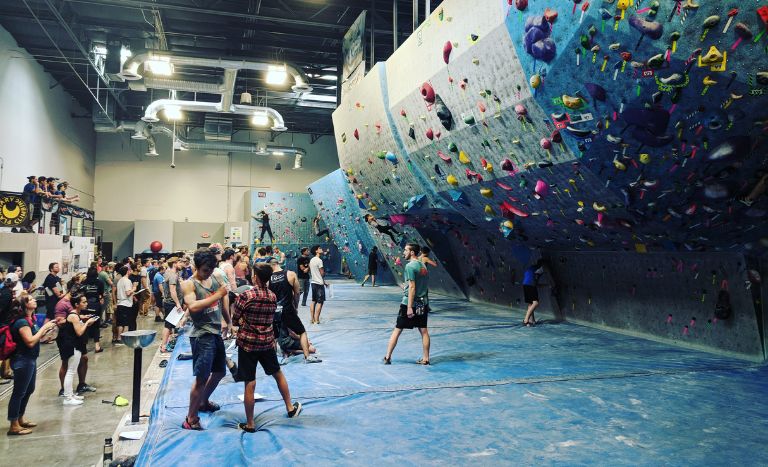 Hone your rock climbing abilities at the year-round indoor facility at Phoenix Rock Gym.
All you have to do is tie in and ascend. There are ropes already dangling. The space offers arm-ups, cool-downs, and entire workouts that can be completed in the spacious, 2-level bouldering area. There are 56 top-ropes available, ranging from straightforward cruising climbs to overhanging arm blasters. There are also chimneys, aretes, skulls, and more.
Why you should go – If you aspire to have a better version of yours, think about choosing a special physical activity.
This is a unique physical exercise that will involve your body, and that tests your grit and resilience. It seems a little risky, but not quite as risky as venturing out into the desert alone. While you're on vacation.
What to do – Suit yourself to the facility that serves over 17000 square feet of climbing space. You don't have to be an expert rock climber. You may learn everything you need to know on the spot. Rock climbing equipment would be available on-rent.
Even complete beginners will quickly develop their skills and courage with the help of lessons and an orientation video. The trails are frequently modified to offer novel experiences.
11. Take a Campus Tour of Arizona State University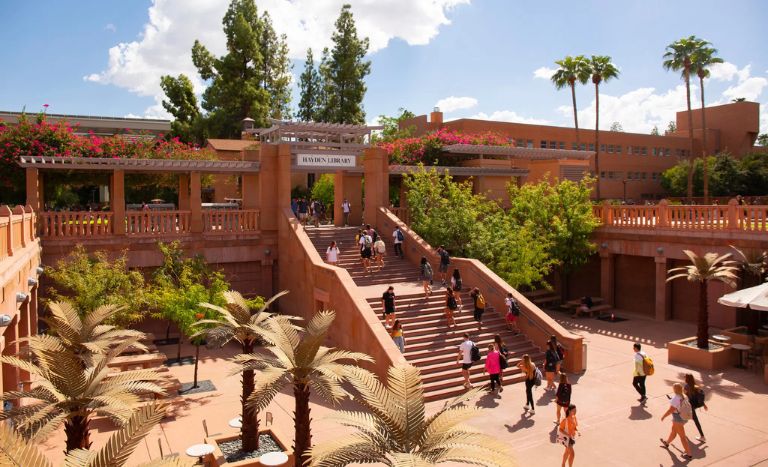 One of the largest public universities by enrollment in the US offers a broad pedestrian mall and unique architecture which is surrounded by the subtropical flora.
Landmarks include the famous Palm Walk, which dates back a century, Old Main, the oldest original campus building, Sun Devil Stadium, and Gammage Auditorium, which was designed by Frank Lloyd Wright.
The Tempe campus has an unmatched dedication to sustainability and is the most solar powered campus in the country. It provides simple access to all of metropolitan Phoenix via public transportation, including light rail.
Why you should go – Make sure to stop by this historic university, one of the most breathtaking locations in the city. Also one of the great things to do in Tempe this weekend.
This beautiful university is close to a number of dining establishments, entertainment venues, waterfront activities, and lovely parks.
What to do – Sign up for a guided walking tour of Arizona State University with your mates. This is also one of the fun things to do in Tempe for couples. You can discover its past, hear tales from students, and much more on your tour.
After that, you can refuel by going to a nearby restaurant for a meal. Or, have a good time at a comedy club. You can also go on a shopping spree at one of the many boutique stores in the area.
Visit College Avenue where you can explore the restaurants and the largest bookstore, which has apparel, ASU memorabilia, and much more. The finest aspect is that "A" Mountain that sits at the end of College Avenue. It is a place where you may admire it or soak in the scenery while hiking.
12. Enjoy the Game at Diablo Stadium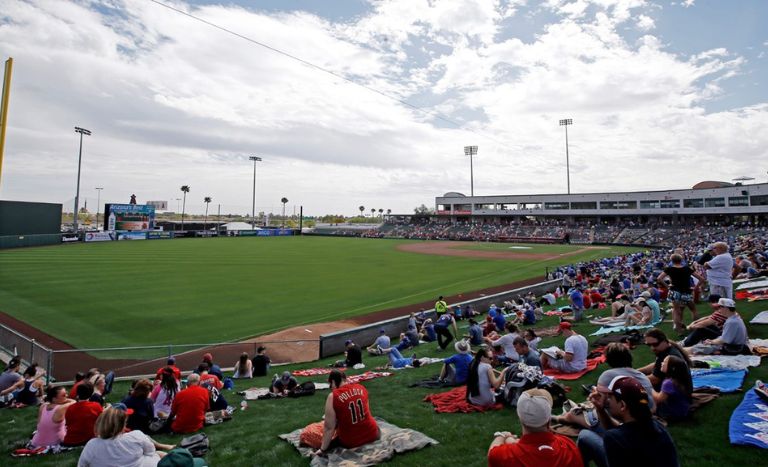 A fantastic baseball stadium with a seating capacity of over 9,500 serves as a home ground for two influential American baseball teams – The LA Angeles and the Arizona League Angels.
Why you should go – The magnificent design of this baseball stadium is only one of the unusual sights to see in Tempe.
It has luxuries like plush seating, clean lavatories, and cutting-edge lighting and audio systems. Every seat in the house offers excellent views of the landscape and is one of the best things to do in Tempe Arizona with kids.
This stadium hosts community events all year round in addition to exhilarating baseball games.
What to do – Prepare to be on the edge of your seat as you watch a thrilling baseball game with your pals and family at the Tempe Diablo Stadium.
After the game, visit a nearby cafe for a freshly brewed cup of coffee, go shopping, visit a museum, or engage in other enjoyable cultural activities.
13. Shop, Dine, and Have fun at Arizona Mills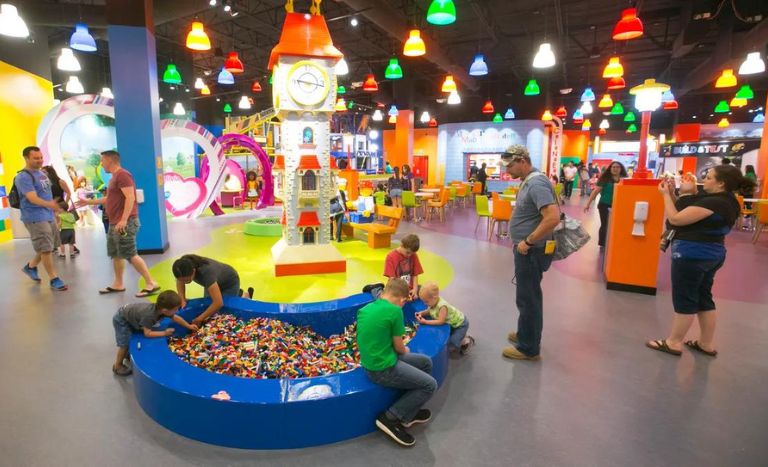 Arizona Mills is a major indoor outlet shopping mall in Tempe, located on South Arizona Mills Circle. The mall contains around 185 stores and 6,000 parking spots. The outlet mall's interior boasts abstract patterns and a variety of artwork.
Burlington Coat Factory, Dior, Ross Dress For Less, Versace, and Sports Authority are among the retailers. Sea Life Arizona and Arizona's largest IMAX theatre are also located in the mall.
Why you should go – Visit this world-class shopping mall with your friends and family ffor the ultimate shopping experience.
It is a popular family destination since it offers amenities such as a breastfeeding lounge, stroller on rent, baby dressing stations, and a children's play area.
Other features include phone charging stations, high-speed WiFi, and a number of magnificent onsite activities, such as the LEGOLAND Discovery Centre Arizona. With kids and families.
What to do – Enjoy a once-in-a-lifetime bonding experience with your friends/family while shopping at Arizona Mills.
Designer and budget-friendly retailers, such as the Gap Factory, Tommy Hilfiger, Forever 21, Bath & Body Works, Adidas, Victoria's Secret, and others, offer a wide range of products.
After that, satiate your hunger at one of the city's many eateries, such as Sbarro, Johnny Rockets, or Garcia's Mexican Restaurant.
14. Have a Couple of Times at Kiwanis Park
Nestled in 54000 square feet is the outdoor recreational complex that features an amphitheater, a lake, a tennis center with 15 courts and numerous basketball and volleyball fields. At present, this is of the top things to do in Arizona with kids.
Why you should go – Kiwanis Park is a 125-acre leisure complex including a bowling alley, a children's playground, a 12-acre reservoir, an indoor wave pool, and a variety of sports. The gorgeous lake can also be explored by renting a bike, pedal boat, or kayak. The Cloud, a splash playground, is another recent addition to the park.
What to do – Many locals enjoy the various attractions available, which include kayaking, seasonal paddle boat, sports fields, and an indoor wave pool.
Located in absolutely gorgeous Kiwanis Park, there's even more! A tiny kid area with a small climbing structure and music makers is available for the younger members of the family.
Swings and a zip line are available, as well as a three-story tower with multiple slides.
In addition, despite the typical 10 p.m. closure, the park remains open until midnight for the romantics in the family. After dinner, this is a nice area for a romantic stroll.
15. Soak Into the Sight of the City's Architectural Marvel – The Tempe Centre of Arts
The Tempe Centre for the Arts opened its doors in 2007 with a 3,500-square-foot exhibition, a 200-seat auditorium, and a 600-seat portico theatre. The theatre is renowned for its remarkable architectural design and hosts wonderful concerts and musical events. It also exhibits intriguing modern art.
Why you should go – Tempe Centre for the Arts (TCA) is indeed a sight to behold. Take the family and wander around this center, which has a ceiling composed of intricately folded plates in geometric forms.
Due to its prominent visibility from the neighboring highways and the numerous aircraft that land at the PHX airport, the roof has actually turned into a true landmark of the city.
Along with the Centre's sleek and contemporary interior, the grounds are also stunning.
The kids will like the fountain spillover that plunges into the adjacent pool, turning it into a fantastic wall for them to climb up on! Perhaps, one of the best things to do in Tempe AZ with kids.
What to do – Prepare to be astonished as you attend a performance at the Tempe Centre for the Arts featuring renowned artists.
View performances by symphony orchestras, Broadway plays, operas, stage shows, concerts, and much more.
You can see a variety of constantly-changing artwork at its gallery, including drawings, sculptures, ceramics, musical instruments, puzzles, and more.
16. Take a Segway Tour of Tempe Lake
Tempe Town Lake is a reservoir that sits on a section of the Salt River's riverbed as it flows through Tempe. Join Segway Tours of Scottsdale to learn everything about the lake and mesmerize by the great view that the lake offers! Your guides will narrate stories and historical information as you travel across the area exploring the lake.
Why you should go – Do you wish to take a fantastic, distinctive, and different tour of Tempe's sights?
If so, make a reservation with Segway to experience Tempe like never before.
Along with skilled and experienced instructors, it offers excursions that run approximately 1.5 hours.
The tour includes learning the fundamentals of correctly operating a hoverboard as well as safety gear including helmets. Taking a trip with Segway.
What to do – By scheduling a prestigious tour with Segway of Scottsdale Tours, you and your friends can have a great time. A guide will narrate a brief history and interesting information about the city while you cruise around a 4-mile lake.
17. Get Along with Your Lucky Charm at Casino Arizona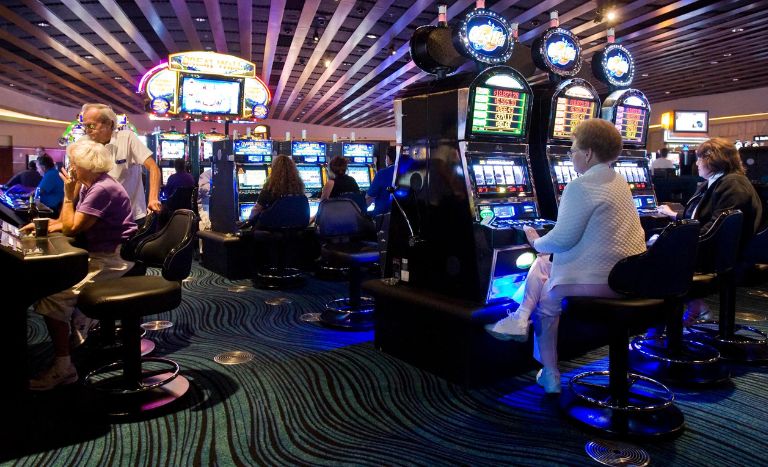 The hottest betting activity in Arizona can be found at Casino Arizona. In addition, to live Blackjack and other table games, there are 47 poker tables and live fast-action Keno. Also, there are more than 900 ticket-pay multi-denominational slot machines, many of which have high limits. In addition, Starz Sportsbar has a number of monitors for watching athletic events as well as video poker machines. When everything is combined, Casino Arizona makes any regular night out into a memorable one!
Why you should go – If you're seeking for popular nighttime activities in Tempe or the neighboring Scottsdale, head on over to the excellent Casino Arizona.
With innumerable table games, 900 prepaid slot machines, live entertainment, and a global cuisine including a buffet-style restaurant, there would be a guaranteed incredible experience.
What to do – Have a blast at this fantastic casino while you try your luck and place your bets with your beloved.
Play a variety of slots or try your hand at a number of table games, including roulette, lotto, casino, and keno.
You may catch incredible live performances by musicians, bands, comedians, dancers, and magicians at its cabaret-style showroom. Perhaps the ritziest.
18. Enjoy the Outdoor Pursuits at Papago Park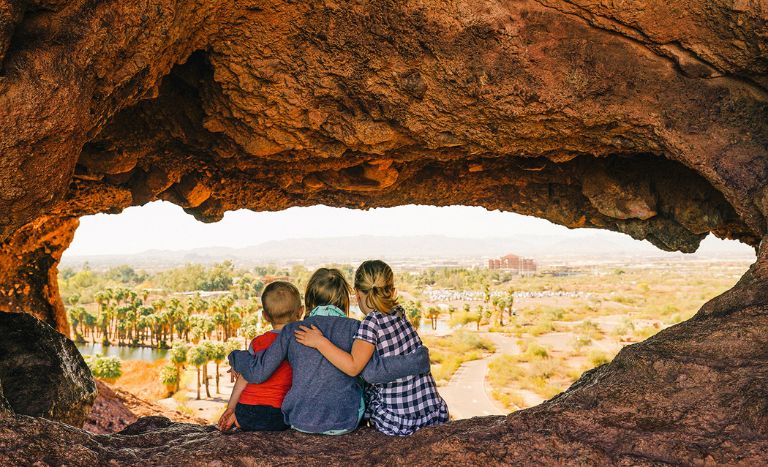 One of the best outdoor pursuits and free things to do in Tempe is to visit Papago Park. The giant sequoia cactus, mesas, hiking and biking trails, lagoons, picnic spaces, and views may all be found in this almost 1,500-acre desert park.
Why you should go – It makes sense that Papago Park has been named a Tempe Point of Pride.
Everyone will enjoy this great setting, which features stunning red rocks with a variety of rock formations and several hiking, bicycling, and jogging tracks for an amazing day out.
The additional good news is that people with restricted mobility will find traveling on the wide, paved routes to be especially simple, so nobody is left out! Beautiful palms and cactus may be seen on the surrounding grounds as well.
Good for all, even if you just want to stroll leisurely around this sizable park. And, it is one of the best place to visit in Tempe AZ for all age groups.
What to do – The pyramid-shaped Hunt's Tomb, which is located on top of a hill in the midst of the park, is one of the fun things to do. This is George W.P. Hunt's grave and memorial, who served as Arizona's first governor. You may drive, ride a bike, or stroll up and enjoy the pretty awesome views from here.
Don't miss the charming lagoons, which provide some of the most beautiful Tempe photographic settings on our trip.
Additionally, there are structures and places for picnics to enjoy next to the lagoons' water in the company of palm trees.
The climb up to Hole in the Rock is one of the most well-known activities in Papago Park. It is impossible to overlook the attraction while touring Papago Park; it is a geological hole formed in the sandstone hill.
Follow the trail behind the hill for the short, inclining climb to the summit, where you'll be rewarded with views of Tempe and Papago Park in the distance.
19. Play 'Good Cop Bad Cop' at C2 Tactical Gun Range
A premium shooting range, C2 Tactical Gun Shooting Range offers packages for both novice and expert shooters.
Why you should go – Visit this well-known shooting range when looking for fun things to do in Tempe with your partner or pals.
Here, a group of knowledgeable and skilled experts can help you improve your aim and master the fundamentals of firearm safety.
Additionally, it gives you the option to alter the experience according to your skill level, and your level of familiarity with a gun.
What to do – Learn everything there is to know about the value of gun safety, how to handle your weapon properly, and other themes by visiting C2 Tactical Gun Shooting Range.
Get the chance to fire a variety of weapons, including shotguns, rifles, machine guns, and handguns.
You can experience a simulator during your visit and learn the fundamentals of self-defence.
What to Eat in Tempe Arizona?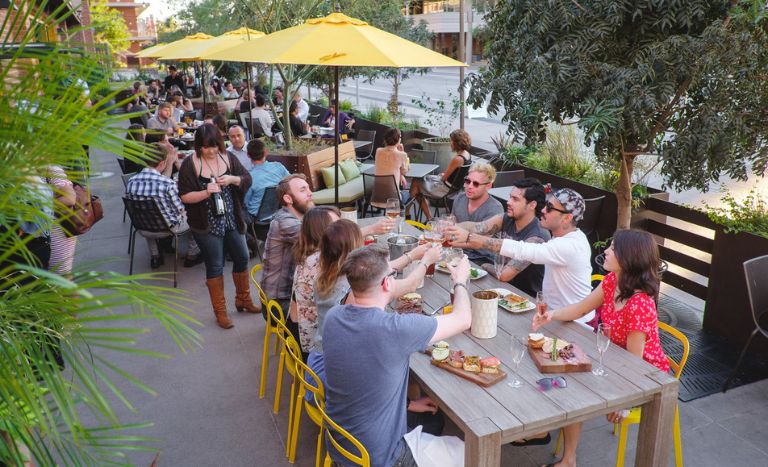 If you have a thing for the Southwest-inspired foods and flavours that characterise the region, then Tempe has a really fantastic culinary scene akin to your taste.
On your visit to Tempe, you can have a variety of cuisines, from casual quick nibbles to upscale dining experiences. Here are a few of the restaurants that we highly recommend trying!
Postino Annex
Located adjacent to the ASU Tempe campus, don't leave without trying one of their bespoke bruschetta platters with wine or beer. Additionally, they have a fantastic happy hour! You may purchase 5 USD glasses of wine or pitchers of beer there every day until 5 o'clock. Hence, stop by for lunch if you can!
615 S College Ave, Tempe, AZ 85281
Culinary Dropout at the Yard
This gastropub offers live music, tasty comfort cuisine meals combined with crafted beverages, and entertaining activities like corn hole and ping pong! You may need to grab a reservation to avoid a wait.
5632 N 7th St, Tempe AZ 85281
The Chuckbox
A cash-only eatery that serves pecan hamburgers that are freshly prepared and may be customised with your preferred toppings.
202 E University Dr, Tempe, AZ 85281
Casey Moore's Oyster House
An Irish bar and hangout place is somewhat of a local landmark. They provide fresh oysters, fried tapas, and a full bar. One of the nicest things to do in Tempe at night is to order a pre-dinner drink and an appetiser.
850 S Ash Ave, Tempe, AZ 85281
Where to stay in Tempe AZ?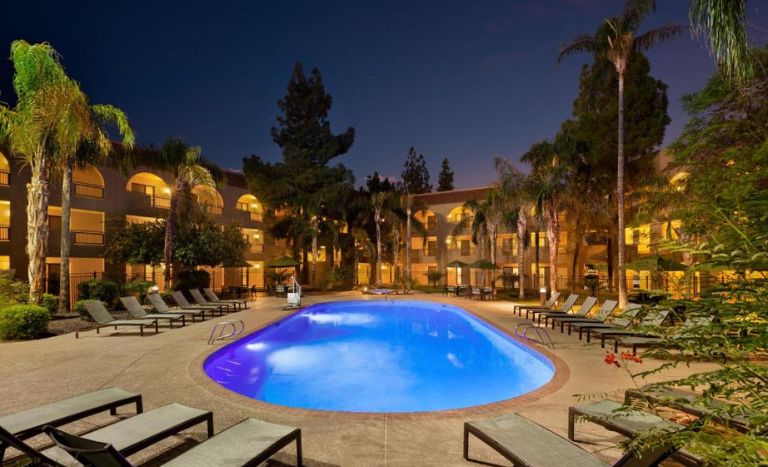 Travellers frequently pass over the intriguing city of Tempe. Arizona's metropolis, which was once a barren ghost town, is now humming and bursting with arts, culture, food, and fun!
Despite Tempe's size, some of its neighborhoods simply don't have anything to offer tourists. To help you discover the top attractions and make the most of your vacation, we've put together this information on where to stay in Tempe.
Tempe Holiday Inn Express Hotel and Suites
Located 6 miles from downtown Tempe keeps you close to the business district and desert landscape with pristine park. Stay in a hotel in Tempe that has a number of top amenities, including a heated outdoor pool and whirlpool. Also you have complimentary access to WIFI and a hot breakfast buffet offered each day.
1520 W Baseline Rd, Tempe, AZ 85283
Embassy Suites by Hilton Phoenix Tempe
In a two-room suite awaken in a spacious bedroom and rejuvenate in a chic, marble-finished bathroom. Every morning, a fresh omelet station is part of the free cooked-to-order breakfast. Every night at the Evening Reception, snacks and beverages are free. The hotel has a sizable outdoor pool as well as a fitness center.
4400 S Rural Rd, Tempe, AZ 85282
Tempe Mission Palms, a Destination by the Hyatt Hotel
This four-star hotel offers lavish rooms with Wi-Fi and iPod access points. The Tempe Mission Palms has a tennis court and a rooftop pool. The contemporary, air-conditioned rooms at Tempe Mission Palms are equipped with desks, vaults, and 37-inch flat-screen TVs. The rooftop sun terrace and basketball court are available to Mission Palms guests in Tempe. Offers complimentary breakfast and parking.
60 East Fifth Street, Tempe, AZ 85281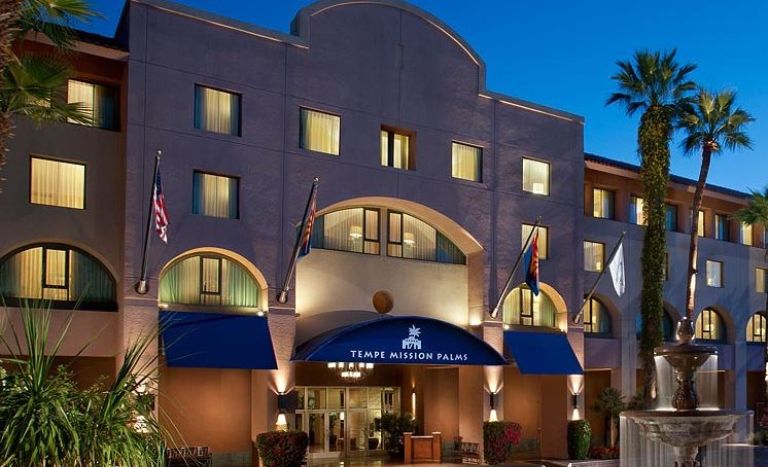 Springhill Suites Tempe at Arizona Mills Mall
Studios come with complimentary Wi-Fi and sofa beds. The roomy guest studios have seating and dining rooms, as well as cable TV with HBO. They have refrigerators, microwaves, and minibars. Desks and ironing stations are also included in the studios. A heated outdoor pool and a fitness centre are available to Tempe SpringHill Suites guests. The motel offers a breakfast buffet and grilling facilities.
5211 S Priest Dr, Tempe, AZ 85283
Conclusion
A weekend getaway in Tempe can be a very pleasant experience. It is cheaper than other major metropolises, and the fun you will have will make you forget the cost. From going to the park to visiting a museum, there is something here for everyone. This, makes it ideal for families as well as couples as there are abundant things to do in Tempe Arizona. Finally, the city has good accessibility, so don't let distances deter you from having this amazing experience.