Skegness in Lincolnshire is a traditional English coastal resort with a Blue Flag beach, a Victorian promenade, amusement rides, and a variety of nostalgic family attractions.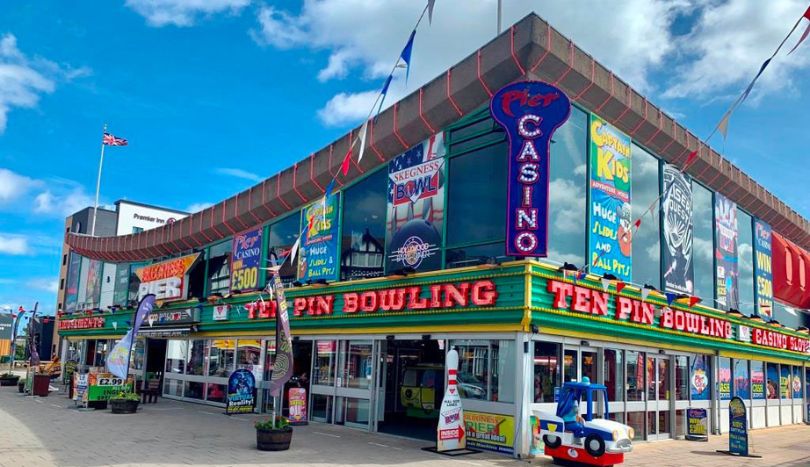 The majority of the charm can be found on or around Grand Parade, along a section of beachfront that intersects the pier and is adorned with decorative gardens.
The Jolly Fisherman, a character developed in 1908 for a tourism poster for the Great Northern Railway, serves as the town's enduring emblem.
He is portrayed on the beach with the phrase "Skegness is so Bracing,".
The north-easterly air is lovely on sunny July and August days. There are plenty of things to do in Skegness this time of the year.
Visitors have access to the pristine sands, enjoy fishing, tour the National Trust Gunby Hall, and admire the rescued pups at the Natureland Seal Sanctuary.
Skegness features activities for both youngsters and adults.
We've compiled a list of Skegness' top attractions to aid visitors in learning more about the town. There are numerous options for activities.
Find out what there is to do in Skegness and around so you can organize a pleasant day out.
1. Enjoy the Golden Sands at the Skegness Beaches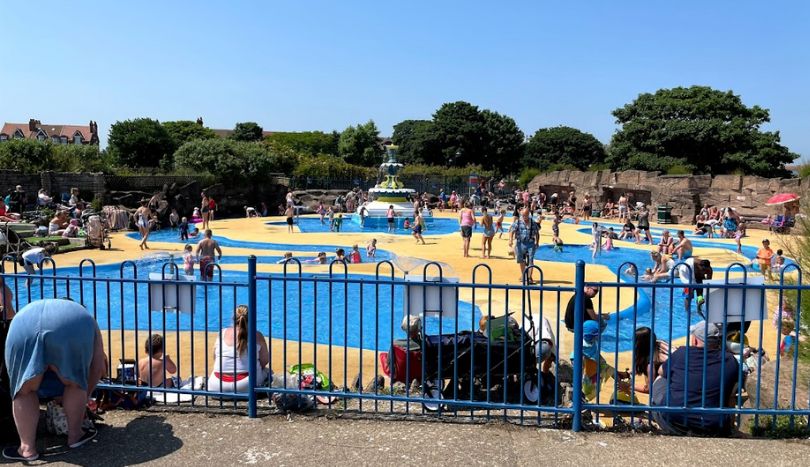 This long, broad sandy beach is located in one of the most popular attractions on the East Coast. The beach offers a variety of family-friendly activities available, such as donkey rides and the renovated Fairy Dell paddling pool. This beach features a natural swimming pool in Skegness, and is among the main highlights here.
Canoeing, kayaking, crazy golf, sailing, swimming, sunbathing, and even surfing are among the other activities that are frequently offered.
Skegness beaches are well-known for its cleanliness and are normally quiet and serene for most of the year. However, it can get crowded during peak travel times.
The area of the beach that is typically the quietest is the North Shore. When the tide is out, there are delightful hikes along the little sand dunes.
Anyone using a wheelchair or pushing a stroller can easily access the beach, and beach wheelchairs can be rented as well. Additionally, there is a historic boardwalk close to a fairground. In season, a lifeguard service is offered.
2. Enjoy the Outdoors at Gibraltar Nature Reserve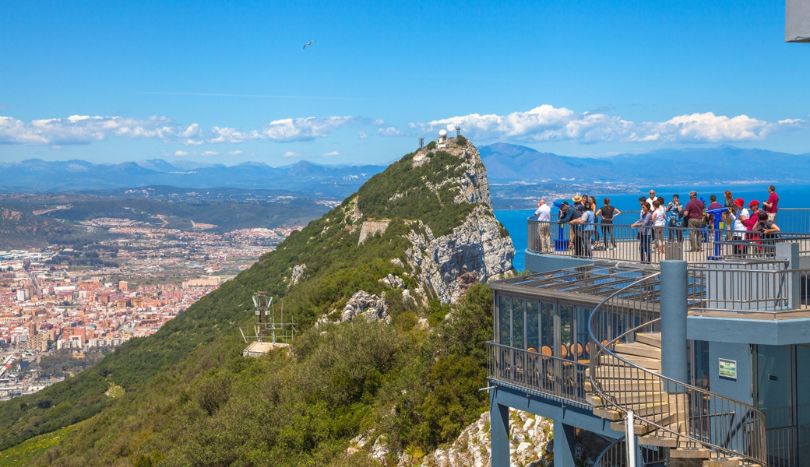 Drive south from Skegness and the town quickly gives way to a National Nature Reserve made up of two parallel ridges of sand dunes. The best part is the route is surrounded by a valuable stretch of salt marsh.
Arctic waterfowl, shorebirds, and Eurasian oystercatchers all winter at Gibraltar Point. You will also spot red knots, grey magpies, bar-tailed godwits, and tiny gulls.
For you to get a better look at these species, the area is dotted with walking routes, hides, and manmade lakes, and is one of the best outdoor things to do in Skegness.
The Visitor Center has terrariums and tanks featuring animals from the Lincolnshire coast. It also features detailed information about Gibraltar Point's unique ecosystem.
3. Attend a Show at Embassy Theater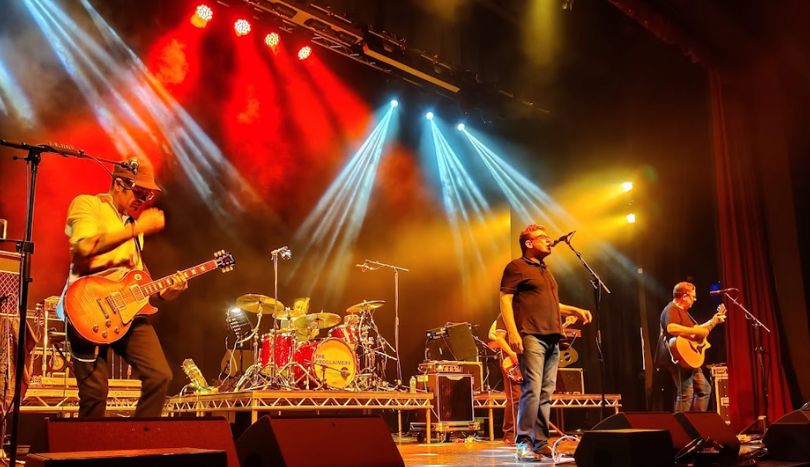 What to do in Skegness for entertainment? The Embassy Theater in Skegness is widely regarded as the East Coast's greatest live entertainment facility. It is located on the picturesque seashore of the extremely popular tourist resort.
The site is open all year and is maintained by the Magna Vitae Trust for Leisure and Culture. It employs a small but committed crew with a strong love for the art they perform. The Embassy Experience is a facility that attempts to provide top-tier entertainment, and is one of the top things to do at Skegness.
Hundreds of stars have graced the stage, and many of them have returned time and again as their popularity and affection for the venue grew.
There is a robust schedule of established musicians, comedic acts, musicals, cover bands, and celebrity audiences throughout the summer. There are matinees created for younger theatergoers, including "Peppa Pig's Adventure" in 2018.
4. Take a Stroll to the Skegness Pier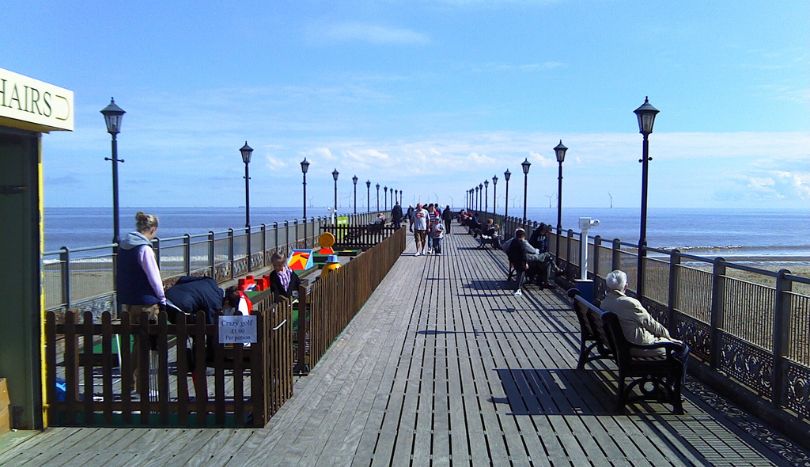 Most English seaside towns are built on their pleasure piers, and Skegness' pier has been there since 1881. It was inaugurated by the Duke of Edinburgh and received 100,000 visitors each year during its glory. It also served as the headquarters for a steamboat firm that gave rides along the coast to the Wash.
The pier was severely damaged by a hurricane in 1978, and it was reduced in length from half a kilometer to 118 meters.These surviving boards allow you to stroll while gazing out at the North Sea and soaking in Skegness Beach's enormous sandy expanse.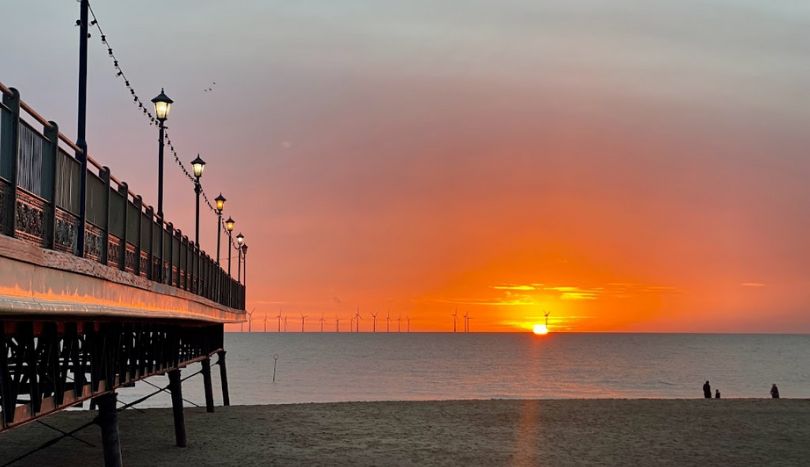 The pier offers a soft play area, kid-sized trampolines, and a game arcade where children may collect tickets for prizes.
You can go tenpin bowling, play arcade games, or gamble on the slot machines. You may put your skills to the test in the laser tag arena or the Skegness Escape Room.
Don't worry about becoming hungry—there is so much to do, and you'll be having fun for hours. There are several inexpensive dining options available.
Don't miss out by spending the entire day inside the pier, though. Make sure to go outdoors and check out all the attractions when you visit Skegness Pier. Take a leisurely stroll to the pier's end to enjoy the breathtaking scenery. The Pier is a true beauty,and is one of the top attractions in Skegness.
5. Spend a day at Gunby's Estate
Gunby Hall is a 17th century Grade I listed country estate and is located 10 minutes outside Skegness on the fringe of the Lincolnshire Wolds Area. It is one of the top places to visit near Skegness.
You and your kids can learn about history at Skegness' Gunby Hall. Learn about the Massingberd Family's history, who resided there from 1700 to 1967.
A 300-year-old oak staircase is one of the three floors of the house that you can tour. Gunby Hall is like traveling through time. You will find yourself in a study with antiques Field Marshal Sir Archibald Montgomery-Massingberd brought back from India.
Allow time to explore the gardens, which include immaculately manicured lawns, a wildflower walk, a canal, and a walled kitchen garden.
Visitors are welcome to visit the dining room, study, library, and bathrooms.
6. Learn about the Marine Life at Skegness Aquarium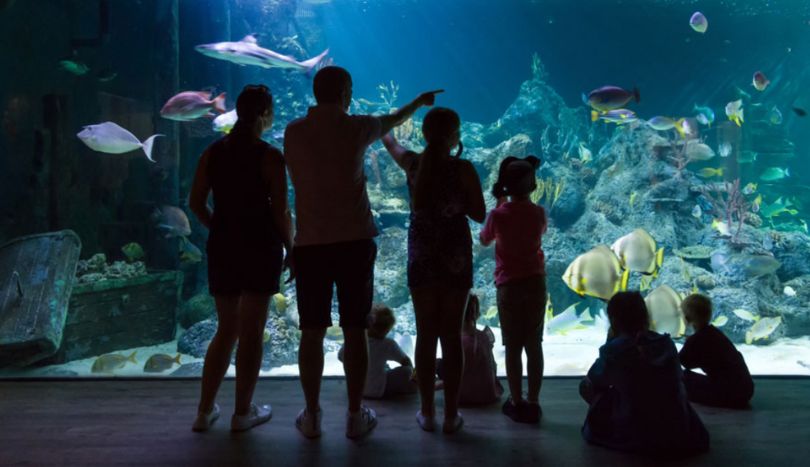 Families can have fun and learn something new at Skegness Aquarium. It is one of the top indoor attractions in Skegness.
The attraction has a loose pirate theme, with workers dressed as raiders and to keep younger visitors entertained.
All of them are thrilling, but "Davy Jones' Locker," an underwater corridor with rays and sharks swimming overhead, is the most thrilling.
There are several interactive stations strategically placed between the tanks.
The Interactive Sandpit allows children to shape the landscape by using an overhead projection to virtually create mountains, rivers, and seas.
Kids can color their own marine life in Draw Alive and then view it reproduced in a CGI setting.
7. Visit the Natureland Seal Sanctuary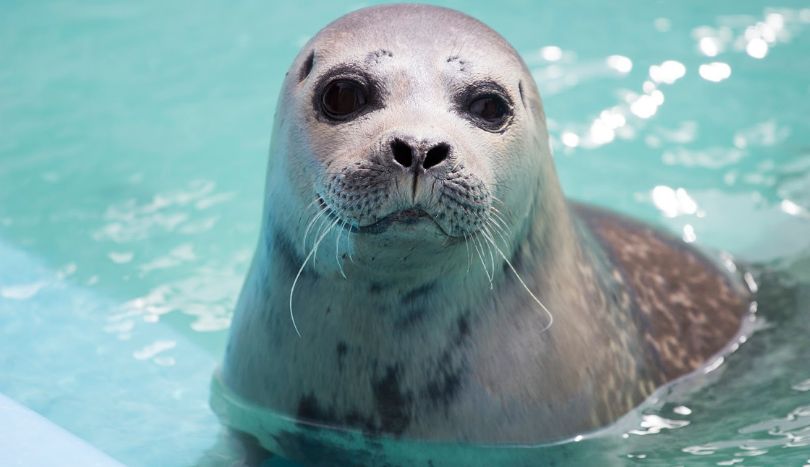 Consider visiting the Natureland Seal Sanctuary if you're looking for some fun things to do in Skegness. The seal sanctuary is located on North Parade in Skegness.
In 2015, the Skegness Seal Sanctuary won the award for "Best Skegness Attraction." One of the main reasons why it has become a popular tourist attraction in Skegness and why it is at the top of our list is because of all the adorable creatures that can be found there.
Don't worry if you get peckish; Skegness Seal Sanctuary has a beautiful area inside where you can go and eat and drink.
It's also a very worthwhile organization known for rescuing and rehabilitating orphaned and injured seal pups stranded on Lincolnshire beaches.
The Seal Sanctuary is similar to Skegness Zoo, a must-see if you're on vacation in Skegness.
8. There's Joy and Fun Galore at Pleasure Beach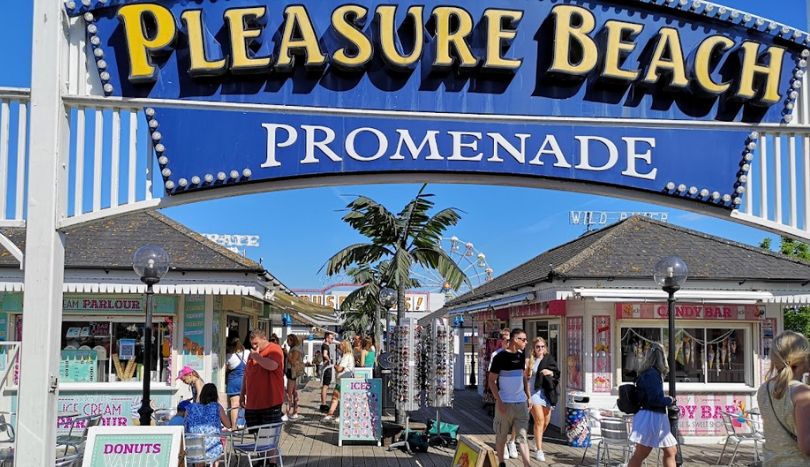 Pleasure Beach is a fairground-style attraction for children, teenagers, and young-at-heart adults. It is a beachfront attraction located between the Pier and the Clock Tower Esplanade.
Along with a safari train, an adventure golf course, and a ten-pin bowling alley, there are amusement playgrounds, carnival rides, bumper cars, a big wheel with 18 gondolas, and a rocking viking vessel.
The terrifying Freakout rollercoaster is only appropriate for older children who are more courageous and for adults who have a strong constitution.
Do not miss the Skegness theme park in the vicinity.
Pleasure Beach also serves traditional fairground fare like hot dogs, ice cream, doughnuts, and candy floss.
9. Visit the 20th Century Skegness Model Village
The 20th century Skegness Model Village is set in a pleasant landscaped park. It is a unique mellow attraction that formed the backbone of English coastal resorts.
Unlike many model villages, this one is designed to be an idealized English village. It features chic stores, cottages, a cathedral, hundreds of miniatures, and a fairground with several exhilarating rides.
Reading the clever store names and signs, such "Willie Cheatam's" Greengrocers and the "Curl Up & Dye" hair salon, is the key attraction here.
10. Do Not Miss Golfing While you Vacay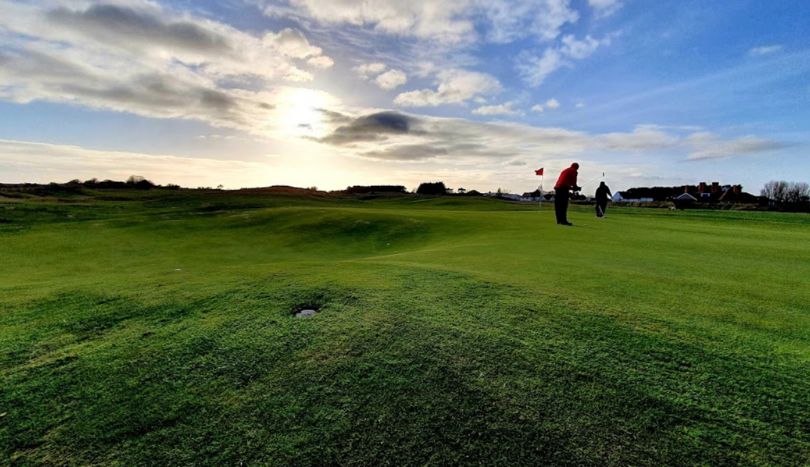 Skegness features three golf courses if you want to spend your vacation playing golf.
By far the oldest is Seacroft Golf Club, a links course that is partially built on the Gibraltar Point dunes. It was established in 1895. It is frequently listed among the top 100 courses in the country.
Green fees are modest for a club of this caliber, with a maximum of £70 on a summer weekend.
Mini Golf Skegness is a nine-hole course with a 3rd and 9th that will punish overzealous approach shots.
Here, rounds can be played for as little as £11. It also features a nice pro shop. There's also a driving range with 16 bays to help you clear the dust from your swing.
11. Marvel at the Diamond Jubilee Clock Tower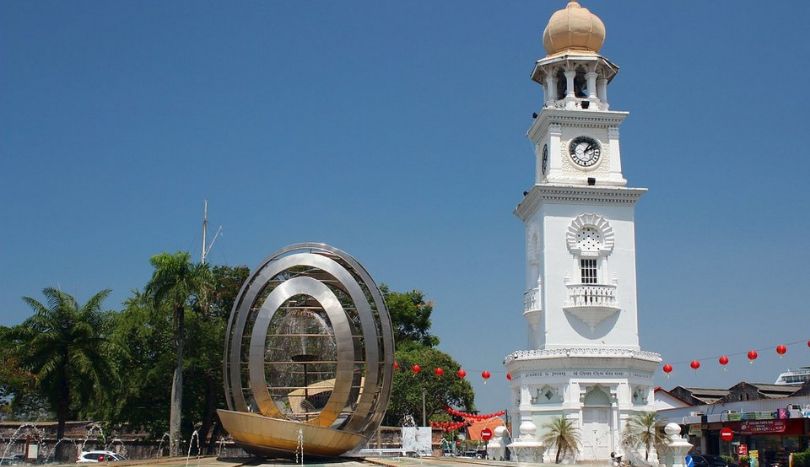 This Neo-Gothic clock tower, built in 1899 to commemorate Queen Victoria's Diamond Jubilee two years earlier. It is the town's most conspicuous landmark and one of the top places to visit in Skegness.
The tower features blind arches, pinnacles on either side of an octagonal shaft, a four-faced clock, a slate dome, and a weather forecast.
The tower lies at the junction of Grand Parade and Lumley Road, surrounded on all sides by the resort's entertainment and attractions.
The ground has sunk somewhat over time, leading the tower to tilt slightly towards the town.
12. Learn How Modern Farm Works at Hardy's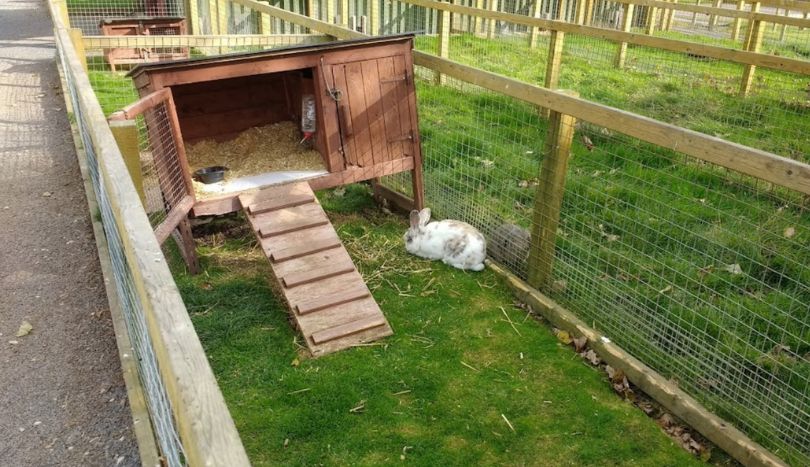 Hardy's Animal Farm is about a ten-minute walk from Ingoldmells Beach. It is among the top family-friendly activities in Skegness. Visitors can interact with farm animals up close and learn how a contemporary farm operates.
This 7 acres of open space features variety of animals are available for kids to meet. There is a unique glass cage where visitors can observe pigs giving birth at Skegness Hardys Animal Farm.
You can anticipate seeing claves, chicks, lambs, and babies in the spring and summer. You will fall in love with these adorable farm animals.
Skegness Hardy's Animal Farm offers both kids and adults a variety of activities. It's a great attraction for the whole family, and is the best day out near Skegness.
13. Go Horse Riding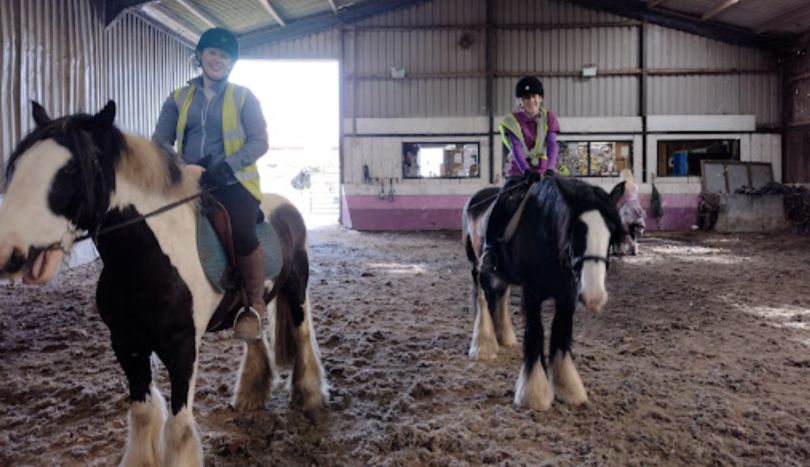 Although the scenery in Lincolnshire is flat, it can also be incredibly picturesque and is a wonderful place for horse riding.
There are four equestrian facilities that offer guided tours as well as hacks through farms and along the coast.
If you have any horseback riding experience, you could partake in a ride activity along the beach., and is one of the fun things to do in Skegness.
Orchard Farm Riding Center, located 15 minutes from Skegness, provides 18-mile full-day rides into the Lincolnshire Wolds. It features picnic stops and a natural spring where the horses may cool off in the summer.
14. Tour the open-air Farm Museum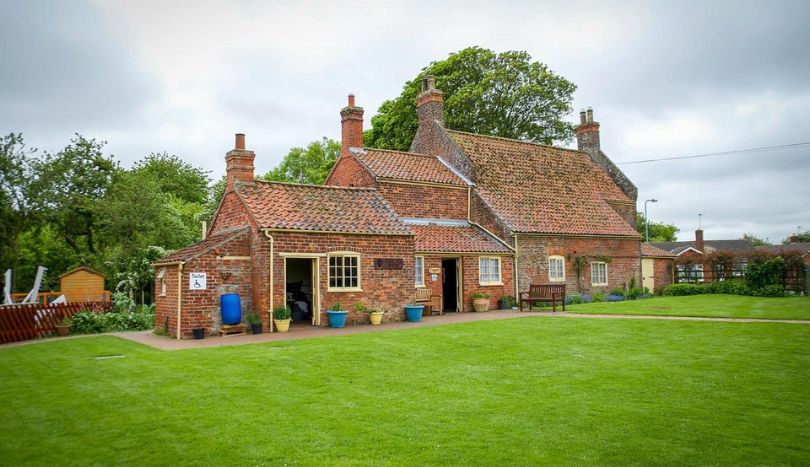 Visit the 18th century Village Church Farm which is one of the best museums in Skegness. A cozy "mud and stud" thatched home and other structures have also been transported here from nearby villages.
Exhibitions about farming and rural household life in the 19th and 20th centuries are on the display here. These exhibits feature details on local breeds such longwool sheep and red poll cattle, as well as interiors of homes, equipment, and hand tools.
Numerous activities are available at the Village Church Farm, such as dressing up, insect hunts, storytelling, skittles, and feeding the chickens. "Bob" the Hornsby steam engine is a hit with the kids.
There are numerous events available throughout the year. It offers one of the top experiences of cinemas in Skegness.
15. Kids Go Free at Skegness Raceway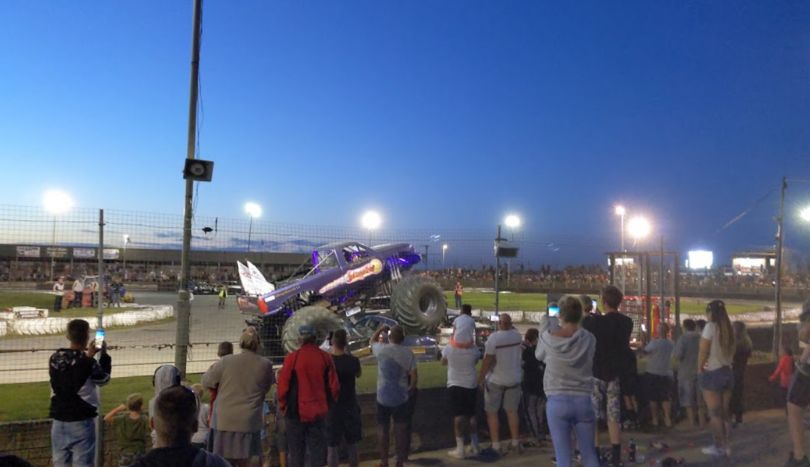 Even though Skegness Raceway is only two miles inland from Ingoldmells, it's a fantastic destination for motor enthusiasts, and is one of the fun things to do at Skegness.
It used to be a speedway and greyhound racing stadium, but it has been recently renovated into one of Skegness's most well-liked tourist attractions.
At Skegness Raceway, you can experience the thrill of banger and stock car racing, as well as monster truck car crashes as they race around the course. There are also vehicle and motorcycle stunts, and because Skegness is popular with caravans, there are the well-known caravan bangers.
16. Shop your Heart's Content at Ingoldmells Market
The Fantasy Island theme park is home to Ingoldmells Market, which is Europe's largest market with more than 320 vendors.
You can spend hours scouring the many stalls to find deals on everything, and is one of the top things to do in Skegness.
Ingoldmells Market is dispersed throughout a network of busy walkways that slant beneath the theme park's nearby roller coasters.
It is a home to a large number of food and beverage stands selling delectable goodies from many home countries. The market is absolutely free to attend, so go see what treasures you can find.
Best Places to Eat In Skegness
The cuisine options in Skegness are kaleidoscopic. Every taste is catered to here, with everything from steakhouses to informal cafes to classic English, Italian, Chinese, and Indian eateries.
If you're looking for suggestions on where to eat while you're in Skegness, keep reading our list of the top 4 eateries.
(i) The Steamboat Cookhouse and Pub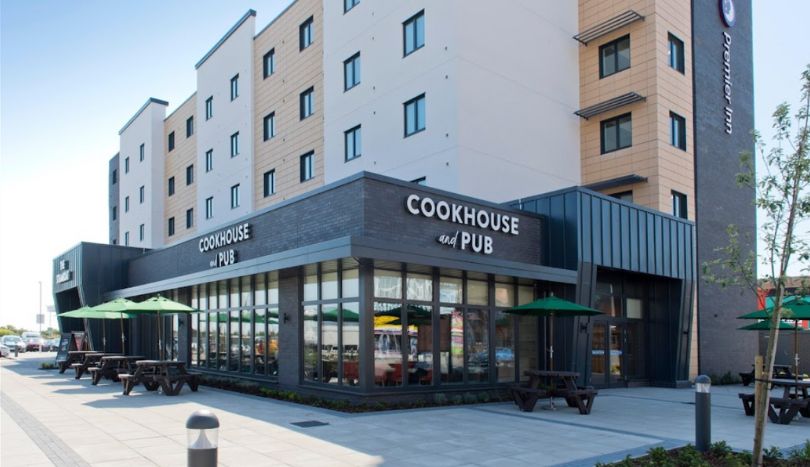 The Steamboat Skegness is a reasonably priced dining establishment that serves high-quality food in a cozy setting with a friendly staff. There is a wide variety of dishes available for breakfast, lunch, and dinner. It includes special delights for youngsters, gluten-free, dairy-free, and vegan options. Treat yourself to limitless breakfast or a delicious lunch with plenty of meat and fresh vegetables to spice up your Skegness journey.
Address – Seafront, Skegness PE25 3HH
(ii) Steak N Stuff
Treat yourself to a hearty lunch of well cooked steak surrounded by freshly prepared veggies. Take advantage of affordable filet steaks, sizzlers, vegan selections, a kids' menu, and a wide selection of drinks. It's a little, quaint restaurant on a corner that gets a lot of business from the neighborhood, so reserve a table in advance.
Address – 36-38 Castleton Blvd, Skegness PE25 2TS
(iii) The Barley Mow
The pristine, peaceful, and modern country tavern, which serves superb grills, fish, and shellfish, is only a short drive from Skegness. They offer gluten-free and vegan options on their menu. There is parking, outdoor seating, and every other amenity that a family-friendly restaurant must have.
Address – Sea Ln, Friskney, Boston PE22 8SD
(iv) The Cozy Corner
Eat at charming little neighborhood cafés to make the most of your trip to Skegness. One of the best tiny cafés is The Cozy Corner, which offers deliciously prepared food, top-notch coffee, lovely decor, and an amazing ambiance.Couples are strongly encouraged to stay at The Cozy Corner, which serves a huge full English breakfast.
Address – 39 Roman Bank, Skegness PE25 2SN
Best Places to Stay on Skegness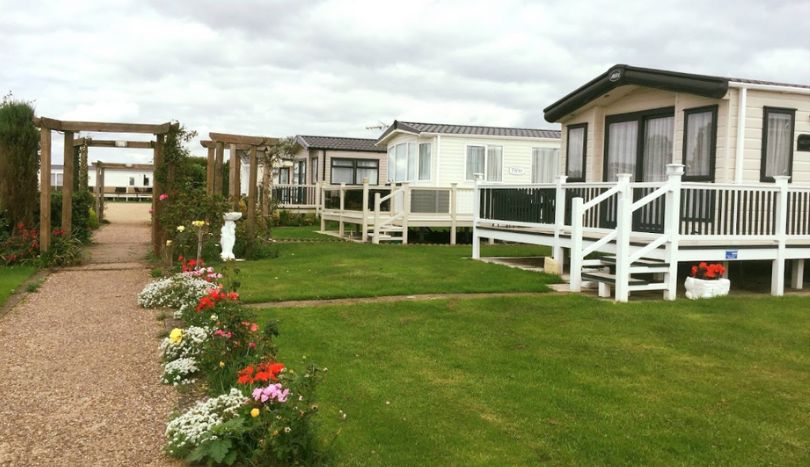 Some of the top hotel recommendation to ensure a pleasant stay in in Skegness include –
(i) Beach Cottage
Beach Cottage is situated on sand dunes overlooking the beach at Anderby Creek. It has been renovated into an exquisite beach getaway for two people. Discover a wealth of bird life, plants, and species right adjacent to the pristine Lincolnshire Coastal Park. Breakfast is complimentary.
Address – Anderby Creek, Skegness PE24 5XT
Phone number – +44-1754-876-523
(ii) Richmond Holiday Park
Richmond Holiday Center is a perfect location for exploring the countryside. This is where you enjoy all the pleasure of Skegness' bustling resort with its funfairs and sandy beaches. It offers five different categories of holiday homes, each with a maximum of six berths, color TV, kitchen and bathroom facilities, and either two or three bedrooms.
Address – Richmond Dr, Skegness PE25 3TQ
Phone number – +44-1754-762-097
(iii) Butlin's Skegness
It's critical to select the ideal lodging for any stay. There's a choice of accommodation to meet different family demands at the Butlin's Skegness resort. This is where you seek a splash of luxury or a roomy home-from-home. Stay in one of the cheerful Fairground Apartments or the cheerful Seaside Apartments, all of which feature cosy, quaint seaside accents. Every family has a choice, whether they're looking for a cosy getaway or a cozy place to sleep and take a shower.
Address – Ingoldmells, Skegness PE25 1NJ
Phone number – +44-330-100-6648
(iii) Palm Court Skegness
Palm Court Skegness is a family-run Bed & Breakfast holiday accommodation on Skegness's coastline. It offers 12 recently remodeled, pleasant, modern guest rooms, some with sea views. It offers free unlimited WiFi, and complimentary breakfast.
Address – 74 S Parade, Skegness PE25 3HP
Phone number – +44-1754-767-711
Bottomline
We hope that our Skegness travel guide proves useful to anyone looking to follow in the footsteps of Inspector Frost, compete on the beach, or simply enjoy a traditional English seaside holiday. Be sure to check it out the next time you're holidaying in Skegness, Lincolnshire.