Are you planning a trip to San Francisco and want to know what are the best things to do in Sausalito CA? Continue reading to find out not the best attractions in Sausalito, but also the culinary scene, excursions, and other great experiences!
Sausalito may easily be confused for a Sicilian fishing town on a beautiful sunny day. With its cute boutiques, fancy art galleries, breathtaking beachfront promenade, and yacht-filled docks, this picturesque seaside town has the vibe of a European vacation destination, especially during the summer.
Even natives have the joy of getting away when they spend an afternoon here, despite the fact that it's only a few hours away from SFO.
Since the inception of the passenger ferry service in 1868, Sausalito has been a cherished getaway for Californians who cherish the simple pleasures in life. Visitors can still view exquisite villas tucked on wooded hillsides and arrive in the same way as affluent Victorians did in the past.
The ferry trip over the water provides a stunning entrée to Sausalito, with breathtaking vistas of the Golden Gate Bridge. This short ferry ride is regarded as one of the most beautiful in the world.
Sausalito is normally a few degrees hotter than San Francisco due to the Marin Headlands, which are just across the bridge, yet it is often brisk in the evening when the fog blows in.
Sausalito entices visitors with its magnetism and elegance. With this list of the top things to do in Sausalito, you can learn about the best places to visit in this lovely seaside resort.
Here are the 10 best things to do in Sausalito –
1. A walk to Remember at Bridgeway!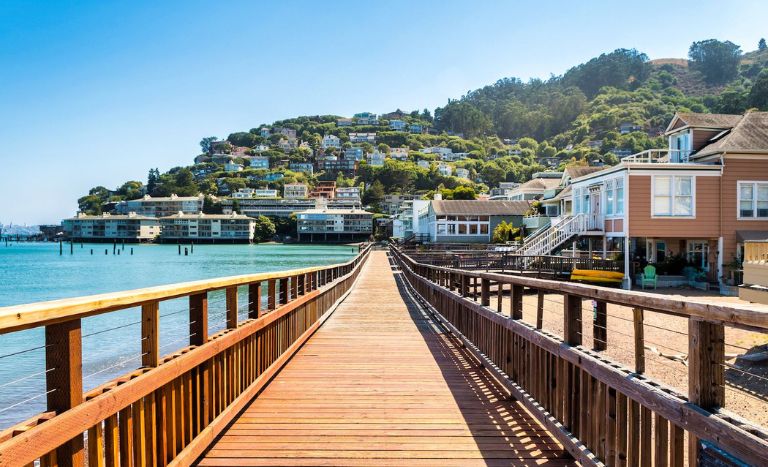 Yes, Sausalito has a wealth of sites where you can stretch! Long riverside walks on the Bridgeway Promenade are obligatory on your visit to this picturesque seaside town. There are simply beautiful vistas of the San Francisco Bay and Angel Island, in addition to all the locally owned stores and restaurants you'll find along the road.
You'll probably see a man holding a rock. the bronze sea lion monument (only visible during low tide), and maybe a few otters and seals swimming in the harbor.
Why You Should Go at Bridgeway?
Take a walk along Bridgeway from the downtown area for spectacular sunsets and photo ops. This picturesque promenade surrounds the bay and boasts vintage street lamps with colorful floral hanging pots.
This beachfront walkway starts at the ferry dock and runs in two directions: yacht ports to the north, with the harbors, and Mount Tamalpais to the south of the Bay, with the view of San Francisco in the backdrop. Check this place, if you're looking for free things to do in Sausalito.
What to Do in Bridgeway?
Taking the Belvedere Elevator for a beautiful view of the Vina del Mar fountain and the yacht harbor is a fun excursion.
Visitors can witness seals bathing in the bay if stroll further on the Bridgeway. The renowned bronze seal statue, which is covered in water during high tide, is located halfway along the pathway.
There are some fascinating boutiques and businesses along a quaint street off Bridgeway on Princess Street. Several luxury waterfront restaurants alongside Bridgeway overlooking the Pacific offer beautiful views of San Francisco in the distance.
2. Take a Day Long Detour at Muir Woods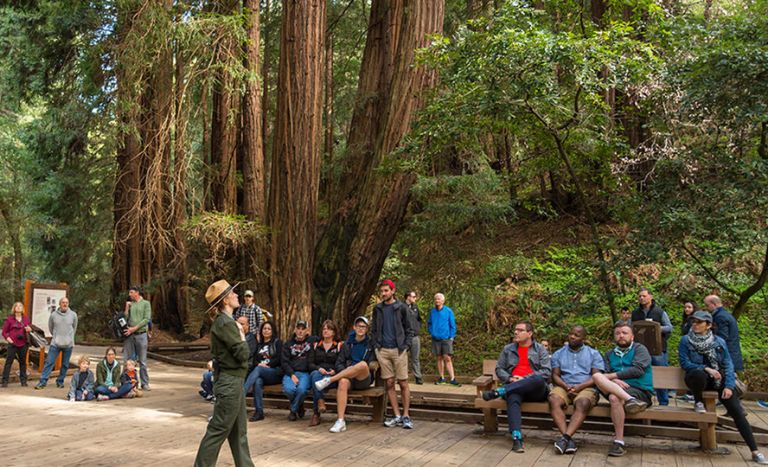 Muir Woods National Park, just 10 miles north of the Sausalito is home to some of California's most spectacular seaside redwood trees, several of which peak nearly 300 feet from the ground.
They're the world's tallest trees, and in 1908, they were designated as a national monument due to their beauty and value to the environment of the area.
Muir Woods tours can easily be combined with other area attractions due to its close proximity to San Francisco and Sausalito, allowing visitors to view some of the west coast's most magnificent sights in a short time span.
Why You Should Go at Muir Woods?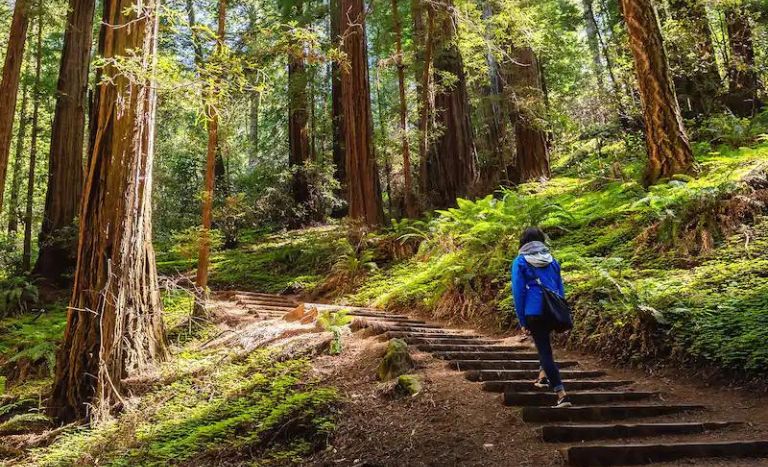 14 miles north of Sausalito, this legally recognized woodland is one of the remaining vestiges of the redwood forests that were once the staple canopy of California's coastlines. Muir Woods National Monument is the only "ancient" forest left in the San Francisco Bay Area, and one of the world's rarest.
These majestic ancient redwoods flourish here due to the foggy, damp coastal climate. These beautiful giants grow to almost 300 feet in height, with Clemson limbs and lush hoods, and their heads rise above the mist to embrace the sunshine. In this beautiful, quiet prehistoric rainforest, orchids, sea poppies, and saber mosses thrive.
What to Do in Muir Woods?
Muir Woods features six miles of well-kept nature trails that can be accomplished in short loops.
Hikers can follow the Redwood Creek Trail all the way down to Muir Beach, a small hidden white sand beach with long tables, fire pits, and hiking tracks overlooking the beach, accessible from Muir Woods.
You can take a secluded refuge in nature at the Green Gulch Farm Zen Centre which is located on the beautiful hillside about 3-miles away from Muir Woods National Monument. This place is all yours if you're looking for a mindfulness retreat as the center has meditation workshops, wisdom talks, and overnight accommodation in the Zen tradition.
During the winter months, hikers to Muir Beach may witness migratory humpbacks off the coast. Looks like this is one of the best things to do in Sausalito this weekend.
3. Do not Forget to Take your kids to the Bay Area Discovery Museum!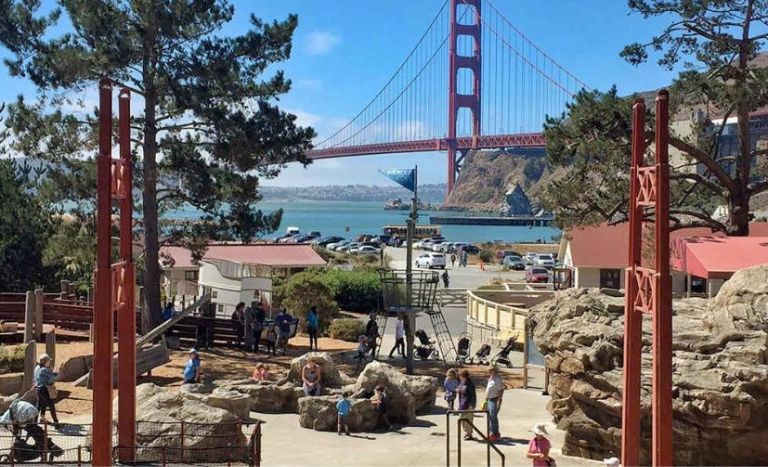 Located in historic Fort Baker in the Bay Area. It is the most famous children's museum dedicated to generating curiosity among the children that makes their imagination run wild. The museum's purpose is to entertain, inspire, and educate kids by allowing them to explore and connect with the natural ecosystem and diverse communities.
Why You Should Go to Bay Area Discovery Museum?
It's a fantastic attraction for families and kids. Many of the exhibits feature activities that foster curiosity and imagination, predicated on the concept that play encourages creativity and achievements.
Relativity, principles of quantum physics, friction, and many other concepts are taught to the pupils. At the Fab Lab Open Studio sessions, all activities are hands-on and interactive, allowing children to use a variety of tools and software appropriate to their age.
What to Do Bay Area Discovery Museum?
The museum's highlights include the Obstacle Course, which gets youngsters rolling; the Art Studios, which stimulate creativity through the art workshop; and Bay Hall, which portrays the Bay Area ports in 3D and interactive ways.
The Gumnut Grove has three wooden castles for kids aged five to ten years old, and the Lookout Cove is an outdoor adventure area. The most kid-friendly things to do in Sausalito are right here!
4. Take a Virtual Trip to the San Francisco Bay!
Visualize the city of San Francisco minus the bay. It was so close to happening. The Bay Model, located in a WWII-era warehouse is a 1.5-acre, three-dimensional, operational hydraulic prototype. It helped scientists figure out how proposed modifications to San Francisco Bay would affect the environment and rescued the Bay from being devastated.
Why You Should Go to San Francisco Bay?
This gigantic model, which measures 400 feet wide by 320 feet long and portrays the whole San Francisco Bay and Delta from the Pacific through Sacramento, is 400 feet wide by 320 feet long.
Hundreds of gallons of water are moved throughout the display through hydraulic pumping, which generates a 14-minute tidal undercurrent. These operational pumping systems are installed to mimic the 24-hour tidal cycle, which offers you a real-time geological experience.
What to Do in San Francisco Bay?
Software simulations are being used by the US Army Corps of Engineers, and the Bay Model has become a public educational facility. Visitors can learn about the bay and its meteorological dynamics through interactive exhibits.
Learning programs, training, and activities are available at a visitor center. For groups of ten or more persons, guided tours are available by registration. You can visit here anytime, as these are the most preferred things to do in Sausalito today.
5. Take a Day Trip to Golden Gate National Recreational Area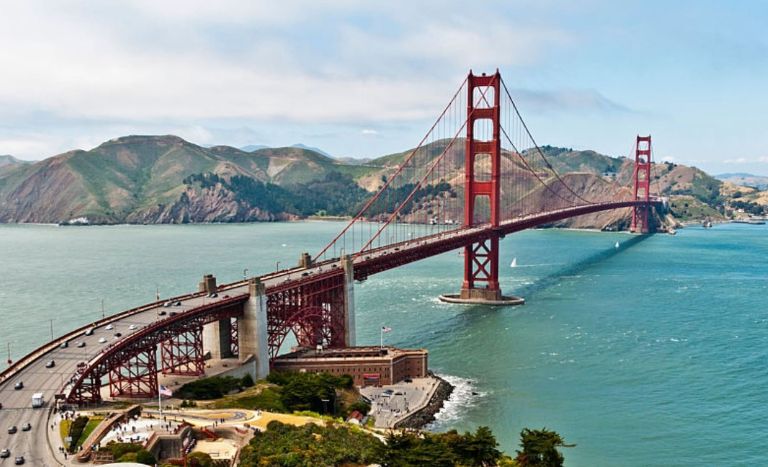 The diversified terrain found inside Golden Gates National Recreation Area (GGNRA) is unlike anywhere else on Planet – from its generations-old redwood tree forests to nature trails and sandy beaches. It is the most iconic landmark between San Francisco and Sausalito that draws over 10 million visitors every year. Also, one of the top things to do in Sausalito.
Why You Should Go at Golden Gate?
This 80,000-acre urban park is made up of 37 distinct places spanning southern San Mateo County to northern Marin County rather than being one linear area. The largest urban park in the world stretches for 28 miles along a gorgeous, wild shoreline that spans three counties.
From the primitive Coastal Miwok and Lenape tribe to the arrival of Spanish colonists, from the California Gold Rush to the US military tactics, this area has gained its fair share of heritage.
Today the area is dominated by 470 historical sites, a picturesque golf course, a historic memorial, the Walt Disney Family Museum, many outstanding restaurants, a motel, miles of hiking and bicycling trails, scenic vistas, beaches, picnic spots, and a rich diversity that must be experienced. Ain't this one of the best things to do in Sausalito California?
What to Do in Golden Gate?
More seaside choices can be found north of the Golden Gate Bridge in Marin County, including the coastal tracks of Marin Headlands, Muir Beach, Stinson beach, and even parts of Cape Marin and Mount Tamalpais.
To the south, it includes trekking paths and local beaches. San Francisco County has trekking paths at Fort Funston and local beaches to the south. Mori Point, Rancho Corral de Tierra, and Sweeney Ridge, all in San Mateo County, provide wilder, more rocky scenery.
GGNRA offers treks of all lengths, difficulties, and sights, with over 250 maintained trails spanning 140 miles.
Land's End Trail – This easy 3.4-mile circle walk inside Land's Ends Park covers an elevation of 500 feet and passes by the city's historic Sutro Baths, a privately owned saltwater swimming pool near SFO Bay.
Mori Point Loop Trail – The westernmost corner of the recreation area, is a relatively tough 1.4-mile round trip trek to a hilltop giving the stunning views of Pacifica.
Muir Woods Main Trail – The usual route in Muir Woods National Monument starts at the visitor centre and follows the stream past giant redwood trees before ending at the visitor center. The path here comprises cobbled patches, compact gravel, and a wooden deck, and is an easy 2-mile stroll for people of all ages.
California Coastal Trail Section – The walk begins at the Baker Beach driveway and guides hikers past coastal views of the Pacific and the San Francisco Bay entrance. It is a 1.5-mile stretch of the iconic 1,200-mile California Coastal Trail.
6. Breathe the idyllic scenery at Sausalito's Houseboats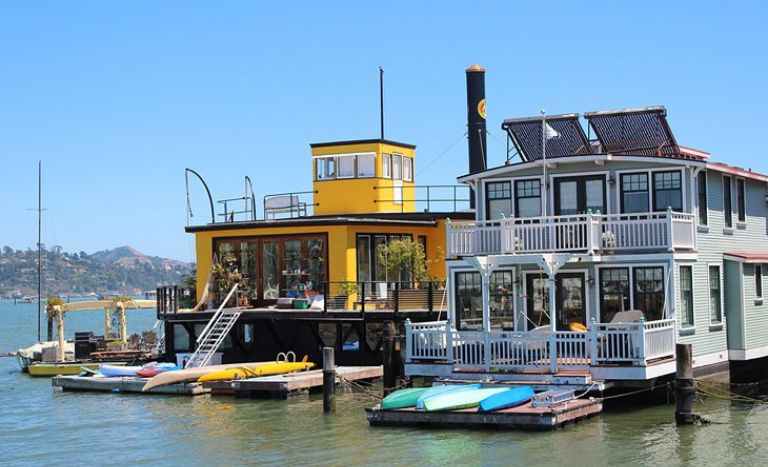 Your trip to Sausalito is incomplete without a tour to Richardson Bay which houses a myriad of houseboats from a pirate ship to decks during WWII tug.
The area features a lot of distinct and ritziest houseboat settlements that you won't acknowledge until you see them.
They've been a mainstay of Sausalito's waterfront since the 18th century when they were deployed as ordinary boats in the summers and then towed in the winters.
This venue became a fixture of peace and love in the 1960s, when the free-spirited Hippie community began to flock to the area, eventually growing into a vibrant creative zone.
Why You Should Go at Sausalito's Houseboats?
A walking tour of the Sausalito houseboat community is available to anyone and everyone. From architectural marvels to elegantly refurbished old sailing ferries, there's something for everyone. If you go outside the well-known sites, you'll come across a few passageways, and docks that are in need of your attention.
In several luxury marinas in Sausalito, there are around 400 floating residences in each block. The houseboats are equipped with all of the comforts of home. The front design on many of the houseboats is vibrant and fanciful, with flower pots and murals on the decks. Take your date along as this is the most romantic things to do in Sausalito CA!
What to Do in Sausalito's Houseboats?
Check out the most famous houseboat communities – Galilee Harbour and Waldo Point Harbour that are stashed between the yacht marinas. Guests can take a self-guided tour of the houseboat marinas, and certain houseboats are open to the public for art displays on special occasions.
These are the best spots to go for a guided tour of a variety of houseboats:
In the vicinity of Gate 5 Road in the north, you can enter from Liberty Dock, Issaquah Dock, South 40 Dock and Main Dock.
At the Gate 6 Road, enter from Kappas's Marina Gate 6 behind the seaplane area near Waldo Point Harbor.
7. Explore Marin Headlands – The Nature Reserve Backstage Golden Gate Bridge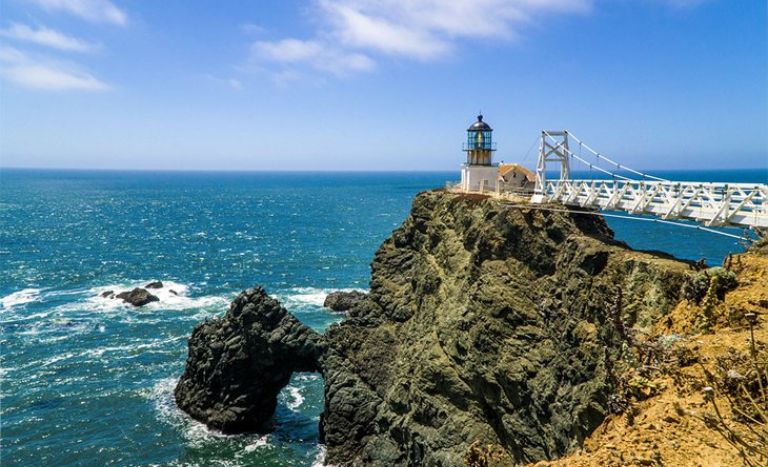 This is a lovely little countryside located halfway between San Francisco and Sausalito. The Golden Gate Recreation Area encompasses Marin Headlands. Just north of the Golden Gate Bridge, there is a gorgeous place. Make sure to include it in your travel plans.
Just north of the Golden Gate Bridge are the Marin Headlands. If you're wondering what headlands are, they're rocks that rise far above the water.
These cliffs were part of military tactics as this place served as a wartime port to protect the Golden Gate Strait. The Nike missiles were deployed over the Bay post-WWII. Those missiles, which are part of the Marin Headlands area, can still be seen, but they are now part of the headlands' history.
Why You Should Go to Marin Headlands?
Located just north of the Golden Gate Bridge, is a wide length of conserved grassland with breathtaking views of the Pacific, the city, and the Golden Gate.
A five-mile twisting route takes you through one of California's most picturesque stretches of road. If you're expecting things beyond a photo op there are walking trails, beaches, and campsites. Taking Marin Headland's getaway is one of the best things to do in Sausalito at night.
What to Do in Marin Headlands?
The first stop is usually a park visitor center in the old Fort Barry Chapel stashed between the field and bunker roads. It is three miles away from the park entrances.
Scouts and volunteers are open to questions, and kids can see exhibits and replicas such as a Miwok house, a World War II-era army garrison, popular science displays, and more. A flagship store is located here that offers a rare collection of books, accessories, banners, miniatures, and other keepsakes.
The Marine Mammal Centre, situated near Fort Cronkhite, is another Marin Headlands attraction. You can enjoy a free self-guided tour and learn more about the native baleen whales while greeting otters and sea lions that the center is treating.
Hiking paths may be found all across the headlands. But taking the Coastal Trail from Rodeo Beach is one of the kid-friendly treks. The walk weaves its way up the cliffs above Rodeo Beach and Fort Cronkhite, providing some breathtaking vistas.
The Marin Headlands' heritage is another major lure. The Headlands were home to the US Army throughout the twentieth century, as you witness the myriads of abandoned military structures and bunkers. Climbing over the old concrete cannon installations that surround the bluffs along the coast is a favorite pastime for natives and local kids.
You can also tour SF-88L, a rebuilt Cold War-era Nike missile site. In the 1950s and 1960s, the Nike missile was an anti-aircraft weapon with a nuclear payload that was expected to be on the frontiers of defense against Soviet warplanes.
Lastly, a visit to the historic 18th-century Point Bonita Lighthouse is a must. It offers unforgettable views of the Pacific and was built to guide ships to not navigate to the rocky shores. It is the only lighthouse in the US that is navigable through the suspension bridge.
This tour is one of the best and free things to do in Sausalito and entire California.
8. Ferry Ride from San Francisco to Sausalito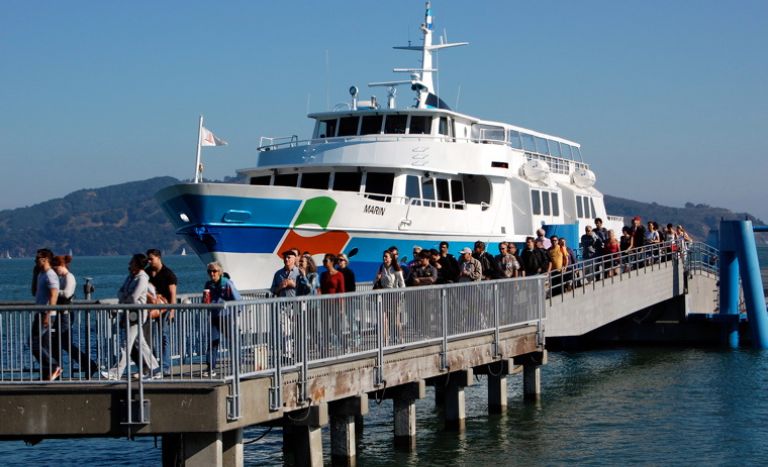 One of the top 10 things to do in Sausalito is to enjoy a lovely time with your loved ones on the San Francisco to Sausalito ferry cruise, that allows you to admire the city's skyline and the Golden Gate Bridge from the crystal clear waters.
You will also visit the serene Sausalito hamlet and enjoy its rustic charm, and picturesque landmarks, and even dine at beachside restaurants with breathtaking views of San Francisco as part of the excursion.
Hop on a Golden Gate Ferry from Sausalito to experience a leisurely cruise away from the city's hubbub while passing by some of the city's most iconic landmarks, such as the Golden Gate Bridge if you're looking for adventurous things to do in Sausalito this weekend.
The boat leaves from the San Francisco Ferry Building, which is a noteworthy stop, due to its food and culinary scene.
Agora Bakery, which sells organic handmade baguettes; White Glass Java, an espresso cafe that typically uses roasted coffee beans; and De Miette, a beautiful Italian vegan bakery, are among the locals' favorite destinations among the variety of distinct gourmet shops and artisanal bakeries.
The Ferry Building also houses a number of well-known restaurants, including The Arched Duck, a Vietnamese dine-in that source locally produced ingredients.
The ferry offers a great visual tour of the San Francisco Bay, with its yachts, cargo vessels, swarms of screaming seagulls, and hovering falcons, after departing from the Ferry Building dock.
The journey passes by the iconic Alcatraz Island and delivers a magnificent scenery of the Golden Gate Bridge to the west. In the calm Richardson Bay to the east, travelers can glimpse Angel Island and Tiburon just before the voyage finishes.
Also, don't forget to take pics of the town, bridges, and bay from the turquoise waters.
9. Walk-in Artist's Shoes at Gallery 111 Art Studio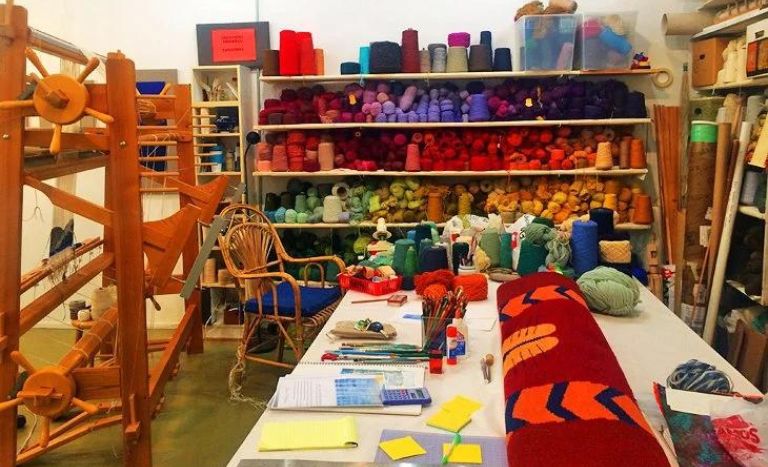 Gallery 111 has been in the art and leisure business for nearly two decades, constantly winning awards for best art gallery, best bar, and best happy hour. From art openings to literature festivals, and movie screenings to concerts and DJs, promotional events, and corporate gatherings, this Art Studio is lined up with festivities 365 days a year.
A congress of 100 plus artists whose art studio is located on the WWII shipbuilding structure at the downtown Sausalito.A modern collection of original fine artworks is represented at Gallery 111.
Why You Should Go to Gallery 111 Art Studio?
It hosts the annual outdoor event, which is regarded as one of America's top art fairs, and it takes place every year during Labour Day weekend. The festival, which takes place along the Sausalito beachfront, attracts art connoisseurs as well as people who come for live music and fine dining. A perfect setting for one of the most romantic things to do in Sausalito CA.
The Sausalito Art Festival is a notable art festival known for the high quality of art on display as well as the diverse range of paintings.
What to Do in Gallery 111 Art Studio?
Gallery 111, a cluster of art galleries representing the work of over 100 artists, is an ideal spot to admire the talents of local muralists.
Painters, architects, spinners, jewelry designers, and filmmakers are among the artists who call the Industrial Centre Building home. The art studios are light-filled balconies with spectacular views of the bay.
10. Get Tanned at the Exuberant Rodeo Beach!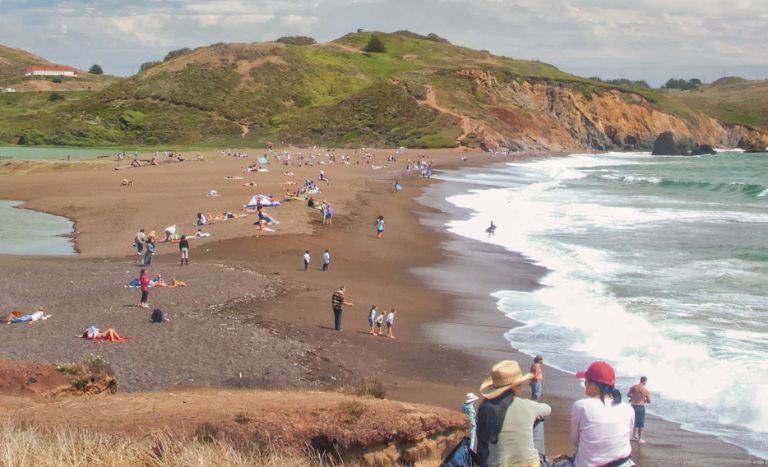 Rodeo Beach is a vast beautiful beach on the gravel spit between Rodeo Lake and Rodeo Harbour on the west side of the Marin Headlands.
Rodeo Beach is a popular destination because it is close to Sausalito and San Francisco and accessible to both locals and visitors.
Why You Should Go to Rodeo Beach?
Rodeo Beach, a crater-shaped beach just north of San Francisco, is described with phrases like breezy and exuberant.
With the beach nestled between slopes and magnificent cliffs soaring above the tides, the ambiance around it is spectacular on its own.
Rodeo Creek has dumped tiny, dazzling, multi-colored stones on the north end of this lovely beach. You'll be walking on turquoise, azure, and emerald stones instead of sand, stopping to admire beautiful pebbles of smoky quartz.
What to Do in Rodeo Beach?
At Rodeo Beach, surfing is a fun activity. The tides here simply make it look simple. Get the board down as you would be welcomed with the correct amount of waves and then continue to ride without pushing it
At Rodeo Beach, other visitors enjoy boarding (which is best in the summer). You can also fly a kite or take a stroll along the beach. Skimboarding is a favorite activity for certain people here who enjoy hunting for uncommon orange-colored rocks and one of the fun things to do in Sausalito CA.
Due to high tides, the beach is not recommended for swimming.
Many people enjoy hiking in the hilltop, particularly on a 4.5-mile circuit that includes sections of the Coastal Trail, Wolf Ridge Trail, and Miwok Trail. Start your journey at the Coastal Trail entrance, which is located at the northern end of the driveway.
What to Eat in Sausalito, CA?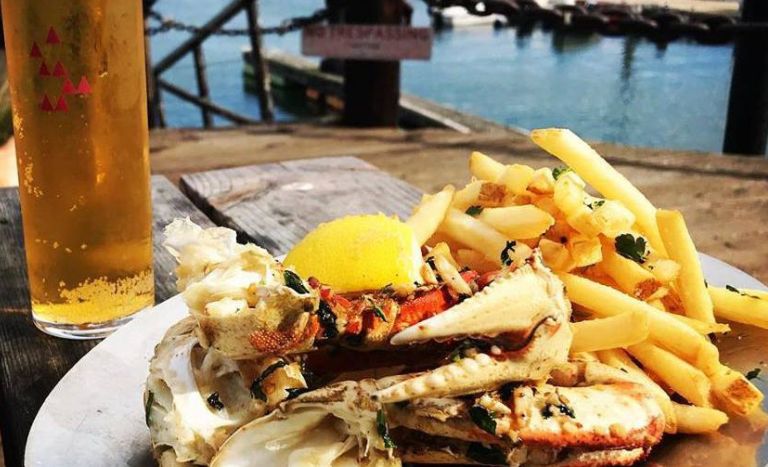 Sausalito's culinary scene is remarkable. Aside from the iconic ice cream parlor (Lapperts), there are plenty of options for when you want something a little more hearty. Many of these restaurants have gorgeous views of the bay, so make a point of stopping by and ordering your favourite poison ! Here are a few hotspots to visit:
Scoma's of Sausalito – The household name in Sausalito serves quality seafood including dishes such as Pacific Coast petrale fish, seafood gumbo, and butternut squash ravioli. However, there are always a few meat options available, such as Californian steaks and lobster combinations.
Sandrino Pizza and Vino – An authentic pizza restaurant that offers thin and crispy crust, as there are as many as 30 options on the menu. Check this out if you are looking for a relaxed date.
Saylor Restaurant & Bar – If you have a thing for Mexican food, head to Saylor's. They have happy hours between 4 pm and 7 pm. It also offers budget-friendly tacos, shrimps, burritos, and more.
Barrel House Tavern – There's a good assortment of seafood on the menu, including salmon, oysters, and lobster rolls, as well as steaks and rice dishes. A complete bar is also available, as well as some inventive craft concoctions.
Where to Stay in Sausalito, California?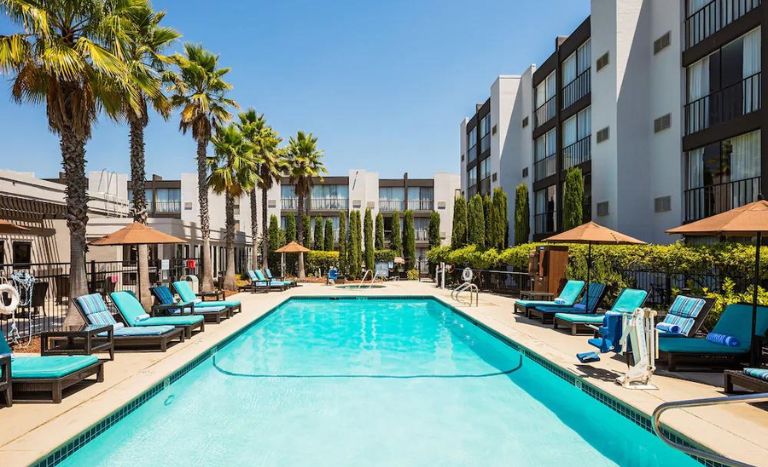 Make the most of your trip to Sausalito by staying in the best locations to experience everything the city has to offer. Our hotel suggestions will be a hit with you.
Cavallo Point – The Lodge at the Golden Gate – It is in close proximity to the Bay Area Discovery Museum. This 4-star luxury stay offers accommodation in the renaissance era building that offers contemporary-style rooms. Guests will enjoy complimentary breakfasts, an outdoor pool, and cycling on the property.
The Gables Inn Sausalito – Offers a relaxed accommodation near Bridgeway Street. The accommodation at the 3-star hotel is spacious and offers a buffet breakfast.
Holiday Inn Express Mill Valley San Francisco – A heated outdoor pool, jacuzzi, yoga studio, a bike facility with rental bikes, and a mini-bar are among the amenities. A complimentary breakfast buffet and parking are included in the room rate.
Travelodge by Wyndham Mill Valley/ Sausalito – This family-friendly two-star motel is located 2 miles away from downtown Sausalito. Breakfast is included in the price of the room. Guests can check-in at any time because the front desk is open 24 hours a day.
Bottomline
Whether you're looking for a day trip destination near San Francisco, or you have to travel around the Bay Area and need something that's close by, Sausalito is definitely a great choice. Whatever time of year you visit, there are many things to do in Sausalito and it's easy to see why so many people flock to this picturesque town.
This small town has done an incredible job of preserving its eclectic charm and local identity. Despite the fact that it's only a 45-minute ferry ride away from San Francisco, it feels like you're on another island altogether.