The capital of New Mexico, Santa Fe, is situated on a Rio Grande stream on the western flanks of the snow capped Sangre de Cristo Mountains.
The blending of cultural elements from Native American, Spanish, Mexican, and Anglo-American peoples gives this vibrant and fascinating city its unique feel.
It has long been a popular tourist destination because of its charming streets and lanes, and low abode cottages. Not to mention the stunning Spanish colonial cathedrals, abundance of Native American arts affair.
Visitors can find a variety of remarkable Native American mesas that are still inhabited in the mountainous region surrounding the town. There are plenty of things to do In Santa Fe for the winter sports enthusiasts as the town has hosted the activities for the past 20 years.
Here are top 20 things to do in Santa Fe that let you royally plan your New Mexico trip
1. Get inspired at the Georgia O' Keeffe Museum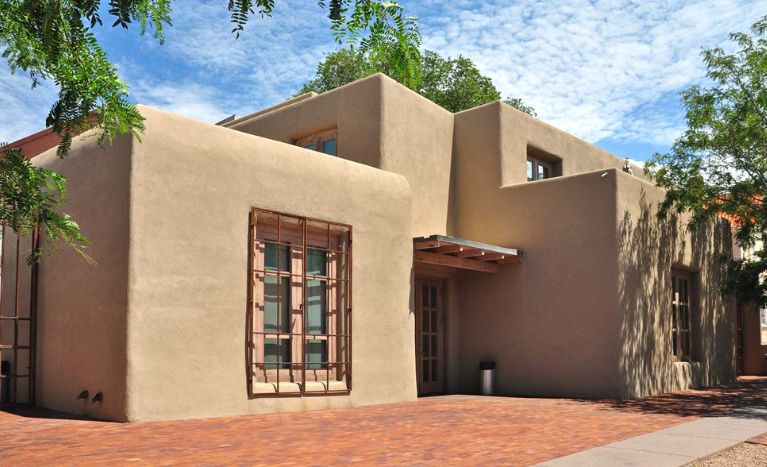 With more than 3,000 paintings, drawings, and other diverse creations of the namesake artist, the Georgia O'Keeffe Museum in Santa Fe possesses the largest collection of O'Keeffe's oeuvre in the entire globe.
Every visit to the collection is different because the displays change constantly and are always open to the public.
Additionally, the museum holds one-of-a-kind exhibits of O'Keeffe's work as well as that of other modernists like Picasso, Basquiat, and Macmillan.
The calendar of events includes lectures, workshops, and kid-friendly events and are among the unique things to do in Santa Fe.
2. Explore the Artsy Canyon Road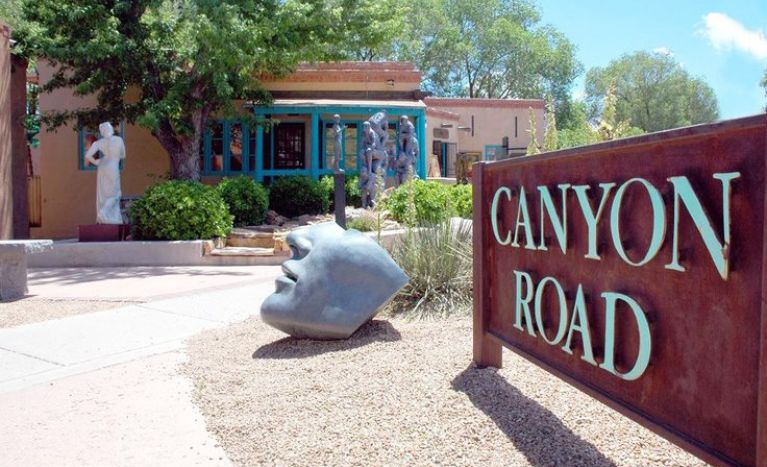 Canyon Road used to be a trade route that led to the Pecos neighbourhood on the mountain's eastern slope and among the top Santa Fe attractions. Today, it houses over 100 art studios, galleries, and workshops, many of which are devoted to indigenous crafts and cultures.
Along the road, there is a wide variety of art on display and for sale, the majority of it having a Southwestern influence.
The Medicine Fella Studio, Purple Mist Art museum, and Herman Phillips are a few of the more well-known visits.
When you're done exploring, you can choose from a variety of cafés, and bistros as well as a tonne of dining options.
3. Marvel at the Romanesque Cathedral Basilica of St. Francis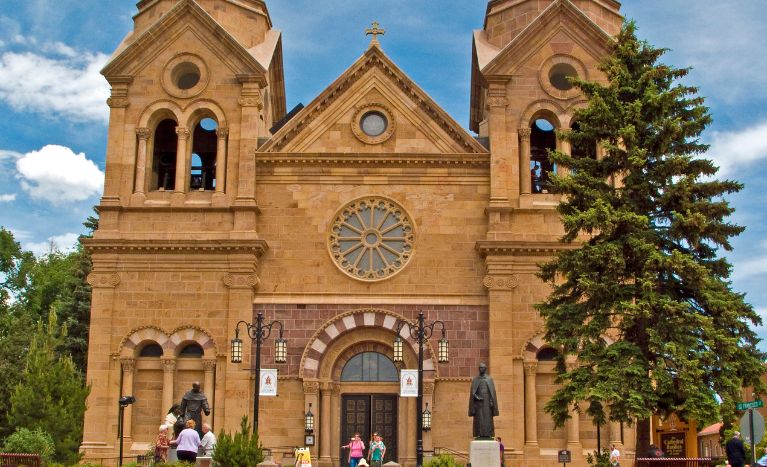 A perfect demonstration of Romanesque Revival architecture which is distinguished by its Doric columns, sweeping arches, and angular spires.
It replaced the previous adobe church that was much older and was constructed in the 18th century.
A statue of the Virgin Mary is the final piece and is the oldest of its kind in America and is one of the top things to see in Santa Fe New Mexico. It was first transported to the location in 1626 from Spain.
The interior of the church is basic yet spectacular, and it includes elements like a baptismal basin made of Brazilian rock, Romanesque colored glass, and elegant carpentry.
The keystone with the Hebrew Tetragrammaton carved on it is one of its most notable characteristics and has generated considerable discourse throughout the ages.
4. Saturdays is Santa Fe is Synonymous to Weekly Farmer Market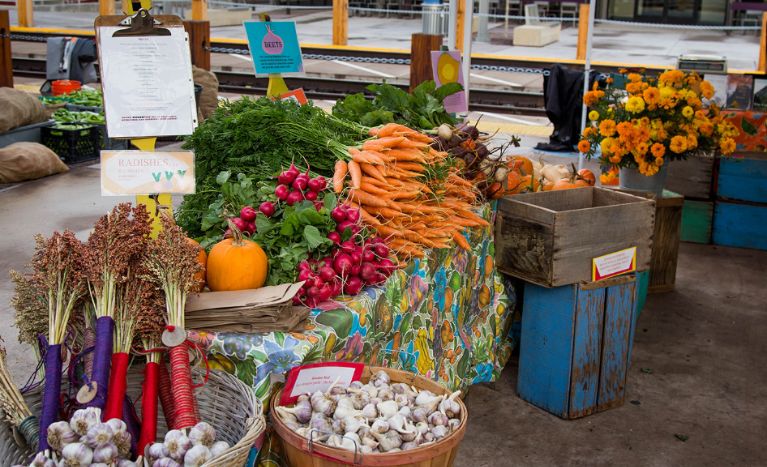 Every Saturday at the remodelled Santa Fe Railyard, more than 150 regional farmers and vendors congregate to trade the organic fruits and veggies. You can have access to a wide variety of organic produce including dried legumes, peas, zucchini, plums, corn, pastries, bagel sandwiches, and coffee beans.
The market hosts live performances by local musicians and other artists, which highlights the energy and are among the top things to do in Santa Fe. The market's parent association mandates that every product be produced in the area. Likewise, it is anticipated that 80 percent of the components and raw materials utilised in primary food products originate in this port of the world.
5. Enjoy Skiing with your Family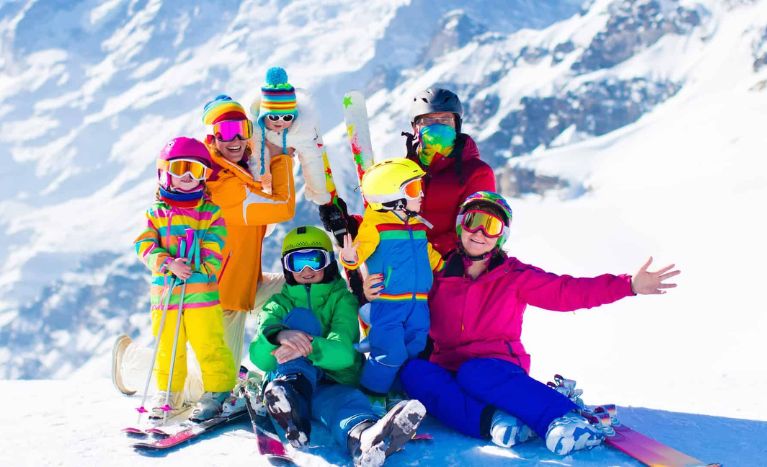 There are several excellent ski areas in New Mexico, some of which are accessible by car from Santa Fe. One of the best things to do in Santa Fe in winters particularly around Taos Ski Valley which is well-known for its challenging terrain. The valley draws tourists from all over the country. It houses several resorts close by that cater to families more.
Visitors without a car can take a shuttle from downtown to Ski Santa Fe, which is only 15 miles from the city. This well-known ski area comprises more than 650 acres, more than 80 tracks, and a wide range of terrain.
Less than an hour's drive from Santa Fe is the 750-acre Pajarito Mountain Ski Area, which features 45 trails. This ski slope is a favourite among families and novices since it has fewer trails and more area.
Sipapu Ski and Summer Resort, just over an hour's drive from the city, is another superb smaller ski area.
6. Explore Museum of International Arts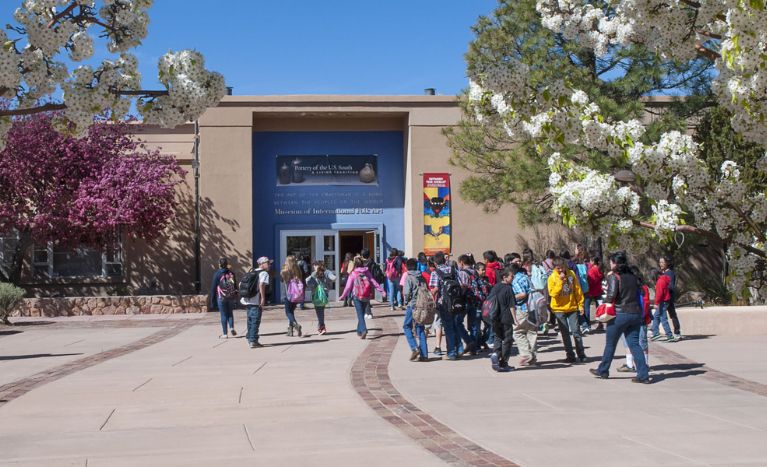 The Museum of International Folk Art boasts the biggest collection of international folk art in existence, including ceramics, tapestries, wood carving, and handicraft.
One can find the artefacts from different geographical regions such as Africa, Asia, the Middle East, Contemporary Hispano, Latino, European ,North America, and Latin America.
The museum's founder, Florence Dibell Bartlett, laid the groundwork for the collection.
The museum has received awards and accolades from numerous arts institutions across the globe, and the collection has grown significantly over time.
Each year, the museum hosts a number of events and temporary exhibitions and is one of the top things to do in Santa Fe.
7. Take a Stroll at the Plaza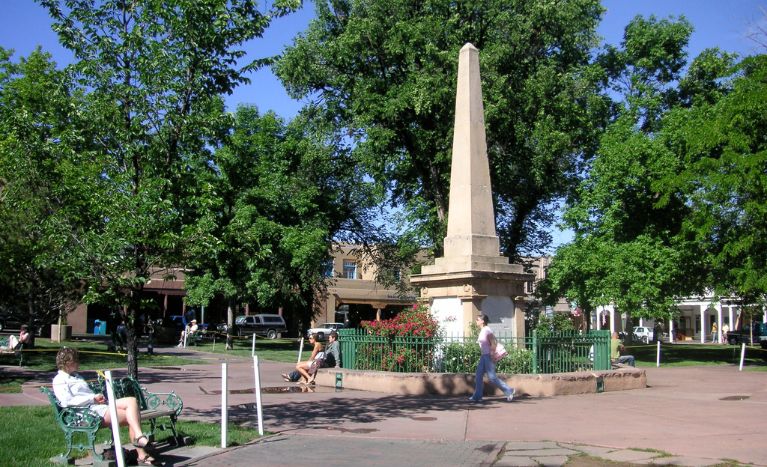 The Plaza is a market area that the Spaniards constructed near the terminus, and is among the top things to see in Santa Fe.
The Plaza remains a bustling attraction today surrounded by a wide variety of stores, salons, diners, and bars.
It is the best location in the city to find Native American arts and crafts, particularly hand-made jewellery.
The Plaza is a favourite gathering place for both tourists and residents. Many of the city's special events, especially cultural celebrations, are held here and are among the best places to visit in Santa Fe.
8. Experience the one-of-its-kind Living History Museum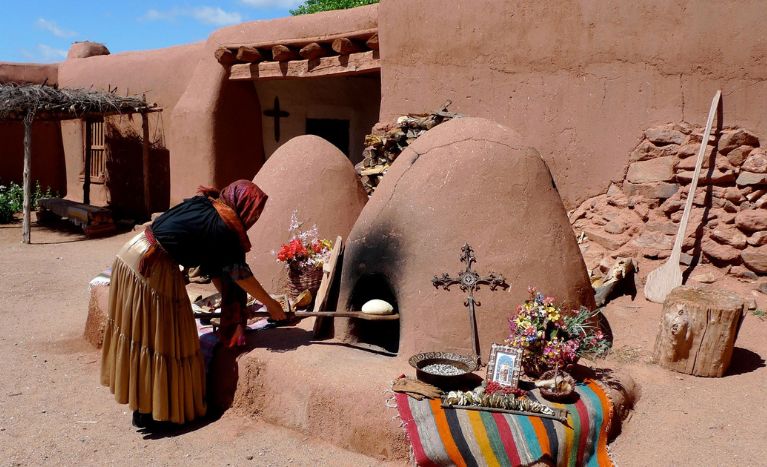 El Rancho de Las Golondrinas is Santa Fe's must see attraction, is a living history museum situated on a 17th century Spanish ranch.
33 historic structures have been brought to this large 200-acre property, together with other historic structures from other parts of the state.
There are many different types of houses among them, along with silos, a chicken cage, a grocery shop, a church, and looms.
Living history experts demonstrate the Early Settlers' everyday life through spinning, tapestry, culinary, tin-smithing, agriculture, blacksmithing, among others.
The ranch also features conventional paddocks and organises special occasions all year long.
9. Admire Glass Creations at Liquid Light Glass
Elodie Holmes, a renowned glassblower, opened the Liquid Light Glass that allows visitors to marvel at the finished works, meet the artists behind these fancy creations, and even enrol in a workshop.
Students can design and create their own glass objects, such as paperweights, vases cups, and bouquets, in workshops and is a must do in Santa Fe for art lovers.
The studio will gladly ship the finished piece once it is ready, making it convenient for tourists who are only passing through Santa Fe.
The studio is based at the Baca Street Arts Districtand is the epicentre of Santa Fe's art scene. Here, you may find a wide range of chic stores, galleries, and eccentric restaurants.
10. Tour the Museum of Indian Arts and Culture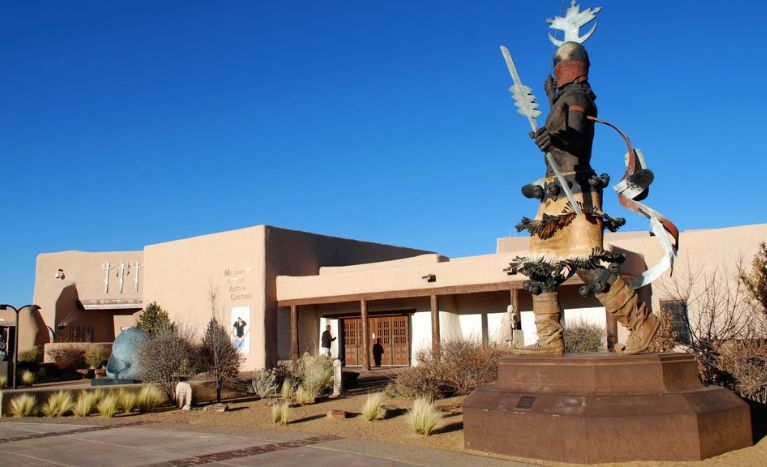 What to do in Santa Fe New Mexico to explore history and culture? The Museum of Indian Arts and Culture is the main subject of the entire Southwest. The museum was established in 1909 with the goal of preserving the archaeological findings of the Native Americans living in the area. These early settlers at that period of time were going through considerable transition and might even go extinct.
The museum and JD Rockefeller's Laboratory of Anthropology, a centre devoted to the ongoing study of Southwest civilizations, were merged in 1947.
Impressive collections of earthenware, necklaces, handicraft, and cavalry blankets are now on display at the museum.
The venue holds regular performances of Native American music, dances, storytelling, and other customs.
Additionally, the site is home to sizable repositories and research collections that contain images, ethnological data, and prehistoric artefacts.
11. Visit Loretto Chapel and have a look at the "miraculous" Staircase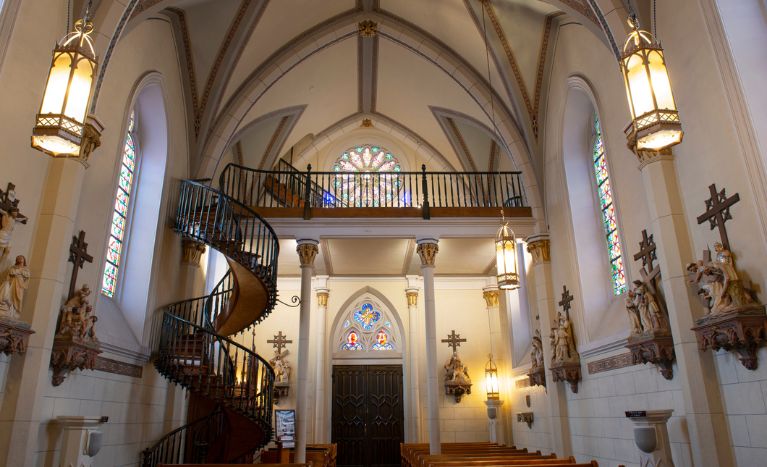 Although Loretto Chapel is a lovely old chapel, the "miraculous" staircase is the reason why it is the #1 Santa Fe tourist attractions.
The Sisters of Loretto reputedly performed a nine-day rosary to St. Joseph, the patron saint of carpenters, asking for assistance in constructing a staircase at the fellowship hall. After nine days, a competent carpenter emerged out of nowhere, constructed a spiral staircase in the shape of a spiral, and then left without being thanked or paid.
The chapel's domes, vaults, and flecked windows, created by French architect Antoine Mouly, boost the spirits.
12. Visit the Museum of New Mexico Complex to Learn about History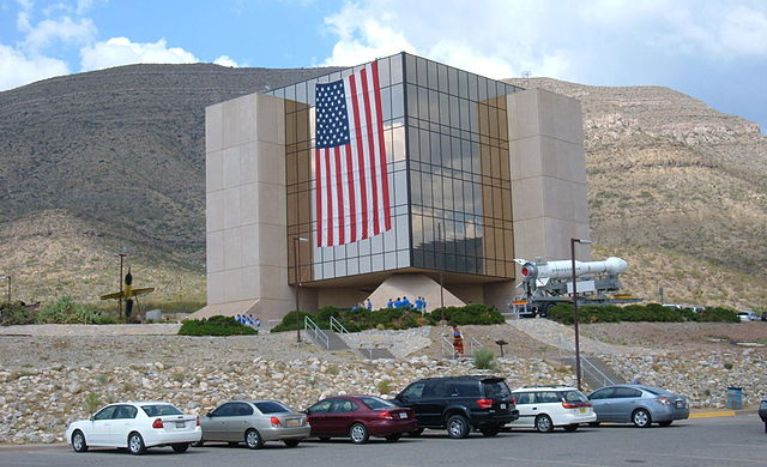 This place houses four museums that chronicle the state's history displays on native populations, colonial rule, and how the Santa Fe Trail impacted the state's economics and growth.
One of the best things to do in Santa Fe New Mexico for history buffs who can learn and trace the state's history from the 16th century onward.
The museum is located in The Palace of the Governors, a National Historic Landmark and the location of the Spanish government in the 17th century.
This adobe palace welcomes visitors to view its chambers adorned with antiques and are as intact as they have been in the 1600s. The first printing press in the state of New Mexico is being installed here and is still functional.
The Fray Angelico Chavez History Library houses archive materials, historical records, as well as the Photo Archives. It houses a collection of more than 750,000 photographs from as far back as the mid-19th century.
13. Experience the unique work of art at Saint Miguel Mission Chapel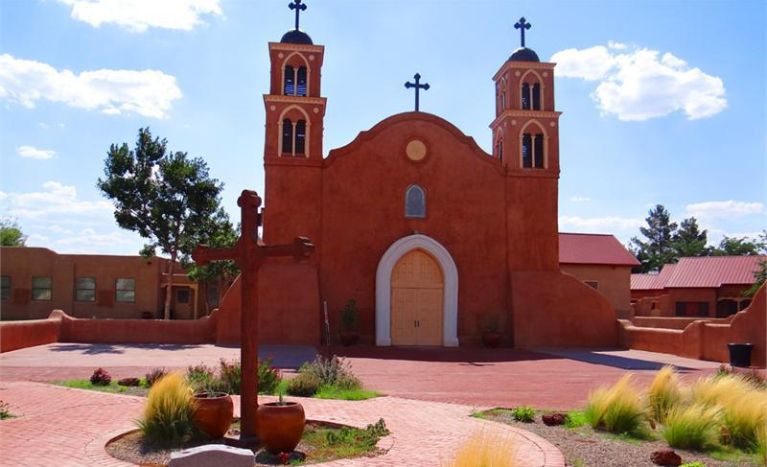 The chapel of San Miguel was initially constructed in 1636 and is one of the oldest religious structures in the United States and the oldest of its sort in Santa Fe.
At the beginning of the 18th century, it was destroyed by fire and built again. It has several exquisite statues as well as a high altar from 1798 that features a statue of St. Gertrude.
The adobe building has an open bell tower with a cross rising from the top. The architecture appears to change colour throughout the day when the sun strikes it at various points.
The interiors' white walls are adorned with unique art work with decorative wood beams on its ceilings and among the top Santa Fe attractions.
14. Catch a Performance at Santa Fe Opera House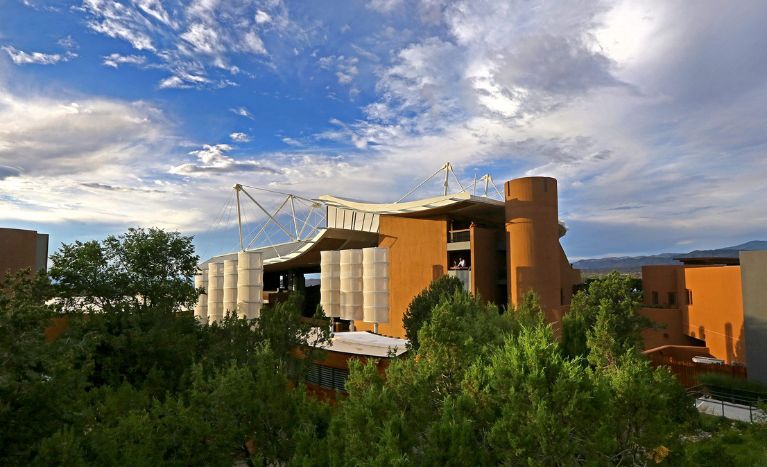 The leading performing arts venue in the state and one of the famous Santa Fe attractions, the Opera House presents a wide spectrum of choral works, from time-honoured stalwarts like Madame Butterfly. Till date, it hosts the best contemporary productions like Doctor Atomic.
One of Santa Fe's most lovable rituals is tailgating, which is a very unique sight as groups of dressed-up audience members interact in the parking lot while munching on posh treats.
The opera house offers year-round backstage tours and apprenticeship programmers for all phases of production and among the free things to do in Santa Fe NM.
15. Spend a say at Randall Davey Audubon Centre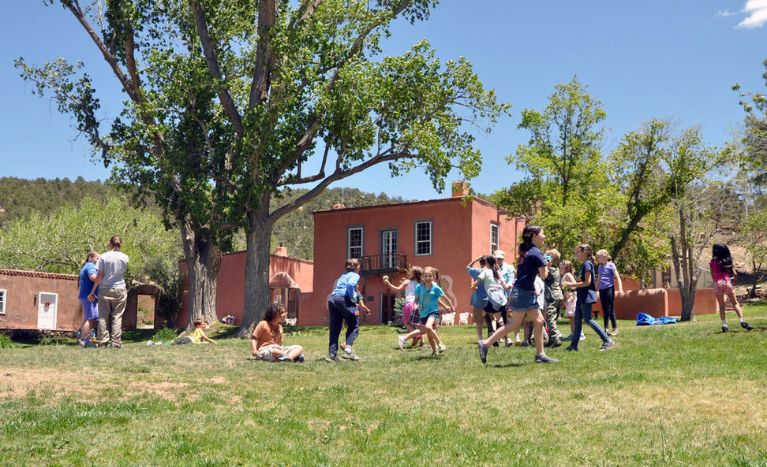 On Upper Canyon Road in Santa Fe, the 135-acre Randall Davey Audubon Centre offers environmental hikes and bird-watching outings. It is a serene location with some history as well.
The facility attracts about 130 different species of birds thanks to its close proximity to the Santa Fe River Watershed.
To learn more about the environment and its residents, visitors can explore the trails on their own or join a guided walking tour.
16. Chocolate lovers Must Visit the Kakawa Chocolate Factory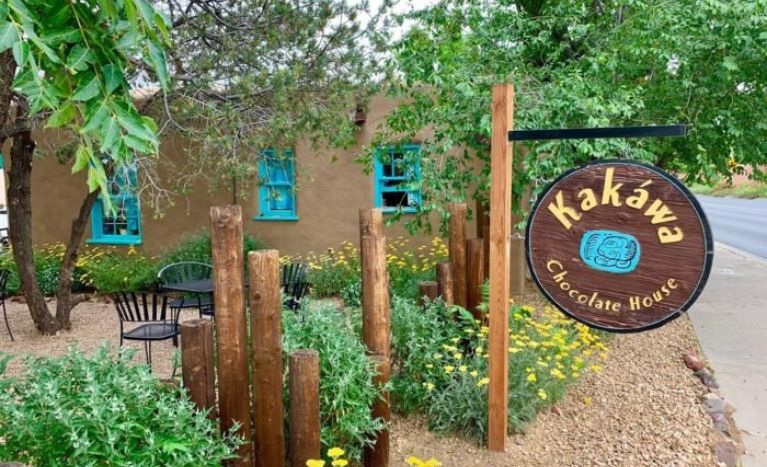 The Santa Fe-based artisanal chocolate company Kakawa Chocolate House creates and markets exquisitely handcrafted chocolates, rich drinkable chocolate cordials, and homemade ice cream.
Kakawa draws inspiration from the lengthy history of chocolate. It combines authentic Mesoamerican and Colonial chocolate recipes with seasonal, fresh ingredients to create new and inventive delights.
Visitors must try dark chocolate macaroons, rich drinking chocolate elixirs, local agave custards, and homemade ice cream.
The chocolate gurus here provide a range of modern tastes like Strawberry and Acai, Apricot, Chamomile flower, and Chablis alongside the selection of traditional European-style truffles like Earl Grey, Mocha, and Classic French Dark. This is a terrific stop if you're seeking family things to do in Santa Fe, New Mexico.
17. Don't Skip the Rails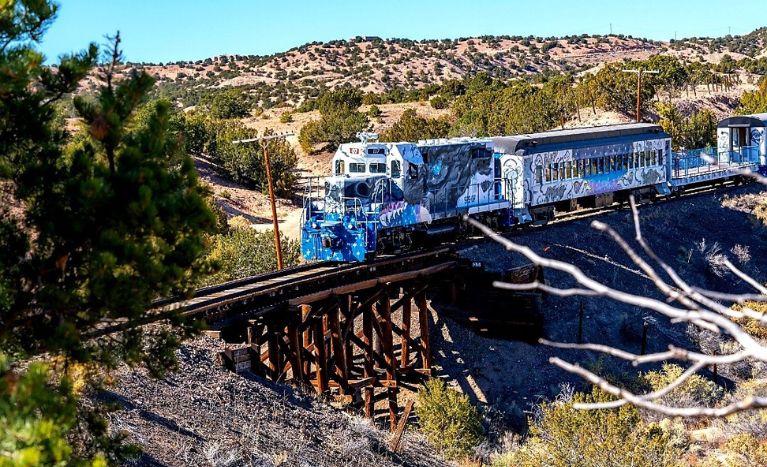 Meow Wolf was the last project that Game of Thrones author and Santa Fe native George R.R. Martin supported financially.
It was therefore no ordinary train ride when he decided to work with other locals to reimagine the abandoned 18-mile rail spur between Santa Fe and Lamy.
Two colourful trains that travel between the two cities are known as the Sky Railway. Passengers can enjoy performers, music, dinner parties, cocktails, and other activities while they travel.
In addition to the picturesque mountainous terrain, the Sky Railway is certain to keep passengers entertained and among the fun things to do in Santa Fe.
The main attrcations include Pablo's Magical Holiday, Sunset Duet, Murder on the Goulet Route, and the Exodus Experience.
18. Partake in Restorative Wellness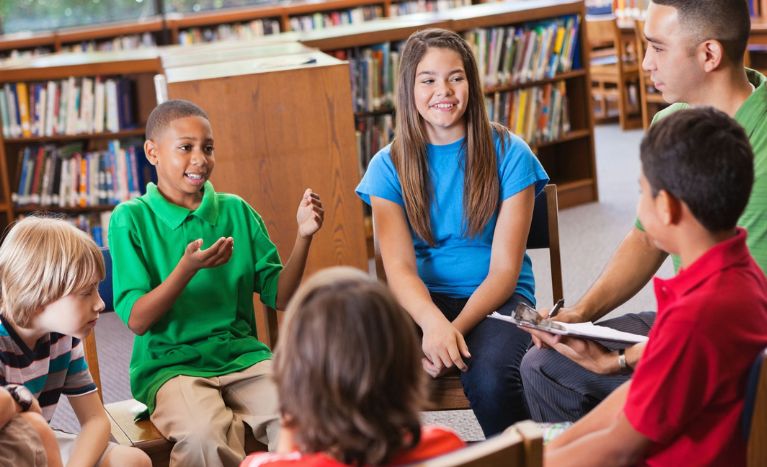 Many people believe Santa Fe has its own healing qualities because of the area's altitude, desert environment, thermal springs, daylight, and eternally celestial nights. It has long drawn individuals seeking a sanctuary to renew and revitalise their mind, body, and spirit.
It can be difficult to acquire a reservation at Ten Thousand Waves Spa if you don't reserve far in advance. This Spa is noted for its Japanese-style hot spring bathing pools.
A long-standing, opulent Relais & Châteaux family-owned hotel just opened its first-ever spa.
Similar to the rest of the hotel, this spa is decorated with textiles and furniture that the proprietors have brought from countries like India, Afghanistan, and Morocco.
The bathrooms and treatment rooms also have incredibly intricate tile mosaics. The skillful hands of a massage will soon put you into a deeply relaxed state and is a must do in Santa Fe if healing is what you aim for.
The recently inaugurated Bishop's Lodge let visitors partake in locally inspired therapies like an authentic New Mexican sound bath performed by healing sound mediator Rick Bastine.
Rick uses quartz mindfulness bowls, Tibetan singing bowls, and instruments like ocean harp to create sounds and sound waves that foster tranquillity and rejuvenation.
19. View the Setting Sun from the Martyrs' Cross' Summit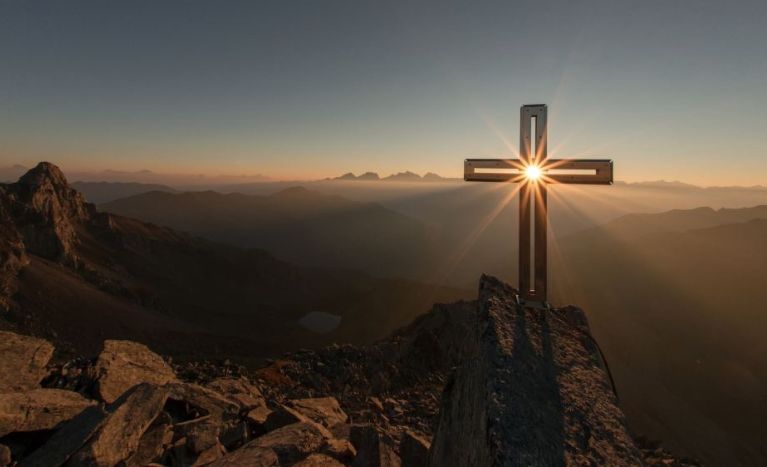 A hilltop park with a crucifix is located just northeast of the plaza and offers some of the best sunset views in the city. The cross itself was built to honour the 21 Franciscan friars who died fighting against colonial rule.
If you can make the trek at sunset, you'll be rewarded with a breathtaking sunset and one of the perfect things to do in Santa Fe this weekend. Not to mention the history which is detailed on plaques.
20. Wander Through the Sculpture Park Created by Allan Houser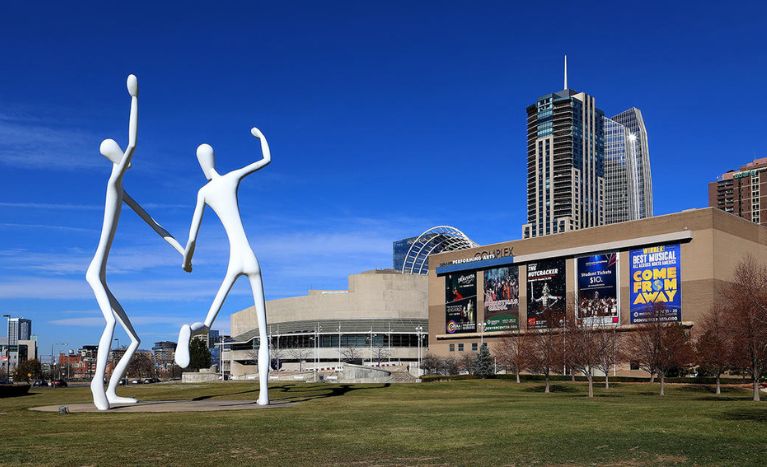 Visit the Allan Houser Sculpture Park south of Santa Fe on a bright day. You may stroll through more than 70 of the best and largest paintings by the artist before ducking into the gallery to view more compact pieces. Depending on the weather, tours are provided from Monday through Saturday.
Best Places to Eat in Santa Fe, NM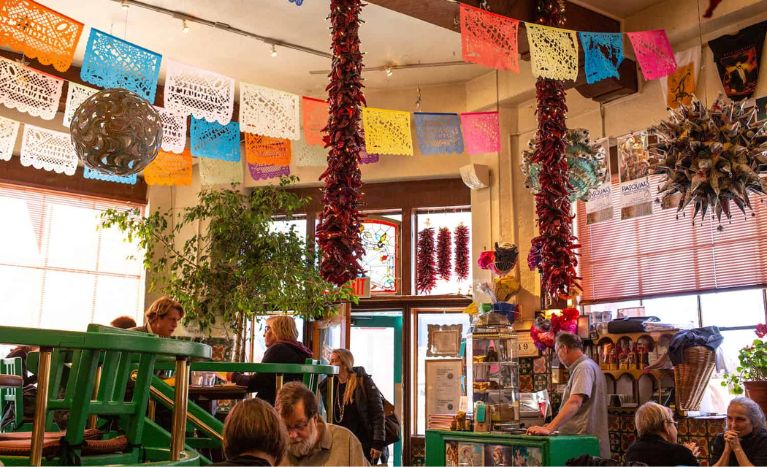 The lovely desert town of Santa Fe offers a fusion of ethnic cuisines and is known for being the oldest capital in the United States. The following restaurants showcase Santa Fe's diverse, flavorful, and locally sourced cuisine. The culinary scene ranges from classic New Mexican cacao and chilli-based meals to modern fusions influenced by South-western, Mexican, Italian, Asian, and African flair.
Cafe Pasqual's – Café Pasqual, which takes its name from San Pasqual, the patron saint of Mexican cooks and chefs, offers a delicious fusion of Mexican and Asian flavours. It is committed to serving only the best, locally sourced, organic foods. Try the purple dame quesadilla (white cheese on two corn tortillas with chilli) or the beef asada taco when you visit for a delectable breakfast, lunch, or dinner.
Address – 121 Don Gaspar Ave, Santa Fe, NM 87501
The Compound Restaurant – The Compound Restaurant, a true jewel of fine dining located in Santa Fe's cultural district, is renowned for its modern American cuisine. It draws inspiration from recipes created by Spanish settlers in the 16th century. Signature dishes include roasted calf osso bucco, tuna salad with champagne, and grilled skirt steak with creme gras.
Location – 653 Canyon Rd, Santa Fe, NM 87501
The Pantry Restaurant – A popular dining and gathering spot since 1948 is known for delivering excellent comfort food in a laid-back and welcoming setting. The restaurant, which is run by a family, takes pleasure in serving food that is homely and combines Rural Mexican and conventional American traditional recipes. Try jalapeño relleno omelette and frijoles rancheros (corn taco topped with two eggs, queso, and salsa, accompanied with beans).
Address – 1820 Cerrillos Rd, Santa Fe, NM 87505
El Farol – El Farol is a tapas-only restaurant that offers an intriguing, inventive menu in a welcoming atmosphere. Diners are spoilt for choice with more than 30 tapas and starters, ranging from appetisers, olives, peppers, and pasta to seafood, steak, chorizo, and eggs. Along with a fantastic dinner, guests are also treated to live music and entertainment every night from some of Santa Fe's top performers.
Location – 808 Canyon Rd, Santa Fe, NM 87501
Best Places to Stay in Santa Fe New Mexico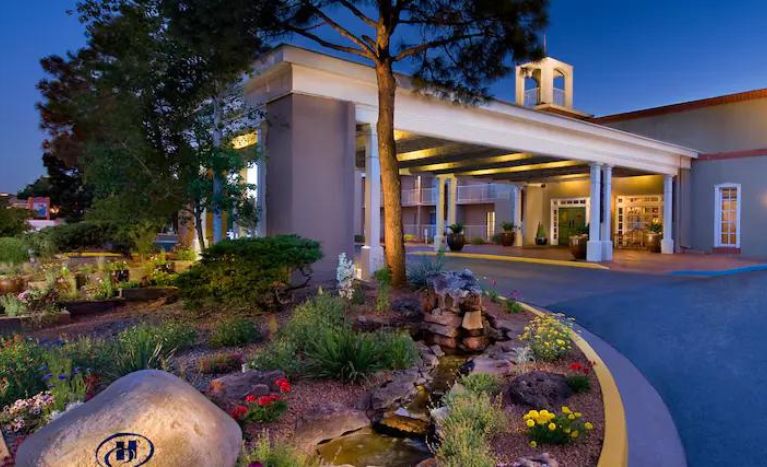 One of the rare locations where you may witness the complex blending of Native American, Spanish, and frontier culture is Santa Fe. The capital of New Mexico has an absurd amount of attractions for such a small, simple-to-navigate city. It ranges from viewing Georgia O'Keeffe's artwork to riding the Rio Grande rapids, hiking, and skiing. The best of Santa Fe style is on display in these hotels.
The Inn of the Five Graces – One of the best hotels in New Mexico is a boutique hotel housed in a collection of renovated adobe buildings. It features wonderfully appointed rooms and public areas. Every room has a fireplace that shimmers and emits the rich aroma of pion wood, reminding you that this Land of Enchantment is firmly anchored in the American Southwest.
Address – 150 E De Vargas St, Santa Fe, NM 87501
Phone number – +1-505-992-0957
La Fonda on the Plaza – A visit to La Fonda on the Plaza entails partaking in a 400-year-old hospitality custom that dates back to the time when Santa Fe was a far-flung colonial outpost. The historic mission-style design is given a personal touch by folk-art elements like hollowed cabinets and intricately decorated dressers. Enjoy a martini and the sunsets while looking out over downtown from the rooftop Bell Tower Bar.
Address – 100 E San Francisco St, Santa Fe, NM 87501
Phone number – +1-505-982-5511
Hilton Santa Fe Historic Plaza – The hotel features southwest-inspired decor and a magnificent outdoor pool area. It is located two blocks from the Plaza and close to the Georgia O'Keeffe Museum.
Address – 100 Sandoval St, Santa Fe, NM 87501
Phone number – +1-505-988-2811
Inn of the Turquoise Bar – The charming Inn of the Turquoise Bear is a historic adobe mansion with 11 rooms that is now a bed & breakfast. It is close to downtown. Every room is uniquely decorated, and accommodations include WiFi, free breakfast and afternoon tea.
Address – 342 E Buena Vista St, Santa Fe, NM 87505
Phone number – +1-505-983-0798
Conclusion
To sum it up, by including unique activities from across the city and a host of remarkable museums and galleries, Santa Fe has something for everybody. This is a great reason to put this destination on your travel itinerary.
Santa Fe is an amazing city with unique tastes, culture, and sights. These attractions are unlike any other place that you have ever been to, so you'll surely get the most out of your excursion.
See More in New Mexico