Break into the monotony with a Travel to Carlsbad, a wonderful city in New Mexico, that has a lot to offer.
Carlsbad offers countless prospects for exploration and adventure since it is home to one of the most breathtakingly stunning and diverse landscapes in all of North America. The city, which has strong Native American and Hispanic cultural influences, has a wide variety of unusual attractions for visitors.
Given that the entire city is built around the Pecos River. Carlsbad is also known as "The Pearl on the Pecos."
The 32.21 square miles town will give you your privacy at best with a population of a mere 29,800. Provided, Here we have covered romantic and best things to do in Carlsbad New Mexico.
The vast array of bat-filled tunnels at the Carlsbad Caverns National Park, which is located in this city, has gained its notoriety for thrill and adventure. 
In Carlsbad, you'll find the bordering Guadalupe Mountains, a number of national parks, and woods.
Today, the city provides wonderful natural experiences, unique food, and an outstanding fine arts scene to tourists. See our list of the top tourist attractions in Carlsbad, New Mexico, for suggestions on where to go.
1. One of the Global Prime Attractions Here is Carlsbad Caverns National Park
Carlsbad Caverns National Park is largely underground and contains close to 120 recognized caves. One of the most well-known tourist destinations in New Mexico is the alien underground terrain, which was carved from limestone deposited in an ancient sea.
Both self-guided audio tours and ranger-led tours are available from the Park Service.
Additionally, tours of bats, excursions to certain caverns, and hikes through bizarre geological formations are available to visitors.
Visitors can choose from a variety of backcountry hikes and backpacking trips. Make sure to pack plenty of water.
Why you should go – visit the Carlsbad Caverns National Park with your traveling friends and go on a cave adventure experience.
The caves offer wheelchair-accessible spaces, breathtaking limestone formations, and numerous tour options.
You can take advantage of a variety of amenities, including a tourist center, gift shop, nature trails, bookstore, and many others.
What to do – Explore the Carlsbad Caverns National Park's caves to see their majesty, and it is one of the fun things to do in Carlsbad NM.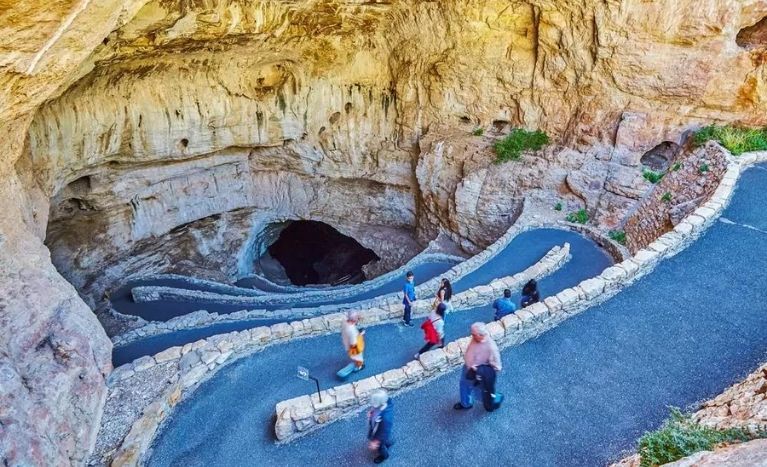 The guided tour includes visiting the cave's various chambers, admiring its magnificent formations, and receiving a brief overview of the cave's past.
You can engage in a variety of additional activities. Some of them include –
Night Sky events and Full Moon Hike – Although some of these activities are first-come, first-served, entrance is free. The Night Sky Events and the Full Moon Hikes are pretty much what they sound like. Telescopes are put up to see the stars, and a full moon trek is exactly what it sounds like. To find out when they're scheduled.
Guided Ranger tour – The Ranger will lead you deeper into the cavern. The guide will provide some background information while asking everyone to take a seat for a brief lights-out period. The darkness grows so bad that you can't even see your hand in front of your face! Visit their website to see what we're referring to!
2. Enjoy Quality Time With Your Loved Ones at Sitting Bull Falls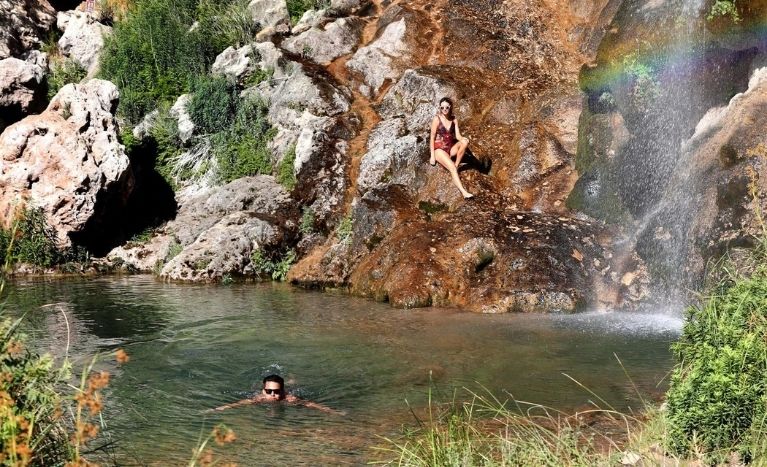 Amidst the desert landscape, Sitting Bulls Falls Recreational Area is a hidden sanctuary where a 150-foot waterfall cascades over canyon falls.
Along with restrooms, drinking water, picnic tables, charcoal grills, and cabanas, the area also has a paved trail that winds through the canyon and ends at the falls.
16 miles of canyon land paths are available for horseback riding, cycling, and trekking.
Why you should go – A swimming hole and two minor waterfalls can be found at Sitting Bull Falls, a desert oasis in the Lincoln National Forest. The falls are categorized as permanent waterfalls because they are spring-fed.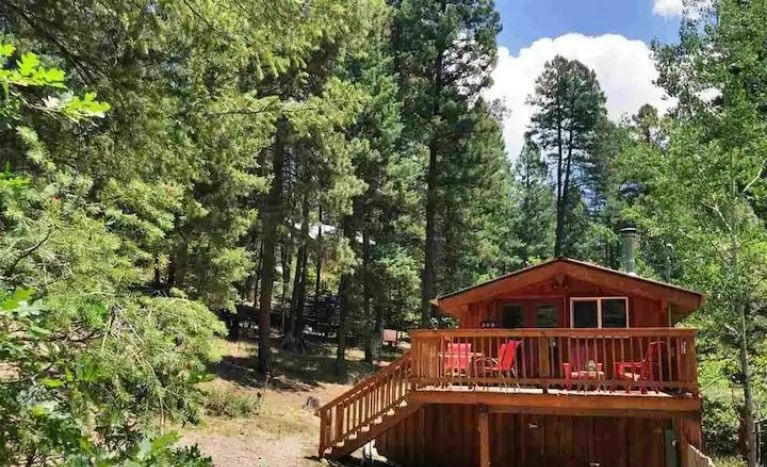 Even though the waterfalls are only 150 feet tall, they are larger than one could anticipate in such a dry and desolate environment.
What to do – A one-hour drive will take you to the magnificent Sitting Bull Falls from Carlsbad's downtown.
You won't regret taking a detour to this waterfall on your itinerary. You will pass through a desert on the way to the canyon where a lovely park is located.
Although Sitting Bull Falls is a magnificent sight, the small pool beneath it takes center stage.
An inexpensive and enjoyable side trip is to this waterfall, which is ideal for a family picnic or a pleasant time with your loved ones. One of the great things to do near Carlsbad Caverns National Park.
3. Switch to the Hiker's Mode at the Picturesque Guadalupe Mountains National Park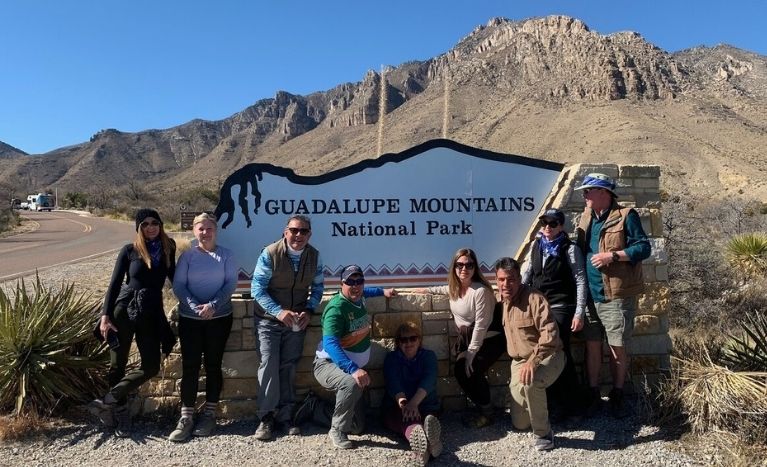 A workout of extremes is on the cards while exploring Guadalupe Mountains National Park. Limestone mounds, dense forests, oases with cacti, and drought-stricken grassland all make up this ecologically rich region. The park encompasses four to five distinct ecosystems and more than 900 plant species. Despite having a severe desert environment, the Guadalupe Mountains and the nearby Chihuahua desert are home to distinct and endangered wildlife.
Why you should go – The Guadalupe Mountains are absolutely magnificent across their whole range.
The mountain has long drawn geologists since it is one of the best examples of ancient reefs from prehistoric eras.
Every hiker visiting Carlsbad should include this location on their agenda.
There are 80 miles of trails in and around Guadalupe Mountains National Park that traverse into densely forested canyons, beautiful waterfalls, and creeks.
Although not exactly near Carlsbad, this destination is only 54 miles to the southwest in the state of Texas.
What to do – Wondering what to do in Carlsbad NM this weekend? Hike to Guadalupe Peak, often known as the "Queen of Texas," provides hikers with expansive views from the highest point in the state.
The 8.5-mile, challenging climb offers unparalleled views of the surroundings as it meanders through a number of the park's habitats.
Another marvel is the Devil's Hall Trail which is an excellent option for hikers looking to explore Pine Spring Canyon.
When the big-toothed maple trees start to turn vibrant shades of red, orange, and yellow in the fall, this stunning footpath becomes especially popular.
It is also fairly simple to navigate. Hikers will also pass by Hiker's Staircase, a naturally occurring rock staircase, on their way to Devil's Hall.
4. Join a Campsite for a day at McKittrick Canyon Nature Trail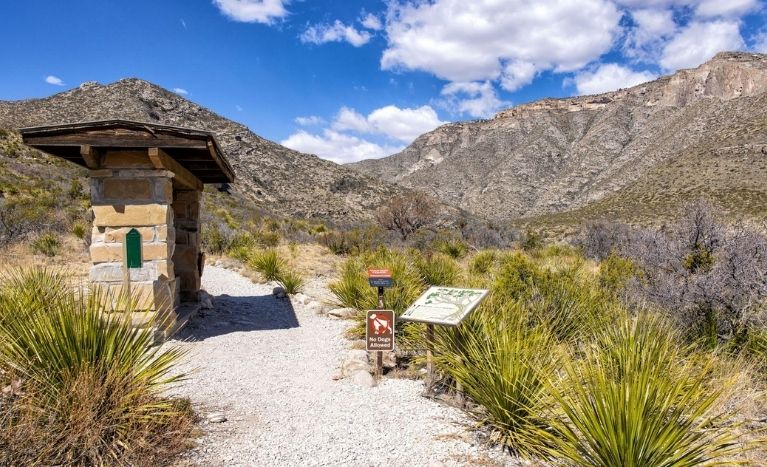 Another marvel at the Guadalupe Mountain National Park is the amazing McKittrick Canyon. You may view McKittrick Canyon's steep, towering cliffs from this namesake trail. The McKittrick Canyon route is a challenging 4.8-mile hike that includes crossing a stream and going through a canyon. The nature trail is a straightforward 1-mile stroll. The Wallace Pratt Lodge, the historic home of Wallace Pratt, the main donor to the Guadalupe Mountains, is another destination for hikers along this trail.
Why you should go – Near the eastern side of Guadalupe Mountains National Park, a trip up McKittrick Canyon offers something for everyone.
The valley is home to a variety of flora, a lot of wildlife, and a number of historic sites.
After four miles, the path changes from forested, flat, easy to open, strenuous, and connects with other backwoods routes appropriate for overnight backpacking expeditions.
The initial leg of the path follows McKittrick Creek, which is exceptional in that it flows throughout the year below ground, leaving only brief, isolated areas with persistent waters.
At its best, it is one of the most preferred things to do in Carlsbad this weekend.
What to do – The McKittrick Canyon Nature Trail, along with the Pinery Trail and Indian Meadow Nature Trail, is one of the well-known short hikes in the Guadalupe Mountains.
Since it is not fully flat, the trail, which is less than a mile long, is rated as intermediate.
Most hikers can do the loop in less than an hour on average.
5. Living Desert Zoo & Gardens State Park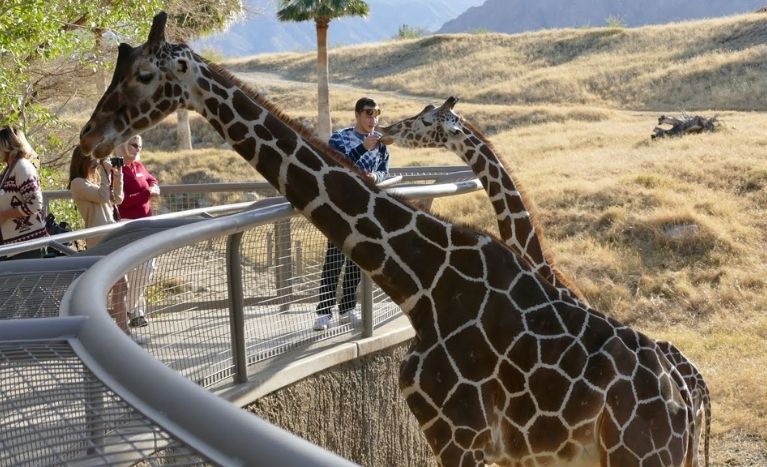 A unique indoor and outdoor museum that occupies 1,100 acres is called the Living Desert Zoo and Gardens State Park.
Why you should go – Your visit will be peaceful simply because the zoological park overlooks the Pecos River Valley.
There are a variety of plants and animals from the dry Chihuahuan Desert on display.
Along with hundreds of native and foreign plants, it is home to more than 40 native animal species. It will take roughly 1.5 hours to finish a 1.3-mile guided tour.
What to do – In this park, visitors may encounter bears, antlers, bison, and a variety of bird species. One of the few locations that protect the endangered Mexican Grey Wolf is the Living Desert Zoo and Garden State Park.
One of the most cool things to do in Carlsbad with kids is to take a tour of Garden State Park and the Living Desert Zoo.
6. Shop and Stroll at Pecos River Antique Mall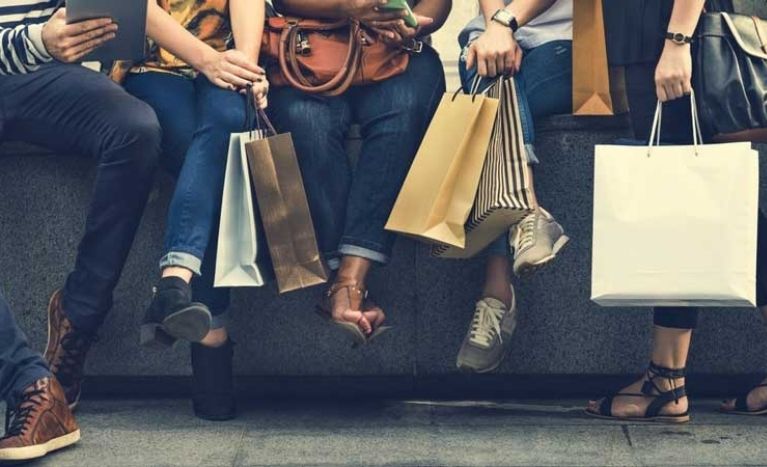 The Pecos River Antique Mall's structure is listed on the State Historic Register. It contains more than 4,000 square feet of antiques and collectibles. History inside of History! This is a wonderful addition to the MainStreet District. Make sure to stop by and see what kind of treasure you can unearth.
Why you should go – You won't be let down by Pecos River Antique Mall if you actively enjoy visiting flea markets. It is one of Carlsbad's hidden beauties and is situated at a significant intersection on Canyon Street.
It features artifacts, antiques, and other treasures dating from the 1960s to the 1990s. There is so much in store for you that it may occasionally be difficult for you to go around the mall.
Although the prices are pretty fair, there are no set discounts, so you must search through to locate the best item. And, is one of the unique things to do in Carlsbad New Mexico.
What to do – Vaseline and Depression glass, western antiques, ceramics, exquisite tableware, books, posters, vintage miniatures, textiles, periodicals, reconditioned American antique furnishings, sterling silver, and Native American jewelry are just a few of the fantastic items you might find at this downtown location. The ideal location to look for that collection's lone missing item.
7. Enjoy the Performance with your Beloved at Carlsbad Community Theatre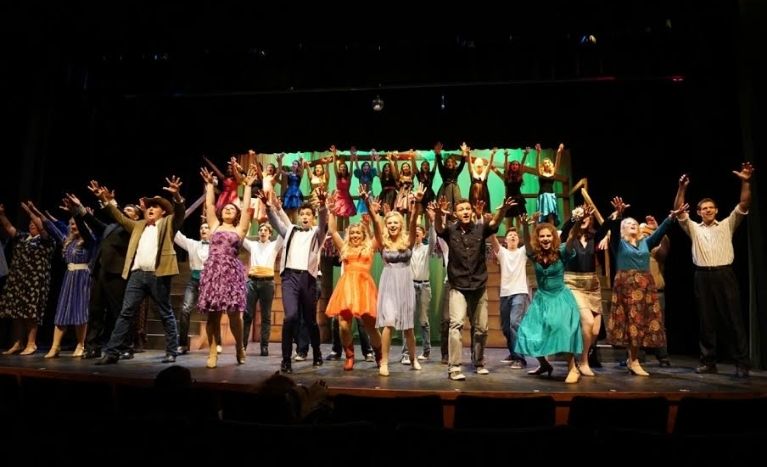 Another well-liked tourist destination in the area is the Carlsbad Community Theatre. It offers its guests top-notch art programs as well as a variety of artistic performances.
Carlsbad's artistic and creative tastes are fostered by this theatre, which also serves and contributes to the community's welfare. This historic theatre is a wonderful place to go for recreation and it has a historical vibe.
Why you should go – The Carlsbad Community Theatre showcases many theatrical artistic expressions and offers a top-notch performing arts experience. The very active operation of Carlsbad's community theatre fosters the city's appreciation for creativity and the arts.
Both city dwellers and art-loving visitors find it enlightening and inspiring. This historic theatre will transport you to a bygone era and serve as a wonderful diversion between hikes.
What to do – The Carlsbad Community Theatre is a captivating location that regularly hosts mind-blowing and fascinating events.
By checking with the theatre's administrators about the time, you can attend your favorite musical and theatre performances there.
One of the most enjoyable and romantic things to do in Carlsbad NM is to go visit the Carlsbad Community Theatre.
8. Appreciate the Architectural Marvel of The Pecos River Flume
Pecos River Flume is a popular spot for architects and engineers.
The Pecos River, which runs across Texas before coming to an end at the Rio Grande, provides the majority of the city of Carlsbad's water.
Dams were constructed in the city throughout the 19th century to aid with irrigation, allowing numerous farms to use the river as their primary water source.
A magnificent wooden flume that was about 145 feet high and used to carry water around the river bend supports the city's dam.
Why you should go – On the northside of Carlsbad, a decaying, wet crossing serves as an unexpected tourist destination.
It's unlikely that many people will make an extra effort to visit the historic building, often known as the "Pecos Flume."
However, those who do can claim to have seen the only river in the world that crosses itself.
What to do – At the Lake Carlsbad Recreation Area, you can park your car and take one of the best and most beautiful walks in the neighborhood. Enjoy the lake views and look for thousands of ducks.
The perfect way to cap off your day at the Lake Carlsbad Recreation Area would be to take a river trip or rent a paddle boat. And, it is one of the great things to do in Carlsbad, New Mexico.
9. Soak into Nature at Rattlesnake Springs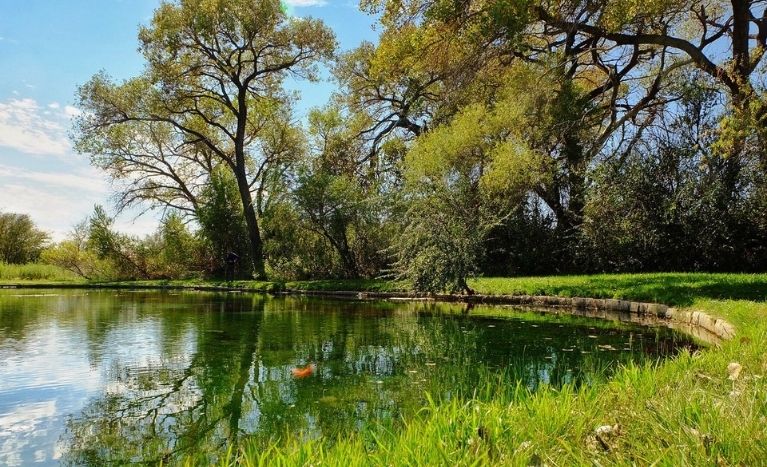 At these unanticipated springs in Carlsbad Caverns National Park, get ready to be surrounded by stunning waters and a serene ambiance.
William Henry Harrison once lived in this remote region of the park. The system of canals that surrounds the spring was built by Harrison.
These springs were the site of a Civilian Conservation Corps camp during World War II. Although these buildings were demolished in the 1950s, you can still see a couple that the park service later constructed.
This spring is now a genuine refuge in the Chihuahuan Desert and is listed on the National Register of Historic Places.
Why you should go – Most people are unaware that this small spring is a secret oasis waiting to be discovered, and it is located just south of the caves.
These historically significant springs provide a glimpse into the caves' past and offer the most tranquil setting for a picnic or to unwind and ponder. And, it is one of the best things to do in Carlsbad caverns national park.
What to do – The ultimate in relaxation is to sit next to this turquoise spring. The most tranquil spring around is the perfect place to pause and organize your thoughts.
Visit Rattlesnake Springs in Carlsbad Caverns National Park for a genuine hidden sanctuary. This area of the Land of Enchantment may be among the most tranquil in the entire country, and it is just waiting for you to discover it.
10. Visit the Carlsbad Museum and Art Centre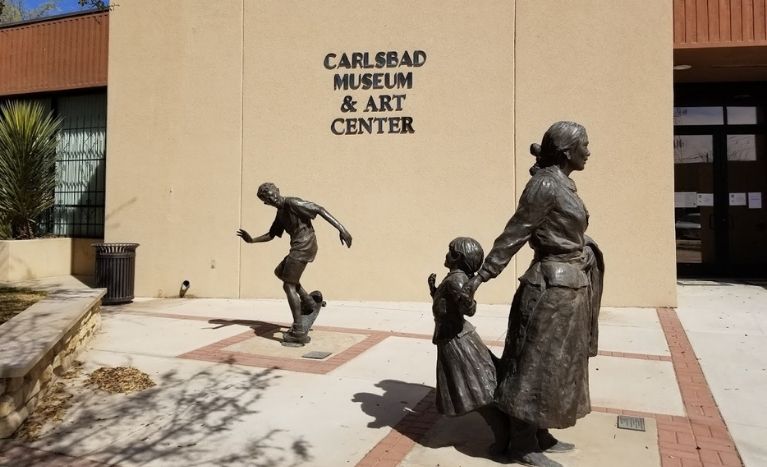 The oldest municipal museum in New Mexico exhibits the artwork from the locals and other communities in New Mexico.
Why you should go – Various fascinating Native American artifacts can be found at this museum.
The significance of local photographers in creating Carlsbad's well-known caverns is another topic covered by this museum. A local 3D image of the caves is one of the permanent exhibits that are on display at this museum.
One of the most entertaining attractions to visit in Carlsbad, New Mexico, is the Carlsbad Museum and Art Centre, which depicts the story of the city.
What to do – The majority of their exhibitions feature artwork from Carlsbad and the neighboring southeast New Mexico regions.
You will be drawn to this art center by the presence of Native American artifacts. Find out more about the local photographers whose contribution put Carlsbad's well-known caverns on the international map.
Temporary exhibits at the museum feature intriguing local 3D photographs of the caves.
It is one of the free things to do in Carlsbad, NM. Children will adore the tale of how the Carlsbad caverns were discovered.
Best Places to Eat in Carlsbad NM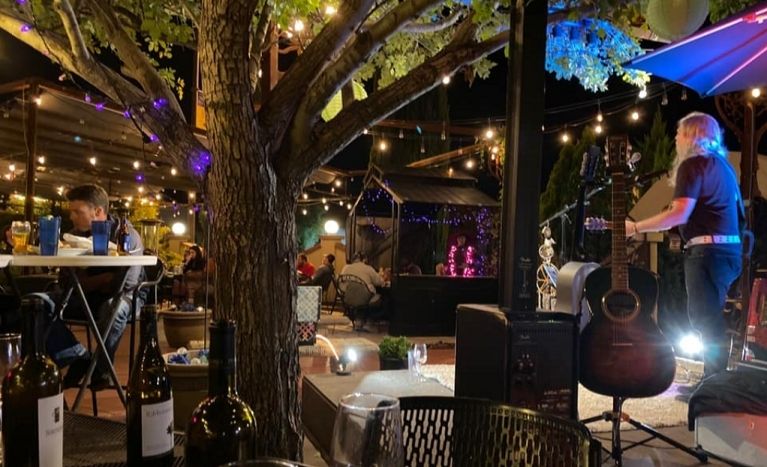 Carlsbad, New Mexico, is situated in the midst of stunning wilderness habitats and national forests. It turns out that there is a lot of delicious cuisine nearby as well, so you won't go hungry in between hikes. Since the population has been rapidly increasing recently, the restaurant scene has had to adapt. As a result, you will find great places to eat.
Yellow Brix Restaurant – This is ought to be your first choice if you want to sample some incredibly inventive meals. As you shouldn't miss their appetisers, sandwiches, and tapas. You can also go for a complete three-course meal. They get excellent reviews for their steaks, seafood, and dessert, among other dishes.
Address – 201 N Canal St, Carlsbad, NM 88220
The Trinity Hotel Restaurant – Over a century after it was initially constructed as a bank in 1892, a gallant group of investors chose to salvage it and transform it into a delightful hotel and restaurant. There is truly something for every taste since they provide both a menu of Italian food and a selection of fresh steaks.
Address – 201 N Canal St, Carlsbad, NM 88220
Italian Villa Restaurant – Locals who are aware of it frequently visit Italian Villa Restaurant since it is well acknowledged to have the greatest Italian cuisine in Carlsbad. You are given free garlic bread to start, which you should definitely eat. The eggplant and veal parmigiana are two of their standout dishes.
Address – 1000 S Canyon St. Carlsbad, NM 88220
Peco's River Cafe – Peco's River Café is a fantastic outcome when you combine a morning café and a Mexican eatery. On weekdays, they are only open for breakfast and lunch, but you should still make the effort to stop by. You won't ever have to wait too long for a table or your food thanks to their quick and amiable service.
Address – 409 S Canal St, Carlsbad, NM 88220
Best Places to Stay in Carlsbad New Mexico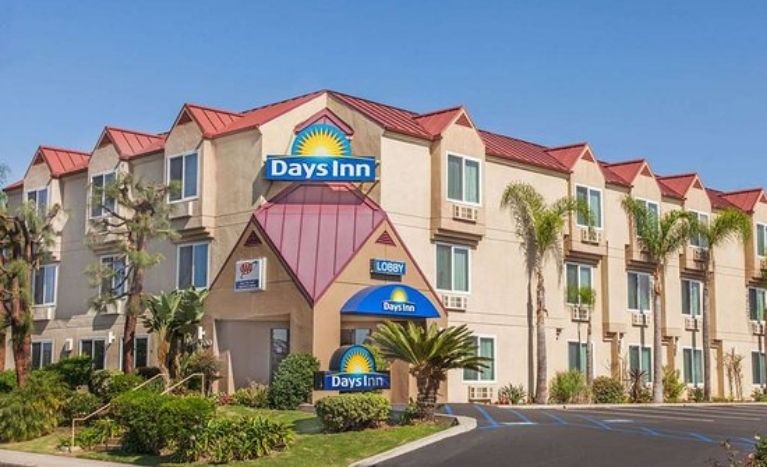 For first-time visitors to Carlsbad, the best place to stay for seeing all the major attractions is near downtown which offers a vibrant shopping district and art center. For those seeking a little seclusion and a better price, the outskirts of Carlsbad are home to the most exclusive, upscale, and cheaper resorts.
Days Inn by Wyndham Carlsbad – Days Inn Carlsbad provides pet-friendly lodging in Carlsbad with free WiFi and a barbeque. There may be a seating area in certain units where you can unwind. A private bathroom with a bathtub or shower is included in each room. There is a flat-screen TV present. The resort has a front desk open around the clock and offers a complimentary breakfast.
Address – 3700 Pio Pico Dr, Carlsbad, CA 92008
Phone number – +1-760-994-4581
Super 8 by Wyndham Carlsbad – This hotel is situated next to the Pecos Riverwalk, and offers accommodations with refrigerators and microwaves. The Super 8 Carlsbad provides complimentary Wi-Fi and cable TV with HBO in each of its guest rooms. A coffee machine and work desk are also included in the amenities of the roomy spaces. On the patio outside, there are barbecue grills, and each morning a continental breakfast is served.
Address – 817 National Parks Hwy, Carlsbad, NM 88220
Phone number – +1-575-689-6955
Fairfield Inn & Suites Carlsbad – This hotel offers a daily buffet breakfast and offers rooms with a 37-inch flat-screen TV. The outdoor pool, hot tub, and mini-gym are all available to Fairfield Inn & Suites Carlsbad guests free of charge. There is also a business center and free parking on-site. At the Carlsbad Fairfield Inn, a coffee maker and free WiFi are included in every room. Each room has a workstation and is pleasantly designed.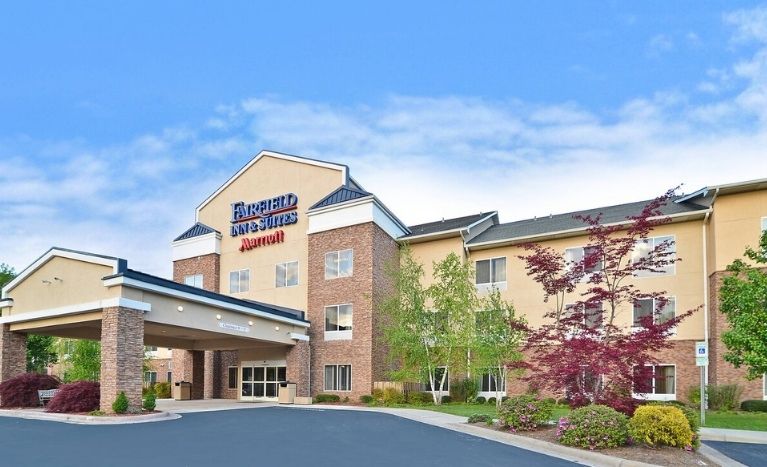 Address – 1929 Palomar Oaks Way. Carlsbad, CA 92011
Phone number – +1-760-579-0155
La Quinta Inn & Suites by Wyndham Carlsbad – The former Sunan Airport is now home to the La Quinta Inn & Suites Carlsbad, which features an outdoor pool and a fitness center. There is free WiFi access. The La Quinta Inn & Suites Carlsbad offers TVs, air conditioning, and lounging areas in every room. Additionally, there is a coffee maker. Private bathrooms include a bath or shower, a hairdryer, and complimentary toiletries. Channels on cable are extras. Parking is complimentary at the La Quinta Inn & Suites Carlsbad.
Address – 760 Macadamia Dr, Carlsbad, CA 92011
Phone number – +1-760-438-2828
Conclusion
Carlsbad is a great destination for families and friends looking for something to do. There are plenty of family-friendly restaurants, plenty of things to see and do in the area, and a variety of attractions where you can spend the day having fun. Whatever type of vacation you're looking for, from relaxing to thrilling, there's sure to be something that you'll love!