Montego Bay is a thriving cruise ship port and a popular destination for travelers looking for a good discount. It has everything you need for a great tropical holiday. Beaches bathed in sunlight, old estates, tropical gardens, and a landscape dotted with densely forested hills offer a tranquil respite from the bustle of the metropolitan area.
Accommodations are ample. The nicest stretches of sand are ruled by huge resorts and all-inclusive hotels, and there are more guest rooms here than anywhere else in Jamaica.
Activities in Montego Bay are entirely tropical themed. The pristine streams of the Montego Bay Marine Park, as well as the corals encircling the beaches with white sand, are open to divers and snorkelers. You should also make time for fishing, golfing, and guided river tours on bamboo rafts.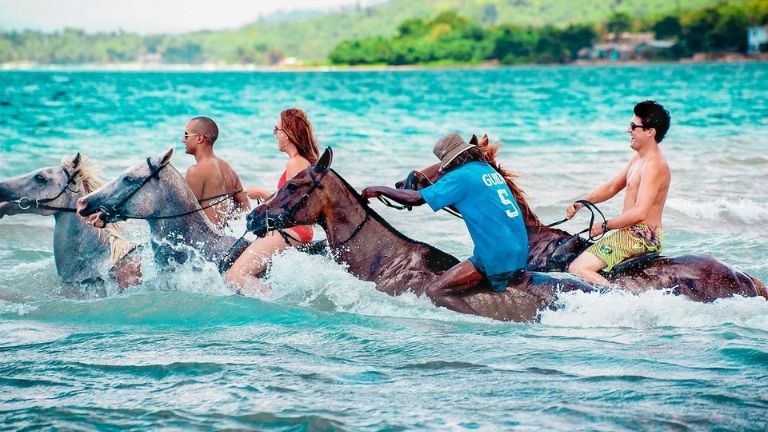 Taking a family vacation to Jamaica? Ziplining through the jungle is a well-liked family activity in Montego Bay, or you may climb to waterfalls for the next-level fun.
Montego Bay's galore with a yearly calendar full of concerts, festivals, and athletic events. Reggae Sumfest is a world-renowned music fest that draws millions of like-minded souls every year.
Planning your next vacay to this picturesque tropical destination? See our list of the top attractions and things to do in Montego Bay Jamaica.
1. Go Snorkel and Therapy at Doctor's Cave Beach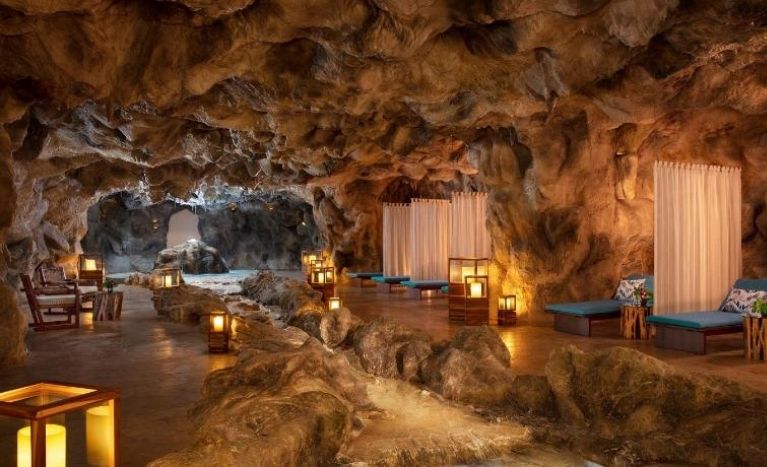 alt="Cave Beach">
Seven miles of flawless white sand make up Doctor's Cave Beach and is one of the best things to do in Montego Bay. This beach is regarded as one of the most well-known in Jamaica thanks to its crystalline turquoise water which is said to have therapeutic effects.
Why you should go – White beaches, quiet waters at Doctor's Cave Beach, and Bathing Club, which some people think are nourished by natural springs.
After swimming in this water, a well-known British osteopath Sir Herbert Baker claimed that it had healing properties.
This claim improved Montego Bay's future by drawing tourists from all over the world. Along the shore, hotels started to appear, and the region started to draw tourists.
Montego Bay activities – Doctor's Cave Beach's waves kissing the coast move at just the right place. That's wonderful news for anyone interested in trying out water sports, regardless of ability level.
Two water hoverboards are available for some outdoor recreation. There are lifeguards on duty all day to ensure your safety while you soak into the beach fun.
Just outside the designated swimming area at Doctor's Cave Beach is a stunning, growing reef. This makes it a fantastic location for both novice and expert snorkelers.
You may see unique marine creatures including manta rays, blue stony corals, butterflyfish, and more on this exquisite coral.
Don't worry if you don't have your own snorkeling equipment. For only 6 USD, vacationers may rent snorkeling gear from convenient beachside sellers.
2. Experience the Jamaican Culture, Meals, Coffee, and more at Croydon Plantation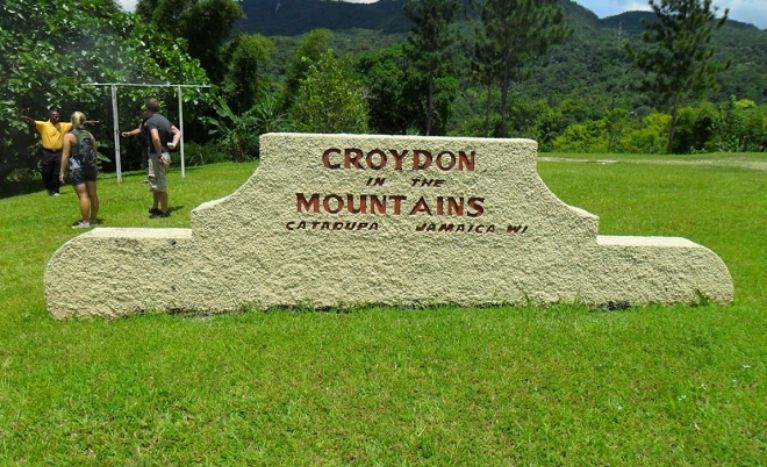 A stunning coffee and pineapple estate called Croydon may be found close to Montego Bay, Jamaica, at the heart of the Catadupa Mountains.
The Croydon Plantation's grounds are immaculately preserved. The expansive vistas of the mountains here are breathtaking.
Why you should go – Hidden away in the Catadupa Mountain foothills is the 132-acre organic farm that offers the stunning backdrop of the lush Caribbean side.
Hazelnut, mangoes, root crops, grapefruits, and beeswax are the plantation's principal cash crops. As you travel through the lovely grounds of the plantation, you may learn about the various crops. You will also taste the food, and cocktails created with the fresh fruit. One of the best excursions in Montego Bay Jamaica, and is pretty laid back and may appeal to the elders.
What to do – As you sample a variety of exotic fruits, your taste buds will be delightfully satisfied.
You will learn a lot about the history of the plantation and valuable information about Jamaican culture during the trip. The tour conveys knowledge about coffee cultivation and processing. Additionally, you'll discover more about honey production and beekeeping.
The plantation's tour guides are a lot of fun and will keep you entertained while teaching you about the area. You will be treated to a fantastic and traditional Jamaican meal at the conclusion of the tour, along with the renowned Blue Mountain Coffee. The lunch is on the house.
Samuel Sharpe was born here, which is another intriguing aspect of this tour. He is one of the seven national heroes of Jamaica who dedicated his life to abolishing slavery. Here, you can read in detail about his struggle and movement.
3. Make the Most of Water Adventures at Martha Brae River Rafting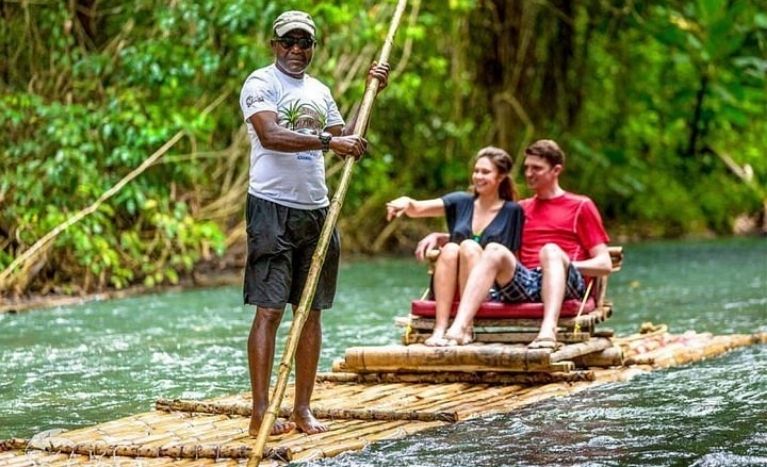 Approximately three miles inland from the small town of Falcon is the island's top rafting destination, and Montego Bay tourist attraction, the Martha Brae. It is 20 miles away from Montego Bay and forty miles away from Ocho Rios.
The embarkation area, known as "Rafter's Village," is made up of six acres of beautifully kept fields that are situated on a veritable horseshoe island.
It has a fully equipped recreation center with picnic tables, a full-service bar, two gift stores, a saltwater pool, and contemporary facilities.
Visitors can also meander around "Miss Martha's Herb Garden" before starting the tour, which features Jamaican plants known for their medicinal and healing qualities.
Why you should go – Rafting on the Martha Brae has been operating for more than forty years and employs 85 certified and seasoned raft captains.
Licensed operators help you embark from a concrete dock on a bamboo raft that is 30 feet long.
The raft ride lasts about 1 hour and is conducted along a three-mile length of the gorgeous Martha Brae River.
Once aboard the raft, visitors can take a thrilling swim which is one of the top 15 things to do in Montego Bay.
What to do – On the journey, guests ride bamboo rafts propelled by native guides along a river that is bordered by wilderness for 5 miles. You can pick up information on the local flora and fauna along the journey. Some tour guides will even play reggae music for you.
Another enjoyable way to float Jamaica's jungle waterways is using a river tube. These excursions normally depart from Montego Bay and travel along the Great River, where thrill-seekers get the opportunity to shoot some waves.
4. Take Out Some Time to Visit the Picturesque and Haunted Rose Hall Great House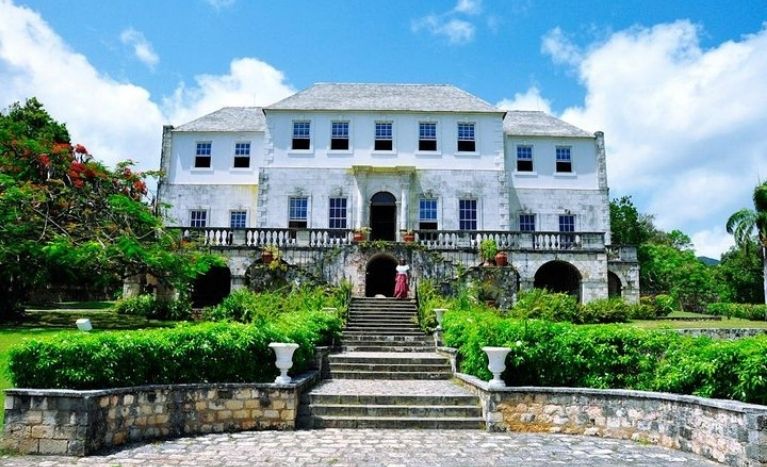 Rose Hall, one of Jamaica's most well-known homes, is a Georgian-Jamaican architecture with a fascinating past and stunning ocean views.
The property was purchased in 1977 by Michele Rollins, a former Miss USA. They rehabilitated it and turned it into a well-liked tourist destination, and is one of the unique things to do in Montego Bay.
The "White Witch of Rose Hall" mythology, which centers on a woman by the name of Annie Palmer who killed her three husbands and was buried there, is another reason Rose Hall is well-known.
Why you should go – Rose Hall Great House is a 1770 plantation house that has been restored. It is located 20 minutes from Montego Bay and overlooks the coast.
The White Witch of Rose Hall, Annie Palmer, is said to have ruled this place mercilessly and to have used black magic to cement her husband's doomed destiny.
Today, her house is furnished with items from the past, and you may take a guided tour to travel back in time.
The White Witch's ghost is rumored to have been spotted wandering through the Great House. Take out some time with your family for one of the thrilling activities to do in Montego Bay.
What to do – The spine-chilling lighted night tour is one of the most distinctive things to do in Montego Bay if you want to increase the level of excitement. Many visitors choose to join the night tour offered here to experience the mansion's eerie side and witness a reenactment of the tale.
On-site amenities include a snack bar, an English-style pub, and a gift store.
5. Feed One of the Many Hummingbirds on Your Finger at Rocklands Birds Sanctuary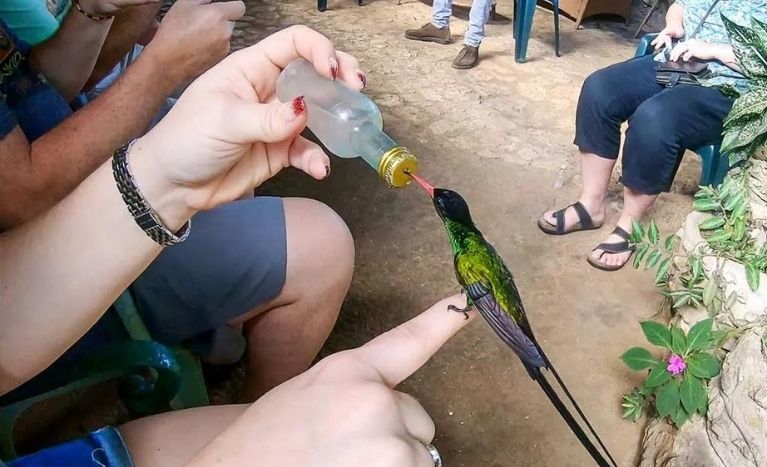 Rocklands Bird Sanctuary is a cottage property with a modest bird-feeding station tucked away in forested hills overlooking Montego Bay.
Since 1962, this feeding station is well-known for allowing visitors to hand-feed Red-billed Streamertail and Jamaican Hummingbirds. You can also encounter other birds such as the Caribbean Dove, Orangequit, and Jamaican Cuckoo.
Why you should go – You may have been many hummingbirds in your life, but never dreamed of landing one in your hand. You are provided a seat and a bottle of sweetened water as soon as you enter. These exotic birds will begin circling you in no more than five minutes. They'll land on your knuckle and feel at ease enough to begin drinking.
The best place to see birds in Jamaica is at Rocklands, which draws both tourists and locals, and is one of the free things to do in Montego Bay. This is a well-known destination for bird lovers among tour guides, hotels, and cab drivers.
You can have frequent encounters with the Red-necked Caribbean, Common Ground-Doves, Jamaican Woodpecker, Jamaican Parakeet, Shiny Cowbird, Greater Antillean Grackle, and Orangequit. A few migrating mourning doves, including American Redstart, visit here between October to April.
What to do – Rocklands Bird Sanctuary is a must-see. You may observe, capture on camera, and hand-feed exotic and unique birds at this wonderful family-run attraction.
Visitors are given a bottle of water, some bird grains, and a seat when they arrive. Hummingbirds fly down to drink from the bottles and sit on your finger almost immediately. Other birds quickly gather to consume the feed.
Rocklands is a 30-minute drive from downtown and is one of the memorable excursions in Montego Bay Jamaica.
6. Appreciate Arts and Nature at Ahhh…Natango Gallery and Botanical Garden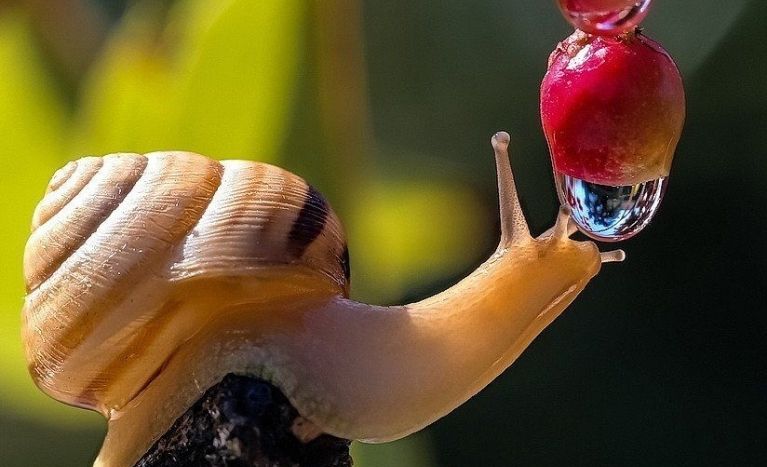 Clutching to a hilltop remote mountain with breathtaking views over Montego Bay is a hidden gem for eco-tourism. The Williams family put a lot of love and effort into creating this outdoor gallery and botanic garden.
The family makes an effort to salvage and reuse everything on the site. The garden offers informative tours to tourists where they can learn about biodiversity and ecological practices.
Why you should go – Ahhh Ras Natango Garden and Gallery is a sloping green sanctuary built by Jamaican artist Ras Natango in the hills overlooking Montego Bay. His artwork is on display here and in many hotels in Montego Bay.
Here visitors learn about local flora and flowers, spot 18 of the island's 28 endemic bird species, and enjoy a breathtaking vista of Montego Bay.
It is a perfect breather from the sun and the beach and is a top tourist attraction in Montego Bay Jamaica. On-site amenities include a juice bar and an opportunity to buy pieces of art as gifts.
What to do – There are more than 50 varieties of grass, rare ornamental plants, and lovely trees. There are two themed sections: the Mermaid's Village and a Prehistoric Era garden with indigenous Jamaican species.
The gardens are popular locations for weddings, but they are also utilized in classrooms to demonstrate how human activity affects the environment.
There is a gift shop inside and is fittingly named Ahhh…Treasures in line with the mood of the establishment. It is an extension of the gallery that features unique offerings. You can shop for hand-painted handicrafts, pillow covers, totes, scarves, paperweights, and many other things.
7. Adventure and Fun Goes Hand in Hand With Montego Bay's Zipline Tours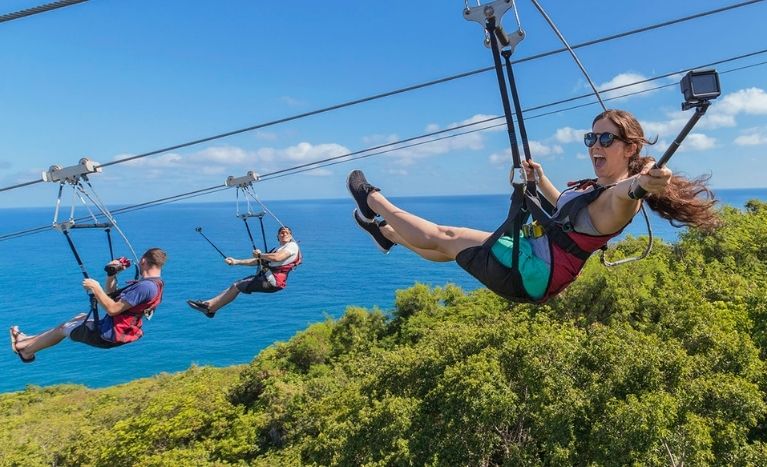 Do you desire an adrenaline rush? Partake in an exciting ziplining adventure. Flying through Jamaica's jungle canopy provides a unique view of this Caribbean island. It is one of the most fun things to do in Montego Bay.
A well-liked way to include this activity in your Montego Bay itinerary is the ziplining tour to Chukka Jungle Outpost from Montego Bay.
Consider the Chukka Zipline, River Tubing, and ATV Safari Fun Combo from Montego Bay if you want to cram even more adventure into your day. On this half-day tour, you'll zipline through the rainforest canopy, ride ATVs on rugged tracks, and go rafting down the Great River. A typical Jamaican meal as well as pick-up and drop-off at the hotel are included.
Why you should go – On this zipline adventure tour, you will travel through the highlands on an off-road jeep safari. In the Caribbean, this is regarded as the longest and safest route.
You will learn about the rich culture of the Caribbean. While you have the chance to enjoy some of these fruits and vegetables, try to live in harmony with the environment. This is one of the thrilling excursions in Montego Bay Jamaica.
What to do – With the Zipline excursion, you can clip on, and glide between decks that are 45 feet up in the trees.
Explore the jungle on a zipline and on a few quick nature hikes while being accompanied by knowledgeable adventure experts.
Complimentary transportation from hotels in Negril and Montego Bay are all provided.
8. Marvel at the Victorian-era Greenwood Great House
The community of Greenwood in Montego Bay has something to be proud of. No, it's not the beautiful countryside, verdant gardens, or perfectly trimmed lawns. But a historically significant structure that stands out for its spectacular architecture, lavish design, and charming furniture.
Visit the Greenwood Great House while you're on vacation in St. James, and is one of the best things to do in Montego Bay.
Why you should go – Visit the Greenwood Great House for a tour if you want to learn more about this fascinating period in Jamaican history.
It was formerly held by the family of renowned English poet Elizabeth Barrett Browning. The more than 200-year-old residence is one of Jamaica's best-preserved grand houses and is loaded with antiques and artifacts of the Victorian era.
What to do – The Barrett family imported exquisite antiquities to Jamaica, and they now display them at Greenwood.
The family's personalized Staffordshire pottery, firefighting tools, wall hangings, calendars, a punch clock, and a collection of some 300 books, including the first edition of Dickens and Shakespeare, are among them.
Several Gothic chaises, Spanish candelabra, and mahogany-carved pianos from Beethoven's era are among the furnishings.
There are tables with hidden compartments where files can be kept in case of a pirate raid. The most astounding is the collection of vintage musical instruments that have been brought back to life, including a polyphone and a wind-up barrel organ.
9. Soak into the Caribbean life at Gloucester Avenue a.k.a the Hip Strip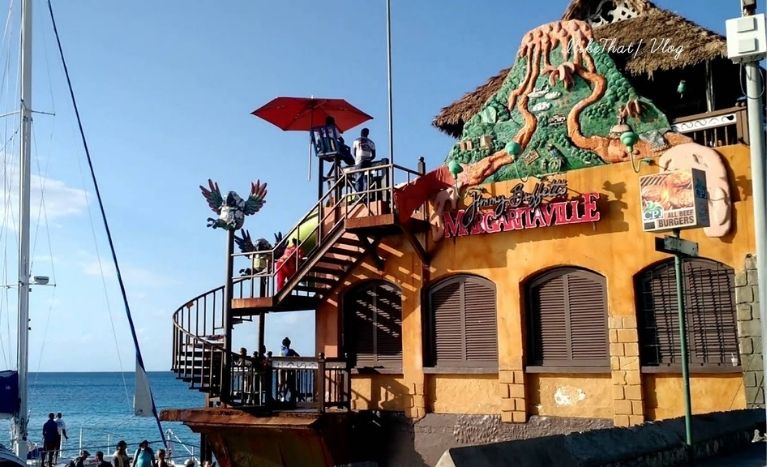 Only a few minutes from the Donald Sangster International Airport, Gloucester Avenue, also known as the "Hip Strip," is the vibrant heart and the best excursion of Jamaica Montego Bay.
It stretches along the road right above the hotel all the way to the Aquasol Theme Park.
This is where the town's most well-known stores, nightclubs, restaurants, bars, and beach hangouts come alive with fun-seeking tourists every day from daylight until well past midnight.
Why you should go – Gloucester Avenue, also referred to as the "Hip Strip," is a well-known roadway close to Doctor's Cave Beach. The majority of the days, it bustles with cruise ship passengers and is crammed with stores, bars, and entertainment options.
This is one of the best Montego Bay tourist attractions to go for local shopping. You can purchase all the typical stuff here. Be ready to cope with aggressive vendors if you intend to browse.
Along this busy strip, this is one of the best things to do in Montego Bay Jamaica on the nightlife circuit. In addition, you'll discover art galleries and cafés that are worth your time.
What to do – As the runway is only a few yards away, you can start at one end, and watch the planes land. You can also visit numerous stores and eateries on the strip as you walk along or ride a free golf cart.
Jimmy Buffett's Margaritaville, BobSled Cafe, Groovy Grouper, Cuban Cafe, Pelican, the brewery, and Mo Bay itself are just some of the great restaurants on the strip.
The daytime amenities of Margaritaville include a water slide, comfy chairs, water swing sets, and rafts. At night, the place comes alive with entertainment, food, and drink.
10. Treat Yourself to Nature's Spectacle at Dunn's River Falls
A national treasure of Jamaica is Dunn's, River Falls. It is well-known among the locals as "Xayamaca," which means "country of rivers and springs." It's one of the most picturesque places on the island. The Spaniards dubbed it "Las Chorreras" (the waterfalls or springs). Dunn's River Falls is special because it is close to Montego Bay, one of Jamaica's fastest-growing tourist destinations.
Why you should go – Dunn's River Falls is one of Jamaica's most well-known natural attractions that cascade 180 meters down slick limestone steps into the ocean.
Characterized as a biological, living occurrence that constantly replenishes itself from the remnants of limestone rock that forms when the river's calcium carbonate precipitates as it rushes over the falls.
What to do – Dunn River is characterized as a biological, living occurrence that constantly replenishes itself from the remnants of limestone rock.
It is when the river's calcium carbonate precipitates as it rushes over the falls. The thermal spring activity found in limestone caves is typically linked to the tiny dome-shaped spectacles.
Dunn's River has the distinction of being the only place of its kind on the entire globe, thanks to its proximity to the ocean.
11. Bob Marley Museum Tour at Nine Mile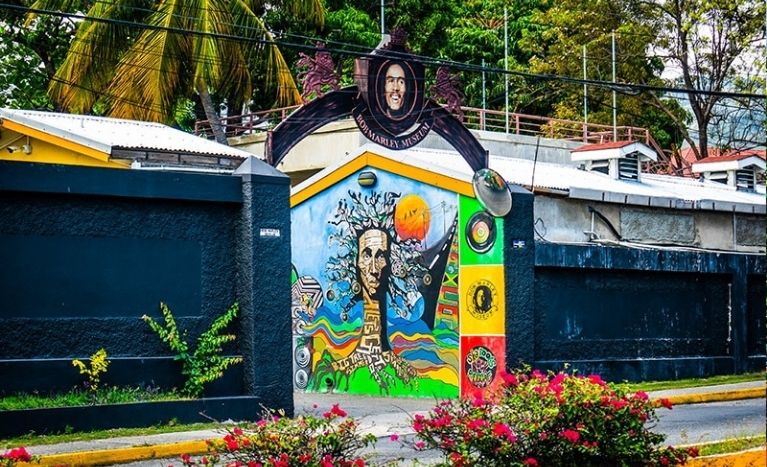 You must visit the Bob Marley Museum in 9 Mile, St. Ann, Jamaica if you're a "genuine" Bob Marley fan. On some of the worst roads you will ever see, it's a terrifying trip through the hills.
However, once you arrive, you'll appreciate how clean and sharp the air is. The idea that such a great individual might originate from a remote, lowly location is equally absurd.
Why you should go – The final resting site of Bob Marley has immense potential as an attraction. The singer's modest childhood home is still intact, and his understated marble burial is really emotional.
What to do – Enjoy the breathtaking view as your driver makes his way through the curvy, crooked country roads to the mountain hamlet of Nine Mile.
Every reggae aficionado must have this mystical experience, which introduces you to the well-known Rastafarian faith, culture, and rituals. Not to miss the life and times of the great legend Bob Marley.
Discover more about Bob Marley's early life and his ascent to fame around the world by visiting his humble abode at Nine Mile, where he spent some of his formative years and where his body was laid to rest.
Before returning to your accommodation, stop for lunch at one of Jamaica's renowned barbecue centers on the museum site. Savor the wonderful meal with an ice-cold Red Stripe beer or tropical fruit drinks.
12. Pay Tribute to Jamaica's Great at Sam Sharpe Square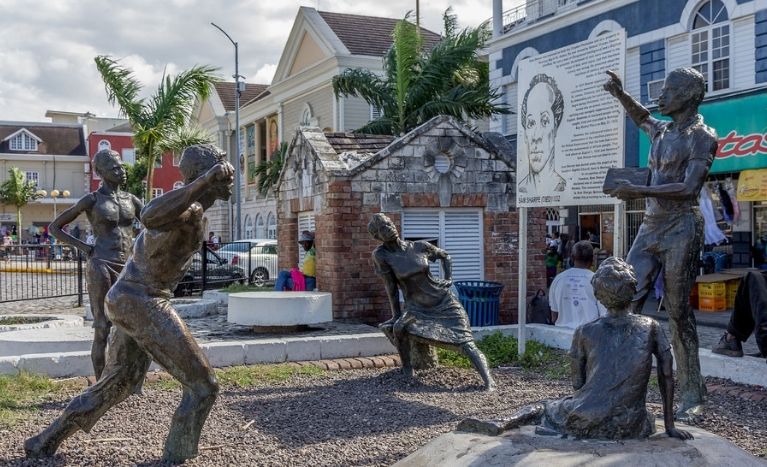 Samuel Sharpe, a national hero and the commander of the 1831 Christmas Rebellion, was executed there following the revolt and this lively, cobblestone square bears his name.
The National Heroes' Monument is located in the northwest corner of the square. The Cage, a small brick structure nearby that was constructed in 1806 as a jail for destitute and other miscreants, is close by.
Why you should go – Sam Sharpe Square, the main attraction in Montego Bay, provides a grimy glimpse into significant Jamaican history.
It honors Sharpe, a pastor and slave in the community who promoted peaceful resistance to compel the planters to accept liberation. Sharpe was executed by hanging at Charles Square at the time. Even though the square is currently congested with traffic and street vendors, most sightseeing trips include a stop there.
What to do – The bustling area is crowded with street shopkeepers trying to sell their goods, while local taxis are stopping off and collecting up passengers.
A sensory overload is to be expected until you visit the Montego Bay museum, but it's an interesting place to people-watch. It is one of those things to do in Montego Bay for free.
Samuel Sharpe served as a deacon at Burchell Memorial Church, which was built in 1824 and is located two blocks east of the square. In the vault, his remnants are laid.
13. Spot Low-Flying Planes at the Dead End Beach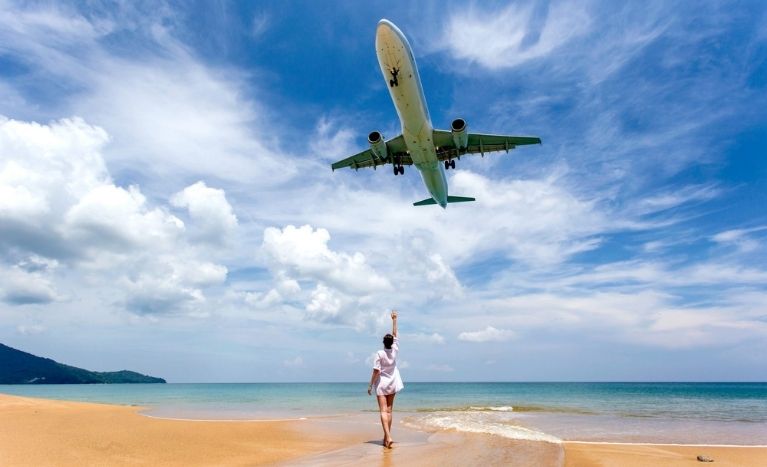 This small stretch, sometimes known as Buccaneer Beach, is a gathering place for residents just north of Gloucester Avenue. A lack of space encourages community, and during high tide, it's very accurate to say that the "beach" is at the "dead end." Although there are no facilities nearby, the absence of tourists makes the sunsets over the bay even more beautiful.
Why you should go – The Donald Sangster International Airport is directly adjacent to the beach. Guests can experience the thrill of seeing low-flying planes land while taking a bath and is one of the best tourist attractions in Montego Bay Jamaica.
What to do – A simple way to experience a real Jamaican beach in Montego Bay is to travel to Dead End Beach. The beach is open to everyone and primarily draws locals. This is one of the non-tourist things to do in Montego Bay.
Residents of Montego Bay frequent the tavern with a pool table that is located directly across from the beach.
14. Take a Boat Tour to Explore the Bioluminescent Activities at Glistening Waters
The 'Luminous Lagoon', often known as Glistening Waters, genuinely lives up to the expectations. The water has a unique beauty at this estuary near Rock where it glows an eerie emerald when disturbed.
Microorganisms that cause physical and chemical reactions when stirred are responsible for the green color.
The concentrations are so high that swimming fish appear like green torpedoes and swimming causes sparks to stream down your body. It is one of those unique and memorable Montego Bay activities.
Why you should go – It can be somewhat psychedelic to swim across the brilliant lagoon, especially on moonless nights when it can be difficult to distinguish between the sky and the water.
Due to the mingling of salt and fresh water from the sea and the Martha Brae River, the experience is rendered even more dream-like.
The freshwater "glides" over the saltwater, allowing you to swim through alternating bands of chilly and warm water in addition to green phosphorescent clouds. It is one of the best things to do at night in Montego Bay, Jamaica.
What to do – To go to the bioluminescent areas, you must depart by boat. From Luminous Lagoon Dock and two further locations nearby, half-hour boat tours are available. A trip out here should be possible to arrange through any hotel from Ocho Rios to Montego Bay.
The Windsor Caves are a real treasure trove, home to enormous guano, the island's greatest bat population, and amazing limestone rock formations.
Why you should go – For most visitors, this cave may be off the main path, but it is one of Jamaica's most significant bat sanctuaries, supporting 12 species and over 100,000 bats.
With the condition that it never be exploited, it was donated to the World Wildlife Fund in 1995.
Although the interior is not particularly stunning, you can either explore it with a friendly tour guide or a naturalist trip from Windsor Great House to see the bats emerge in the evening. It is counted as one of the unique things to do in Montego Bay.
What to do – The entrance can be reached after a 1.2-mile journey that ends with a trek to a treacherous rocky trail.
After passing through the narrow entry, you will enter a spacious gallery filled with rock formations with a magnificently arched ceiling.
During the rainy season, you may hear the roar of the deep-seated Martha Brae River.
Talk to a guided tour about a price, keeping in mind that he counts each individual room as a separate "cave".
What to Eat in Montego Bay?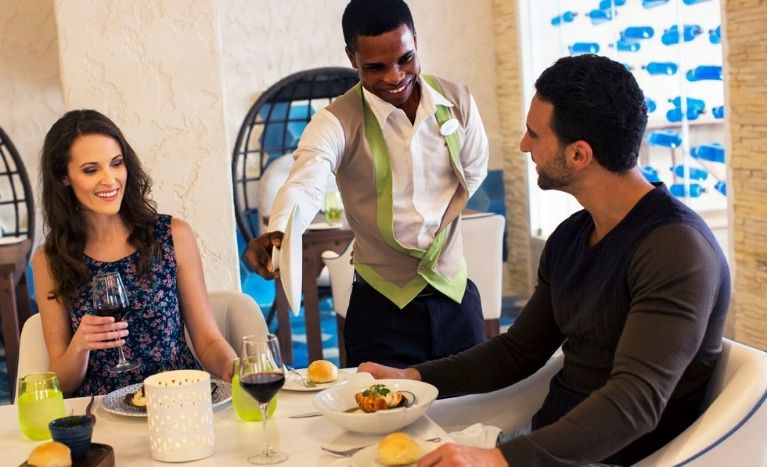 You will find the island paradise when you travel to Montego Bay.
The stunning white-sand beaches, magnificent resorts, golf courses, and great shopping choices in this Jamaican city are well-known.
Aside from the abundance of activities and relaxation, you'll also enjoy exploring the diverse food scene of this coastal city.
Eat at the top restaurants in Montego Bay to experience the numerous amazing cuisines.
The Brewery – A tavern in the English tradition serving Jamaican, English, and foreign food. This serves lunch and dinner but is more of a bar than a full-service eatery. There are simple sandwiches, salads, and hamburgers offered. On Friday and Saturday nights, karaoke and disco are available.
Address – 32 Jimmy Cliff Ave, Montego Bay, Jamaica
Sugar Mill – The upscale restaurant Sugar Mill serves worldwide cuisine with a Jamaican flair. A romantic and elegant atmosphere is created when you dine here thanks to the tall trees, hanging lights, lamp tables, and the cool ocean breeze. For your appetizer, order the crispy pork belly and a serving of roasted pumpkin and carrot puree.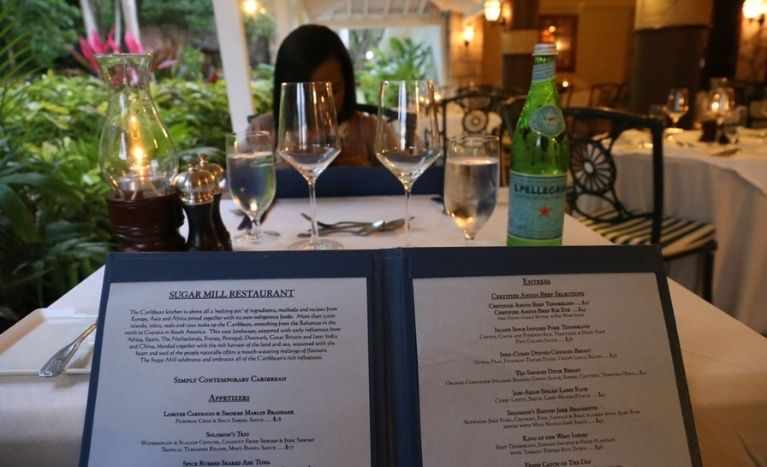 Address – Spring Farm Dr., Rose Hall, Montego Bay, Jamaica
Juici Patties – This little fast food joint is definitely up there on the list of the best eateries in Montego Bay thanks to their incredibly tasty patties. The restaurant's simplicity and accessibility make it a popular choice for casual dining locations. Don't forget any of the burgers (beef and vegetable, for sure). Try the Ackee & Saltfish plate, though, if you're looking for something more substantial.
Address – F3FG+PRX, St James St, Montego Bay, Jamaica
Mystic Thai – In Fairview Towne Centre, there is a posh Thai restaurant called Mystic Thai. This restaurant is among the best in the city not just for its superbly hip atmosphere but also for its brilliantly presented (and delectable) fare. Start with the Buddha Bowl and then have some lamb topped with Basil leaves.
Address – B11- Fairview Towne Centre Unit B11 (2) Fairview Towne Centre, Montego Bay, Jamaica
Where to Stay in Montego Bay Jamaica?
There are several hotels in Montego Bay, which makes sense considering that it is one of the most popular beach destinations in Jamaica. Plus, it has a lovely stretch of white-sand beach backed by a stunning blue sea. But with so many options, choosing a place to stay can be a bit of a daunting task.
Round Hill Hotel and Villas – The grounds are lovely, and the hotel, which is built in the old colonial architecture of Jamaica, is stunning throughout. The villas and suites are decorated by none other than Ralph Lauren. In addition to the accommodations, there are golf courses, a meditation pavilion, a fitness center, and a sizable spa.
Address – John Pringle Drive, Montego Bay, Jamaica
Iberostar Grand Rose Hall – The all-inclusive property has a tonne of amenities, including 11 restaurants and a sizable spa with an amazing hydrotherapy room. In addition, there is a yoga studio, tennis courts, and a sizable infinity pool.
Address – Branch Development, Rose Hall Main Road, Little River, Montego Bay, Jamaica
Sandals Royal Caribbean Resort and Private Island – The all-inclusive resort has a variety of lodging choices, such as the aforementioned over-water bungalows and villas. There are eight-in house restaurants, a lavish spa with Southeast Asian influences, seven pools, and five hot tubs.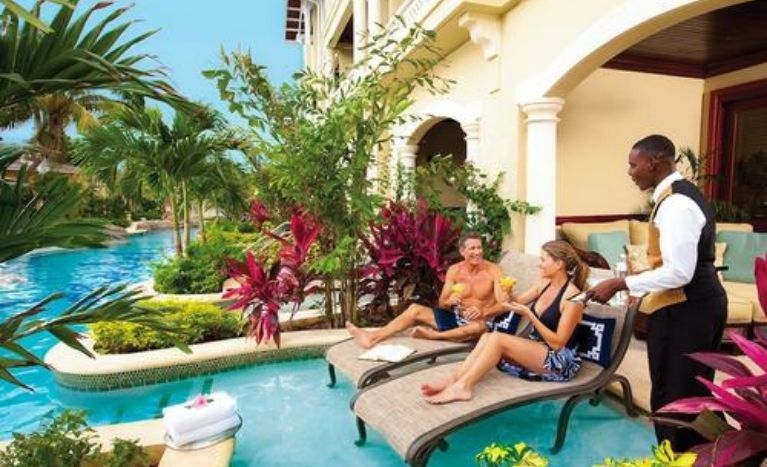 Address – Mahoe Cl, Montego Bay, Jamaica
Secrets Wild Orchid Montego Bay – The Secrets, 4 stars The luxurious, adult-only Wild Orchid all-inclusive resort has stunning rooms that are all lavishly furnished, spacious, and have beautifully decorated balconies. You have ten various restaurant selections to choose from, so dining is never boring.
Address – Lot A59 Freeport, Montego Bay, Jamaica
Conclusion
The pristine beaches, the tropical weather, and the backdrop of lush greenery make Montego Bay Jamaica a perfect spot to take an adventurous family vacation.
If you are visiting aboard a cruise ship, get ready to spend sunny days exploring the many exciting attractions around Montego Bay Jamaica.
The city is a popular destination every year for thousands of North American and European tourists planning to visit Caribbean destinations.
Truly, Montego Bay is the place to be if you're looking for an authentic Caribbean Island getaway. From family excursions to adult-only vacations, there's something for everyone in this colorful port town.