The summer months of December to March are the best times to visit New Zealand, with long, bright, sunny days and temperatures ranging from 16°C to 24°C. They're perfect for going to the wonderful beaches or taking advantage of all the outdoors has to offer, like hiking and mountain riding.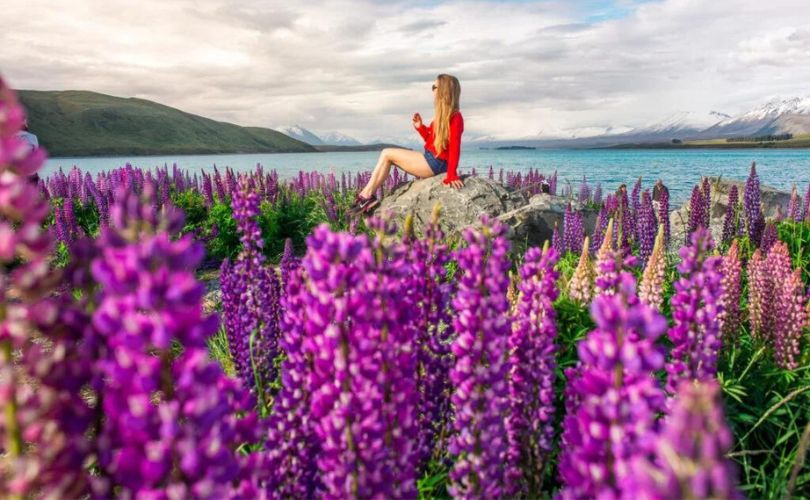 The nation is a magnificent place to explore year-round thanks to its untamed beauty and diverse terrain. Just be prepared for a light drizzle anytime you go.
Snow is expected to fall on the South Island as well as some of the more mountainous sections of the North Island from June to September. It welcomes skiers across the globe this time of the year. The spring and autumn months provide milder weather and less visitors. There are still quite wonderful seasons to come, with temperatures in the mid-teens.
Here's our monthly guide to the weather, festivities, and the best time to travel to New Zealand –
Midsummer occurs in New Zealand in January. Additionally, the peak travel season and school breaks are also currently underway. Therefore, if you enjoy the sun but dislike crowds, you might think about going in February.
But if you're willing to enjoy the hustle and bustle, this is a terrific month to get into the spirit of the community, and of course the best time to visit New Zealand.
With great weather and the cricket season in full swing, it's vacation time for the residents.
Days are best spent doing water-based activities to stay cool when exploring New Zealand. There will be a plethora of well-known beaches open in the Bay of Islands and Coromandel Peninsula.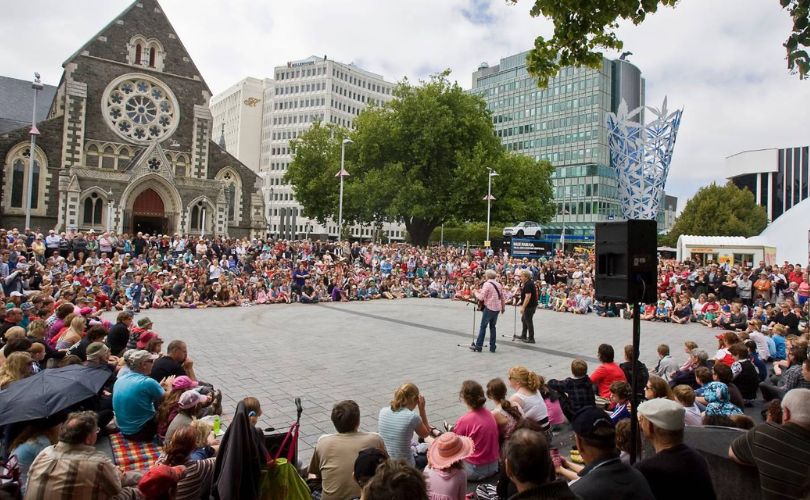 Key festivals & events – A variety of summer festivals take place around this time, including the World Buskers' Festival in Christchurch, Auckland's Laneway Festival, and the New Zealand Sevens rugby tournament.
Spend two weeks in January watching some of the top tennis professionals compete in ABS Tennis Classic.
Bread & Circus World Buskers Festival: The long, sunny evenings of a South Island summer are excellent for this festival.
Even though February marks the end of summer, temperatures are usually at their peak during this month.
In other words, this is the ideal time to visit the beach, go rafting, go for some wonderful walks, or just get some exercise.
It's peak summer; New Zealanders are returning to school, and the "sauv blanc" is chilling in the refrigerator. There is no shortage of festivals and sporting events this time of the year.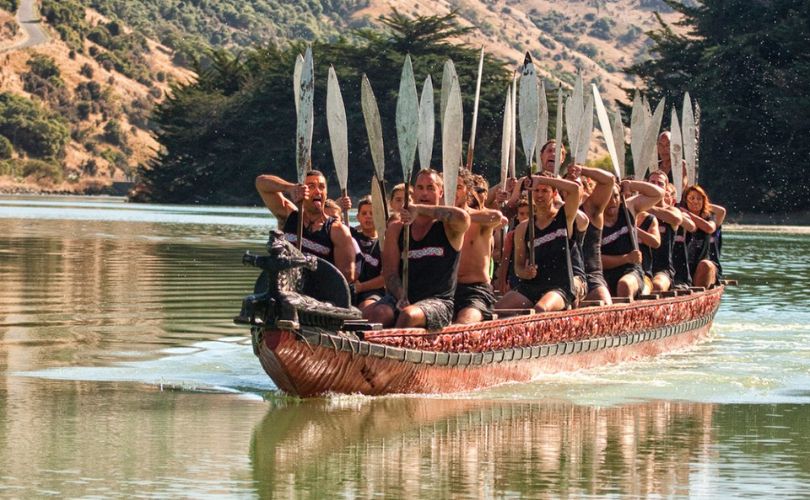 Key festivals & events – Waitangi Day, New Zealand's national holiday, is observed on February 6 for individuals who desire to learn more about local history and traditions. In particular, Auckland and Christchurch are illuminated during February by Chinese New Year lantern festivals.
Celebrate Napier's Art Deco legacy by going back to the 1930s. Alternatively, Art Deco Weekends are hosted in July if you can't make the yearly event in February.
Wellington Fringe Festival: This exciting festival fills venues all across Wellington with music, comedy, and theater performances.
When to go to New Zealand for pleasant weather? March. The country begins to transition into autumn around March.
The weather is still warm during the day, but as the leaves on the trees fall, the temperature starts dropping.
In certain places, including the Bay of Islands and Rotorua, the temperature will continue to rise, occasionally reaching as high as 27C.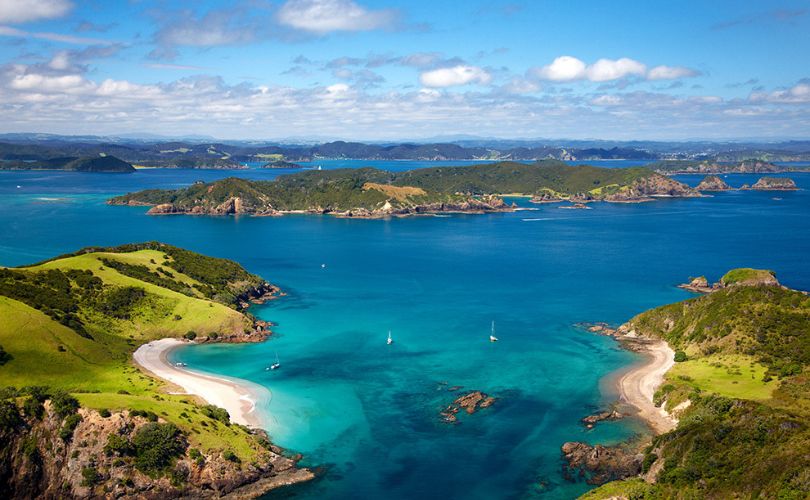 Many vineyards also see a grape harvest in excess in March. Nevertheless, if you happen to be in the Queenstown/Central Otago wine area, this is the month that receives the most rainfall there.
The Hokitika Wildfoods Festival, the Ellerslie Flower Show in Christchurch, and the Balloons Over Waikato in Hamilton are further events to keep an eye out for.
Key festivals & events – Wildfoods Festival, Hokitika: At this unique cuisine festival in Hokitika, you can sample odd, bizarre, or simply revolting fare including deep-fried insects and bull testicles. There are some foods that are more popular.
Around Easter, several municipalities have markets or fairs. Be mindful of the prohibitions on purchasing alcohol on Good Friday and Easter Sunday.
Enjoy the cool nights, clear, sunny days, and crisp air of April. Visit areas like Hawke's Bay, Central Otago, Lake Tekapo, and the larger Mackenzie Country region at this time to take in New Zealand's magnificent autumnal colors.
Long, clear days and a general lack of wind make April a popular month for hiking, particularly in the South Island's alpine regions.
The ocean is still swimmable, and the weather is warm, with no long lines in sight.
The Festival of Color in Wanaka and the Auckland Royal Easter Show are two of this month's must-attend events.
Key festivals & events – Tauranga National Jazz Festival: Founded in 1962, this jazz festival is the longest-running in the Southern Hemisphere.
The commemoration of Anzac Day takes place in April. Kiwis frequently take time off during this season.
Despite the approaching winter's chill, festivals continue. This is the best time to travel to New Zealand for culture aficionados!
This is the moment to start layering up: temperatures in May can easily dip to 6°C in the South Island and 9°C in the North.
Bungee jumping in the chilly, fresh air will undoubtedly keep you in good spirits if you enjoy adventure sports. Additionally enjoyable activities in May include fishing, hunting, and mountain biking.
Key festivals & events – If you enjoy cultural activities, May is New Zealand Music Month, when local performers take to the airways.
The Great New Zealand Food Show in Hamilton, the Documentary Edge Festival in Wellington and Auckland, and the Auckland Writers' Festival are further festivals worth attending.
The Auckland Comedy Festival features performances by local and international comedians in venues ranging in size from teeny theaters to tiny basements.
Book enthusiasts won't want to miss the Auckland Writers Festival, which brings together authors, philosophers, and readers from all over the world including New Zealand.
It's common to hit the slopes in the first month of winter to enjoy the fluffy snow.
In June/July, Queenstown hosts an annual winter festival featuring ten days of music, snow sports, and entertainment.
Kiwis who don't ski tend to vacation in the tropical Pacific Islands during winter, leaving more room for international visitors who come during this season.
Ruapehu and Taranaki are the main ski slopes in the North Island, while Wanaka, Otago, and Canterbury are popular destinations in the South.
Key festivals & events – In June, when its namesake constellation—the Pleiades in English—is at its best, the Maori New Year, or Matariki, is observed throughout the entire nation.
The Steampunk Festival in Oamaru and the Dunedin Midwinter Carnival are two other yearly celebrations that brighten up this month.
Queenstown Winter Festival: The town, which is encircled by snowy peaks, celebrates with free music and snowy events.
Right now, Queenstown is normally the driest, while Auckland is the wettest. Although its southerly winds can slice you right through, Wellington's winter is not particularly harsh.
Queenstown's Winter Festival marks the height of the ski season. Mt. Ruapehu on the North Island is the place to go if you want to avoid crowds.
Pancake Rocks on the south island's west coast and Tongariro National Park in the north island are two places to see this month.
Key festivals & events – The New Zealand International Film Festival, Dunedin's Chocolate Carnival, and Napier's annual Art Deco Weekend are all worth checking out in July.
Birdman, Russell: Russell, a small town in the Northland, will banish the winter blues with its bizarre and outrageous Birdman Festival. Competitors leap off Russell Wharf while dressed as birds.
The New Zealand International Film Festival: This annual event usually begins in Auckland in July before making its way around the rest of the nation in the following months.
There is still plenty of time to catch some snow, enjoy the mountain backdrops, and simply take in New Zealand's breathtaking scenery, this time of the year.
In August, devoted foodies can indulge in occasions like Auckland Restaurant Month and Visa Wellington on a Plate, and New Zealand Fashion Week keeps aspiring fashionistas up to date.
This is the best time to go to New Zealand if you want better deals on flights and accommodations.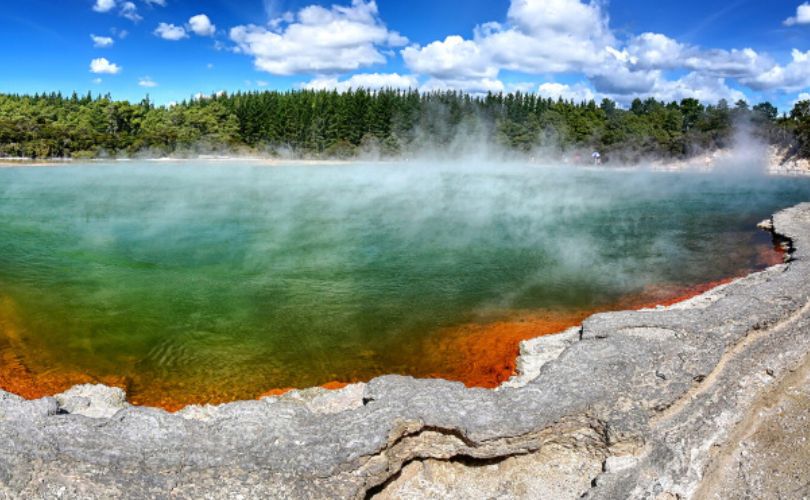 As winter lingers, North Island destinations such as Rotorua and the Bay of Islands remain popular due to their milder weather than the south. Humpback whales pass through Kaikoura on their way north to warmer waters, but the South Island has its pleasures.
Key festivals & events – Beervana is an event that highlights Wellington, New Zealand's booming craft beer culture.
Skiing, snowboarding, ice hockey, curling, and other winter sports will be included at the Winter Games in Queenstown/Wanaka.
It's officially spring, but don't shed your thick clothing just yet. September is really the windiest month of the year in New Zealand. Wellington usually bears the brunt of it, with variable and inconsistent weather.
Visits to the magnificent botanic gardens in Auckland, Wellington, or Hamilton are highly recommended, as are excursions to Christchurch's Garden City.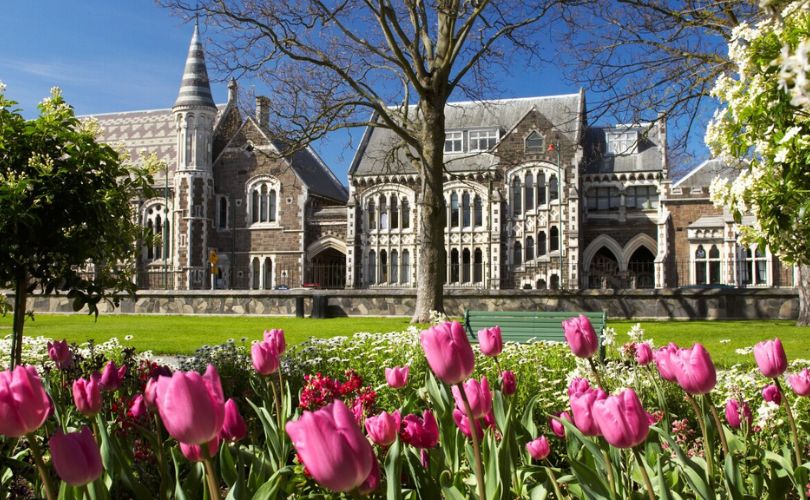 In addition, September is the best month to travel to New Zealand to watch orcas cruising the shoreline and lambs playing in the fields.
Key festivals & events – The most prestigious event of this month is The World of Wearable Art. The Alexandra Blossom Festival, Nelson's Cherry Blossom Festival, and Palmerston North International Spring Festival.
Whitianga Scallop Festival: This event in the little Coromandel Peninsula village is a must-attend for seafood aficionados.
World of Wearable Art, Wellington: This artistic spectacle features both domestic and foreign fashion design with a humorous spin. Any time of year is a good opportunity to visit the WOW Museum in Nelson, on the South Island.
Mild weather and notable cultural events characterize the month of October.
With plenty of clear days, Wellington's weather is typically at its best right now. However, you should still wear a windproof jacket because this is also when the city's biggest wind canyons have been recorded.
In the rest of New Zealand, October is "shoulder season" with affordable lodging costs, few visitors, and no rivalry for the best campsites.
Key festivals & events – There are several cultural and artistic events taking place all around New Zealand, such as the Hawke's Bay Arts Festival, the Akaroa French Festival, and the Auckland Heritage Festival.
This month, Diwali celebrations also draw a lot of attention in Auckland and Wellington, where a variety of cultural performances and colorful fireworks show awe onlookers.
Famous local chefs compete in Taste of Auckland to create a tasting menu that will earn them the hearts and stomachs of the ravenous public.
When to travel to New Zealand to experience perfect weather? It's a sweet November! There are many beautiful days in the middle of spring.
Popular tourist destinations, such as Auckland, tend to get busier as the season progresses; it's absolutely worth planning your accommodation and itinerary ahead of time if you want to visit now.
NZ's famous pohutukawa trees bloom throughout Northland, the Coromandel Peninsula, the Bay of Plenty, and the East Coast. This is when the weather improves and visitors begin to come.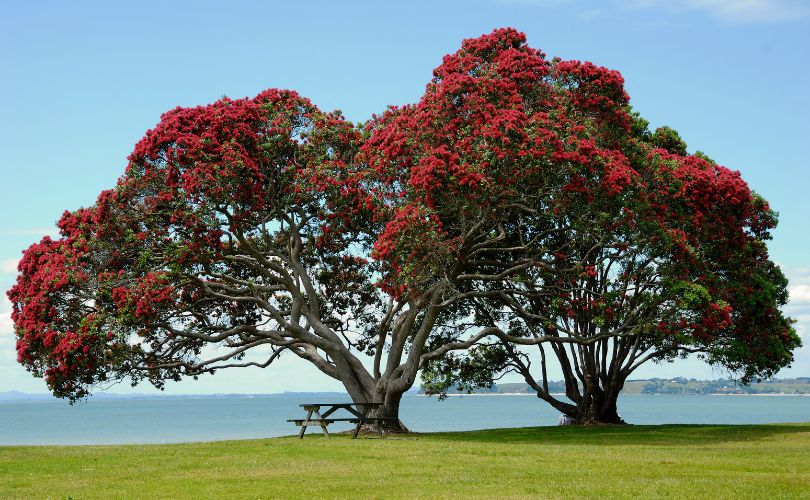 Prepare for busy sites as peak season approaches and make early reservations to secure lodging in the farther-flung locales.
This is also the best time to visit New Zealand if you want great deals on flights, accommodations, and local experiences.
Key festivals & events – The Canterbury A&P Show, a long-running three-day festival that takes place every November, is a great place to get a taste of New Zealand country life. It mixes live demonstrations—including sheep shearing—competitions, carnival attractions, and even a petting zoo to bring the country lifestyle to the urban setting.
The yearly wine festival is a fun way to welcome in the summer, and is attended by several vineyards in this North Island village.
Book your dates this time of the year if you're hoping for a snowy Christmas.
Since December marks the beginning of summer, the holiday season is celebrated in vibrant hues.
Consider outdoor picnics, cod and chips by the sea, or a barbeque camping with family and friends.
By mid-December, school is out for the summer, and Kiwis have an excuse to vacation during the Christmas and New Year seasons.
The sun doesn't set in New Zealand until 9 p.m., so locals make the most of the extended daylight hours.
Key festivals & events – Gisborne, the city that has the honor of witnessing the first sunrise of the year, hosts the Rhythm and Vines Festival on New Year's Eve as one of its customs.
Best Seasons to Visit in New Zealand
NEW ZEALAND WEATHER
Here's is guide for the seasons that blossoms in this part of the world –
High Season: December to February (Best time to visit New Zealand for outdoor pursuits)
There are many festivals like Rhythm & Vines, Art-Deco, and Fringe during the summer. Experience crowded beaches, perfect hiking weather, and cricket matches this season. You must act quickly because of the big throng. Because hotel rates are the highest, make reservations in advance.
Low Season: March, April, and May (Best time to travel to New Zealand to enjoy festivals)
Expect nice, colder weather, autumnal hues, a warmish ocean, and lengthy evenings. Fewer people means shorter lines, and major road-trip routes, such as Auckland to the north, are open, especially after Easter. During this time, popular events include the Jazz National, WOMAD, the Bluff Oyster & Food Festival, and the Te Matatini National Kapa Haka Festival.
Low Season: June to August (Best time to travel to New Zealand for budget travel)
Ski resorts are booming, offering enough skiing and snowboarding to enjoy. On the other hand, beach towns in warm climates will be mostly asleep. So, depending on where you go, you'll either be in the middle of the activity (and crowds) or finding some bargains in the warm-weather areas. Reservations for lodging are necessary in both situations.
Still Looking for the Best Time to Travel to New Zealand?
Whether you are weighing the pros and cons of booking a trip to New Zealand, are just looking for activities to do while on vacation, or have been living there your whole life but would like a weather update, this monthly guide has you covered.
From finding the best time to travel in the country to predicting whether it will be sunny or rainy, this is a helpful tool for everyone.
New Zealand should definitely be on your list of places to visit, especially if you're a nature lover. Though it has been discovered only in the last couple of centuries, it has already developed a spectacular and breathtaking environment. The country is often compared to Lord of the Rings's Frodo's homeland: New Zealand. We have listed down all the best times and seasons to visit this amazing place by looking at historical weather data from over 20 years ago and trying to compare that to current averages for each region.
Also Read: