We haven't yet come across a more exciting mashup of Asian cultures than Penang. Penang has historically acted as a link between Asia's great kingdoms and a vital gateway to European and Western Asian markets.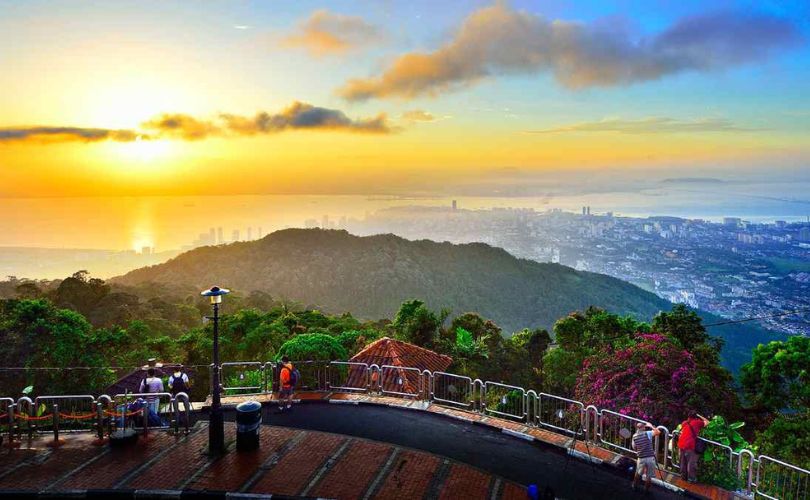 At its core is colorful, cosmopolitan George Town, the principal city of Penang Island. It also serves as an urban center that presents old-world Asia in abundance, and is among the top places to visit in Penang.
The most contemporary features of modern culture may also be seen in the great art scene and free-spirited carnivals. It is fueled by an infectious local excitement for Penang's rich history and diverse cultures.
Parts of George Town have also been classified as UNESCO World Heritage Sites, owing to the coastal urban communities known as clan jetties.
See our list of the top Penang attractions –
1. Visit the Garden of Tropical Spices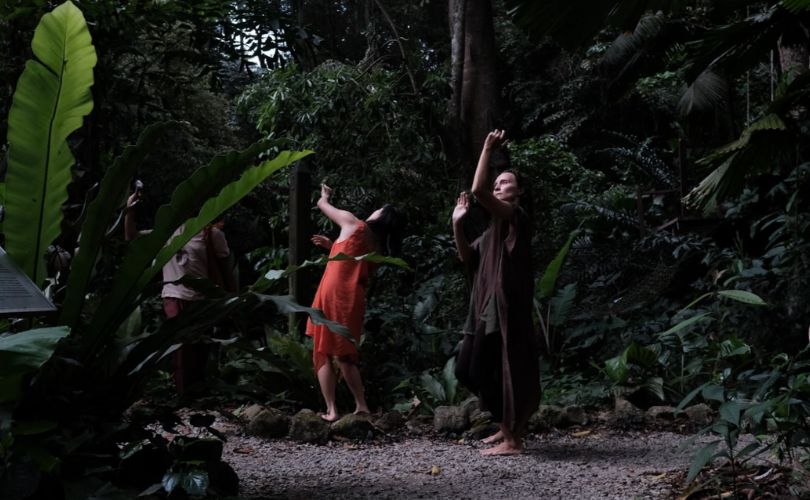 The Tropical Spice Garden, which is located on Jalan Teluk Bahang, is one of Penang's attractions, particularly if you want to venture outside of the city center.
The garden, which is located on the site of a former rubber plantation, is a tribute to the exquisite herbs and spices that are native to this region of the world.
It's a fantastic location to visit if you're interested in Malay flora and fauna. You can even take a cooking class there to see how these herbs and spices are utilized to prepare traditional recipes that are popular all throughout Malaysia.
There are also guided or audio tours of the garden, as well as activities for younger visitors to get them interested in all of the aromatic species present here.
2. Experience the Tropical Blooms at Penang Botanical Gardens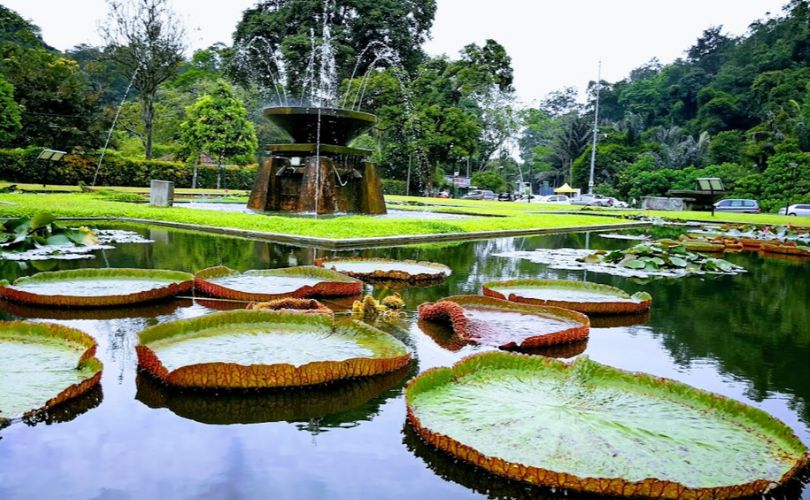 Although the 30-hectare botanical garden is known as "Waterfall Gardens," there is no actual waterfall within the park.
The park is involved in research and conservation activities. It also offers a recreation setting where visitors partake in jungle trekking or jogging, explore the enormous tropical rainforest, or learn about the numerous rare species of ferns, herb garden, and orchidarium kept here. Some hiking trails go all the way to Penang Hill, and are located an hour away.
The gardens are home to numerous butterfly species, long-tailed macaques, and black giant squirrels.
3. Have a Cup of Tea at Huang Chen Tao Tea Art
Penang is blanketed in tiny little tea shops, thanks to the city's significant Chinese influence.
Many of the tea shops are located inside of business homes, making it simple to go by and miss one without realizing the delights it holds.
One such establishment is Huang Chen Tao Tea Art, where you may buy traditional Chinese tea from vendors who have sachets of tea placed all over the store.
There are also a number of little tables set up in front of the shop where you can sit and enjoy a cup of the delectable leaves on offer. This is a fantastic spot to pick up some tea-related souvenirs from your visit to Penang.
4. Step back in Time at Penang War Museum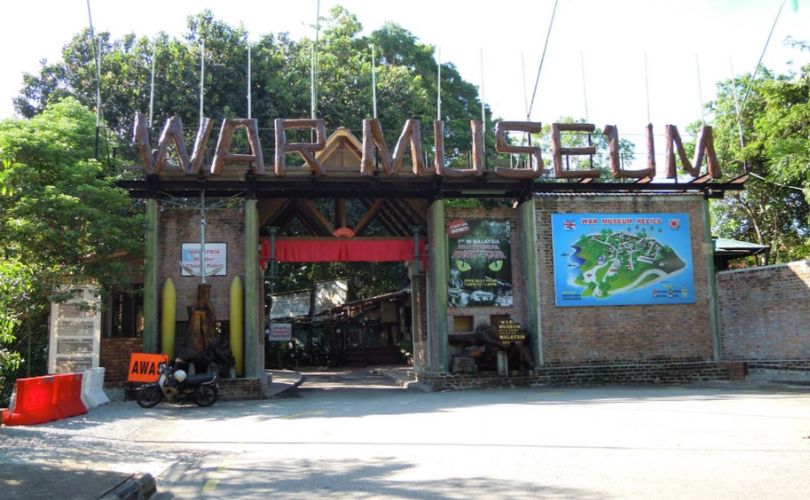 This 20-acre outdoor living war museum in Penang was built on the ruins of a 1930s British fort and gun armory and is the best place in Penang to learn the country's history. During World War II, the fort's construction was severely damaged and it was unable to stop the Japanese force from invading.
It was eventually rebuilt and is now home to Southeast Asia's largest military museum as well as a memorial to the numerous men who suffered and died during the occupation.
The museum's primary features are completely underground, some as deep as 10 meters. It also features ammunition bunkers, pillboxes, a communications center, and escape passages leading directly to where the submarines formerly waited.
Intuitively, the history of the location is brought to life with cannons, barracks, and a multitude of pictures and narratives.
Visitors are welcome to tour the vast fort on their own, experiencing it as they see fit and uncovering unexpected nooks along the way. The other highlights include a tour to the bullet-riddled walls, a Japanese suicide vest, and a guillotine stand.
5. Have a Rainforest Experience at the Habitat Penang Hill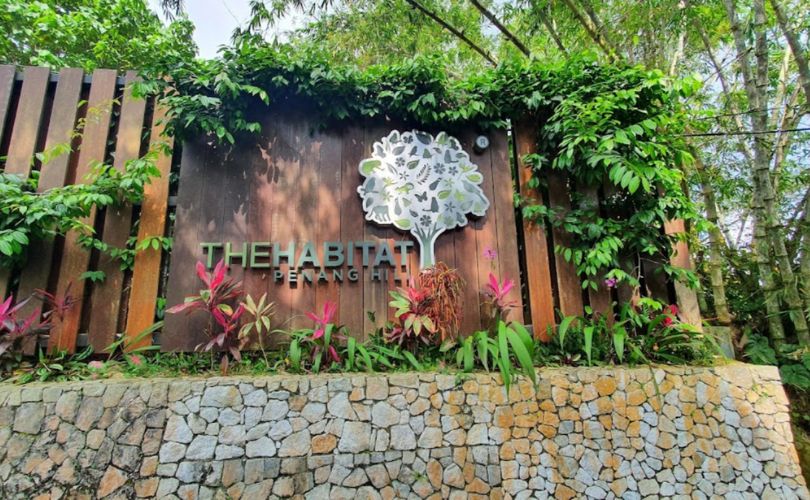 The Habitat Penang Hill is an immersive rainforest experience that immerses you in the jungle's sights, sounds, and smells.
Your first encounter with nature is on the 1.6-kilometer nature route that winds through an old forest, through sloping hills, and high over the Andaman Sea, all of which may be seen from various vantage locations along the way.
Visitors can take the Langur Way Canopy Walk, which is 15 meters in the air and 230 meters long, for an even better perspective of the surroundings. In order to explore the rainforest up close, you can also attempt the ziplines, and it is one of the best things to do in Penang.
Nothing surpasses the Curtis Crest Tree Top Walk, a circular platform that offers 360-degree views and the highest point on the island.. Here, special tours led by naturalists are offered at dusk. Here you may observe a breathtaking variety of sky colors alongside the Penang gecko, and enormous flying red squirrels.
6. Have Afternoon Tea at Suffolk House
Suffolk House, located in the beautiful area of the island known as Air Itam or Black Water, offers a taste of typical British colonial architecture in Penang.
The house would have been Sir Francis Light's previous home, who is known as the official founder of Penang. After his demise, it fell into neglect and was closed to the public.
It reopened in 2007 after a three-year restoration, and you can now enjoy a guided tour that will tell you all about the history of this magnificent structure.
One of the main draws of a visit here is the onsite restaurant. Here you can have a traditional cream tea with excellent pastries and a selection of delicate sandwiches.
7. Marvel at the Street art in George Town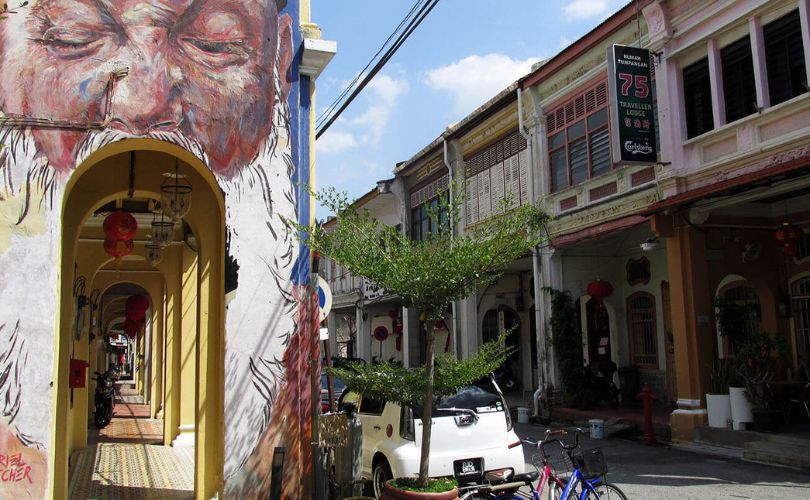 The majority of people don't know George Town is known for its fantastic street art until they start exploring and come across spectacular wall murals when they explore the city on their feets.
A Lithuanian artist painted six substantial murals in 2012 to kick things off, and since then, things have taken off.
The big mural depicting "children riding a bicycle" is currently one of the town's most Eye – catching locations, and is the best place to visit in Penang for art lovers.
The art is a great reason to spend a day strolling about Old Town. Murals abound on Muntri and Ah Quee streets. It features the iconic 20-foot-high Little Girl in Blue and Guy on a Bike, a mural that combines a magnificent image of a boy wearing a helmet and an actual motorcycle propped up against a wall.
8. Take the Ferry to Butterworth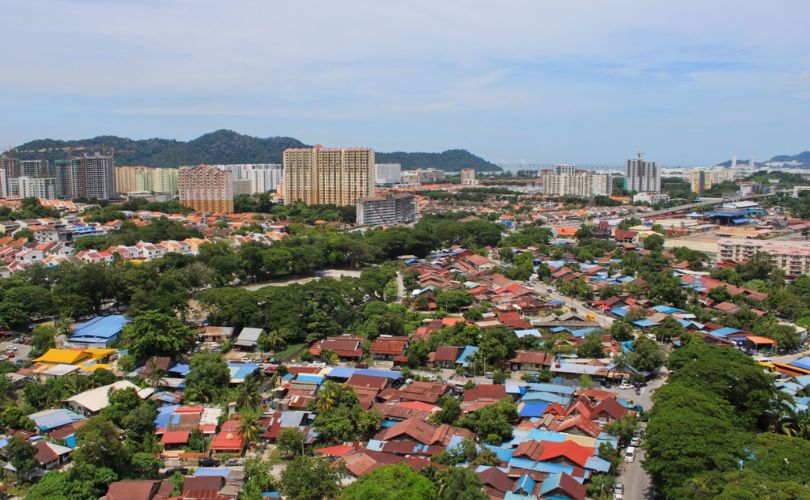 The word Penang really refers to the entire state of Penang, which includes Butterworth, which is located just across the water. Many people mistakenly believe that Penang simply comprises Georgetown.
Butterworth is truly a part of the Malaysian mainland, whereas Georgetown sits on an island. If you want to see Georgetown, taking the ferry across the sea is one of the greatest things to do in Penang.
As a result, you can take in some of Georgetown and Butterworth's best views while also taking in the sea breeze.
9. Go thrift Shopping at Batu Ferringhi Night Market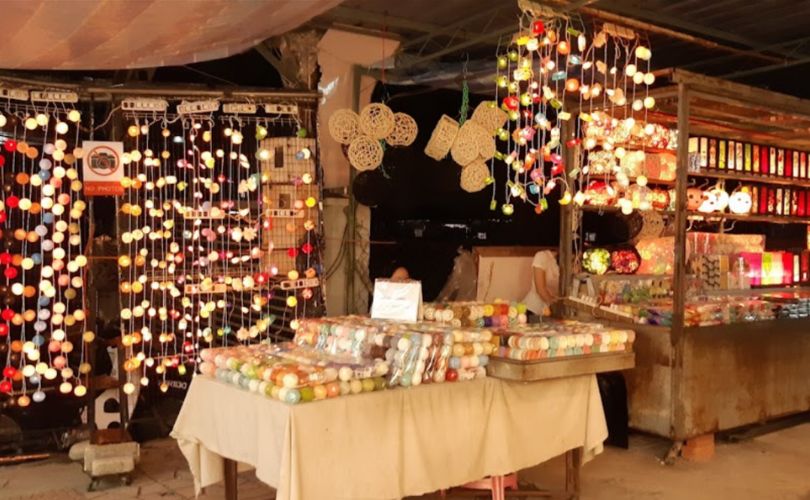 This large night market with over 100 stalls and plenty of character, open until midnight every day, is the ideal spot to pick up traditional gifts such as ikat prints, melamine platters, and delicate paper lanterns.
One of the best things to do in Penang for shopaholics. There are several opportunities to find counterfeits of well-known apparel, wristwatch, and purse brands, as well as other tiny treasures.
Here, too, the streets are lined with eateries and food stands where you can sample a variety of treats including hokkien chendol, shaved ice stuffed with green rice jelly and coconut milk.
10. Eat Dinner at Northam Beach Cafe
Come to this amazing hawker center in the evenings for one of the best ways to conclude a day in Penang.
The benefit of this method of dining is that there are many different booths there so you can order a variety of different foods as you see fit. One of the top activities to do in Penang if you want to explore Malay cuisine, simply head to this cafe.
Penang prawn noodles, bbq chicken wings, dim sum, and even classic English chicken pies and sausage and mashed potatoes are just a few of the options available here.
11. Visit the Unique Water Colony at Clan Jetties, George Town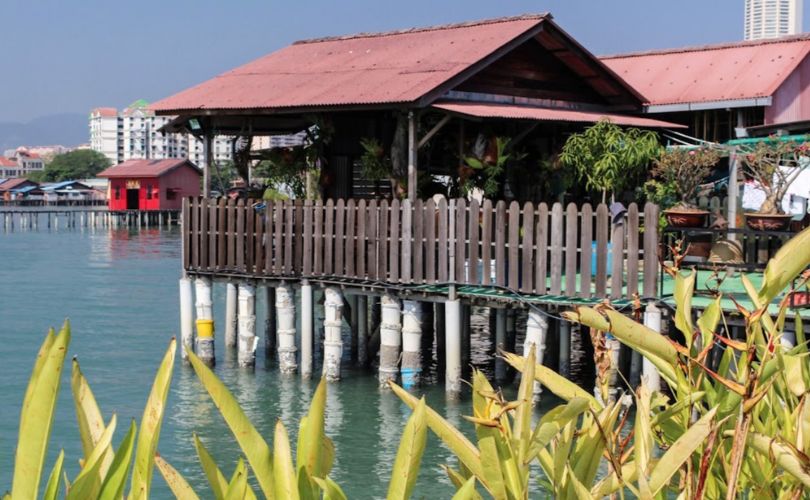 The Clan Jetties are one of most interesting places in Penang and also the most significant historical abode —a traditional village with structures and residences built on stilts straight above the water.
In the late 19th century, Chinese immigrants invented clan jetties, a very special kind of water colony. They initially consisted of a single building that served as a kind of mini-warehouse where goods and materials (such wood, charcoal, and boat transportation) were loaded and unloaded for a specific trade or business.
Families gradually gained control over particular businesses and unofficially asserted their claim to a particular section of the port. Each clan also became larger and added more huts to its settlement over time.
There are currently six jetties on the waterfront, all of which are still inhabited by Chinese people and serve as historical monuments to the various businesses that served to mold Penang. Although they are in fact family homes.
The majority of the jetties are open to tourists who want to visit nearby temples, take pictures of the sun setting over the water, or take a stroll along the path that encircles the stilt houses in the ancient days.
12. Chulia Street Night Market offers a variety of Foods to Try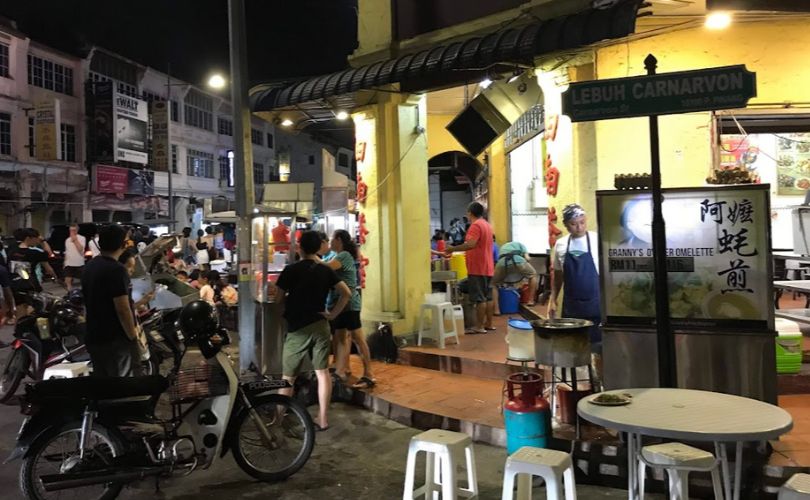 Penang is renowned for its incredible street food culture. If you want to experience it for yourself, come to the Chulia Street Night Market where you can sample some of the most mouthwatering dishes the city has to offer.
As the sun sets, a tiny pushcart-style market opens up where you may discover a variety of hot meals, and is among the top Penang attractions.
Laksa, a creamy soup, and wanton mie, a dish of noodles and dumplings, are just a couple of the mouthwatering snacks available.
Along with other goodies like Hainanese chicken rice, you may also find traditional foods like carrot cake, which is actually a savory pancake made with radishes.
13. Enjoy the Trishaw Ride
A colorful trishaw is one of the best ways to see Penang in an afternoon.
The trishaws typically have unique design elements like flowers or fairy lights and are propelled either by a little motor or by pedal power.
Riding in a trishaw also allows you to see some of Georgetown's less visited regions. Most drivers also act as guides, filling you in on all the history of the sites you visit.
14. Soak into the Pristine White Sand at Batu Ferringhi Beach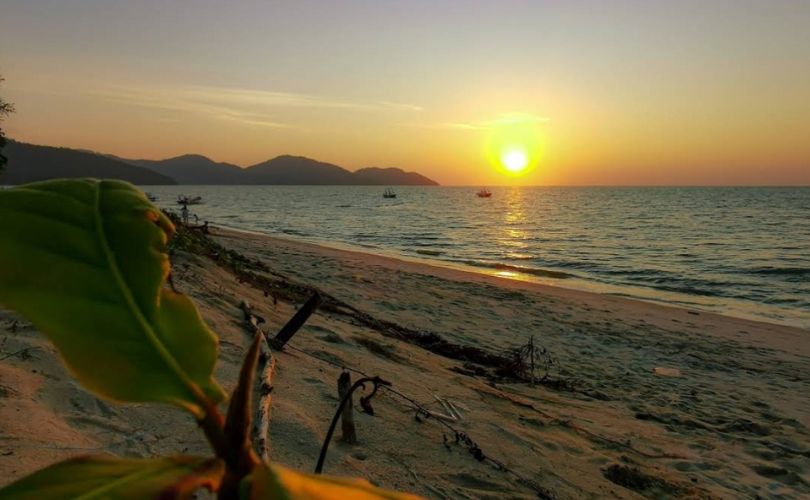 In Panang, you don't have to travel far to see white-soft sand beaches and azure waters.
In reality, Batu Ferringhi beach is a short distance from the center of the city and among the fun activities to do in Penang if you want to relax for a while, try parasailing, or rent a kayak to explore the coastline.
The beach is lined with excellent lodging, live music venues, and a variety of culinary establishments while being situated next to a busy road. The area also has a sizable night market where you can get everything from simple souvenirs to locally manufactured fabrics to Malaysian batik.
15. Offer prayers at Kek Lok Si Temple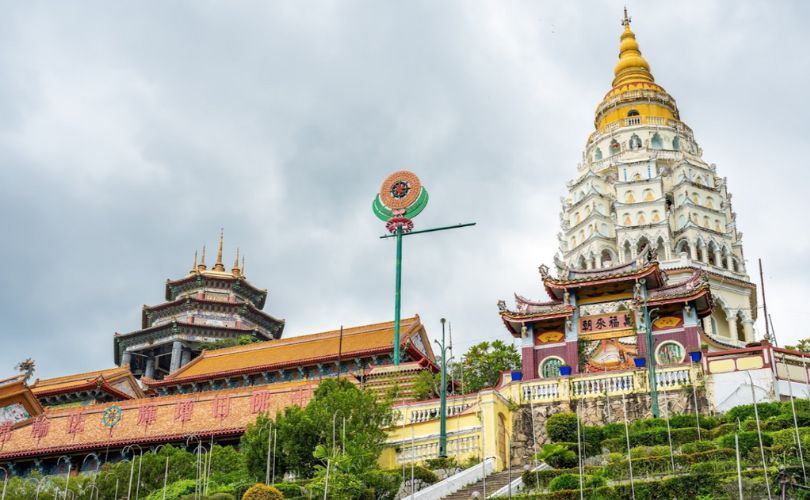 The largest Buddhist temple in Malaysia and one that is over a century old, Kek Lok Si is home to a 37-meter-tall bronze figure of Kuan Yin, the Buddhist Goddess of compassion. It also has a seven-tiered pagoda and more than 10,000 Buddha figurines, and is among Penang's top tourist places.
There are 100 smaller statues of the Goddess, each about two meters tall, arranged around the main statue, which is the tallest Kuan Yin statue in the entire globe.
The temple is a well-known pilgrimage site that draws Buddhists from all around Southeast Asia.
The temple is about 12 hectares in size. And, is accessible by a three-kilometer hike and a difficult climb up a stone staircase atop the Penang Hill.
16. Eat lunch at Pelita Nasi Kandar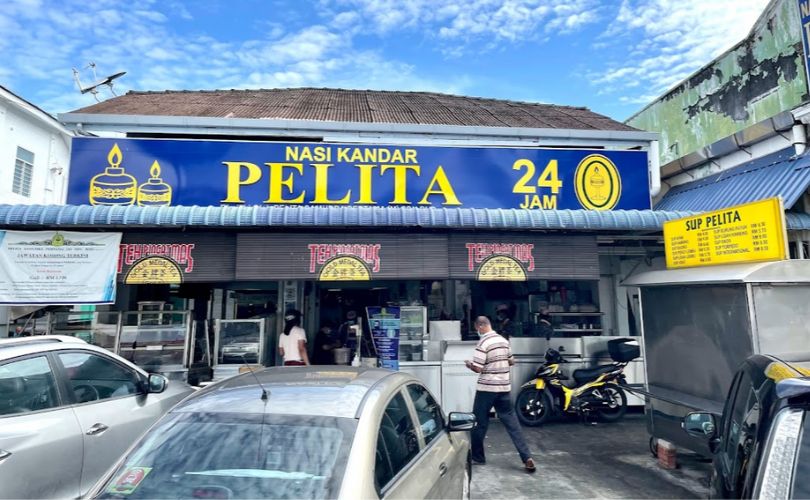 If you want to sample some of the greatest local cuisine in Penang, don't miss Pelita Nasi Kandar, which is well-known throughout Malaysia.
Nasi Kandar is essentially rice that has been loaded with meat, fish, shellfish, and vegetable side dishes before being lavishly slathered in delectable curry sauce.
You may simply point to the food you wish to eat and it will be added to your plate because it is all displayed in a glass-fronted case.
The native Tamil minority in Penang has a significant effect on the cuisine, so expect Indian-style curries and tastes with dishes like fried cabbage and okra with mustard seeds and turmeric.
17. Don't Skip the Visit to the Lush Butterfly Farm
Entopia is Penang's latest butterfly farm, a giant glass conservatory with over 15,000 free-flying butterflies living among waterfalls. It also features lush tropical flora, alongside geographic wonders and is Penang's famous place.
The greenhouse is filled with trails that provide numerous opportunities to watch butterflies in their natural habitat, including little caverns, a wild garden, a backyard area, and more. Visitors can engage closely with butterflies and learn about rare and unusual species during special activities happening all day long.
Entopia is divided into two sections: Natureland and Cocoon. Natureland is a living garden vivarium that includes the primary butterfly habitat as well as ponds and niches where iguanas, snapping turtles, amphibians, and many huge critters reside.
Cocoon is where guests may find out more about butterflies and engage in practical activities. Additionally, this two-story facility provides adults and children with quick nature education sessions.
18. Explore the Chineses Culture at Khoo kongsi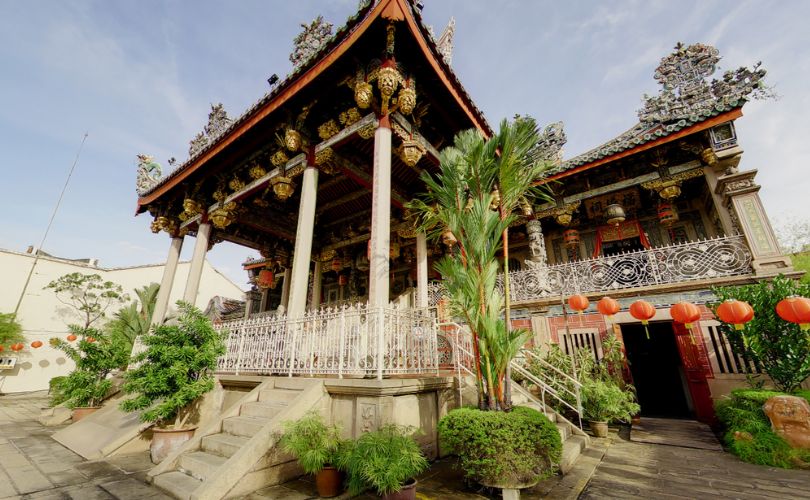 Khoo Kongsi is a lavishly decorated Chinese clan house. In the past, clan houses were social groups or alliances created by a group of Chinese immigrants to work together and pursue their own prosperity.
The largest clan house in Malaysia, Khoo Kongsi has a number of uses, including holding a theater, row houses for clan members to dwell in, and a temple where clan members can pay respect to their ancestors. It might be compared to today's tiny clan village, and is the most visited Penang tourist attraction.
Khoo Kongsi is known for its magnificent sculptures of dragons and other creatures adorning the roof. It is highly ornate and lavishly decorated in reds and golds.
Visitors are welcome, and on the first level of the temple is a museum dedicated to the Khoo Kongsi Clan.
Chinese New Year festivities are held in particular at the Central Hall on the second floor, which is painted with ink frescoes of legendary emperors.
19. Enjoy the Outdoor Pursuits at Penang National Park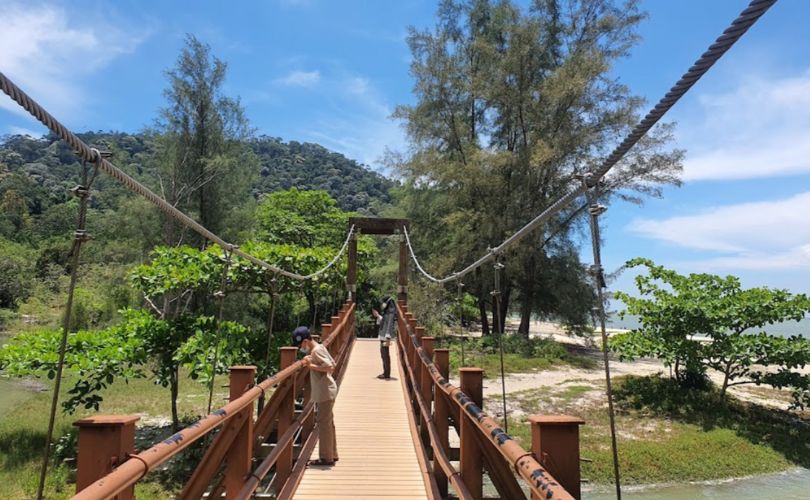 Penang National Park, at only 23 square kilometers, is one of the world's smallest, although it comprises five diverse habitats and over 400 plant species, and is one of the top places to go in Penang.
There are swamps, rainforests, and a lengthy stretch of seashore here, with timber trees along the pristine white sand and coastal ecosystem.
The park is renowned for its extensive network of trails that zigzag through the forest and along the coast in search of notable sights like the Muka Head lighthouse. It can only be reached by ascending a steep slope at the end of Monkey Beach.
All trails in the park have been left in their original form, with the exception of the construction of concrete stairs and ropes in specific spots to aid climbers continue on their route when the terrain becomes too difficult.
A 250-meter-long canopy walk off one of the routes allows guests to step amid the treetops, 15 meters in the air on a rope and wooden platform.
20. Discover Little India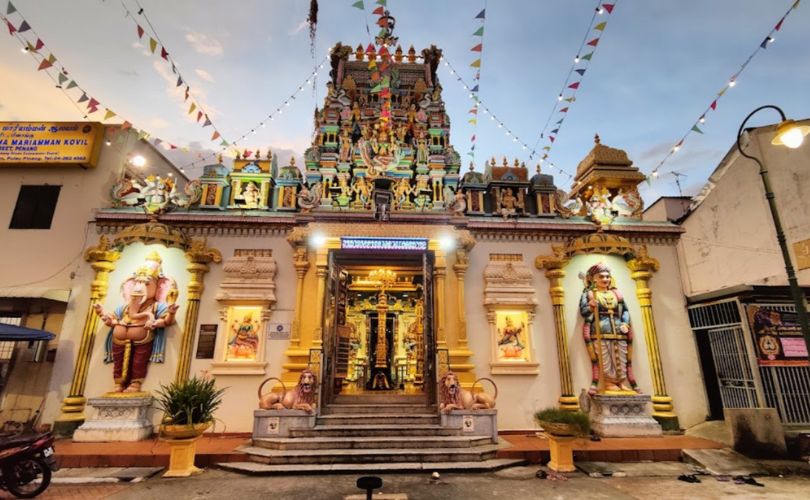 Despite being a small portion of Penang, Little India shouldn't be overlooked due to its size.
Penang and Malaysia both have sizable Tamil populations that offers you a slice of India when you walk along its streets.
As you stroll around Little India, keep an eye out for stores selling stunning, vibrant clothes as well as perfume and incense stores.
This is one of the best sites in Penang to try some street food, and other venues play Bollywood music on the streets around.
21. Walk Along the Historical Streets of George Town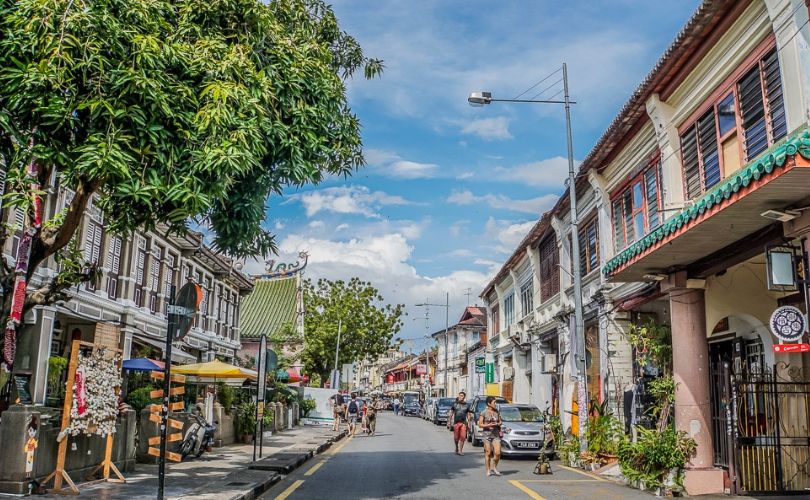 George Town, the capital of Panang, is an incredible fusion of European and Asian influences. The city has expanded into a bustling port town and tourist hotspot. It earned her UNESCO World Heritage Site title in 2008.
While George Town's architecture is remarkable throughout, the old lanes surrounding the Lebuh Acheh historical enclave are particularly noteworthy.
You will pass by old Chinese shops, British colonial villas, and a variety of temples representing various religions. These historical streets are intriguing to explore, and are one of the best places to go in Penang.
The Cheong Fatt Tze Mansion, which was built following traditional Feng Shui architectural principles, and an early 19th-century Chinese temple devoted to the Goddess Kuan Yin are among George Town's most noteworthy historical landmarks.
If you wish to comprehend the significance of this region better, make sure to visit the Penang State Museum & Art Gallery, which explores Penang's past and cultural legacy.
The easiest approach to discover George Town's historic district is to simply stroll around and take in the rows of plantation shutters, shopping streets, stucco facades, and vibrant decors on even the most unexpected structures.
22. Penang Hill Funicular Offers the World's Steepest Tunnel Track
The Penang Hill Railway, which was built in 1923 and had a major overhaul in 2010, climbs Penang Hill and provides stunning green open vistas of the city.
Its tunnel track is the steepest in the world, and is one of the fun things to do in Penang.
While the initial journey used to take about 30 minutes, it now takes anywhere from 5 to 25 minutes. It is the shortest trip without stops.
The wooden carriages with first- and second-class seating are no longer in use.
Today, there are 100-person trains that are contemporary and air-conditioned that can transport passengers up the hill.
23. Fort Cornwallis is the Largest Fort in the Country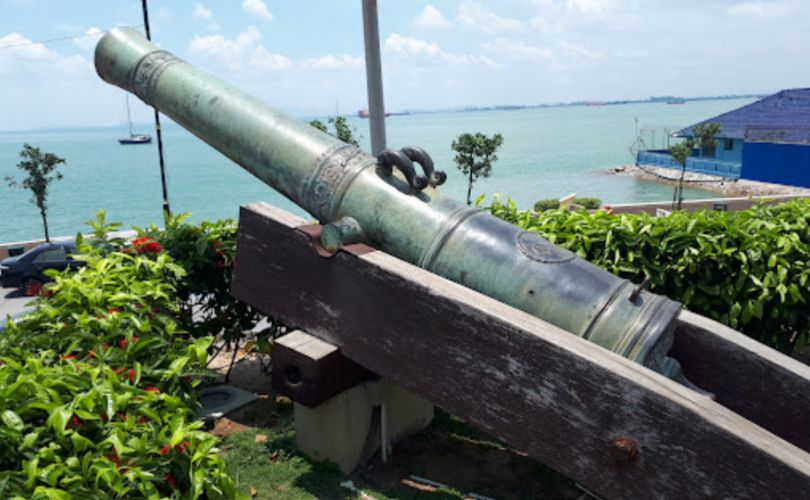 The largest fort in the nation is also Penang's prime tourist spot. Although just one outside wall with guns survives from the original 1786 bastion, there are enough structures behind it to give you an indication of the fort's immense size.
Explore the ruins of prison cells, a church, and a space where ammunition was formerly kept. As visitors pass through the gate, they are greeted by a bronze figure of Captain Francis Light, who originally authorized the construction of the fort.
The fort never saw actual fighting and was largely used as an administrative hub.
A steel lighthouse with a shape like a ship's mast was among the statues and architectural structures that were erected over time.
The fort is largely utilized by locals as a park to spend a peaceful afternoon in the sun. 
Check Out: Best Places to Visit in February
24. Visit the Tanjung Bungah Floating Mosque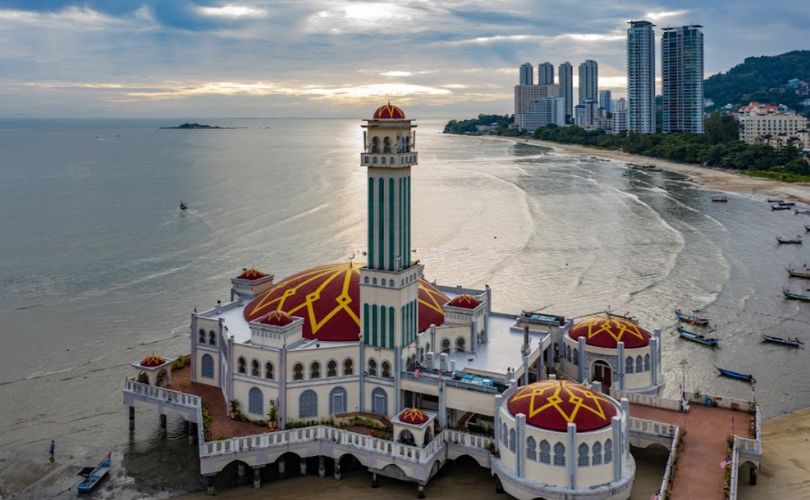 The white and blue Tanjung Bungah, also referred to as the "floating mosque," is really constructed on pylons and struts along Tanjung Bungah's coastline. It boasts a tall minaret that is astounding in its height, which is the main highlight here.
A stunning terrace that encircles some of the structure provides a 360-degree panoramic view of the open sea and the city, and is considered as the best place to visit in Penang.
The mosque offers the best photo opportunity if you arrive at high tide because it does seem to float. A free tour of the interior is available to you outside of prayer times.
25. Visit Upper Penang Road's Nightlife Scene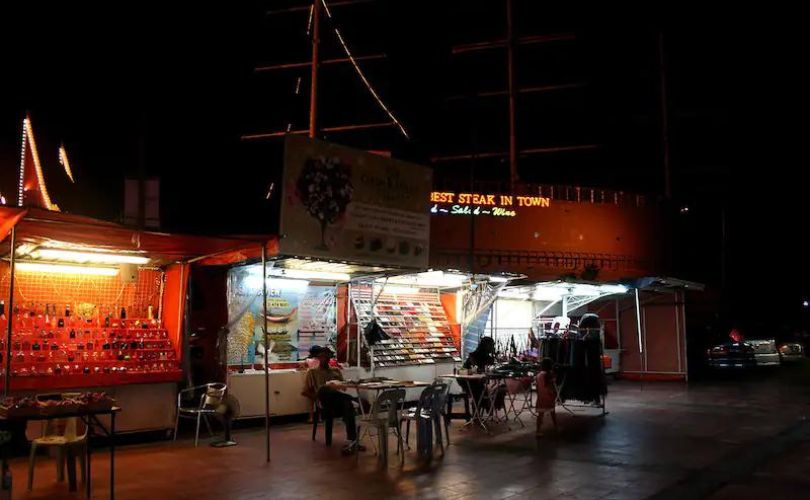 What to do in Penang to enjoy the nightlife? Penang, in contrast to other regions of Malaysia, has a vibrant nightlife culture, much of which is found along Upper Penang Road.
Both tourists and locals frequent the bars and nightclubs that line the street; some of the more well-known establishments are Slippery Senoritas and the Soho Free House.
Spend some time wandering around the road to get the greatest prices because many clubs and pubs feature happy hours and other nightly promotions.
When are you Planning Your Trip to Penang?
A lot of people fuss over the top spots in Asia to visit: Beijing, Hong Kong, Bangkok, Shanghai, and Tokyo. And while each city has its own distinct personality, we don't think any of them can hold a candle to Penang. From its fascinating culture and laid back vibe to its delicious cuisine and tourist-friendly sights, Penang has everything you could possibly want from a family vacation. So get off the beaten path, and head to Penang when planning your next trip to Asia!
Hopefully, our list of the top 25 attractions in Penang will help you to plan a memorable trip to this wonderful island in future. You are certain to be impressed by all that Penang has to offer. So don't delay – visit this incredible place for yourself today.
Also Read this Post:-