Johnson City is located northeast of Washington Country and has an illustrious historical significance. The city witnessed major occurrences during the American War and World War 1. Beyond all of this, the city was the hub of old music during the early 1900s. It hosted the very famous Colombian Records back in the day. This Tri-City has the perfect mix of rave music to calm hiking trails. People will have a holistic experience with a checklist of things to do in Johnson City TN at the northeastern hub for fun. With multiple options for entertainment, every traveler can enjoy visiting here.
What can you do in Johnson City?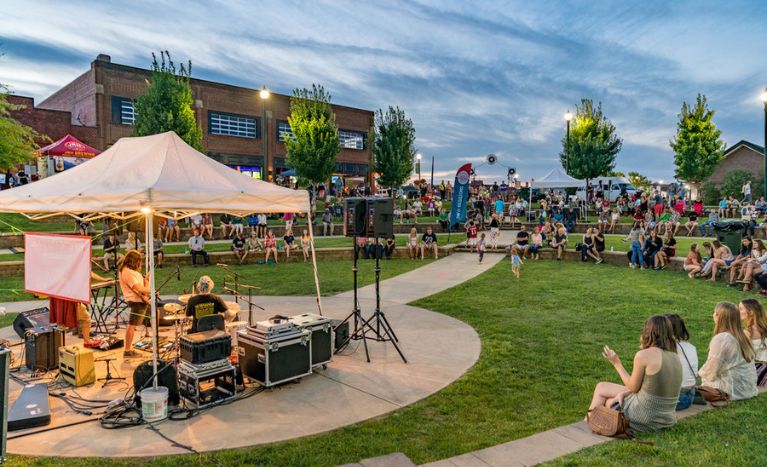 East Tennessee is the perfect amalgamation of city life and suburb. When you come to Johnson city, this is what you will witness. Walk down the lanes of the city and visit its museum and amusement parks. Picnics with family for free are a highlight of this place. The city will surprise you with its music concerts and blazing parties as well.
Let's quickly go through these and more such activities that you can do here.
1. Take a Stroll at Founders Park Before Breakfast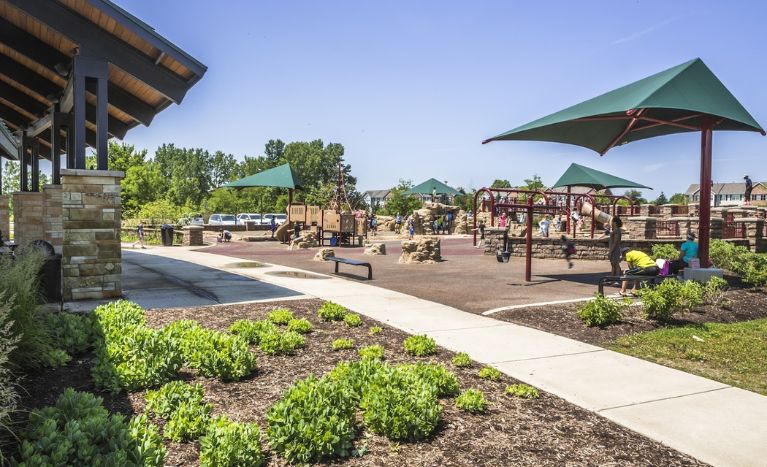 Founder Park has been functional since 2014 and is spread across 5-acre. The park has been a hotspot for fun events since its inception. Look at the events list and book a ticket for a fun concert. Also, you must walk through the greenspace to soak in the fresh air and appreciate public art. Founders Park is surely the perfect location to start your activities in Johnson City TN.
2. Stop by Maple Street Biscuit Company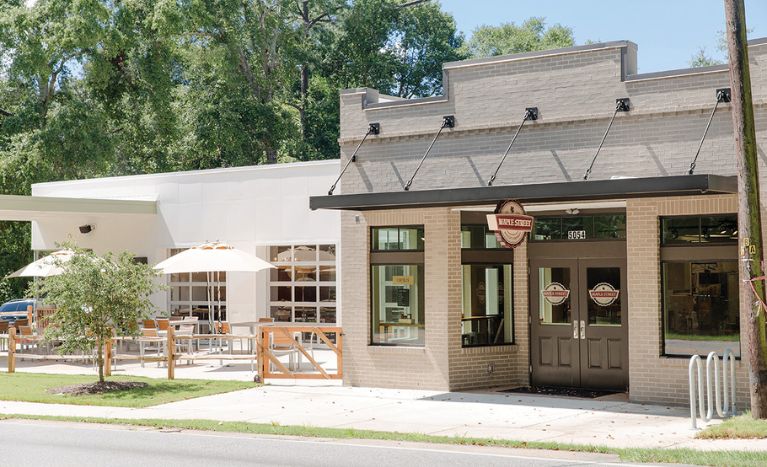 Everyone loves bacon to be cooked to perfection. When you are also fond of it, you must visit Maple Street Biscuit Company to fill your stomach with the best breakfast in the town. The customers share their fun process of taking orders. They ask you a question at the counter. The answer you give will be called when your scrumptious order is ready. Try their classic frittata, veggie frittata, steak & gravy, or chocolate & caramel toasted bread pudding. Don't forget to try their super fresh orange juice as well.
3. A Fun Day at Just Jump Trampoline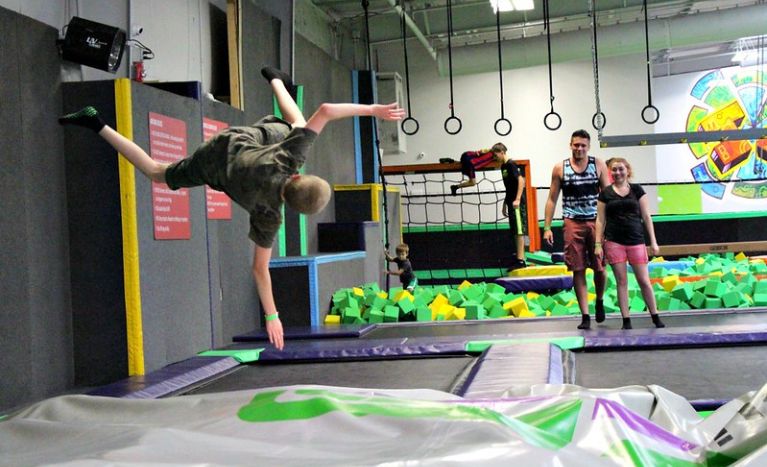 Just Jump Trampoline welcomes people of all ages to jump around. The fun station is spread across 22,000 square feet. It has been designed with several sporty things to do in Johnson City Tennessee, keeping in mind the fitness levels. Moreover, they have a specific Kiddie Jump area for their little guests. In case you want to catch a breath, head to the mezzanine station to observe your family having fun. It will be perfect if you are in a big group because Just Jump Trampoline has special offers. For the lunch break, head to the snack bar here and grab your favorite refreshment.
Note: Make sure to book your tickets online on weekends and holidays to rule out the chance of missing the fun.
4. An Exceptional Experience at Tannery Knobs Mountain Bike Park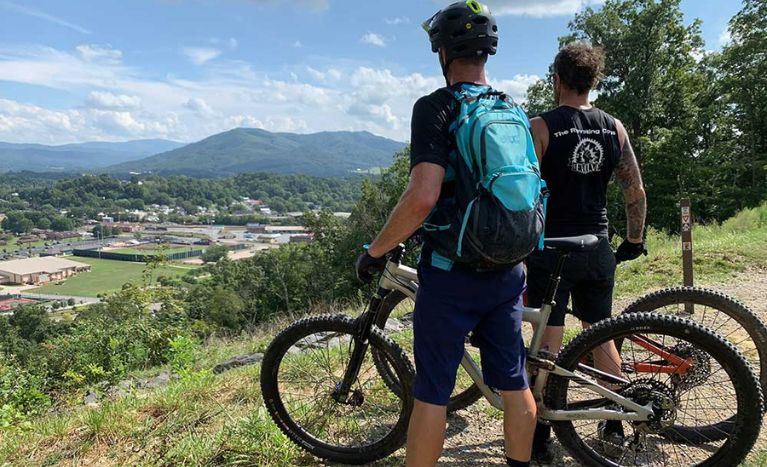 Designed by IMBA Trail Solutions, Tannery Knobs is a crowd favorite. Every nook of the trails is designed to give a premium experience to bikers. It will offer the perfect experience of downtown Johnson City as you bike around. Head to this place to hit the trails with one of the rental bikes, available by the parking lot.
There are seven trails at the park with varying levels of difficulty. Choose one trail as you like and decent downtown. You can even run down the region and soak in the beautiful view. While returning, make sure to enjoy some hot brews at the cafes Downtown and tick off this from activities in Johnson City TN.
5. Take Tweetsie Trail for a Car-Free Experience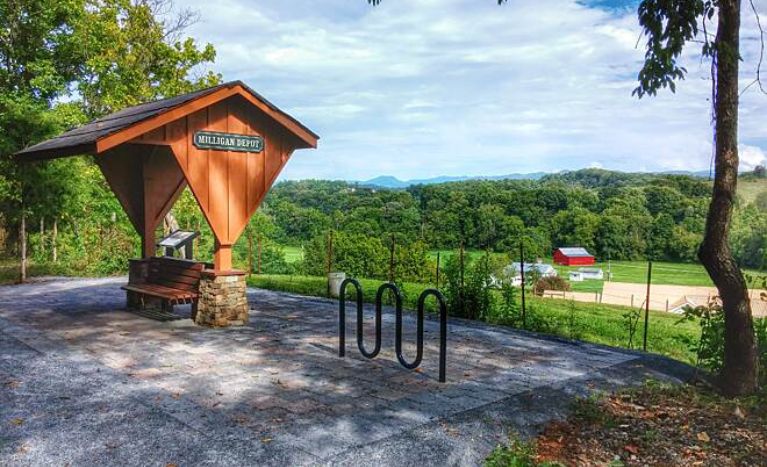 Tweetsie Trail is part of the Rails-to-Trails project in Tennessee. The old railroad links two northeastern cities, Johnson City and Elizabethton. This place has been built meticulously and covers rock formations, low forests, mountain views, bridges, and more southern specifics. It is a fine option for a day out during spring.
The trail is car-free which is around 10 miles. The entire trail can be covered by renting a bicycle from the local shop in Johnson City. Such a two-way trip can be intensive for some. Moreover, this place has mile marks and restroom facilities.
Tip: Carry sufficient food and drinks for the trail as there won't be any eateries. Also, don't miss the fun craft beer at Southern Craft BBQ.
6. Jonesborough: The Oldest Town in Tennessee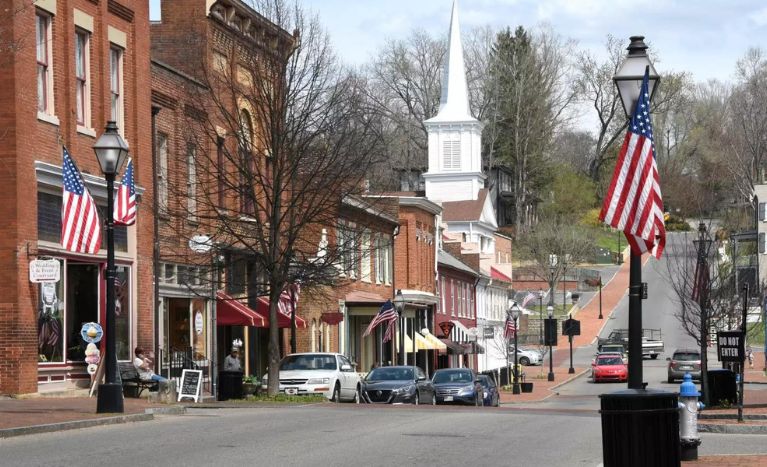 Situated 8 miles west of Johnson City, Jonesborough is the oldest town in Tennessee and the county seat. It was brought to existence in the year 1779 by European Americans. The architecture of the town reflects the rich history of the place.
Take a look at what to do in Johnson City TN, mainly in this region:
Plan and drive down to Johnsborough to visit the local museum. The museum speaks about the small-scale tobacco industry and how this place blossomed.
Next in the line for things to do in this old town is Jonesborough Repertory Theater. The theater organizes live shows and storytelling events for tourists. Make sure to attend one.
Before you end the sightseeing don't forget to visit Chester Inn. Built during 1797, this state historic site symbolizes the vintage essence of this town.
7. Leap into History at Tipton-Haynes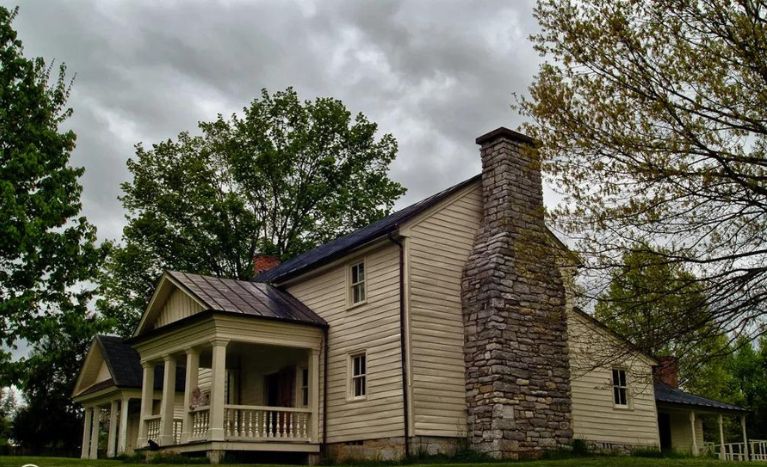 Tipton-Haynes is an esteemed State Historic Site and a popular Johnson City attraction too. Colonel John Tipton purchased the site in 1784 and, thus, developed this spot. Several families lived at this 45-acre site.
Make sure to see Tipton Cemetery, natural spring, limestone cave buffalo trace, and eleven more historic buildings here. Here, the Visitor Center has a permanent exhibit for visitors. It includes a museum store, archives, educational spaces, and a library. Multiple events are organized at this site, like, Sorghum Festival, Stories from Halloween crafts, and Christmas specials which are worth attending.
8. Fun at George L. Carter Railroad Museum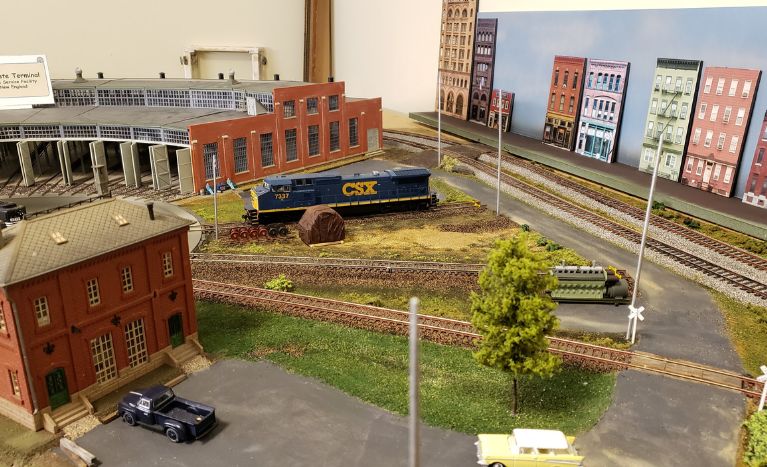 Located within the bounds of East Tennessee State University, George L. Carter Railroad Museum is open for visitors. It is dedicated to the memory of George L. Carter. This figure has a significant role in the history of railroads in Johnson City as he built the Clinchfield Railroad.
The exhibit space of this museum is spread across 5,000 square feet. It has some prominent displays which include model railroading locomotives, vintage prototypes, and other structures. The museum offers a decent educational discourse to kids, hence, making it among the best things to do in Johnson City TN.
Note: The museum hosts Rail Excursions during spring and fall for the public. The rail excursion package includes fun activities like riding on a diesel/steam locomotive, boat ride, etc., set amidst a scenic backdrop.
9. Dos Gatos Coffee Bar to Taste Counter Culture Coffee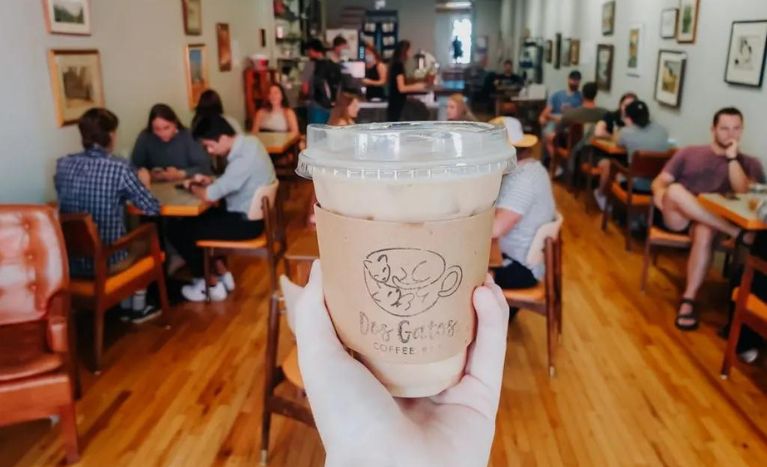 Counter Culture Coffee is the foundation of Dos Gatos Coffee Bar. Every morning, students and traveling nomads come to this bar for its iced specialty. You can catch up on work also as the Wi-Fi has good speed. Vegans can get coffees made from Chobani barista edition oat milk and unsweetened almond milk in the coffee bar. The staff has added sweet treats and salty bites to the menu to go with coffee.
10. Buffalo Mountain Park on a Clear Day in Spring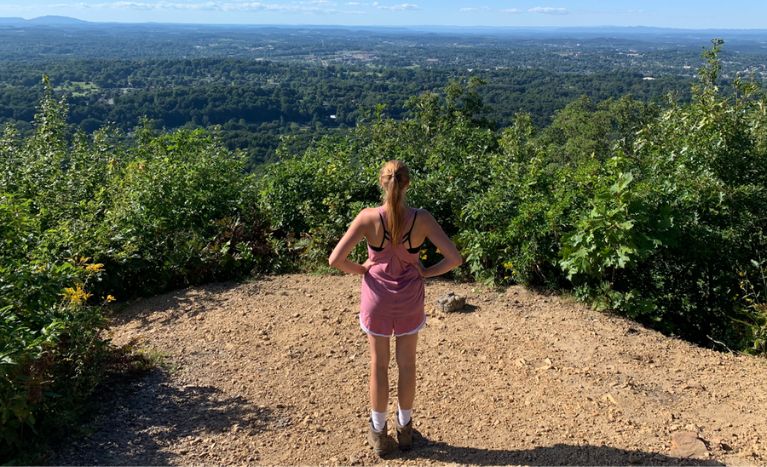 When you happen to visit Johnson City in the spring, go around Buffalo Mountain Park because plenty of rhododendrons are in bloom. The cherry backdrop indicates why it is among the Johnson City TN attractions. The park offers 8 scenic trails best for hiking. If you want to squeeze in a small hike in your day, then take the White Rock Loop trail.
Other prominent trails for families are Loan Oak to Tip Top Trail, Hartsell Hollow, Tower Ridge, etc. Make your path through the wilderness to catch pretty scenery. Buffalo Mountain Park can be the perfect option for birdwatchers too.
11. Take Your Paw Buddy to Willow Springs Park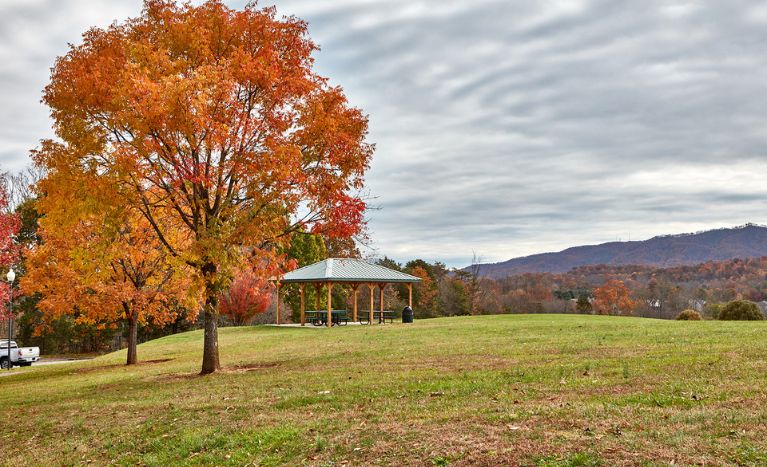 Traveling with your paw buddy can be tricky at times. Not all places allow your paw-friend. Even if pets are allowed, they have to be on a leash. Ease your dog by spending some time at Willow Springs Park in Johnson City. Here, you can explore pet-friendly & fun things to do in Johnson City TN.
This recreational park has a hilly terrain and a magnificent view of mountains. Its hilly path will add some fun to your walk. The dog park within Willow Springs Park is well-equipped and safe for your furry baby. Let your pet run around, get dirty, play, and stretch in the park. Meanwhile, you can jog around and catch up on your fitness routine.
12. Experience the June Weather at Blue Plum Festival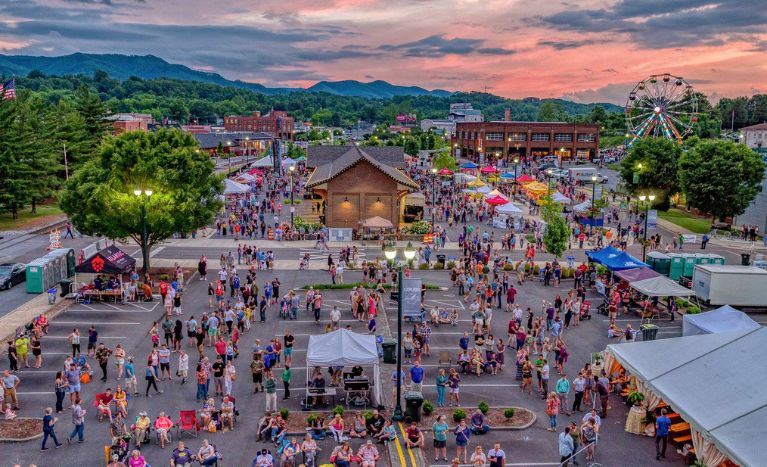 Nestled between gorgeous mountain ranges, city dwellers enjoy their early BluePlum Festival. The true essence of the city lies in its music and attending it is one of the Johnson City things to do. The city does love live music. It is freely available at the festival for the public.
The organizers have introduced a free kids zone as well. Additionally, the public has access to a free silent disco and a range of wellness programs during the festival. Head to the Pavilion of the Founders Park for the incredible view of the festival from the Ferris Wheel. Several local vendors sell arts, crafts, food & beverages, and souvenirs that you can buy.
13. Surprise Yourself at Hands-on! Discovery Center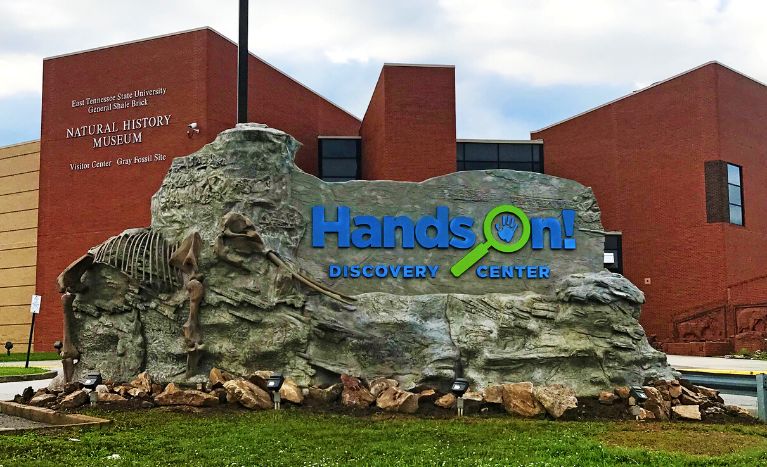 Hands-on! Discovery Center is a place full of interesting surprises for everyone. It is an all-age science center that has created a unique amalgamation of science, art, and nature. Several activities are lined up for you and the curious minds of your kids.
First of all, go around the center and observe all the cool scientific arrangements, onsite fossil observations, and exhibits of facts. To know further what to do in Johnson City Tennessee, you must not miss the Tesla Coil playing the music. Next, climb to the top of the Paleo tower to see the exhibit of the 3D-printed fossils, bones, and femurs. Check out the Gray Fossil Site, which is active and believed to be 5 million years old. Lastly, don't forget to take your little ones to Draw Alive and General Shael Learning Center.
14. Winged Deer Park on the Weekend
All the adventures in Johnson city may be tiring for some. You can go easy with your itinerary and relax at Winged Deer Park with your family for a picnic. This beautiful lakefront park features multiple facilities and is located downtown. It is spread across 200 acres and flaunts an 18-hole disc golf course. Several hiking trails, trails for mountain biking, volleyball courts, softball fields, a playground, and a picnic shelter are additionally found. You can engage in any of these activities or enjoy a laid-back picnic. The best part: Winged Deer Park is totally free.
15. Meet the Mountains Festival Covers it All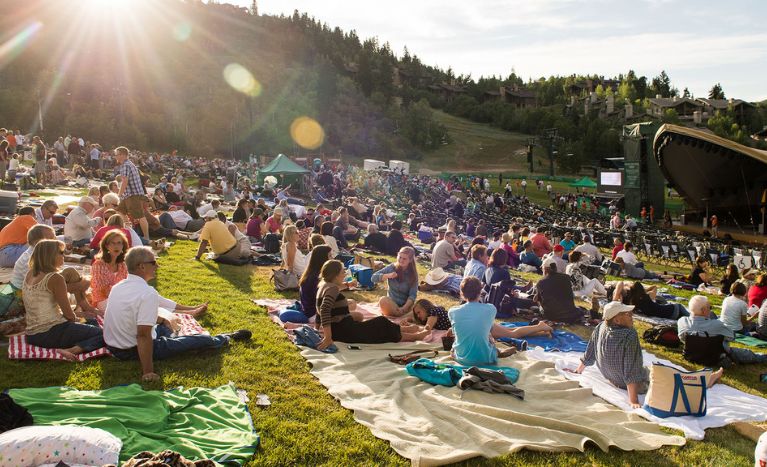 Don't make the mistake of missing out on the Meet the Mountains Festival, one of the Johnson City TN attractions. If you are in town, then drop everything off, and join this festival. Meet the Mountains Festival comes up with an elaborate list of activities for the public. Some of the prominent spots of Johnson City get listed here. This place has five broad zones: earth, air, water, Edu tent, and pavilion.
You must check the official website or the social media pages of this place to get the dates. The festival will cover popular adventures in the city. The main event at Founders Park is for free but offsite events come with additional fees.
16. Live the 70s Vibe at State Line Drive-in Theater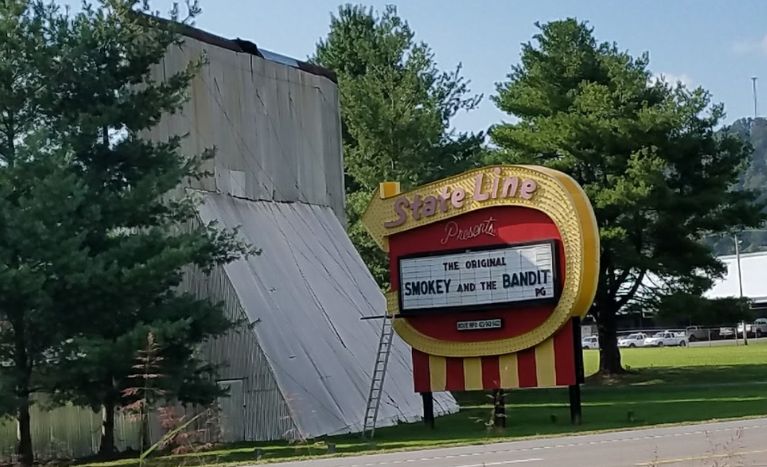 Drive-in theaters were a thing during the 1930s-70s. You can still experience the thrill by driving 20 minutes from Downtown Johnson City to the State Line drive-in theater. It puts up the screens on weekends and has great movies at a cheap rate.
A Drive-in movie is a romantic idea for a weekend date or things to do near Johnson City TN. Plus, you get a short road trip with your date.
17. Brace Yourself for a Magical Evening at Downhome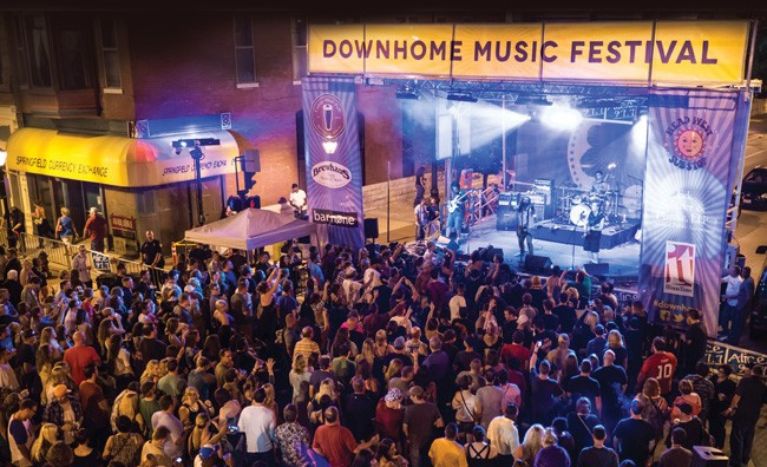 Downhome is the one-stop destination for music lovers in Johnson City in Tennessee. Everybody swears by the live music here. This place invites local and national musicians to perform live music. It has an intimate arrangement for this art.
Downhome even hosts poetry slams, theater plays, and all-nighters. The food is served super fresh and delicious to go with these events. Downhome will be a great idea to bring your significant other for a romantic experience.
18. Indulge Yourself in Craft Beer at Johnson City Brewing Company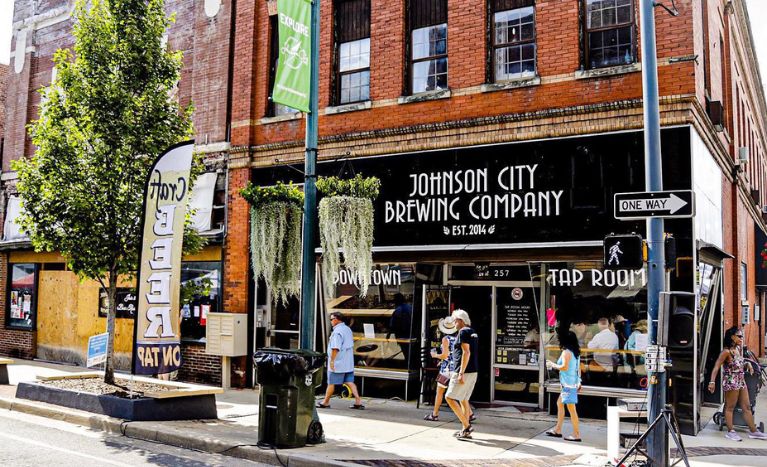 The story of this cool brewery dates back to the Peyton Street Beer Club days. Eric and Kat Latham formed the club for friends and family and later welcomed strangers. The duo set up the Johnson City Brewing Company in 2014 and remains popular to date.
Hit flavors on their menu include J-Town English Brown, Peaches, Vaudevillian Tart Cherry Cider, Oktoberfest, and Key Lime Cheesecake Sour. Locals flock to the brewery to catch up with their old buddies and make some new friends which qualify as fun activities in Johnson City TN.
The music of the place creates a fun vibe to relax on the patio. Also, kids are welcome as they serve snacks and soda. Hence, for most visitors, this is an ideal place to drop by.
19. Appreciate the Preservation of Art at Reece Museum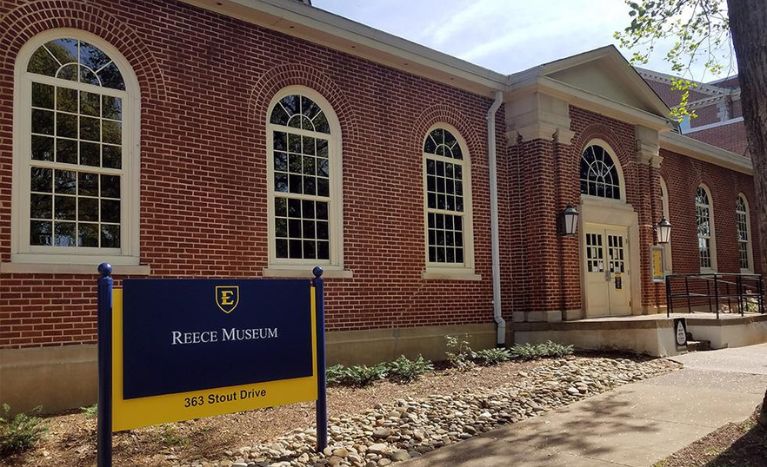 Reece Museum is one of the first museums in Tennessee. Rightfully, it is one of the only 18 museums here to be acknowledged by the American Alliance of Museums.
During the 1920s, Maxine Mathews initiated the museum as part of a class project. Later, the museum was supervised by the President of ETSU. It welcomed tourists to learn about Appalachian history.
This museum holds priceless stories of Appalachia, included in the attractions in Johnson City TN. Over 50 years, the place has collected more than 22,000 artifacts. Now, it preserves the contemporary art of the region. Take a tour of the museum with your family and have a learning experience about Eastern Tennessee.
20. Johnson City Christmas Parade for the Ultimate City Tour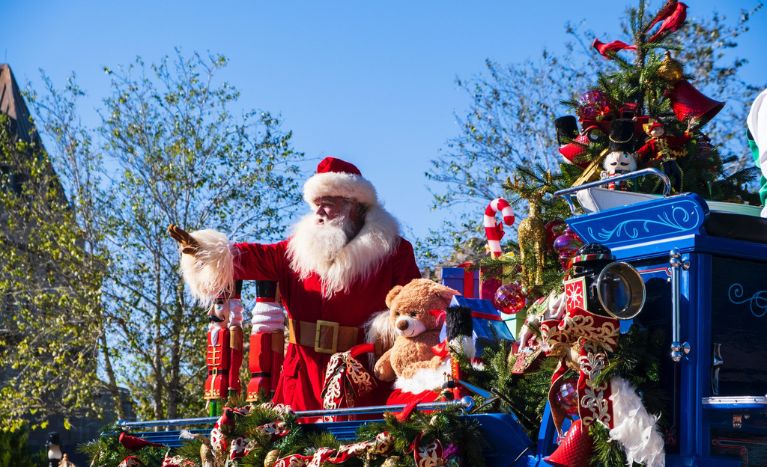 Plan your trip in winter and attend the Johnson City Christmas Parade to experience the city at its best. Annually, the parade is organized in December to light the community Christmas tree. The Christmas parade starts at East Tennessee State University and ends at Kings Common. This procession has marching bands who perform with much enthusiasm. Grab a warm cup of coffee and walk down the streets of Johnson City to enjoy it.
21. Satiate You Craving at Greg's Pizza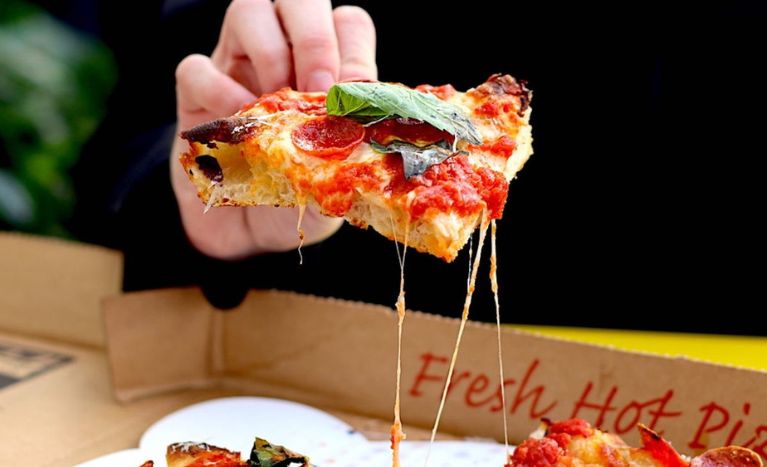 Greg's Pizza has been a go-to place for the locals and tops the list of things to do in tri-cities Tennessee since 1963. For over 50 years, the pizza station has been delivering the best food in the town and its quality is unbeatable. The staff has pleased the locals with their unique pizza toppings. Moreover, all their ingredients are freshly made in their kitchen, including the pizza sauce, meatballs, sausages, and hamburgers.
This eatery is different from other pizza options in the town as it arranges the toppings and adds cheese over them. Also, the staff cuts the pizzas in strips rather than slices. Their specialty is the Volcano pizza, which is loaded with delicious toppings and cheesy goodness.
Tip: If you are not in the mood of grabbing a pizza, then try other delicacies like steak, turkey, Italian subs, meatballs, ham and cheese, buffalo-style wings, spaghetti, and fresh salads served here.
22. Hit Skybar Watauga Brewing Company at the Golden Hour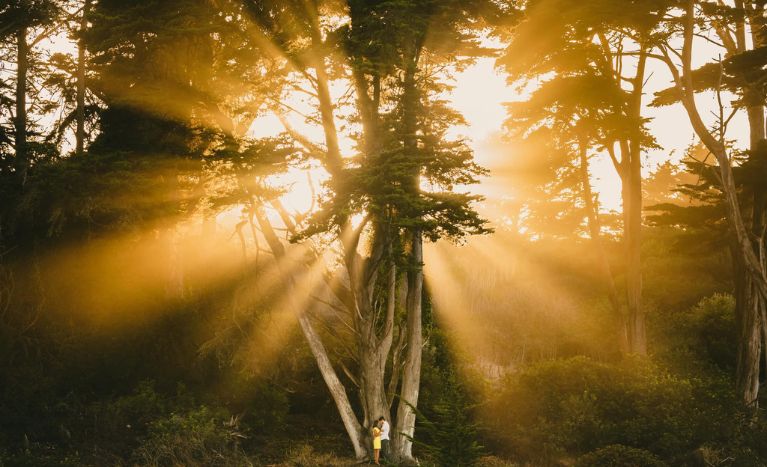 Beer at the Skybar is a must in things to do in Johnson City Tennessee. When you are having it with your friends during the golden hour at a rooftop bar, it makes for a perfect evening. Head to Watauga Brewing Company, the Skybar Rooftop, and relax with your buddies.
The bar opened to the public in 2020 and soon became a well-liked brewer in downtown Johnson City. It has three floors and the Skybar has special craft beer on its menu. You don't have to worry about dinner because the second floor is a restaurant serving good food.
23. Take the Whole Family to Perplexodus Mystery Manor
You will never go weary of escape rooms. The fun will be doubled with the whole family trying to solve riddles, unlock treasures or find the next clue. Go to Perplexodus Mystery Manor for fun and adventure in Johnson City. The puzzle rooms of Perplexodus are well curated, keeping attention to detail.
The escape rooms offered by Perplexodus are Quest for Excalibur, Dr. Jekyll's Laboratory, Baby Come Back, and Split Competition Room. The escape room accommodates different numbers of participants and varies in difficulty level. Solve the challenges in the escape room as well as head to the interactive dinner and theater show.
Note: You will have to prebook the tickets for the theater show online.
24. Little Chicago Downtown Music & Arts Festival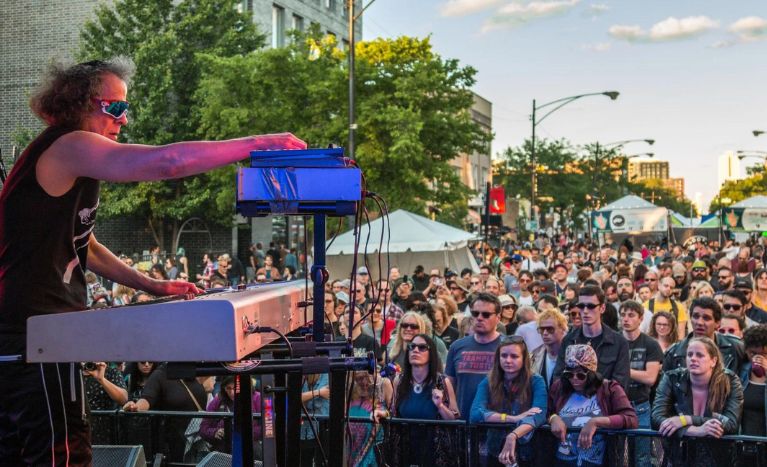 People here know how to enjoy life. They have several festivals year-round with great music, art, delicious food, breweries overflowing, and loads of fun. One such lively event is the Little Chicago Downtown Music & Arts Festival. Do not miss the music festival when you are at this location.
This festival has the top Johnson City attractions as multiple music events happen and renowned musicians come to perform. Food trucks serve delicious cuisines and breweries put up their tents at the festival. Moreover, there are several adventures and exhibits to witness at the festival.
Tip: Carry extra comfy shoes to dance when your favorite band plays. Don't forget to explore downtown as well because it is in full glory during the Blue Plum Festival.
Where can You Stay in Johnson City Tennessee?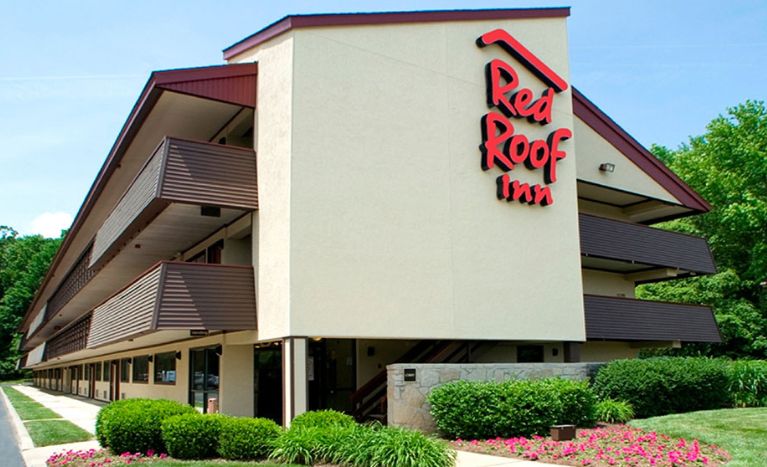 Pack your bags and hit the road for Johnson City regardless of a short or long trip. The city has a wide range of stays for its visitors. Finding a budget place to stay won't be that tough when you are here. You must consider booking Super 8 by Wyndham, Eleven E Motel, or Sleep Inn & Suite with a tight budget.
Well, there are plenty of options for luxury stays in this part of Northeast Tennessee. Add Carnegie Hotel & Spa, Red Roof Inn, Home2 Suites by Hilton, or DoubleTree by Hilton hotel for the ultimate experience during your stay.
In Review
Johnson City has a fantastic combination of activities for adventure seekers, party animals, calm-headed individuals, and families. It has multiple natural getaways, breweries, museums, and state historic sites to further please you. Undoubtedly, it is heaven for music lovers too. Given the exciting things to do in Johnson city TN, You can plan an itinerary according to your liking or dare to pick something different for a new experience.
Frequently Asked Questions (FAQS) Related to Things To Do Johnson City TN
Are there any things to see in Johnson City TN? 
Johnson City is the base camp of adventure in eastern Tennessee. Indulge in the city's rich past at Tipton-Haynes State Historic Site, which has eleven buildings. Likewise, George L. Carter Railroad Museum retells the history of railbeds in the region. Hop on their steam/diesel locomotive during the Rail Excursion.
What to do in Johnson City TN with families? 
The northeastern city of Tennessee has several family-friendly recreational parks. Families can plan a picnic at Willows Spring park for free. An afternoon hike to Buffalo Mountain Park will be the perfect getaway for families. 
What is there to do in Johnson City with kids? 
Take your kids to Hands On! Discovery Center for an eye-opening experience of science, art, and nature. They will get the chance to observe active fossil restoration at the center. After that, you can head to Just Jump Trampoline for the afternoon fun. 
Which is the best restaurant in Johnson City TN? 
Maple Street Biscuit Company is hands down the best place to grab breakfast, brunch, or lunch. Its menu has listed the best American food and beverages. The hearty meals are prepared fresh and from scratch every day. 
What are the top attractions in Johnson City TN? 
The top Johnson City TN attraction includes Tweetsie Trail, the Rail-to-Trail project connecting Johnson City with Elizabethton.  Next comes the Tannery Knobs Mountain Bike Park, popular among rugged bikers. Bike down the trail or run, you can experience the best of downtown Johnson City.

See More In Tennessee:-