White sand beaches, abundant marine life, and breathtaking stone cliffs at Land's End in Cabo San Lucas set the stage for some of Baja's rowdiest tourism.
Where else do clubs organize conga lines so bartenders can pour tequila down the throats of dancers?
You may go boating next to dolphins and spot whales the following morning to get over your headache. Jet-skiing, banana-boating, paragliding, and diving are just a few of the sports available.
The gorgeous cardón cactus, caracara birds, and mystical streams are something that will impress you as much as its nightlife.
Cabo San Lucas, which was once just a peaceful fishing community, has developed into one of the world's most popular destinations for breathtaking scenery, unbeatable sunbathing, and snorkeling.
But that doesn't mean you have to wait until you're ready for a weekend binge to visit Cabo. Many restaurants let you bring in your own catch of the day. They also frequently offer great deals on outstanding seafood or Mexican dishes.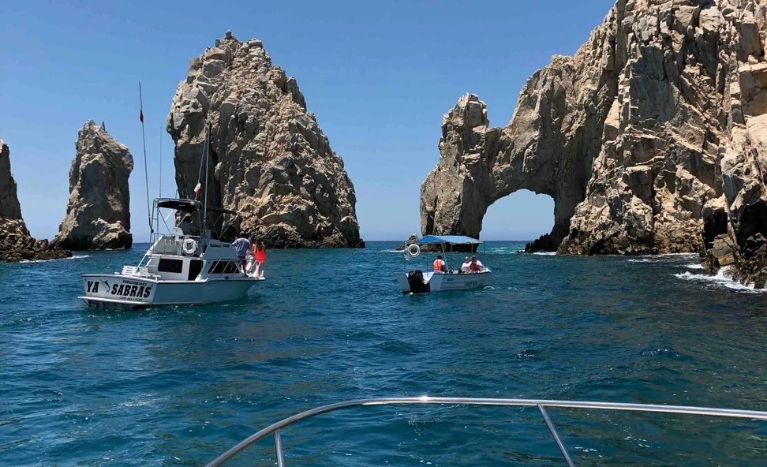 And for those who have access to a vehicle, it's simple to venture outside the tourist area. They can simply go surfing at remote beaches, shop at adorable art towns, explore deserts, and rugged mountains, or dive into experiencing corals in the Sea of Cortez.
This little length of Mexican coastline is renowned for its abundance of five-star resorts, delicious seafood, whale-watching, and other tropical activities. It is juxtaposed between the Pacific Ocean and the Sea of Cortez.
Still, wondering what to do in Cabo San Lucas? Find out more about the primary tourist destinations and the best things to do in Cabo San Lucas.
1. Take a Day Trip to San Jose Del Cabo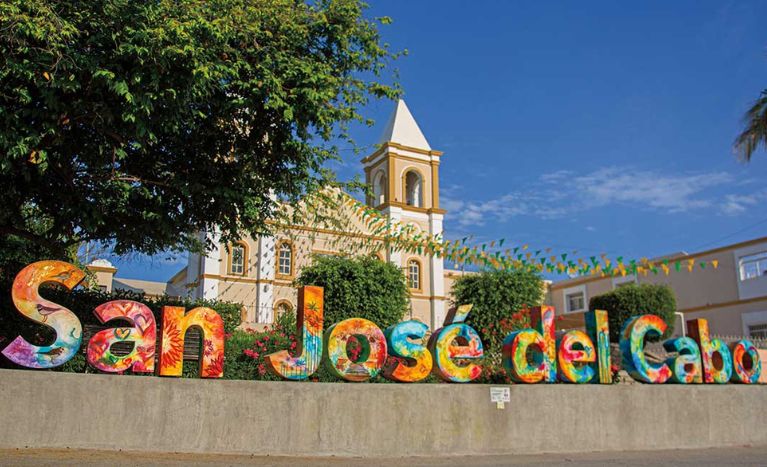 The smaller towns and villages that are nestled into the mountains or that border the Baja Peninsula's shore are some of the top tourist destinations near Cabo San Lucas.
There are so many interesting and historic locations close to Cabo San Lucas. Visiting some of these towns and villages will give you a better understanding of the local way of life and add a dash of adventure to your trip.
San José del Cabo Mexico is one of the nearest and most well-liked communities to visit out of all those close to Cabo San Lucas. Travelers can simply take a day trip to San José del Cabo and explore all of its beauty and attractions because the city is only 30 minutes apart.
The local art culture of San José del Cabo, Mexico, is possibly its biggest claim to fame. One of the best things to do in San José del Cabo is to explore the galleries, which are crowded with local artists.
The best time to explore the galleries is if you're traveling between November and June. It is that time of the year when Thursday evenings are reserved for the Art Walk. And, is one of the top things to do in Cabo San Lucas.
San Jose Del Cabo Tourist Attraction
The beaches are the biggest tourist draws in San José del Cabo which offers some lovely spots to sunbathe and swim. Playa Palmilla is one of the best spots to go in Cabo if you're searching for a calm place to unwind. For a leisurely day, bring a towel and snorkeling gear. During the whale season, you can even see humpback whales from its shores. However, Zippers is one of the San José del Cabo beaches that is great for surfing and other beach adventures.
2. Enjoy the Sunset View at the Land's End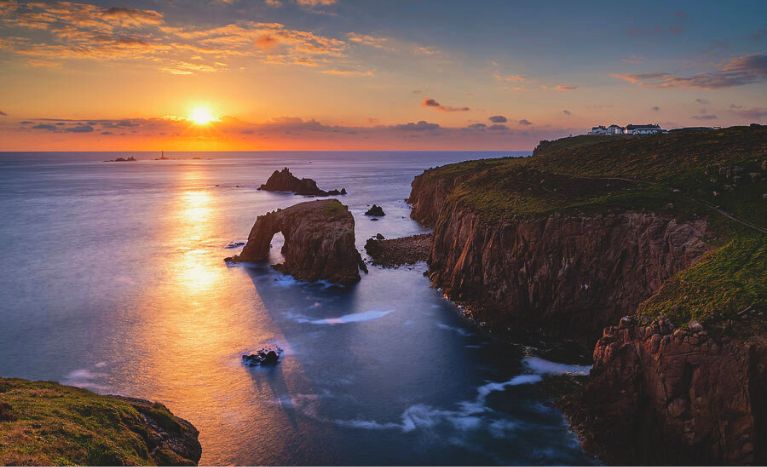 Although the rock formation in Cabo San Lucas is fairly similar to the one in California. But the pristine coastline and the fecund waters is what make any top California beaches a run for their money.
Since it offers the largest shoreline for swimming or sunbathing, most tourists who prefer a sandy holiday choose to stay in this region. Couples are frequently seen taking pictures here as the sun sets since the view is unmatched from any other vantage point.
Land's End Visitors Attraction
One of the world's most popular tourist destinations, the naturally occurring stone archway is one of the best things to do in Cabo San Lucas. What makes this unique and special is one side of the arch is Playa del Amor (Lover's Beach) and the other side is Playa del Divorcio (Divorce Beach).
The arch is interesting since you can only get to it by boat. There are several ways to see the arch, including on a tour, private boat charter, or water taxi that can be organized at the Cabo San Lucas Marina.
3. Marvel at the 17th-century Spanish Missionary – The Church of Saint Luke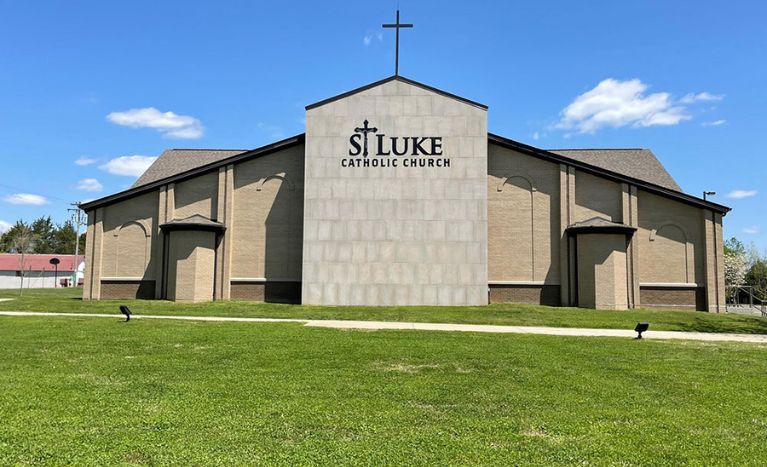 Your trip will be richer and more culturally enlightening if you see some of Cabo's ancient historical structures. A Spanish missionary that constructed the Parroquia de San Lucas Evangelista, in the 17th century is often known in recent times as the Church of Saint Luke.
The Church of Saint Luke is still a fully functional Catholic church, making it more than just a historical landmark. Every Sunday at noon, bilingual services are held; guests are invited. This is one of the best things to do in Cabo San Lucas with family.
Main Tourist Attraction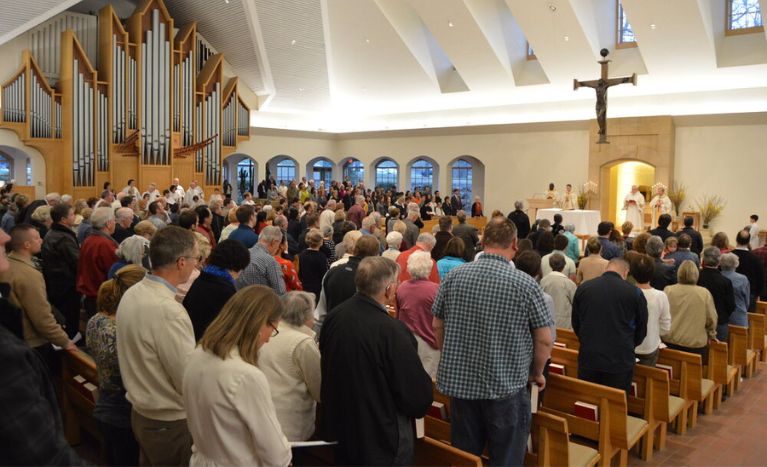 From the street level, a broad stairway ascends to the church grounds through cast metal gates. Both the internal and external architectural features of the Church of Saint Luke are breathtaking. With its light exterior and arched doors, the simplicity of this building contributes to its charm.
A few more stairs take you inside the church's interior, where old wooden benches are positioned on either side of the main aisle, which is lined with ancient mosaic tiles.
Both walls have arched skylights with functioning sliding doors that bring in natural light.
4. Test Your Golfing Skills at One of the World's Picturesque Golf Courses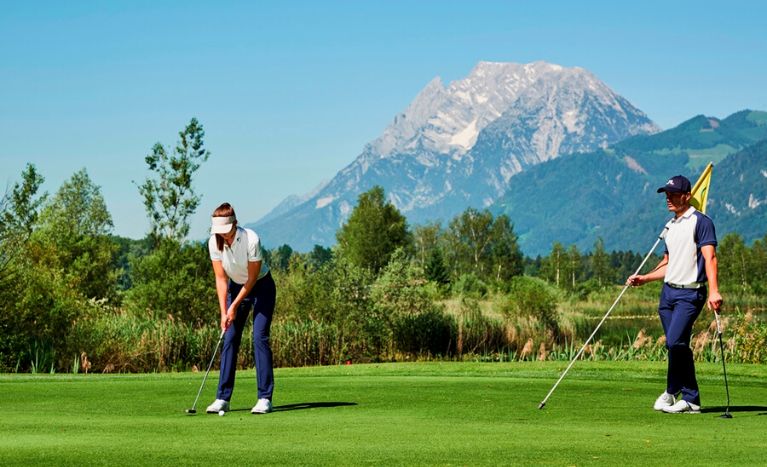 Are you considering organizing a thrilling golf vacation? One of the most popular golf holiday destinations in the world is Cabo San Lucas.
Many people think of Cabo because of its beautiful beaches and exciting nightlife. Even though there are plenty of both, there are also a lot of great golf courses, the majority of which have top-tier rankings in the world.
Over ten new private and public championship golf courses have opened in the last ten years to provide unique experiences for tourists who play golf.
The golf courses you'll discover on this side of paradise known as Cabo San Lucas are among the finest, if not the best.
Primary Attraction
Three of the World's 100 Greatest Golf Courses, according to Golf Digest, are in Los Cabos as of 2020. It would be simple to tick off three courses in one place if golfing is on your bucket list. The Diamante Dunes Course, Cabo del Sol Ocean Course, and Querencia are courses that are globally acclaimed.
Davis Love III created Mexico's first real links course at Diamante, which is located in Cabo San Lucas. It is adored for its collection of white dunes and its cacti decorations, which are uncommon on a links course.
Jack Nicklaus designed Cabo del Sol with the intention of creating a Pebble Beach in the style of Mexico.
Last but not least, Tom Fazio's creation Querencia debuted in 2000 and is distinguished by views of the Sea of Cortez, and a plateau of the desert. Golfing is one of the top things to do in Cabo San Lucas.
5. Spend a Relaxing Time at Todos Santos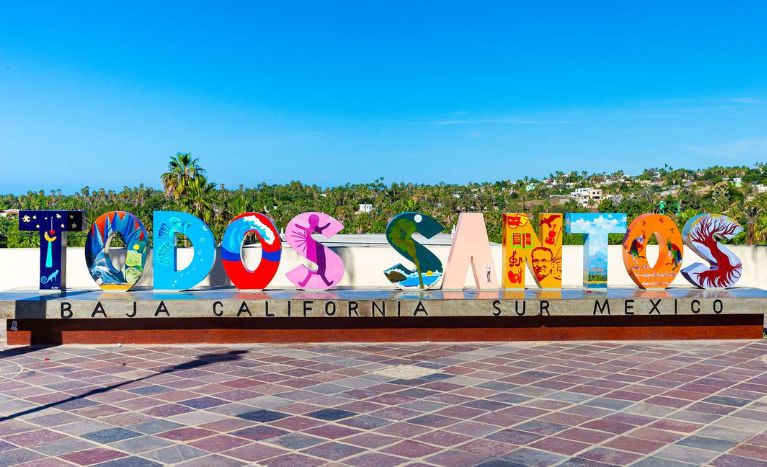 The village of "All Saints" has so far managed to avoid the overwhelming tourist's thanks to its peculiar combination of residents, fishermen, surfers, and Post Modern shamans.
It's also unquestionably the nicest town in the remote southern region of Baja, with its picturesque cobblestone lanes lined with art galleries, and romantic restaurants. And, it is definitely one of the best things to do in Cabo San Lucas for couples.
There is a lot to do for those who wish to get out of town as well, thanks to the wide coastlines and challenging surf activities.
Todos Santos Papular Tourist Attraction
There is no better day trip for art enthusiasts than Todos Santos. Ever since the Sierra de la Laguna mountain range is hidden behind the region, it presents grandeur in a different way than the beach lifestyle.
The original Hotel California, for which the Eagles' song was written, is the reason the town is most well-known today. You can spend one or more nights at this famous location or simply come and wander around the cafes and other attractions.
Fine art enthusiasts may appreciate exploring the many galleries. One of the best things to do in Cabo San Lucas is to visit the Professor Nestor Agundez Martinez Cultural Centre, which offers some historical immersion.
With its secluded beaches and authentic experiences, Todos Santos is still regarded as a hidden gem. You might not encounter many tourists while exploring.
6. Love is in the Air at Playa Del Amor Beach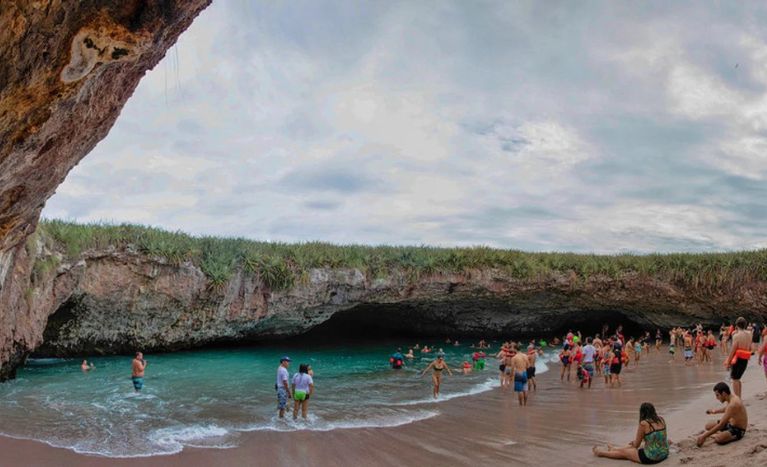 Playa del Amor, also known as Lover's Beach, is one of Los Cabos' swimmable beaches and is perhaps both the most well-known and most beautiful.
The beach is sandwiched between two large, angular granite rock formations, and is one of the best things to do in Cabo San Lucas.
The simplest way to get there is to take a water taxi from Medano Beach across the bay. But if you're feeling ambitious, you can also take a paddleboard or kayak journey across quiet, blue waters.
Playa Del Amor Beach Main Attraction
Take a memorable ride on the glass-bottom boats from the marina to the dunes. While scuba diving lures even the most experienced diver to experience something wonderful.
The beach is popular here because marine diversity thrives beneath the surface. Look no farther if all you want is a romantic stroll in peace and maybe a quick dip in the pool to cool off.
One piece of advice is to pack a pair of shoes because, in the afternoon, the sands may get very hot and you definitely want to protect your feet.
7. Playa Divorcio is Where you Capture the Picturesque Sunsets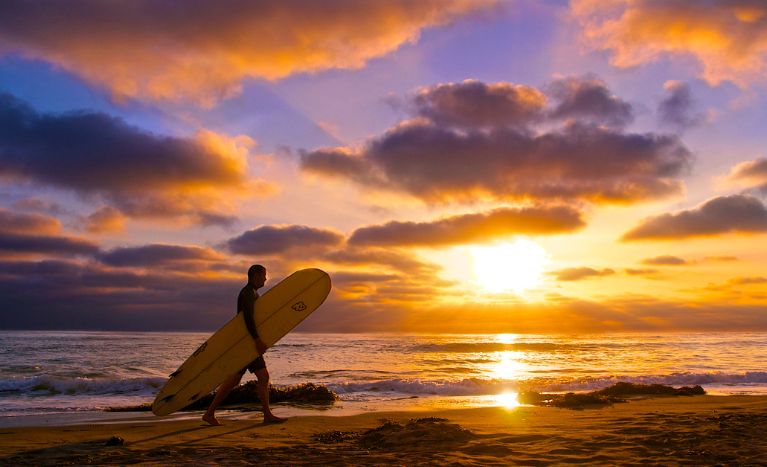 There are two sides, each with its own body of water: the Pacific Ocean and the Sea of Cortez. You are on the "divorce" side after you cross over to the ocean side.
You may hike between the two, and you'll be able to experience when you're in lover's paradise and when your marriage is on the rocks. How so?
The Sea of Cortez has relatively calm seas, similar to the beginning of a new relationship, while the Pacific has large swells and perilous swimming conditions, similar to the end of a relationship.
Tourist Attraction
Divorce Beach has the most breathtaking views of the surrounding rock formations and Mt. Solmar.
On the Pacific side, Divorce Beach is fittingly connected to Lover's Beach. It doesn't get much better than seeing a Cabo sunset from here, so come here to soak up some sun. Warning: Currents are dangerous and can quickly sweep even strong swimmers away.
Swimming is not permitted due to the sea's extreme roughness and high waves. You need to proceed all the way to the rocks at the end of Divorce Beach. If you climb up a bit you will have a beautiful view over the whole beach.
8. Relax at Marina Cabo San Lucas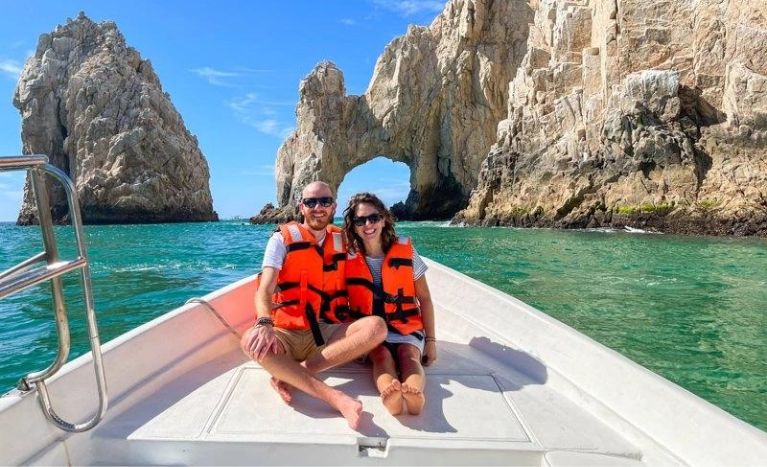 Marina Cabo San Lucas is located at the confluence of the Sea of Cortez on the tip of the Baja Peninsula. And, is one of the greatest destinations for yachtsmen from all over the world.
It has berths that can accommodate up to 400 boats. These slots can handle yachts up to 362 feet long with a 24-foot depth.
Some people just stay at Marina for a short time before continuing across the Sea of Cortez to Mazatlan.
Others enjoy the yachting lifestyle while being docked at the Cabo San Lucas Marina. It is one of the fun things to do in Cabo San Lucas, and offers a lively social scene.
There are a variety of possibilities at the Cabo San Lucas Marina for the watchmen and the tourist seeking rare souvenirs.
At one end of the Marina sits Puerto Paraiso, one of the biggest shopping centers in the area. There are a number of Mexican boutiques there.
Along the waterfront of Cabo San Lucas Marina, you may find upscale cigar shops, tequila suppliers, handmade craft stores, and beachwear retailers.
Marina Cabo San Lucas Attraction
The serenity of Marina Cabo San Lucas makes it the perfect place to gather with friends for dinner or to sip wine as the sun sets. Some of the greatest cuisine in the city can be found at the Cabo San Lucas Marina restaurants.
You may find some of the best bottles from across the world to share with friends at DOC Wine Bar. One of the iconic Cabo San Lucas Marina restaurants, Solomon's Landing offers a wide selection of fine Mexican cuisine and seafood delicacies. Lorenzillo's is the place to go if you want a truly luxury dining experience.
9. Visit the Cleanest Beach on the Planet – Santa Maria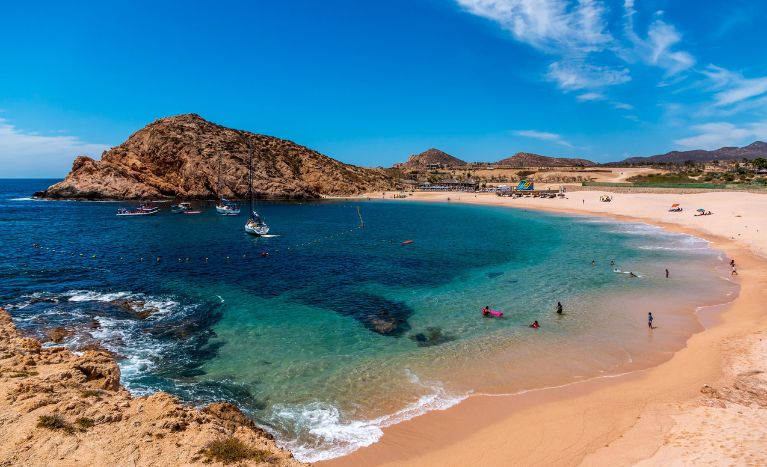 Unquestionably, Santa Maria Bay is one of Los Cabos' most stunning beaches. It has an amazing environment that is both enjoyable and serene thanks to the horseshoe-shaped shoreline and the fine sand.
The sea's clear waters also make it possible for you to see the bottom when you stroll in it. This is the ideal opportunity for you to spend quality time with your loved ones on one of Los Cabos' cleanest beaches.
Santa Maria Main Attraction
You'll want to dive right in and go swimming as soon as you set eyes on the breathtaking azure waves. And what could be more enjoyable than spending the day snorkeling?
Playa Santa Maria is a great beach for learning about the underwater world. It has become a popular snorkeling destination for both tourists and locals since it features a reef with a huge variety of tropical fish.
The fact is this is one of the most secluded beaches on the planet. Consequently, here you will avoid the crowd on any given day and have a relaxing time.
At this lovely beach, you can discover activities even if you don't enjoy snorkeling. Since both adults and children may swim safely because of the calm water, it is a great vacation spot for families.
Soak your body in the warm water, sink your toes in the sand, and set all of your cares aside. Only you, the beach, and a few thousand fish are present. It is also one of the best and free things to do in Cabo San Lucas.
10. Partake in the deep-sea Marine Adventure at Sea of Cortez
If you can't get enough of freshly caught fish, Cabo San Lucas is the place for you. Known as the 'aquarium of the world', you will find numerous species, including mahi mahi, sardines, yellowfin tuna, and snapper.
The waterways are so fertile that 12,000 fish are caught yearly. Most fishing here is catch and release.
The Bisbee Black and Blue, the world's most lucrative fishing competition, is held in Cabo every October.
More than 500 fishing boats, ranging in size from 21-foot budget boats to luxurious 100-foot yachts, are available to you if you wish to go fishing for a day.
The typical mahi captured weighs between 100 and 500 pounds, however, fortunate sport fishermen have engaged in battle with magnificent fish weighing as much as 900 pounds.
Sea of Cortez Tourist Attraction
Get on board a deep-sea fishing adventure, one of the fun things to do in Cabo San Lucas. Numerous vendors give excursions on open waters for fish-finding visitors. Private fishing excursions are among the greatest choices because you can catch tuna, rockfish, Mahi, toro, wahoo, and other species.
11. Surfing Adventure Galore at Zippers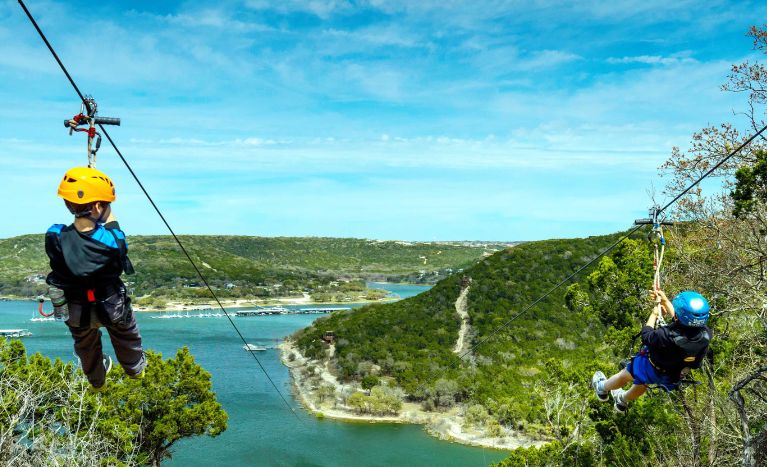 Waves are plenty in Baja, and so are the possibilities to paddle out. Over a dozen surf sites are located within a 1.5-hour drive of San Jose Del Cabo International Airport, making the majority of breaks surprisingly accessible.
Therefore, the surf in Baja can satisfy your appetite whether you're an experienced surfer looking to go big or a beginner excited to catch your first wave.
Surfing is one of the best things to do in Cabo San Lucas in June. The southerly swells that keep waves going throughout the summer are just starting to pick up. This time of year brings a lot of waves, both on the Pacific coast and in the Sea of Cortez.
Zippers Main Attraction
You may catch excellent rides at breaks close to Los Cabos with a small number of locals and other surfers from across the world. But if you're seeking for even more tranquility, drive up the Pacific or to the East Cape. Specifically, head to Zippers or the Old Man surf breaks. If you set out on your paddle early, you might have the ocean to yourself.
Zippers, located at Mile 17 on the Cabo Corridor, is one of the top sites for surfing in Baja and around the world. This is not a beginner's break, so you'll need some experience if you plan to paddle out. It's still fun to watch from the shore as people ride the waves in.
12. Enjoy the Seasonal Whale Watching at Baja Peninsula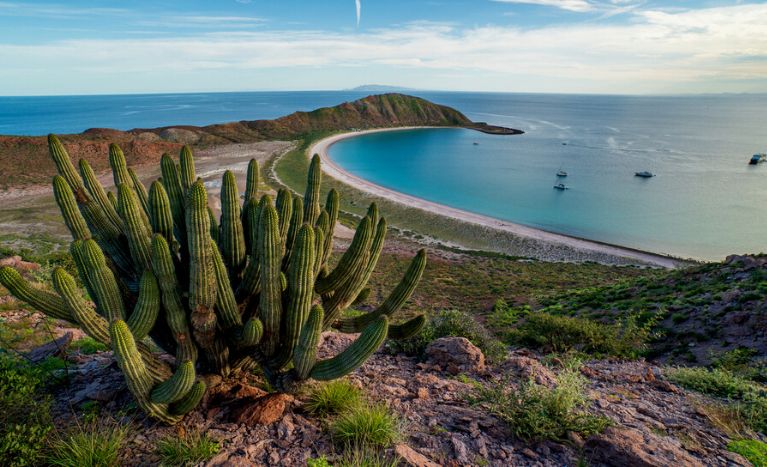 The gigantic grey whales playing with their young are among the best excursions in Cabo San Lucas and also the most breathtaking sights. In order to mate and give birth to their young, these humpbacks travel 6000 miles from Alaska to the warm, shallow seas of Baja California each winter.
It is an amazing gift from nature to be able to see these beautiful beasts, which may grow up to 100 feet long.
The yearly migration of grey whales takes place between early October and late March, bringing thousands of these magnificent animals to numerous shallow lagoons all over the Baja Peninsula.
Many travel all the way to the Sea of Cortez side, passing directly through Cabo San Lucas, while some only travel as far as the far-northern Laguna Ojo de Liebre in Guerrero Negro.
Numerous tour operators offer three- to four-hour long whale viewing cruises. Additionally, you might spot whales by simply scanning the horizon, or you might surf past one of them as it surfaces.
Baja Peninsula Papular Tourist Attraction
The best whale watching can be had by taking a quick flight up to Magdelena Harbor, where the mating takes place, or by choosing a basic excursion on a charter boat out in Cabo San Lucas bay.
When it comes to whale watching in Cabo San Lucas, there is something for everyone, and it all depends on how much time and money you have to spend. For as little as $45 or as much as several hundred dollars, you may see how the enormous sea monsters live.
You will almost certainly see some beautiful whales enjoying the Sea of Cortez and the Pacific Ocean if you embark on a cruise between late December and March.
Giant manta rays and stingrays can also be seen below the surface in clear water. It is also one of the great things to do in Cabo San Lucas in December.
13. Experience the Coral Reef at Cabo Pulmo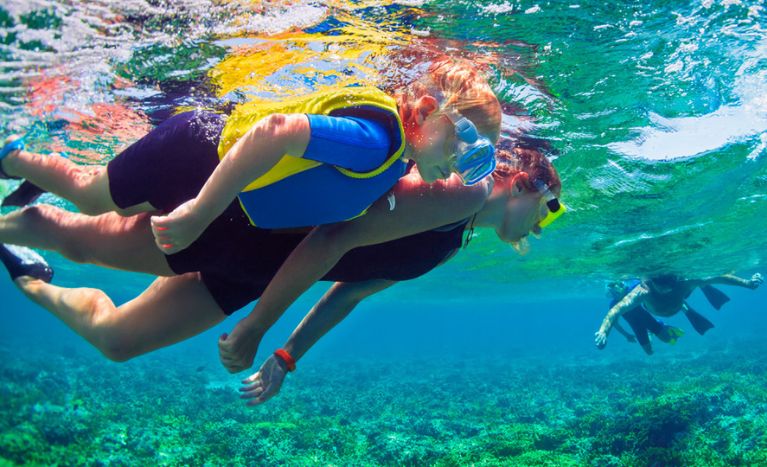 Cabo Pulmo is a 17,571-acre Marine Protected Area and national park. Long expanses of sandy beach, warm, crystal-clear water, and coral reefs that offer excellent scuba diving and snorkeling are just a few of the attractions that draw tourists here.
The Sea of Cortez's solitary coral reef can be found there as well. Sharks, humpback whales, sea turtles, and whale sharks are among the migratory species that have successfully recovered in the maritime environment, which is now a secure haven.
Cabo Pulmo Tourist Attraction
There is no shortage of things to do and see in this unique national park, whether you're diving beneath the surface or sailing above it.
The two most thrilling activities available in Cabo Pulmo are scuba diving and snorkeling.
These offer visitors the chance to see the coral reef and several marine species in the park up close and is one of the top activities in Cabo San Lucas.
Sailing, sea kayaking, paddle boarding, hiking, and a variety of other activities are available to park visitors on the area's various beaches.
Where to Eat in Cabo San Lucas?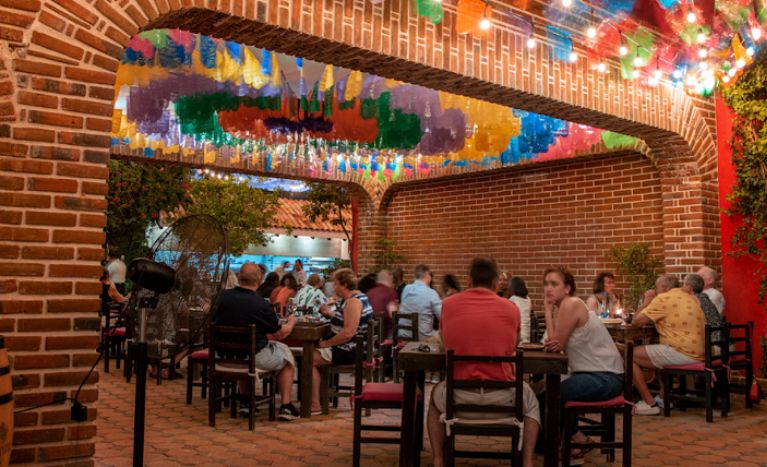 Cabo San Lucas takes pride in its stunning seascapes, intriguing activities, and exciting nightlife. These amenities elevate this city as a top vacation destination for both visitors and locals.
The variety of food is what makes Cabo San Lucas the ideal vacation destination.
There is always something fresh to sample in this city, from local cuisine to cuisine from around the world.
To make the most of your dining experience, here are some of the best eateries and restaurants best selected for you.
Jazamango – The well-known Mexican chef Javier Plascencia is the proprietor of the farm-to-table eatery Jazamango. Try their fish meal for two marinated in smoked dry chiles and regional spices, if you're dining out with a special someone. The grilled octopus with quinoa, red pepper salsa, Mozzarella,, and Jazamango green mix is another fantastic choice.
ADD. – Calle Naranjos, Fraccionamiento La Huerta, 23300 Todos Santos
Agricole Cooperativa – Specialty grocery store Agricole Cooperativa sells locally grown organic whole foods along with pastries, coffee, and breathtaking landscapes. All of the vegetables are grown organically by owner Lis Ibarra on a piece of land behind the store. The specialty products include cartons of plain, fresh strawberries as well as strawberry milk, strawberry dessert, strawberries with cream and chia seeds, and so forth.
LOCATION – Carretera a Los Cabos KM 59.7, 23310 El Pescadero
La Raíz Tortilleria – La Raíz Tortilleria focuses on tortillas and quesadillas, and serves one of the best in town. Choose the roasted potato, avocado, and cream cheese quesadilla with a bicolor exquisite tortilla. Try their Nutella and strawberry taco for a sweet variation.
ADD. – Cerro de Los Venados, 23473 Cabo San Lucas
Los Tres Gallos Restaurant – Mexican food at Los Tres Gallos is renowned for being straightforward and traditional. A well-seasoned Carnitas de Chamorro is the slow-roasted ham tacos that you must try. Pair it with pozole, a rich stew that is occasionally considered to be Mexico's national cuisine.
LOCATION – Leona Vicario esquina 20 de Noviembre S/N, Centro, 23469 Cabo San Lucas
Where to Stay in Cabo San Lucas?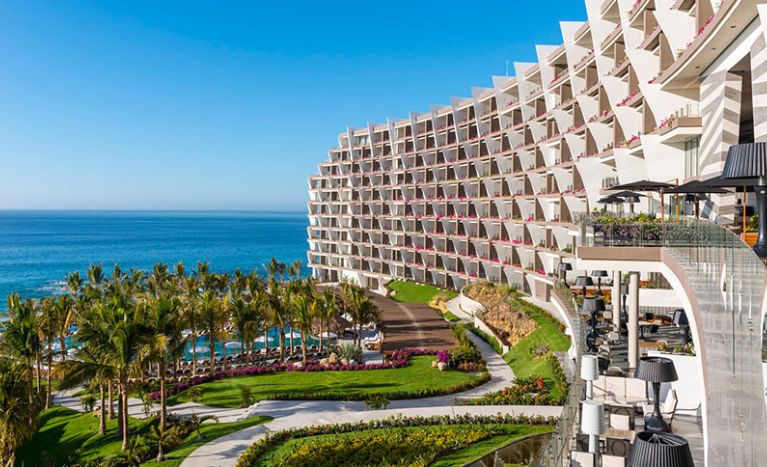 While Cabo is well-known for its all-inclusive resorts and constant party scene, the most rapidly expanding sector of the local hospitality market is its genuinely luxurious side.
Ranging from boutique properties to full-on getaways with every conceivable feature, these resorts are absolutely the most prefered and best in Cabo.
Grand Solmar Land's End Resort & Spa – This all-inclusive suite offers therapeutic care more akin to a boutique hotel while providing all the amenities of a large resort. The Grand Solmar's suites have full kitchens and dining spaces. Then there's the four-bedroom penthouse with a 6,232 square foot apartment, five bathrooms, and a private pool with a Jacuzzi right on the beach for the trip of a lifetime.
Address – Av Solmar 1A, Centro, 23450 Cabo San Lucas
Grand Velas Los Cabos – Grand Velas is the best all-inclusive in Cabo and is owned by a Mexican hotelier. All of the rooms here have sea views, and some have personal butler services. Breakfast is complimentary.
ADD. – México 1 Km 17, Tourist Corridor, Corredor Turístico, 23405 Cabo San Lucas
Montage Los Cabos – The accommodations at this unassuming resort on Santa Maria Bay overlook the ocean and have floor-to-ceiling windows to showcase the view. The 1,645 square foot suites at the Montage Los Cabos are spacious and minimalistically styled. It offers free breakfast and has an outdoor pool.
Address – Twin Dolphin, Carretera Transpeninsular KM. 12.5, Int. Bahía Santa María, 23450
The Resort at Pedregal – The Resort at Pedregal, a Cabo retreat with lavish accommodations, facilities, and service, is reachable by Mexico's only privately owned tunnel. Daily deliveries of fresh avocados to your room go perfectly with the bottle of tequila you'll also find there. The ample 856 square feet of space are found in even the smallest rooms.
Address – Cam. del Mar 1, Pedregal, 23455 Cabo San Lucas
In the end
Cabo San Lucas is an excellent destination if you are looking for a vacation with abundant things to do. With deserts, rugged mountains, white sand beaches, and exciting nightlife, there will always be something to keep you occupied on your trip. Don't miss out on the unique culinary offerings that Cabo has to offer; from tacos made from fresh Sea of Cortez fish to a variety of unconventional restaurants. Cabo San Lucas has a little bit of everything for everyone.