Although Paris is beautiful, there's much more to explore in France than just its capital. Even if you just have a few days to spend in the City of Light, there are plenty of châteaux, charming countryside landscapes, and gourmet-inspired day trips from Paris to take from the city.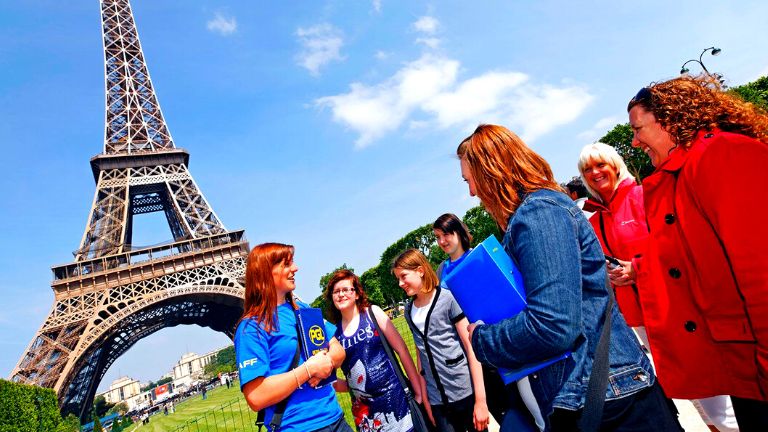 You can soak into nature in the countryside, explore boutique villages, marvel at gorgeous churches, and tour the magnificent Châteaux. The likes of the famous Château de Versailles, the Gothic Cathedral of Chartres, the calm monastery of Royaumont, and the wonderfully preserved medieval village of Provins are among the excursions that can be covered in a day.
What are Good Day Trips from Paris?
When you're an art lover, the Monet's Gardens at Giverny is your thing. On the other hand, the Saint-Germain-en-antiquities Laye's museum, the Napoleonic estate of Château de Malmaison, and the National Renaissance Museum at Écouen will appeal to history aficionados. Similarly, a trip to Disneyland Paris is a must-do for families with young children.
So, there is everything for everyone, as recounted by a native, here are 10+ day trips from Paris that every traveler should take!
1. Normandy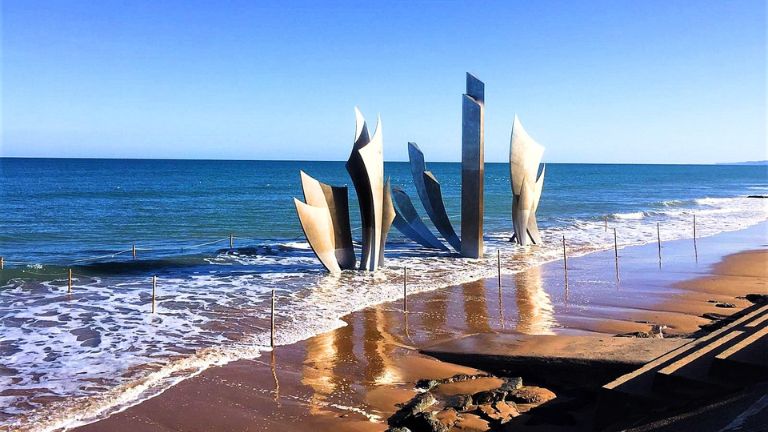 We recommend traveling west to Normandy if you have a weekend to spare. This historic coastal region is most recognized for its role in World War II, and much of the war's remnants can still be seen today.
One of the best day trips from Paris, visiting the D-Day landing beaches and battlefields in Normandy is a touching experience for many American tourists. The D-Day clashes, which took place on June 6, 1944, marked a turning point in World War II, allowing the Allies to acquire a strategic edge over the Axis powers. On the Omaha Beach where the landings took place, evidence of the WWII bunkers and tanks may still be seen.
Overlooking Omaha Beach is the breathtaking American cemetery with its poignant rows of white crosses. The Overlord Museum in the city commemorates the Allied landings on D-Day and the liberation of Paris.
How to get there – You may travel directly from Paris to Caen by train to cover the Normandy day trip from Paris. The train leaves from Paris Saint-Lazare station and arrives in Caen in two hours. You can join a D-Day Tour that departs from the Caen railway station when you arrive in Caen. Alternatively –
Alternatively, you can take the train from Paris to Bayeaux. A direct train from Paris Saint-Lazare station to Bayeaux takes 2 hours and 20 minutes. From Bayeaux, there are also good excursions to the D-Day landing beaches.
You can also rent a car as the drive from Paris to Caen takes 2.5 hours.
The Flix Bus runs a direct service from Paris to Caen.
2. London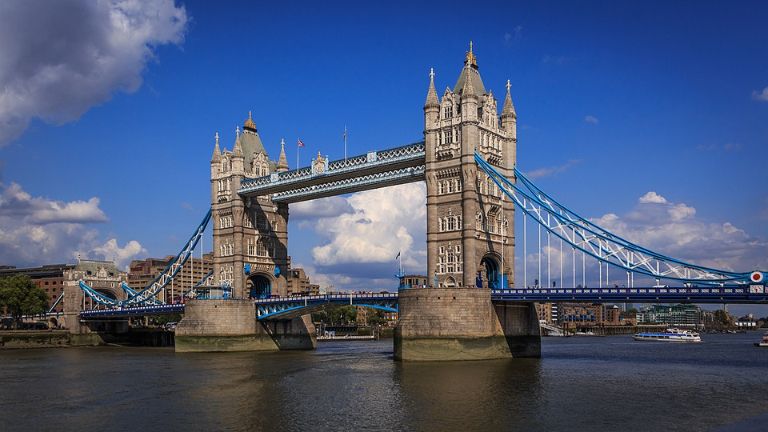 Of course, no list of the greatest day trips from Paris would be complete without a mention of one of the iconic cities in the world – London. After all, thanks to Eurostar's convenient transportation links, going from Paris to London takes only a few hours. So, if you're short on time but still want to experience both capital cities, go to London for the day!
A stroll from the Tower of London, across Tower Bridge, and along the south bank of the Thames, culminating at the Houses of Parliament and Westminster Abbey, is the greatest way to get started in the English capital. This tour will take no more than two hours and will introduce you to many of London's most well-known landmarks.
The main attractions in central London can be seen in a day. Hence, when you're on the lookout for the best day trips from Paris and wish to make the most out of one, London is where you can go. An extra day might be recommended if you wish to explore locations outside of the central area, possibly visiting landmarks like Windsor Castle and Stonehenge.
How to get there? – The high-speed railway is the only route to travel between Paris and London in one day, thanks to Eurostar as you will be at London's St Pancras station within 2 hours. Alternatively,
You can take a car through Eurotunnel that connects France and the United Kingdom, as you will reach London in 4 hours and 30 minutes. It is one of the fastest ways to cover a day trip to London from Paris.
3. Champagne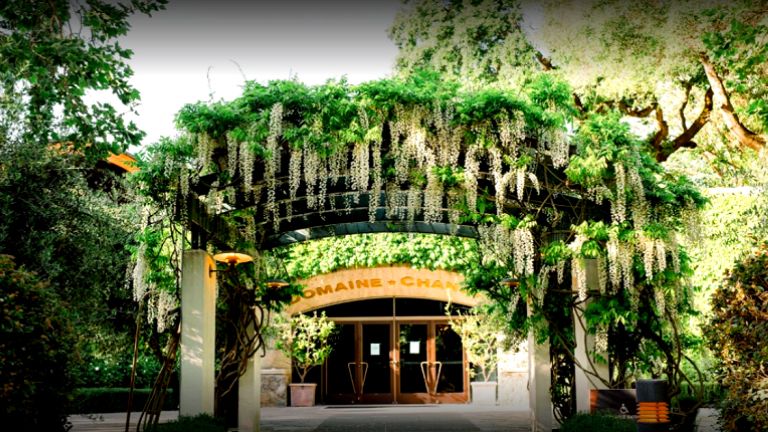 A day trip from Paris to experience the sparkling universe of Champagne is worth remembering. Take a visit to the prestigious Moet & Domaine Chandon and discover the never-ending vineyards, and of course, you can take a guided tour with tasting.
Enjoy a masterclass taught by the wine experts in the middle of the vineyard while admiring the picturesque countryside. Indulge yourself by learning the fundamentals of expert wine tasting.
You can also stop by for lunch at the family-owned estate. You'll be able to sample numerous glasses of champagne as well as ratafias matched with regional cuisine.
Spend the whole day learning the insights about Pinot Noir, Chardonnay, and Pinot Meunier while taking in the breathtaking views of the vineyard. There's more to cover on your day trip to Champagne from Paris.
How to get there? – Champagne is a wine area located about 100 miles east of Paris, on the Belgian border to the north. Épernay is the commercial capital of Champagne, as well as the location of most Champagne manufacturers' offices. It takes 1 hour and 20 minutes to get to Épernay by rail.
4. Versailles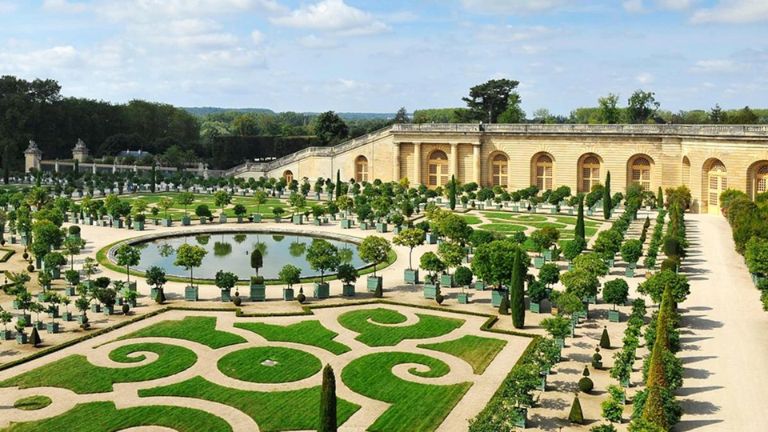 A tour to Versailles is the most well-known get away from Paris and is only a short train ride from the French capital. The beautiful palace of the sun king, as well as numerous UNESCO heritage sites of the 'Grand Trianon' and the 'Petit Trianon,' may be found there.
Another attraction here is the UNESCO-listed Château de Versailles is a masterpiece of French classical architecture. The Palace of Versailles, designed by Jules Hardouin-Mansart, was the throne of King Louis XIV, who ruled France with unlimited authority and the monarch's divine prerogative. With such notable places to see, Versailles is undoubtedly among the best day trips from Paris.
The lavishly furnished Queen's Bedroom, with an excellent Rococo ceiling, and the Hercules Salon, with François Lemoyne's The Triumph of Hercules ceiling painting and two Veronese masterpieces, are other highlights of the château.
With 2,300 rooms spread out over 40 miles, it can easily take up an entire day. On your way out, you can fancy yourself with some opulent dining at Alain Ducasse's Ore or La Magnette.
How to get there? – Versailles is 15 miles from the center of Paris and may be reached in an hour or less by train. The RER (Line C) train, which departs from Métro stations throughout Paris and reaches Versailles Château Rive Gauche station, the closest train station to the Château de Versailles, is the most convenient choice and a hassle-free day trip to Versailles from Paris.
5. Mont Saint Michel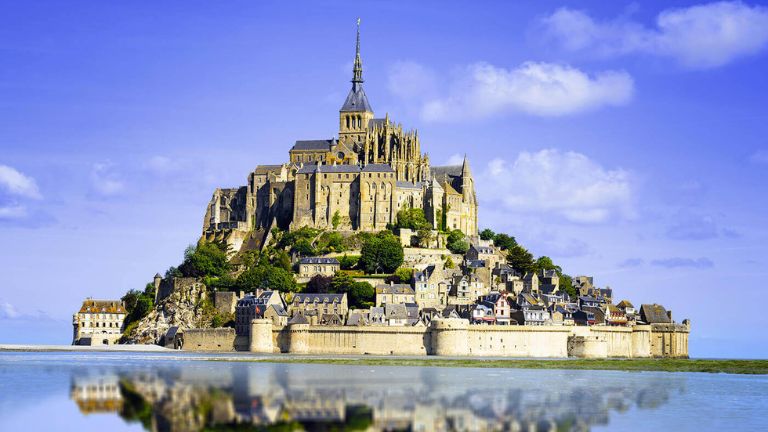 The island of Mont Saint-Michel rises from the waters of Normandy's Baie de Saint-Michel to become one of France's most iconic spiritual spectacles. This UNESCO-listed Abbey of Mont Saint-Michel, a medieval-era pilgrimage site, is located at the highest point on the rocky summit. This Benedictine abbey, which stands 155 meters above sea level and has elegant cloisters and a grand church, is a Gothic architectural gem.
This tidal island seems like a mysterious island during high tide, yet at low tide, visitors can travel from the mainland to the island, much as they did in the Middle Ages. Mont Saint's Michel island has been well-preserved, with a village feel, antique cobblestone streets, and attractive stores. In addition to the island, don't miss the following on your Mont Saint Michel one day trip from Paris –
The Musée de la Mer et de l'Écologie, which houses a collection of 250 ancient boat models and provides information on the Mont Saint-Michel Maritime Character Restoration project, is a must-see.
The Musée Historique, with its collection of ancient weaponry, medieval torture weapons, and Louis XI's iron cell spans 1,000 years of history.
How to get there? – Taking a direct train from Paris to Rennes is the simplest method to go to Mont Saint-Michel. You can then catch a direct shuttle coach bus to Mont Saint Michel from there. You can take a bus but that would be a pesky ride for Mont Saint Michel from Paris day trip.
6. Loire Valley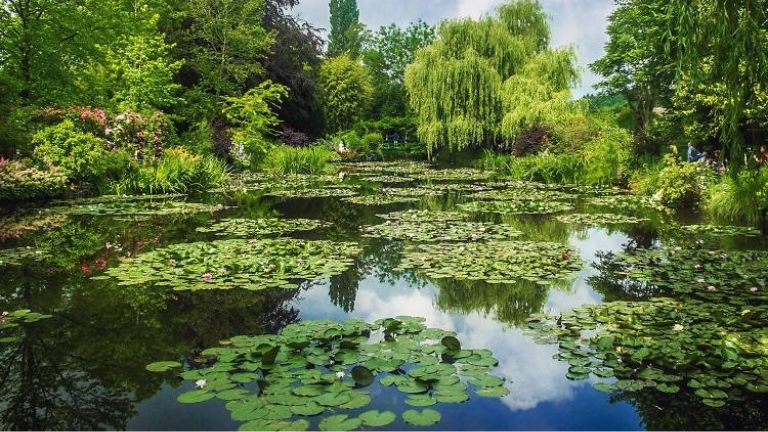 Take a full-day trips from Paris, and visit some of the Loire Valley's most beautiful castles. Experience the architecture and historical marvels by visiting the castles of Chenonceau, Chambord, and Amboise.
Take a stroll around the Château de Chenonceau's floral gardens and admire the exquisite structures that span the Cher River. Discover the fascinating history of the building, which was operated by women for most of its life. Continue to Chambord to explore the Loire Valley's largest castle.
Admire the royal Château de Chambord's ornate architecture and double spiral staircase. The countless columns and spires that embellish the structure's roof are a treat to the eyes.
Finish the Loire Valley day trip from Paris with a visit to King Francois I's former residence, Amboise village, and the Château d'Amboise, where you can see Leonardo Da Vinci's tomb. It was a beloved royal home and was extensively reconstructed after being seized by the monarchy in the 15th century.
How to get there? – About 75 miles south of Paris is the Loire Valley. It takes approximately two hours to get there by car. Alternatively,
The Château de Chambord, the Loire Valley's largest and most famous castle, is accessible through a 1 hour and 45-minute SNCF train ride from Paris's Austerlitz station to Blois-Chambord station. The Château de Chambord is accessible by shuttle bus from the Blois-Chambord station; the ride takes around 35 minutes.
7. Colmar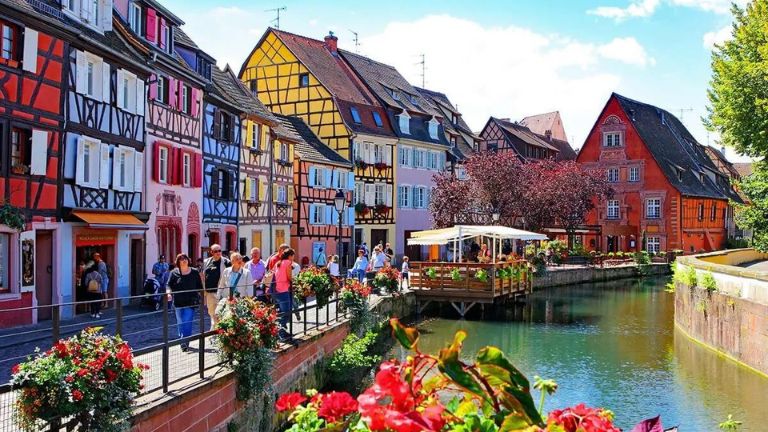 When you want the best day trips from Paris that can give you unique experiences, consider heading to Colmar. Colmar's architecture is reminiscent of a Renaissance-era fairytale village. Cobblestone lanes, meandering channels, complex yellow-and-orange brickwork, half-timbered cottages with brilliantly painted exteriors, and a magnificent 13th-century Gothic church may all be found here. In fact, the city is so attractive that the Allied and Axis powers avoided attacking it during both world wars. As a result, it has one of the country's best-preserved old towns.
You can also take a walk on the Alsace Wine Route, one of the oldest wine routes in France. The trail goes through a beautiful landscape of half-timbered villages, old castles, and, of course, vineyards, spanning 105 miles. On your Colmar day trip from Paris, you will find the wineries in the villages rather than the vineyards.
How to get there? – The high-speed TGV train and the low-cost Ouigo train are the two types of direct trains that run from Paris to Colmar. The TGV takes about 2 hours to arrive at Colmar. The Ouigo train takes only 60 minutes long and costs a quarter of what you'd pay for a normal high-speed train. Alternatively,
The journey from Paris to Colmar takes roughly 5 hours and 30 minutes. The nicest part about having a car, of course, is that you can pass through the historic cities such as Reims and Strasbourg, each of which is worth a visit. You can simply cross the border into Germany after visiting Colmar, or continue south to neighboring Switzerland for an extended Euro-trip.
8. Lisieux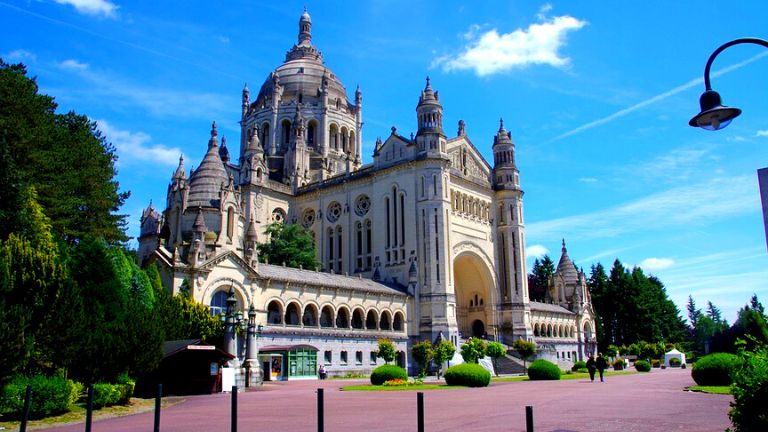 The Lisieux is the home to the largest church built in the 20th century and was a seat of the bishop's palace, with a cathedral.
On the slope overlooking Lisieux, this massive 93-meter-high domed building stands out. Hundreds of thousands of pilgrims visit here. The interiors are dazzlingly opulent and decorated in neo-Byzantine style. The lives of Saint Thérèse and the Carmelite Order are displayed in an exhibition.
Another attraction in Lisieux is that the Gothic-style cathedral was built in the 13th century. The tomb of Bishop Cauchon lies here who prosecuted Joan of Arc.
How to get there? – SNCF offers trains to accomplish a day trip from Paris to Lisieux that takes an average of 1 hour 46 minutes to complete the 98-mile journey.
9. Fontainebleau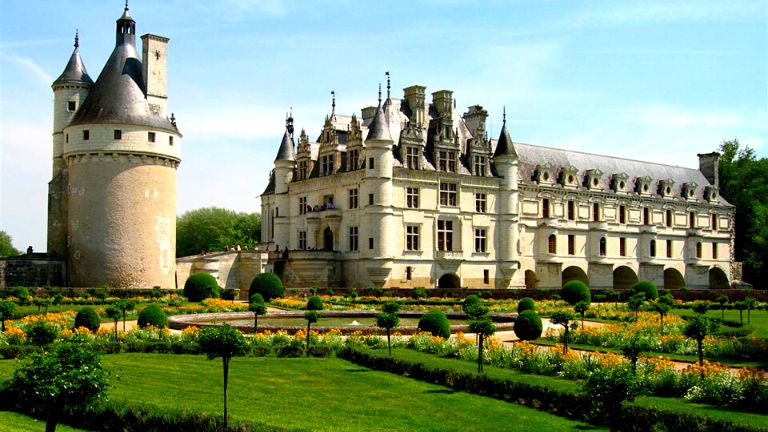 Fontainebleau is a royal French château, located about an hour's drive from Paris. This global heritage site was a seat of France's sovereigns for eight centuries, surrounded by woodlands and a magnificent parkland of 130 hectares.
Château de Fontainebleau is one of the best places in France, as the castle holds 1,500 rooms. Its Royal Apartments exhibit the influence of various royals. The Boudoir de la Reine, lavishly decorated with Neoclassical art and gilded paneling, reflects Marie Antoinette's exquisite taste.
In the aftermath of the French Revolution, Napoléon I transformed Fontainebleau into an Imperial palace, adorning his residence with his trademark musique concrete decor.
You need an entire day to get mesmerized by the French's finest architectural marvel, as it counts as one of the best day trips from Paris.
How to get there? – Take a Transilien train from Gare de Lyon to Migennes, Montargis, or Montereau to get to Fontainebleau by public transportation from Paris. Alternatively, It is a 75 minutes drive and is 55 km from the southeast of Paris.
10. Bruges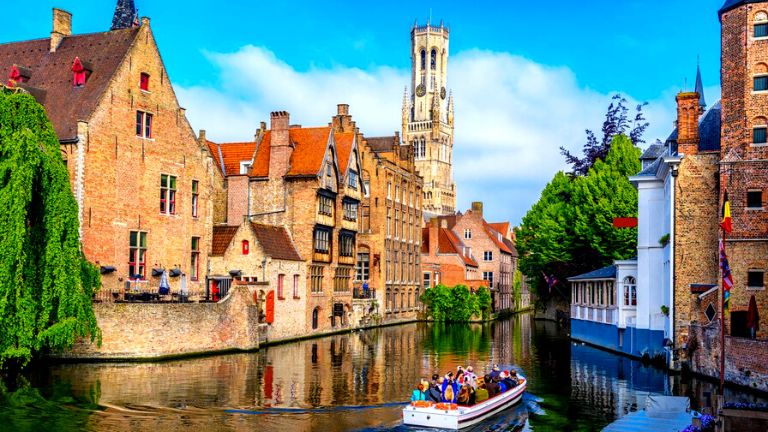 Bruges evokes a bygone period with its beautiful Flemish architecture, tiny, cobblestone alleys, and picturesque canals. From the 12th to the 15th centuries, this beautifully preserved medieval town in Belgium operated as an important trading harbor.
Because of its canals, Bruges is known as the "Venice of the North." Its many attractions delight visitors. Remember that, it is possible to explore the city by boat. The city is full of magnificent churches and world-class art museums, as well as a slew of little shops selling delectable artisanal Belgian chocolates. Some of the famous attractions include –
The Grande Palace
The Belfry of Bruges Market
Beautiful canals of Burges
The chocolate city of Bruges
The art impressions of Lace Bruges
The Belgium Beer
How to get there? – Although Bruges is located in Belgium, it is only a 2.5-hour train ride from Paris, making a day trips from Paris by train achievable.
11. Giverny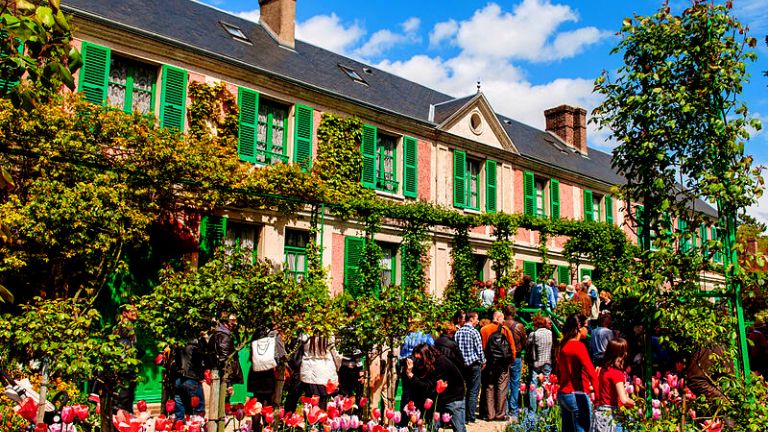 The hamlet of Giverny, located on the Seine River, is most known for its affiliation with France's most renowned painter Claude Monet.
In 1883, the artist fell in love with Giverny and stayed for thirty years. Other artists were drawn to this picturesque countryside at the same time and were influenced by Monet's technique for painting this beautiful town.
Claude Monet's cottage, a lovely countryside retreat where Monet painted his famous Water Lilies picture, is the top attraction in Giverny. Tourists may visit Monet's blooming flower garden and observe the water lily pond, to pay tribute to their artist on your day trip to Giverny from Paris.
How to get there? – Giverny is 75 kilometers west of Paris and takes around 1 hour and 30 minutes to drive there. The Normandy landscape provides lovely sights for much of the ride. Alternatively,
From Paris's Gare Saint-Lazare station, passengers board the SNCF train to Vernon-Giverny takes only 51 minutes. Upon reaching there, travelers can ride a shuttle bus to Monet's Garden.
12. Disneyland Paris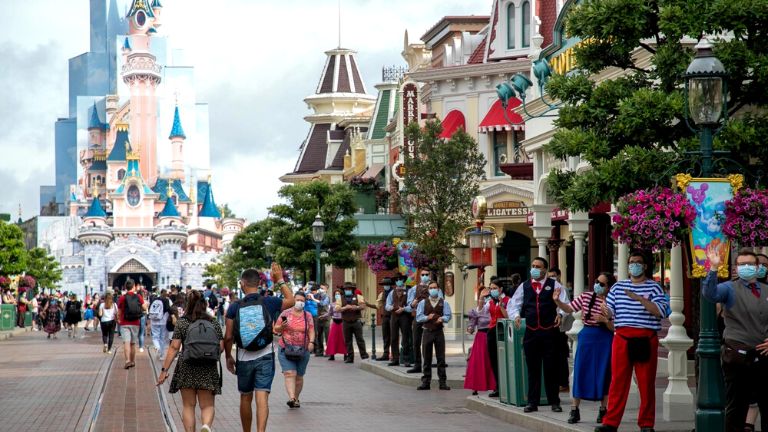 Disneyland Paris is a massive fairyland of fantasy and adventure, making it an ideal day excursion for families, and children. Sleeping Beauty Castle is a popular tourist attraction. The tale of Sleeping Beauty is represented in stained glass and tapestries, and a fire-breathing dragon resides in the vaulted cellars. Snow White and the Seven Dwarfs, the Mad Hatter's Tea Cups spinning ride, and the It's a Small World cruise are all other major attractions on your day trips from Disneyland Paris.
How to get there? – Disneyland Paris is located 20 miles east of Paris. You can also take a train to Chessy Station located at the gates of the magic.
Bottom Line
Whether you are living in Paris or it is a part of your journey, you can make more explorations from here. With suggestions as excellent as Colmar and Loire Valley, families, friends, and groups of tourists can have a memorable time. Do take into consideration the easy routes to plan the best day trips from Paris to these cities.