The finest day trips from NYC are where seasoned residents travel to relax and unwind. A change of lifestyle, whether it's a road trip, a weekend getaway, or a shorter day excursion from NYC, is a terrific way to clear your mind and feel refreshed.
The colonial-era town of Sleepy Hollow, the quaint rural community of Cold Spring, and the lovely Victorian-era city of Kingston in the Hudson Valley are all within a proximity of a 90-minute ride from New York City. Mohonk Preserve, with its pristine woods, is only a one-hour drive or a little more than an hour train trip from Manhattan.
A handful of the sites on this list are quite far away and will require extra effort to reach. Connecticut is more than three hours away by rail, but it has numerous nature reserves worth seeing. Niagara Falls, in Upstate New York, is a seven-hour drive from the Big Apple city; however, a flight and guided tour can be taken for a day.
But our selection goes a step further: each of the highlighted sites is not only a great spot to unwind, but also offers a variety of activities for both the daring and culturally inclined. Here is the list of the 8 best day trips from NYC. 
1. Atlantic City, NJ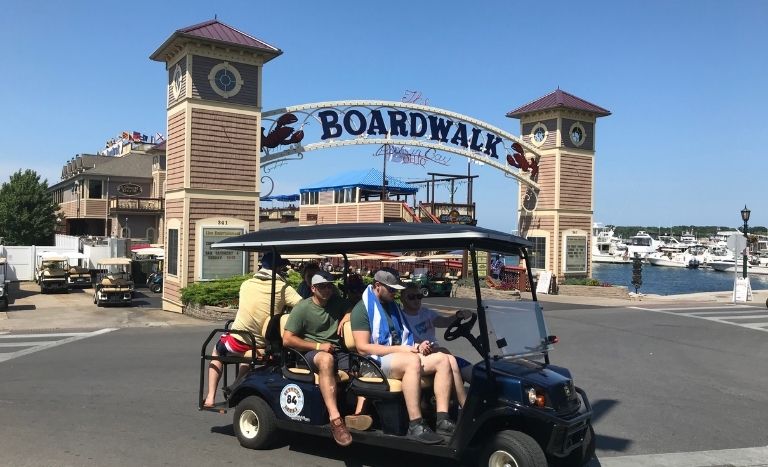 The best day trips from NYC are known for its well-known beach resort in New Jersey, the city boasts large stretches of sandy beach as well as a wide selection of recreation and fun activities. Known as the "Las Vegas of the East," thanks to the numerous repertory theatres that put on acts both day and night, as well as sporting events like boxing competitions and fashion shows.
Things to Do – Atlantic City has grown into one of America's top tourist destinations since the Boardwalk was established in 1870, with millions of visitors flocking to this place to experience its attractions. Stepping here means you are in awe of the greatest destination in the US for a fun seaside vacation. Here are some of the top things to do for your upcoming NYC day trips –
The Boardwalk – The Boardwalk in Atlantic City's most recognized and popular destination, and it's packed with entertaining things to do. It's a lovely place to see and you would be in the awe of sea breeze, enjoy the concert, or have lunch or perhaps some shopping. It's easily explored on foot, in the classic electric tram, or in big leather recliners pushed like a rickshaw. The iconic entrance to the Stars, Atlantic City's counterpart of Hollywood's Walk of Fame, is one of the many attractions on the Boardwalk.
Enjoy Rides at Steel Pier – The Steel Pier in Atlantic City's counterpart of New York's Coney Island. There are rides for all age groups including saucers and toy trains for children and more adrenaline rides for steel-hearted adults, such as the pendulum wheel and roller thrill rides. Rides like the Roller, the Twister, and the Boomerang will thrill the wildest visitors.
Ocean City – Ocean City, located 11 miles south of Atlantic City, is a famous choice for families traveling with children. This beach town not only features some of the nicest beaches on the Atlantic coast, but it has also been alcohol-free. Like its northern twin, it has a fantastic Boardwalk, which stretches for two and a half miles and features an amazing array of shopping and dining options in a lovely downtown center. A visit here could be the best family day trip to NYC.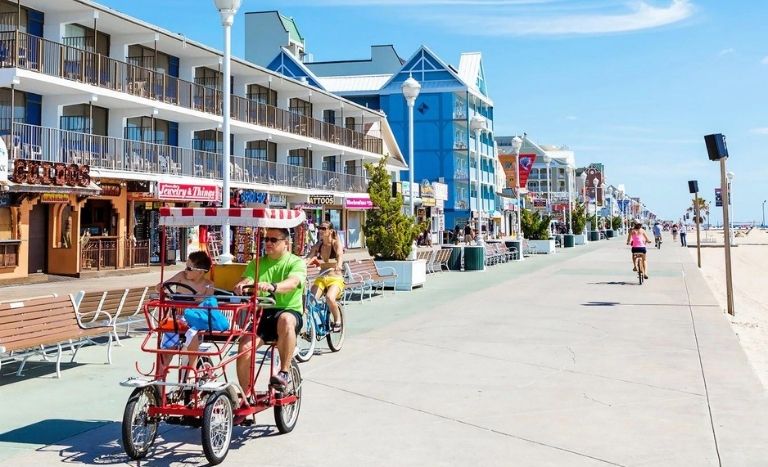 What to Eat – The culinary scene in Atlantic City offers an eclectic mix of old-world charm and newer breeds of eaters seeking to serve good food to a more varied audience. Some of the favorites include:
Tony Boloney's – Try the white pies and the stunt pizzas which are the new form of the Tacos variant. Their Devour Ramen is certainly worth a look. It must be on your NYC day trips bucket list.
Sabor Salvadoreno – Famous for its Salvadorian-style dishes as well as Mexican, Honduran, Columbian classics, smoothies, and much more. They'll even serve cheese breadsticks and chicken wings, and there's much more than that.
Pancho's Taqueria – You can expect freshly made tacos and delicious tenderloin, and al pastor burritos, which are enhanced by their house-made locally-produced hot sauces.
Kelsey's – To make sure you don't miss anything, order the dark meat southern fried chicken and pancake, fried rockfish, or slow-smoked ham, along with a flatbread platter and a sample amount of eggs benedict and shrimp.
Where to Stay – Some individuals may opt to stay near the shore in order to have easy access to the Boardwalk, which includes the Walk of Fame, the Steel Pier, and, of course, the gorgeous sandy beach. Hotels near the main harbor, on the other hand, have superior amenities and are closer to attractions such as the aquarium. Some highly-rated hotels in favorable locations are listed below if you're planning a one day trip from NYC or for a whole week –
The Borgata Hotels – One of the new hotels in the city located near the Aquarium offers upgraded suites, a jacuzzi, and oversized showers.
The Resorts Hotel – This tiny hotel features pleasant accommodations and an indoor/outdoor pool and is just a short walk from the Steel Pier and all of its attractions.
The Claridge – A Radisson Hotel – Hosted famous celebrities of yesteryears Charles Ray, Frank Sinatra, and Marilyn Monroe, is one of the iconic stays in the city and comes with a complimentary continental breakfast. Lonely Planet recognizes this place as the best stay for your NYC day trip.
Club Wyndham Skyline Towers – Offers the beach view suites and is a block away from the beach. Every room comes with a balcony, jacuzzi, mini-bar, and fridge.
2. Mystic, CT
Mystic has that classic New England charm. This picturesque seaside community, nestled on the banks of the Mystic River, provides a welcome break while your en route from New York passes through Boston. There is plenty to do in Mystic, especially for families.
A deafening bell draws attention to the ancient Mystic River Bascule Drawbridge when white sailboats pass through it. It connects visitors to the town's core, providing convenient access to a variety of unique shops, exquisite cafes, and two of the most popular tourist attractions places – the Mystic Seaport Museum and the Mystic Aquarium.
Things to Do – You can breathe in the fresh sea air, eat the freshest seafood, and learn about the history of this charming coastal town. Here are some of the best things to do in town as these could be the best day trips from New York city –
Mystic Seaport Museum – If you only have time to see one thing during your trip, go to the Mystic Seaport Museum. This spectacular port is one of the best spots to photograph in Connecticut, with everything from a planet observatory to a working dock.
Mystic Aquarium – It is a must-visit attraction on your day trip to NYC if you're going with the kids. This place is a crowd-puller and one of Connecticut's greatest attractions. You may get up close and personal with Beluga Whales or learn to train them as part of a paid interaction program. Visitors get so many opportunities to engage with its aquatic residents. In the Ray Touch pool, feel the soft wing of a stingray, run two fingers over the back of a shark, feed a lobster, or pet a baby starfish.
Watch Mystic River Drawbridge Open – Main Street in downtown is the place to be to experience the bridge in motion. It connects the west and east sides of this popular street, having been built in 1922 to span the Mystic River. If you're lucky, you might be able to see it open, allowing tall boats to sail through the river—You will experience this every 40 minutes between 8:40 am and 6:40 pm. When the drawbridge is down, automobiles and pedestrians can cross the river to explore the numerous local stores and cafés that line Main Street and around. Your New York city day trip is incomplete without this stunning view.
What to Eat – You can fill a day in this vintage riverfront town with fancy treats. Some of the favorites include –
Nana's Bakery and Pizza – Try its crave-worthy sourdough Pizza and locally produced cornmeal that gives a chewy crust. Also, leave room for Koji that is cooked in the red sauce that amplifies the natural tang of tomatoes.
Karma Kitchen – When you're in Mystic, refresh yourself with green medley cold-pressed juice.
Grass and Bone – Try the spicy grilled beef melt with charred broccoli and a Moromi soy apple salad, or the succulent rotisserie chicken with garlic mayonnaise aioli and flatbread baked and sprinkled with vanilla syrup on your day trip from NYC.
Where to Stay – Mystic offers a range of hotels mostly in a mid-range –
Hilton Mystic – The town's sole four-star hotel offers a variety of spacious rooms and suites with modern decor. The property has an in-house restaurant with kid's menus, a saltwater pool, a lounge with nighttime performances, and a fitness area among the amenities.
Whaler's Inn – The boutique hotel is conveniently located in the heart of downtown, close to restaurants and shops. The rooms and suites are spread across five buildings and offer a romantic setting that features a jacuzzi, saunas, and views of the Mystic River. The inn also includes family suites with bunk beds and children under the age of 12 live free.
Hampton Inn and Suites Mystic – A budget-friendly hotel that offers stylish suites, located within two miles from downtown Mystic. Brownout shades, desks, mini-fridges, microwaves, and coffee makers are included in the rooms. In the mornings, there is a complimentary breakfast, as well as a swimming pool and a fitness center. It's a pet-friendly accommodation and is the best accommodation on your day trip from NYC.
Howard Johnson by Wyndham Mystic – It is the most cost-effective alternative in town. The hotel's rooms are big and come with a bathtub, refrigerators, and microwaves. An indoor heated swimming pool, a fitness facility, and vending machines are among the amenities.
3. Hudson Valley, NY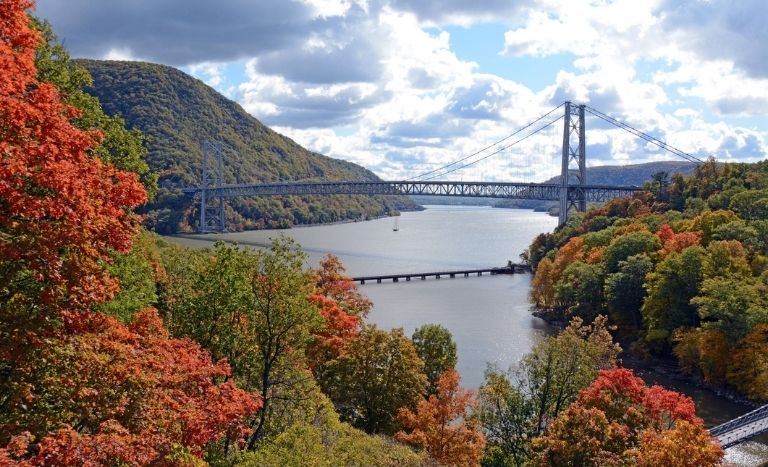 The Hudson Valley, brimming with natural beauty in New York City's doorstep, is the place to go for a peaceful and exhilarating weekend. In the Hudson Valley, there are numerous attractions and activities to do. Mountain peaks, waterfalls, ancient buildings, castles, wildlife sanctuaries, and eccentric settlements along the river are all waiting to be explored.
New Yorkers and tourists visit this lush region all year to take advantage of its numerous outdoor recreational opportunities and cultural events.
Things to Do – In the summer, hike the Shawangunk Mountains and visit outdoor sites like the Storm King Art Centre or take a walk by the Hudson River. When autumn hits, visit boho towns like New Paltz and Woodstock, which are surrounded by mountains draped in vibrant foliage and provide a relaxing escape. Check out our list of the top things to do on your Hudson Valley day trip from NYC –
Take a walk over Hudson – The 1.28-mile-long bridge over the Hudson offers spectacular views of the river and is a must-see landmark in Hudson Valley. This steel cantilever bridge connects Poughkeepsie and Highland across the Hudson. Take your time going along this pedestrian walkway, stopping at various locations to learn about the history of the bridge, admire the views of the riverbank villages, and get some fresh air.
Lyndhurst Mansion – You're not in Scotland or Ireland; instead, you're in Tarrytown, New York, Take a visit to admire one of the country's most stunning Gothic architecture mansions. Today, this architectural marvel, which is surrounded by expansive gardens, beautiful flowers, and ferns serves as a time machine into the past. A lovely collection of treasures, paintings, and decor can be seen within this country's estate. The mansion also has a beautiful rose garden and the country's first steel-framed solarium, which was built in 1894.
Minnewaska State Park – Located in the foothills of Shawangunk Ridge, is another popular hiking destination. The park is a nature lover's dream, with several waterfalls, dazzling streams, tall mountains, and mahogany forests. There are 50 miles of routes for cycling, trekking, ziplining, and other activities, all of which are within a 90-minutes drive from New York City. This could be one of the best NYC day trips by car.
Storm King Art Centre – A 500-acre sculpture garden nestled in the foothills of the Schunnemunk mountain, art and nature merge magnificently. Storm King Art Centre is in Orange County, about an hour's drive from Manhattan. To get about the sprawling site, you can stroll, cycle, or hop on the tram. You could easily spend an entire day wandering through the park, snapping Snapchat-worthy photos, and inspiring over numerous artworks. Maya Lin's Wavefield, a rolling grassy area that resembles ripples set against the Schunnemunk Mountain and the Hudson Highlands, is a must-see on your 1 day trip from NYC.
What to Eat – Let's start with the most crucial question: where should you eat? Before you start looking for hiking routes and book your stay, let's get one thing straight. Here are the top choices you can bank upon on your fun day trips from NYC –
Kitty's Market – A daytime cafe located across the Hudson train station offers great rotisserie chicken platters, breakfast sandwiches, and pastries. Sandwiches come with a covering of mellow mozzarella cheese, smoky bacon, and sesame seed- flatbread is a must-try.
Backbar – Located on the main street of Hudson, this place is famous for romanesco lamb, and shrimp dumplings.
Talbott and Arding – The fancy eatery in the middle of a town has everything you need to carry away. Opt for club sandwiches, meats, bread, and spreads and you definitely return here to re-fuel.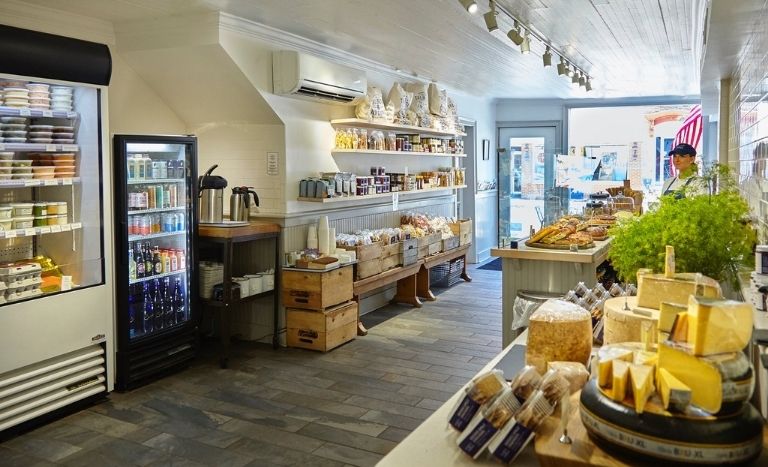 Wm. Farmer and Sons – The setting is charming, the service is excellent, and the food appears to be familiar, but with twists like a crawfish omelet with mentaiko sauce or cream cheese onions and yogurt sauce over a wonderful burger.
Where to Stay – An escape to Hudson Valley allows you to take up the region's charm and wit while visiting chic stores in trendy villages and wandering through bucolic vistas. NYC is less than two hours away and you can choose from the list of best resorts in the area on your NYC day trip –
The Maker Hotel, Hudson – Some of the amenities include a farm-to-table restaurant, a European-style café, a fitness and massage center, and a juice bar that sells fresh-squeezed juice and protein smoothies. It is located right in the heart of Hudson on the main street. On a small patio behind the hotel, there is an outdoor swimming pool.
The Start House, Athens – The 3-star hotel is located on the lake in Athens, a historic town that can be reached within 2 hours from New York. Smart TVs, beautiful bed sheets, bathrobes, and domestically made shower supplies are available in every room. A complimentary continental breakfast with seasonal fruit and veggies, cheese, and house-made fresh juices is included with the stay. The most perfect stay if you're on 3 day trips from NYC.
The Amelia Hotel, Hudson – A lovely floral lawn, outdoor pool house, and patio with reclining couches are among the amenities. The hotel also has a library, complimentary baked goodies, and Starbucks coffee available throughout the day. Throughout the year, the hotel hosts art, cultural and literary festivals.
4. Woodstock, NY
Woodstock is much more than a sleepy little hamlet at the foot of the Catskills. This mountain village is, quite honestly, a global brand. Since the 1960s, Woodstock has been a symbol for harmony, compassion, art, and togetherness all around the world.
Things to Do – Visitors will find themselves in a parallel realm just 90 miles north of New York City, where the emphasis is on homegrown, local produce, and organic. Read our list of the top things to do in Woodstock, New York. If you're ready to discover the greatest attractions around, here is the list of top things to do here.
Catskill Park – Woodstock is located in the middle of a 700,000-acre wilderness area. There are more than 35 hills and valleys with heights of 3,500 feet or higher in the Catskills. This means that Woodstock is the starting point for hundreds of miles of trails ranging from casual wanders to rigorous mountaineering. Visit here if you're looking for day ski trips from NYC.
Ashokan Reservoir – Located near Woodstock, is the source of New York City's water supply system. The lake, which is one of the country's largest, is surrounded by more than two miles of sidewalks and offers stunning views of the foothills. Cycling and touring around the reservoir is a popular pastime for both locals and visitors.
Tinker Street – Tinker Street provides guests with the ideal Woodstock tourism experience. Grab dark cocoa and a doughnut from Bread Alone, the popular bakery brand in town, and then go over to The Golden Notebook bookshop for a storytime. After that, swing by for lunch at the vegetarian-friendly Garden Cafe Woodstock. Depending on the day of the week, there may be live music or an organic market. The street comes alive in the evening, with an abundance of outdoor dining, gorgeous lamps, and lots of action. Spending an evening here is the major attraction for your day trips from NYC.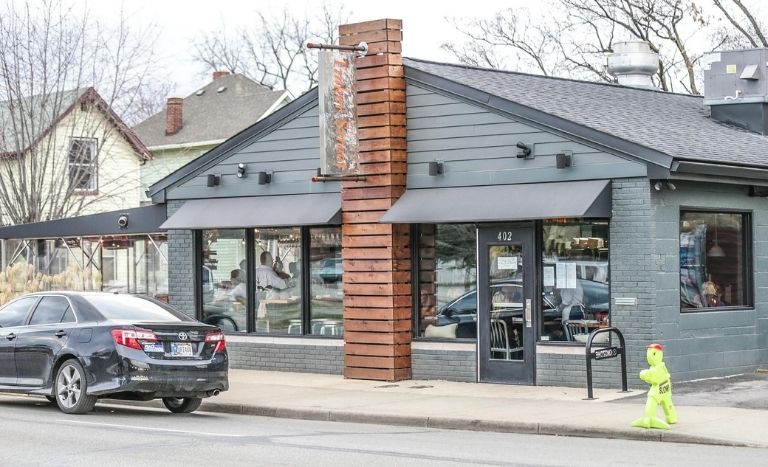 What to Eat – Though there are tons of recommendations in the Woodstock town that satisfy everyone's palate. Here are the best of the best casual cafes, vibrant pubs, popular kitchens, and more.
Phoenicia Diner – It's a 20-minute ride from Woodstock, but it's well worth the trip! In a classic diner ambiance, expect America's classic delicacies and some more exotic dishes. You can count this one as the highlight of the best day trips from NYC.
Shindig – It is a terrific place to spend dinner and drinks in the middle of town. The restaurant offers casual meals such as hamburgers, craft beers and soju cocktails.
Yum Yum Noodle Bar – One of chic restaurants in town, serving authentic Asian roadside cuisine and noodle specialties. There is both indoor and outdoor seating.
Silvia – The restaurant features contemporary American dining and unique refreshments made with in-house produced green ingredients and features an outdoor kitchen and brick oven barbecue.
Where to Stay – Without a question, Woodstock is the place to unwind. People have come here for generations in search of calm and intellectual energy. The pace is slower and more laid back, and is accompanied by wilderness and the arts. Relaxing at any of these venues is a spiritual delight on your day trip from NYC.
The Woodstock Inn on the Millstream – Although it is close to downtown, the lawns and landscapes make it a pleasant spot to spend some time. Offers complimentary breakfast and outdoor pool.
Lazy Meadow – The bucolic bungalows hide mid-century contemporary splashes of colour and vintage-style kitchens on the inside. Offers a victorian-era pool and complimentary beverages.
The Spruceton Inn – It's a former lodge with a bar serving handmade beers, wine, and brandy. Shuffleboard, horseshoes, golf, a lounger, and swimming in the brook are all available.
The Twin Gables – The excellent BnBs on Tinker Street offers two-room suites, and has an outdoor and indoor pool.
5. Niagara Falls, NY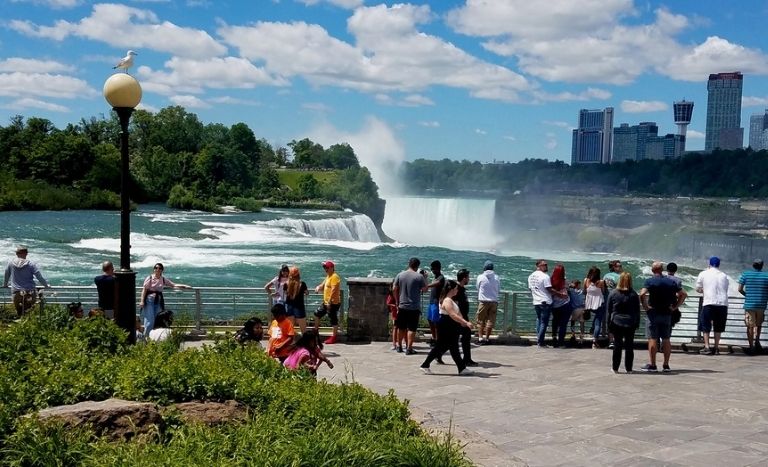 If there's an eight-wonder in the world, it is the Niagra Falls. The most impressive and famous waterfall in the world is located in the northwest of NewYork along the Niagara river on the US-Canada border. Water from Lake Erie cascades down a nearly 200-foot cliff into Lake Ontario, attracting millions of tourists every year.
Things to Do – Bridal Veil Falls, American Falls, and Horseshoe Falls are the three waterfalls in total. The river rushes through a narrow channel in Niagara Gorge, then pours into a gigantic tornado downstream. The falls can be viewed in a variety of ways, both from shore and up close in the mist. There's lots to do in this quaint lakeside town, as well as just across the river in Niagara Falls, Ontario, once you've taken in the magnificent falls. The list of the top attractions and things to do in Niagara Falls includes –
Niagara Falls State Historic Park – The 18th-century state park in New York is home to spectacular cascades and five archipelagos on the Niagara River. The park spans 400 acres and includes nature and biking routes, campsites, and picturesque landscapes. The park's antique cable car transports visitors to the park's principal attractions, including the Observation Tower, which offers panoramic views of all three falls. There are additional attractions here, such as the Maid of the Mist boat tour and other Niagara Falls encounters. These are the major attractions on your day trips from NYC. For more info, visit here. 


The Prospect Point Observation Tower – It is the greatest way to take in the entire splendor of the falls. The tower is accessible via a vast observation deck that stretches outside the tower and over the water and is close enough to the falls to experience their cool mists on occasion. Tourists may see all three falls, including American Falls, as well as the captivating waves, from this vantage point.

Maid of the Mist – Operating since 1846, is the world's oldest boat tour. It is also, understandably, the big draw at Niagara Falls State Park. Tourists board a double-decker ferry from the base of the Observation Tower, wearing blue raincoats to the falls.  The 30-minute trip takes you up closer to the base of both American and Horseshoe Falls. This spectacular excursion runs from April through November, and tickets may be obtained at the visitor center of the state park.  
Goat Island's Cave of Winds – The entrance to the Cave of the Winds lies on Goat Island, at the foot of the American Falls, where visitors would be under the lap of the falls and is the best day trips from New York city. Visitors to the Cave of Winds are given raincoats and keepsake flops before descending the 175 feet into the valley – a requirement for anyone who doesn't want to spend the whole day in soaked shoes. The wooden platform, known as the "hurricane deck" is only 20 feet from the falling water of Bridal Veil Falls.
The Aquarium – It is a terrific option on cold and cloudy days and a fascinating detour for families. You can experience a sea lion performance, harbor seal plays, and penguin nursing are among the aquarium's attractions. The aquarium also functions as a rehabilitation centre for injured and endangered animals. Visiting here sounds perfect for the winter day trips from NYC.
What to Eat – You'll need to eat while visiting Niagara Falls, but where should you go? The Canadian side of the natural marvel may seem a little too high on glitz and gambling, so why not appreciate the beauty of the small American city of the same name? These are Niagara Falls' greatest eateries.
Top of the falls Restaurant – The restaurant, which is located on Goat Island within the Niagara Falls state park, serves classic American meals such as grilled burgers. The restaurant has a front-row exposure of the famed waterfalls, giving diners the best view of the amazing natural occurrence.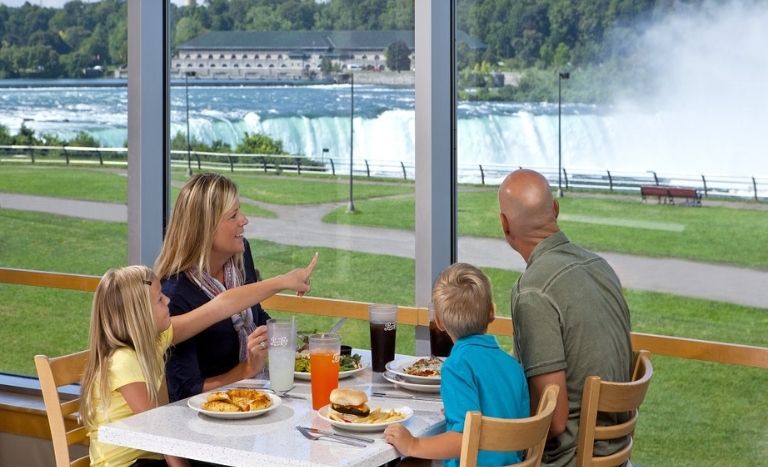 Flip Burgers – You must try one of the organic beef raw meat burgers, which are prepared without additives and are locally produced. Choose from the chicken sandwich, panini, vegetarian sausage, or sashimi if you crave something different.
Zaika Indian Cuisine and Bar – The sleek cafeteria is electrified by a giant Bollywood-style poster that takes up the full backdrop. A daily buffet offers a wide selection of foods. Meatless alternatives will coexist with traditional barbecue favorites like paneer tikka masala and Bombay misal pav. This place is a must-go on your NYC day trip.
Bella Vista – Traditional Italian cuisine is offered in a beautiful cafe within the Sheraton Four Points hotel. Try the pan-seared tuna or hand-rolled bolognese with grilled fish fillets. Make space for dessert, particularly the warm chocolate lava pie with walnut ice cream.
Where to Stay – Finding a hotel within walking distance of the falls or along the river gorge, is the best option. The majority of the best hotels are located here. A list of highly-rated hotels in convenient locations is provided below for your New York city day trips.
Sheraton at the Falls – The property is within a walking distance of the Niagara Falls State Historic Park and features an indoor and outdoor pool, a fitness center, and a complimentary breakfast. It is close to several fine restaurants and cafés.
Hampton Inn Niagara Falls – It comes with an indoor pool and complimentary breakfast, and is just a short distance from the falls and Goat Island.
Comfort Inn The Pointe – It is conveniently located between the aquarium and the Rainbow Bridge, just a hundred steps away from Niagara Falls. You will get access to free WiFi, breakfast, and a free shuttle to the famous attractions.
Bedham Hall Bed & Breakfast – The Bedham Hall Bed & Breakfast offers attractive guest rooms and suites with bathtubs as well as top-notch amenities including free Wi-Fi, a mini-fridge, hot tub, jacuzzi, and cooked breakfast.
6. Kingston, NY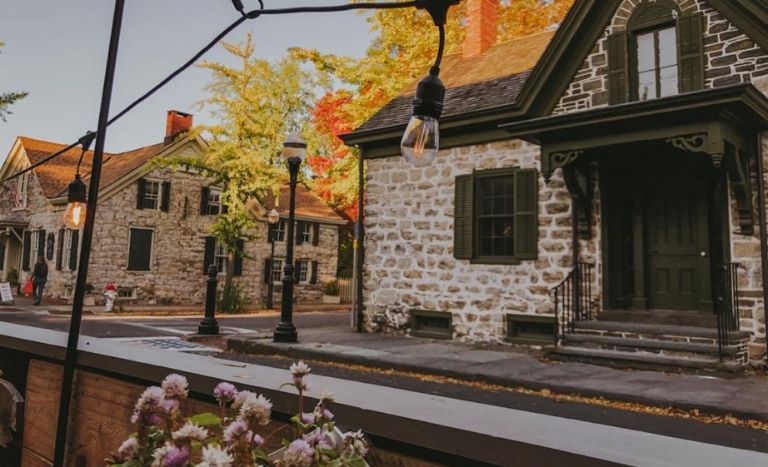 Kingston, a waterfront town with a strong historic timeline and beautiful cafes, is one of the best locations in and around New York. This gorgeous area on the fringes of the Catskills is roughly two hours north of Manhattan, making it the Best Weekend Getaway From NYC. It's impossible to get exhausted with so many great attractions to experience.
Things to Do – Kingston is bifurcated into three areas – Uptown, Midtown, and Downtown area. The Uptown area is the most dynamic district with historical sites, boutique stores, and fancy restaurants. Midtown is known for its theatres and musical concerts. Downtown is all about lovely waterfronts, cruises, chic cafes, and cable car rides. Here is the list of finest things to do while you have your great time here –
Shop till you drop at Uptown boutiques – The best thing to do here is to shop in the galleries of Uptown Kingston Whether you're looking for secondhand publications, homemade ice yogurt, an ukulele, jewelry, apparel, or a rare piece of art, this charming location has it all.

Half Moon Books – If you're looking for a used book of any genre this place is a must-visit. This modest bookstore is full of character and rare souvenirs that will be treasured for years.
Pink Water Gallery – Choose a cheap piece of artwork that is accessible from midday to 6 pm every day.
Kingston Candy Bar – Treat yourself to a sugary treat from homemade pastries, handcrafted candies, and almost any dessert you crave for.
Sweet Maresa's Bakery – Housed on Wall Street, has all-vegan delights that are so delicious that you can't have just one.
Hudson River Maritime Museum – It will be difficult to leave for lovers of all things sailing. This fascinating museum features a variety of exhibitions that teach visitors about the town's marine culture and legacy. A 100-year-old bass canoe, ice boats, and numerous relics, as well as exhibitions, may be found within. The most convenient way to get out on the water is to book a boat tour via the museum. You'll be able to cruise past the lighthouses in the region and even go inside. Visit here to book tickets for your NYC day trips.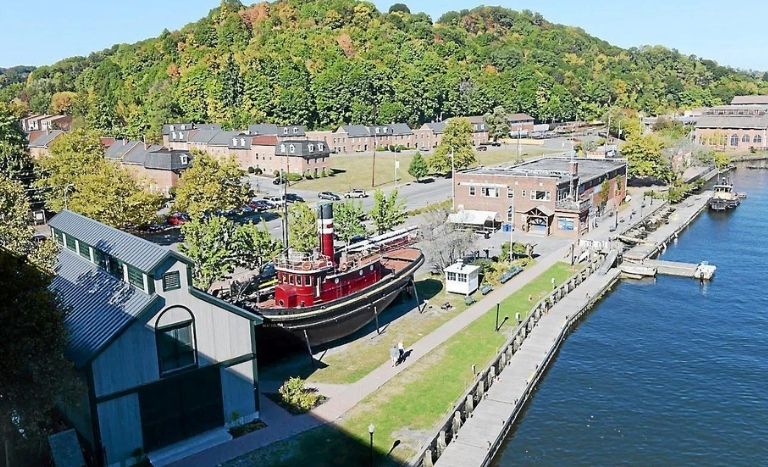 Rondout National Historic District – Also known as the West Strand Historic District is a peaceful, picturesque area with historic buildings, a waterfront promenade, fantastic cafés, boutiques, and museums. One of the best things to do in Kingston is to spend a few hours in this lovely neighborhood, known as the "downtown" area.
What to Eat – Kingston restaurants cater to a wide range of cuisines, including fast food, international cuisine, chic cafes, and luxury dining. These diverse selections make Kingston a perfect location for individuals wishing to try a variety of Hudson Valley restaurants without having to drive around. The best eateries on your Hudson day trips from NYC include –
LOLA Pizza – It's more than just a pizzeria. Try the wood-fired Neapolitan pizza topped with pepperoni, barbeque sauce, mozzarella, onion, corn, and jalapenos. Beyond pizzas, the joint has a range of salads and pasta. Try Kale Caesar and you won't be disappointed.
Lunch Nightly – During the day, the Midtown restaurant serves as a café, and at night, it transforms into a dive bar. Pastrami is the show stopper here. Another sumptuous offering includes a Reuben sandwich, bundled with cilantro, black pepper, and fennel.
Kingston Bread and Bar – Bread varieties from classic sourdough to buckwheat choux and French croissants, there's something for everyone. Bread varieties from classic sourdough to buckwheat choux and French croissants, there's something for everyone. Try the sandwiches made with locally cured salmon, mozzarella rolls, pizza toppings, and Zapp's tortilla chips from New Orleans.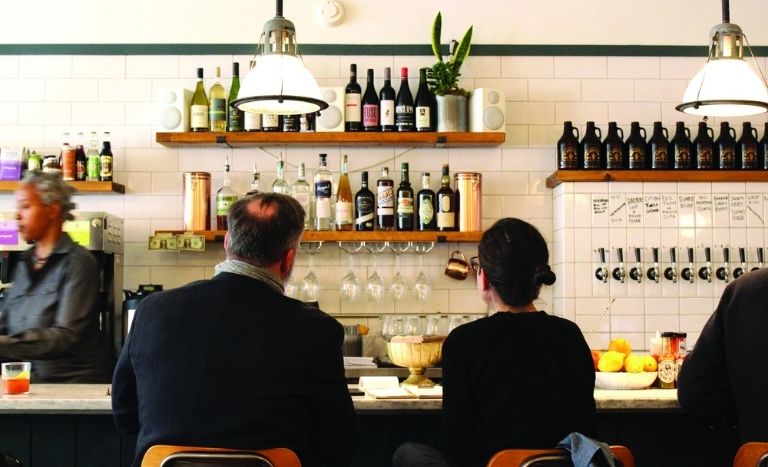 Village Coffee and Goods – For third-wave coffee drinkers, this specialty coffee shop is a gold mine. Order a lavender latte which consists of lavender citrus honey syrup, two shots of mocha, and milk. Your fall day trips from NYC are incomplete without soaking into here for great coffee and stunning views
Where to Stay – Some of the best recommendations include –
Hampton Inn Kingston – This non-smoking property hotel offers a complimentary hot breakfast and free WiFi access. complimentary high-speed internet access. Each room has a coffee machine, microwave, TV, and a mini-refrigerator. The property offers an indoor pool and a fitness center to guests. Stay cheap here if you are on the four day trip to New York City as the property offers bull-night all-inclusive packages,
Courtyard by Marriott – With the recently renovated atrium it should be your destination hotel when visiting Kingston and Hudson Valley. The Bistro and Starbucks are the new guest rooms that offer complimentary breakfast, a bathtub, internet access, and free parking.
Super 8 by Wyndham Kingston – There is cable TV and a coffee maker in every room. Non-smoking rooms, free breakfast, and parking are available at the Kingston Super 8. Hudson River Cruises are 5 minutes drive away from here.
Best western Plus Kingston Hotel and Conference Centre – As you work, you may take advantage of the 24-hour business center and complimentary Wi-Fi. Conference and banquet facility available for formal gatherings, as well as an indoor patio and outdoor pool for casual events. Breakfast is included.
7. Tarrytown, NY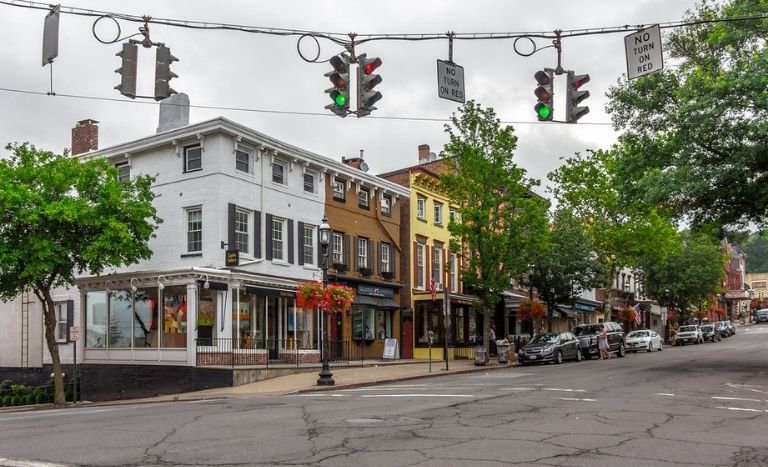 One of New York's real beauties is just 25 miles north of Manhattan. Tarrytown, in Westchester County, stands on the banks of the historic Hudson River, and has played a major role in the state's history.
The picturesque community is rooted in early British history, dating back centuries. The town has moved swiftly into today's era while maintaining its historic character. Tarrytown is the paragon of modest village living, from centuries-old buildings to modern-day fajita restaurants and pubs. If you're on a one day trip from NYC, Tarrytown is the place you should look for.
Things to Do – This is the perfect place to start sinking your ankle into the enormous Hudson Valley. Plan your trip to Tarrytown using this list of the best sites to see and things to do.
Rockefeller State Preserve – Its 45 miles of trail are popular for running, horse riding, jogging, and other activities. The picturesque Swan Lake and Pocantico River, as well as the towering pine, oak, and cedar trees, are all highlights. The preserve is home to over hundreds of bird species, and in the fall, the special breed of butterflies pass through on their way south.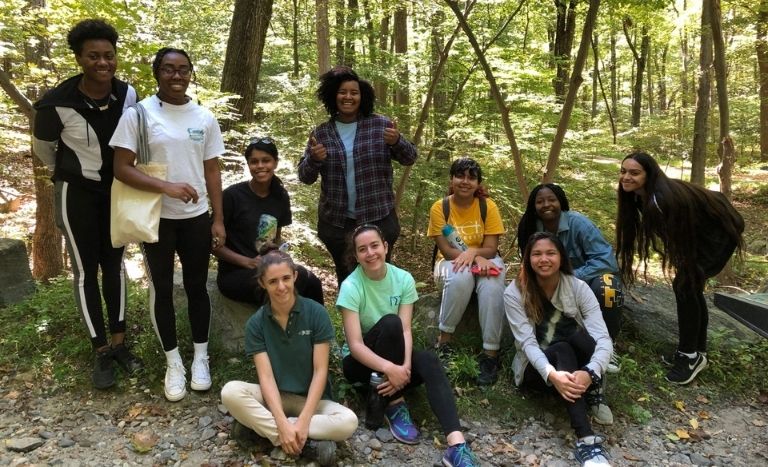 Main Street – Walking down legendary Main Street is a must if you want to get a sense of Tarrytown's soul and mind. Take a stroll past dessert stalls, listen to live music on the square, and get tangled up in the rush of al fresco dining and shopping. Some of the most spectacular Gothic-era structures can be found along Main Street. If you're staying in Tarrytown until late in the afternoon, take a stroll along the Hudson River to see the sunset. A family day trips to NYC is incomplete without this,
Hudson Riverwalk Park – The riverside park provides great views that extend all the way downstream until the distant New York skyline. Visitors will find grass slopes and parks, as well as a green corridor filled with native flora. The park is part of a 51-mile RiverWalk trail. It's undoubtedly one of Tarrytown's top attractions.
What to Eat – There's more to Tarrytown, thanks to its iconic delicacies and gourmet scene that draws Newyorkers throughout the year. Some of the best include –
Bridge View Tavern – Offers 15 craft beers on tap, with a focus on local brews. To sample the best beers on tap, order a beer tour. This beer garden offers an array selection of draught beers alongside Mexican cuisine.
The Cube Inn – Traditional Cuban restaurants and dinners, offer eclectic street food-themed food events, and a unique menu that rotates on a frequent basis.
GrassRoots Kitchen – It combines the highest-quality cuisine you love with the convenience of quick service delivery. Whether you're a vegan, gluten-free, or blatant Buddhist, they got you covered!
Lefteris Gyro – Greek specialties include sarnies and stews. In favorable weather, the small inside seating space is augmented with curbside seating. There are long lineups outside the door and that's worth the wait. Your NYC day trip is meaningless without this place.
Where to Stay – Here are the best recommendation for the Tarrytown
Westchester Marriott – On-site dining is available. All rooms are non-smoking. There is a fitness center and outdoor swimming pool. . Each room includes a hairdryer, refrigerator, TV, bathtub, and complimentary beverages.
Sheraton Tarrytown Hotel – The 3-star property offers a free parking space, non-smoking pool, outdoor pool, complimentary breakfast, and free internet.
Courtyard by Marriott Tarrytown Westchester County – If you need to buy something, you can go to the hotel's mini-market. For formal gatherings, banquet and conference spaces are available. Non-smoking rooms are available. Breakfast is complimentary.
DoubleTree by Hilton Tarrytown – The shuttle and the breakfast are part of the list of complimentary services. A sauna is a fantastic addition to your holiday that can help you enjoy your time more. The property offers free parking.
8. Sleepy Hollow, NY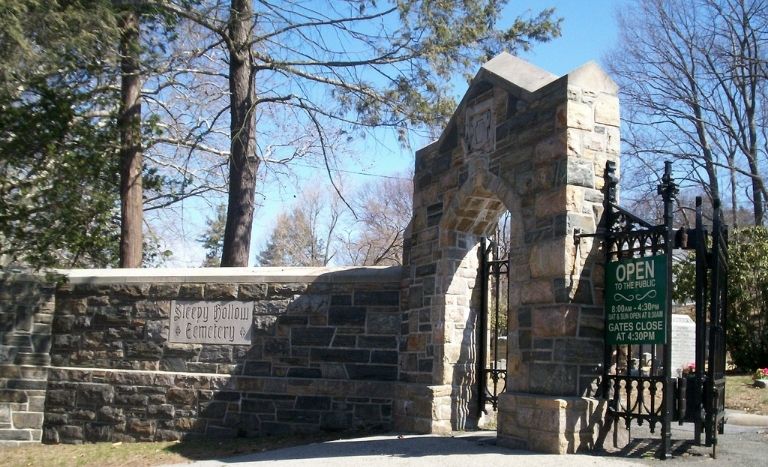 The town of Sleepy Hollow, New York, has a well-deserved distinction. The ancient Hudson River town has been attracting visitors for years, romanticized in the pages of literature by Washington Irving in his novel The Legend of Sleepy Hollow.
Nestled on the banks of the Hudson River, it offers spectacular views, a historic center, and a delightful family feeling that is common to many tiny towns in the Hudson Valley.
But Sleepy Hollow is much more than just the backdrop for Washington Irving's chilling story. These could be memorable New York City day trips.
Its origins can be traced back to Native American tribes and then to European farmers, New York state aristocracy, and the Rockefeller family who made the village one of their treasured homes as well.
Much of the surrounding area is designated as protected territory, providing visitors and residents with enough opportunities to enjoy the wilderness in the hills that ascend from the Hudson River's shores.
Things to do – Explore the houses, museums, eateries, and cafés alongside Beekman Avenue, or visit the daily farmers market. Here are the top things to do in Sleepy Hollow that you don't want to miss –
Visit Kykuit Estate – Built by John D Rockefeller who made his fortune in the petroleum industry, is located up in the hill overlooking Tarrytown and Sleepy Hollow. It stands six floors, with cedar brickwork and marble columns, and nicely kept lawns. The interiors are equally lovely. The Rockefellers' private collection of modern art, including Picassos, Calders, and Andy Warhol, is displayed in the mansion's basement. The Rockefeller family still owns the mansion, but it is open to visitors.
Sleepy Hollow Cemetery – The Sleepy Hollow Cemetery is home to many of the town's historic origins. Many of Sleepy Hollow's noteworthy individuals are buried here, from tycoon William Rockefeller to novelist Washington Irving, and industrial pioneers like Walter Chrysler, and Andrew Carnegie. There are tours available that let you wander through the graves of notable residents of Sleepy Hollow. It is the best thing to do in the town on your day trips from NYC.
The Old Dutch Church – Many people are familiar with Washington Irving's classic story The Legend of Sleepy Hollow, but few are aware that it is based on this place. This was the backdrop for his spooky tale of the Headless Horseman. It also happens to be New York's oldest existing church. Every fall, hundreds of people go to the cathedral and its grounds to witness the eerie scene in person and participate in seasonal festivities commemorating the town's legendary folklore.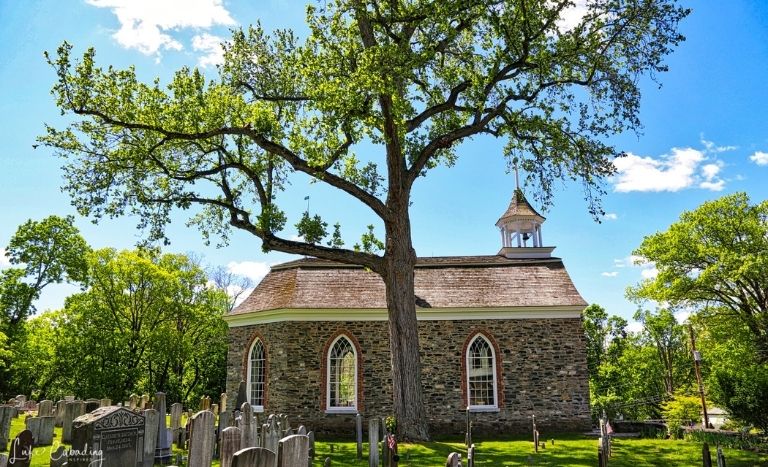 Rockefeller State Park Preserve – The 1771-acre park is the conservatory for natural beauty and wildlife. Visitors can now travel 45 miles over gorgeous wagon routes past Swan Lake, the Pocantico River, footbridge, and panoramic viewpoints. Many varieties of animals, including birds, crocodiles, fish, bumblebees, and more, can be seen along the trip.
What to Eat – There are enough eateries and diners in and around Hollow to satiate even the legendary eater. You will find an eclectic mix of cuisines such as Italian, Greek, Mexican, Indian, Dominican, Chinese, and Moroccan.
Sweet Grass Grill – Local staple with a farm-to-table menu that highlights the best of Hudson Valley cuisine and must-visit diners for your day trips in NYC.
The Hudson House – Excellent meal served in a beautiful and comfortable environment. The good business eatery, although a little pricey.
Sleepy Hollow Refreshments – Sleepy Hollow, a tiny refreshment counter tucked into a cobbled street corner of Magic Kingdom's Liberty Square, offers a stunning face view of Cinderella Castle as well as tasty — and even unique — treats.
Where to Stay – There aren't many hotel options in the center of Sleepy Hollow, unfortunately. To accommodate the local population, several of the residences have been converted into apartments. You will find a lot of Airbnb here on your day trip from NYC that are convenient and low priced. Some of the best include –
Castle on the Hudson – offers a stunning view of the Hudson River as it resembles more of a castle. You would be offered a luxury stay in 1 suite bedroom inside a 20th century Norman-style castle. Offers complimentary breakfast and an outdoor pool.
Sleepy Hollow Hotel and Conference Centre – The car parking, breakfast, and WiFi are always free. This home is conveniently located in Tarrytown close to attractions and intriguing dining options. This 3.5-star hotel has a restaurant on-site to make your stay more luxurious and unforgettable.
Conclusion
In a city known for concrete, noise, and bustle, the temptation to leave can be strong. It's not always easy or convenient to get out of Manhattan (and sometimes it's downright expensive), but making a day trip from NYC or a weekend excursion to one of these destinations is well worth the effort.
These sites have it all: unique places and historic sites, spectacular parks with hiking trails and scenic vistas, and clean, fresh air. These are a few of our favorite things for the best day trips from NYC.