Weekend getaways in Florida seem uncomplicated at first glance, but there are nearly too many attractions and places to select from. Do you wish to explore the sands of Gulf Coast beaches or do you like South Florida's disco lights and mojitos? Do you want to visit a tranquil ancient seaside town or a beach spa resort?
From the Panhandle to the Key west, there are more than 1,300 miles of stunning beaches to discover. Not to mention your option of big cities or laid-back beach towns as a base for your Florida weekend getaways.
For starters, Florida is blessed with abundant sunshine and mild temps all year. Then there are the numerous beaches throughout the state. Beach vacations in Florida may be found all throughout the state, from the Panhandle to the north, along the broad expanses of the Gulf and Atlantic coasts, and even in the little tropical paradise of Key West.
If you aspire for luxury stays go to Palm Beach, Naples, or Daytona, as these spots promise the best weekend getaways if your dream.
If you're not sure where to begin, we've compiled a list of the top weekend getaways in Florida.
1. Enjoy the Disney World, Universal Studio, and More in Orlando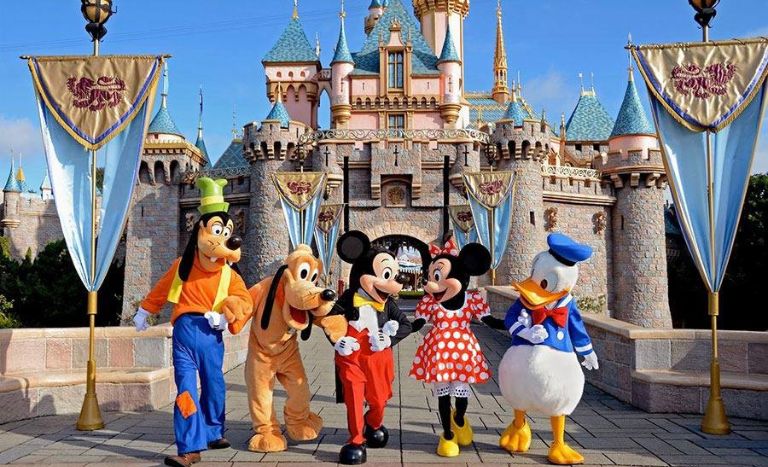 Orlando is recognized as one of the world's most popular tourist destinations, attracting tens of millions of people each year from all over the world. This bustling city in Florida offers pleasant weather all year round. It is home to some of the biggest tourist attractions in Florida – Walt Disney World Resort, SeaWorld Orlando, Universal Resort, and much more. If you're looking for kid-friendly weekend getaways in Orlando, it is right here. 
Things to do in Orlando
While you may be inclined to spend the day at the pool due to the high summer heat, there is still much to do to stay cool, including some amazing theme parks. When the weather cools down in the late fall and winter, head to the golf course or takes a swan boat ride on Lake Eola. If you're looking for the greatest things to do in Orlando for a vacation or staycation, here are our top recommendations right now. Some of the best weekend getaways in Orlando Florida include –
Walt Disney World Parks – Since the Magic Kingdom opened its doors to the public in 1971, Walt Disney World Resort has been Florida's most popular family attraction.

Magic Kingdom – The most famous of the four parks, with Cinderella's Castle situated in the centre. You can meet iconic Disney characters like Rapunzel, Ariel, and Mary Poppins while exploring all the 11 pavilions dedicated to each participating country.
Hollywood Studios – With fascinating stunts and special effect performances, the park allows guests to look into the realm of cinematic imagination. It's also where you'll find thrilling new film-themed rides like the Star Wars-inspired tours, as well as the huge Toy Story Mania for kids.
Animal Kingdom – The Kilimanjaro safari experience is a fantastic way to experience African wildlife in their native habitat. In addition, the giant Tree of Life provides a beautiful backdrop for family photos. Expedition Everest is an exhilarating roller coaster ride here that you must not skip.
Universal theme park – New rides and attractions have been added to each of the parks – Universal Studios Florida, Islands of Adventure, and Volcano Bay – and you can now easily spend as much time discovering Universal's colourful universe of characters as you can Disney's.

Universal Studios Florida – The park, which combines a theme park and a functioning production company, was created in collaboration with Steven Spielberg. The purpose is to offer visitors an engaging experience with the filmmaking business. While it appeals to people of all ages. The park's several exhilarating roller coasters and splash rides have earned it a reputation as one of the greatest places to visit in Florida for families with teenagers.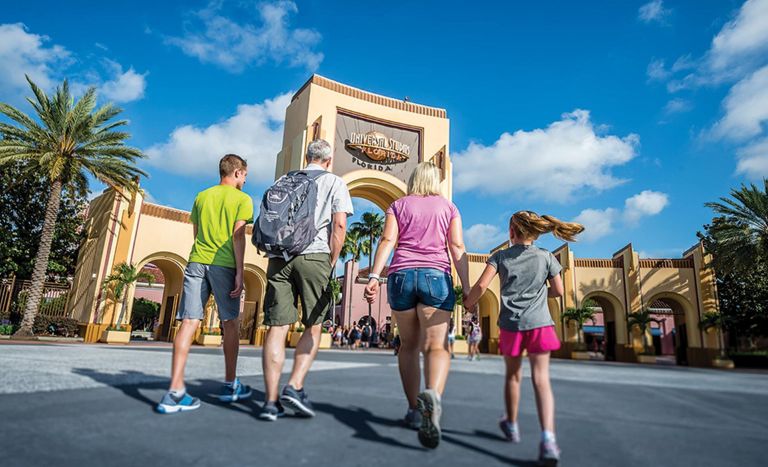 Universal Islands of Adventure – It features themed islands based on popular movie franchises like Marvel superheroes, Harry Potter, Jurassic Park, and much more.

Volcano Bay – Launched in 2017, it is Universal's new theme water park. Waturi Beach, which faces the volcano, offers visitors the vibes of a sandy beach and a big wave pool. You can soak in the sun as there are padded loungers, cabana, and recliners in abundance.

Kenneddy's Space Centre – The complex is about an hour's drive from Orlando and is one of the most popular day outings. This is a once-in-a-lifetime opportunity to tour one of NASA's most well-known operations centres. Take a tour of the US Astronaut Hall of Fame which gives you a glimpse of some notable Astronauts and their missions such as Apollo, and Gemini.
Seaworld Orlando – SeaWorld is famous for its large aquariums, dolphin and whale shows, touch pools, and thrilling rides. Get personal with these mindful and fun-loving creatures.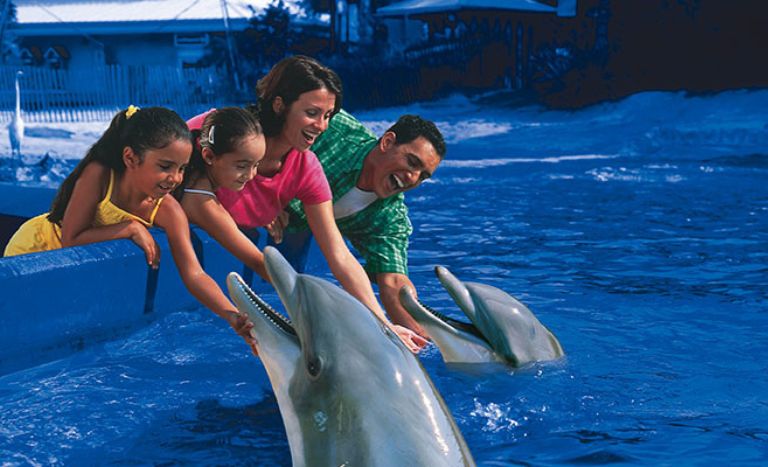 The park offers a variety of thrilling rides for visitors of all ages, including gushing waterfalls, and thrilling slides that beat the heat on your Florida weekend getaway.
What to Eat in Orlando?
Orlando has the most surprising food scene. It can be found not only in the city's theme parks but also in the concrete block neighbourhoods and districts surrounding the city's bustling downtown. Whatever brought you to Orlando, here are our recommendations for eateries you shouldn't miss.
Capa – Located on the 17th floor of the Four Seasons Resort Orlando, this chic Spanish restaurant offers a great view from the spacious rooftop. Go for cured meats, Spanish mozzarella, and nibbles like foie gras with apricot. As you move on to mains, you must try Wagyu beef, rack of lamb, and beef brisket cooked in a thick sauvignon blanc sauce.
Pizza Bruno – This brick-and-mortar pizzeria in the Conway neighbourhood draws customers from all over. Pizzas are wood-fired, so they have a little smokey flavour and are bubbling around the edges with cheese. The house favourites include New Haven Oyster Pies, with cockles, pork, and creme, and Crimson Ghost, with home-grown ricotta cheese, bruschetta, and rosemary.
Tori Tori – Every time on the menu is grilled over the Japanese charcoal called binchotan. which give smoky and unique flavours. The beef is seared at 1000 degrees, preserving its juiciness while imparting a mild smoky taste. The blue octopus and corn fritters, as well as the crab finger food, are must-try other than the house-famous yakitori.
Prato – A fantastic restaurant for a small-plate lunch, starting with the most famous—the Prato sausages, topped with scrumptious excellent garlic and baked in the wood oven. The thin and crispy pizzas are made with simple, organic ingredients.
Where to Stay in Orlando?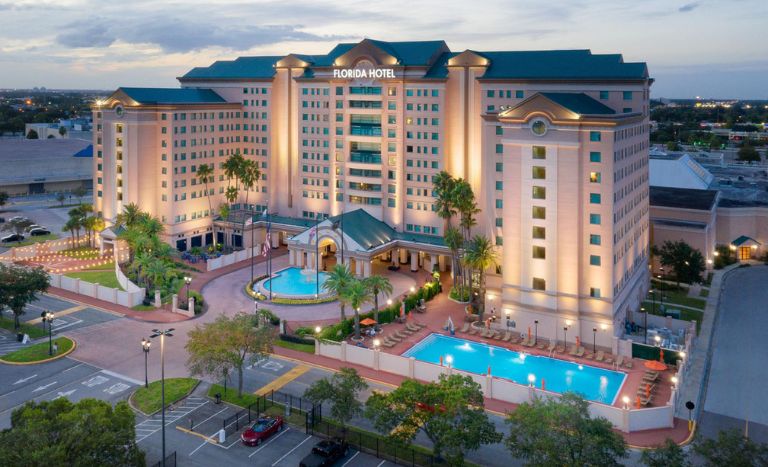 Many of the greatest Orlando resorts include water parks that rival the independent ones and will keep youngsters entertained all day. After long days of waiting in lines, this is a nice relief for parents. Most resorts also offer on-site babysitting and leisure facilities, allowing parents to relax, unwind, or spend the day touring on their own. Your Florida family weekend getaways would be worth remembering if you book a stay in one of the following hotels –
Four Seasons Resort Orlando at Walt Disney World – The five-star resort features a five-acre water park and a huge spa. It also offers a couple's suite for privacy. Some of the complimentary services include babysitting, a Disney Planning concierge, shuttles to the airport and Disney park, and a complimentary breakfast.
The Florida Hotel and Conference Centre – The four-star property has a convenient location at The Florida Mall. The property is a few minute's drive from Orlando's airport and Walt Disney. It's a pet-friendly hotel and also offers plenty of amenities on-site.
Marriott's Cypress Harbour Villas – A perfect choice for families that features two- bedroom-two-bathroom villas that are equipped with a full kitchen, mini-gold area, a tennis court, and pool.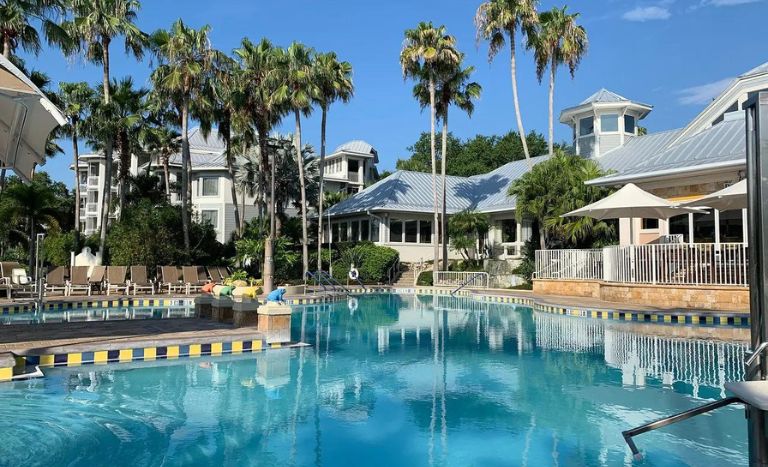 Hyatt Regency Grand Cypress – The best part is close proximity to Disney parks and Seaworld. On the 1,500-acre property, there are riding and hiking trails. Also, there are secluded reservoirs with sandy beaches and water sports such as kayak tours, paddles, cruisers, and hydro bikes.
2. The Island Paradise of the East Coast – Key West will Never Disappoint You!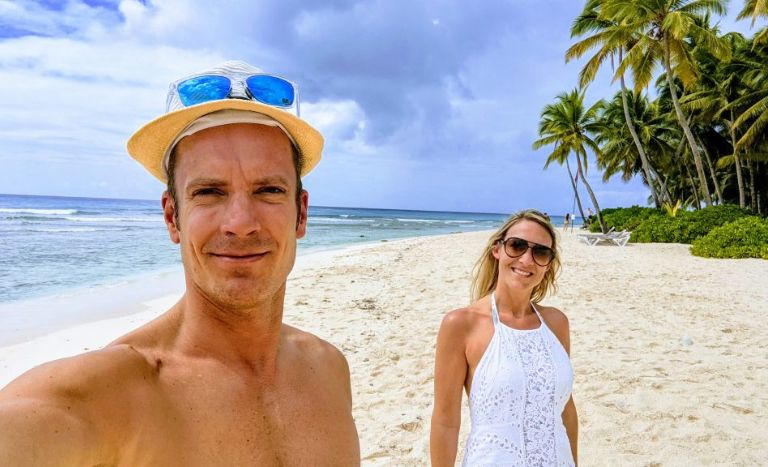 Key West is a picture-perfect strip of island paradise where locals aren't shy about sharing their favorite hangout spots. Also, the visitors aren't limited to one main downtown area.
Key West is the place that will actually give you an island vibe. You're still in Florida, but it feels like you're on a Caribbean vacation. Given that Key West is closer to Havana than Miami, it makes sense. It is only 90 miles from Cuba. And, it is the lowest tip of the continental United States. Key West is the place to vouch for if you miss the Caribbean vibes
It is the home of many famous literary figures like Ernest Hemingway, Virginia Woods, Mark Twain, and Tenessee Williams. This could be your weekend beach getaways in Florida.
Things to do in Key West
Sunsets are famous in Key West, and watching them from Mallory Square is one of the most popular things to do. With its bohemian and progressive culture, Key West continues to attract blues guitarists, contemporary artists, and people from all walks of life. Sure, Key West is small – the finest things to do in Key West are usually within a few blocks of one other. But, it also packs a punch with loads of other entertaining activities.
Take a stroll at Duval Street – Duval Street is the primary tourist corridor of Key West, with restaurants and stores oriented toward visitors and cruise ship passengers. This is the perfect place to start or conclude a long day of sightseeing. The street runs from Mallory Square to the Southern coast Point marker. And, is surrounded by historic mansions and some of the city's most popular tourist attractions and places to explore. Visit here if you're planning a romantic weekend getaways in Florida.
Sunset at Mallory Square – An old warehouse town, which hosts an observation deck to experience the sunset-watching spectacle. And you also croon to your favourite rockstars, the dek hosts the live jamming concerts. As the sun sets over the Gulf of Mexico, head to the dock areas and marvel at the pastel shades of orange and pinks.
Dry Tortugas National Park – Located 65 miles south of Key West is an archipelago that consists of seven islands. The main draw of this remote park is its history, which is combined with soft-sand beaches and fantastic snorkel activities. The Catamaran Boat Excursions depart daily from Key West and offer scuba, snorkel, and complimentary lunch.
Visit Ernest Hemmingway's home – Step into Ernest Hemingway's frenetic life at this historic residence and museum, which is open daily. A 30-minute tour of the house and grounds provides a look at the gardens, restored Spanish interior and a salt-water pool. Your weekend getaways in Florida with kids would be incomplete without visiting here.
What to Eat in Key West?
Key West has always been known for its bohemian vibes and strong cocktails. However, the country's southernmost island is also known for its burgeoning restaurant industry. You'll find delicious menus full of fresh seafood, tacos, and Cuban lunches no matter which direction you go. And, if you know where to look, you can find some of Key West's top restaurants right in the heart of the city. Check in here and your sumptuous goal for weekend getaways in Key West Florida would be accomplished.
Garbo's Grill – The food truck is located behind Hank's Saloon. Korean BBQ tortillas, kimchi-topped burgers, and Korean-style prawn tacos are among the fusion dishes served at Garbo's Grill.
Azur – Located just a few blocks from the bustling Duval Street serves brunch and dinner. The brunch menu features sweet and savoury dishes such as sumptuous orange French toast with blue raspberry salsa and lobster roll with grilled mushrooms. And, is garnished with Hollande sauce
SouthernMost Beach Cafe – The dishes served at the boat-to-table restaurant combine the Caribbean and Asian tastes and are prepared with organic ingredients. You must try the signature dish, drunken oysters, before leaving the table. Freshly caught oysters are combined with crispy salty ham and a beer marinade.
Hot Tin Roof – Seared local rockfish with coconut stew, jalapeño, and parboiled rice, and shellfish soup with lemon-chive creme fraiche are among the menu's highlights.
Where to Stay in Key West?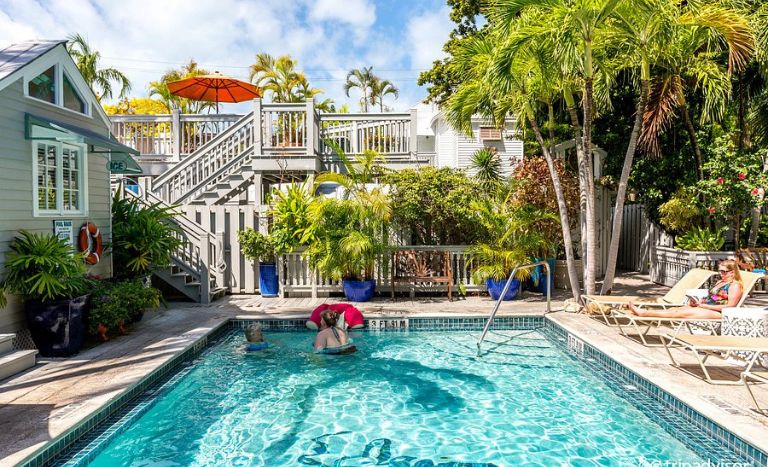 There is a suitable place to rest your head whether you're seeking a romantic trip, a solo weekend getaway, or a family holiday. Admission into these properties would be no less than a unique weekend getaways in Florida. Some of the best bets include –
Ocean Key Resort and Spa – The resort, located near Mallory Square at the end of Duval Street, offers waterfront accommodations with balconies and an oceanfront pool. It comes with a complimentary breakfast and free parking.
Best Western Hibiscus – The property is a little further away from the downtown. It offers reasonable prices which include an indoor and outdoor pool, mini-suites with an ocean view, a bathtub, and a continental breakfast buffet.
Eden House – You'll be staying in a traditional Key West house with wood panelling and lush landscaping. Each room is distinct. You will find a TV, a refrigerator, and other luxuries in most of the basic rooms. They are clean and attractive, with wonderfully comfy beds.
Sunset Key Cottages – Although the rooms are all beachy, the cottages are ultra-modern. Expect complimentary fruits alongside a twist of Mediterranean bakery on your plate every morning. The bathroom amenities are very excellent, and the water views are almost uninterrupted.
3. The Uber-Lux and Pool Parties Meet Head-to-Head in Miami!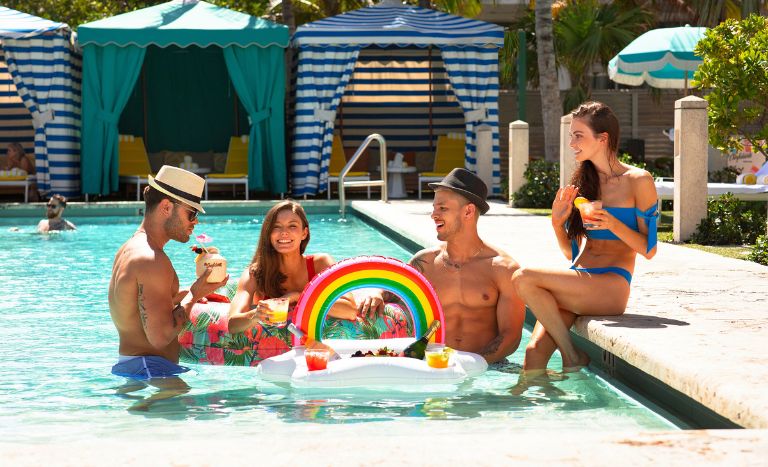 Miami hardly needs an introduction. It is famous all over the world for its pomp and circumstance, razzmatazz, and glitz as well as its beachfront and clear skies. Miami is a city that will wow you with its sparkling elegance and enchantment.
Miami is one of the most uber-luxurious cities on the southern tip of Florida. You sense a fusion of old-world charm and contemporary architecture everywhere you turn. The modern city gives you a vibrant touch while the city alongside the coastline soaks you into bohemian realism.
South Beach is famed for its Art Deco District and uber-luxury promenade that runs parallel to the beach. It is also lined with ocean-view outdoor restaurants, entertainment, and a variety of things to do. It's also the most preferred honeymoon destination. For couples, this could be your best romantic weekend getaways in Florida.
Things to Do in Miami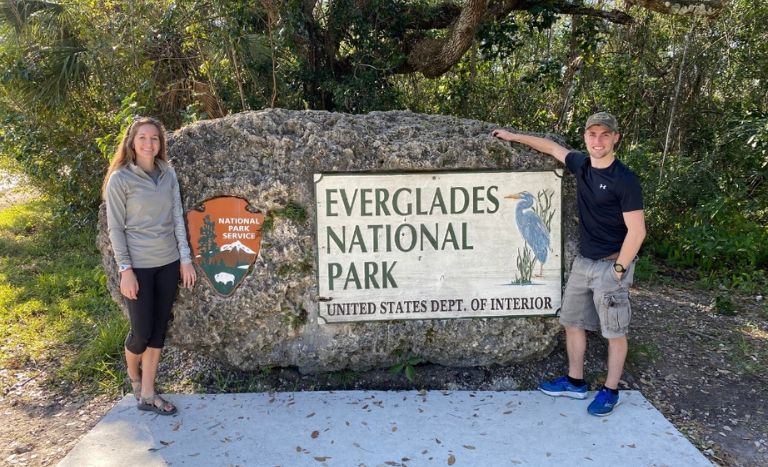 There is always something to do in Miami. From museums to the alleys of Little Havana. Miami Beach, across the bay, is a must-see in the area. Everglades National Park, which is close by, is one of the popular day trip locations from Miami. Here are the some of the best things to do in Miami while you're on your weekend getaways Florida –
Miami Beach – Miami Beach is a combination of calm neighbourhoods, vibrant adventure, and vast miles of soft-sand beaches. It is located on a barrier island connected to the mainland by a series of tunnels. The historic and action-packed district of South Beach, on the island's southernmost tip, is home to many of the island's main attractions and activities.

Art Deco District – The wonderfully renovated buildings here have a lot to offer on a relaxing day in the Miami beach region. It takes you on a trip down memory lane to the 1930s. The pastel-coated buildings located on Ocean Drive make a fantastic place to stop for lunch or dinner. The Art Deco District comes alive after dark, with its neon billboards and hammock-sheltered dining spaces.
South Beach – Many people envision this when they think of a beach vacation in Miami. One of the main attractions is the longest stretch of beach that runs parallel to the ocean along Ocean Drive. This is the most popular beach in Miami and one of the best beaches in Florida throughout the summer. Go Miami for weekend beach getaways in Florida.
Everglades National Park – The Anhinga Trail is one of the park's most popular walking pathways. This track is less than a mile long, but it passes through an area where alligators and other wildlife are widespread. This trail is wheelchair accessible. An airboat tour is one of the most enjoyable ways to see the Everglades. Visitors can observe alligators and other wildlife on these high-speed boat tours through the marshes and streams.
What to Eat in Miami?
The cuisine culture of Miami is as diverse as its communities. The city's Latin and Caribbean heritage, the oceanfront location, and the abundance of unusual local ingredients have all combined to produce a culinary scene. Some of the best eateries include –
Old Greg's – In addition to exceptional buffalo wings, vino, beer, and a very cool alligator mural, the counter-service restaurant offers great pizzas. It is available on a first-come, first-served basis.
7th Cafe – Their menu features a variety of NYC-inspired brunch items. Some of them include Cuban sandwiches, hot dogs, and bagels.
Jaguar Sun – They have a variety of fatty fish that is excellent for bar snacks. There's more to relish on items like sausages, calamari and lobster Gildas. You must try the in-house speciality, the bikini, which is a delicious, crunchy sandwich loaded with salami, parmesan, pepper jelly, and black truffle. This place is the perfect setting for the Florida weekend getaways for couples.
Chug's Diner – It's perfect for breakfast or brunch, but it's also active enough for dinner on the weekend. All items in the menu are largely Cuban in nature.
Where to Stay in Miami?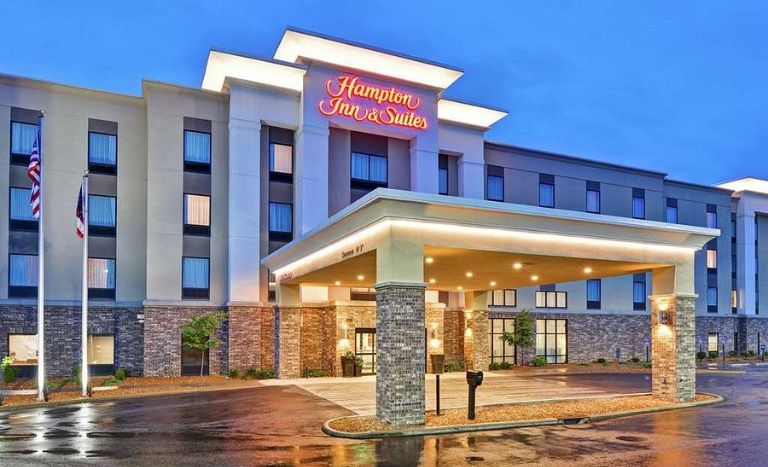 From small, charming boutique hotels in historic buildings to major chain hotels, there are hotels for everyone. The majority of the hotels feature pools and are conveniently located near the beach and have a range of excellent eateries in-house.
Urbanica The Meridian Hotel – If you want a property near South Beach, this could be your affordable and under-luxury experience in the South of Fifth neighborhood. It offers a complimentary shuttle to the airport and an outdoor pool.
Hampton Inn and Suites by Hilton – Miami-Brickell Downtown – The budget-friendly hotel offers a sophisticated ambience and even has its own contemporary collection of art. Complimentary breakfast and a swimming pool are also included.
Hotel South Beach – The hotel includes 426 rooms and suites, many of which offer views of the Atlantic Ocean. On-site, there are four swimming pools, including South Beach's largest rooftop pool. It is a pet-friendly property.
Marriott Stanton South Beach – Located on the beach is another upmarket, mid-range option. It can also be an affordable stay for couples looking for a mid-range property. On-site amenities include two outdoor pools, a jacuzzi, a spa with a steam room, and a modern fitness centre.
4. Visit the Top Holiday Destination in Florida – The Sarasota
Sarasota, on Florida's West Coast, has it all – magnificent beaches, world-class art galleries, and a city of white structures overlooking turquoise waters crowded with yachts. It's home to the world-famous Ringling Museum of Art. There are also a number of outstanding performing arts groups and a vibrant community of artists making one-of-a-kind masterpieces. Choosing Sarasota for a quick weekend getaways in Florida is worth remembering.
Things to Do in Sarasota
Sarasota is also one of the top beach holiday destinations in Florida. Beaches are only a short distance from downtown. So are entertaining family tourist sites, prominent golf courses, and nature preserves where you can climb, paddle, and hunt. Some of the best attractions include –
Ringling Museum of Art – The must-see attractions The Circus Museum has the world's largest collection of circus art and artefacts. The museum is divided into two buildings and features colourful exhibits as well as a large model of the circus in its glory. It's an innocent fantasy for everyone to enjoy, regardless of age.
Siesta Key Public Beach – A visit to Sarasota would be incomplete without a visit to one of Siesta Key's stunning beaches. One of the largest and most accessible public beaches here. A trip here is a must for the white sand you'll ever foot on, as it's made of crystalline rather than coral, unlike most other beaches. When you walk on it, it's the coolest sand to touch even in the extreme summers. The shallow parts stretch far out from the coast, making this a great beach for families. There are beach volleyball and tennis courts for those who want to be engaged. Also, there are picnic tables and playgrounds for those who just want to unwind with their family. Sarasota and the weekend beach getaways in Florida are the best combination.
Visit Saint Armands Circle – Located on the small island near Sarasota Bay comprises a wide circle of 130 luxury boutiques and high-end eateries just waiting to be discovered. Take a seat at any of the eateries in this pedestrian-friendly neighbourhood, recline, and soak in the scenery.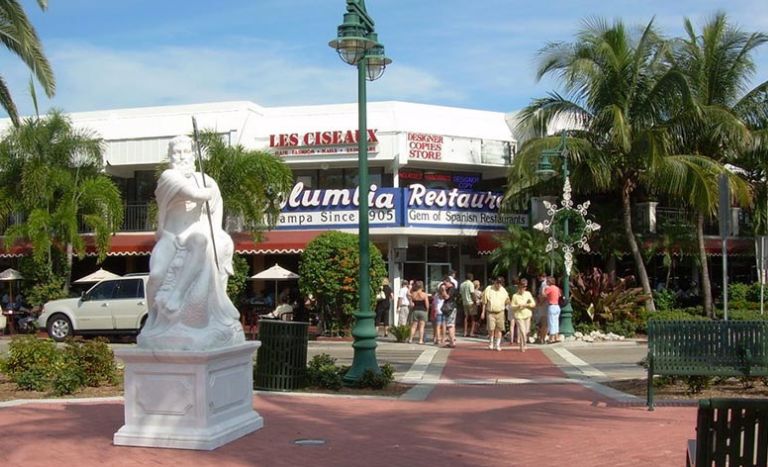 What to Eat in Sarasota?
From steakhouses to local fish and sandwiches, Sarasota County has a diverse range of dining alternatives. There are some fantastic restaurants in Downtown Sarasota, Siesta Key, and St Armands Circle. Here are some of Sarasota's greatest eateries that will tantalise your taste buds.
Bijou Cafe – With two courtyards for cosy eating, this famous Sarasota restaurant has an aristocratic vibe. The shellfish bisque soup and the prawns, as well as the pepper fillet mignon with a secret hot broth, are also recommended. One of the best cafes while you're on your weekend getaways in Florida.
Boca Kitchen Bar – Boca is a Sarasota dining institution that is well-known for its casual fare. They specialise in farm-to-table cuisine. At Boca, all of the ingredients are homemade. There are some fantastic market specials, such as Bellevue Farms grilled cachaca chicken with broccoli hash and cilantro lime rice. To foster a sense of togetherness, much of the seating is communal. This is an enjoyable area to visit with friends.
Fins at Sharky's – With bamboo, Maine crayfish, tempura krill, and avocado topped with sweet fish sauce the Surf and Turf Sushi Roll is a great treat.
Le Colonel Restaurant – A family Restaurant located on the Armands Circle is famous for its pizza. It is baked in a wood-fired oven every day with a low-calorie dough. Handmade pasta is also created daily and is exceptionally delicious.
Where to Stay at The Sarasota?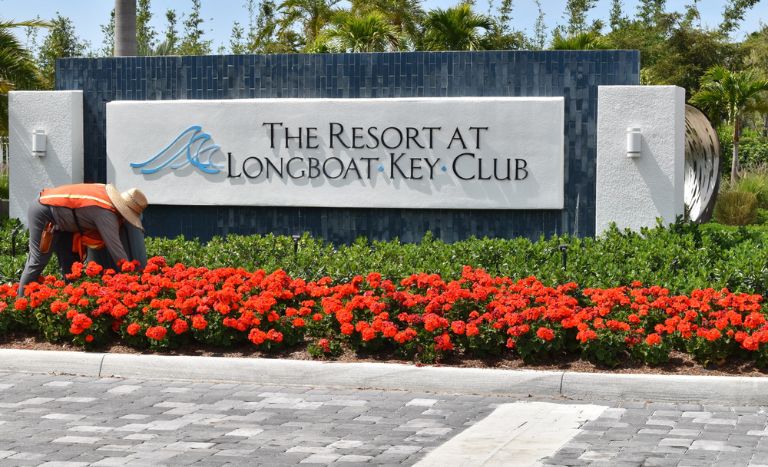 Whether you prefer the comforts of a four-star hotel, an oceanfront resort, or a budget-friendly hotel, the Sarasota area has something to offer everyone.
Best Western Plus in Siesta Key – Each hotel room has a 42-inch flat-screen television with a large selection of HD channels, a mini-fridge, microwave, kitchenette and complimentary Internet access. Guests will like the complimentary breakfast buffet. Two-room suites, a heated pool and spa, a fitness centre, and a business lounge are among the hotel's unique amenities.
Holiday Inn Lido Beach – All of the guest rooms have their own balconies with views of Sarasota, the Bay, or the Gulf of Mexico. The great seaside location of the Holiday Inn Lido Beach hotel is just 2 blocks from St. Armands Circle. Check-in here for all-inclusive weekend getaways in Florida.
The Resort at Longboat Key Club – St. Armands Circle, museums, and theatres in downtown Sarasota are all within a short drive from this place. You have access to mini-golf, tennis court, spa, and heated pool with a view of the Gulf of Mexico.
5. Discover the Marvel of Southwest Florida at Naples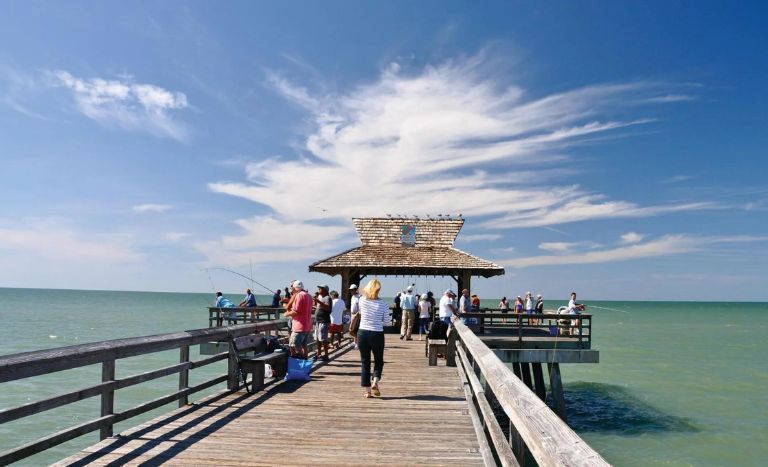 Looking for long weekend getaways in Florida? Dial Naples.
It is a lovely city in southwest Florida, located on the Gulf of Mexico, and a popular tourist and real estate destination. Many people know the city for its world-class shopping, dining, and estates, which are nestled among white sand beaches. It implies a blend of lavish retreats and calm natural settings, with something for everyone. The theme and type of attractions in Naples differ. Beachgoers are drawn to the calm seas and crystal sand. Aficionados of culture go to historic buildings, museums, and locales.
Things to Do in Naples
Naples has various tourist attractions, including museums for people of all ages, a wildlife park, and boat excursions. If that isn't enough to keep you busy, take a hike in a neighbouring wildlife refuge. Or, go beach-hopping on Marco Island or in the parks further inland. Some of top things to do in Naples include –
Naples Pier Beach – The Naples Pier, a historical landmark from the 19th century, is a great attraction for a sunset promenade and or a spot of fishing. Walking on the pier is free, and there is a food truck offering tasty hamburgers and fishing equipment. Volleyball nets are generally set up just south of the pier. While the entire beach is ideal for walking, the areas south of the pier are the calmest. Your best Florida weekend getaways would be incomplete without visiting here.
Fifth Avenue South – This is a terrific area to dine or even go for an evening stroll to watch the regular parade of luxury cars travelling the strip. The street is lined with cafés and restaurants with patio dining, high-end stores, a famous ice-cream shop, and expensive hotels. This is one of the top nightlife destinations in Naples. Given that this is Naples, it's not surprising that the majority of the restaurants along this stretch are Italian.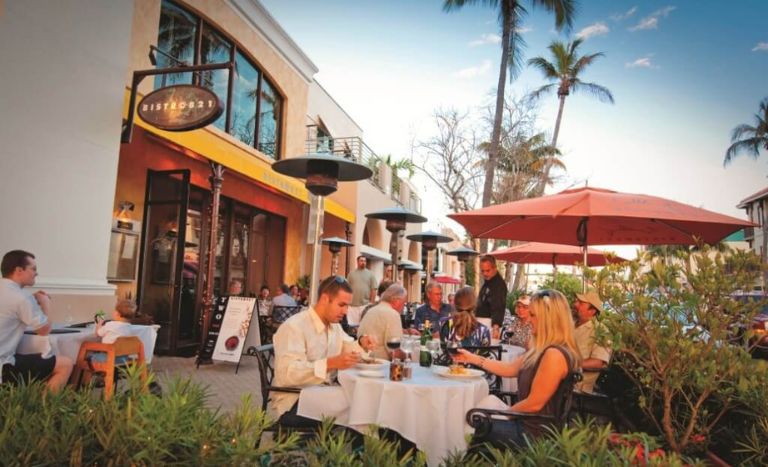 Gulf of Mexico Sunset Tour – A fun excursion and a fantastic way to end a hot day in Naples. Boats sail out to the Gulf of Mexico, past lovely Keewaydin Island and Port Royal's magnificent waterfront residences. You can hop on the cruise from Tin City and enjoy your relaxing weekend getaways in Florida.
Kowiachobee Animal Preserve – Are you planning a best family weekend getaways in Florida? The wildlife park is a learning centre that also houses over a hundred different animals. It allows visitors to get up and personal with a variety of creatures in a safe and controlled atmosphere. It's entertaining for the entire family because it allows individuals of all ages to engage with exotic wildlife.
What to Eat in Naples?
Naples is known for its delicious seafood, exquisite Italian restaurants, and the diversity that characterises the Naples experience. Some of the finest places here include –
Chops City Grill – The high quality of the steaks adds to the feeling of luxury and is a prime dining facility on Fifth Avenue. Japanese, Australian, Idaho, Texan and Ohio beef take centre stage.
The Turtle Club Restaurant – One of the top restaurants in Naples is famous for its oyster turtle feller, coconut fried shrimp, and a roasted lobster tail.
Sails Restaurant – This beautiful café specialises in Mediterranean food and is open for supper in Naples. It offers diners the option of a charcuterie plate tasting menu or a typical a la carte menu. The eatery is famous for the wood-grilled octopus appetiser, acquerello macaroni with Australian tiger prawns and the amazing Valrhona vanilla roulade.
The Bay House – Try the crispy fried oysters, St. Augustine stew, and the signature 'sea BLT'. While this beachfront restaurant serves some of the greatest seafood in town, you can also relish the delicious juicy steaks.
Where to Stay at Naples?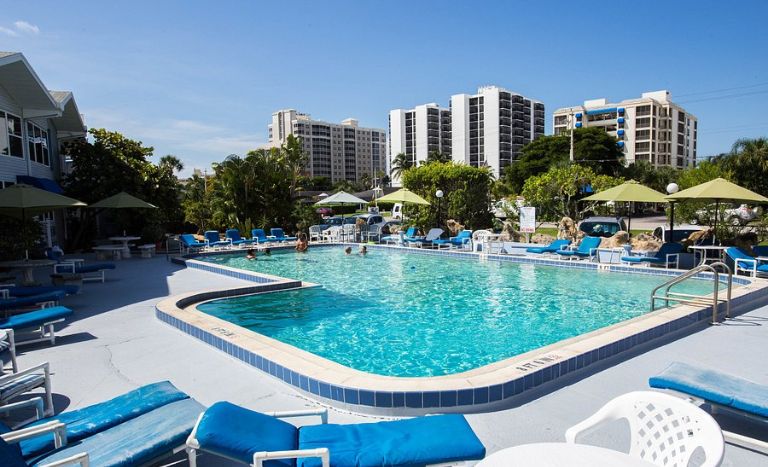 Near 5th Avenue South, in the midst of the nightlife, is one of the nicest places to stay. If you simply wish to stay at a beachside resort, there are plenty of options. The closer you get to the beach, the higher the prices become. Some of the stays for the cheap weekend getaways in Florida include –
Dolphin Inn and Resort – If you're visiting Naples on a budget, booking a stay would help or save a lot without having to compromise with the view and amenities. Comes with Express check-in/check-out and free parking.
Myerside Resort – These resort hotels should be considered for your Naples holiday because they are generally located near famous landmarks. Your stay will be made more pleasant by resort amenities such as laundry facilities, a breakfast, a minibar, and concierge services.
Naples Inn and Suites – The BnB property includes a coffee maker and free WiFi. It also offers free nights and unique deals.
Ritz Carlton Golf Resort – The luxury stay is located near some famous landmarks such as Tigertail beach and Bonita Fairways Golf resort.
6. The City Which is Famous for its Boutique Stays and Bustling Nightlife – West Palm Beach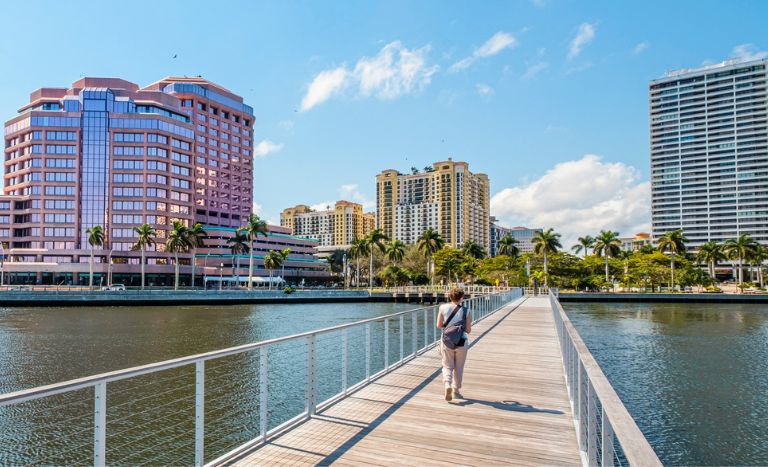 West Palm Beach is a fast-growing metropolis with a thriving city centre, several cultural attractions, and numerous fine dining. It's a place where people gather to enjoy unique stores, exceptional eateries, and a diverse range of entertainment alternatives. And, it is one of the best weekend getaways in Florida.
Things to Do in West Palm Beach
There's more than just palm trees and beaches, as the city offers boutique stays to the amazing waterfront resorts, bustling nightlife, and picturesque suburbs. This vibrant weekend getaway in Florida provides guests with a year-round oasis of leisure, postcard-picture weather, and fascinating natural and cultural attractions. If you haven't been to West Palm Beach yet or are wondering what to do, here are our top suggestions.
Rosemary Square – This restored downtown area is one of the best things to do in South Florida. It offers a range of enjoyable retail, culinary, theatre, and live music options. It's also a nice place to sit and watch the endless parade of people pass by and there's free Wi-Fi everywhere. You can actually relate this to Florida weekend getaways for singles.
Panther Ridge Conservation Centre – You're only a few miles from West Palm Beach, but it feels like you're in the middle of Africa. Some of the world's big cats roam freely wide, and habits replicate the jungles of Africa. Panther Ridge is home to big cats, rare white jaguars, pumas, black panthers, cheetahs, and smaller cats like ocelots.
Cox Science and Aquarium – The Cox Science Centre and Aquarium is an experience worth remembering for the entire family. With over 50 scientific installations, South Florida's largest fresh and marine aquarium, a digital space observatory, and a mini-golf course.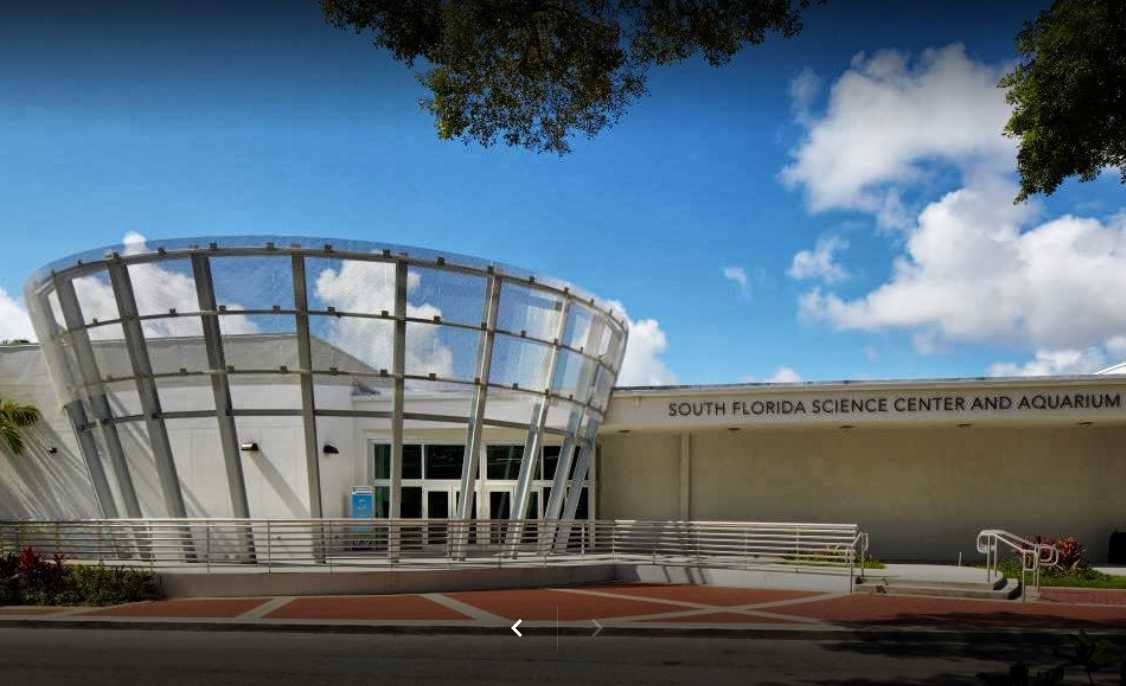 John D MacArthur Beach State Park – Crossing the 1600-foot-long footbridge over the delta to the beach habitat is a highlight of a visit. You'll see and hear a lot of birds along the trip. You might even see a dolphin or two if you're lucky. Feel free to spend some time on the bridge; there are lots of benches as well as shaded huts and patios.
You can count all these attractions in West Palm Beach as the best weekend getaway in Florida for kids.
What to Eat in West Palm Beach?
Apart from its pristine beaches and tons of shopping centres, what sets West Palm Beach apart is the restaurant scene. Some of the best include –
The Meat Market – Originally started in Miami, the steakhouse and sea-food joint later expanded its operation in San Juan and West Palm Beach. The bar at Meat Market has also received high praise, with spritzers and mimosas among the most popular drinks.
Spoto Oyster Bar – The raw bar offers a variety of oysters and crabs. The range of meals includes pan-seared smoked salmon, Bahamian shell soup, Thai crabs, and shrimps with a coconut almond crust, and every fish can be steamed, grilled, barbecued, scorched, or cooked to your desires.
Avocado Grill – In an intimate, green-themed setting, Avocado Grill serves small portions and exquisite seafood platters. Located on Datura Street in the heart of downtown, it truly operates in a farm-to-table sense and locally procured ingredients.
Cafe Boulud – Located in the Brazilian Court Hotel offers the French-American fusion with irresistible roof-top dining. Smoked salmon with herbed lettuce and Nordic brown bread, a Spanish appetiser and lamb ravioli are among the intriguing starters.
Where to Stay in West Palm Beach?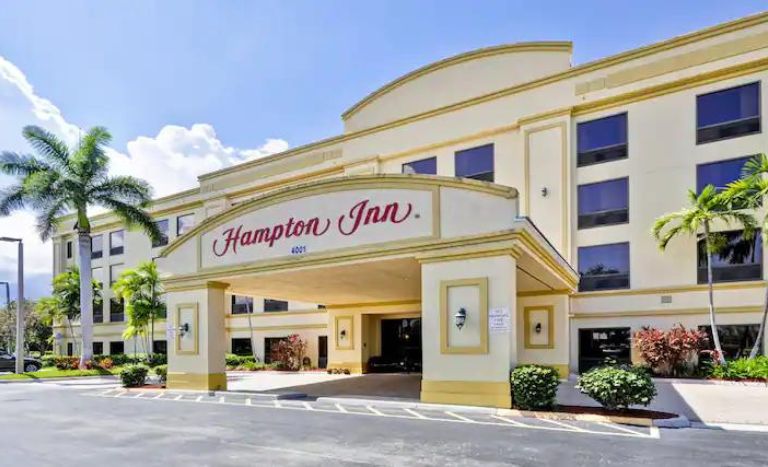 Visitors to West Palm Beach are spoiled for choice when it comes to plenty of acclaimed lodgings for exploring. Here are our top picks for the best places to stay in your budget, whether you're looking for a beach resort or a cheap hotel. The best of the best include –
Four Seasons Resort Palm Beach – It is an excellent choice for a posh and chic stay with stunning ocean fronts from almost every angle and corner here. The pet-friendly accommodations are available.
Hampton Inn West Palm Beach Florida Turnpike – It is a popular choice for people looking for a hotel on a decent budget with clean, and quality rooms. It also offers complimentary breakfasts, parking, and a fantastic outdoor pool, all conveniently located near the beach and attractions.
Hilton Garden Inn West Palm Beach Airport – Located a 5-minute drive from the airport features amenities like an outdoor pool, fitness club, parking, complimentary breakfast, and free Wi-Fi. The prices are so cheap and there's always a room for guests as you vouch for this stay for your last minute weekend getaways in Florida.
Best Western Palm Beach Lakes Inn – It's a good budget option with inexpensive, light rooms close to grocery stores and convenient freeway access. Breakfast and laundry services are complimentary. Other amenities include a bathtub, jacuzzi, and an outdoor pool.
7. Soak into the Charm of the Oldest City on this Planet – St. Augustine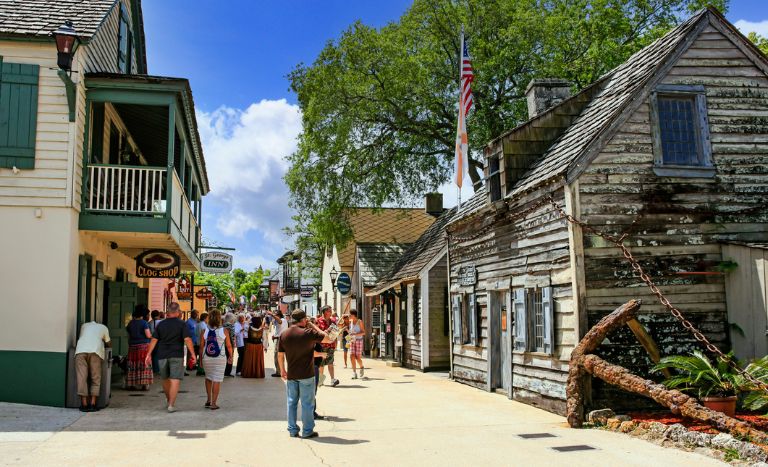 Being the oldest city in the United States, it houses the most notable historic landmarks. Some of them include the Ximenez-Fatio House Museum, Ponce de Leon's Fountain of Youth Archaeological Park, and the Castillo de San Marcos.
St. Augustine enchants visitors with its cobblestone alleys and mediaeval landmarks including a 17th-century stone church and a picturesque lighthouse.
Things to Do in St. Augustine
Bike rides, boat cruise, fishing excursion, ghost-themed experiences, and relaxed evenings of surfing and tanning on nearly 40 miles of beaches. These are just a few of the activities to do in St. Augustine. It could be your quick weekend getaways in Florida. Some of the best include –
Castillo de San Marcos – Considered the oldest masonry fort in the continental United States, it is one of the free things to do in Florida. The entry into the fort and the ferry ride here are free of charge. It's a lovely area for picnics, trekking, or hunting for shells on the beach.
Ponte Vedra Beach – Surfing, paddling, and stand-up waterskiing are among the activities available at Ponte Vedra Beach, as are birdwatching and angling in the area's bays and marshes. It is a great place to search for shark teeth, some of which date back to the Ice Age. It's the most famous and one of the best Florida weekend getaway.
St. Augustine Alligator Farm Zoological Park – One of the most exciting things to do here with kids is to take a visit here. The park prides itself on its unique repository of living crocodile species. Other animals found in the park include exotic birds, snakes of large varieties, and five different monkey species. The lemurs of various breeds are among its most popular residents.
Ponce de Leon's Fountain of Youth Archaeological Park – The 15-acre park is named after the legendary explorer near the Matanzas River. It's an active archaeological site that focuses on the early Spanish settlers. Renditions show native life and traditional crafts, and artefacts from excavations are on display. From the watchtower, as well as along the Riverwalk and throughout the park, there are lovely vistas and opportunities to feed the beautiful peacocks.
Ximenez-Fatio House Museum – The ancient beehive oven, where meals were made for travellers and military officials on leave from the adjoining fort, is still on display. The experts at this scrupulously realistic site explain the nuances of daily living in the 1800s.
What to Eat in St. Augustine?
A growing list of farm-to-table eateries, breweries inside historic buildings, and even a few tacos dive joints worthy of MasterChef host can be found here, And, is dispersed throughout the city's downtown and all the way to its beaches and alleys.
After a long day of exploring on your weekend getaway voyage, be sure to take a stop by one of the best eateries here to relax and rewind.
Columbia Restaurant – Conveniently located in the centre of historic downtown, this popular eatery serves a blend of Spanish and Cuban food. The speciality includes black bean soup, Cuban burgers, and an authentic 1905 dressing prepared the same way it has been since the restaurant's debut.
Prohibition Kitchen – Prohibition Kitchen, Another best restaurant located in the downtown area, is noted for its agro menu and custom milkshakes. Local bands jam on weekends to keep old vibes alive.
Burrito Works Taco Shop – A little stand that makes tacos and burritos to your preferences. To ensure that everything is flavorful, the beachside dive uses local produce and organic meat. Try carne asada-loaded nachos and Baja-style quesadillas.
Conch House Marina Resort – One of the best Caribbean establishments in St. Augustine, nestled along the shore of Salt Run. Try the jerk chicken egg wraps with sweet and spicy grapefruit and datil jalapeno curry sauce before you leave.
Where to Stay in St. Augustine?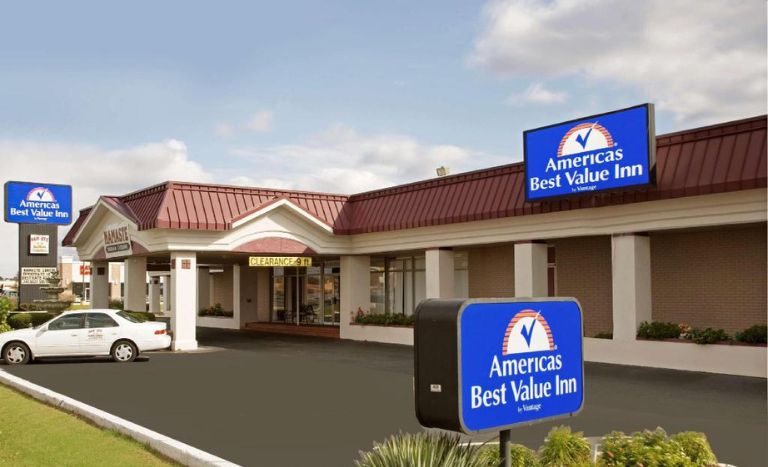 Guests who want to be within walking distance of the city's most prominent attractions must stay in the downtown area. You can have the time of your life at its pristine, wild beaches, but if you love to experience the leisure, head to Anastasia Island.
Agustin Inn Bed and Breakfast – A little far away from the historic district, the stay gives you an old-charm appeal with modern amenities. For a genuine treat, get a room with a balcony or a spa bath. Every day, the hotel provides a complimentary two-course buffet breakfast.
Casa Monica Resort and Spa – The hotel includes all of the amenities of a four-star hotel, including a fitness centre and an outdoor heated pool. Book a spa treatment or dine at the on-site restaurant, which serves wonderful Mediterranean food. Check out this place for all-inclusive weekend getaways in Florida.
Hilton Saint Augustine Historic Bayfront – Overlooking Matanzas Bay is only a 5-minute walk from the Castillo de San Marcos. It offers a room with a balcony that offers spectacular views of the bay. Relax in a hot tub beside the glittering outdoor pool. The on-site restaurant delivers exquisite Spanish-inspired cuisine.
America's Best Value Inn St. Augustine Beach – This one has the advantage of being close to the water. Also, an affordable option that is ideal for families thanks to its pool, free complimentary breakfast and parking, in-room fridge, microwave, and mini bar.
8. Plan Your Romantic Weekend Getaways on the Shores of Tampa
Tampa is regarded as a terrific city for people of all ages and tastes. With hotels to suit any budget and accommodating everyone from families to explorers to diners and drinkers.
Tampa was formerly regarded as a melting pot for all ethnicities and civilizations. It is still receptive to anyone looking for adventure, ambition, and the ability to experience new things. And is counted as one of the best places in Florida for a weekend getaway.
Things to Do in Tampa
Busch Gardens, which combines the thrills of an adventure park and the fun of wildlife in one location, is one of Tampa's major tourist attractions. A wildlife park, aquarium, and a public manatee viewing area are among the other popular attractions to visit in the region dedicated to animals and nature. Because of all this, Tampa is the best South Florida romantic weekend getaways.
Busch Gardens – Busch Gardens is a 335-acre family entertainment and adventure park with roller coasters, live bands, exhibitions, and a variety of exotic animals in the forest ecosystem. The Serengeti Night Safari is one of the most popular tour alternatives for seeing animals grazing on the plains with replicas of African communities and shelters. There are other unique animal encounters offered, including feeding and posing with kangaroos and giraffes.
The Florida Aquarium – The Florida Aquarium in Tampa offers an interesting range of wildlife habitats, exhibitions, and programs for visitors of all ages. You can witness a broad diversity of fish and ocean life and be able to interact with creatures such as jellyfish and sea urchins.
Armature Works – The picturesque neighbourhood is a must-see for anybody visiting Tampa. Restaurants and a range of offbeat boutiques are housed in a beautifully restored tram car warehouse. This isn't your typical food court; the dining alternatives are unique, diverse, and creative. It's hard to imagine that this former industrial building has been turned into a chic and exciting location until you step inside and look around.
Tampa Electric Manatee Viewing Centre – When the surrounding water temperatures drop below 68 degrees Fahrenheit, you'll have the highest chance of sighting manatees. A tidal promenade with a variety of Florida plants and birds, butterfly gardens, and a manatee viewing platform are all available at the property.
Tampa Riverfront – It runs from downtown Tampa and the Arts District to the Channelside District, where you'll find the amphitheatre and aquarium. The picturesque promenade path was built in the 1970s and features gardens, graffiti, and arcades. While strolling down the seafront, take in the beautiful views of the river and visit one of the many cafes, restaurants, and boutiques. These are the best highlights of the weekend getaways near Tampa Florida.
What to Eat in Tampa?
This city is well-known for its sports franchise and neighboring beaches. When you need to refill, several of Tampa's best restaurants are just around the corner.
The Deviled Pig – Delivers smokey BBQ in a variety of unexpected ways, such as a pizza topping, but one sandwich in particular is a local favourite. The Pitmaster Cuban is a barbecue take on Tampa's classic Cuban sandwich. It is topped with bacon, pork chops, and house-made salami, and served with wine sauce, cheese and pickles.
Rome + Fig – Serves a variety of globally influenced cuisine in the North Hyde Park neighbourhood. Most popular is the Southern version of the famous Italian Caprese salad, which replaces fried green beans with red tomatoes.
Spinners Rooftop Grille – Located at the Saint Pete Beach offers a stunning ocean view from the 12th floor. Order the fresh catch marinade, which includes fresh local lemons, chopped jalapenos, and crispy breadfruit. As well as, the best fish the chef can get his hands on that day.
Noble Crust – Offers the Italian delicacies in three locations in Tampa serves Margherita 2.0 with toppings like Calabrian peppers, blue cheese, whipped cheese, avocado, and more.
Where to Stay in Tampa?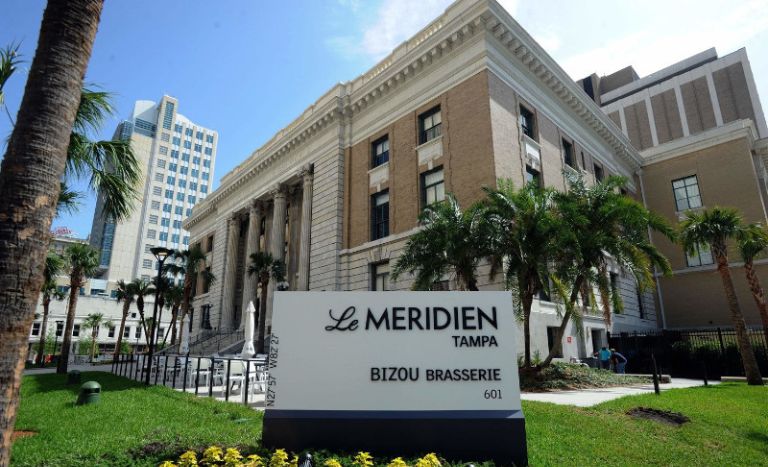 Depending on your reason for travelling, there are various good places to stay in Tampa. For sightseeing and entertainment, staying downtown is a good choice. If Busch Gardens is your main reason for visiting, or if you're going to a football game, you might want to stay near the stadium. Here are the top-rated hotels in these prominent neighbourhoods –
Le Meridien – A top-end hotel located in a prime downtown area offers a two-room suite, an outdoor pool, and a complimentary breakfast.
Tampa Marriott Water Street – Located in the heart of downtown offers waterfront views, attractive outdoor patio areas, and large, comfortable suites.
Sheraton Tampa Riverwalk – The property is in the same category, with a wonderful location and lovely views. Offer indoor and outdoor pools and are within walking distance of Ybor City and the Florida Aquarium and the best inclusion for the Florida weekend getaways.
Hampton Inn and Suites Tampa Ybor City Downtown – It is strategically positioned for shopping and dining in Ybor City, as well as quick access to the city's greatest pubs and clubs. Each room has everything you need for a relaxing stay. Breakfast is complimentary.
In the End
When all is said and done, there are plenty of places to explore in Florida. With so many diverse activities, quaint restaurants and swanky clubs, the weekend just has to work out eventually. The choice for you will mostly depend on what you're looking for in a weekend trip: beaches, a wide selection of entertainment or a quiet place to get away from it all. Whatever your fancy, Florida will gladly oblige.