From the hue of the buildings to the tone of the ocean, Port Aransas favors the color turquoise. The Gulf of Mexico serves as the area's main attraction, offering a wide variety of fresh seafood, unique cultural and historical experiences.
In addition there are plenty of activities in Port Aransas that keep you engaged and occupied such as golfing which lands you at the most picturesque and authentic golf courses in the world. However, this is just the beginning of what Port Aransas has to offer.
Whether you are up with the soulful morning or walk along the beachfront under a full moon, the 18 miles of beaches along the Gulf shoreline will make a surreal presence in your day to day vacation routine.
On the other hand, Port Aransas is the leading fishing hub in the state, and nearby Gulf seas are home to a variety of species, including dolphins, sea turtles, and migratory birds.
When you need a break from the heat, visit the' small museums to learn about the region's maritime history. Plan your sightseeing excursions well with our list of 20 best things to do in Port Aransas TX –
1. Enjoy Marine Wildlife at ARK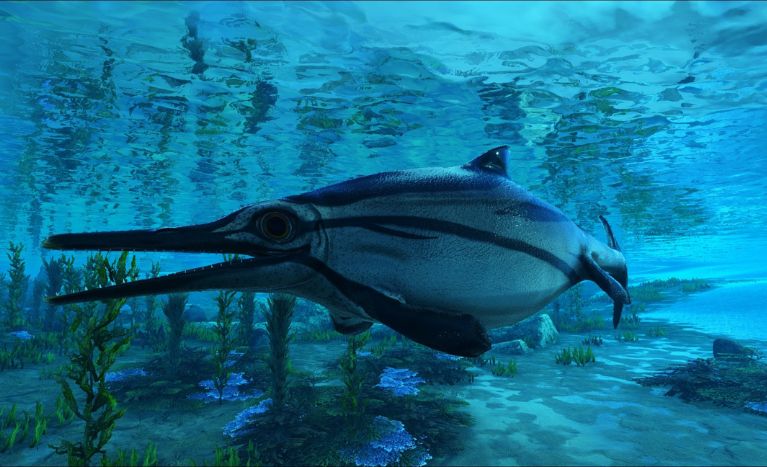 A trip to the Amos Rehabilitation Keep (ARK) is essential for everyone who appreciates marine wildlife.
The University of Texas at Austin Marine Science Institute runs the rehabilitation facility, which has been in operation since 1979. ARK is a facility dedicated to the rehabilitation of sea turtles and birds from that area.
Animals who are ill or injured are brought to the facility for diagnosis, care, and, if needed, they are treated before being securely released back into their natural habitats.
The facility's many success stories are discussed on tours, along with the types of injuries that are most detrimental to marine and wildlife.
You will have the opportunity to interact closely with animals like Bivalves Betty, a huge sea turtle that resides at ARK but cannot leave due to her wounds.
2. Spend Some Quiet Time at Horace Caldwell Pier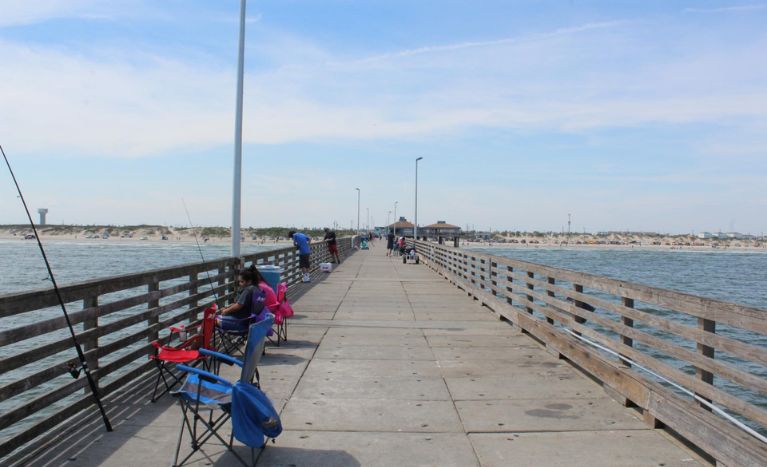 In the I.B. Magee Beach Park, there is a breathtaking pier called the Horace Caldwell Pier and is the #1 Port Aransas attractions. Its proximity contributes to it being one of most well-liked fishing spots. Since the pier is located at the northernmost tip of Mustang Island, it is the perfect spot to capture sunsets.
The 1,240-foot-long pier is open every day of the year for a modest entrance fee. Plan to spend the entire day in Port Aransas Beach and Beach Park, including a trip to the pier.
3. Planning Beach Time in Port Aransas is Essential!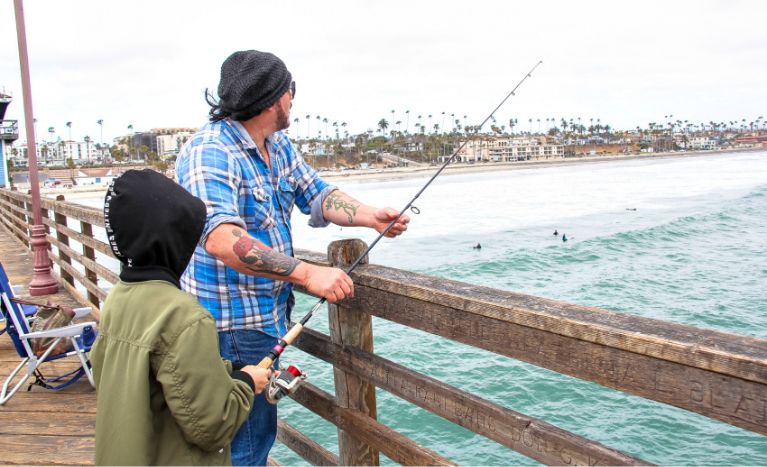 If you want to really appreciate the sun, surf, and landscape, you must schedule enough beach time in Port Aransas. The Beach and Mustang Island Beach are frequented by tourists and are among the top Port Aransas attractions. Another great beach to visit is I.B. Magee Beach where you can partake in kitesurfing, fishing and scuba diving.
The silty sand on the beaches of Port Aransas is ideal for making sturdy sandcastles and is one of the fun things to do in Port Aransas with family.
You can also rent the buggies and it is available on all the beaches of Port Arkansas. This is how you can spend a lot of time by the ocean, and easily stroll from one point to another. Sign up for rentals with Aransas Beach Buggies that offer an eclectic or understated style to suit your beach mood.
You can unwind at the neighbourhood staple Mac Daddy's restaurant for steaks and homey fare after spending the day at the beach.
4. Learn the Roots of Beachside Town at Port Aransas Museum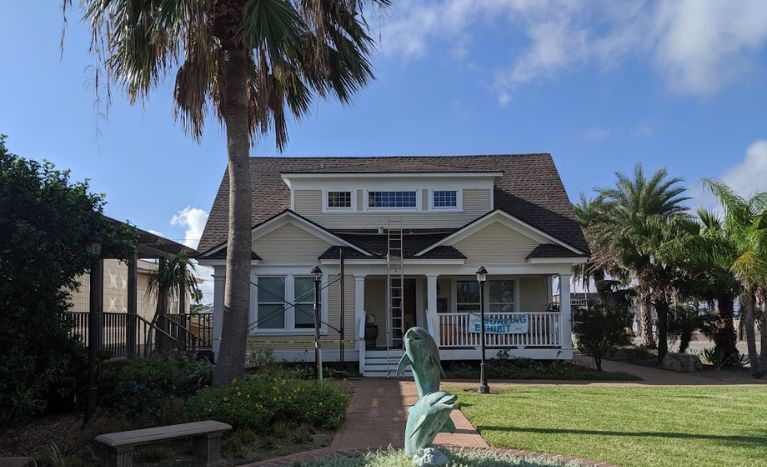 Are you wondering what to do in Port Aransas to learn more about this beachtown resort? This historical tourist hotspot helps you trace its roots. Here you can explore the artefacts that trace the development of island life.
The stunning Fourth Order Fresnel lighthouse lens, which has been on top of the Lydia Ann Lighthouse for almost 75 years, bibliographies of interviews with early settlers of the town, and the prototype of the train that transported the rocks to build the jetties and piers in the town are just a few of the permanent exhibits.
The museum is a good spot to begin your Port Aransas vacation if you want to learn more about the island's past. You can attend the regular seminars that are conducted every Sunday for an in-depth experience.
5. You're Likely to Spot Dolphins in Port Aransas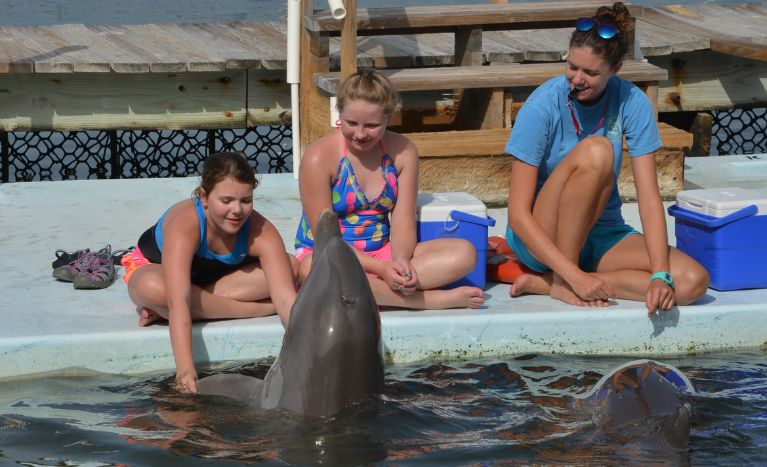 While it's possible to see dolphins in Port Aransas from the shore and piers, going on a dolphin watching trip is one of the finest ways to get a close-up look at this amazing marine life.
These trips will provide information about the natural habitat of Port Aransas given the richness of flora and fauna in the ocean.
The majority of cruises last about 1.5 hours and cruise the harbours and waterways of Aransas Pass, Lydia Ann Channel, and Aransas Bay.
6. Take a Glow Row to Experience Marine life by Night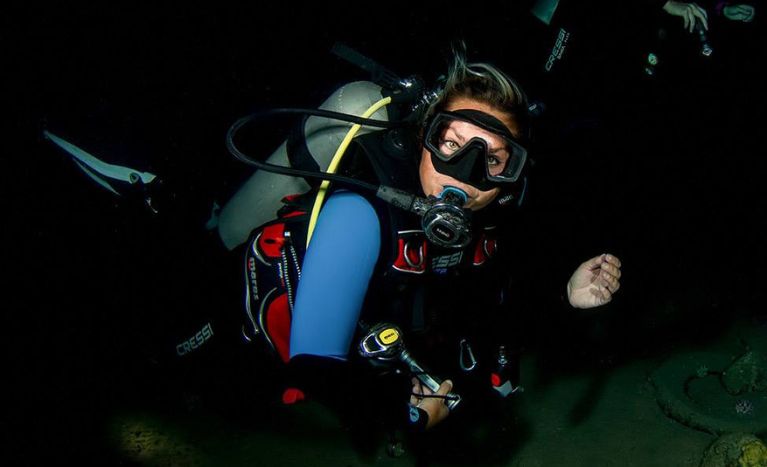 Even though this beach town is thrilling during the day, seeing marine life at night is among the unique things to do in port Aransas this weekend.
Partake in Glow Row nighttime eco-kayak tour in the channels and shallow waters surrounding the causeway. Trips are scheduled from March to November and are provided water is calm and the weather is fair.
Paddle for 1.5 hours to see the marine and plant life below the surface. You can see oyster beds and the little fish that reside there thanks to the shallow water.
Additionally, you might witness rockfish, manta rays, crustaceans, and sport fish, some of which may even dive into the kayaks.
Rowing excursions operate at Lighthouse Lakes' reefs and end at the Redfish Causeway.
7. Plan a Day Trip to San Jose Island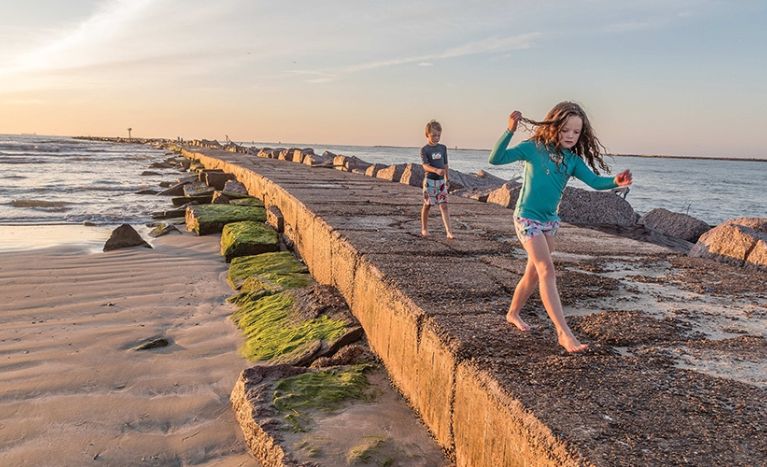 One of Port Aransas' best-kept secrets is San Jose Island. Despite the fact that it is a private island, you are welcome to tour the public areas there and the sand beaches that surround it.
Sand dollars, enormous seashells, and stars are frequently found here, making it one of the greatest sites to shell hunt and is one of the top activities in Port Aransas.
San Jose Island is only accessible by a quick ferry ride, and once there, you may enjoy more than 21 kilometres of pristine natural beaches.
It is also a fantastic place to go bird watching. The fact that cars are not allowed on this beach makes it a peaceful spot to visit.
8. Boat Building's History Comes alive at Farley Boat Works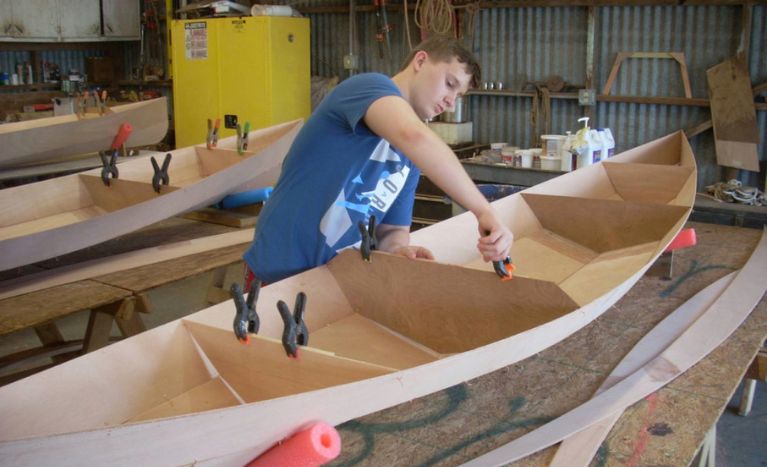 The Farley Boat Works is a fun place to witness real boat-making in action The venue brings Port Aransas' maritime and boat-building history to life.
As you observe projects in various phases of completion, you may learn more about the handmade boat building method here.
This place hosts Port Aransas Wooden Boat Festival, a three-day family-friendly affair that features handcrafted boats.
The festival includes talks, a maritime bazaar, and a boat construction workshop. Perhaps, October is the best time to attend this festival.
9. Partake in Golfing Activities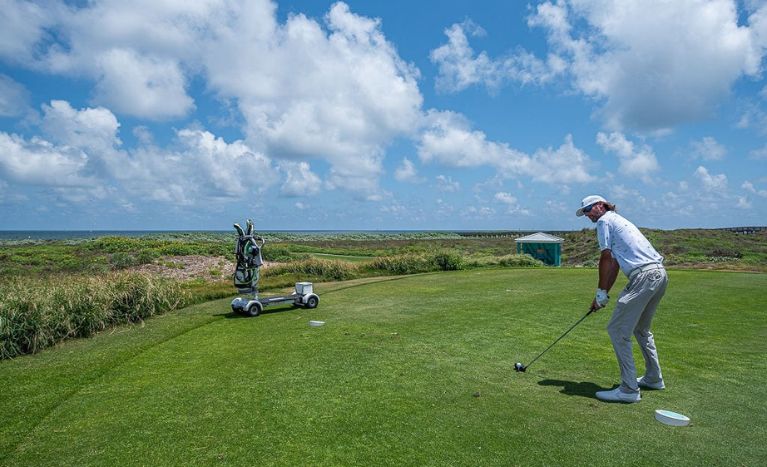 Visit the Palmilla Beach Golf Course which is the one and only authentic links-style course in the country, located along the shores of Mustang Island. It is one of the best things to do Port Aransas by any golf fanatic.
The greens are complicated to the Texas weather and seaside breeze. The views of the beaches and coastline is a wonderful way to appreciate Port Aransas's natural surroundings while you indulge in golfing.
This golf-course comprises 9-holes and 3-hole mini-course and is located inside a stunning resort complex.
You can have access to golf carts that help you navigate the mountainous terrain and water features.
On-site facilities include a driving range, pavilion, and golf shop where you may purchase merchandise and golf accessories.
10. Explore the Alluring Roberts Point Park
One of the charming places you should visit while on vacation in Port Aransas is Roberts Point Park.
Although it's not exactly in the centre of the city, the venue is really gorgeous.
This park offers a number of enjoyable activities. Joining the locals in a fishing tournament is one of the top activities in Port Aransas.
Another appealing area in this park is the Patsy Jones Amphitheatre.
11. Learn the WWII history at Lexington State Museum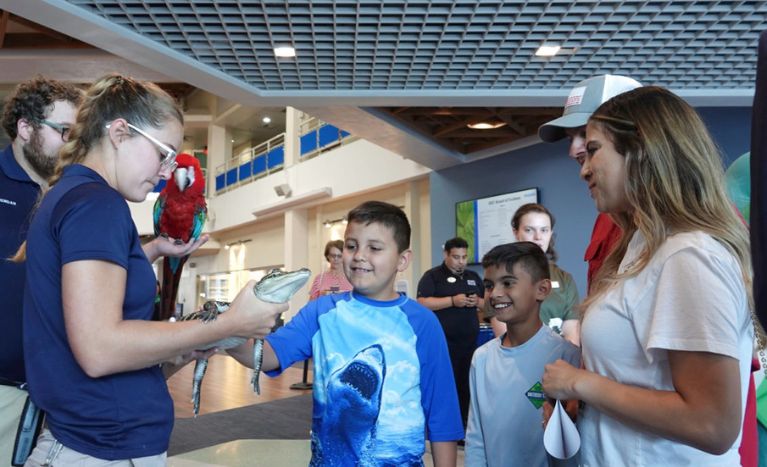 You can arrange a day trip to nearby Corpus Christi, where you can see the Texas State Aquarium and the USS Lexington Museum. While you are in the region, you should stop by these two museums, and it is one of the best places to visit in Texas.
Spend the first half of your day visiting the USS Lexington, commonly known as the Blue Ghost is a 16-deck WWII aircraft carrier that offers guests a close-up view of a fighter aircraft.
Encounter the marine wildlife at Texas State Aquarium. You can grab lunch at one of the waterfront eateries. Visitors to the aquarium can engage in interactive displays and activities.
12. Appreciate Arts at Port Aransas Art District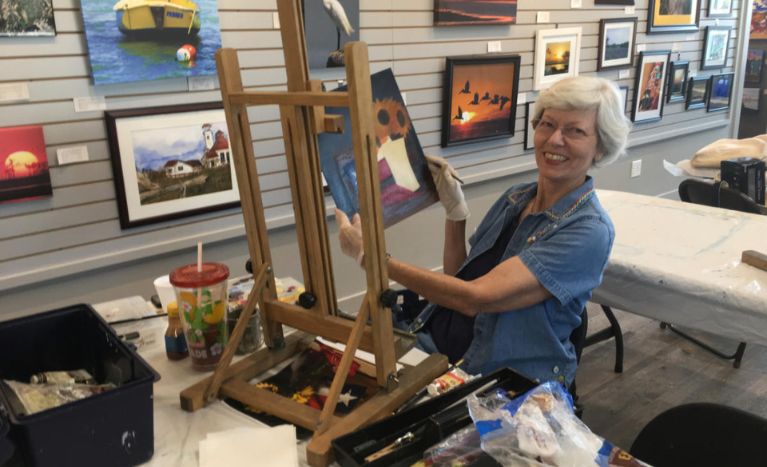 The Port Aransas Arts District is one of the best places to shop, explore chic cafes and is a fun destination to visit. The little boutiques and shops include one-of-a-kind works by regional artists, including portraiture, stoneware, handicrafts, and prints.
You can find artistic works that reflect your favourite memories or experiences in Port Aransas because a lot of the artwork is inspired by the local landscapes.
The Arts District is home to delightful art galleries where you may interact with local artists. You can also enrol in art classes being offered while you're in town and are among the top things to do in Port Aransas Texas. Check out the Port Aransas Arts Centre's events calendar here.
13. Experience Natural Landscape and Wildlife at Leonabelle Turnbull Birding Centre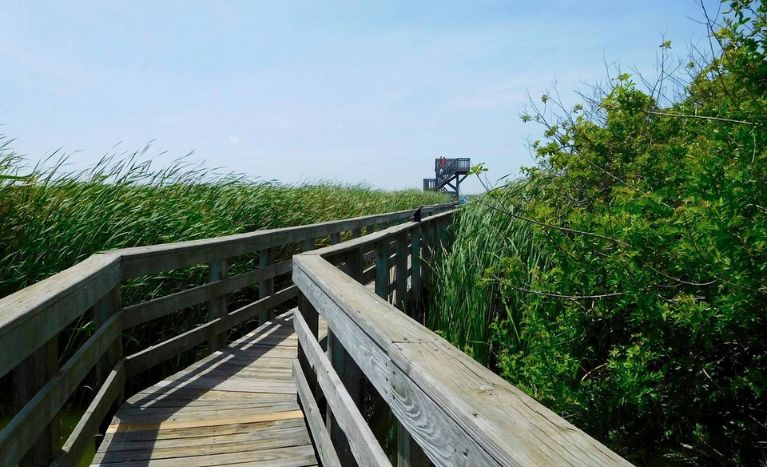 The Leonabelle Turnbull Birding Center is one of the most delightful ways to experience the natural ecosystem and wildlife. You can visit here between sunrise and sunset, and it is accessible every day.
As you travel along the 750-foot-long boardwalk, you'll discover several surprises in the lovely natural preserve on the site.
Visitors are welcomed by a pollinator garden and big trees, but the saline wetlands may be the greatest area to see wildlife.
Observe diligently to spot some of the hundreds of alligators and bird species that frequent the area.
14. Enjoy the Scenic Experience at Mustang Island
One of Port Aransas' most spectacular and picturesque attractions is Mustang Island. The beach has a longstanding reputation for being among the best beaches on the Texas coastline. Vast beach, scenic sunsets, high sand dunes, and the typical tumbling waves may all be found at Mustang Island.
This is where you can spend a full day, and can swim in the warm sea, go surfing and even observe migratory birds.
Visit the Tarpon Inn, the oldest structure on Mustang Island, before heading to the beach and is renowned as the best place to see in Port Aransas. The renowned edifice was constructed in 1886 and features two 200-foot-long decks, making it one of the most stunning landmarks in Port Aransas.
15. Skydiving in Port Aransas is Regarded as the Excursion of a Lifetime!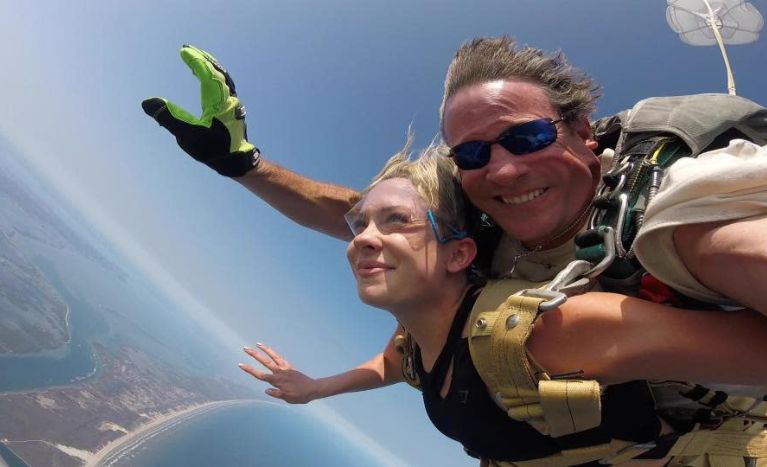 Take the trip of a lifetime with a skydiving for the ideal view over Port Aransas and across Mustang Island.
Skydive South Texas offers skydiving excursions at multiple scenic spots in South Texas and Gulf Coast. You can ask for a beach landing to make it more convenient and fun.
If you prefer a more enclosed airborne journey, you can choose a glider trip with a licensed flight instructor.
The Discovery Flights offer breathtaking views of the beaches and surrounding natural scenery. They offers the skydiving experience in a WWII bomber aircraft and the most thrilling stuff to do in Port Aransas.
16. Capture the Picturesque Sunrise From its Beaches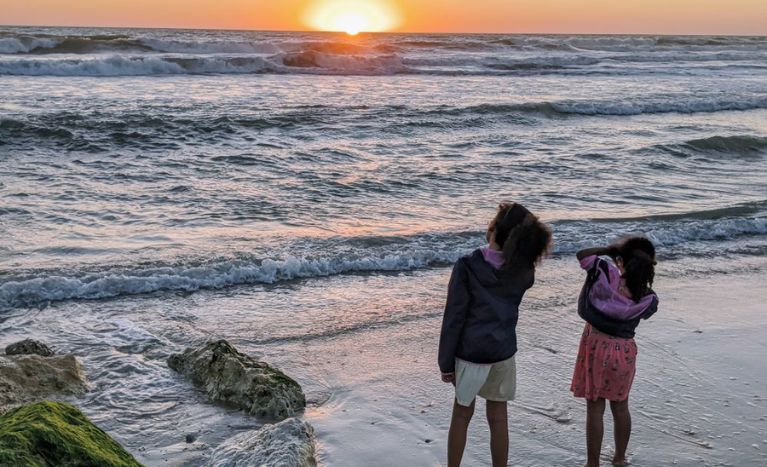 Sunrises are usually beautiful, but those in Port Aransas are particularly noteworthy.
Every native is aware of how beautiful the city's sunrises are.
One among the top activities in Port Aransas is to get up early and bring your better half along to gaze at the picturesque horizon.
One of the best memories will undoubtedly be seeing the sunrise in Port Aransas.
17. Take Advantage of the Fishing Offshore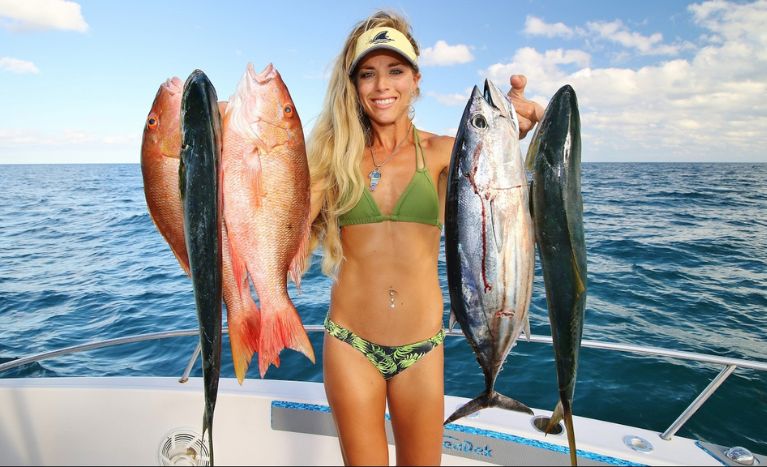 For all the good reasons, Port Aransas is referred to as the "Fishing Capital of Texas." Both the available species and the methods for catching them are as diverse as it can get.
Anglers can benefit from fishing offshore, in the bays, in the surf, off jetties, from piers, in the flats, and along canals thanks to Port Aransas' exceptional geography.
Hunters travel to Port Aransas all year long for fishing competitions that are open to all ages and proficiency levels. Throughout the year, the town remains occupied with tournaments and among the best things to do at Port Aransas.
Anglers can venture offshore for red snapper and sport fish like tuna. If you are closer to the beach you can easily angle fishes like rockfish, drum, sheepshead, and trout.
One of the greatest ways to fully enjoy fishing in Port Aransas is to have your catch sliced open and take it to a restaurant that offers hook and cook service, such as Winglet Steakhouse. Your caught fish may be turned into an authentic cuisine, and can be customised with your taste.
18. Birdwatchers May Head to Great Texas Coastal Birding Trail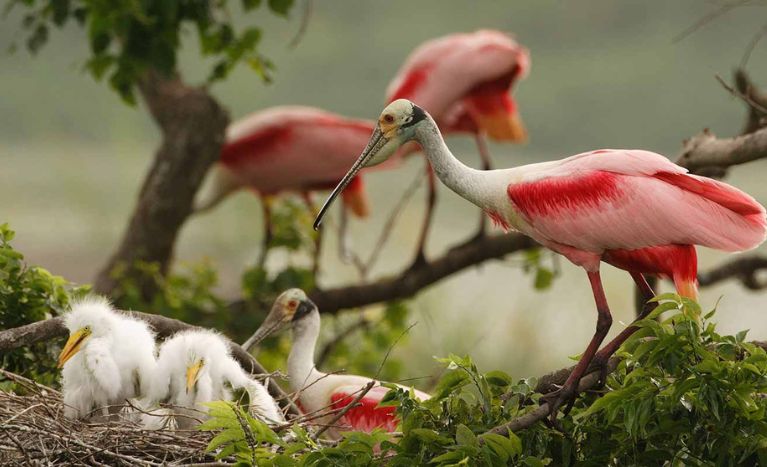 One of the top things to do in Port Aransas is birdwatching, and among the best spots for it is the Great Texas Coastal Birding Trail.
There are six trails in this beach town resort if you have an interest in migratory birds and their activities.
The region is filled with boardwalks and observation towers, making it the ideal place to go bird watching.
The fall or spring seasons are the finest times to observe more than 400 different species of birds.
Given that Port Aransas is a stop along the well-known Central Flyway migration path, the optimum time to go birdwatching is during the migration season.
19. Attend a Play at Port Aransas Community Theatre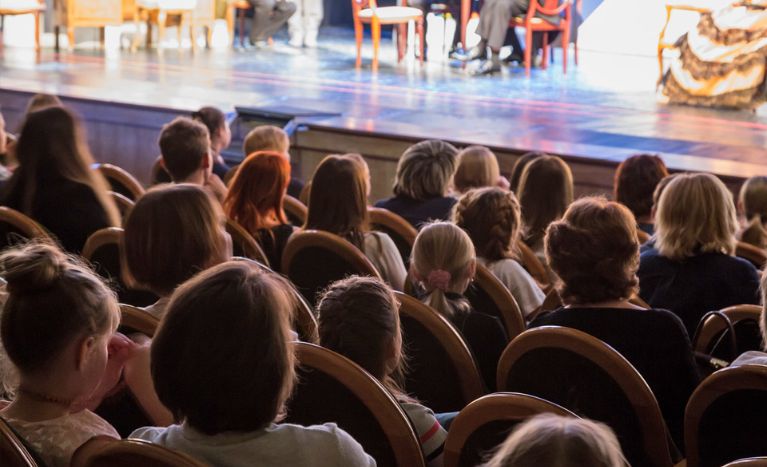 The Port Aransas Community Theatre has offered a wide range of thrilling productions since its inception more than 20 years ago and is among the top Port Aransas attractions.
Throughout the summer, there may be concerts for all ages and unheard-of performances by exceptionally talented artists and musicians at this place.
Spend a couple of hours watching a live show at the Port Aransas Community Theatre with your family and friends. You have a variety of options, including local musicians' concerts, musical productions, and theatrical events.
Kids can participate in fun summertime activities like gaming arcade, escape room, and more.
20. Take a Tour of the Pirate Cruise
Have you ever wished you could experience life aboard a pirate ship? Some of the best experiences are waiting for you in Port Aransas.
Experience what it was like in the past by boarding a pirate ship. You can embark on a pirate cruise for the ultimate experience and is one of the best things to do in Port Aransas with kids.
Trips on a vintage pirate ship are offered by Red Dragon Pirate Cruises. They accurately restored the ship by taking every minute detail from a real pirate ship.
Even the ship's flags and weapons are visible. The ship is equipped with contemporary facilities, including a dining area, staterooms, restaurants, and even a dancing deck.
Best Places to Eat in Port Aransas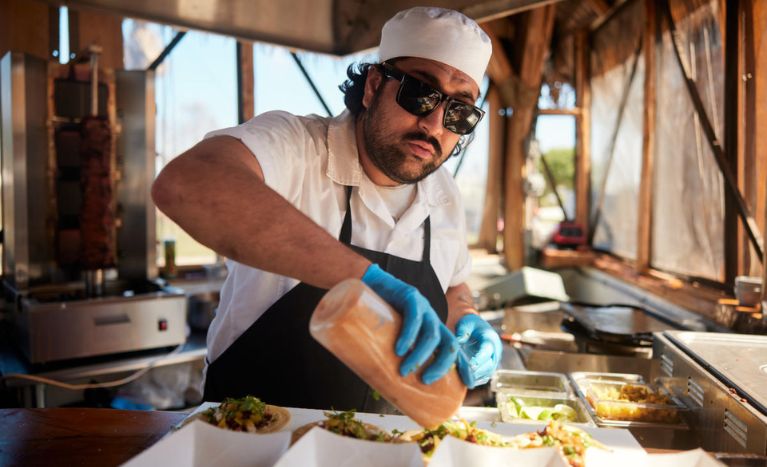 Located between Corpus Christi Bay and the Gulf of Mexico, Port Aransas is a stunning city.
It's a great place to go on your next big adventure as you discover its gorgeous beaches, exciting attractions, and top-notch culinary options.
Discover the city's many magnificent restaurants, which provide exquisitely freshest seafood dishes, quality steaks, family-friendly menus, mouthwatering foreign specialties, and pastries hot from the oven.
Because we understand how time-consuming and difficult it may be to select the ideal restaurant, we have specifically chosen for you the top restaurants in Port Aransas.
Check out all the fantastic locations below to begin your culinary trip!
Irie Island's Food – This great restaurant provides a welcoming atmosphere for families, sharing plates for large groups, and delectable island-inspired fare. Loco Moco is a wonderful rice-based dish that you should try. A dish of jasmine rice is served with two quarter-pound steak, two fried eggs, and brown gravy on top. The Barbecued Wahoo is a unique extra-large tortilla that you should taste. A quarter-pound of smoked wahoo, cherry tomatoes, red dragon salsa, black beans, and avocado are all within the homemade flour tortilla.
Address – 200 W Avenue G, Port Aransas, TX 78373
Venetian Hot Plate – It offers a patio for al fresco eating, a bustling bar, and a comfortable setting with theme décor. If you want to experience an Italian classic, you must taste the Crostini di Granchio. Jumbo king crab meat is spread on top of grilled panini bread that has been cooked in brown butter with mint and lemon. The Bolognese Pescatora is a delicious pasta to try.
Address – 232 Beach St, Port Aransas, TX 78373
Port A Pizzeria – This fantastic restaurant offers a laid-back atmosphere, flat-screen TVs, draught beer, a mouthwatering all-day buffet, and scrumptious desserts. If you're interested in trying a specialty pizza, the Supreme Pizza is a fantastic option. It includes Italian meatballs, beef sausages, pork chops, mushrooms, jalapenos, olives, and onions.
Address – 407 E Avenue G, Port Aransas, TX 78373
San Juan Restaurant – It has a gorgeous interior with pueblo decor, a delectable all-day cuisine, and a relaxed atmosphere. The Plata Madrid is a great lunch option that you should try. It features beef sautéed with peppers, chilies, and onions, it is served with rice, salad, avocado, and chickpeas. The Red Snapper is a fantastic choice too. A whole red snapper that has been fried is served with rice, thinly sliced carrots, french fries, and lettuce.
Address – 410 Cut-Off Rd, Port Aransas, TX 78373
Best Places to Stay in Port Aransas
There are many hotels in Port Aransas, Texas, where you can stay if you're drawn by the amazing sands or the fishing possibilities. There are resorts that have everything you could ever want. The greatest lodging options in Port Aransas are listed below.
Port Royal Ocean resort and Conference Centre – The Port Royal Ocean Resort & Conference Center is a genuine winner for fun-seeking families and couples alike, offering the largest pool areas and an array of activities that seem to go on forever. The amenities include a heated lap pool, numerous waterslides, and 14 pool cabanas. Through the sand dunes, a 100-yard boardwalk leads directly to the beach.
Address – 6317 TX-361, Port Aransas, TX 78373
Phone number – +1-361-749-5011
Sea Breeze Suites – This three-star resort's feature pool, Jacuzzi, outdoor shower, patio, and terrace deck makes it simple to unwind. From this home, you can easily walk to the fishing pier and the beach. Condos provide visitors a true home away from home. Along with complimentary Wi-Fi, they have fully functional kitchens, air conditioning, and private balconies. Breakfast is complimentary.
Address – 407 Beach Ave, Port Aransas, TX 78373
Phone number – +1-361-749-1500
Alister Square Inn – The stores, eateries, and sights in downtown are only a short distance from this property. Some of the rooms at this resort include kitchenettes, and are equipped with a microwave and refrigerator. They have elegant blue elements to help you remember that you're on a beach vacation. You may enjoy amenities like free parking, breakfast, and Wi-Fi at this entertaining resort in Port Aransas. Pack your swimwear because there is a pool and Jacuzzi on the property as well.
Address – 122 S Alister St, Port Aransas, TX 78373
Phone number – +1-361-749-3000
Hampton Inn & Suites Port Aransas – In this wonderful Port Aransas setting, guests will find modern, clean rooms that are roomy and include free hot breakfast and Wi-Fi. Additionally, there is a fitness facility, outdoor pool, and free parking available. The "two queen bed" option also includes a couch bed, microwave, mini fridge, and coffee machine.
Address – 2208 TX-361, Port Aransas, TX 78373
Phone number – +1-361-749-8888
Conclusion
Port of Aransas, known for its beaches and other natural wonders has more than twenty things to do that aren't just limited to a beach and the sun. A major highlight of the place is the historical sites. It's living in a history that hasn't forgotten its roots.
You got some good insight about Port Aransas for sure, we totally agree with you on every line that you wrote, we have also lived in Port Aransas and found it a perfect place to live and anyone who comes here… They fall in love with the place and the best thing is it's surrounded by a huge beach with blue color waters.
See More In Texas: