When you are looking forward to a vacation, nothing can be a better escape than the paradise itself, Playa del Carmen. Located in the Mexican Caribbean, this is a must-visit destination for all beach lovers. It is surrounded by the Caribbean Sea with a dense jungle located to the west.
Equipped with the perfect location, Playa del Carmen is one of the most underrated gems with stunning shorelines. Vibrant shops and restaurants make it additionally exciting. To craft an amazing itinerary to this city, you should know the best things to do in Playa Del Carmen. With at least 25 of these, you can make your journey worth remembering. 
What to Do in Playa Del Carmen, Mexico?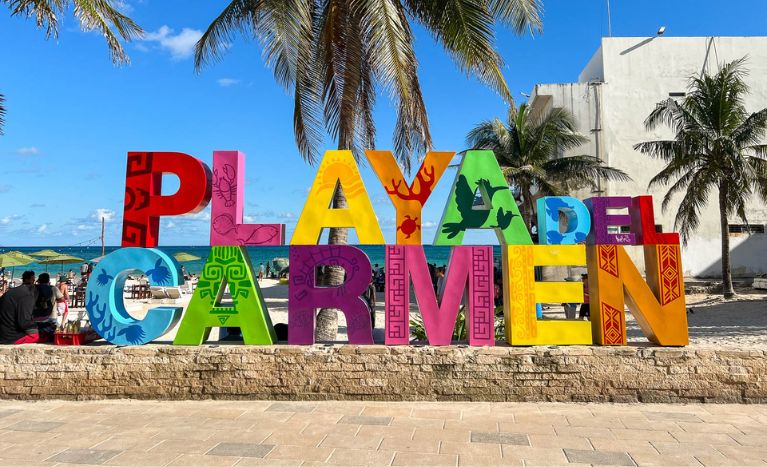 Unlike traditional beaches, Playa Del Carmen offers you something unique. Apart from splashing water on the sea shore, this city has adventure parks, jungles, enriching flora and fauna as well as driveaways. Playa Del Carmen shows you the perfect blend between a local Mexican Town and the beach life of the Caribbeans. Thus, it is a perfect spot for all kinds of groups, be it families or friends. Individuals too can enjoy the beauty of this city in Mexico.
1. Unravel the Deep Secrets at Rio Secreto's Cave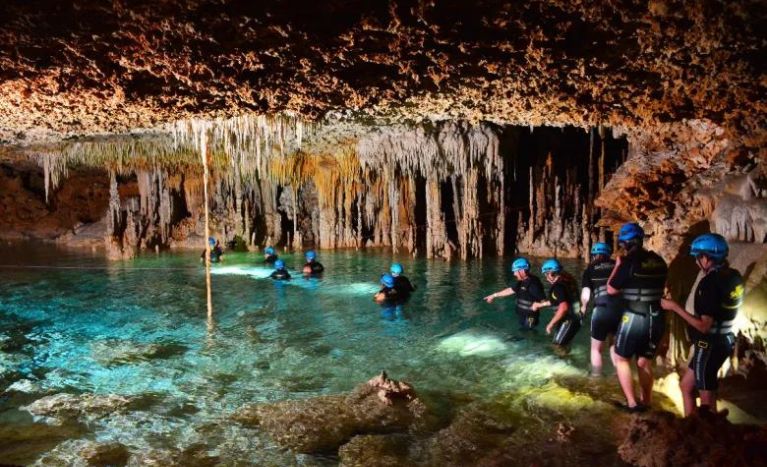 A completely different experience, Rio Secreto is another kind of magical world under the ground. Situated inside the adventure theme park, Rio Secreto features underground water-filled caves. Tourists often squeeze their way inside through narrow passages and explore them, all done under the guidance of trained scuba drivers. They are provided with helmets, suits, headlamps, and other protection too. It is amusing since the caves are a wonder to watch and you never know what you might find there.
2. Accompany the Sea Turtles at the Akumal Beach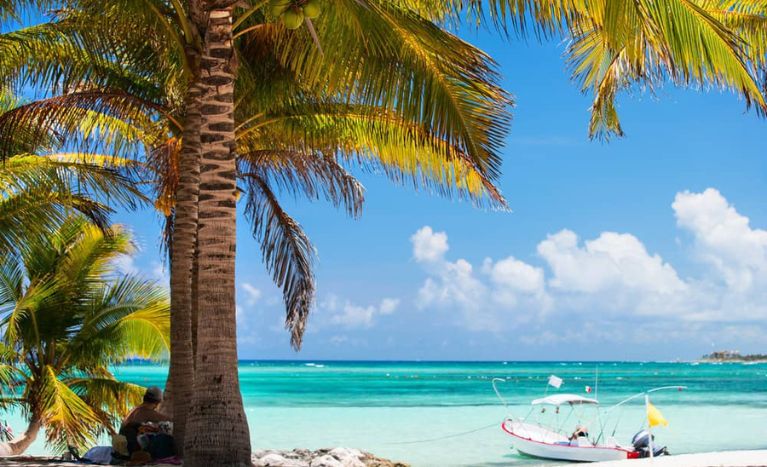 One of the major perks of Akumal Beach is visualizing the sea life at its best. The land offers various swimming outlets, however, what makes this beach different is its sea turtles and company. The beach has various breeds of turtles, the major ones being Loggerheads, Green, and Hawksbill, openly swimming in the green waters of the Caribbean Sea. Notably, Akumal Beach is just a 30-minute drive from the main city for you to have completely free swimming classes with these beauties.
3. Take a Break at Cozumel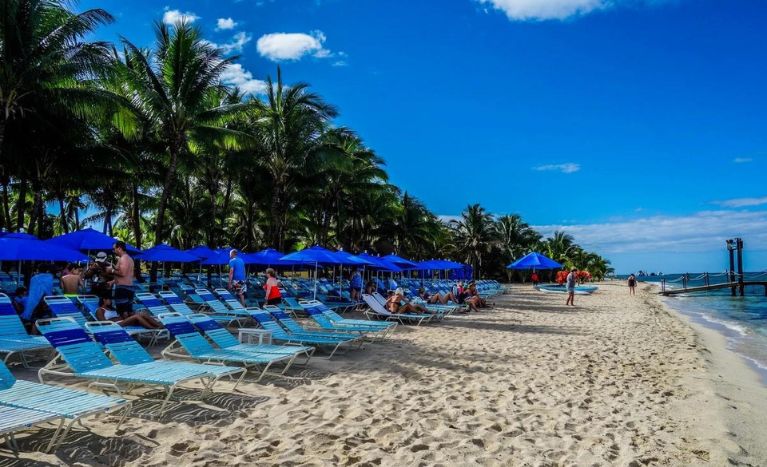 Assuming that you are taking this vacation for a break from the hectic city life, Playa Del Carmen has top things to do in Playa del Carmen that will never disappoint you. Situated off the coast, Cozumel is the perfect spot to relieve yourself. Multiple ferry rides are available for the beach. Full of food joints and amazing places to click pictures, Cozumel Beaches are all for you. You can even rent a scooter to roam around freely, cherishing the picturesque view around you.
4. Xcacel Beach and the Perks of Sunbathing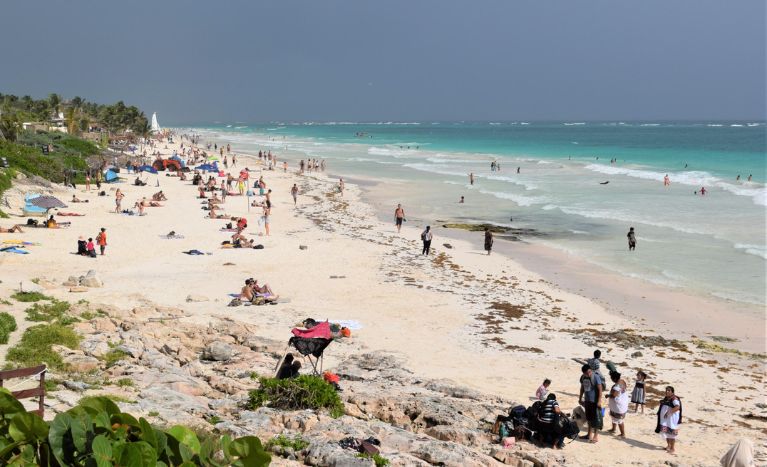 A remote, underrated, and undiscovered gem, Xcacel Beach has the most wonderful getaway experience. It is filled with breeding turtles from May to October. You can also lay down at the coast to get the perfect 'vacation tan'. For such exciting playa del carmen activities, the entry fee is very cheap. If you have a fondness for swimming, then you can perfectly enjoy the cool waters of the North-Western Coast.
Note: The beach is a little rougher as compared to others, but you have a cooling cenote nearby.
5. Celebrate the Mexican Painter at Frida Kahlo Museum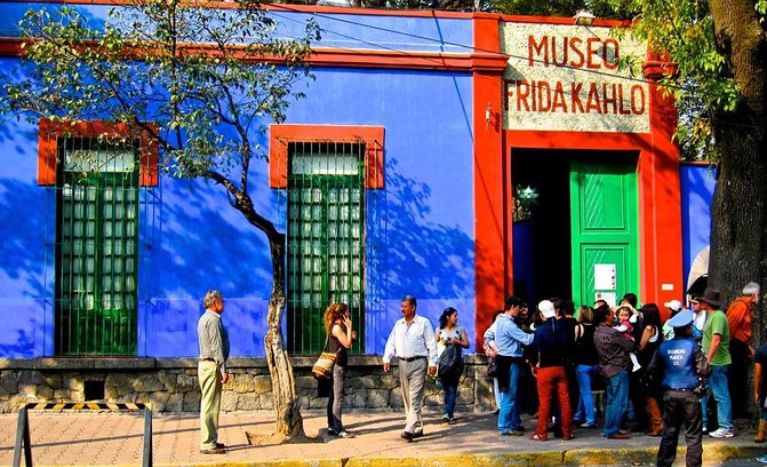 Mexico's famous artist, Frida Kahlo is a worldwide recognized name. A major tourist spot for enthusiasts, this Frida Kahlo Museum can be a delight. Interestingly, it offers a deep insight into her way of painting. The Museum also gives a chance to closely experience her art through visuals, audio, and other media.
Frida Kahlo Museum is a perfect artistic place, great after a Sunday brunch, to experience Mexican culture at its best.
6. See the Beauty of the Ocean at Aloha Paddle Club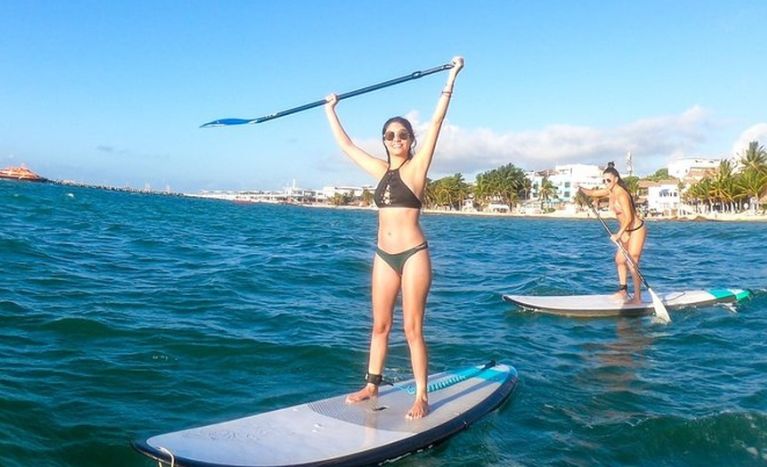 Paddling is one of the most famous things at Playa Del Carmen. A form of sea kayaking, it has a narrow boat fit for two people, with a lot of adventure involved. A rider can even stand on the surface, enjoying a breath-taking view of the oceans. You can rent a kayak with instructors and guides present to help you with the best experience at the Aloha Paddle Club. Sunrises while paddling can be a moment you wish to never forget.
7. Have a Blast at Mamitas Beach Club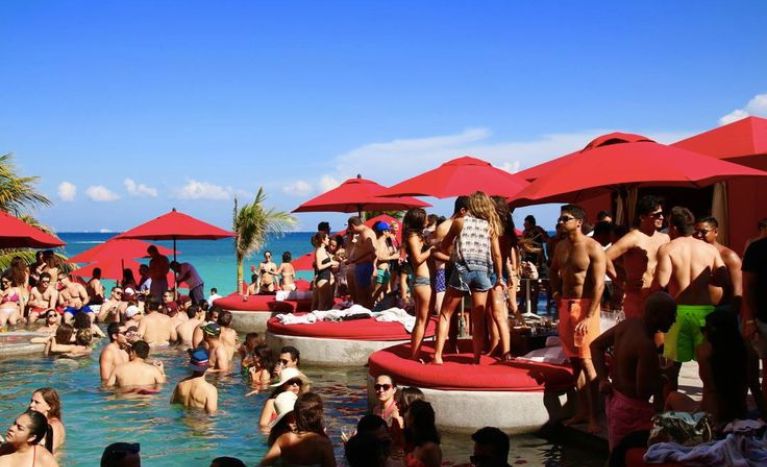 One of the fun things to do in Playa Del Carmen Mexico, enjoying the nightlife at beaches is just another kind of obsession. Mamitas Beach Club is among the best places to crash with your soul group and pump yourselves on the dance floor. It also offers rented lounge chairs and a bar with exotic drinks.
Exclusively for the younger generation, it is full of nightlife as well as a wonderful weekend slip at Playa Del Carmen.
8. Swim at the Garden of Eden Cenote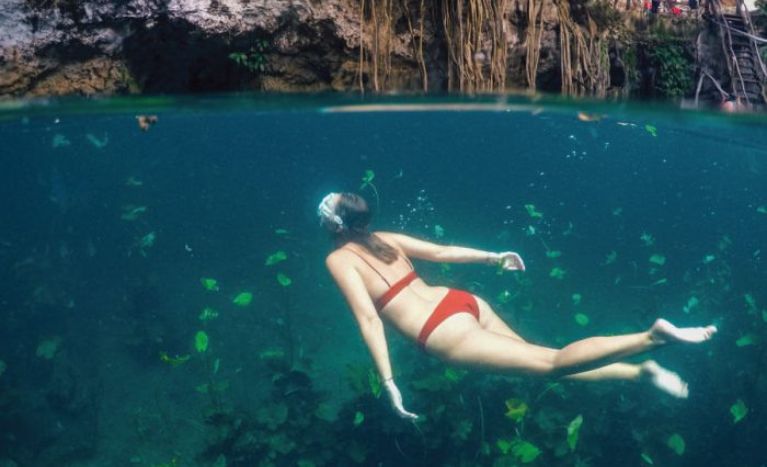 Heading to Playa Del Carmen but not going to Cenote will be one of your major regrets. Cenotes are beauties of Playa Del Carmen, underground caves filled with blue, clear, and, the freshest water. One of the most enjoyable cenotes is the Garden of Eden. Perfect for scuba divers, the Cenote is available for diving with a license. Apart from these, it also has swimming areas for the ones who can't dive, letting them be footloose and fancy-free.
9. Experience the Nightlife at Coco Bongo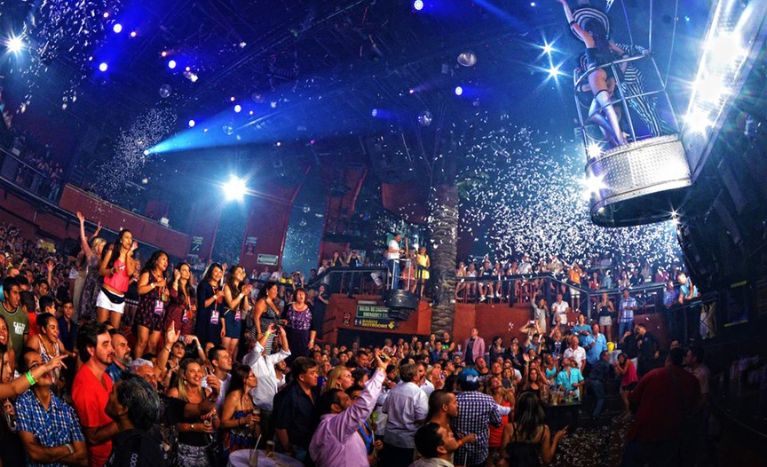 When you want to have the best time of the vacation with no restrictions, say no more. The city is having the most happening night among the unique things to do in Playa del Carmen. Life at Coco Bongo is just different. It is a Las Vegas-style club and is a good spot to celebrate Saturday nights. It has the best drinks, live performances, and a night that you won't forget for the rest of your lives.
10. Get the Best Tacos at El Fogon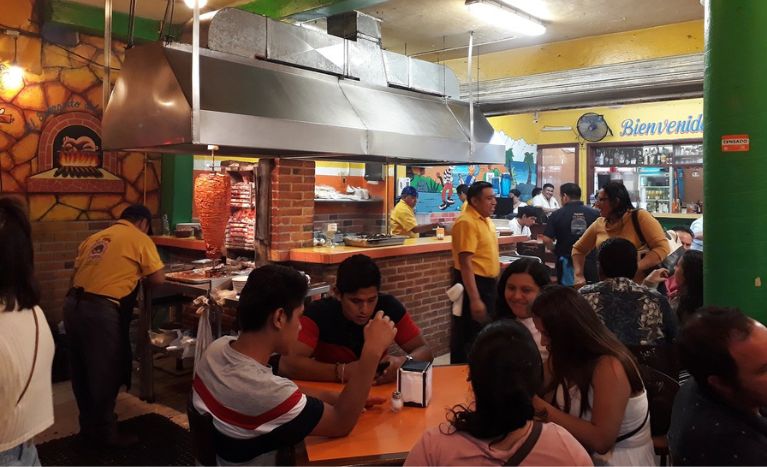 It would be an incomplete journey to this city if you didn't have El Fogon's tacos. This place is known for its traditionally made tacos and family-oriented grilled meat platters. The tacos are sufficient enough to fill that empty stomach with the drinks being on point. You can experience the best of this place with its traditional beer, paired with tacos. Watching the local Latin shows on television along with this will add to your experience.
11. Alux Restaurant: A Restaurant Inside a Cave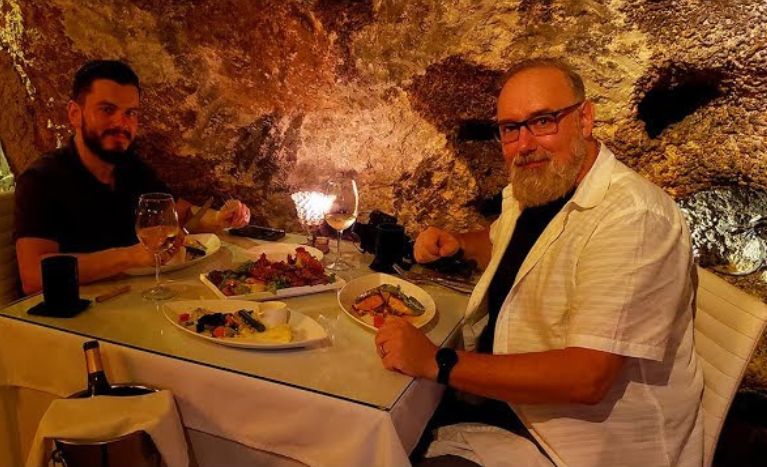 Playa Del Carmen never ceases to surprise you. This time, it is a restaurant under a cave. Least imagined, this cave is an all-time favorite of visitors. It has a mysterious touch to the atmosphere with colored lights and mysterious music. The restaurant also gives a tour of the entire cave, leaving you all surprised. The best cuisine served here is the Mexican and Contemporary dishes along with some surprise meets with friendly bats.
12. Fly a Ski at Maroma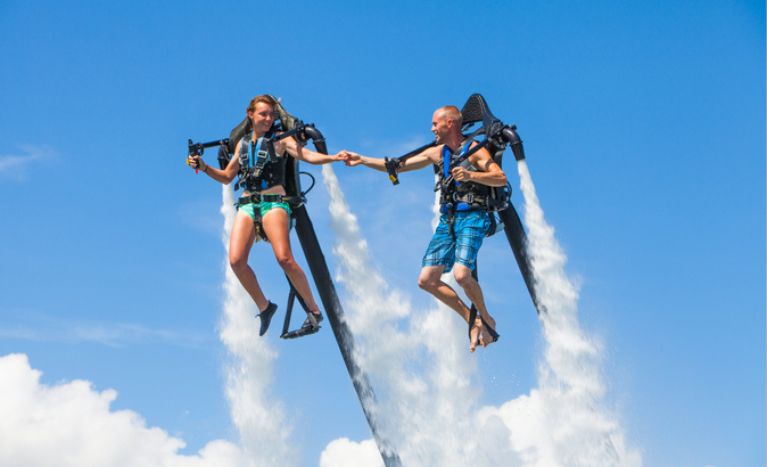 Probably one of the most wanted things on your bucket list, Playa Del Carmen has flying jet skis services to give you the best experience. The best place is the Maroma Beach Club's serene turquoise waters, 30 miles south of Cancun. You have to make a local hotel reservation to access the exotic beach and enjoy the thrills of the ski.
Note: This place also has trained experts and life coaches if help is needed anytime.
13. Check Out Parque Fundadores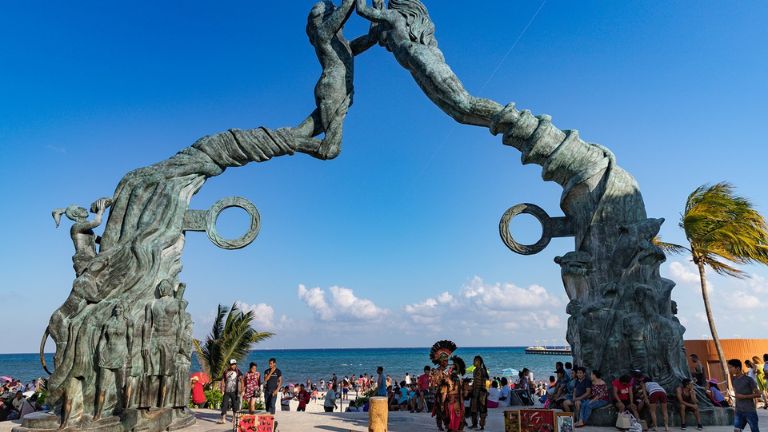 Not just for adults but there are also many things to do with kids in Playa Del Carmen. Parque Fundadores is a public park to take your toddlers on a good ride. Children can play in the playground, while adults can check out the nearby beach in addition to a 50m tall statue of Portal Maya.
One major attraction in this park is the Papantla's Flyers and their performances. It features performers hanging and swinging by a 90ft tall pole, where they show the best of their acrobatic skills.
14. Dance Your Heart Out at Zenzi
Show off some dancing skills at the famous bar, Zenzi. This place is famous for its salsa dance and the live salsa bands who play in front of the visitors. The food and drinks are amazingly great but what if we tell you there's more. Zenzi offers free salsa lessons every Monday, Thursday, and Saturday from 9.00 P.M. onwards. So, when you have the dream of learning Salsa with your partner, this place in the city can assure you free things to do in Playa del Carmen.
15. Get a Dog for a Walk at Voluntarios Perrunos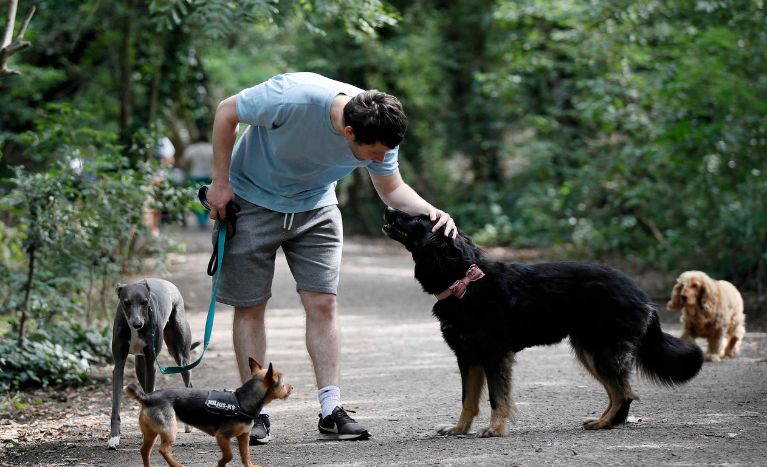 For the people who wanted a pet but couldn't have or bring one, this organization allows you to admire its dogs. Voluntarios Perrunos is a not-for-profit organization that locally shelters rescued dogs. They are the survivors of abuse and unhealthy abandonment. So, they started allowing tourists to get a dog for a walk, finding out, much to their delight, that both the dogs and the tourists are loving this. The organization uses a rental fee to provide food and lodging to the dogs.
16. Early Morning Breakfast at La Cueva Del Chango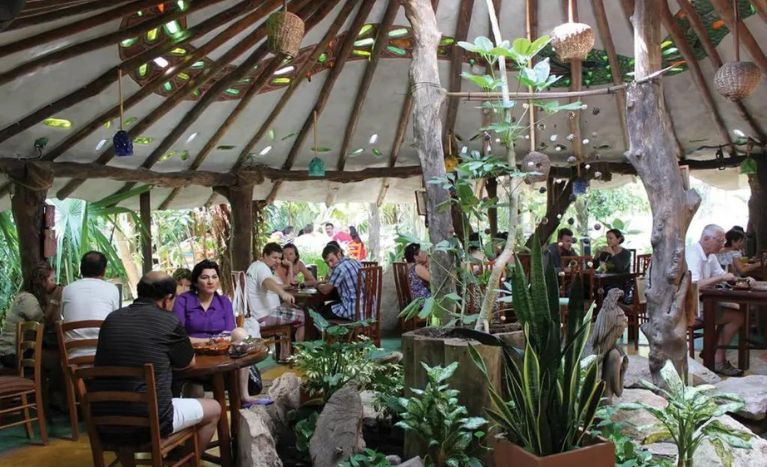 Famous for its aesthetics and interiors, breakfast at this famous restaurant can be a good start to the day. La Cueva del Chango offers a wide range of breakfast options. Its interiors are decorated like a dense jungle and have beautiful fish and turtle ponds.
You can try the typical Mexican breakfast, fresh papaya with scrambled eggs, paired with some warm tortillas ordered with a steaming hot coffee.
17. Unravel Adventure on the Zips at Xplor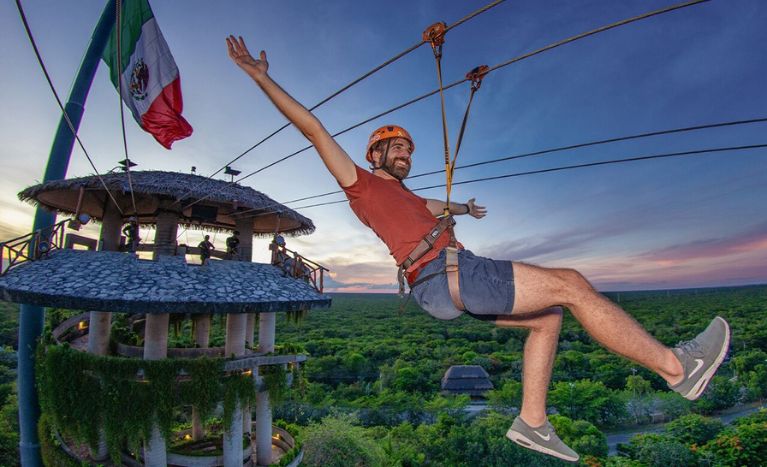 Playa Del Carmen is not just about beaches and the coasts. This place offers a lot of adventurous sports, one of them being Zip lining. Allow yourself to explore the beautiful surroundings on those zip lines at Xplor Adventure Park. It has two zip circuits that have 7 different routes, making them more fun and worthy of trying.
People who are fascinated by heights are going to love them since the highest route has a height of 45m or 147ft.
18. La Quinta: Experience City Life at its Best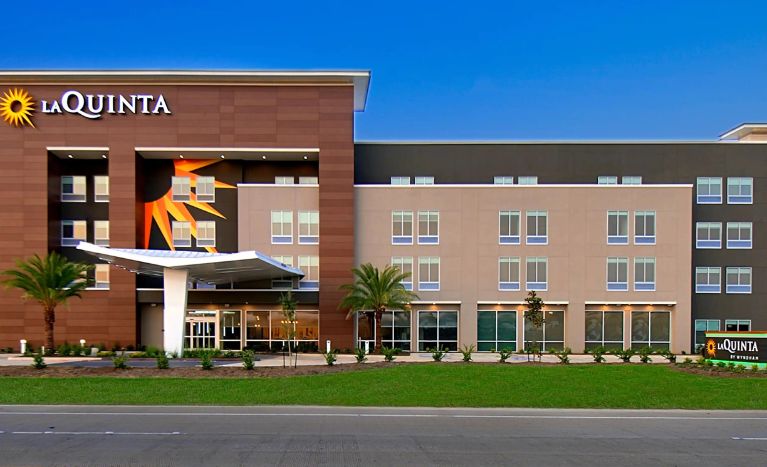 One of the best things to do in Playa Del Carmen, the 5th Avenue, or the La Quinta in the local language is a street filled with authentic Mexican culture. In a lane with shops and restaurants on both sides, it gives a peek-a-boo into regular Mexican life. You can choose to spend some time sitting nearby in the passing crowd or buy some local stuff. If you visit this place at night, then you might even catch some street performers and their dance performances.
19. Parasail at Quintana Roo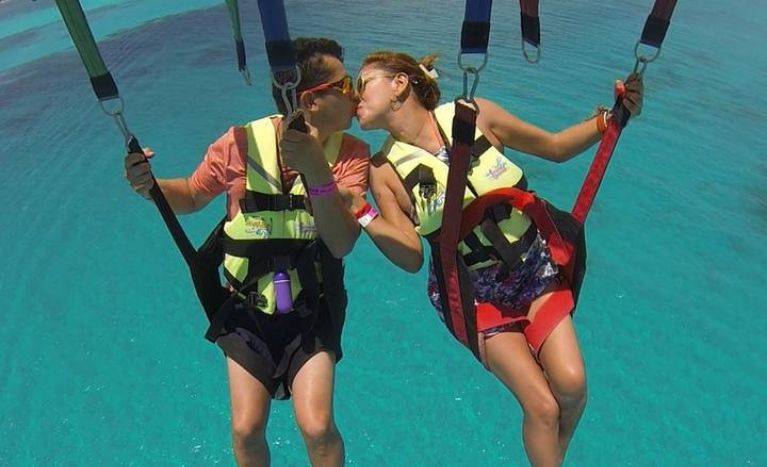 Needless to say, parasailing is one of the hallmarks of Playa Del Carmen. You can find a lot of services at the Quintana Roo, flying you over the vast sandy beaches and the blue ocean water.
These services have an experienced parasailing crew so that you can enjoy the best without any worries. Don't forget to take a camera with you as the view is something you wouldn't want to enjoy just one time.
20. Ride a Bike at Punta Venado Bike Park
The adventure never stops in this city and one of the other major sports that you can enjoy is bike riding. Even though there are no mountains nearby, Punta Venado Bike Park is a trail maintained by the Riviera Maya Club and the MTB Cancun, which has the best views.
The bike center offers bikes in tents. Hence, you can go around the trail to experience the local beauty raw. The park also organizes events where you can take part in exciting competitions.
21. L' Aquarium: The Third Largest Aquarium in Mexico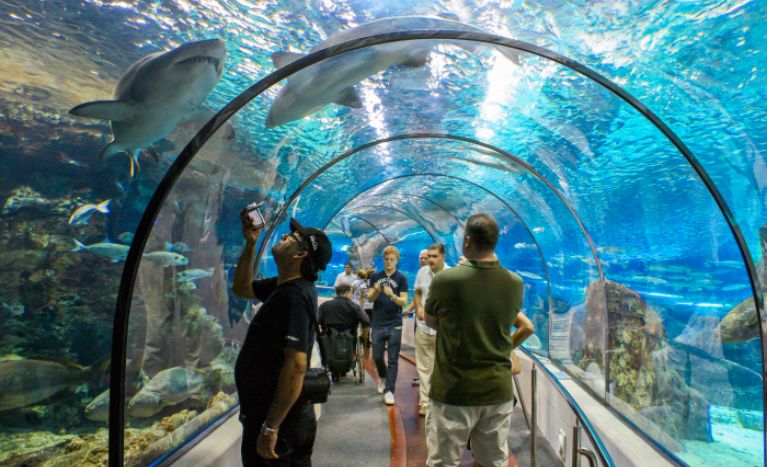 Set up with the aim of sustainability and promoting education about marine ecology, L' Aquarium is Mexico's third largest aquarium. It has more than 200 species of 45 distinct types, providing a close-up of marine life. Visitors can find some amazing species from Riviera Maya too. The aquarium mimics the natural habitat of the animals so that they can be preserved and restored.
22. Book Edventure Tour Package at Riviera Maya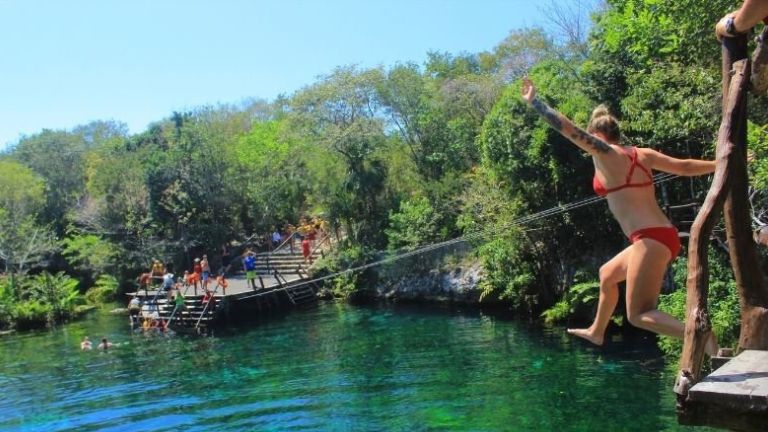 A full-on package with the most fun to-do activities, Edventure Tour provides adventure in the dense jungles of the Caribbean and the waters of Riviera Maya. The package includes activities in Playa del Carmen like kayaking, zip-lining, diving, and Cenotes, with the much-needed swimming with turtles. The Xtreme even includes lunch and dinner for the entire day, making it quite an affordable way to explore.
23. Dive into the Clear Waters of the Caribbean at ME Dive Centre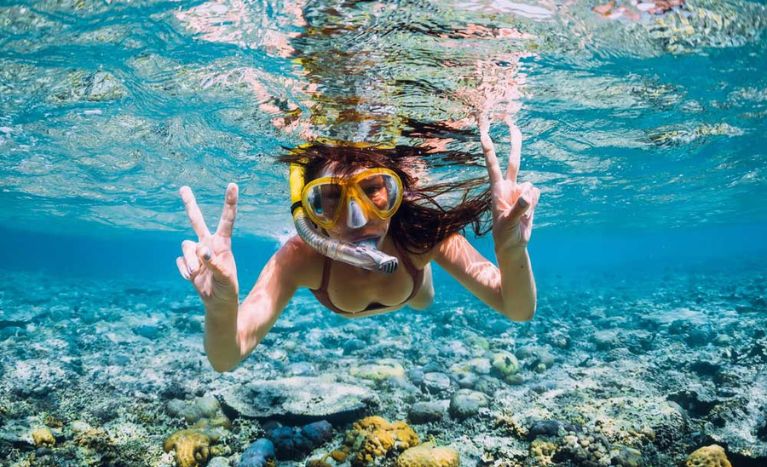 While a majority of activities are done on water or land, this unique dive center allows you to dive inside the freshest and clearest water you would have ever seen. ME Dive Center has always been one of the best spots that tourists prefer for a great dive.
But what makes them different from other dive centers are their short-term dive courses. They can let you learn the activity in a very short time.
24. Get on Yacht Tours at Riviera Elite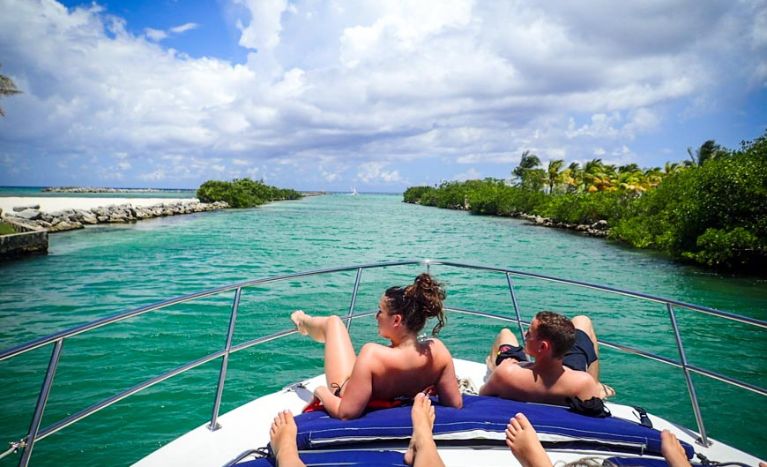 The beauty of the land can always be seen from the ocean and the beauty of Playa Del Carmen can now be relished from the magnificent yachts. The yacht services at Riviera Elite have some of the most beautiful scenes where you can see the city at its best.
Tourists can avail themselves of around three to eight hours where they can even do fishing on the deck, visit the Mayan ruins, and even have a beach picnic.
25. Get Close to Wildlife at Bel Air Animal Park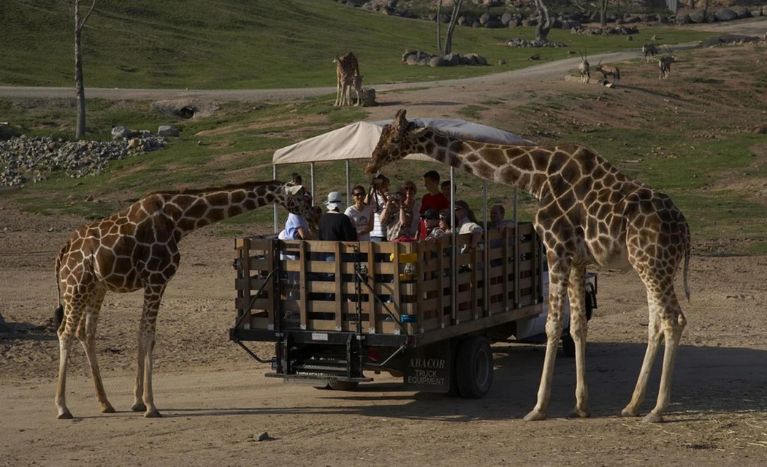 There is no limit to things to do with the family in Playa Del Carmen. Bel Air Animal Park is one of the famous attractions in the city. The park has an open path that goes through the jungle. Visitors can get a peek into the lives of various animals and spot more than 300 birds at a time.
The park has a lot of fun things to do for family members of all age groups. It also offers kayaking, swimming, as well as trails, to walk on while admiring nature.
Where to Stay at Playa Del Carmen?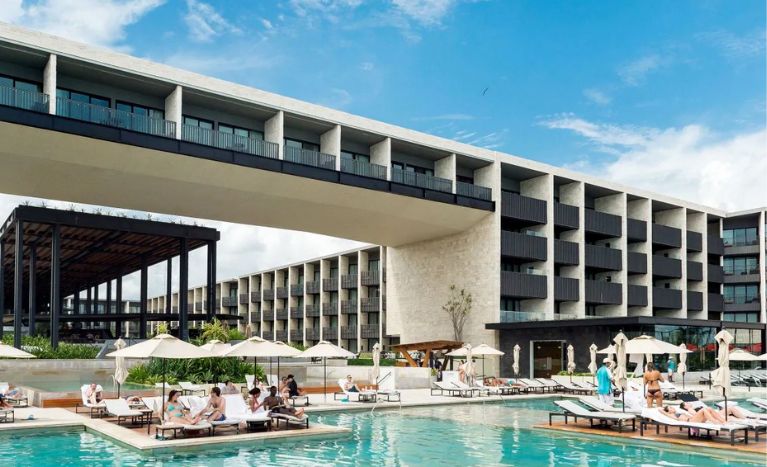 Playa Del Carmen offers an endless list of hotels where you can spend an amazing time and relax before getting the best out of other days. There are multiple restaurants based on different budgets and facilities. If you want to go for a cheaper yet quality hotel service, then try Wabi Hotel, Maya Del Carmen.
There are also various luxurious hotels which are known for their expensive facilities along with the best rooms. Grand Velas Riviera Maya is one of them with a resort-kind feel. Other options are Grand Hyatt Playa Del Carmen and Banyan Tree Mayakoba. Visitors can relish the private beach and pool, with other facilities such as a relaxing spa, the best cuisines at their tables, etc.
In a Nutshell,
These 25 activities make it hard to decline a trip to Playa Del Carmen to spend your vacation. It is a place not just with exotic beaches but with natural wildlife, local shops, delicious seafood, and amazing nightlife. You can call it a complete package of fun, adventure, exploration, and memories.
Things to Do in Playa Del Carmen – Frequently Asked Questions
1. Which is the top attraction to go to in Playa del Carmen?
Some of the major things to do in Playa Del Carmen include visiting L' Aquarium. For amazing marine life, you can trust this place. The restaurant inside a cave, also known as Alux Restaurant, is further suggested.
2. What are some popular things to do in Playa del Carmen?
Playa Del Carmen is full of fun activities. Tourists can enjoy themselves to the fullest. Some of the popular things that you can do here are Parasailing, Kayaking, and getting a bike ride on the trails. 
3. What is there to do in Playa Del Carmen?
In Mexico, Playa Del Carmen has an endless list of activities to do. One unique thing that visitors can do here is swim with the turtles under the water. Akumal Beach provides this amazing experience to tourists. 
4. Which is the best place to eat in Playa del Carmen?
There are some of the best restaurants in Playa Del Carmen which offer great food options. You can't afford to miss La Cueva del Chango. It is known for its jungle-kind aesthetics, seafood, and exotic drinks.
5. Is there a budget-friendly place to stay in Playa del Carmen?
Multiple hotels offer cheap rooms and quality service. You can try Wabi Hotel, which has multiple facilities and even beach access. The prices are extremely low as compared to the facilities they provide. 
Also Read: