If you're interested in experiencing island life, head to Langkawi, a charming island off the coast of Penang in Malaysia. There are plenty of things to do in Langkawi.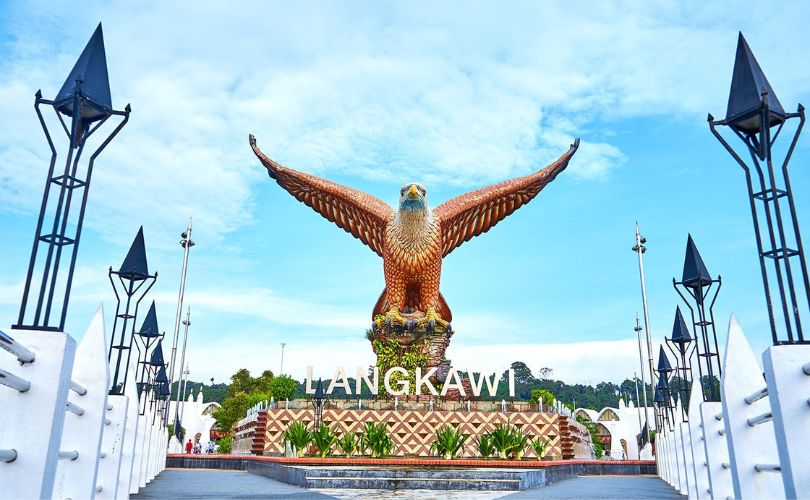 Many tourists travel to Langkawi for its beautiful beaches and stunning natural surroundings because of its laid-back atmosphere, which sets it apart from other regions of Malaysia. The island's towering peaks and panoramic views, as well as its recognisable cable car, are among its best features.
Despite Langkawi's modest size, there is a lot to do there, including interesting museums, shops, and other locations like aquariums and artisan villages.
The island also boasts duty-free status, so if you want to go shopping and score some great deals, this is the place to be.
One of the attractions of Langkawi is that it offers a wide variety of tourist attractions, but it's also simple to leave the main tourist areas and spend time trying the local cuisine and wandering through the local markets.
The top things to do in Langkawi are as follows:
1. Explore the islands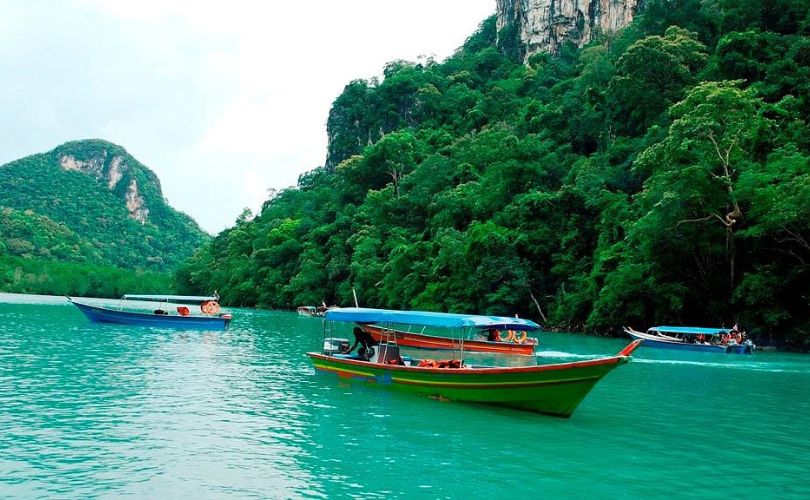 The Andaman Sea contains 104 separate islands, many of which are abandoned, and forms the archipelago of Langkawi.
You can take a boat excursion that will allow you to explore various islands, with Pulau Dayang Bunting. It is also known as the Island of the Pregnant Maiden, which is among the most popular.
You have two options: either sign up for a more planned guided tour or rent a boat at the Kyah Jetty or the Tanjung Rhu Jetty. Hiring a boat gives you more flexibility to explore the island as you like.
Visit Big Lions Island next if you want to see eagles, and Pulau Beras Basah which is the finest place to go skydiving, swimming, or bathing which are among the fun Langkawi activities.
You will have several unique photo opportunities throughout your Island Hopping Tour. Therefore, get ready before you head down with your camera.
You may also sign up for other trips, such as a Castaway Picnic, which involves a voyage to a quiet island where you can enjoy a picnic.
2. Kilim Geopark Offers Mangrove Tours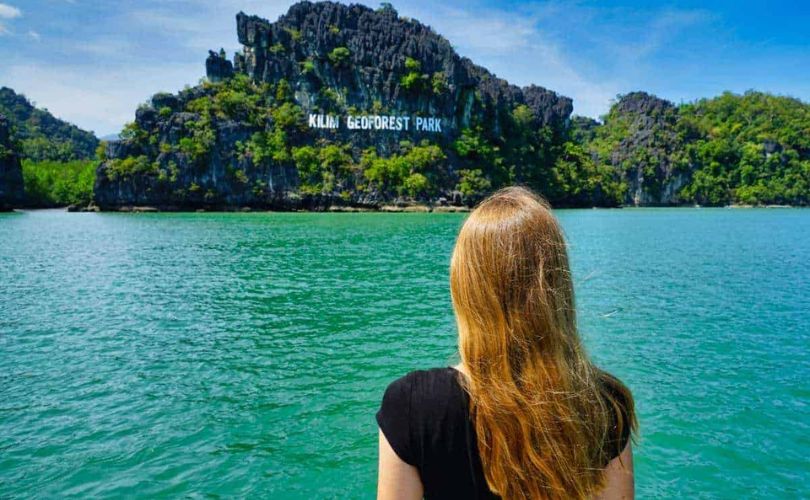 Kilim Karst Geoforest Park Langkawi is 100 sq.km in size and is well-known for its pristine beaches, geological hills that protrude into the Andaman Sea, and mangrove swamps.
Beautiful mangroves blanket the entire island of Langkawi, and it is believed that they shielded it from the 2004 tsunami and reduced its damage. As such, it is one of the most important ecosystems in this part of Malaysia, and the best way to explore it is on a scenic boat trip of the area.
One of the best things to do in Langkawi where you'll sail through the swamps, and gets to witness craggy caves, clear ponds, and forest lands.
The park's natural habitat will enchant you with its monitor lizards, monkeys, crabs, and other mythical creatures.
Most boat tours run around 2-3 hours, and you can get off at several points in the mangrove swamps to explore the natural beauty on foot.
There's a Bat Cave too. It is a popular tourist attraction, and you will be fascinated by its eerie vibe. You may view all of this when on a boat ride.
3. Travel to Taman Lagenda Langkawi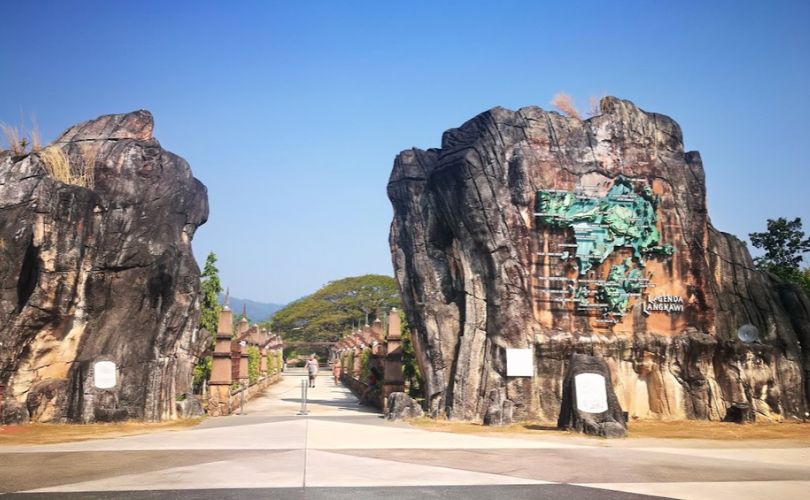 Langkawi is famed for its myths and legends. If you want to learn more about them, consider visiting Taman Lagenda Langkawi, a theme park dedicated to revealing the stories behind all the folklore. And, is the best place in Langkawi to explore with kids and families.
The majority of the museum is outdoors, and you can either walk through it or have a leisurely buggy ride.
A Gondowana stone wall will welcome you to the park. Additionally, Gondowana has a mythical tale of its own. It was a supercontinent that finally broke up owing to the earth's plate tectonic movement. The Gondwana wall serves as evidence for the theory that Langkawi Island also formed as a result of this plate tectonic action.
There are about 17 sculptures in the theme park that depict various legends that are well-known on the island, and it looks out over the lovely Kuah Jetty.
Giants, ogres, and princesses are just a few of the characters you can run with.
4. Check out Eagle Square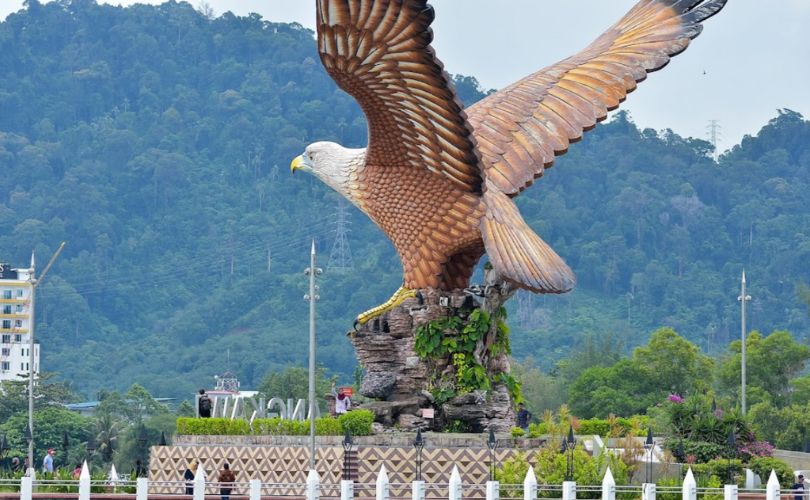 One of the most well-known locations in Langkawi is Eagle Square, or Dataran Lang in Malay.
There is a colossal monument of an eagle poised to take flight that stands at a height of around 12 meters in the square in Kuah, and is among the top Langkawi attractions. Kuah is the island's capital and largest town.
You may combine a visit here with a number of other attractions since Taman Lagenda Langkawi and other nearby sites are all close by.
Along with the statue, the area around Dataran Lang is home to a few charming fountains, lovely bridges, and a few eateries.
A group photo or a selfie would look great with the unique scene and distinctive statue. There are many things to anticipate at Dataran Lang, in addition to the scenic landscape.
The Jetty Point Complex is located across a footbridge from the square, opposite. Along with a modest mall with fast food restaurants and duty-free shopping, it serves as Langwaki's principal ferry station.
Consequently, shopping and taking beautiful images can go hand in hand.
5. Take a Hike to Durian Pernangin
One waterfall in particular, Durian Perangin, is worth visiting in Langkawi since it is so lovely.
It can get pretty crowded on the weekends when folks come here to picnic since this is one of the most preferred Langkawi tourist attractions.
The trek to the waterfall is rather steep, and because it is a multi-layered cascade, you can stop along the route to admire the vistas.
You can also have a relaxing swim in the rock pool at the base of the falls.
6. Enjoy a Swim at Air Hangat Village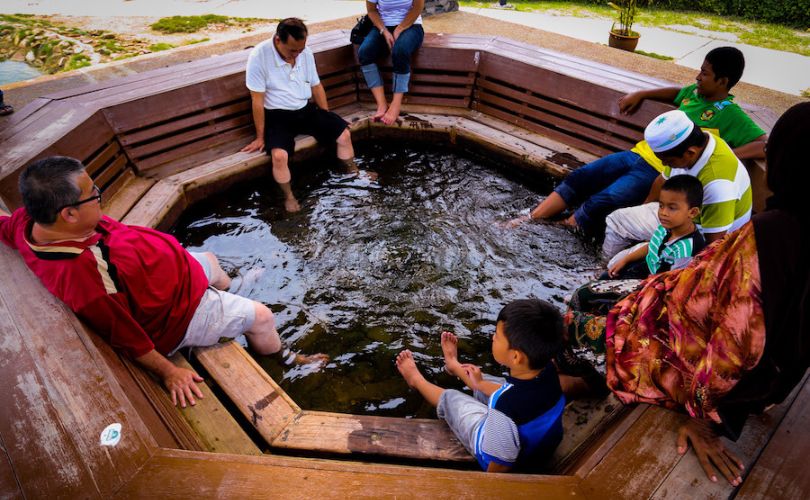 If you want to relax in Langkawi, you should visit Air Hangat Village.
In fact, Air Hangat means "Hot Water" in Malay, and as a result, this area is home to a number of natural hot springs that are reputed to offer therapeutic benefits.
The hot springs are natural salt water springs; however, be advised that the waters are actually pretty hot. Yet, if you have any aches or pains, this is one of the greatest methods to relax.
There are various sections in the hot springs where you can either choose a private open-air Jacuzzi or decide to relax in a bigger community pool.
7. Visit Galeria Perdana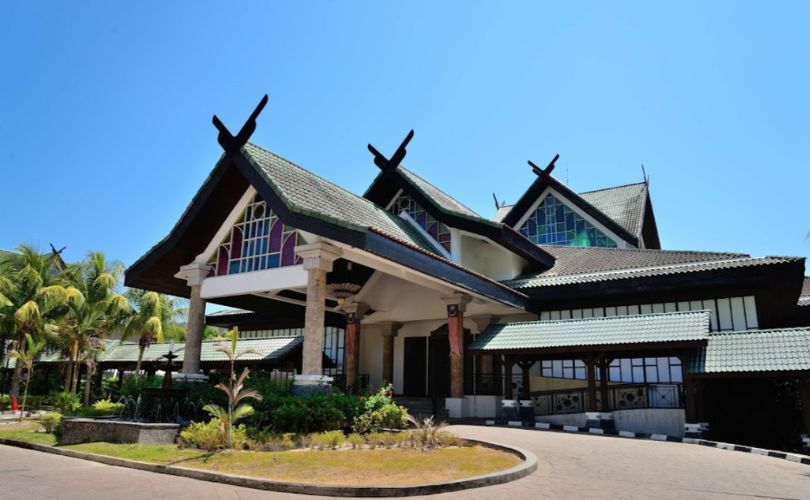 Founded by Dr. Mahatir Mohamad, a former Malaysian prime minister, Galeria Perdana is one of most fascinating museums and one of the best places to visit in Langkawi.
The museum is devoted to displaying the treasures that Mahatir received while in government, most of them were given to him by former heads of state.
Formula One racing cars and vases with Mahatir's likeness are among the treasures on show at the museum.
The museum itself is also worth visiting because it has high ceilings that were all individually painted.
The building's inside is decorated with porcelain, crystal, silver, and textile, while the external design is an example of traditional Malay architecture.
Three interconnected blocks, A, B, and C, make up the museum and are used to display various artifacts. Along with a café, the museum has a library with a large collection of literature.
8. Go Shopping at the Night Markets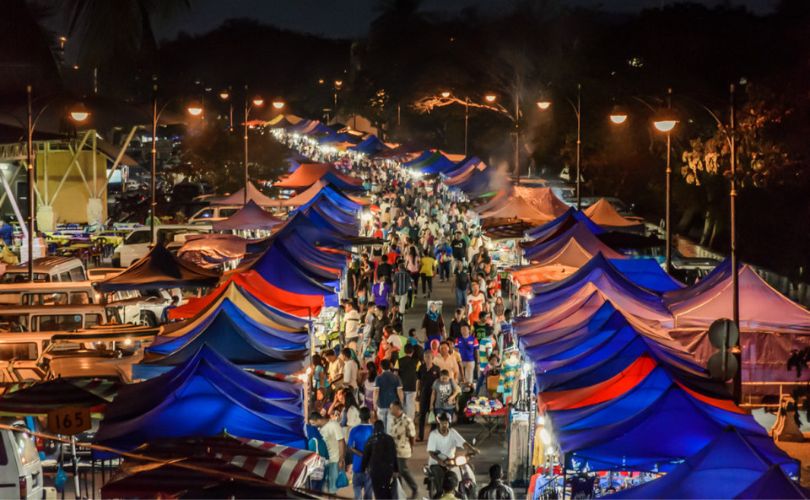 The attractions in Langkawi extend beyond its islands, woods, and beaches. Explore Langkawi's night markets to get a true sense of the island. Markets are constantly busy and lively with both locals and visitors.
The term "Pasar Malam" is used by locals to refer to the night markets, which take place at various sites and on various days of the week.
The most enticing aspect of night markets is the genuine local food, which you cannot find in any upscale restaurant. Fried noodles, Nasi Lemak, Pisang Goreng, Nasi Ayam, and a variety of other dishes are available here.
Aside from that, souvenirs like sunglasses, watches, paintings, wallets, and knockoffs are available throughout the markets.
9. Learn More the Coral Reefs at Pulau Payar Marine Park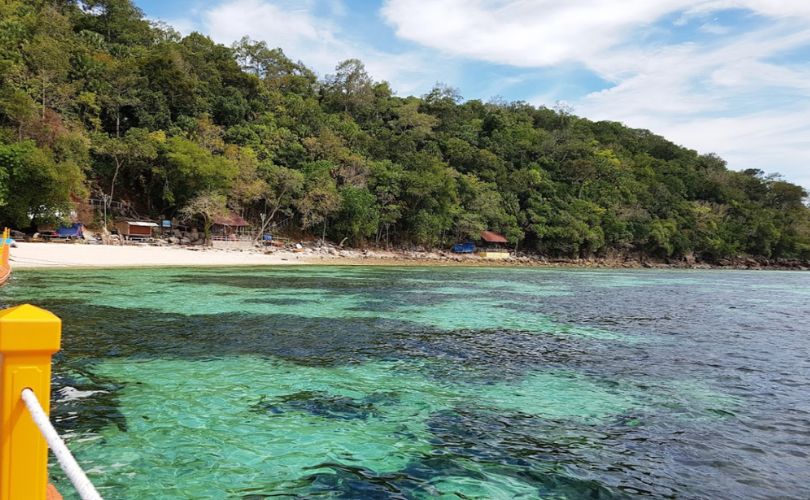 A 45-minute beautiful speedboat journey will take you to Pulau Payar Marine Park, which is around 30 kilometers from Langkawi's main island.
The major reason to visit the Marine Park is to see some of the most beautiful natural regions in Malaysia. The main highlight is the Coral Garden, which is covered with a variety of multicolored reef.
If you want to see some of the most beautiful underwater ecosystems in Langkawi, you may also go snorkeling, which is among the fun things to do in Langkawi. It's around 45 minutes from Kuah Jetty, and once there, you'll be surrounded by seahorses, snappers, and other sea critters.
The price of your scuba diving package, which includes an admission fee, diving gear, meals, insurance, lodging, and roundtrip boat transfers, starts at 85 USD.
10. Conquer Gunung Raya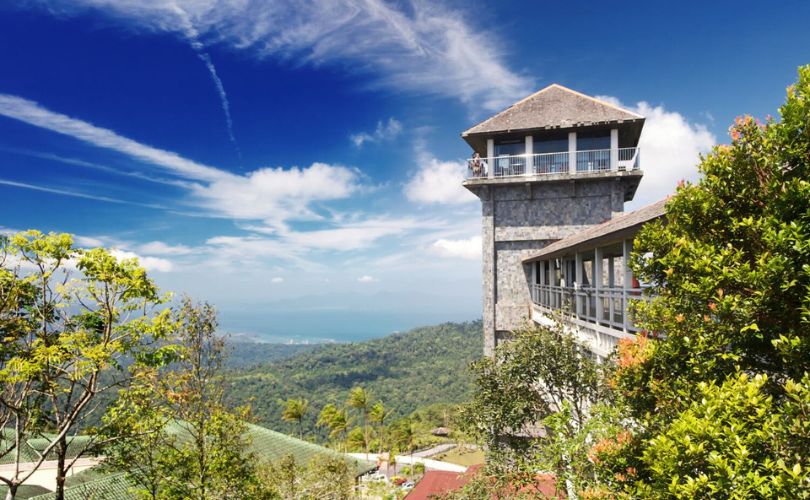 Gunung Raya is the tallest peak on Langkawi, rising to a height of 881 meters.
This is also the location of another of Langkawi's well-known folklore, as the mountain was claimed to be cursed by a giant named Mat Raya.
During your hike, you will become acquainted with countless unique and amazing flora and wildlife. You have the option of going it alone or hiring a guide, but the walk to the mountain's summit is a bit arduous in places.
The forest encompasses 400 types of vegetation and trees and 230 species of wildlife.
You can anticipate seeing wildlife like flying foxes, monkeys, eagles, and hornbills as you pass through large tracts of primary rainforest on your route to the top.
The mountain may be reached by both road and stairs. The whole distance from bottom to summit is 27 kilometers by road and 4287 steps. The climb up can take two to three hours. Do not attempt this if you have any breathing problems.
11. Explore the Mahsuri Tomb and Museum
The most well-known local tale associated with Langkawi concerns Mahsuri, a stunning woman who was slaughtered because other people were envious of her beauty.
Learn more about the legend at the Mahsuri museum. At one point, it was believed that the island of Langkawi had been cursed for seven generations.
You can explore a variety of galleries and even see Mahsuri's former residence and her grave, which is located in the complex's middle, and is one of the unique things to do in Langkawi.
12. Tanjung Rhu Beach is a Great Place to Relax and sunbathe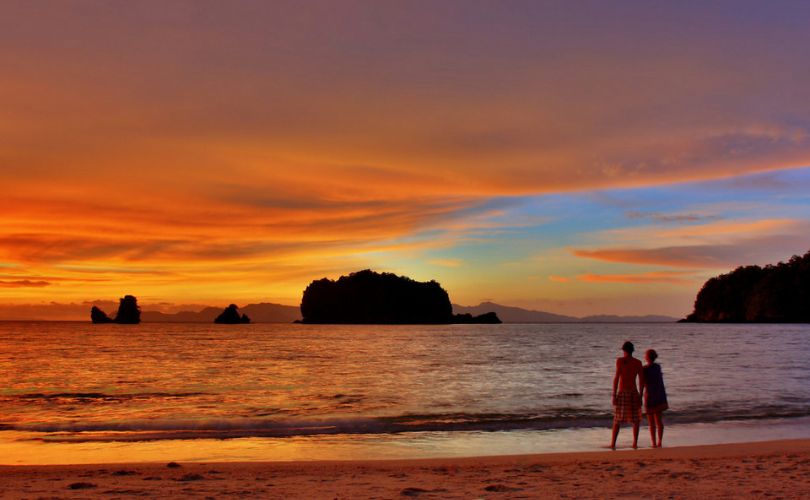 Tanjung Rhu beach, located in the north of the island, is one of Langkawi's most beautiful beaches.
Because of its slightly hidden location, the beach has clean white beaches and is rarely crowded. Many people are not aware it is open to the public, and is one of the under-rated places to go in Langkawi.
This is a terrific option if you want to avoid the crowds. You can rent boats at the jetty and explore some of the offshore views from the beach.
One of the most well-known locations is the Gua Cherita, also known as the Cave of Stories in Malay. It is said that a Chinese princess was abducted by a Garuda, a legendary bird thought to belong to Lord Vishnu.
13. Get Some Fresh air at the Telaga Tujuh Waterfalls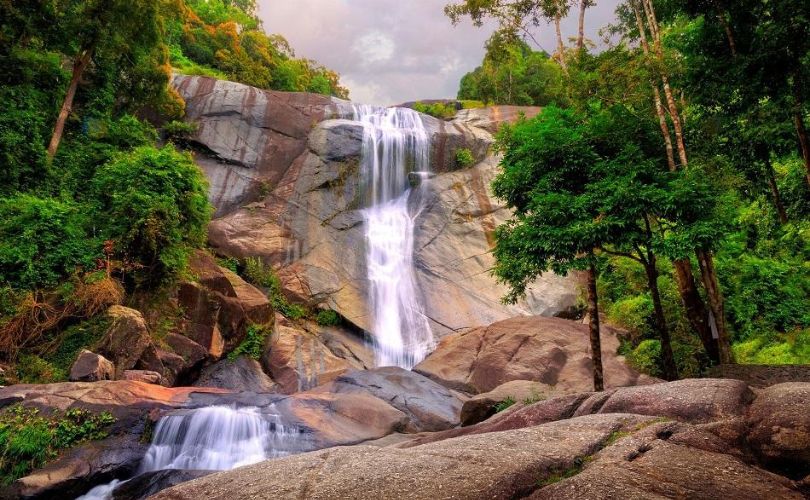 The Telaga Tujuh Waterfalls, whose Malay name translates to "Seven Pools," is arguably the most well-known waterfall in Langkawi.
The falls have a legend associated with them, just like much of the island, and the people say that elves live here.
The waterfalls derive their name from the fact that there are seven natural pools or wells in the rock face here that are fed by seven distinct cataracts that fall from Mat Cincang Mountain.
The waterfalls require a very difficult trek to the top, but it is definitely worth it. Along the way, you will pass some lovely landscapes and some cheeky monkeys. There are other species to keep an eye out for as well, like graceful hornbills and scurrying squirrels.
In addition to climbing, you may swim in this area, where lush trees surround you as you flee into the rainforest.
14. Pay a visit to the Langkawi Wildlife Park & Bird Paradise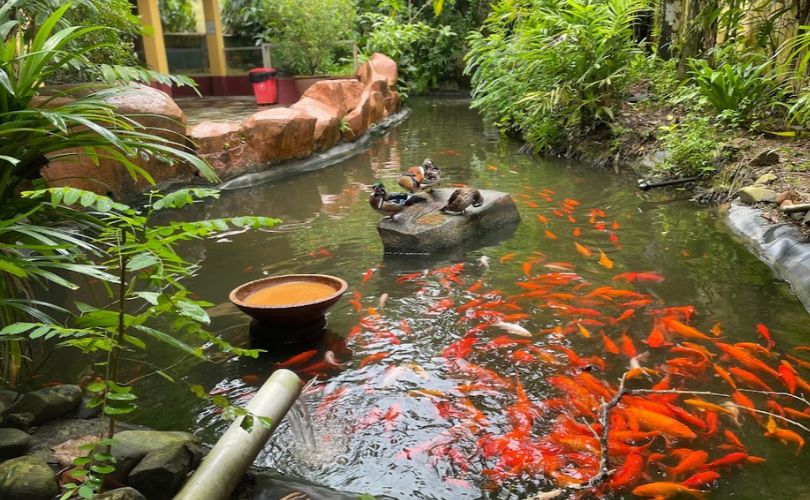 Birdwatchers must go to the Langkawi Wildlife Park & Bird Paradise, which features 150 different types of colorful birds. It also includes over 150 species of birds and animals from South America, Australia, Russia, South East Asia, and Malaysia.
The park is made to resemble the natural habitat of the creatures, and some of these include ducks, owls, toucans, and even flamingos.
There's a vast aviary here, as well as other scenic elements like waterfalls, and you can even get up close and personal with some of the animals because there are daily feeding sessions.
Feed raccoons, crocodiles, and pelicans here. For kids this is one of the best places to visit in Langkawi. With so many unique animals there, you can enjoy yourself to the utmost and take pictures to wow your friends with how much you saw.
15. Check out the Art in Paradise 3D Museum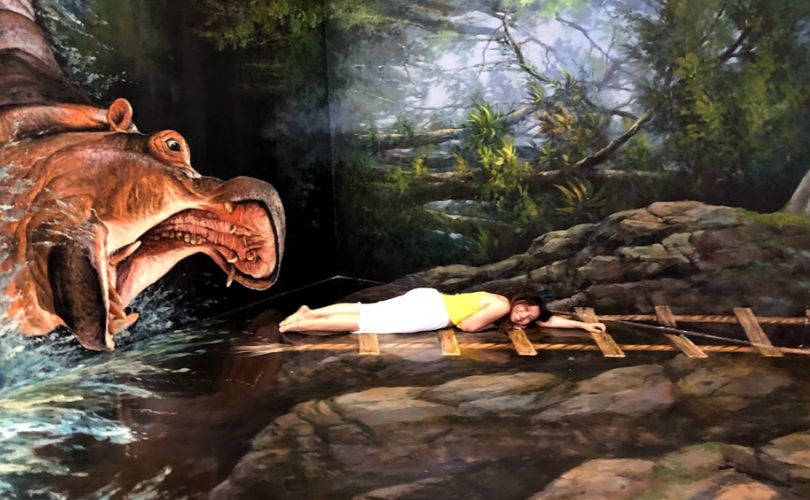 The Art in Paradise 3D Museum is a good option if you're looking for something indoors.
As the largest 3D art museum in Malaysia, this facility houses 200 distinct pieces of art that appear to be three dimensional.
It is a three-story structure divided into nine interactive zones such as Malaysian, Egyptian, fantasy, castles, and many more that will steal your breath away once you visit.
Your eyes are in for a treat since you'll also be able to see the breathtaking panorama painting of Kuala Lumpur's skyline. It also features the Petronas Twin Towers, Menara KL Tower, and Sultan Abdul Samad Building.
16. Explore the Oriental Village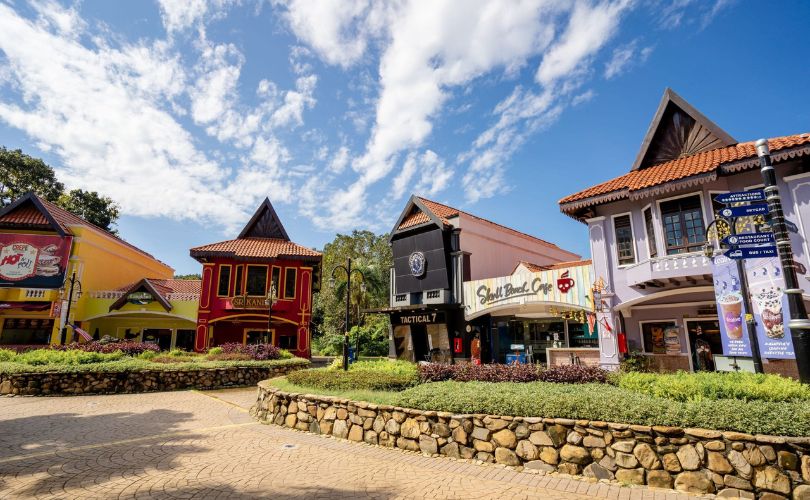 The Oriental Village is an Asian-themed park and village with authentic-looking reconstructions of regional buildings and traditional entertainment.
It also includes an art gallery, animal exhibitions, souvenir stores, and many other attractions. There are many local and international restaurants as well.
You may watch jugglers, martial artists, and musicians, to name a few of the attractions, or you can learn how to fly a traditional kite. Oriental Village offers a lot of shops offering handicrafts and other items even without these attractions. If the shops are simply too expensive for you, there are also bargain kiosks where you can shop.
A Segway is one of the ways to navigate around the hamlet. You can also get your portrait painted or have your palm read here, if you'd like.
17. Take a Trip on the Langkawi Cable Car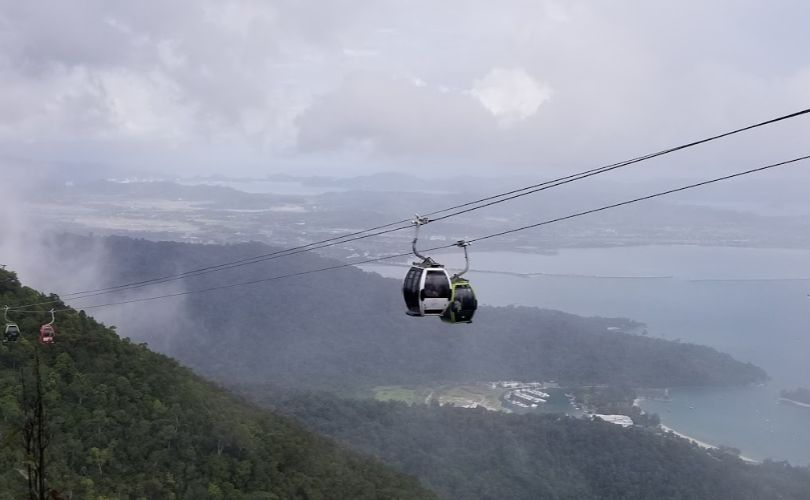 The Langkawi Cable Car, which takes you to the summit of Mat Cincang Mountain, is one of the island's crowning achievements and major Langkawi tourist attractions.
The journey takes about 15 minutes, but along the route you will be treated to breathtaking vistas as you travel through lush rainforests and through cascading waterfalls.
The temperature will start to drop as the trip begins, and the venting will start to provide a windy breeze. In order to keep warm, be sure to pack a jacket or some clothing.
The top is 708 meters high, has an observatory platform, and on a clear day, you can see all the way over to Sumatra in neighboring Indonesia.
You can tour the Oriental Village before or after taking the cable car there, which is where it departs from.
18. Play in the Water at Pantai Cenang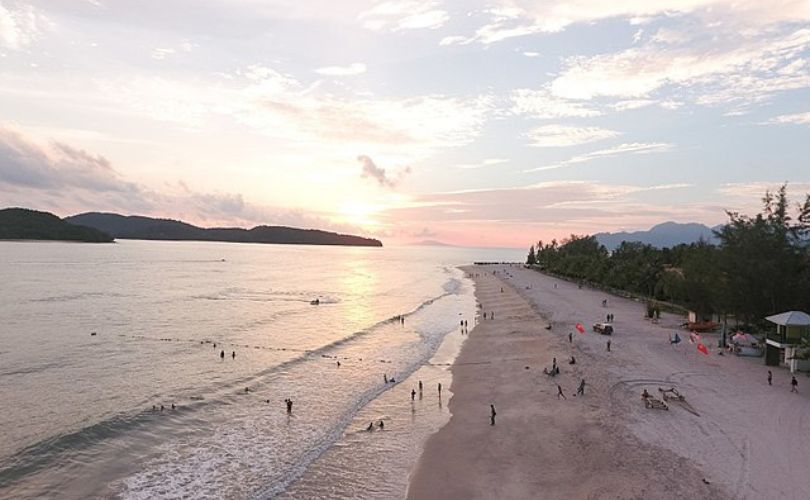 One of Langkawi's most well-known and adored beaches is Pantai Cenang. The beach, which is well recognised for its white sand and beautiful water, is only a 10-minute drive from Langkawi International Airport.
Every type of lodging is offered here, from magnificent resorts to budget-friendly motels and chalets.
Due to its popularity, it is also one of the places to go in Langkawi where you can find a tonne of activities that are excellent if you enjoy water sports.
Some of these activities include jet skiing, paragliding, and, of course, snorkeling and swimming. If you want something a bit more fast-paced, you can even go for an exciting trip on a banana boat.
Make sure to arrive in the afternoon so you can see the stunning light show at the beach, which is particularly well-known for its sunsets.
The beach's nighttime culture is its main draw, and you must spend the night here to appreciate it.
Best Places to Eat in Langkawi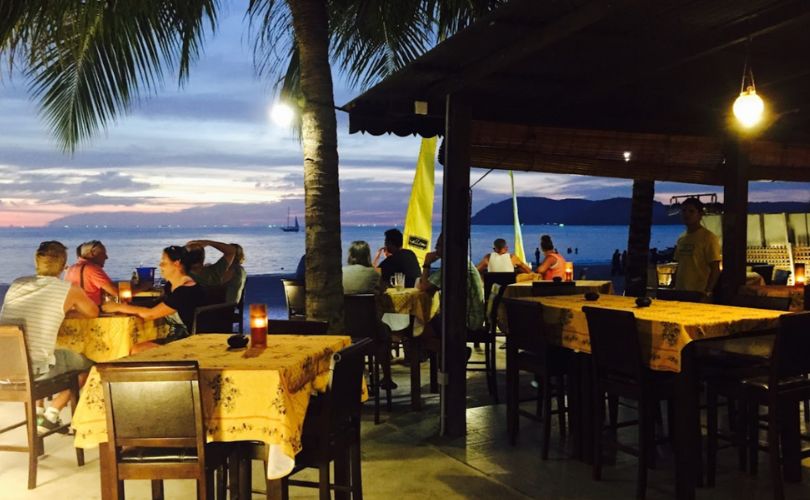 As an island, Langkawi offers fresh, delectable seafood that you should undoubtedly sample. There are a tonne of cafes and restaurants in Langkawi where you may grab some delectable food. Some visitors come solely to sample the delicious seafood barbecue. Here is a list of restaurants in Langkawi that are well-known for serving delicious, fresh dishes.
(i) Yellow Cafe Langkawi
A lovely beachfront cafe is a must-stop before leaving Langkawi. Yellow Cafe Langkawi is a beachside cafe with delicious food that is situated at Pantai Cenang. You can enjoy your meal here while admiring the stunning sunset or listening to the waves crashing. Pizza, teriyaki, chicken wings, lasagna, sandwiches, and many other delectable foods are available at the cafe. And the best part is that you may enjoy all these foods for a very little cost.
(ii) Langkawi Fish Farm Restaurant
One of the city's oldest seafood eateries is Langkawi Fish Farm Restaurant. The restaurant serves hearty, affordable meals in a traditional setting that is big and open air. Fish, crabs, lobsters, squid, mantis shrimp, and many other types of seafood are available here. The salted egg yolk, however, is a meal you must try. In addition, they provide delectable meals and a picturesque bridge view for a romantic ambiance.
(iii) The Pavillion
The eatery is positioned high in a jungle canopy. Guests dining here are not only treated to excellent food and ambiance, but they may also enjoy the background sound of traditional Thai music, the flickering light of candles on each table, and the white orchids. Tom yam goong, stir-fried beef with Thai basil leaves, garlic, and chili, and steamed snapper fish with lemongrass, chili, and lime are some of the most well-liked dishes to sample. Every Friday, a unique arrangement is produced just for foodies.
(iv) La Sal at Casa Del Mar
La Sal at Casa Del Mar is a fine dining restaurant where you can enjoy local cuisine inspired by Mediterranean flavors with a totally local catch. The tangy, hot, grilled tandoori chicken skewers served with buttery naan bread are among the restaurant's must-try specialties. Your visit to the restaurant is made entirely worthy by this magnificent and incredibly tasty dish, which is undoubtedly quite comforting.
Best Places to Stay in Langkawi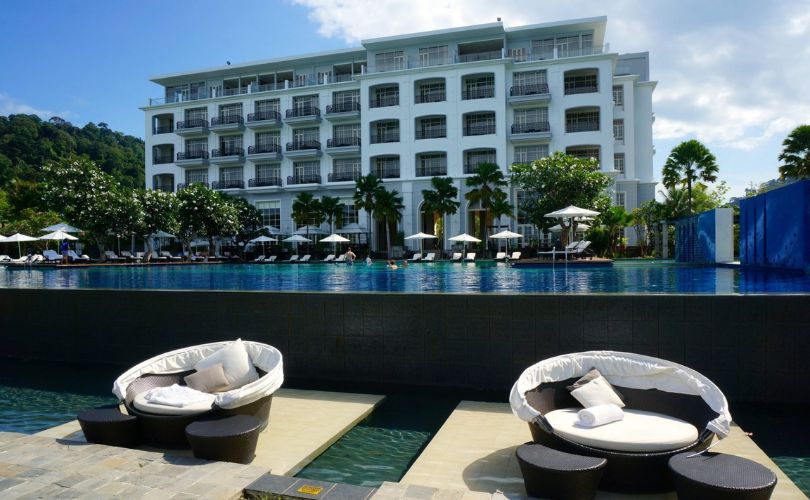 Langkawi's main draw is its gorgeous beaches and historic rainforests. It is one of the most opulent islands in Malaysia, a nation made up of around 100 Andaman Sea islands.
It is obvious that you need to remain here for a few days in order to explore the entire island. Additionally, the energetic nightlife on Langkawi Island is something you must not miss. However, if this is your first vacation here, it may be stressful and difficult to discover the ideal accommodations.
We're here to allay your concerns because we've compiled a list of the top hotels in a range of price ranges.
(i) The Danna Resort
The Langkawi hotel is an award-winning establishment that is located in a great area. A five-star hotel that embraces beauty and was carried to the modern world from the colonial age. The Langkawi International Airport and Pantai Cenang are both extremely close to The Danna.
(ii) The Datai Resort
The hotel is tucked away on the mysterious Langwaki island. Every region of the hotel is surrounded by lush rainforests and offers breathtaking views of the sea and its surroundings. If you're seeking a vacation, this hotel provides the ideal setting to rediscover your sense of adventure and connection to nature. Due to its inclusion in the top ten beaches in the world, Datai Bay is an especially compelling place to unwind.
(iii) The Andaman, a Luxury Collection Resort
The resort is renowned for founding the first coral nursery of its kind in South East Asia. The resort has received numerous honors and prizes as a result of its beauty. The hotel has a private beach and provides its guests with complete recreational amenities. It is very convenient to get from the hotel to the Air Terjun waterfall or the Datai Golf club.
(iv) The Westin Langkawi Resort & Spa
The recommendations made by travelers for this hotel are excellent. The hotel, which is situated on a private beach, has a number of recreational amenities and is conveniently located near a number of locations, including the Langkawi Terminal ferry, Kuah jetty, Eagle Square, Lagenda Park, and more. Each hotel room's generous level of luxury will find a way to make you feel good during your vacation.
When are you Planning Your Trip to Langkawi?
What's exactly clear about Langkawi is that it is a charming island off the coast of Penang in Malaysia filled with tourists and visitors who come from all over the world. There are plenty of things to do in Langkawi, and it's simple to even find time in your vacation to go shopping, try out the local cuisine, or wander through the local markets. Who knows? Maybe you'll decide to move there and make Langkawi your permanent home someday.