The state capital of Pennsylvania, Harrisburg, is a charming historic neighborhood with many attractions, beautiful views of the Susquehanna River, and architecture from the 18th and 19th centuries. Spending an entire day at the Pennsylvania State Capitol Complex would allow you to explore the city's centerpiece and the artistic side of state administration through the local artwork. Activities on and near the Susquehanna River, such as biking along the Capital Area Greenbelt and kayaking, as well as riverboat excursions and leisurely afternoons at the City Island Complex, are some of the best things to do in Harrisburg PA.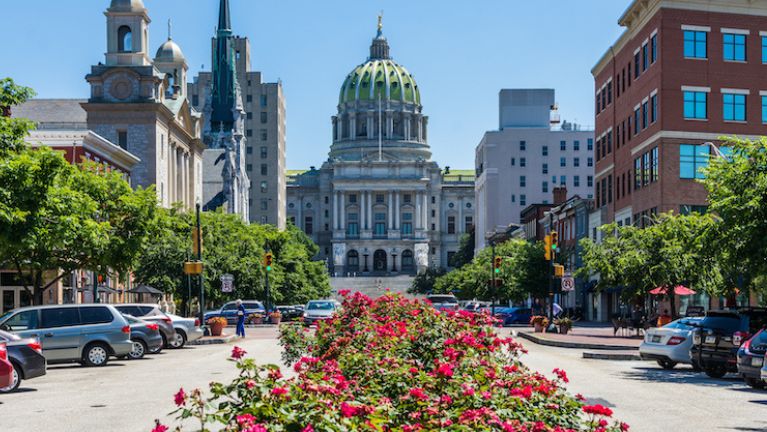 Because of Harrisburg's historic roots, it's crucial to visit places like the National Civil War Museum so that you can emerge with a greater understanding of the city. Many visitors to Harrisburg make the quick trip to Hershey, Pennsylvania, to take advantage of the state capital's chocolate-inspired neighbour.
It is easy to see why Harrisburg is one of Pennsylvania's top tourist destinations if you spend a week there or include it in a weekend trip. Obviously you may get a real flavour of the culture of the area by taking a Susquehanna Riverboat Cruise or taking an afternoon stroll through the historic Broad Street Market to shop from local sellers.
Let's delve deeper into what to do in Harrisburg PA for the family reunions, and solo travelers, and fun-minded travelers!
1. Take a Stroll through Fort Hunter Mansion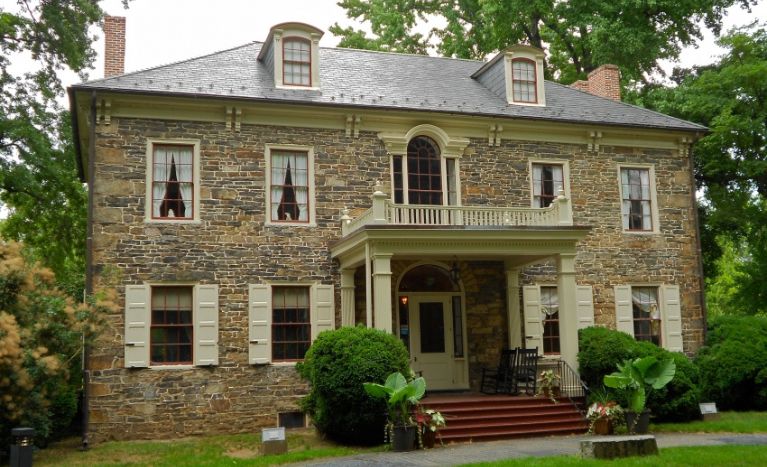 A trip to Fort Hunter Mansion and Park will teleport you through time while also allowing you to see the picturesque 40-acre park on the Susquehanna River's banks. Although you can explore the site on your own, the best option is to join a guided tour because there is so much to discover.
The large estate today has about a dozen historic buildings for guests to explore, and perched atop a hill overlooking the Susquehanna river.
You'll be able to see what life was like for the wealthy Americans in 1725 as you go inside the Victorian mansion, and it is one of the best places to visit in Harrisburg PA.
The mansion, which is listed on the National Register of Historic Places, served as both a private home and a community space for early settlers during times of war.
Fantastic furnishings, period items, and interesting exhibitions can be found in the Victorian-era estate, and costumed actors and knowledgeable guides can help you learn more about the time period. Many people host private gatherings and weddings in its picturesque riverfront park because of its beautiful grandeur.
The Pennsylvania Canal Trail offers views of the remains of more than ten buildings that had stood on the estate.
2. It's the Recreation Galore at Hershey Park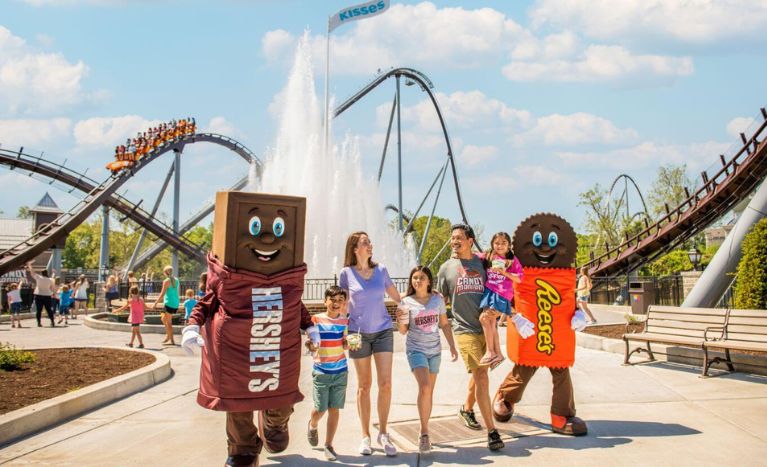 While Hershey Park is a popular attraction for tourists visiting the state capital, Harrisburg is renowned for its abundance of historic buildings and cultural landmarks. The exciting and family-friendly theme park, one of Pennsylvania's most well-liked attractions, offers both young and old visitors a variety of thrilling rides and rollercoasters to enjoy.
It was built in 1906 as a recreation area for Milton S. Hershey's chocolate factory employees, and it is only 20 minutes from the city centre. And, is one of the best things to do around Harrisburg PA.
Attractions include Explorer Horizon, Leaning Eiffel Hill, and The Seaside, among other themed sections. There are currently over 70 thrilling attractions to check out.
There is also a fantastic water park and zoo to explore, and there are frequently held festivals, live music concerts, and fireworks displays. Hershey's Chocolate World, a unique vacation destination with a chocolate theme, is just outside. Here, you can sample tonnes of delectable chocolate and candies.
3. Learn History at National Civil War Museum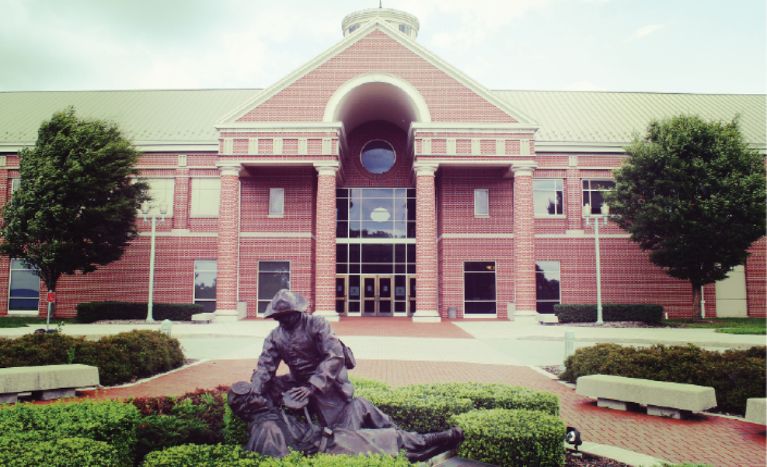 One of the biggest museums devoted to chronicling the American Civil War, is a must-see while you're in Harrisburg. The Smithsonian Institution is connected to the museum, which debuted in 2001.
A thorough examination of one of America's most significant conflicts is provided in exhibits that exhibit insights from the struggle, and is one of the unique things to do in Harrisburg PA this weekend.
The museum, which was only founded in 2001, is housed in a two-story brick building in the middle of the park and has countless relics and displays. Later portions examine how geography and topography impacted army movements, while earlier sections concentrate on slavery and the opening shots at Fort Sumter. The exhibits on why troops chose to fight for either side and the roles played by women during the war are particularly compelling.
There are rare relics, weaponry, documents, and memorabilia present, including things belonging to President Abraham Lincoln and General Robert E. Lee.
Accordingly, The museum's archives contain more than 21,000 artefacts from the war. So, if you love history, you should time your trip around one of the frequently held lectures held at the museum.
4. Attend a Game at the City Island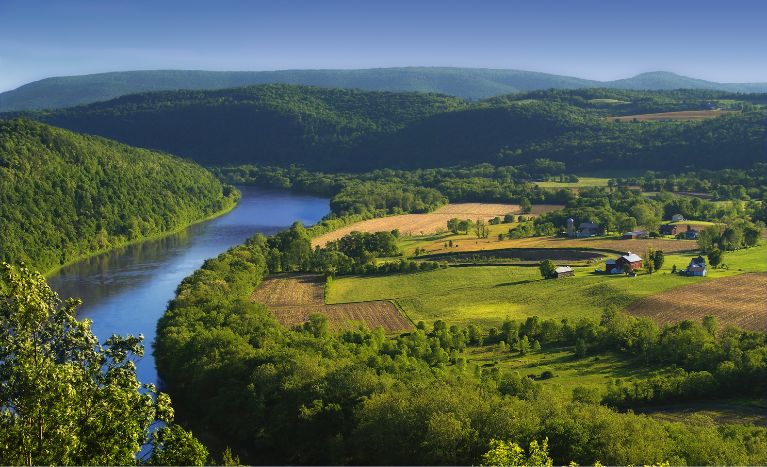 Spent a day playing at the City Island complex that spans 63 acres in the Susquehanna River. The mile-long City Island is smack in the middle of the raging Susquehanna River, is home to a variety of alluring sights and activities. It is one of the primary locations in Harrisburg to either relax and unwind or enjoy some exhilarating outdoor activities and entertainment.
During the Civil War, the island served as a rest stop for Union forces before they crossed the river to protect the city from the Confederate Army.
Archaeologists have learned that the island was inhabited even earlier. It was evidenced through artefacts they uncovered during early settlement days that belonged to the Susquehannock and Iroquois tribes.
Today it serves as a golf facility, a baseball field, minor league soccer stadium, and walking trails and is one of the top Harrisburg attractions. It perhaps offers the best view of the Harrisburg skyline and the sunset.
5. At the John Harris and Simon Cameron Mansion, Experience Time Travel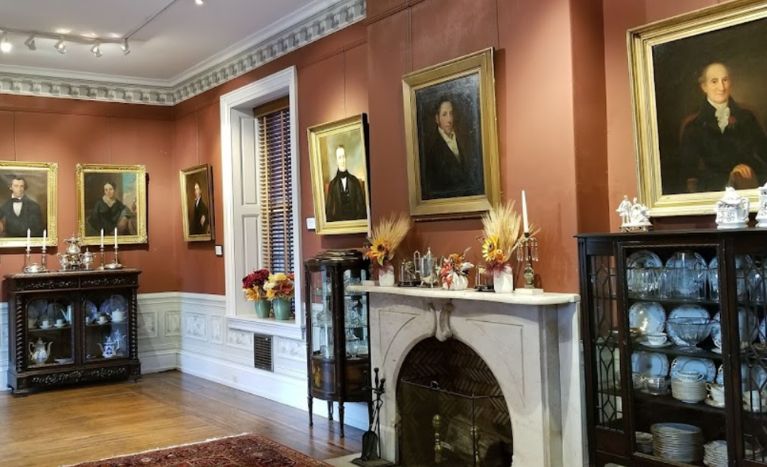 The John Harris and Simon Cameron Mansion is a must-see if you admire urban architecture. The 250-year-old mansion, which commands a commanding position overlooking the Susquehanna River, is open for tours. The city's first mayor, John Harris, constructed it in 1766.
The U.S. Senator Simon Cameron, then-President Lincoln's Secretary of War, bought the original Georgian-style house in 1863. It underwent a series of renovations to become a Victorian palace. The mansion is still standing today and serves as the headquarters of the Dauphin County Historical Society. You can either visit during one of the public events or take a guided tour and it is one of the top-rated attractions in Harrisburg PA.
6. Discover the Susquehanna Art Museum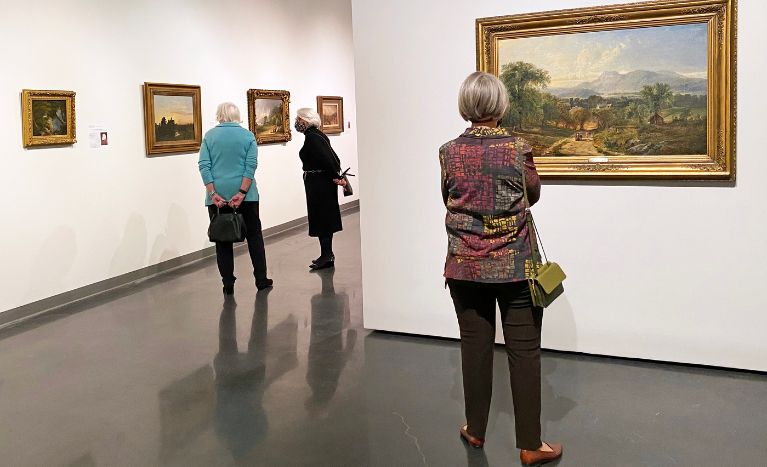 In 2015, the Susquehanna Art Museum moved to a new location in the Keystone Trust Building and undertook a $11 million renovation. It is presently located in the centre of Midtown Harrisburg and offers guests more than 20,000 square feet of art galleries and exhibition space. It is testament of downtown Harrisburg Pennsylvania tourism.
The museum houses a variety of collections that are intended to highlight local, national and worldwide artists as well as various forms of culture. The structure itself includes artistic elements worth highlighting, such as the 27-foot ceilings, the marble floors, and the 1923 bank vault that has been meticulously repaired.
7. Take a Visit to Pennsylvania State Capitol Complex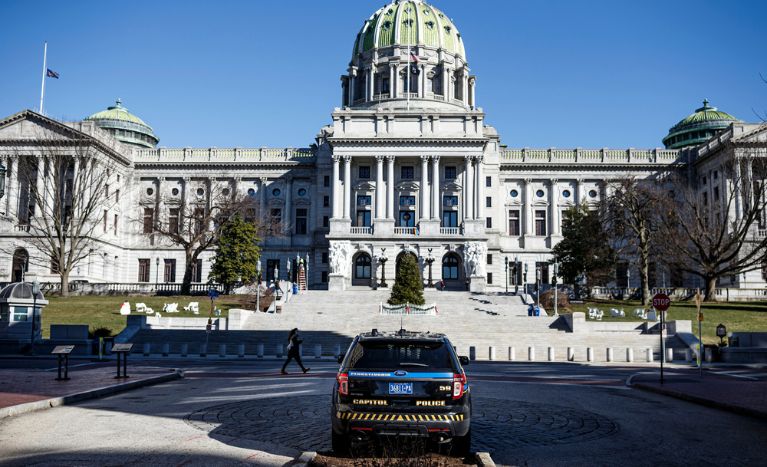 Visit the breathtaking Pennsylvania State Capitol Complex, one of the top things to do in Harrisburg. One of the most spectacular structures in the country, the capitol building is a prominent element of the Harrisburg skyline.
This National Historic Landmarks dome is a recreation of St. Peter's Basilica in Rome in the Romanesque style.
It features some excellent Beaux-Arts architecture and is sometimes referred to as the "Palace of Art" because of all the sculptures, paintings, and stained-glass windows it contains.
A visit to the Capitol will amaze you with more than 475 rooms, four storeys, and a magnificent staircase in the main dome inspired by one in the Paris Opera House.
There are free tours available. On tours, professional docents will share more information about the structure with you and point out the beautiful details adorning its magnificent rotunda and enormous government chambers.
If you have time, visit the nearby Finance Building, which has painted murals, intricate chandeliers, and bronze statues as well.
8. Enjoy Trails, Wildlife, and Refreshing Scenery at Wildwood Park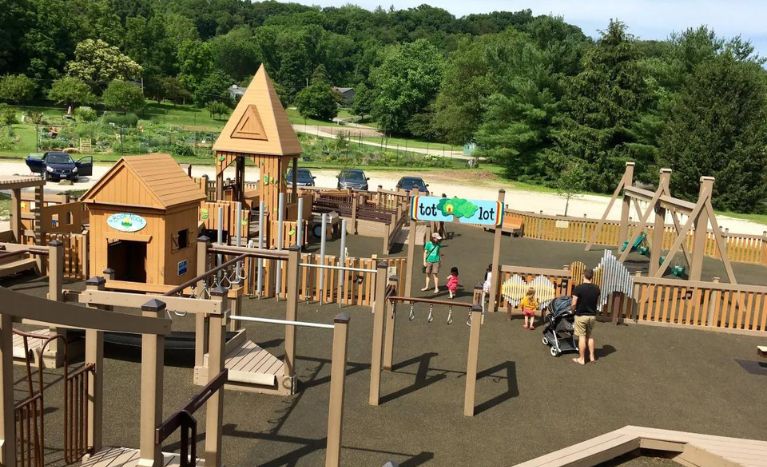 This lush sanctuary, which spans 229 acres, provides countless chances for adventure and enjoyment. Its expansive boundaries are concentrated around the sizable and picturesque lake of the same name, making it a highly well-liked location to exercise and immerse oneself in nature.
You'll adore this public park if you're looking for free things to do in Harrisburg. The park is the ideal escape from city life with its beautiful pathways, wildlife, and refreshing landscape. Various native species can be seen either on the reflected lake or tucked away in the surrounding lush vegetation.
You can stroll along its 3-mile paved trail and see the natural beauty of its untainted fauna and vegetation. The Olewine Nature Centre also welcomes visitors to check out its open-air exhibits.
Visitors can learn more about the state's flora and animals at its superb nature centre; pythons, crocodiles, owls, and foxes are all frequently seen in the park. A peaceful refuge from the city, Wildwood Park is the ideal location for a picnic while you're on vacation.
9. Take a Riverboat cruise on the Pride of the Susquehanna
A riverboat tour should naturally be among the top things to do in Harrisburg since the Susquehanna River serves as the city's focal point. One of the few paddle-wheel river boats still operating in the US will be your home for the duration of the Pride of the Susquehanna Riverboat Cruise. The riverboat excursion leaves from City Island and runs from spring through fall.
You get a fantastic perspective of the Harrisburg skyline from the lake on the paddle-wheel boat ride. A fantastic approach to gain a general sense of the city is to take the guided tour. Depending on what is available at the time of your stay, you might wish to reserve one of the unique themed tours like the murder mystery cruise, wing night, live music excursions, or the Maryland blue crab cruise.
10. At the Whitaker Centre for Science and the Arts, Embrace Culture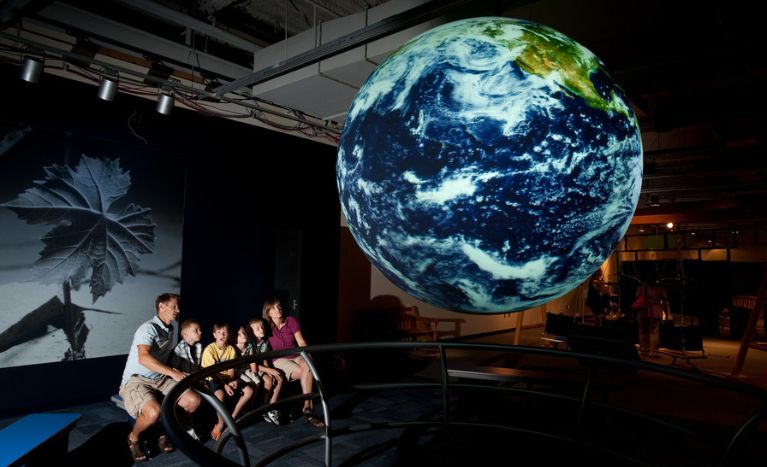 You should schedule a trip to the Whitaker Centre for Science and the Arts if you're looking for a distinctive hands-on attraction. There are three floors of exhibitions and activities, offering everything from science to movies to live theatre, music, and dance performances. Even spaces for kid-oriented amusement are included, along with an art gallery.
Hollywood movies are shown on a four-story movie screen. There are interactive exhibits and shows for all ages in the Harsco Science Centre. You can see live performance at Sunoco Performance Theatre. You can also play competitive video games in the Sports area, where you can play against people locally or online, and is one of the best things to do in Harrisburg Pennsylvania with kids.
11. Beer Lovers Find Their Bliss at Appalachian Brewing Company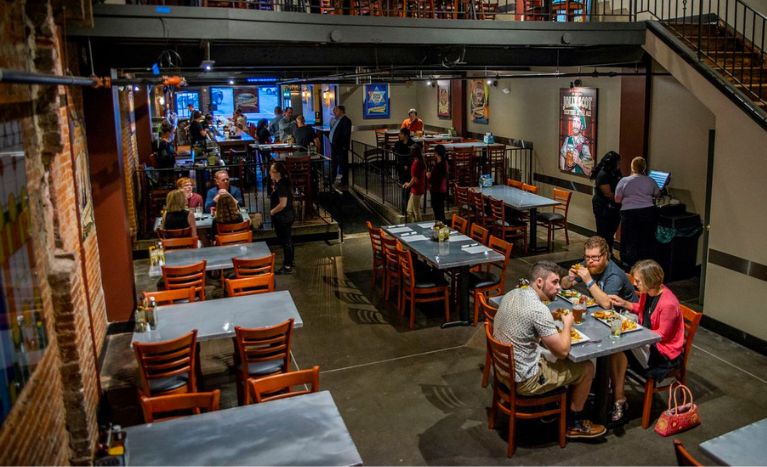 This brewpub, which is located in Harrisburg's downtown, has been operating since 1997. Beer and food aficionados will both be in their element at ABC.
The brewery offers creative foods to satisfy your palate in addition to its expertly brewed ales. Additionally, it offers a cozy and welcoming atmosphere thanks to its hardwood floors, substantial wooden beams, and old brick walls.
The brewery's restaurant and tasting room are located in a contemporary structure next to the historic brick structure where its lager room, production line, and bottling floor are housed.
In its bustling yet relaxed bar, visitors may sample specialty beers like Aero-Head, Outta Focus, and Water Gap while indulging in delectable steaks, burritos, and other light appetisers.
Take a free tour of the brewery to learn about the precise steps involved in making soda and beer. It is definitely one of the fun things to do in Harrisburg PA this weekend.
12. This Museum Lets You Peek into Pennsylvania Through Time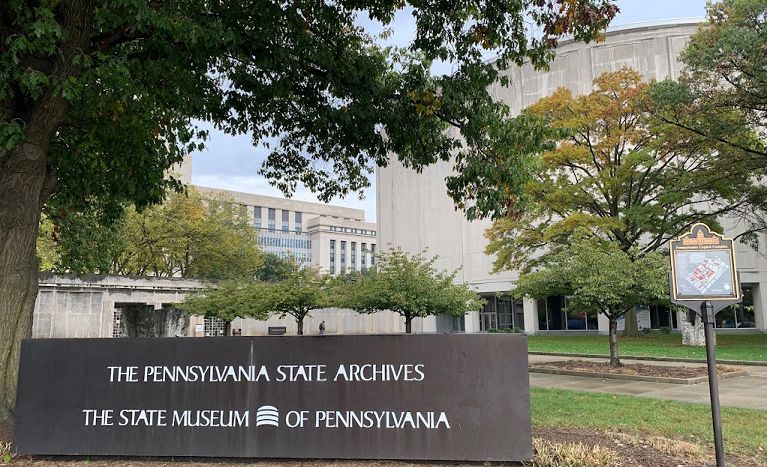 One of the most fascinating things to do in Harrisburg is to visit The State Museum of Pennsylvania, which showcases exhibits on Native Americans, astronomy, the Civil War, industry, and the state's wildlife.
The museum traces Pennsylvania's history from the beginning of the Earth and the dinosaur era to the present.
Even though it provides a thorough history of Pennsylvania, everyone may appreciate its various features. The Battle of Gettysburg: Pickett's Charge, the largest Civil War artwork on a single canvas, is on display in one of the permanent exhibits. You should also see a presentation in the planetarium and visit the restored Marshalls Creek mastodon skeleton.
13. Enjoy the Bicycle Ride at Capital Area Greenbelt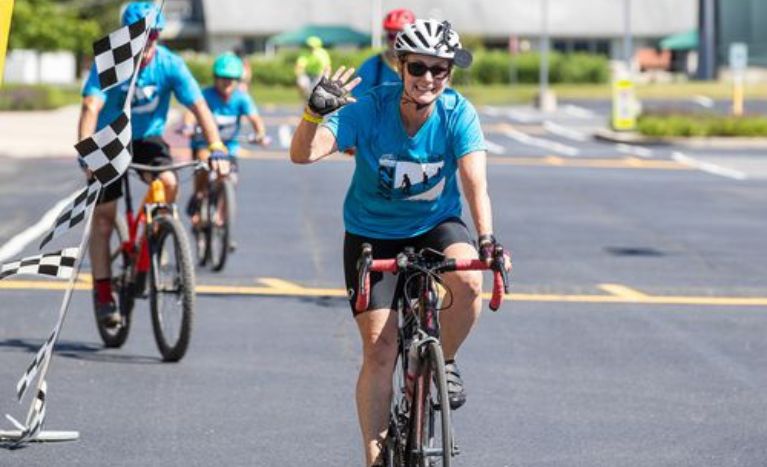 Using the Capital Area Greenbelt route to bike or walk makes it simple to get some fitness while enjoying the city. The 20-mile paved surface loops through the entire city of Harrisburg and is a fun way to see the neighbourhoods.
Its picturesque route brings you to various pure natural areas and parks as well as a number of significant landmarks, monuments, and museums. Many of the major Harrisburg PA attractions, including the National Civil War Museum and various municipal parks and gardens, are connected through the recreational Greenbelt.
The path features a few on-road segments as well as walking-only segments with numerous access points.
As you walk the trail, you can admire the lovely local wildlife and plants and learn about its history from the informational plaques that are dotted all over the place. Although taking a self-guided tour of the Greenbelt is also possible. You can pause at the Five Senses Garden if you are riding along the trail at a leisurely pace.
14. Drop by Spring Gate Vineyard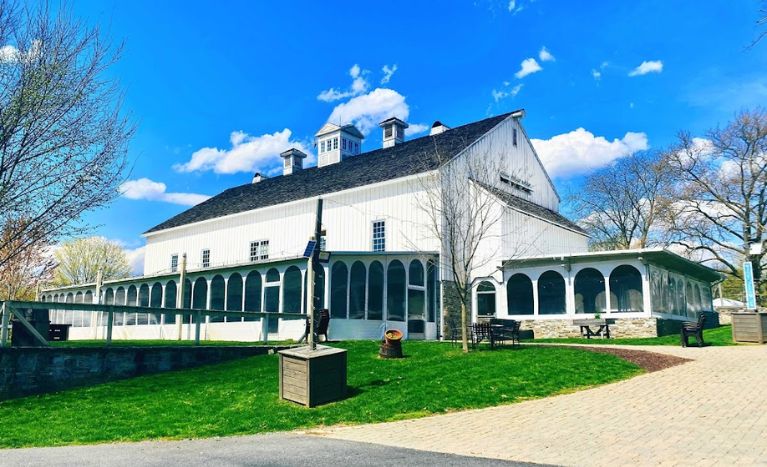 This 60-acre vineyard, which is located between the Blue Mountains and the hills of Lancaster County, is an oenophile's dream come true.
Wines here are available in a variety of flavours to suit your preferences.
Whatever your preference for wine is—savoury reds, fresh whites, or sweet wines—this place has something pleasant for you.
Did we also mention that it offers wonderful overlooks of the farms and streams in the area? Visit its tasting room to sip on some of its superior wines.
The 250-year-old farmhouse includes everything from the original cabin in the woods to a one-room seminary. It is a family-owned Pennsylvania Farm Brewery. And, aspire to offer authentically local farm beer in a setting that is special, relaxing, and fascinating. And, is one of the top family things to do in Harrisburg PA.
15. Visit the National Fire Museum of Pennsylvania
The Pennsylvania National Fire Museum offers a fascinating look at aspects of fire protection that we frequently take for granted. And, is one of the unique things to do in Harrisburg PA.
The museum is housed in a fire station built in the Victorian style in 1899, and its exhibits trace the development of fire hydrants, fire engines, and fire alarms. It was established with the goal of preserving the state's fire fighting history,
Everything from early fire engines and horse-drawn apparatus to today's complex and modern fire trucks can be seen. With a memorial wall honouring those who worked at the fire station, it contains countless antiques, displays, and photographs that all demonstrate how people used to put out fires in the past.
One of the features of the museum is the Gamewell Alarm Room, which dates to the 1800s. The fire dispatch console from the 1979's Three Mile Island nuclear accident is still there.
16. For a True sense of Local Flavour, Visit the Broad Street Market
Plan a visit to the Broad Street Market to buy locally grown produce, baked goods, and other foods to get a true sense of the region's flavour. In the market, there are around 40 merchants cooking regional cuisine.
Visit the oldest surviving operational market house in the United States for lunch and is one of the top-rated activities in Harrisburg PA.
The Broad Street Market was established in the 18th century. The purpose was to provide meals and refreshments for the adjacent Camp Curtin's Union soldiers.
You can shop for the organically produced fruit, meats, and other goods and is one of the best places in Harrisburg to experience the views, aromas, and flavours of regional culture.
More than forty vendors may be found inside its enormous hall, selling anything from soft pretzels to hamburgers, stew, and fresh meat cuts and veggies.
Additionally, there is a diverse selection of international street cuisine to sample, as well as coffee shops and gift shops that are scattered throughout.
17. Support your Team at FNB Field!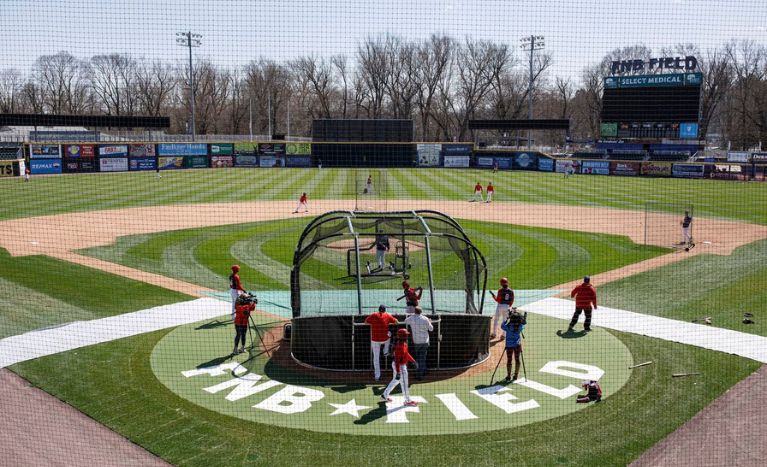 Attend a baseball game at FNB Field and support the Harrisburg Senators. The Senators are the Washington Nationals' AA affiliate in minor league baseball. Since it is situated on City Island, you can make a whole evening of games in the area or embrace some outdoor entertainment which is frequently hosted by the park.
FNB Field is one of the busiest places in the city on game nights and is one of the top Harrisburg PA attractions.
The baseball games are where all the entertainment lies with mascot appearances, kid-friendly activities, and fireworks over the Susquehanna River. At the Giant Picnic Pavilion, you can grab a hot dog for dinner.
Check the website ahead of time to see if there are any specials or discounted fares for the time you enjoy in the city.
18. Escape the Bustle at the Riverfront Park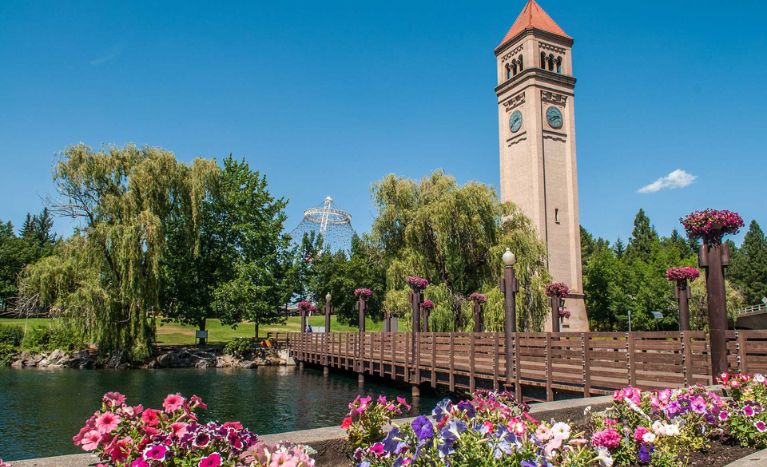 This open space provides a welcome retreat in Harrisburg and is a part of the Capital Area Greenbelt. Spending an afternoon in Riverfront Park is my piece of advice.
It was established in 1912, and it is a long, narrow park with lovely green spaces that runs next to the glittering Susquehanna River. This was at the height of the national City Beautiful Movement, which intended to improve urban areas' outdoor areas and architecture.
It provides a variety of entertaining outdoor activities for you to enjoy in addition to providing stunning views of the river and City Island.
Enjoy the wonderful views of the Susquehanna River while strolling along the asphalt walkway.
Your group will have plenty of space to roam thanks to the 4-mile beachfront walking track. The riverside is dog-friendly, so bring your closest friends along for a break from the bustle of the big city! While strolling along the Susquehanna, you may enjoy the open water, picturesque bridges, and boats as well as colourful flower gardens, art installations, statues, and promenades.
Many of the city's major festivals and cultural events, including MusicFest, Kipona, and Pride, are held at Riverfront Park throughout the year.
Bring some food, and have a picnic on the park's grassy areas for some inexpensive entertainment, and it is one of the best family activities in Harrisburg PA.
19. It's Amazing to see the Saint Patrick Cathedral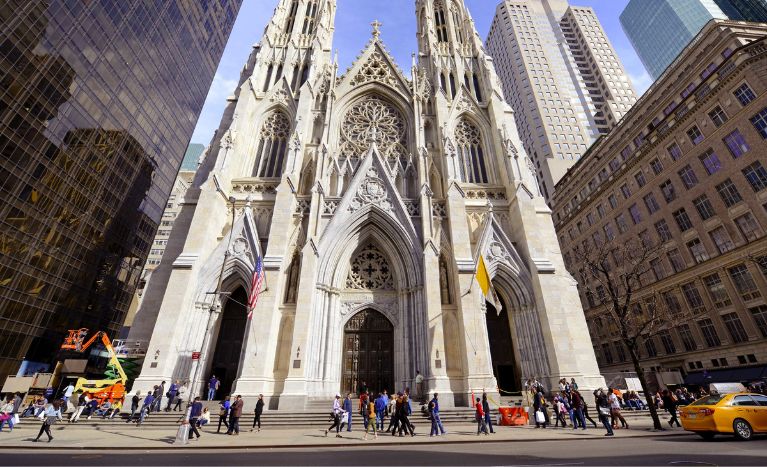 The Harrisburg Historic District includes the 19th century Cathedral of Saint Patrick and is a sight to behold in the city.
This church is stunning beauty, wows guests with its Baroque Revival style building and Renaissance Revival decorations.
Additionally, it has stunning interiors with stained glass windows and murals painted in frescoes. Experience the cathedral's imposing interiors in awe, and is one of the best things to do in Harrisburg PA.
It really is a pleasure to stroll around, thanks to its enormous green dome and attractive facade sitting just a stone's throw away from the downtown. This striking cathedral also offers opportunities for meditation, reflection, and mass attendance.
20. Catch the Ensemble Performance at the Harrisburg Symphony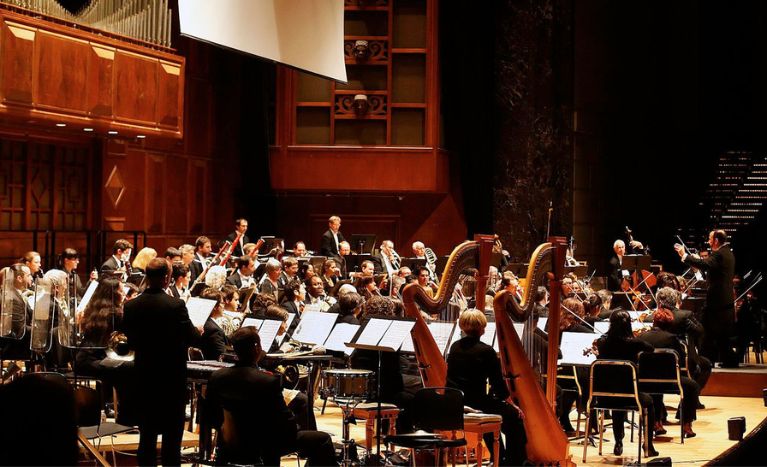 This Harrisburg-based orchestra has been thrilling audiences with its outstanding performances since the 1930s.
Anyone looking for fun things to do in Harrisburg this weekend should check out the Harrisburg Symphony.
Basically symphony boasts an outstanding group of performers and singers under the direction of Stuart Malina.
You can participate in the group's educational initiatives, such as Musical Chairs and Welcome to the Concert.
21. Indulge into the Vintage Snaps at John Harris-Simon Cameron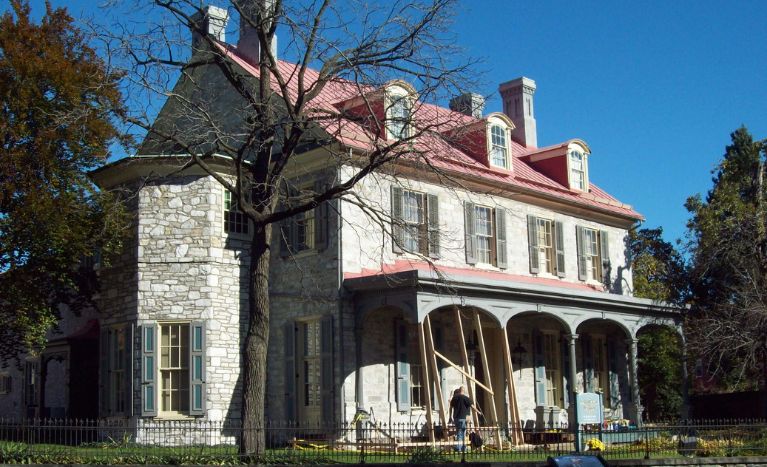 This National Historic Landmark, renowned for its picturesque Georgian architecture, was constructed in 1766.
Even though it's one of the city's older structures, this home nevertheless appears to be rather grand.
In fact, it's the ideal location for someone who adores old photographs, and is one of the top Harrisburg attractions.
Naturally, it has a rich history and is now the location of the Dauphin County Historical Society.
Join their public events or take a tour of the house with a guide.
Places to Eat in Harrisburg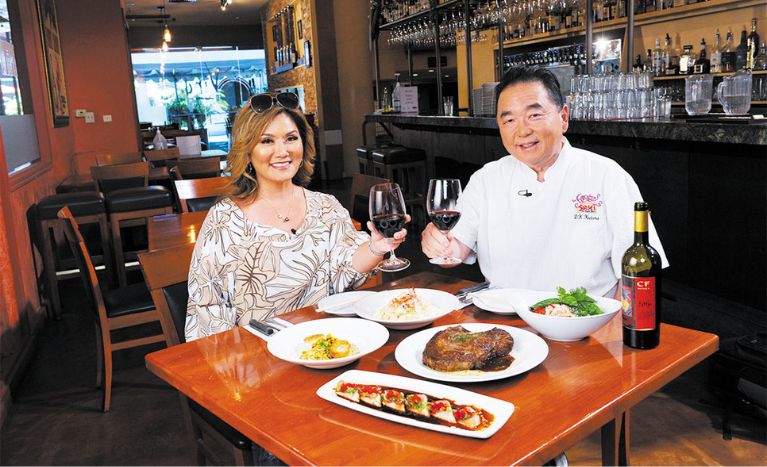 The intriguing city of Harrisburg, which serves as Pennsylvania's capital, is brimming with charm and history. You'll have a great time in this city whether your dreams are of an outdoor adventure, a bit of history, or family reunions.
And happily, there are several eateries there for you to eat at before or after a long day of sightseeing.
Check out our restaurant list of the top eateries in Harrisburg-
(i) Vino Italian Restaurant
This modern eatery, which is tucked away on Allentown Boulevard, satisfies tastebuds with its zesty Italian favorites. This relaxed setting features a variety of traditional Italian dishes and favorites, such as for Maggio Frito and shrimp carpaccio. Their chicken prosciutto captures everything you love about Italian food in a single bite.
Address – 6049 Allentown Blvd, Harrisburg, PA 17112
(ii) The Millworks
It's the hippest hangout in the neighborhood with a full bar and an outside beer garden. Their pizza with mushrooms and truffles is exquisite in every bite. This pizza with mushrooms and other ingredients, and it has a beautifully crunchy crust.
Location – 340 Verbeke St, Harrisburg, PA 17102
(iii)The Melting Pot
This chic restaurant, which is well-known for its gourmet soufflé, promises a one-of-a-kind dining experience with its delectable, buttery platters. At this restaurant, you can also make your own food. We advise trying their delicious and sweet dessert of marshmallow cream and cookies.
Address – 3350 Paxton St, Harrisburg, PA 17111
(iv) Harvest Seasonal Grill – Harrisburg
This grill offers a variety of nutritious foods that are under 500 calories, making it perfect for dieters. Indulge in the vegan chorizo to try something new. This meal is bursting with flavour and astonishingly tastes like actual meat because it is made with the freshest bell pepper, coconut crumble, and black olives.
Address – 2625 Brindle Dr, Harrisburg, PA 17110
Places to Stay in Harrisburg, Pennsylvania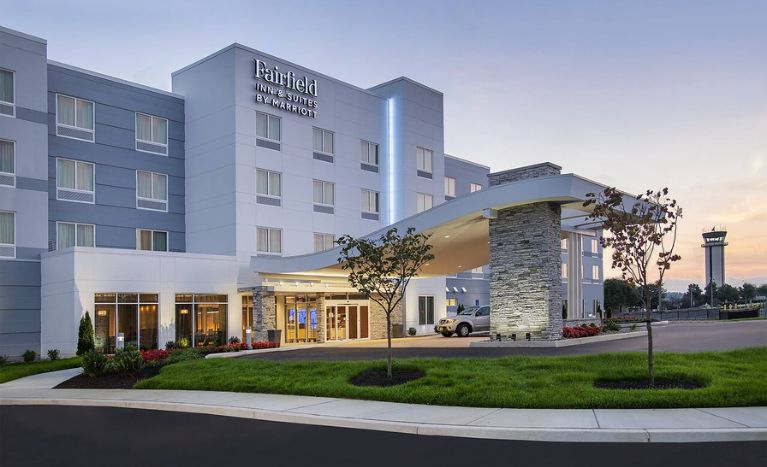 So that, if you've never been to Harrisburg before, you might prefer a touristier location; but if you're travelling alone, a local neighbourhood might be more fascinating. Even though there are many things to do in certain regions that are close by, the hotels there could be more expensive. We looked at what others had to say about Harrisburg's neighbourhoods and lodging options to provide you a place to start your trip planning. We suggest staying at these Harrisburg hotels with great reviews and convenient access to the city's biggest attractions:
(i) Best Western Plus Harrisburg East Inn & Suites
Surely, you can come and go as you choose because both the Wi-Fi and the parking are always free. This hotel brings you close to sights and intriguing dining alternatives because of its convenient location in the Swatara neighborhood of Harrisburg, Pennsylvania. The on-site convenience of the hot tub, fitness center, and spa are just a few of the unique amenities that will make your stay more enjoyable.
Address – 1344 Eisenhower Blvd, Harrisburg, PA 17111
(ii) Crowne Plaza Hotel Harrisburg-Hershey
Take advantage of the free Wi-Fi in every room and the IHG Clean Promise standard to plan your finest trip to Harrisburg (PA). This facility puts you close to sights and intriguing dining alternatives because of its convenient location. This excellent hotel's 3.5-star rating gives visitors access to its on-site restaurant, fitness facility, and indoor pool.
Address – 23 S 2nd St, Harrisburg, PA 17101
(iii) Fairfield Inn & Suites Harrisburg
An indoor pool, a fitness center, and a snack bar/deli are available at this non-smoking hotel. here are free self parking, a complimentary breakfast buffet, and free WiFi. The 94 guest rooms at the Fairfield Inn & Suites Harrisburg Hershey include coffee/tea makers and hair dryers. Also, Here are Premium cable channels with 32-inch LCD screens. Bathrooms in rooms are partially open. Bathtubs and free toiletries are provided in the bathrooms.
Location – 1018 Briarsdale Rd, Harrisburg, PA 17109
(iv) Hampton Inn Harrisburg-East/Hershey
There are 144 air-conditioned rooms available here, each with a safe and free newspapers. Beds have luxurious linens. Here is Premium cable channels with 40-inch LCD screens. The refrigerators, microwaves, and coffee/tea makers are available for use by visitors. Hair dryers, complimentary amenities, and shower/tub combinations are all provided in the bathrooms.
Address – 4230 Union Deposit Rd, Harrisburg, PA 17111
Conclusion
Filled with an abundance of must-see attractions and plenty of outdoor activities, Harrisburg is one of Pennsylvania's biggest tourist Attractions. The combination of a rich history, hardworking culture and enjoyable activities for people of all interests make it a popular destination for any outing.