Grand Haven tempts you with its sun-kissed beaches, clean waters, and picturesque surroundings. It makes you feel as though you've traveled to a place that could only be described as heaven on earth.
Its strategic location adjacent to the mouth of the Grand River attracts hundreds of travelers looking for a relaxing vacation in the sun. You can find inner calm by visiting lakes, beaches, and natural paths.
The Coast Guard City will not be short of surprises for you if you're looking for a lively excursion downtown. If you're looking for a tranquil retreat, Grand Haven might be all you need.
Read through this list I compiled for you to get the chance to enjoy the top things to do in Grand Haven, Michigan.
Start planning your own journey to this coastal city you would fall in –
1. Soak into the city's Culinary Scene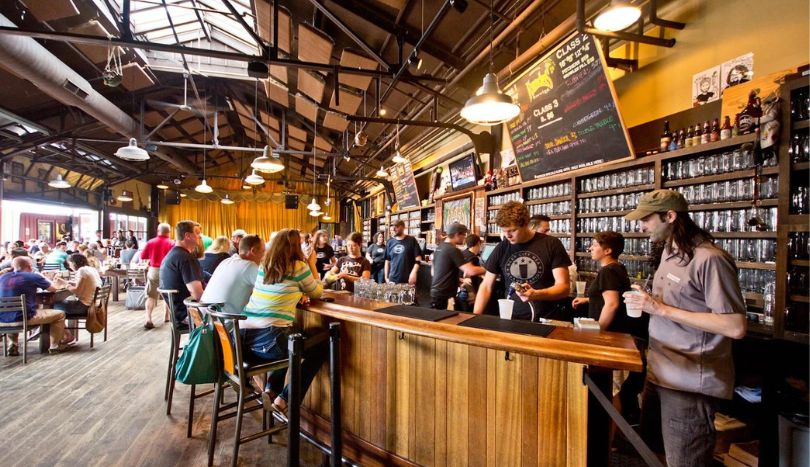 There are some terrific Michigan breweries to visit, and one of the top activities in Grand Haven Michigan is to get your fill of food. Everything you require for a wonderful dining experience is available at Old Boys Brewhouse.
There's an outstanding range of local craft beers on tap, as well as specialty sodas. Each pizza has a brewer's malt crust, and they offer a create-your-own pizza menu.
One of the top dining establishments in Grand Haven is The Toasted Pickle, which offers gourmet sandwiches and sides. Using fresh, organic, and regional ingredients, they create creative takes on all the classics.
The Kirby House is a famous group of local eateries. The finest international cuisine can be found on the diverse menu. It is a cultural hub for the neighborhood and is located in a historic hotel.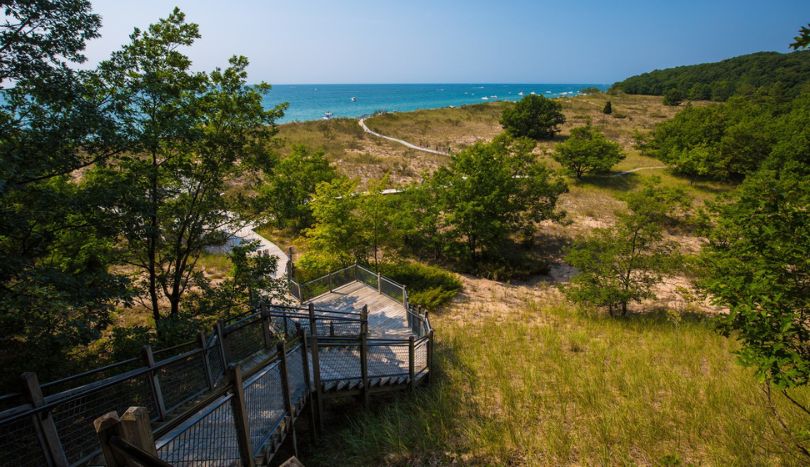 Unknown to many, Grand Haven's Rosy Mound Natural Area is a treasure. This natural wonderland offers a amazing wilderness experience and has gorgeous vistas across Lake Michigan.
The track is less than a mile long. It offers a moderate hike surrounded by sand dunes and woodland forest that ends in a boardwalk that leads down to a hidden beach.
There is no lifeguard on duty, so swim at your own risk. There are multiple flights of stairs constructed into the dirt roads that lead to a stunning viewing deck.
Keep a watch out for a variety of native plant species, birds, and small mammals. It's a lovely getaway amid the wilderness and is among the best activities in Grand Haven Michigan for outdoor pursuits.
3. Experience the Musical Fountain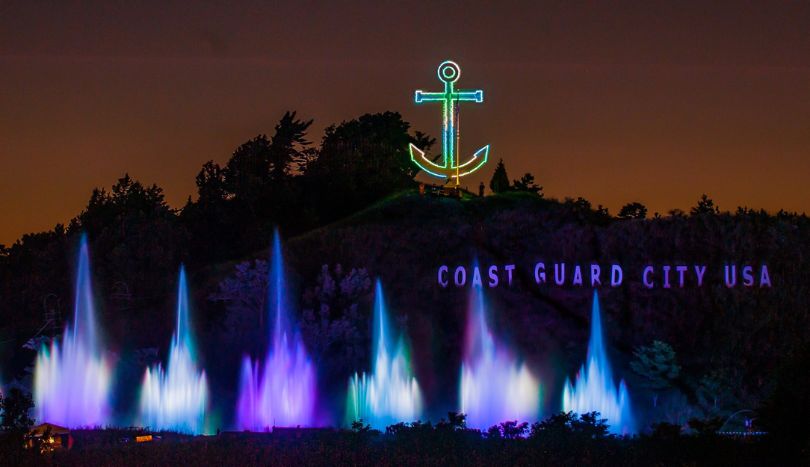 When it was first constructed in 1962, the Grand Haven Musical Fountain is the biggest musical fountain on the entire globe. It has a water fountain that "dances" to music as part of a light and water performance. After dusk, there are performances with a 20-minute runtime.
From Memorial Day until Labor Day, several shows are presented. The musical fountain draws throngs of visitors to the city and is among the top Grand Haven attractions.
The fountain may be seen from anywhere on the Grand Haven promenade. One can watch the fountain while seated in a moving vehicle. It is convenient for visitors to see the fountain even from a distance thanks to its location on Dewey Hill.
4. Ride a bike along one of the many trails.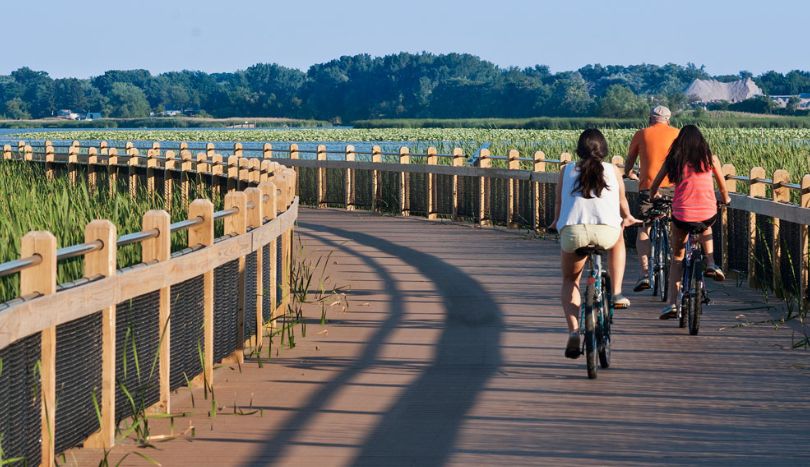 Over 100 miles of bike trails crisscross Grand Haven. This is a terrific active way to explore the city and is one of the top things to do in Grand Haven MI. While cycling these trails, you'll pass expansive views of the natural world, urban settings, and waterways. Every skill level has possibilities; choose one and get ready for it.
Spring Lake Bike Path Loop is one such popular trail. There are lovely lake vistas along its more than 11 kilometers in a forested woodland. The total elevation increase is 321 feet, which is not excessively challenging.
Long rides are perfect on the Lakeshore Trail. It is around 20 miles long and connects to the nearby town of Holland, passing through the region's immense natural beauty.
5. Enjoy Beach Walks at Grand Haven City Beach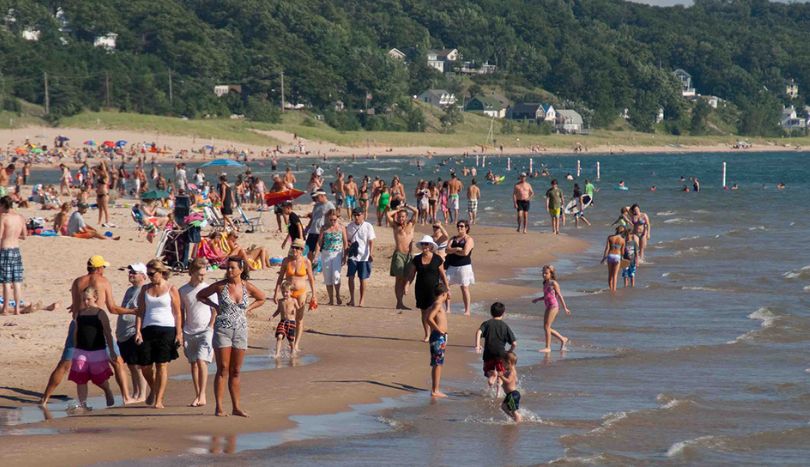 The city beach is a particularly well-liked attraction.
This is the city's busiest beach by far, drawing tourists from all over. This beach, which is next to the State park beach, offers a sizable coastline and draws huge groups and families.
One of the fun things to do in Grand Haven MI, here you can swim in the relaxing sea, enjoy watching children play on the beach, or simply go tanning. Here is no entrance fee because it is a public beach that is accessible to everyone. You must include the beach in your schedule when visiting Grand Haven because of its gentle golden beaches.
6. Learn the city's past at Tri-cities Historical Museum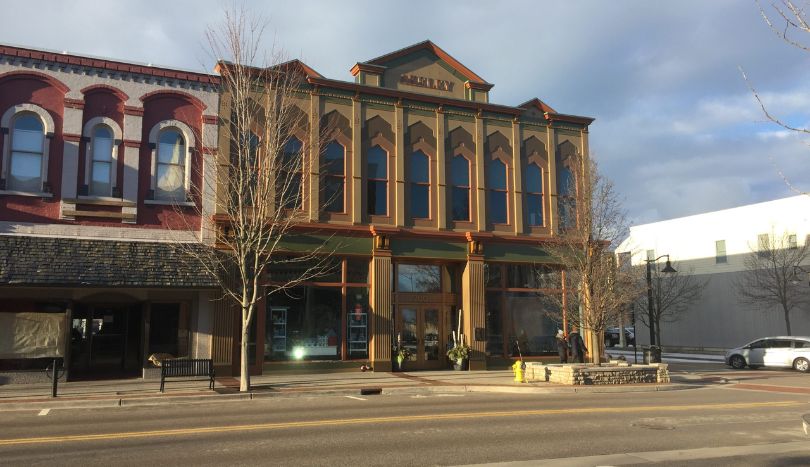 Explore Ottawa County's heritage at this Tri-Cities educational and cultural center, aims to connect local history via intelligent exhibitions that accurately interpret the region's past and present.
It has permanent collections as well as changing outreach exhibits that can be found across the city, and is one of the best things to do in Grand Haven MI. They look at a variety of historical topics, including geology, indigenous tribes, early settlers in Europe, and the Victorian era.
Also on the agenda is a brand-new exhibit on silent movies and speakeasies, which is always entertaining.
7. Enjoy Ski at Mulligan's Hollow
The most adaptable park around is located on this 80-acre tract and is a perfect refuge for outdoor fun. It has gone through several transformations throughout the ages, from farmland to Coast Guard boot camp. Today, it is well known for its ski bowl.
This is by far the most adored neighborhood ski hill. Winter sports are a popular pastime in the area. So browse here for the top winter activities in Grand Haven Michigan.
Mulligan's Hollow is located on the shores of Lake Michigan and, as a nonprofit. It strives to make its programs as accessible to everyone in the community as possible. There are six separate slopes to ski or snowboard down, ranging from easy to quite challenging. There are also five rope tows, an exciting device that transports you back to the peak's summit. The longest run is 700 feet long, and the highest point is 1,300 feet above sea level.
You can warm yourself with a hot beverage in the charming and welcoming lodge at the base. Mulligan's Hollow also has a YMCA, tennis courts, soccer fields, and a skate park.
8. Step out onto the Grand Haven Lighthouse and Boardwalk
1839 saw the construction of the Grand Haven Lighthouse. It's interesting to note that the first lighthouse built fell victim to coastline erosion. In 1854, a new, stronger lighthouse was built.
A catwalk connects two lights on the south pier. It's interesting to note that the inner light has a cylinder shape while the outer one has a square shape. The red lights have a sturdy concrete base.
A well-liked location where walkers can see the lighthouse is the promenade close to the Grand River. The lighthouse is 51 feet tall. It's in Grand Haven State Park.
This lovely wooden pier runs 2.5 kilometers along Grand Haven's waterfront. It's lined with businesses, snack shops, and sailboats. Take a walk to admire the environment, which is especially beautiful at sunset.
If you want to sit back and gaze out over the sea, there are plenty of benches and grassy knolls to do so. The path is well-maintained and convenient to reach. It's lovely in any season and one of the best things to do in Grand Haven MI for sailing, fishing, and, of course, the waves. If it's a really windy day, be prepared for a splash.
9. Marvel arts or shop at its one of many galleries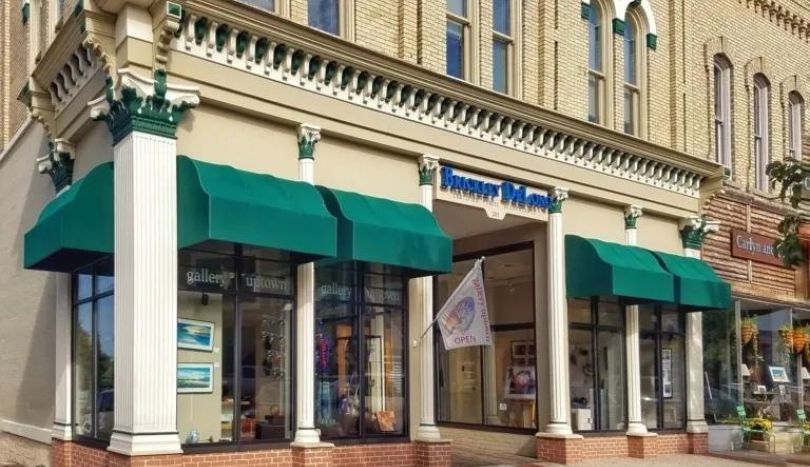 The city is a haven for a wide variety of unique art spaces and is among the unique things to do in Grand Haven MI. An eco-friendly gallery called Carlyn and Company sells handcrafted items built from salvaged materials.
Here, you'll discover lots of distinctive furniture, jewelry, and other things. Local artists have used it for many years as a place to exhibit their work.
Art for your everyday life is the motto of C2C Gallery. Pottery, hand-blown glass, photography, hand-poured soaps and candles, and home decor pieces are examples of artisan crafts.
One of the oldest galleries in Michigan is also the place to visit and is owned and run by artists is Gallery Uptown. Additionally, they host a monthly themed show for new work. Here, you'll find a variety of media, including woodworking, paintings, and drawings.
10. Enjoy the fun ride at Harbor Trolley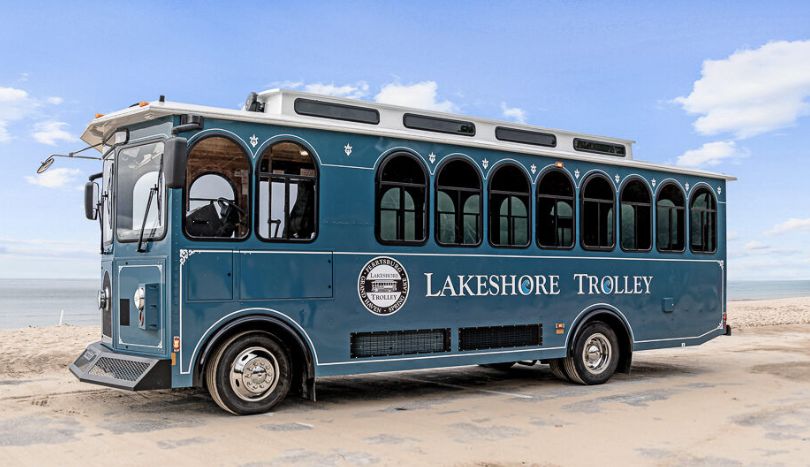 A popular attraction in the city is the Harbor Trolley. Visitors can ride on a trolley, which is a fun thing to do in Grand Haven for families. From Memorial Day to Labor Day, the Harbor Transit summer trolley is open every day of the week. You can flag down the trolley at any intersection or get aboard at the specified spots.
There is a $1.50 trolley fare. For people under 18 and over 60, it costs $.75. This mode of urban transportation is a beautiful artifact from bygone eras. The Harbor Trolley offers a guided tour around the city, which is a fascinating and interesting way to learn more about the area's history and culture. . You will pass by the majority of the city's historic locations on the trolley, including the Tri-Cities Museum, Chinook Pier, etc.
On Fridays, Saturdays, and other days, the trolley is open from 3 pm to 9 pm. On Sundays, it is open from 11 am to 8 pm.
11. Explore the outdoor pursuits at Grand Haven State Park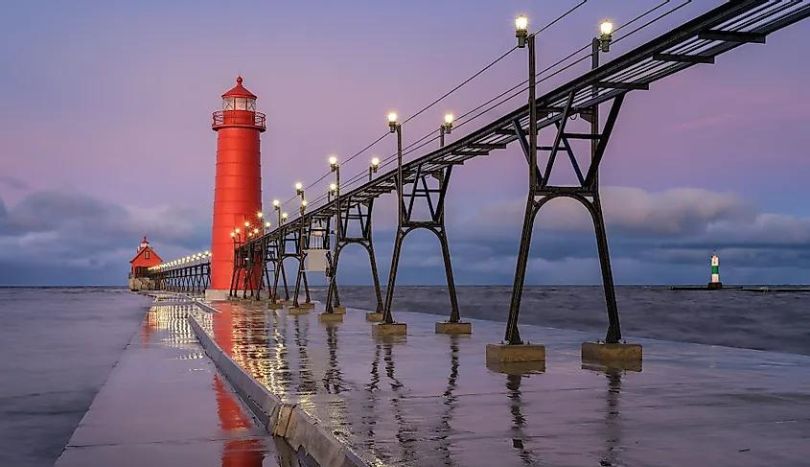 Grand Haven State Park is situated on the shores of Lake Michigan on one side and the Grand River on the other.
The State Park covers 48 acres and is one of the must-see attractions in Grand Haven. Unlike most other parks, this one is entirely made of beach sand.
The park allows you to see all of the city's top sights as you stroll around it. The singing fountain is visible nearby. The lighthouse and the pier are also in close proximity.
The Coast Guard Festival is held here every year in July and August. If you want to stay overnight, the state park has campgrounds.
It welcomes all four-legged buddies and provides all necessary conveniences like bathrooms and picnic spaces. From here, you can see the lighthouse very clearly. You can also play some beach volleyball here.
12. There are festivities galore at Grand Haven MI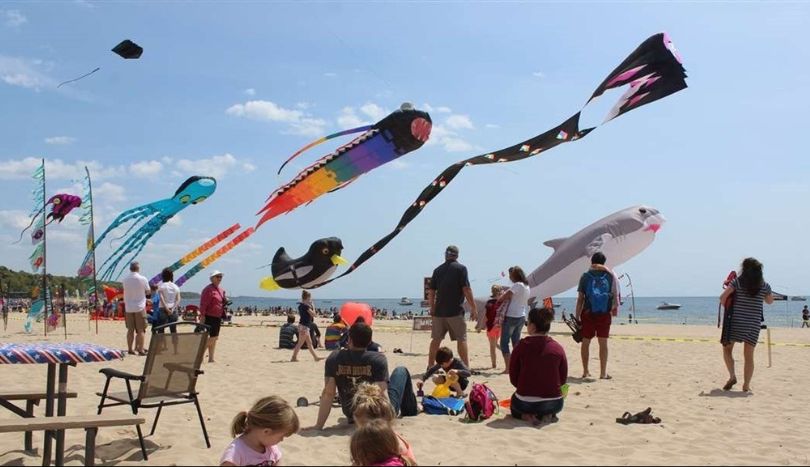 The city conducts a number of fascinating annual events that are distinctive to the area's culture and spirit. Murals and outdoor sculptures are among the many works of art that the Grand Haven Art Fair brings to the area throughout the summer.
The cheerful holiday favorite Jingle Bell Parade is a long-standing custom, as is Winterfest. Both of them are perfect Grand Haven attractions.
The Salmon Festival, held here in the Fall, is a terrific opportunity to sample the abundance of seafood that the city has to offer.
The Kite Festival in the spring is a mystical event, with whimsical materials soaring high in the air everywhere you turn.
The prestigious US Coast Guard Festival, which honors and celebrates those who have served, is held in Grand Haven every year.
13. Marvel at the century-old locomotives at Pere Marquette 1223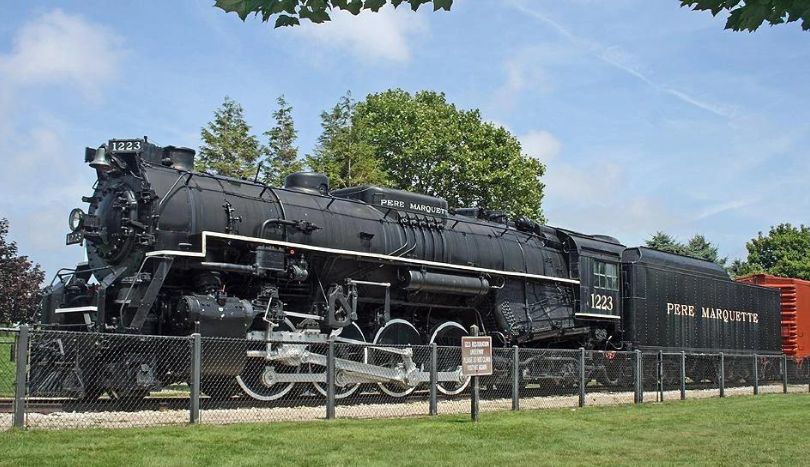 A historic steam locomotive, Pere Marquette 1223, is on permanent exhibit in Grand Haven. It was constructed in 1941 and used to transport freight from Toledo to Chicago. It has since been aesthetically restored, gleaming brightly as a beacon of a bygone era.
The Pere Marquette railroad ordered a fleet of Berkshire steam locomotives from Lima, of which 1223 is one of only two remaining examples. It once had a top speed of 70 MPH. It's an interesting historical exhibit for people of all ages.
It arrived in Grand Haven in 1981 and quickly became a tourist attraction. It's not every day that you get to see a WWII train up close and personal, and is one of the prime attractions in Grand Haven MI.
While roaming through Grand Haven, take some fantastic pictures of this historical site.
14. Sample Wines at Lemon Creek Winery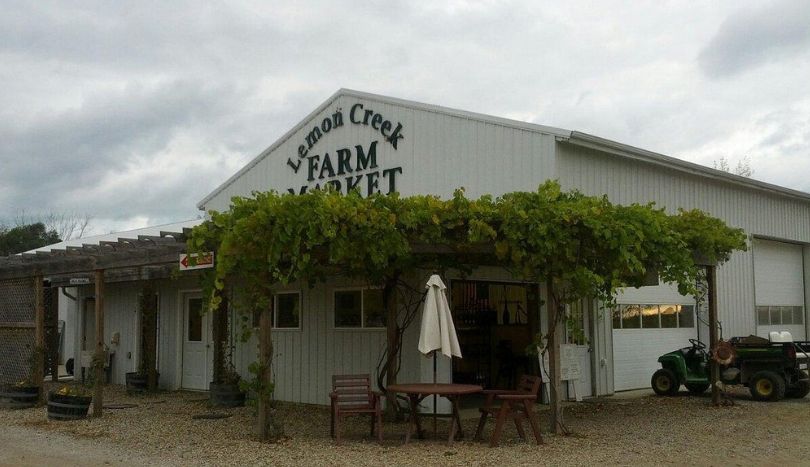 The wonderful Lemon Creek Winery in Berrien Springs, Michigan, is a 1.5-hour drive from the city and is one of the romantic things to do near Grand Haven, MI. If you wish to spend more time at Berrien Springs, you can tour the vineyards, see winemaking in action, and sample the finest one at your ease.
Visit the Lemon Creek Winery tasting room on North Beacon Blvd in Grand Haven, Michigan, if you're looking for something unique. You can buy a wine flight or try every award-winning wine here by the glass.
15. Experience the breathtaking landscape at Kitchel Lindquist Dunes Preserve
There are more than 100 acres of protected space to explore at the Kitchel Lindquist Dunes Preserve. You will pass through a variety of distinctive habitats, such as dunes, woods, and marshes, during an adventure trek here.
It offers the opportunity to observe the entire dune development cycle, from the naked beach to the flourishing dune forest and everything in between. There are two trails to try, both of which wind along the Grand River, and are among the fun things to do in Grand Haven MI.
It is an untouched environment that supports conservation education. This refuge offers excellent opportunities to see raptors, water birds, and songbirds.
Views of Grand Haven, Lake Michigan, Spring Lake, and the Grand River can be seen in their entirety from some of the higher dune peaks.
16. Rent a fishing charter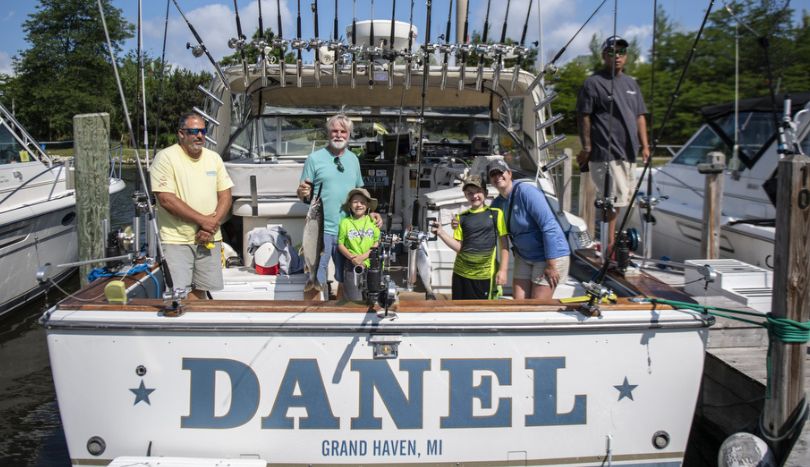 Grand Haven boasts one of the largest charter boat fishing fleets on Lake Michigan. You don't need to bother about a license, lunch, or preparing your catch because it is an all-inclusive experience. One of the top activities in Grand Haven Michigan for beginners and advanced anglers.
There are over 40 registered captains of seaworthy vessels ready for your call. They know all the finest places to go for a productive day of casting. Some of the greatest in the business are Daniel Sport Fishing.
Bluefin Tuna, Speckled Trout, Sockeye, Daniel and Rainbow Trout are the most prevalent species around these parts. If you wish to celebrate your victories with a meal out, a number of nearby restaurants participate in the Catch and Cook program.
17. Take a stroll through downtown Grand Haven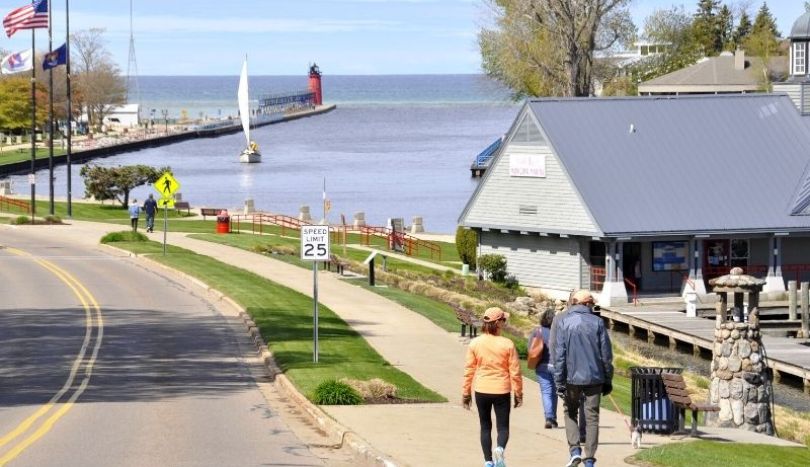 Grand Haven's historic downtown serves as the city's cultural hub.
There are several interesting storefronts where you can peruse locally made things and get a sense of the area's cheerful demeanor. There are beautiful local stores like Blueberry Haven, a quaint alcove reflecting the region's traditional pastime of blueberry picking, and is among the top things to do in Grand Haven MI.
This place consists of many antique shops, boutiques, and one-of-a-kind gift shops in this walking area. For the best collection of vinyl in the area, check out Off the Record and Vintage Green Antiques.
Fortino's Old World Shopping is a family-run landmark in the community that offers artisanal bread, cheddar, wines, coffee beans, and other treats.
18. Soak into nature at Grand River Greenway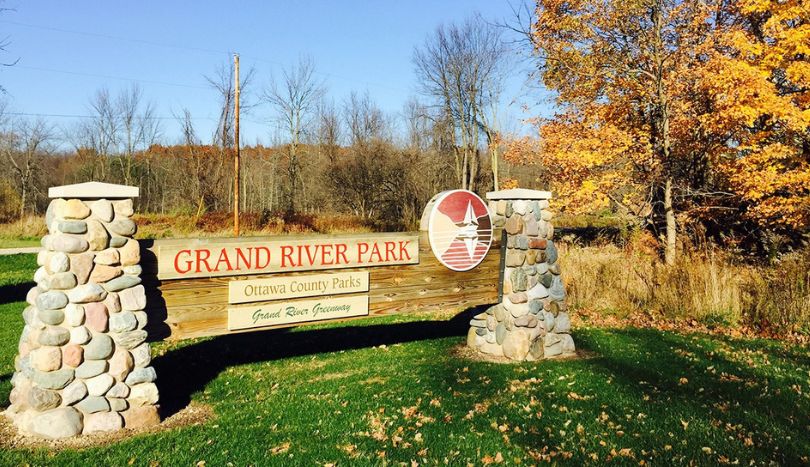 The Grand River Greenway in Ottawa County may be one of the attractions you and your family visit this weekend for a relaxing outing in nature.
It now connects 14 parks along the Grand River with 2,700 acres of land. Want to escape the bustle of the city and find a big green area where you can relax and breathe? Come to the Grand River Greenway for the much-needed relief, and it is one of the best places to visit Grand Haven this weekend.
Set out on foot or by bike on the park's trail for a relaxing journey through the protected lands. Another practical way to navigate the big park's river is by kayak.
Visit as many parks as you can in one day to pursue as many different recreational and outdoor activities as possible.
19. Gaze at the azure waters at Lake Michigan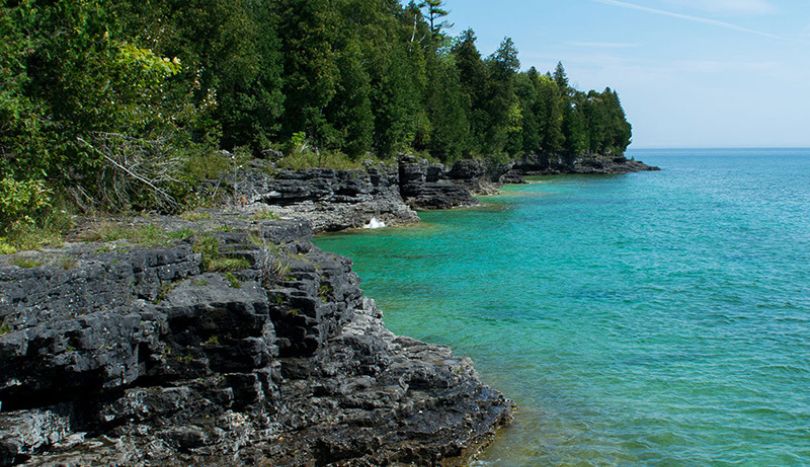 Michigan, Illinois, Indiana, and Wisconsin are the four states that Lake Michigan borders due to its large size. With 22,300 square miles of surface area, it ranks third among the five Great Lakes of North America.
Grand Haven gives you unrestricted access to a breathtaking view of Lake Michigan. There are many places to take in the beautiful scenery, including the beaches, parks close by, and large buildings that face the lake.
View the stunning blue waters of Lake Michigan from some of Grand Haven's coolest attractions. The lake is a sight to behold both in the summer and the winter and is among the primary Grand Haven attractions.
Dip into the water to make the most of your beach experience.
20. Shop antiques at Tlaquepaque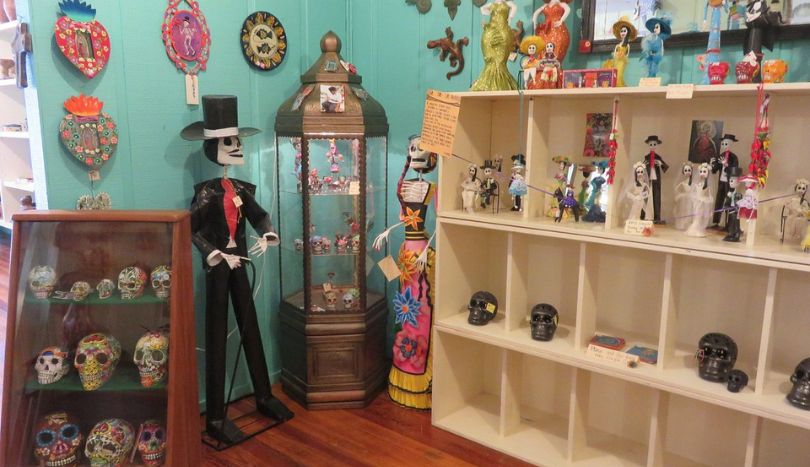 No vacation is complete till you have finished your shopping. Antiques are one of the items that shoppers search for.
In Grand Haven, there is a place called Tlaquepaque that sells antiques. This antique shop on Washington Avenue sells an eclectic mix of antiques and other stuff.
This is the store where you can find a memento of Grand Haven to bring home. The shop sells high-quality merchandise. In addition to locally made goods, there are lots of Mexican antiques available here. You can buy Russian dolls, artwork, puppets, earthenware, organic soaps, handmade miniatures, and a range of jewelry.
Best places to eat in Grand Haven MI
Visitors who enjoy sandy beaches will enjoy a visit to Grand Haven. Because of its proximity to Lake Michigan's shoreline, it offers captivating lake views as well as a promenade lined with entertainment.
You will find it simple to visit the many eateries the city has to offer.
Here are some of the top dining establishments in Grand Haven to aid in your decision-making.
1. The Toasted Pickle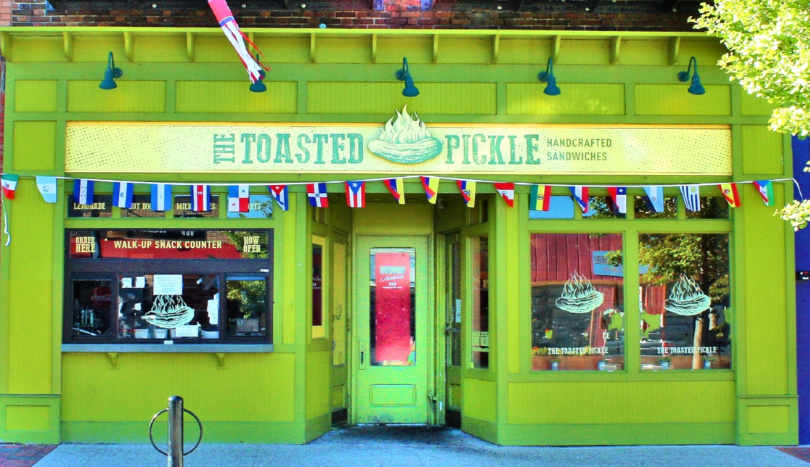 The Toasted Pickle is a brilliantly colored downtown sandwich cafe that serves hand-crafted sandwiches made from locally sourced ingredients. This casual eatery is among the greatest and trendiest in the city. Furthermore, the true foodie will actually enjoy the quiet creative sandwiches. Order The Blackjack, which includes pastrami, horseradish, and cucumber sauce.
Address – 112 Washington Ave, Grand Haven, MI 49417
2. Paisley Pig Gastropub
Paisley Pig Gastropub is a sophisticated bar with a hip cafe ambiance that serves elegant pub cuisine and artisan beers. Serve the Pulled Pork Nachos to your guests and the Michigan Bison Meatloaf to yourself.
Address – 501 Miller Dr, Grand Haven, MI 4941
3. Snug Harbor
The relaxed outside patio seating, combined with exquisite food, creates the classic coastal vacation ambiance that most city visitors seek. Start with some White Chicken Soup and Neapolitan Pita bread. For your main course, choose the grilled fish with basil and lemon quinoa.
Address – 311 S Harbor Dr, Grand Haven, MI 49417
4. The Stable Inn
This restaurant grill has a rustic Western cottage vibe thanks in part to the cobblestone campfire, jagged walls, and glossy wood panels. It's a fantastic choice for the top dining places in Grand Haven because it appears classy but feels cozy and at home. Try the Classic Chicken Wings with Bourbon Gravy if you like the tried-and-true. If you want an onion ring with your patty, order the Stable Burger.
Address – 11880 W Olive Rd, Grand Haven, MI 49417
Best places to stay in Grand Haven MI
It's easy to understand why Grand Haven, Michigan is a favorite vacation destination with its stunning beaches, historic lighthouse, vibrant promenade, and diverse restaurants and stores. There is always something to do and experience thanks to festivals like the Grand Haven Kite Festival, Coast Guard Festival, and Winterfest! In addition, Grand Haven has a lot of wonderful hotels and lodging options.
One of the best things about Grand Haven is that you won't be far from everything you want to do, regardless of where you stay in the city. Some of the best options include –
1. Best Western Beacon Inn
This Best Western Grand Haven is located south of downtown and features an indoor pool, hot tub, and sundeck. Grand Haven City Beach and Rosy Mound Natural Area trekking are both within a 5-minute drive away. Flat-screen TVs, a refrigerator, and a microwave are included in each room. Some king rooms come with hot tubs and jacuzzis. Breakfast is complimentary.
Address – 1525 S Beacon Blvd, Grand Haven, MI 49417
2. Rodeway Inn
A number of restaurants, including KB's Pizza and Sub Shop, are located across from the Grand Haven Rodeway Inn, which is situated on US-31. The breakfast is free, and WiFi is free, at this reasonably priced hotel in Grand Haven. There are king and queen rooms, each of which has a refrigerator and a microwave. Free breakfast is included.
Address – 1010 S Beacon Blvd, Grand Haven, MI 49417
3. Baymont Grand Haven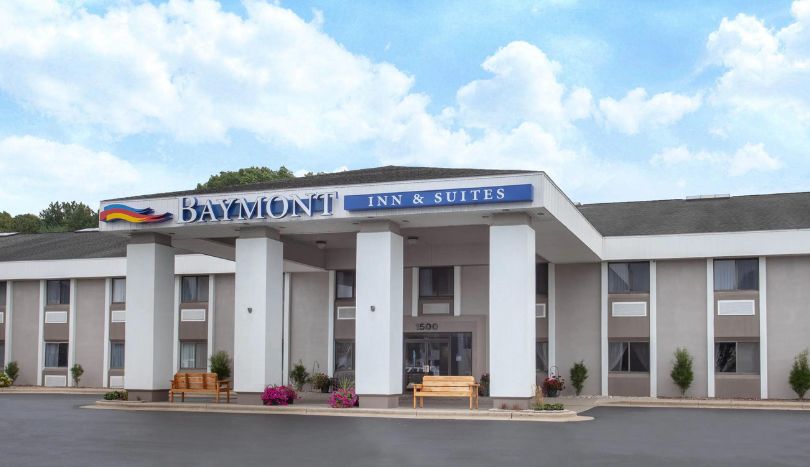 This Grand Haven Baymont Inn & Suites includes an indoor pool and hot tub for you to relax in and get away from it all. Grand Haven State Park and the beach are both a 5-minute drive away. Flat-screen TVs, a refrigerator, and a microwave are included in each room's amenities list. The morning meal includes a free continental breakfast.
Address – 1500 S Beacon Blvd, Grand Haven, MI 49417
4. The Washington Street Inn
The Washington Street Inn is a certified historic property located just outside of downtown Grand Haven's restaurants and activities. It has bright rooms with queen size beds and gorgeous hardwood flooring. The key amenities include free wi-fi, AC, flat-screen TVs, homemade breakfast, and more.
Address – 608 Washington Ave, Grand Haven, MI 49417
Conclusion
Although not one of the largest cities in Michigan, Grand Haven is no less deserving of praise. It offers an amazing experience that those passing through will never forget. From its beaches to its lakes, Grand Haven is a paradise of natural beauty and excitement. Whether you're looking for rest and relaxation or you're looking to sightsee and visit various attractions, there's something for everyone here in Grand Haven.
There you have it. The top 20 things to do in Grand Haven, Michigan.
You may also Explore more places at Michigan