The honor of being the first beachfront vacation spot in East Coast America belongs to Cape May. This charming coastal town is full of nostalgic charm with its lovely tree-lined streets and adorable Victorian villas. Along the Jersey Shore, the charming historic district stands out from the rest.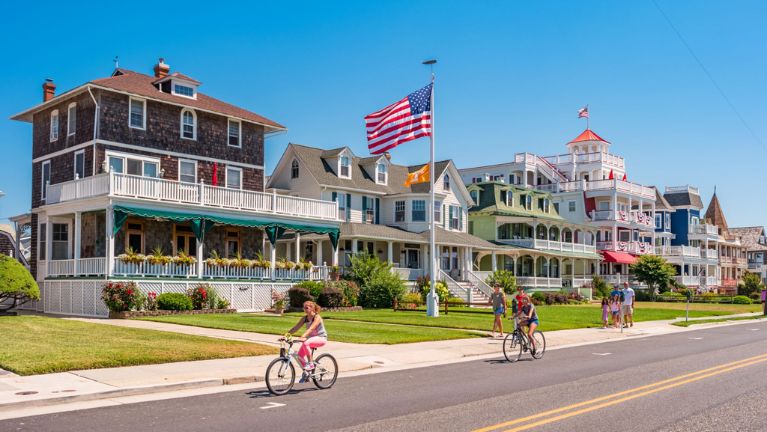 It is the home to beautiful natural beauty in addition to its magnificent 19th-century buildings. The Cape May coast is hidden in the southernmost point of New Jersey. It is juxtaposed between the Atlantic Ocean and the Delaware Bay that stretches for miles of unspoiled sandy shoreline.
The beaches come alive in the summer with families plunging in the shallow waves and colorful loungers. The cool Atlantic breeze and mild weather in the spring and fall encourage strolls along the beachside boardwalk. Biking, boating, fishing, birdwatching, gourmet eating, and antique shopping are some of the best things to do in Cape May NJ.
Cape May, a popular seaside resort during the summer, is spoilt for choices for sightseeing and outdoor recreation. Using our list of Cape May's best attractions, plan your trip to this elegant coastal town.
1. Indulge into a Thrilling Whale Watching Experience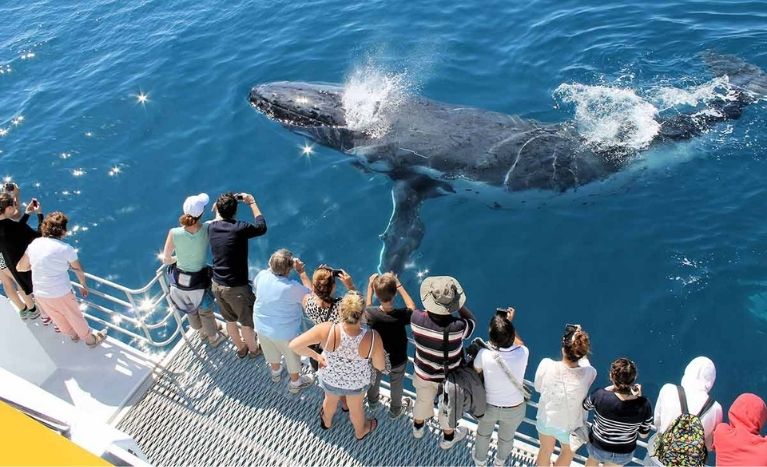 Within 10 miles of the Cape May coastline, whales and dolphins can be seen in the Delaware Bay and Atlantic Ocean. Seeing these incredible marine creatures up close while sailing over the azure waters is an exhilarating experience and is one of the best things to do in Cape May NJ.
Whale-watching cruises are offered by numerous regional tour operators. There is an opportunity for passengers to observe finback and minke, and humpback whales. Visitors may also encounter dolphins along the way.
A guided whale and dolphin cruise is an unforgettable excursion and is something not to miss in Cape May. A licensed wildlife guide offers comments on the whales, dolphins, and their ocean habitat as the captain navigates to the locations where the whales can be found.
Additionally, whale, dolphin, and bird-watching cruises are also provided by the Cape May Whale Watch & Research Center at the South Jersey Marina. They also offer a tranquil boat ride that passes by the Cape May beaches and the Cape May lighthouse on its Sunset Dolphin Cruise.
2. Enjoy the laid-back Vibes at the Sandy Beaches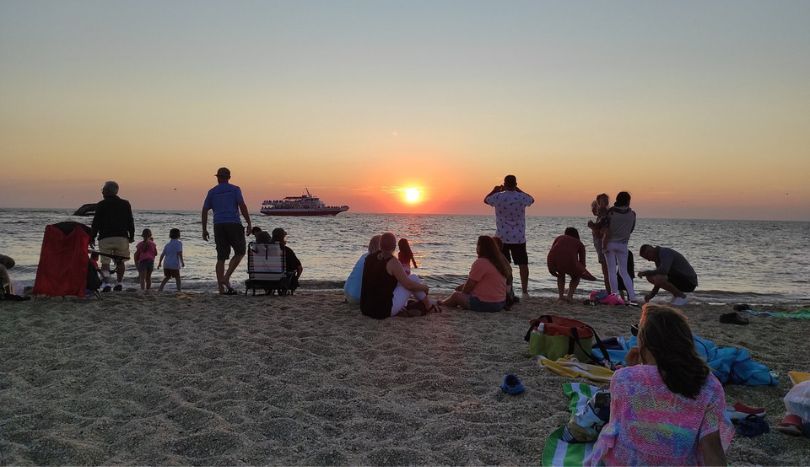 At the farthest southern point of New Jersey, Cape May lies tucked between the Atlantic Ocean and Delaware Bay. Some of the most picturesque beaches on the east coast may be seen here.
The beaches at Cape May are ideal for families and offer rentals for sun canopies and sun loungers. For tourists to enjoy the lovely white sand coasts, the city keeps the beaches pristine and maintained. The majority of beaches are close to amenities including stores, cafés, restaurants, and public facilities.
There is a large selection of accommodations close to the beaches for people seeking a coastal vacation. Excellent ocean views can be found in many hotels.
The Congress Street Beach, which lies in front of the well-known Congress Hall and is located at Beach Avenue has a posh vibe and is where the annual Fourth of July fireworks are set off.
Beach volleyball courts are available for use by volleyball players at 2nd Avenue Beach and Steger Beach
Fishing is only permitted on the portion of the beach that is located a quarter mile east of the Brooklyn Avenue Beach storm pipe. Fishing is permitted at all other beaches either before 10.00 am or after 05.00 a.m.
The Cove is a popular beach among people who enjoy sunbathing, surfing and kayaking. Thanks to its broad, somewhat rising beachfront. The Cove is at the conclusion of the two-mile promenade that extends along Beach Avenue.
West Cape May's Sunset Beach is the ideal location for a late-afternoon stroll. Many tourists come here right before sunset to capture the picturesque sundowner and it is one of the top things to do in Cape May, New Jersey.
3. Sailboats on Cape May Harbor is a Sight to Behold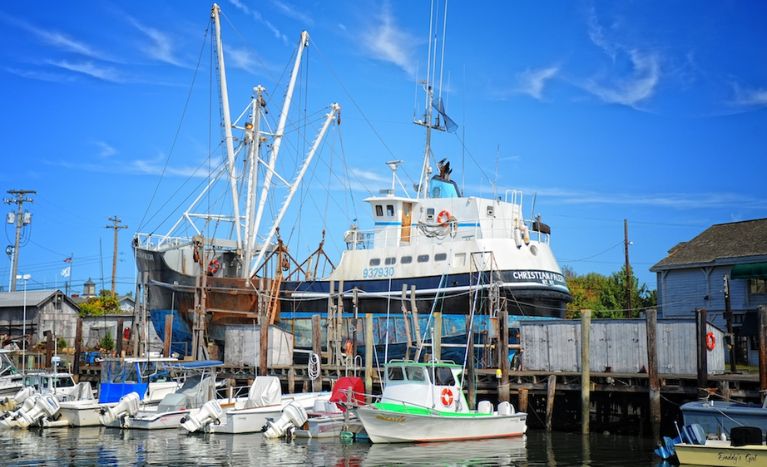 Sailboats and yachts are gracefully flowing across the gently rippled sapphire waves in this protected harbor. In a serene cove, there is a little beach with a few picnic tables and campsite.
The New Jersey Audubon's Nature Center of Cape May, which overlooks the harbor, offers instructive displays and experiential learning intended to pique children's interest in nature.
The nature center also features a picnic area, gift store, observation tower, and a rich flower garden designed to entice butterflies.
The New Jersey Audubon Society's educational excursion, the Harbor Safari, is one of the family things to do in Cape May. Kids get knowledge about the local marine life and coastal ecology.
Water activities are also very popular at Cape May Harbor. Near the nature center, Aqua Trails offers kayak and paddleboard rentals.
4. Experience the Town's seafaring Past at Schellenger's Landing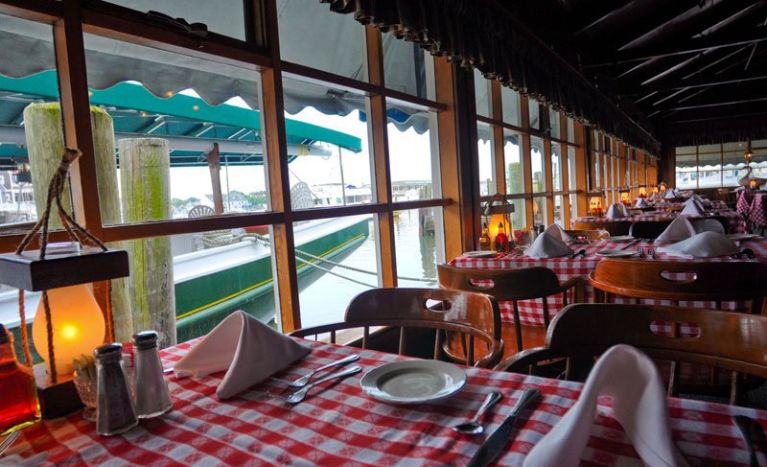 Schellenger's Landing is Cape May's fisherman's dock, offering visitors a glimpse into the town's maritime past. The marinas at Schellenger's Landing include Miss Chris, South Jersey, and Utsch's.
The marinas here boast a lot of stores that sell fishing equipment, rent kayaks and paddleboards, making it a fantastic place to embark on recreational boating and fishing excursions. Hunters can set out on deep-sea fishing expeditions Utsch and Miss Chris Marina, and it is one of the fun things to do in Cape May NJ.
One of the best places to eat seafood in Cape May is Schellenger's Landing. Fish from recent catches is a specialty of waterfront restaurants and is a next-best activity after fishing.
5. Take a Time Travel at Historic Cold Spring Village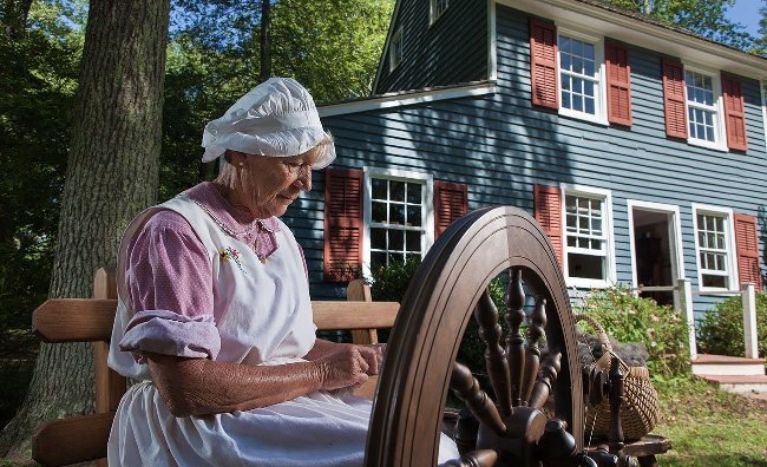 A little rural town preserved in time is the Historic Cold Spring Village. This Early American history open-air museum features 25 well-preserved structures, the majority of which date from the early to mid 1800s.
These structures include a barn, woodworking shop, blacksmith shop, earthenware shop, one-room firehouse, and a guesthouse that served as a rest stop for stagecoach travelers. And is one of the top Cape May attractions.
Visitors can experience the cultural heritage of the 19th century by strolling through the 30-acre village. It feels like you've stepped back in time because a number of the stores and restaurants are still open.
The Cold Spring Grange Restaurant serves traditional American cuisine for brunch, lunch, and supper. Visitors may buy handcrafted artisan goods, honey, jellies, and books in the Country Store. You can also consume croissants from the Village Bakery or frozen delights from the Ice Cream Parlor.
The town has "Hands-on History" demonstrations, such as making bread and writing with an antique fountain pen, as well as demonstrations of Early American trades. The town also features a historic operating farm with eight acres that raises cows, sheep, swine, and poultry.
6. Visit the 19th Century Lighthouse at the Cape May Point State Park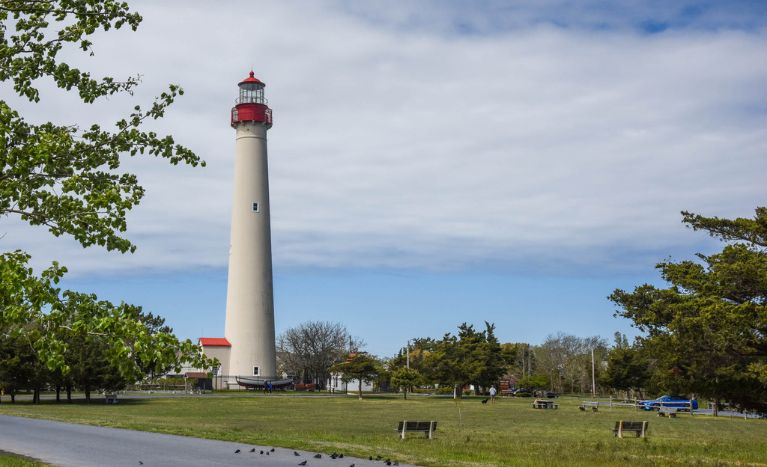 With a museum and environmental center, Cape May Point State Park is a protected swath of beachfront, sand dunes, coastal wetlands, backwaters, and woodland habitat.
The 1859-built Cape May Lighthouse is one of the top Cape May NJ attractions. Visitors can ascend the 199 steps to the top of the lighthouse tower to take in expansive views of the Delaware Bay and Atlantic ocean.
The park has a number of hiking routes that offer opportunities to see wildlife or migratory birds. The Plover Trail is a great place to see sandpipers, oystercatchers, and other shorebirds. The Monarch Trail here is called after the monarch butterflies that are drawn to the area's wildflowers in the fall.
There is a variety of species along the Duck Pond Trail, including geese, crabs, river otters, and golden eagles.
The World War II Gun Battery (bunker) is visible from both the Monarch Trail and the Plover Trail.
The World War II Lookout Tower, located near Cape May Point and about five minutes' drive from the Cape May Lighthouse. The site was crucial in helping to keep the nation safe from invasion during World War II.
This tourist destination has a Visitors' Orientation Center, a museum with exhibits on military history, historical informational panels along the boardwalk, and a monument honoring war heroes.
7. Cape May is America's Top Bird Watching Destination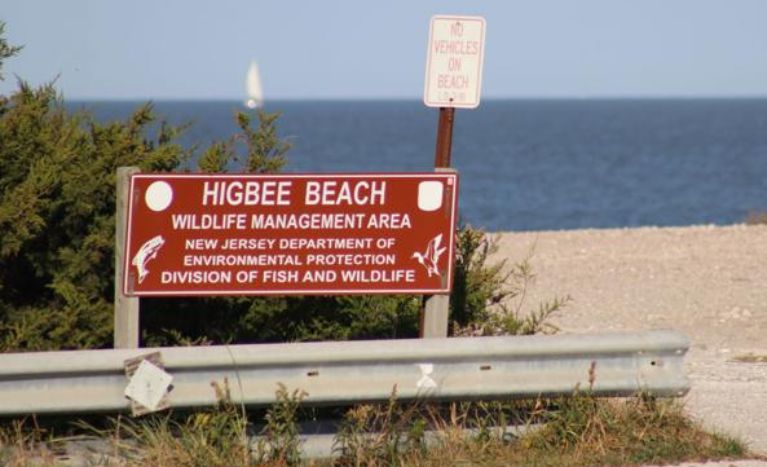 Cape May is North America's top birdwatching hotspot. Thanks to its strategic location which is geologically positioned on a migratory route and diverse ecosystem which comprises wetlands, lagoons, swamps, meadows, and woodlands.
Birdwatchers have enjoyed the Cape May environs for nearly 200 years. At Cape May, observers have counted 450 different bird species, including flycatchers, sea bream, greenfinches, sandpipers, beetles, and oystercatchers.
South Cape May Meadows, the Cape May Hawkwatch, and Higbee Beach Wildlife Management Area are three of the best places to go birding in West Cape May. September is the best time to travel to the US for birdwatchers and is a peak migration month. And, is one of the top things to do in Cape May NJ.
8. Learn History through Underground Railroad Trolley Tour
Before the Civil War, Cape May was a key player in the anti-slavery struggle. The village served as a rallying point for prominent Philadelphia civil rights activists and Underground Railroad leaders in the 18th century.
What to do in Cape May, New Jersey to learn history? The tragic tales of the Underground Railroad are brought to life by the Underground Railroad Trolley Tour. The trip highlights locations that were important in freeing slaves.
It includes Stephen Smith's ancient townhouse, who founded the Pennsylvania Anti-Slavery Society, and the Cape May Lighthouse, which aided runaway slaves in navigating the Delaware Bay.
9. Take a Refuge in one of the Erstwhile Victorian Cottages
A unique experience is staying in one of Cape May's charming antique hotels. Many of the Victorian summer homes in the area have been transformed into opulent bed-and-breakfast accommodations.
Guests to Cape May's B&Bs can experience what it was like to experience an affluent Victorian seaside retreat and is one of the top things to do in Cape May NJ. Four-poster beds, antique furnishings, and vintage paisley patterns may all be found in the guest rooms. Breakfast is served in opulent dining rooms to give guests a taste of high class vacationers' daily lives in the 19th century.
10. Enjoy Christmas Festivities in Cape May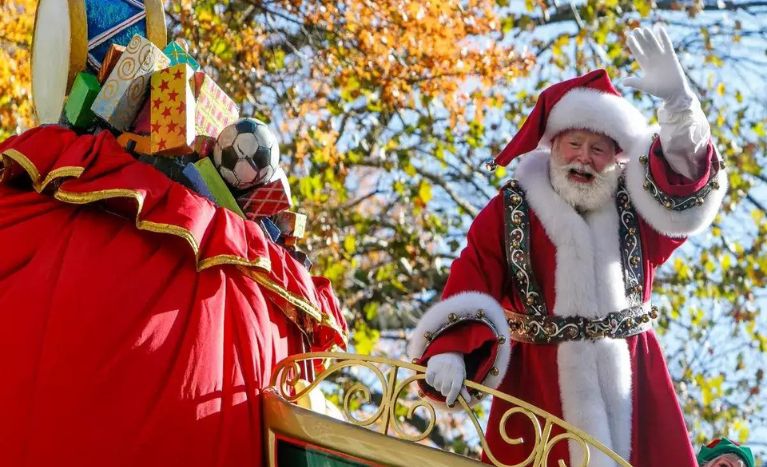 A variety of festive activities are arranged during the winter holidays, which is a great time to visit Cape May. In December, Cape May's historic hotels and Victorian homes are dressed for Christmas in a retro fashion.
The old homes in the town have a surreal feel thanks to holiday decorations like bouquets and Christmas trees. At historic homes all around the city, the Mid-Atlantic Center for the Arts & Humanities hosts Candlelight House Tours. The tours feature hot drinks, baked brownies, and Christmas carols.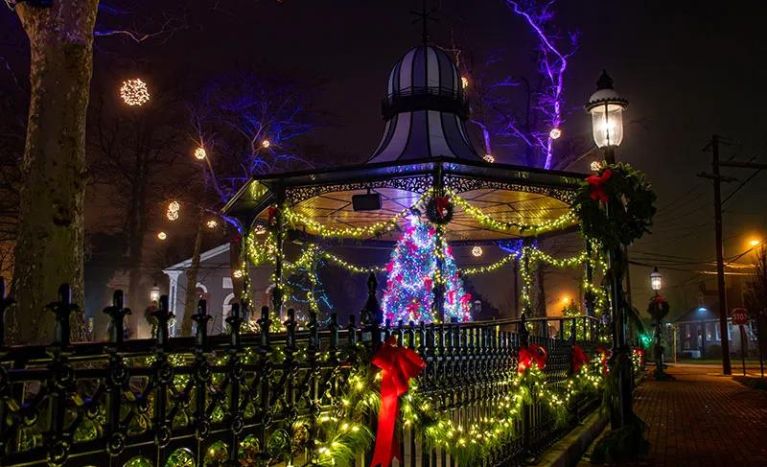 A Christmas Parade is hosted in West Cape May on the first Saturday in December to officially kick off the holiday season.
Other December activities include tram rides, tree-lighting ceremonies at Congress Hall and the Emlen Physick Estate. Concerts, kid-friendly activities, and an outdoor Christmas market are all part of the Winter Wonderland celebration at Congress Hall. And is one of the top Cape May tourist attractions.
Shopping for Christmas is fun on the Washington Street Mall because stores stay open until midnight and serve refreshments.
11. Tour One of the Oldest House in Cape May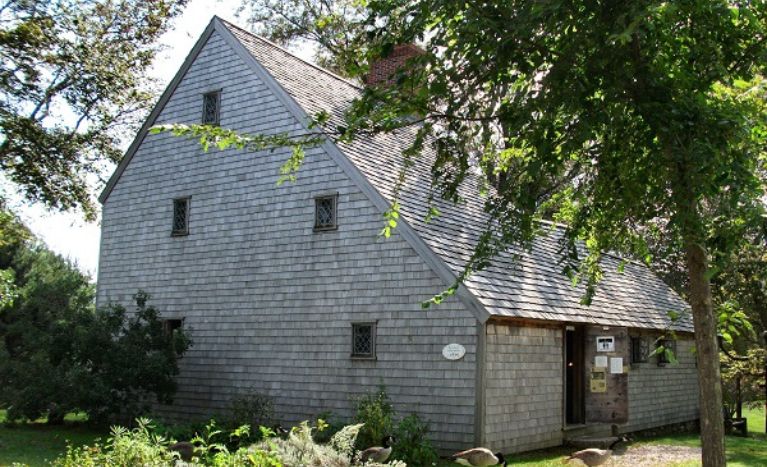 During the 16th and 17th centuries, Cape May was a significant fishing harbor. However, the 1856 fire completely destroyed the majority of the 16th century colonial-era homes. The Colonial House, the last surviving building in Cape May, somehow escaped the flames.
The house, which is now a public museum and was built in 1730, is furnished with actual domestically produced goods from that time period.
Admission for visitors is free and remains accessible from June through September. You can also access during Victorian Weekend in October and during Christmas Candlelight House Tours.
12. Visit Cape May Historic District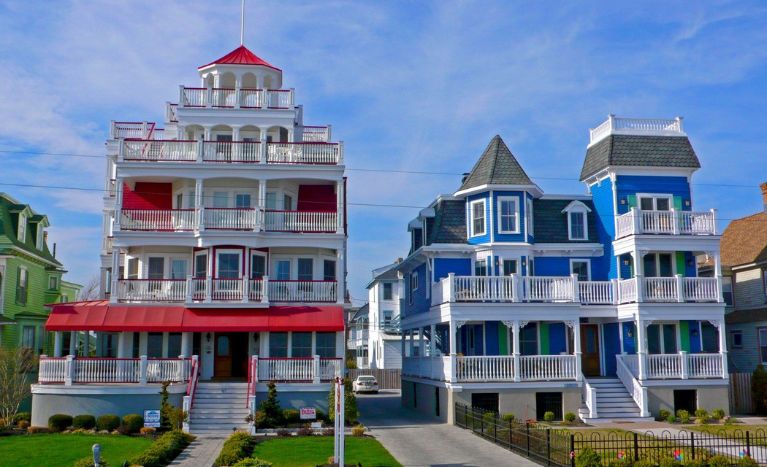 Cape May is the best-preserved 19th-century historic landmark that boasts over 600 Romanesque architecture homes in its 30-block downtown core. And is one of the top Cape May attractions.
It is a designated National Historic Landmark. These quaint vacation homes had sheltered patios for taking in the sea breezes as well as decorative features like "wedding cake" patterns, castles, and dormers.
The town's ancient homes have been transformed into a number of opulent bed-and-breakfast establishments. The majority of B&Bs include swaying recliners on their front porches or courtyards where visitors can unwind and socialize, boosting the classic vacation vibes.
The Emlen Physick Estate, one of Cape May's most remarkable historic residences, is now accessible to the general public as a museum. The Cape May Museum + Arts + Culture association offers guided tours.
Three blocks of enticing locally owned candy shops, apparel stores, libraries, and restaurants can be found on the Washington Street Mall.
Three blocks of enticing locally owned candy shops, apparel stores, libraries, and restaurants can be found on the Washington Street Mall. It runs between Ocean Street and Perry Street in the center of the Historic District. A relaxing stroll around the boutiques is encouraged. Tourists can also feel inclined to consume a fine lunch or stop for some sweets.
13. Enjoy the Art Performance at East Lynne Theater Company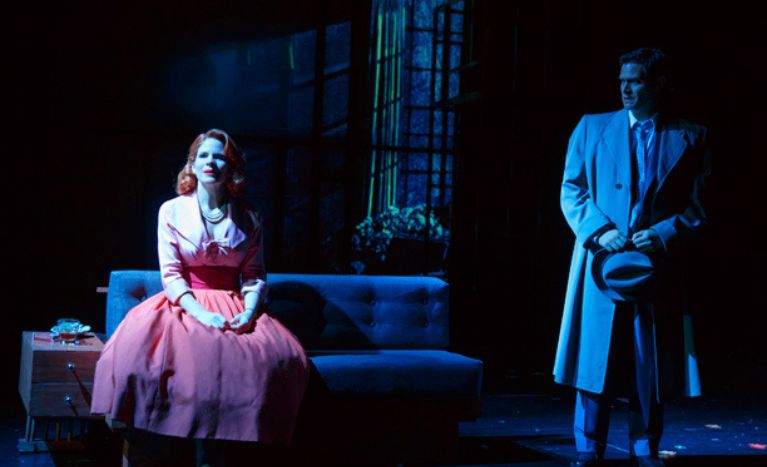 Since 1988, the esteemed East Lynne Theater Company has been putting forth shows for Cape May audiences.
The group produces theatrical productions that are influenced by traditional American literature, including cabaret live performances, Edgar Allen Poe stories, Sam Bernard's plays and Lawrence Wright's writings.
The First Presbyterian Church of Cape May hosts performances. The season for performances runs from March to December.
14. Spend Some Time in Quiet Rural Community in West Cape May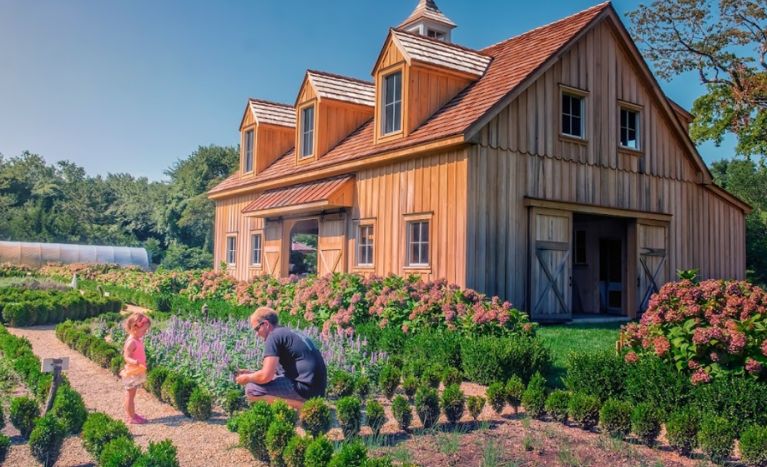 Beyond Cape May's Historic District lies a tranquil rural area home to numerous small farms. European colonists have been cultivating this land for agricultural purposes since the 1600s.
Every October, a Lima Bean Festival is held at Wilbraham Park in West Cape May to honor their legacy.
It's a short and beautiful bike ride from the downtown area to West Cape May is mostly preferred by the locals and the visitors. The observation decks and hiking trails at South Cape May Meadows, which has 200 acres of protected habitat for birds and other wildlife, will be cherished by birdwatchers. And is one of the best things to do in Cape May.
Beach Plum Farm, a 62-acre farm that provides produce to nearby eateries, was constructed after 45 years on the same historic site. More than 100 different types of fruits, vegetables, herbs, and flowers are grown at Beach Plum Farm.
The produce is then sold in the property's rustic-chic country market and Farm Kitchen. It also provides meals made with farm-fresh ingredients for breakfast and lunch.
Beach Plum Farm also offers farm-to-table dinners and shaded picnic tables, which are great on hot days. Additionally, there are charming cottages that offer accommodations to stay for a night.
15. Pacas Eager to Meet You at Jersey Shore Alpacas
Visit Jersey Shore Alpacas to meet some new friends. Here, in Middle Township, you can discover more about these fascinating species. Meet the alpacas up close and personal to learn more about their distinctive personalities.
As guests get to feed the alpacas carrots, it is one of the kid-friendly things to do in Cape May NJ. Even a gift shop sells items crafted from alpaca wool.
Pro tip: The Jersey Shore Alpacas staff only permits small parties of up to six persons. This is being done to prevent stress in the alpacas. They will divide you into smaller groups if your party is larger. All visits must be scheduled in advance.
16. How About a Date Night at Willow Creek Winery?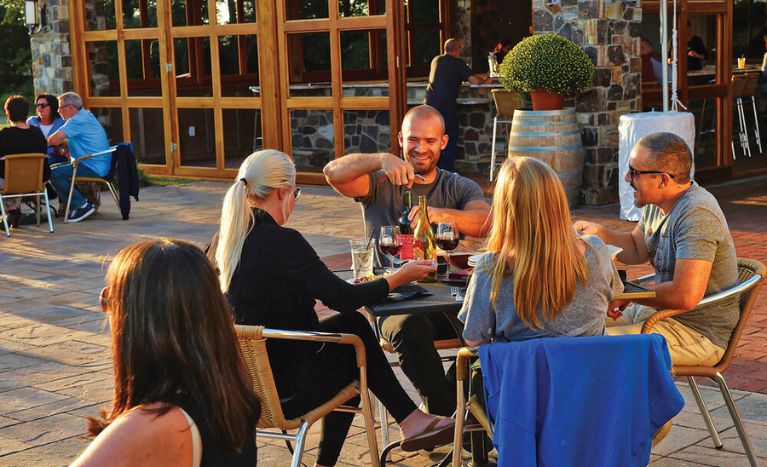 Willow Creek Winery is situated on 50 acres of lush Cape May landscape in New Jersey's Outer Coastal Plain. The only tasting facility on Cape May, Willow Creek Winery is home to thousands of vines that yield some of the best hand-crafted wines in the nation.
Are you traveling for your anniversary? What about a date night in Cape May?
Raise your glasses and toast while you sample some of Willow Creek Wineries superb wines and take a romantic stroll around the expansive vineyard. This is one of the top things for couples to do in Cape May.
17. Venture Cape May County Park and Zoo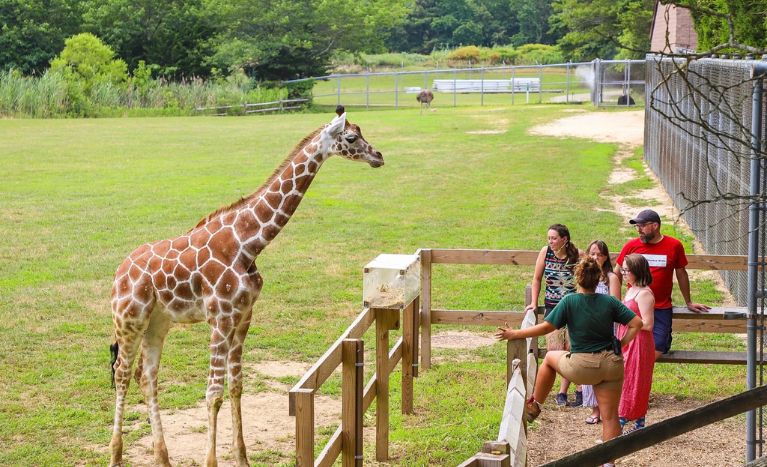 This 85-acre zoo, located in Cape May Court House, houses more than 500 species without charging admission.
Looking for the best things to do in Cape May with family and kids. Enter this zoo and take advantage of a variety of fun activities.
This Cape May zoo is appropriate for both adults and children and is home to amazing animals including the African lion, American elk, Brazilian Jaguar golden-headed lion, and more.
By participating in the scavenger hunts, you may make your trip to the zoo even more memorable.
In this zoo, you can even go camping on an expedition and spend the night!
18. Cap off the Meal at Louisa's Cafe and Chocolate Bar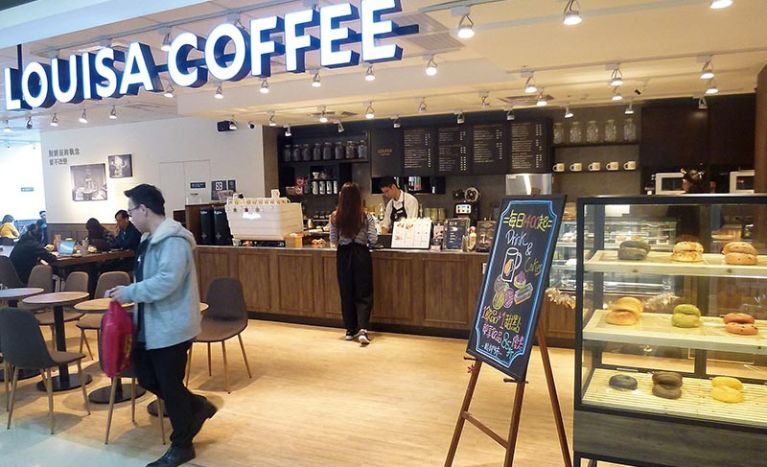 Louisa's Cafe and Chocolate Bar, owned by a brother-and-sister team, has been providing home-cooked food since it opened its doors in 1980.
Louisa's Cafe and Chocolate Bar, one of the city's earliest farm-to-table eateries, offers artisan truffles, crustacean seafood, pastas, pizzas, mince pies, noodles, and more.
Enjoy the delectable richness that Cape May's rich waters and beautiful soil have to offer. Finish the meal with their homemade truffles and sweets.
19. Visit the Grandest Victorian Building – The Congress Hall
The oldest coastal community in America, Congress Hall, has been in continuous operation since 18th century
Families are drawn to the first beach resort in America because of its opulent lodging and superior hospitality.
The resort also offers a host of first-rate services, such as a kiddie club and nighttime entertainment, to keep the whole family entertained.
After enjoying the top Cape May, New Jersey attractions, there is nothing better than returning to the country's largest Victorian structure.
Enjoy the finest Victorian and contemporary comforts, unwind in a personal beach tent, lounge by the pool, or take a seat in a rocking chair while you gaze at the horizon over the Atlantic shoreline.
20. Go for a Shopping Spree Victorian Style at Washington Street Mall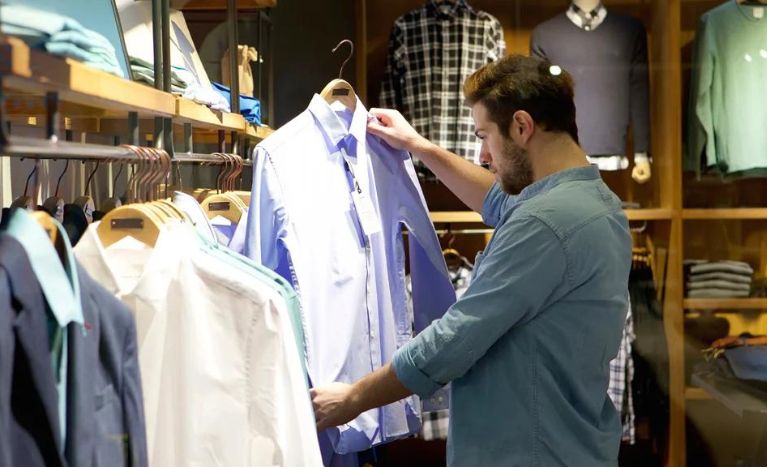 What old Cape May refers to as a mall is actually a whole outdoor shopping area made up of 18th century Victorian structures that have been restored.
Just a block away, in the Washington Street shopping district, you may find excellent Cape May stores selling apparel, jewelry, confectionery, antiques, souvenirs, and art and crafts.
Actually, the town's original main street is the pedestrian mall on Washington Street.
Additionally, Congress Hall and Washington Square both have attractive stores. Local business owners run the stores in Cape May, which offer distinctive goods for your consideration.
The Washington Street Mall in Cape May has a variety of entertainment options for you including live music, restaurants, ice cream shops, vintage lights, and fountains. And is one of the best things to do in Cape May at night.
Places to Eat in Cape May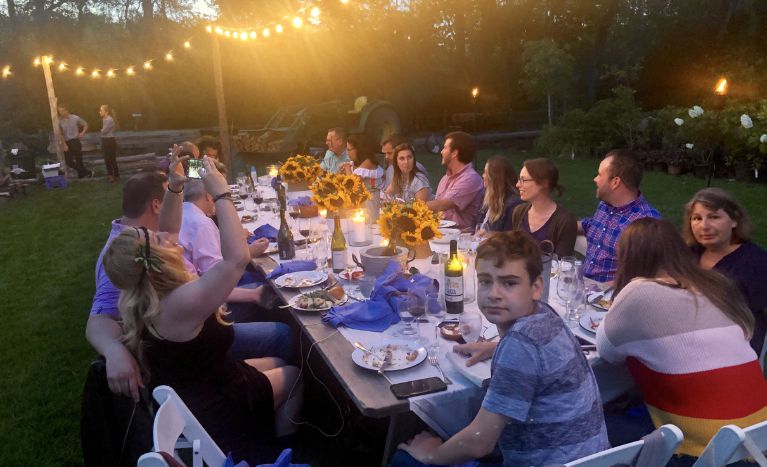 When visiting Cape May, take a relaxed coastal vacation. This New Jersey city is well-known for its Atlantic coast's white sand beaches, gorgeous Victorian buildings, and distinctive food scene.
Undoubtedly, there are a wide variety of flavors to sample while you're close to the coast, from a traditional seafood mix to more international cuisines.
Here are some of the favorites when you dine in the best restaurants in Cape May –
Beach Plum Farm Kitchen – A thriving farm and restaurant, Beach Plum Farm Kitchen serves breakfast and lunch with farm-to-table dishes near the historic downtown. Whether you want to eat outside under patio umbrellas in the morning or fairy lights at night, you will undoubtedly love the experience. A cup of Cortado coffee is perfect with the Passion fruit Pancakes, Californian Bread Pudding, and Smoked Cheddar Bacon.
Address – 140 Stevens St, West Cape May, NJ 08204
Blue Pig Tavern – The Blue Pig Tavern is a classy American eatery that serves fine cuisine. This restaurant is currently ranked among the best in Cape May thanks to its chic, old-world charm. Enjoy some Congressional Greek Salad and a cup of Cape May Clam Chowder. Sea oysters with crab stuffing and vanilla bean creme brulee needs to be ordered next.
Address – 200 Congress Pl, Cape May, NJ 08204
George's Place – Due to its handy location, cozy ambiance, and generous servings, this typical beachhouse restaurant is among the greatest dining options in the city. Prior to eating a portion of the Chicken Moussaka, indulge in some Falafel Crostinis and Greek Hummus.
Address – 301 Beach Ave, Cape May, NJ 08204
The Lobster House – One of the top supper spots in Cape May, this restaurant is known for its breathtaking harborside views. It's lovely to eat your bits on the bay while admiring the view of the docked ships and the cool sea breeze. Enjoy the Cold Seafood Platter, which includes oysters, king crabs, lobsters, and more. After that, savor a bowl of Fisherman's Bay Tomato Soup to warm your stomach.
Address – 906 Schellengers Landing Rd, Cape May, NJ 08204
Places to Stay in Cape May, New Jersey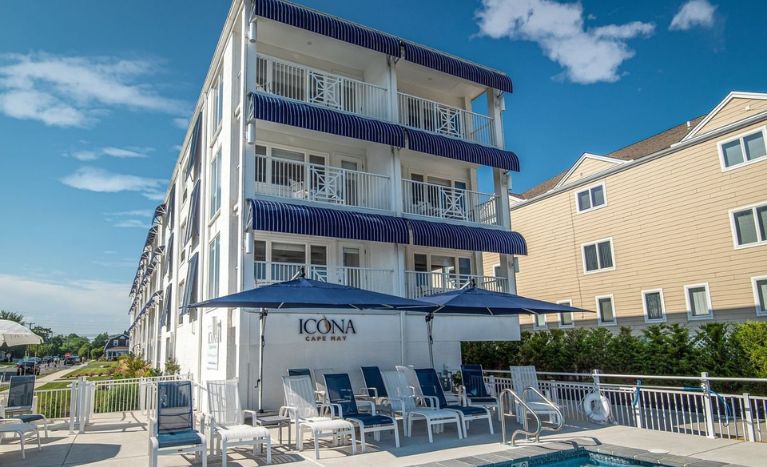 For different preferences and price ranges, Cape May offers a variety of lodging options. Book a stay at one of the beachfront hotels or victorian style B&Bs to take advantage of modern convenience.,
The majority of lodgings offer a range of amenities, such as swimming pools and pet-friendly accommodation, and are conveniently located near the Washington Street Mall and the ocean.
ICONA Cape May – White walls, dressers, and furniture are combined with dark patterned flooring at the oceanfront boutique hotel ICONA Cape May. Dolce marble is used extensively in the baths, which are also attractive. A public area of the beach is located across the street from the hotel. Breakfast is complimentary. Enjoy an outdoor spa, and an indoor pool.
Address – 1101 Beach Ave, Cape May, NJ 08204
Phone number – +1-609-898-8100
Montreal Beach Resort – For many years, families have loved spending their summer vacations here. There are sun loungers on the sand for guests to use, and it is positioned right on the beach. Three meals a day can be had at the hotel's restaurant, which is also available for beachside service. Guests can book an all-inclusive stay here. A spa and a heated outdoor pool are additional luxuries.
Address – 1025 Beach Ave, Cape May, NJ 08204
Phone number – +1-609-884-7011
The Grand Hotel – The Grand Hotel is also located directly on the seashore. One of the biggest resorts in the region. The apartments and rooms are spacious and tastefully furnished. Additionally, there are alternatives for family rooms and some feature kitchenettes. Direct beach access, a restaurant with a kids' menu, indoor and outdoor swimming pools, hot tubs, and a fitness center are available as amenities.
Address – 1045 Beach Ave, Cape May, NJ 08204
Phone number – +1 609-884-5611
ICONA Diamond Beach – It is a sibling hotel to the ICONA Cape May and is about a 10-minute drive north, offers guests a complimentary shuttle service. In addition to a beachfront restaurant with live music and fire pits, it includes a guest-only private beach club. There are 102 suites with bright, contemporary design inside an Art Deco building, as well as kitchenettes and balconies.
Address – 9701 Atlantic Ave, Diamond Beach, NJ 08260
Phone number – +1-609-729-6600
Conclusion
A friend of ours asked us to find her a hotel in Cape May so that she could enjoy a weekend holiday with her family. Planning a trip to this area of the East Coast, she didn't know where to begin. She asked if we had ever visited Cape May before, and when we responded that we hadn't, she shrugged, saying she didn't have time to spend hours researching a place they might not even enjoy. We recommended that she open a browser tab on her phone and begin searching for information about their upcoming trip. A half hour later, after reading several websites on the best restaurants and things to see in Cape May, my friend said she was sold: Cape May was officially their destination for the weekend.
There are an abundance of engaging activities to pursue in and around Cape May. Each week-end, thousands flock to the sandy beaches to jog, bike, and rollerblade along the boardwalk. Historical tours in the quaint town center appeal to those who love exploring old buildings longer than the beachfront. Culture vultures can enjoy arts, music, film festivals on a regular basis. Restaurants and cafes complement the year-round activities with local flavor and tasty fare.