Look no further than Allentown, Pennsylvania, for the ideal vacation destination where you can enjoy plenty of old-world elegance and a splash of artistic sophistry.
This small city in the state's eastern part still has some of the cozy feel that modern metropolises badly lack.
Visit its wonderful museums, which are rich with fascinating exhibits, or simply stroll aimlessly through its various streets. Any pleasure is available to you here.
A wide variety of tasty meals and beverages in a variety of distinct flavors will delight your taste buds.
Sports lovers can watch some thrilling games and support their favorite minor league clubs.
Every visitor will find the city to be a bustling vacation spot with lots to do.
To truly enjoy a captivating vacation, you must attempt some of these 27 fantastic and fun things to do in Allentown, PA, during your next trip.
1. Enjoy Some Quiet Lake Time at Dutch Springs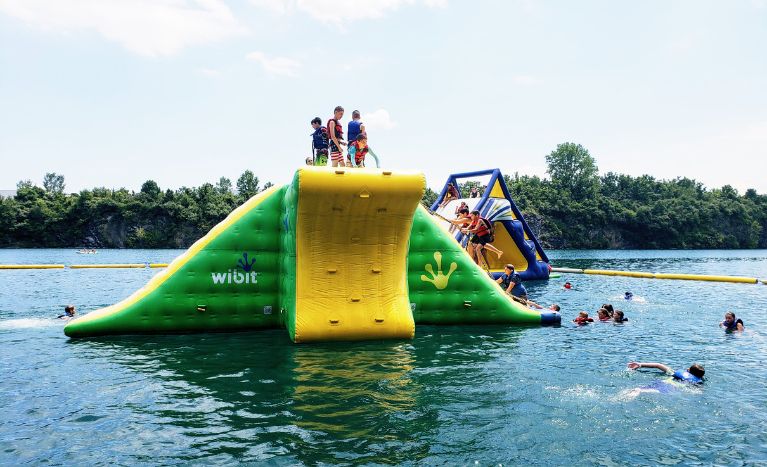 At the privately owned Dutch Springs, you can go for a scuba dive or spend some quiet lake time.
Even if you have never dived before. You may learn to scuba dive with one of their Introduction to Scuba Diving classes at this popular recreational lake near Allentown.
The aqua park nearby, offers raucous splashing and jumping fun. With their water trampoline, the Aqua Jump, you may experience a terrific bouncing frenzy.
2. Taste the Roller Coasters at Dorney Park and the Wildwater Kingdom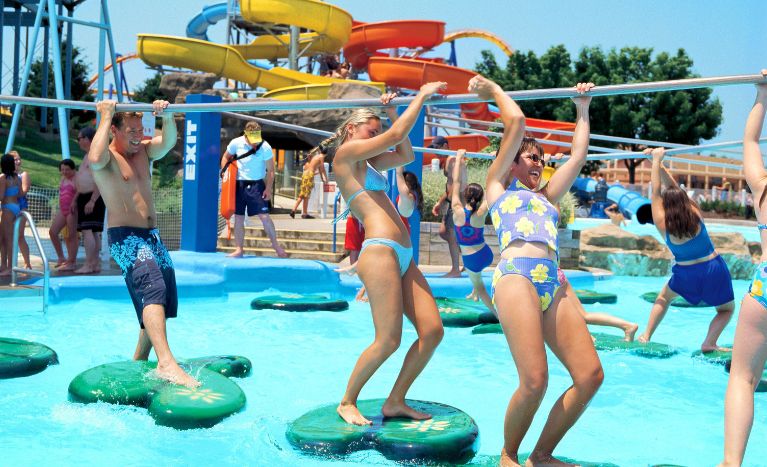 This facility combines a water park and an amusement park under one roof.
Between Emmaus and Allentown sits the great Allentown attraction that may keep you entertained for a long time.
As you soar on its thrilling roller coasters, indulge into the thrills and screams. It is one of the top things to do in Allentown PA this weekend.
As you soar on its thrilling roller coasters, indulge into the thrills and screams.
Take one of the exhilarating rides (strictly meant for adults) to experience levels of adrenaline that are unimaginable.
Otherwise, take a seat in some family-friendly rides and enjoy some amusing family banter while you're riding.
After that, chill off at the nearby water park's refreshing pools. Take use of the numerous wet and wild amenities here to slide and ride.
3. Automobile Lovers Must Head to America on Wheels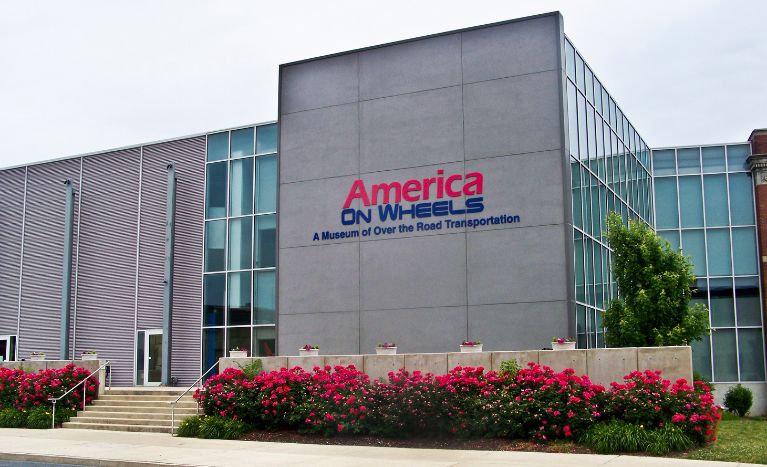 This museum is a wheel-paradise lover's where you may feast your eyes on every kind of driven object ever made.
Each gallery in this complex contains collections of every conceivable method of transportation.
The clever self-propelled bicycles will have you in awe of its seemingly magical mobility. Discover some of the cutting-edge vehicles, including the well-known Segways.
Learn more about these incredible new modes of transportation from their most illustrious enthusiast, the legendary Steve Wozniacki.
Huge tractors and trailers are on display at this museum. You will undoubtedly enjoy if you like hefty, monster-type equipment.
This museum places a big emphasis on teaching. You may learn a lot about transportation through a variety of activities and exhibits.
The specialised Repair Learning Centre lets children experience being auto mechanics while teaching them about vehicle restoration in a fun and interactive way. Definitely, it's one of the best things to do in Allentown PA with kids.
4. The Specialty Stores at the Farmer's Market are for die-hard Food Lovers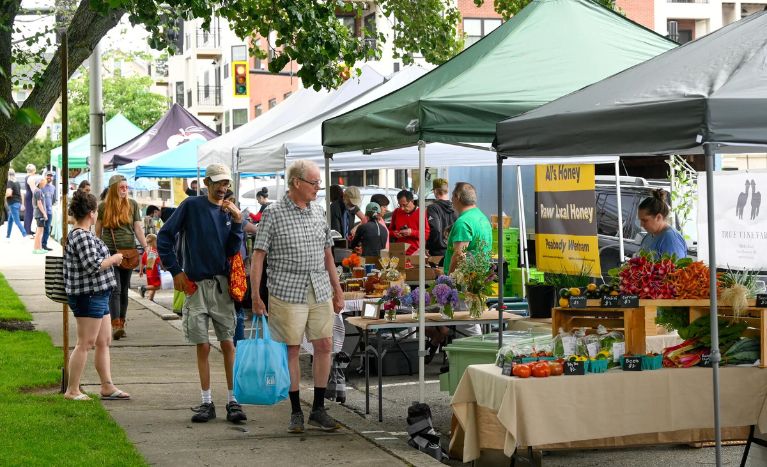 A renowned locally-grown market in the Lehigh Valley region is the Farmers Market nestled into the heart of Allentown Fairgrounds.
More than 60 vendors who sell meals here let you have the great local products in its freshest form. Farmer's Market is one of the top Allentown PA attractions for Food Lovers.
Pick from a huge selection of meat and poultry products, locally produced charcuterie items, and the delicious seafood on offer.
Alternately, sample some of the delectable home-baked dishes or perhaps buy some recently harvested vegetables.
Great gourmet groceries are available at the Italian market for all the ardent admirers of Italian cuisine.
This area's specialty shops are stocked with a wide variety of unusual and mouthwateringly flavoured items.
After purchasing the ingredients, if you become weary and hungry, indulge in a delectable lunch at one of the charming eateries.
You may sample the best cuisine here, from Vietnamese bistros to Orthodox jewish diners.
4. Tour into the Greens at Lehigh Parkway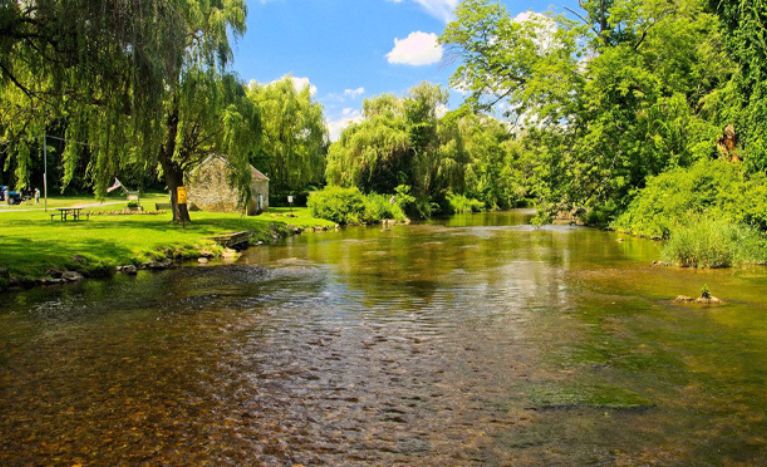 The Lehigh Parkway is the picture-perfect urban park that spans 500 acres, and is one of the top Allentown attractions.
It offers a tonne of conveniences, including a disc golf course and six miles of trails used for cycling, running and trekking.
Take advantage of the many amenities at this park, including a fish hatchery, log cabins for rent, sanitary lavatories, a museum, an iconic covered bridge, and many more, as you embark on a memorable nature retreat with your loved ones or friends.
5. Enjoy Dramatics at Pines Dinner Theatre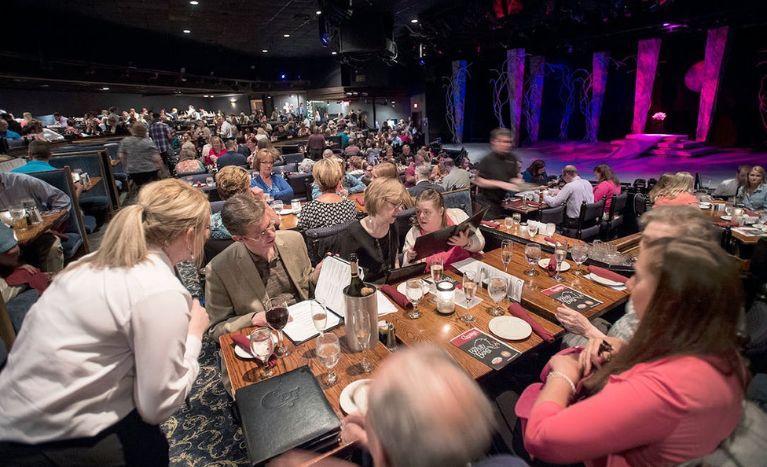 The rustic Pines Dinner Theatre offers one of the notable productions for your enjoyment, and is one of the romantic things to do in Allentown PA.
From comedies to heartfelt musicals, a variety of genres are represented in these productions.
You can savour delectable food prepared in a traditional home setting and presented to you by their warm and hospitable service.
You can also decide to visit this location during one of their special evenings and enjoy an endless array of delectable treats.
6. Indulge into the Outdoor Activities at Trexler Nature Preserve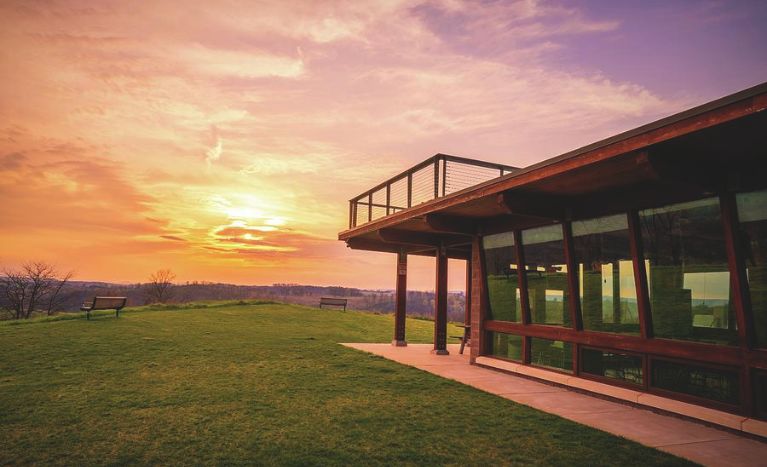 A 1,100-acre county park called Trexler Nature Preserve provides some interesting hiking opportunities, and is one of the # 1 outdoor things to do in Allentown Pennsylvania.
The preserve is also home to herds of elk and bison, which may be seen from several of the preserve's hiking routes. Plus, the major draw is Lehigh County's covered bridges and the Lehigh Valley Zoo.
The Preserve provides possibilities for peaceful enjoyment and learning while managing and protecting natural resources. The preserve has more than 18 miles of trails for hiking, walking, jogging, riding mountain bikes, snowshoeing, and cross-country skiing, among other outdoor activities.
The 8.5-mile Trexler Border route, which is renowned for equestrian riding, is a part of this 18-mile network of trails.
Fishermen like to hang out in the well-stocked Jordan Creek.
Elk and bison can be seen by visitors in their natural habitat. Unique topography may be found in the North, South, and Central ranges, which range from meadows and hills to hemlock woods and steep cliffs.
7. Get a Glimpse into indigenous People's Life at Indian Culture Museum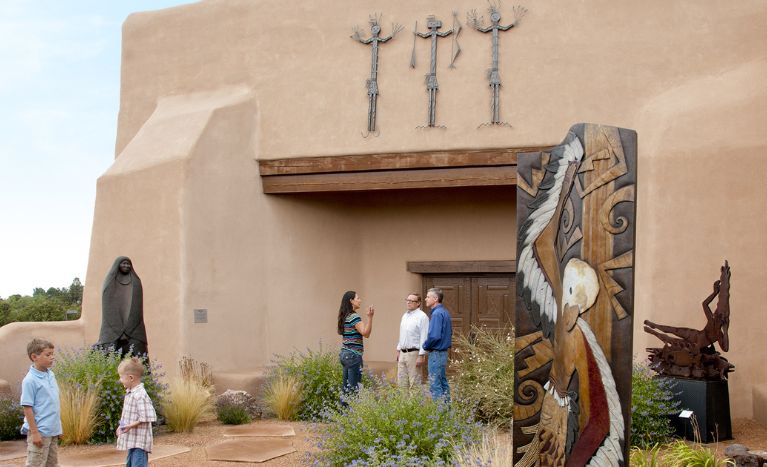 The Lenape, an indigenous people, and other Northeastern Woodland Indian tribes are the focus of the Museum of Indian Culture nestled into the heart of Allentown PA.
With your travelling companions, visit this museum to discover the delights of Native American culture and history.
It offers a variety of artefacts, educational activities, guided tours, unique programmes, and other choices.
Gather your loved ones, a particular someone, or friends as you explore this museum's exhibits on the splendour of Native American culture. And, is one of the family things to do in Allentown PA.
Explore its galleries to see items including stone weapons, traditional attire, handmade bins, mediaeval sculptures, photographs, embroidery, and armaments.
8. Challenge Yourself at Bake Oven Knob!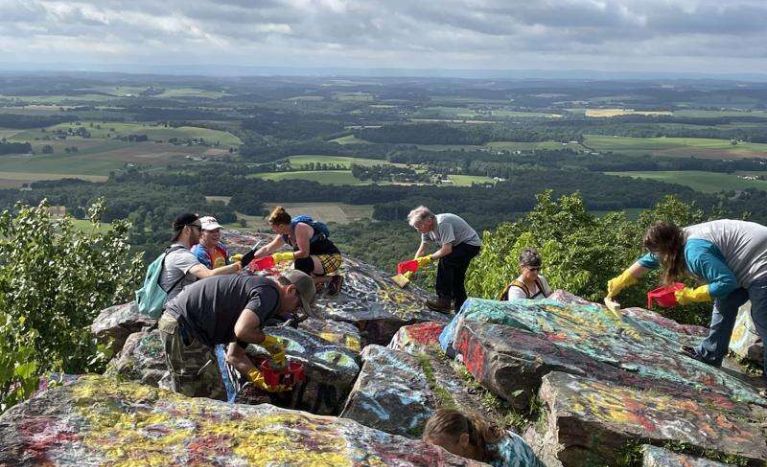 Are you seeking a little challenge? This excursion across the scenic Lehigh Valley along a section of the Appalachian Trail is a top contender.
It's at the very edge of the area and is located northwest of Allentown.
The trip is worthwhile, but you'll be fatigued on the way back. Some of the nicest vistas of eastern Pennsylvania can be found if you follow the trail northeast to the Bake Oven Knob.
The terrain on this trip is rough, and there are a few climbs that involve as much climbing as hiking. It is advisable to wear appropriate footwear and water.
Climbing a few out-of-the-way rocks along your route will give you an unexpectedly beautiful picture of the Blue Mountain ridge and farmland in the valley. And, is one of the best things to do near Allentown PA.
9. Enjoy the Quality Spirits at Kilimanjaro Distillery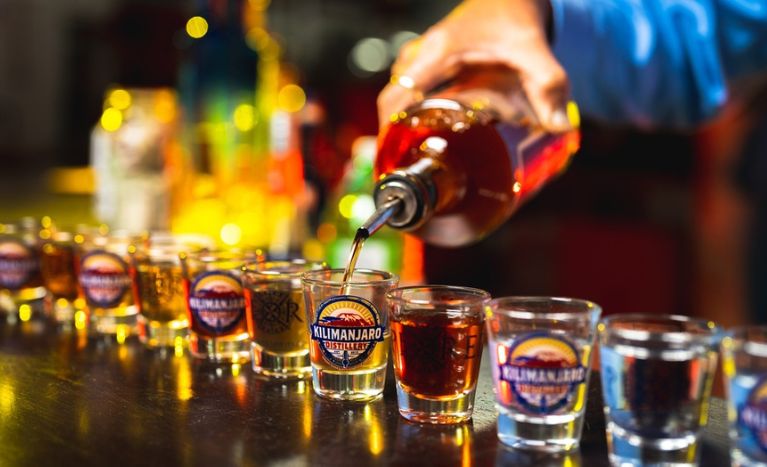 Kishor and Niky Chokshi, a father-daughter duo at Kilimanjaro Distillery in Allentown, Pennsylvania, carefully craft small batches of spirits using scientific knowledge.
The distillery aids in the diversification and resurgence of the local economy, and is one of the top Allentown attractions.
Their quest has been motivated by a love for uniting people from all walks of life to make the world a better place.
A portion of all Xplorer Spirits profits, which are distilled at Kilimanjaro Distillery, are donated to the local Meals on Wheels Pennsylvania community and to the Tanzania Water Project, which provides clean drinking water to communities in need.
This is done because the distillery is aware that every decision has an impact on people and the environment everywhere.
The Chokshi family is of the opinion that each person's life is a special trip that should be enjoyed by way of sincere encounters and significant relationships.
Locally grown potatoes and premium grains are used. The purpose behind locally sourced ingredients is to swear allegiance to Pennsylvania's agricultural legacy.
The spirits are 12 times distilled to achieve a high level of purity, guaranteeing a wonderful drinking experience.
10. Love is in the air at Allentown Rose Garden
The Allentown Rose Gardens is an attractive urban sanctuary that offers variety of amenities, like pavilions and a 1.3-mile walking track,
This lovely rose garden is a great choice if you're looking for some free things to do in Allentown, and offers admission at no costs. Due to its breathtakingly gorgeous scenery, it is also a popular wedding location.
It has amenities like Wellness Zones, pavilions, picnic tables, paved walking routes, clean restrooms, and more.
Take your date along to this enchanting rose garden that lets you create beautiful memories with your special someone. It is one of the best things to do in Allentown for couples.
You can take lots of photos together, stroll around holding hands, see roses in all different colours, ride a bike around, and more.
11. Catch a Game at Coca Cola Park
With a capacity of between 8,200 and 10,100, the spectacular Coca-Cola Park, was inaugurated in March 2008.
A thrilling game at this magnificent, award-winning ballpark is one of the best things to see in Allentown.
The Lehigh Valley IronPigs are a top-tier Minor League team that competes in the International League. At Coca-Cola Park, you can attend one of their games and root them on to victory.
It has a wide range of amenities, including rental facilities, shops selling a variety of delectable delights, a parking lot, and a family-friendly environment.
Grab your loved ones and get ready to enjoy an exciting baseball game at Coca-Cola Park, and it is one of the fun and family things to do.
12. The Family Time can be Royally Spends at Wildlands Conservancy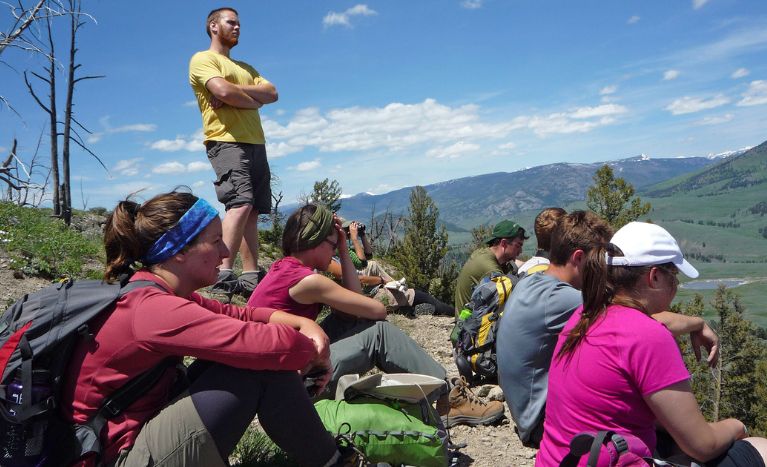 The non-profit Wildlands Conservancy buys and manages natural areas with the goal of protecting the environment. From their headquarters in Emmaus, the group manages a number of natural reserves in the region.
The community can enjoy popular recreation sites within the reserves. The Venue holds a variety of events, such as bike and boat excursions, kid's summer camps, scout programmes, and more. It is one of the best things to do near Allentown PA with kids.
On the Lehigh River, there is a waterway that is appropriate for kayaks, paddles, and other small boats. There are numerous access locations to put in and take out along the 72-mile trail.
Nature trails, a bird blind, an orchard, a museum, a pavilion, beehives, ponds, native species, deep woodlands, and floral meadows are some of the features of the Pool Wildlife Sanctuary.
13. Enjoy Some of the Smoothest Meads at Colony Meadery
This amazing mead-making facility still employs age-old methods that result in the finest flavours and the ideal level of fermentation.
These methods have been adjusted and enhanced throughout time by the master brewers at this location.
In this facility, you can currently sample some of the smoothest brews and is one of the best things to do in Allentown PA for adults.
Here, you may read about the lovely mead-making process as well as the unique characteristics of this meadery's beverages.
You will also be impressed by the magnificent architecture, which is housed inside a demolished Mack Truck Factory.
Visit the tasting room and enjoy their excellent meads while munching on their delectable in-house sandwiches and panini.
14. Learn the City's industrial Heritage at Lock Ridge Park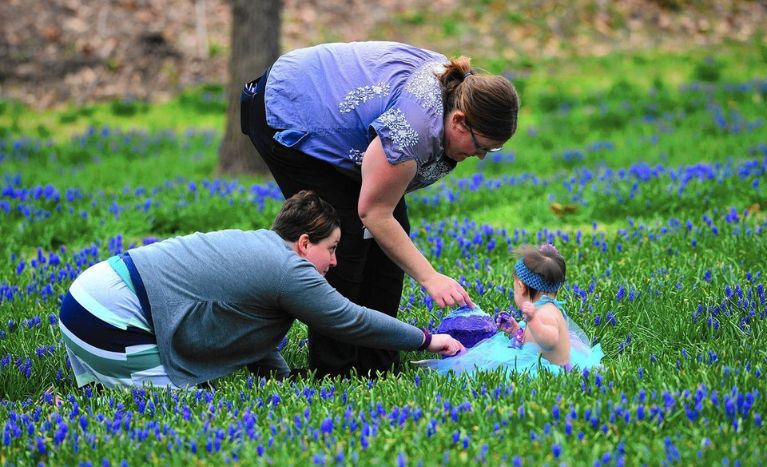 The Lock Ridge Furnace Park Loop Trail in Alburtis, PA is only.07 of a mile in length, but it packs a lot of charm.
If you go during the summer, the simple trail's tree-lined walk will help shield you from the sun.
The trail is straightforward, although you will have to walk up a few hills. Nevertheless, it is a well-liked route for stroller-wielding people, runners, and walkers.
Visit the bluebell field at least once while it is in bloom, and August is the best time to visit Allentown PA.
The ruins of the former coal-burning furnace Lock Ridge Furnace are without a doubt the trail's main highlight.
Explore the ruins, which feature stunning arches and stone buildings. The stone arches make a wonderful backdrop for photographs.
You might also wish to take the opportunity to visit the Lock Ridge Furnace Museum. The museum provides a window into the Lehigh Valley's rich industrial past.
However, if you like being outside, you might want to take a picnic or explore another trail. Swabia Creek also permits fishing.
15. Visit the City's Iconic Landmark – The Bell Shrine Museum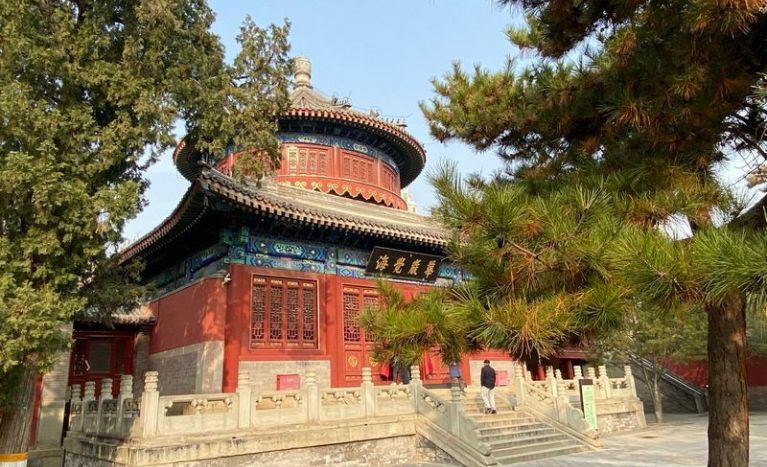 Iconic Liberty Bell Shrine Museum in Allentown was formerly the location where the bell was hidden at the height of the American Revolutionary War.
What to do in Allentown PA for history buffs? For lovers of history, the Liberty Bell Museum is the ideal retreat. There are a lot of unique exhibits here that are linked to significant events that happened around the Liberty Bell.
The magnificent, remarkably accurate replica of the original bell is, of course, the main draw.
Other displays convey the tale of the human goals and principles that have defined the American way of life. Wonderful objects related to liberty, freedom, and patriotism are available.
Treat yourself to some fun with Pip the Mouse, a well-known puppet from the neighbourhood puppet scene.
16. Seeking a Thrilling Day out – Head to Lehigh Valley Grand Prix
The Lehigh Valley Grand Prix is ready to introduce you to some fantastic entertainment if you're looking for some of the best indoor things to do in Allentown PA. .
When competing in the Lehigh Valley Grand Prix, drivers can hit speeds of up to 45 mph as they tear up the 1/4-mile indoor track.
Transponders on each car automatically measure lap times, which are then shown on a huge screen. Anyone over the age of eight can participate in karting, and the facility is ideal for team-building exercises and family events.
Axe throwing and mini-bowling are other on-site activities, and the Octane restaurant will meet any of your culinary needs.
17. Marvel at the Vintage Automobiles at Mack Trucks Museum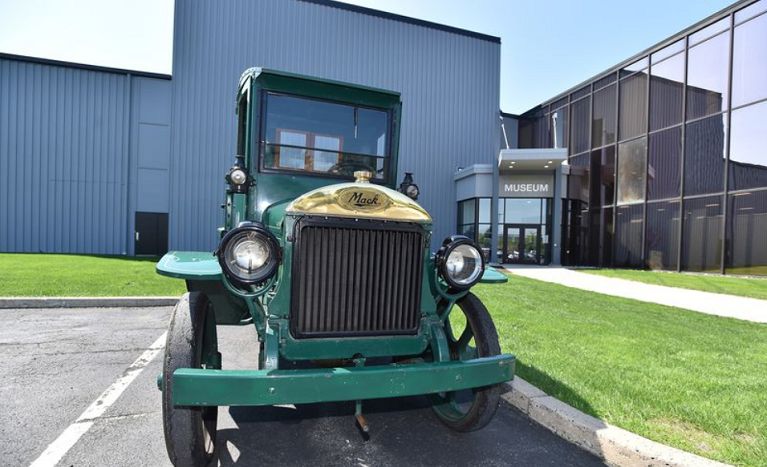 The Mack Vehicles Historical Museum is home to an impressive collection of vintage models, memorabilia, and antique trucks.
This top-rated Allentown attraction is the place to go if you enjoy visiting unique museum exhibitions.
It holds a massive collection of vintage Mack trucks and other automobiles from the early 1900s.
18. Take a Tour of the Historic Trout Hall
The oldest house in Allentown is now a historic house museum titled the Trout Hall. The mansion was created probably in the late 1760s and is fashioned out of limestone. James Allen, who was also the town's founder, had it constructed as a getaway home.
It now houses a library and a museum with items from the American Revolutionary War era.
A visit here will be well worth it for anyone with an interest in that era and is one of the top things to do in Allentown Pennsylvania for history lovers.
19. Enjoy an Indoor Game at PPL Centre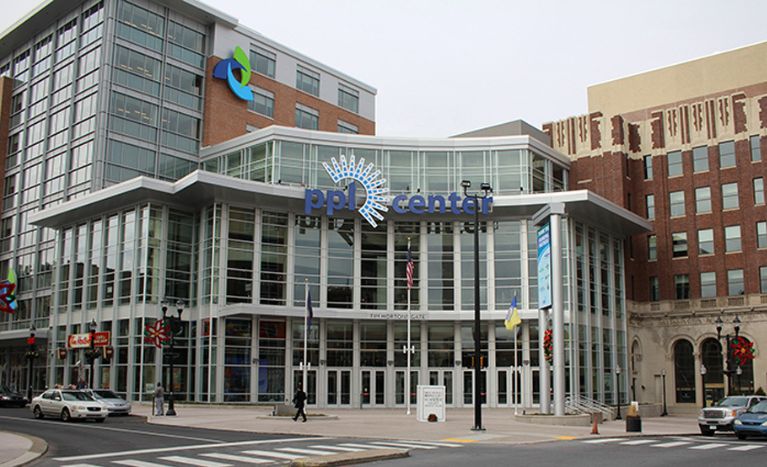 A sports arena in the PPL Centre debuted in September 2014 that hosts a tonne of interesting events and sporting contests all year long.
Enjoy an exciting concert tonight at this sports stadium, one of the top things to do in Allentown, while having a great time indoors.
Along with thrilling games, it also hosts concerts and has previously hosted artists like Carrie Underwood, Elton John, Michael Bublé, Kelly Clarkson, and Shania Twain.
It has also featured WWE matches, Disney on Ice, Cirque du Soleil, and countless other events over the years.
20. Learn history at Lehigh Valley Heritage Centre
One of the biggest historical society museums in the country is the Lehigh Valley Heritage Centre, and is one of the top Allentown PA attractions..
It has more than 3 million archives, more than 200,000 old photographs, and at least 35,000 antiquities.
With your travelling companions, explore the depth of local history and America's past by visiting the Lehigh Valley Heritage Centre.
Numerous exhibitions are featured in this wonderful museum, which also offers ADA-accessible spaces, entertaining annual events, discounted fees for groups, a gift shop, and many other amenities.
Visit the Lehigh Valley Heritage Centre's six galleries to learn something new about local history.
View displays on Native American tribes, past American presidents, the history of the Lehigh Valley, the World Wars, and many other themes.
21. Lehigh Valley Zoo is the Venue to Get Close With your Favorite Animals
The Lehigh Valley Zoo spans 29 acres and represents 275 exotic animals and wildlife.
This bustling zoo is a haven for animal enthusiasts, giving you the opportunity to see nature up close or even get to mingle with friendly animals.
You can choose from a wide variety of activities and services, including guided tours, interactive events all year long, and venue rentals for special occasions.
Visit the Lehigh Valley Zoo with your loved ones, friends, and it is one of the best Allentown fun with kids. Encounter creatures like giraffes, African penguins, leopards, meerkats, rhinos, antelopes, alligators, emus, elk, white-tailed deer, and more.
22. Feast your Eyes at Art Museum in Allentown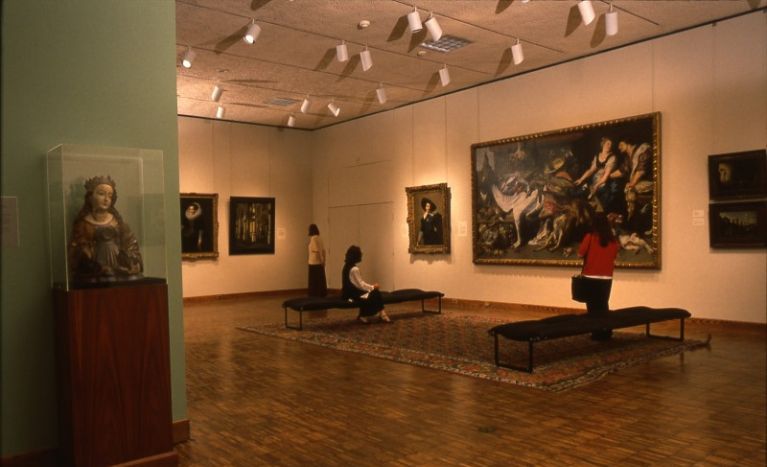 The Allentown Art Museum is one of the unique Allentown Attractions if you enjoy art. Although it might seem like this museum favours regional artwork, it only buys local works that live up to its standards. Their 13,000-item collection is made up of works of art that span hundreds of years and many different styles and countries.
The impressive collection of Renaissance and Baroque paintings and sculptures, the Frank Lloyd Wright-designed library, and the museum's Keith Haring artwork are among the attractions that attract visitors most.
23. Bring out the sci-curiosity in your Child at Da Vinci Science Centre
Science aficionados can visit the fantastic Da Vinci Science Centre to take advantage of its numerous interactive displays and activities connected to technology, maths, and engineering.
The interactive displays at this museum are intended to inspire young children under the age of 12 to think creatively about science. It is one of the top things to do in Allentown with kids.
This facility has one of the most interesting and enjoyable playrooms you could ever find.
At this science museum, you can engage in a variety of entertaining activities with your children. Try out immersive simulations, watch short films, observe aquatic life in a marine tank, create arts and crafts, and more.
24. Visit the Ruins of Coplay Cement Kilns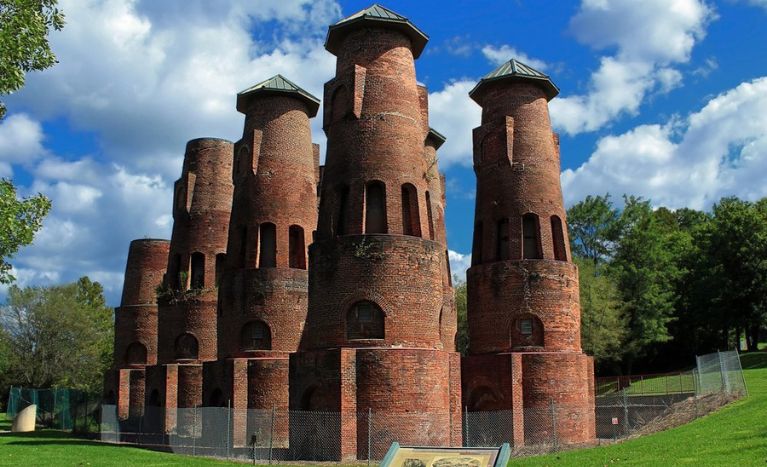 Industrial goods that strengthen Pennsylvania and the world have long been manufactured in the Lehigh Valley. For instance, Bethlehem Steel, which had its headquarters in Bethlehem, Pennsylvania, was once the country's second-largest steel producer. However, the Lehigh Valley also ranks highly among Portland cement producers.
The final Schoefer kilns (or Aalborg kilns) used to make Portland cement in the world are still in operation at Saylor Park in Coplay.
One of Pennsylvania's most fascinating ruins, are located in the heart of a small park and offer visitors the chance to discover more about the region's former thriving Portland cement industry.
Even though the fence prevents visitors from going too close to the kilns, it's nonetheless intriguing to look inside these abandoned factories.
25. Hike the Hassan Creek Nature Trail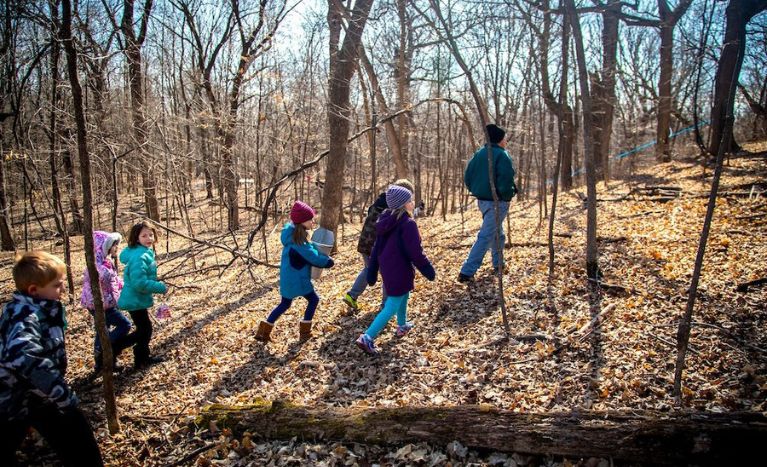 One of my favourite spots to go hiking in the Lehigh Valley is the Hassan Creek Nature Trail. It is a short distance east of downtown, and is one of the top Allentown PA attractions..
This route is perfect for the whole family because it's very short (just a mile round trip), even if there is some altitude gain and drop.
The trail's highlight is a 10–12 foot waterfall that cascades over a cracked dam that originally held back Hassan Creek for a cement mill. Keep an eye out for historical informational markers along the trail as well as the remains of other buildings as you climb.
26. Enjoy Angling at Allentown fish Hatchery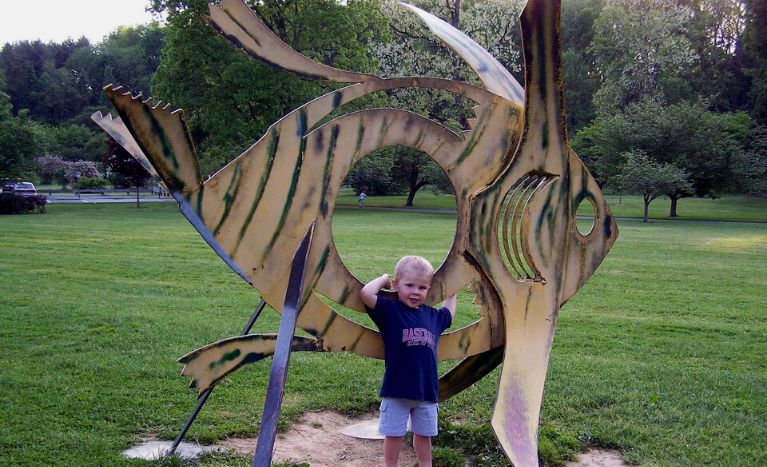 The Allentown Fish Hatchery is a scenic urban park where the Lil' Le-Hi Trout Hatchery is situated. There are 2.2 miles of walking trails, and is one of the best outdoor activities in Allentown Pennsylvania.
You can spend some time outside and discover a thriving fish hatchery at this wonderful location.
Jog or stroll around to enjoy the clean air and beautifully maintained surroundings.
Taking selfies with the distinctive sculptures and having the opportunity to feed millions of fish at the Lil' Le-Hi Trout Hatchery are two other activities you may enjoy here.
27. Pose Along the Lehigh County Covered Bridges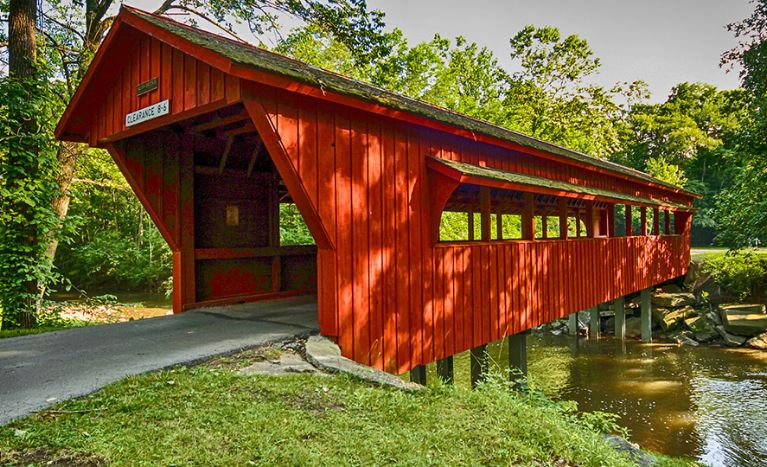 There are six historic covered bridges in Lehigh County. One of these bridges lies south of Allentown, while the other five are to the north of the city.
Lehigh Valley does one of the greatest efforts of all the counties in Pennsylvania of maintaining and beautifying its covered bridges. In fact, four of the county's five covered bridges are located within county parks, making it easy to visit and photograph them.
Places to Eat in Allentown, PA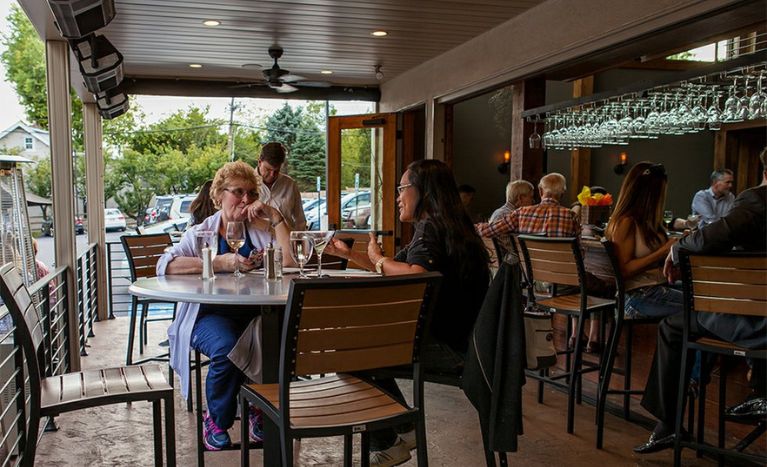 Allentown has the state's fastest-growing population, and the city's phenomenal growth is being matched by an increasingly vibrant and diverse food scene. It includes everything from traditional all-American diners to the global cuisine scene. Here is a list of Allentown's top ethnic restaurants –
Bay Leaf – The Bay Leaf has been serving up its fusion of Thai and New American food for more than 30 years, and it is located right in the center of Allentown. Their continued success in the community is a fairly good indicator of their cuisine, with dishes like the langoustine shrimp special and the tequila trout appetiser serving as examples of the Bay Leaf's ability to skillfully combine flavors.
Address – 935 Hamilton St, Allentown, PA 18101
Damascus – The restaurant's slogan is "Food so good you'll think we've stolen your mother," and it specializes in Middle Eastern cuisine. Some of the menu's standout items include grilled asparagus, baba ganouj, which is cooked brinjal blended with olive oil, peppers, garlic, and seasoning, and the delectable chocolate baklava for dessert.
Location – 449 N 2nd St, Allentown, PA 18102
Grille 3501 – It offers a blend of Asian, French, and Mediterranean food. Since it first opened, the restaurant has amassed a number of accolades and the reputation of being one of the best places to eat in the Lehigh Valley. Indulge in one of the Grille's famous spritzers, which have their very own menu, and try the steak sirloin, crème chocolate mousse, and Thai shellfish soup, all of which come highly recommended.
Add. – 3501 Broadway, Allentown, PA 18104
Queen's City Diner – The iconic 1950s American restaurant Queen's City Diner offers hefty quantities of traditional American meals in a charming retro setting. The veal parmigiana and beef tortellini soup are highly recommended, as is their extensive brunch menu. You won't regret taking a trip down memory lane at Queen's City Diner thanks to its never-ending coffee and friendly service.
Location – 1801 Lehigh St, Allentown, PA 18103
Places to Stay in Allentown, PA (Pennsylvania)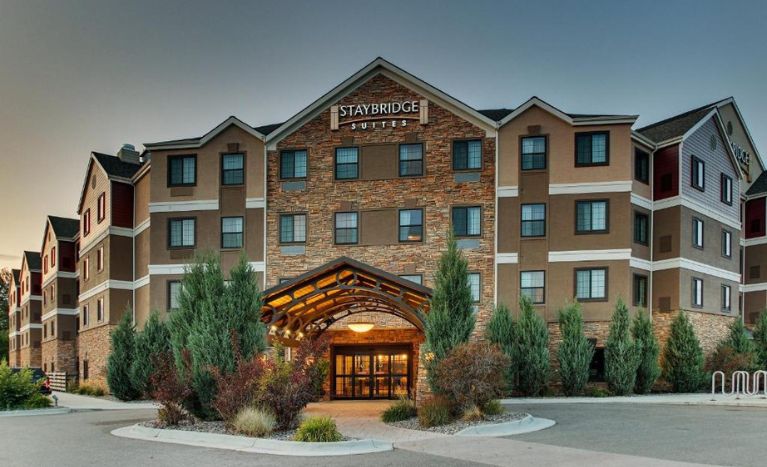 One of America's most underappreciated cities is Allentown. Allentown is undoubtedly one of America's best-kept secrets because of its fascinating history, varied culture, and its rich industrial past.
However, Allentown is a charming old town with a wide variety of neighbourhoods. It can be challenging to decide exactly where to stay to suit your travel preferences because each one offers travellers something slightly different.
We can help with that! With the help of this guide, you may choose the region that best suits your needs and your budget.
Hyatt Hotel Allentown/Lehigh Valley – The hotel features spacious rooms with a pleasant porch, free internet, and Chromecast. Free breakfast and 24/7 meals options are available all the time. The on-site Westside Grill serves locally sourced food and also provides indoor and outdoor dining and beverages in an upscale setting. Outdoor patios, an indoor pool, and a 24-hour fitness center are the main highlight here.
Address – 621 Grange Road, Allentown, PA 18106
Staybridge Suites Allentown Bethlehem Airport – Your stay includes free hot breakfast, WiFi, and parking. Each suite offers a fully functional kitchen and spacious living quarters. During your stay, a free guest laundry room and a 24-hour on-site fitness centre will make you feel at home. The property offers a free shuttle in an acceptable 5-mile radius.
Address – 1787A Airport Rd, Allentown, PA 18109
Renaissance Allentown Hotel – In their opulent suites, you can unwind after a tiring day in the city. Your stay here features complimentary Wi-Fi, Smart TVs, and 24-hour room service. There is a fitness facility in the property that helps you stay in shape. Whether you're visiting for work or leisure, Renaissance Allentown Hotel provides professional assistance with a dash of local charm.
Address – 12 North 7th Street, Allentown, PA 18101
Holiday Inn Express & Suites Allentown-Dorney Park Area ,An IHG Hotel – The ideal location for families looking to participate in the excitement is close to Dorney Park and Wildwater Kingdom. The hotel's free Express Start breakfast each morning and 24-hour coffee and tea bar. For business travellers there is a complimentary high-speed wireless internet and fitness centre to keep up on any workout. These amenities will help you get through the day.
Address – 3620 Hamilton Boulevard, Allentown, PA 18103
Bottomline
If you're looking for a city that's filled with 'knowledge and wisdom', then this the best place. From its history to arts scene to its food options, Allentown is quite simply the perfect holiday destination for anyone. If you are seeking a cultural opportunity, or a relaxed getaway to enjoy an old-fashioned experience.