The best time to visit Mexico is between December and April, when there is little to no rain. Although average temperatures can still reach 28°C during the dry season, the frosty months are between December and February.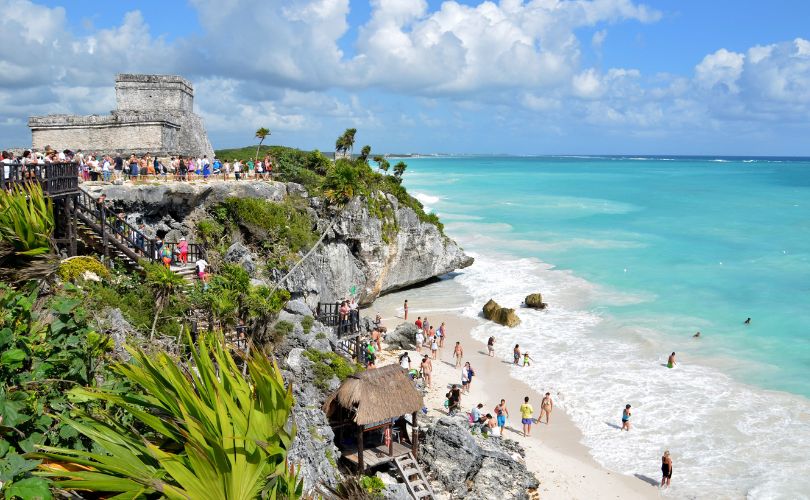 The southern hemisphere's wet season begins in May and lasts until October. A heavy rain during this time usually clears the extra humidity before it builds up again. The hurricane season, which lasts from June to November, has the potential to have an impact on the Caribbean coastline.
In view of this, Mexico conjures up a variety of distinct, colorful fantasies, including palm-lined beaches, spicy cuisine, ancient temples, bustling metropolis, gala fireworks, and Frida Kahlo's artistry. 
And the truth matches them. Mexico's dense tropical jungles, snow capped peaks, cactus-strewn deserts, and 10,000 kilometers of coastline dotted with sandy beaches and wildlife-rich lagoons provide an infinite sensory adventure.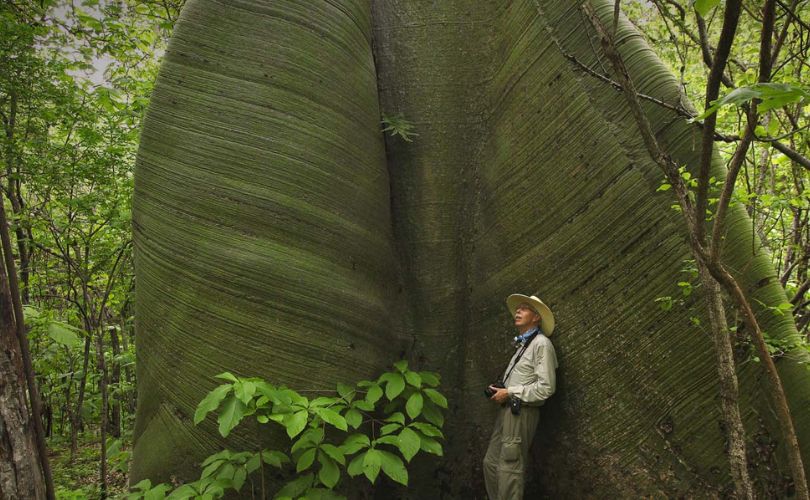 But when to enjoy all the fruits Mexico has to offer is a great question, and the answer is entirely up to you. To help you plan the ideal trip to Mexico, however, we've included a schedule of what's occurring when.
Here's the monthly breakdown of the what's happening when at the gorgeous Baja Peninsula –
January Attracts Flocks of Foreign Tourist
It's warm along the shore and in the lowlands, cool in the mountains, and dry everywhere, attracting hordes of foreign tourists. The Mexican holiday season begins the first week, when transportation is fully booked and beach resorts are incredibly busy.
Weather – Afternoons average 29°C, and rain is unlikely, with only 23mm falling over two days this month. However, nights will be chilly with lows around 14°C. There will probably be a lot of other people joining you because it's a terrific time to visit because of the warm winter sun. Pack for bright, sunny days and cool evenings by bringing sun protection, lightweight clothing, and a light jacket or sweater.
Attractions – January in Mexico is a wonderful month for wildlife aficionados. You're midway through the short whale watching season off Baja California, migratory bird species are in abundance, and the forests of central Mexico are thick with Monarch butterflies wintering down south. The weather is gorgeous, dry and sunny, but in mountainous regions there is snow, which makes for an interesting contrast.
BAJA CALIFORNIA WEATHER
Key festivals & events – Da de los Santos Reyes (also known as Three Kings Day) is a holiday celebrated by many families on January 6. It is customary for kids to get gifts on this day rather than Christmas. However, it is a national holiday, and businesses will close around the 6th.
New Year's Day, known as Ano Nuevo in Mexico, is a national holiday, and most businesses are closed. But, restaurants are running until wee hours.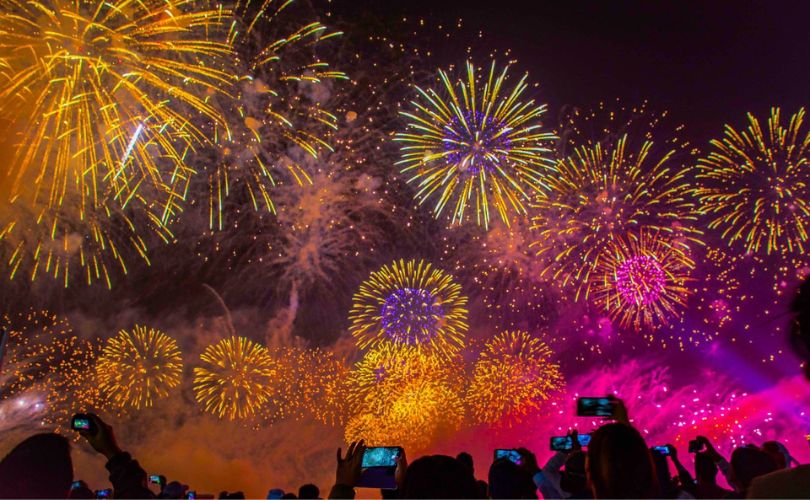 February Attracts Whale Watchers in Masses
Temperatures are slightly warmer than in January, but it continues to be dry, making February one of the best months to visit Mexico, but it can still be freezing in the north and at high altitudes. February and March are the ideal times to see whales in Baja.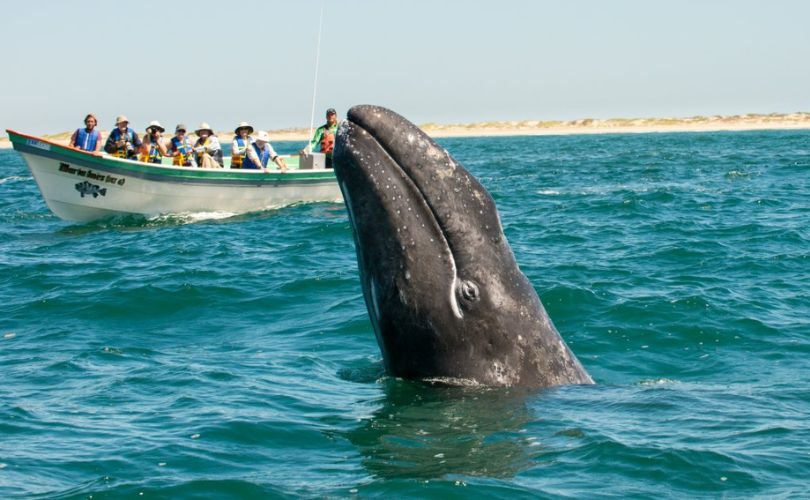 Weather – There is no discernible difference in Mexico's weather between January and February. The temperature merely rises by one degree to 29°C, while precipitation is just 3mm more on average, at 46mm. There will be lots of sunshine and warm water for swimming, making this month a popular time for tourists to visit. Pack like you would for January, plus one or two items for chilly evenings.
Attractions – February in Mexico is mid-winter over much of the nation, but you'll still have pleasant weather, making this the perfect time to visit beaches before the spring break masses arrive. 
The Baja California coastline is dotted with boats as this is the peak season for whale watching. If you're lounging on a sun lounger with a cocktail in your hand, you'll observe brisk sea kayakers paddling off the coast of Baja California.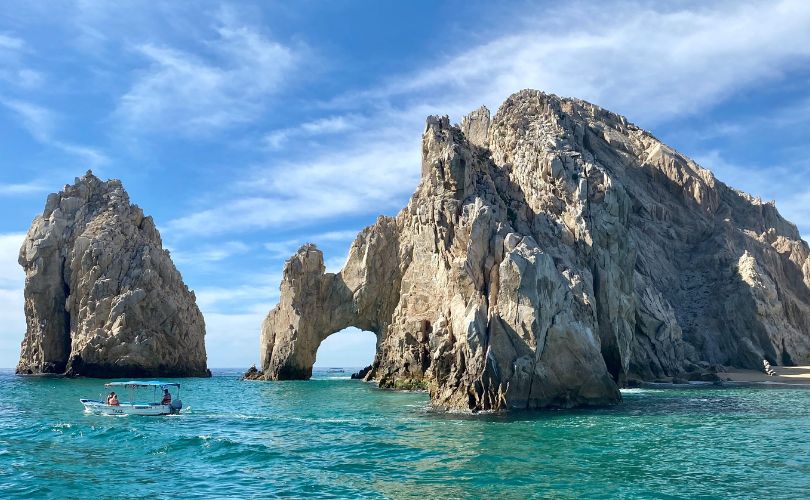 February is ideal for cultural vacations inland, such as visiting ancient monuments like Chichen Itza before the planet warms.
Key festivals & events – Día De La Candelaria is observed across the country the first week of February. It includes music and dancing, processions, feasts, and other celebrations. The festivals end with the blessing of seeds and candles in a ceremony fusing pre-Hispanic and European customs to signify the end of winter.
From February 1st to February 5th, the Riviera Nayarit bohemian surf town of Sayulita hosts a film festival with beachside and private screenings, live music, a lecture series, master tastings, and tequila and food pairings.
March is Getting Warmer But the Tourism Still Continues
The weather is gradually warming across Mexico, but it remains dry, and the winter season for international tourists continues. Students in the US and Canada have a week off in March and April, and many flock to Mexican resorts like Cancun, Puerto Vallarta, or Cabo San Lucas for weeks of crazy partying.
Weather – With March finally here, temperatures are a little bit rising. The average temperature has risen two degrees to 25°C, with afternoon highs of 30°C possible.
Due to the fact that there was only 40mm of precipitation over four days, this month is significantly drier than February.
This is the best time to visit Mexico, particularly in destinations like Cancun where a lot of college students come for spring break to party. With the low temperature at 22°C, you won't need any cool weather clothes, but if you plan on going sailing, a sweatshirt would be a good option.
Attractions – March is a busy month in Riviera Maya beach resorts, with cruise passengers joining swarms of drunken spring breakers to enjoy the warm weather. Instead, go inland to see Mayan ruins or the Piedra Herrada refuge, where you can see woodlands that are soaked in orange as Monarch butterflies mate before they make their way back to the North side of the continent.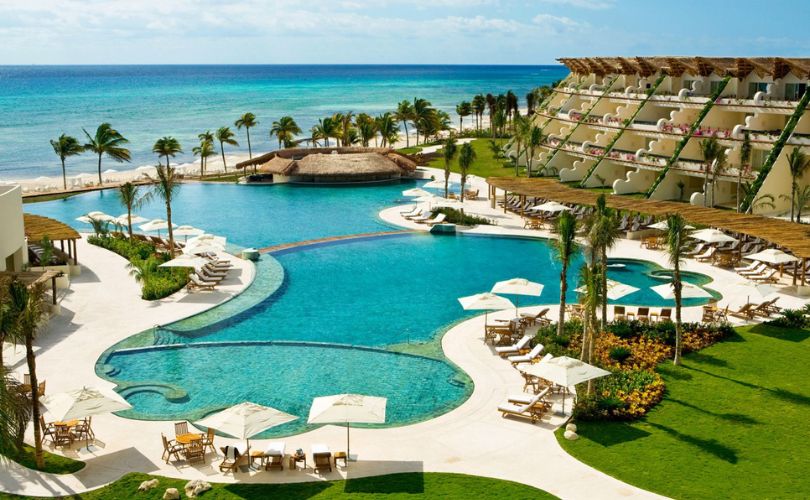 The whale-watching season ends in late March in Mexico.
Key festivals & events – The Night of the Witches is an annual celebration held in Catemaco, Veracruz, on the first Friday in March. The event includes mystics, therapists, and tarot card readers. You may get your palms read as well learn more about alternative therapeutic techniques.
Visitors swarm Chichén Itzá on the Vernal Equinox in March to observe shadows that resemble serpents ascending or descending the El Castillo pyramid. Every equinox has a week before and after it that has almost the same effect.
April Stays Dry, Crowds on the Peak
The Yucatán Peninsula's hot and sunny season is the best time of year to visit Mexico for some relaxation. It's also getting quite warm outside in Mexico City and the other ancient towns and communities.
Weather – The weather remains dry despite the rising temperatures. Since the afternoon highs have risen to 32°C, the climate has been clearly warming.
You should pack plenty of sunscreen and a wide-brimmed hat for protection because you can anticipate extreme heat and nonstop sunshine. Now, picture yourself wearing flip flops, crop tops, breezy gowns, and bikinis.
Attractions – Plan ahead if you want to be near the coast in April because it is also the peak of the cruise season in Mexico. This is when enormous ships discharge thousands of day-trippers.
Spring break ends by mid-April, which provides some reprieve. The seaside tours & activities are confined to less-traveled locales like tribal settlements in the highlands.
Key festivals & events – Mexico's biggest holiday week of the year, Semana Santa (Easter Week), which can fall in March or April, is a busy time for travelers. Many businesses close their doors in inland cities. Numerous locations observe Good Friday with solemn processions. On the other hand, audiences witness a recreation of the Death on the cross at Iztapalapa, Mexico City.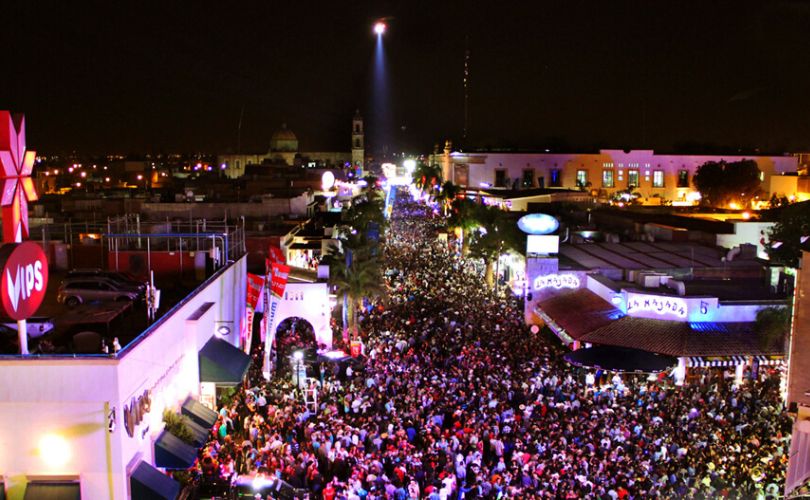 The San Marcos National Fair, which lasts 22 days in mid-April and features bull riding and boxing matches, sombreros, ballet, and jazz, is the biggest fair in the country. Additionally, there are fireworks, marketplaces, and craft fairs.
Festival de San Luis lasts for a week in early April, and comprises performances in all forms of fine art, including theater, comedy, musical, and choreography. Numerous events, symposia, galleries, and summits are also hosted every year.
May Display Low Season of Tourism, Cheap Accommodations
Temperatures reach annual highs in locations such as Mérida, Guadalajara, Oaxaca, and Mexico City. There are lower hotel rates because it is off-peak travel season. The Pacific Coast begins to experience consistent surf.
Weather – May is an excellent month to explore the Pacific coast, as tourist crowds thin and temperatures rise but do not become unbearably hot. Although afternoon highs sometimes reach 33°C or slightly more, the daily average temperature is 26°C. Additionally, the nights are warmer, with temperatures rarely falling below 18°C. Though the rain increases slightly to 18mm in May, you won't see much of it. Pack summary attire for the days and a light sweater for after dark.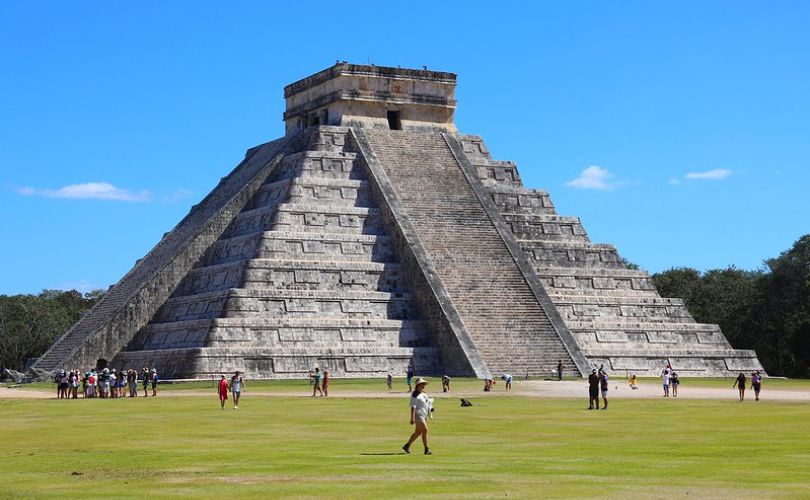 Activities – It's the best time to visit Mexico City and other places like Tulum, Chichen Itza, and Palenque. May in Mexico is a "shoulder month, which means that the Pacific Coast is much quieter than it was in March and April.
Key festivals & events – Cinco de Mayo and a valiant victory over the French are both celebrated in Puebla On May %, in central Mexico.
The annual Pride Vallarta LGBT celebration, which takes place in Puerto Vallarta for two weeks in the second half of May. It features wild parties, rock concerts, beauty events, a mass commitment ritual, and other activities.
Beginning with the start of the rainy season, the southeast, certain areas along the Pacific coast, and the central highlands will experience intense downpours.
Both the number of visitors and lodging rates are still low.
Numerous locations along the Pacific coast, such as Puerto Escondido and its fabled Mexican Pipeline, benefit from excellent surf. Typically, the largest waves occur between June and August. Beginners have practically the entire year to learn how to surf.
Weather – It's the rainy season for Mexico. It also heralds the start of hurricane season. The temperature will be warm, with afternoon highs occasionally rising to 33°C.
With 227mm of precipitation this month, the chances of rain are high, however there will be plenty of sunny spells in between. With the low temperature now at 21°C, nights are rather comfortable.
Pack sun protection, lightweight summer apparel, and possibly a raincoat for the rain.
Activities – This is the start of hurricane season, when residents along the coasts prepare to rip down the ports.
June in Mexico heralds the low season, so places like Mexico City and Cancun are noticeably less crowded.
In order to see Mexico's Mayan ruins without a busload of tour groups, June is the best time of the year to visit Mexico.
Key festivals & events – Throughout Mexico, where St. Peter is the national patron saint, June 29 is observed as a feast day. Parades, mariachi bands, and folk dancers are all part of the main celebrations, which are held at San Pedro Tlaquepaque.
Mexico's Navy Day is commemorated on June 1. It features fireworks and military parades throughout the country to honor the country's marine service men and women.
July is Busy with Crowds and Rains. Hotel Prices Soar
July is a month of summer vacation for both foreigners and Mexicans. It is wet in the southeast, the central highlands, and along the Pacific coast. As a result, many tourist spots are busy and have higher pricing.
Weather – July in Mexico is busiest and rainiest, yet despite this, the mornings are almost always nice and sunny, or at the very least, partially cloudy.
You can easily schedule outdoor activities around rain, which is a common occurrence this month in the late afternoon.
The high temperature is still a comfortable 24°C on average. Because there are likely to be many visitors right now, pack as you would for June, and make sure you reserve lodging far in advance.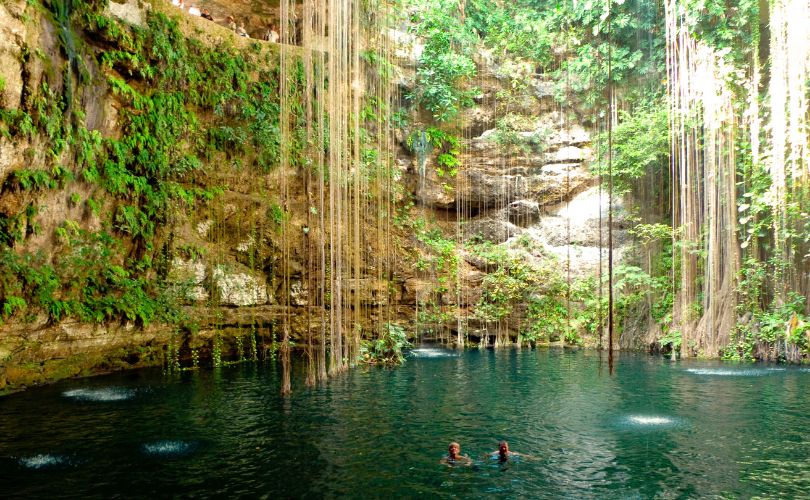 Activities – The Mayan Riviera is a beautiful place to swim in the heat, with many Mexicans also on vacation.
Showers are most common in the afternoons and are rarely heavy enough to impede trips.
From July through September, whale sharks are frequently spotted off the Yucatan Peninsula. enormous whale sharks converge off Isla Contoy, north of Cancun, to feed on plankton. The water temps are great for swimming with giant creatures, making it one of the best things to do in Mexico.
Key festivals & events – Guelaguetza Dance Festival takes place in late July and is one of the most well-attended events in Mexico. It attracts tourists from all over the world who come to see the locals from the seven nearby regions. Localswho assemble in the amphitheater of Oaxaca while dressed in traditional attire and frequently vibrant masks.
This country's largest film festival, which celebrates and promotes film in Mexico and beyond Latin America, is held over a week in late July.
August In Mexico is Brutally Hot, Brutally Wet!
The summer vacation season continues, as do the rains, but they are less heavy in most locations. It's really hot in the north from June to August.
Weather – The weather is relatively similar to July, with afternoon highs averaging around 24°C and evenings decreasing to 12°C. The temperature may reach the upper 20s on some days, but as soon as clouds and rain appear, it immediately drops.
The rain does lessen slightly, with 50mm falling over 19 days, with the majority falling in late afternoons and more in the early part of the month.
Activities – Regardless of the weather, bargain hunters enjoy reduced airfare costs and discounts on cultural experiences. Adventuresome travelers can choose from a variety of overland itineraries that visit Central American nations like Guatemala, Nicaragua, Honduras, and Costa Rica.
Key festivals & events – In the middle of August, the entire nation celebrates with special masses and processions in some cities.
The grape harvest festival, which lasts for two weeks in August, honors all things related to grapes and wine. Wine tastings, winery tours, live performances, and great dining are all included.
September Marks the Peak of the Hurricane Season
Rains in September get heavier over the country, especially on the Pacific Coast, where it is practically monsoon-like.
Weather – The Yucatán Peninsula and the shores of Mexico are experiencing their busiest period of hurricane activity, and is not the best time to visit Mexico.
For Caribbean divers, the weather is generally cloudy and rainy, with poor visibility.
However, the inland climate, particularly in Mexico City, begins to cool off and there isn't quite as much rain. In the higher elevations, this marks the beginning of a magnificent season. In Baja, the water is gin-clear.
Activities – Typically, September in Mexico means the rains are ending, there are lots of cheap flights. Popular locations like Oaxaca, Mexico City, Tulum, and Palenque are peaceful.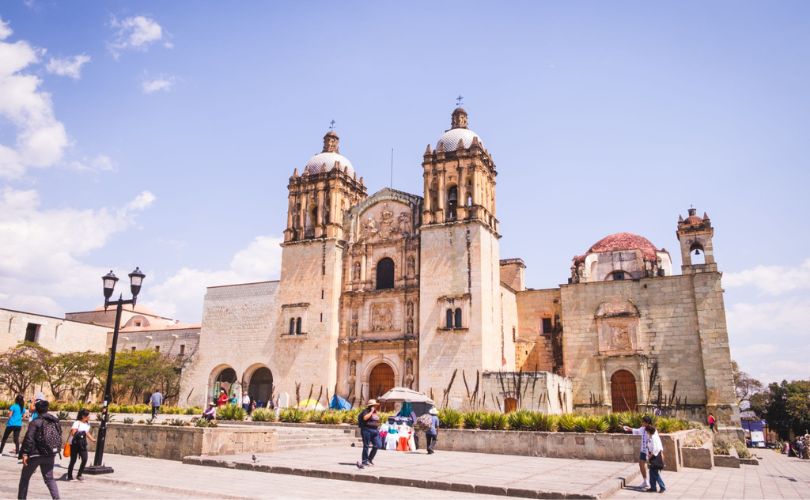 Key festivals & events – Mexico was freed from Spanish rule on September 15 and 16, which is commemorated nationwide. It involves marches, bbq, and nighttime gatherings of the public to ring the freedom bell and repeatedly yell "Viva Mexico!" The celebrations continue into the early hours of the next day with a dance and other events.
During the first half of September, there are two weeks of the Zacatecas National Fair, which includes a variety of regional cuisines as well as well-known cultural and theatrical events.
October is the Low Season for Tourism
Low season for tourism, with the threat of hurricanes, but rainfall subside everywhere except the Yucatán Peninsula.
Weather – The rainy season comes to an end in October, with precipitation averaging just 20mm on average this month. With afternoon highs remaining in the mid-20s, the weather is comfortably warm.
Because there are less visitors visiting now, you may get some discounted accommodation prices, and attractions are likely to be less crowded.
Pack a thick jacket or sweater for those chilly days spent outside as the temperatures at night are expected to dip to around 10°C.
Activities – October is one of the best months to explore northwest Mexico's Beautiful Canyon country. The temps are neither too hot nor too cold at the canyon's bottom.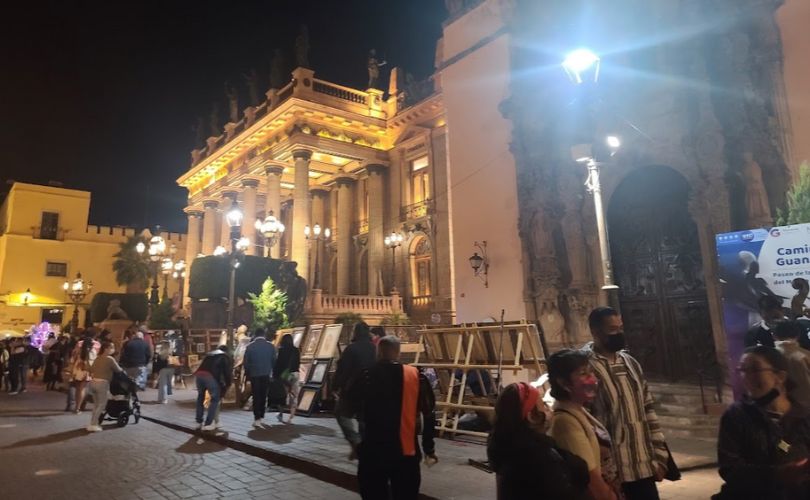 Key festivals & events – International Cervantes Festival lasts roughly three weeks in October, has established itself as one of Latin America's premier arts extravaganzas. It's one of Mexico's most important cultural events. You should reserve lodging well in advance if you intend to travel to this area in October since the colonial town of Cervantino is bustling with artists and tourists from all over the world.
On October 30, the evening before Halloween, locals visit loved ones' graves to place flowers and candles. On the D-day visit one of the many clubs throwing costume parties while children partake in trick-or-treating.
November In Mexico Favors the Snow Capped Peaks, and Amazing Weather
The largely dry weather and sweltering heat are beginning to abate. The center volcanic belt's tall peaks are covered in snow.
Weather – Low season, lower temperatures, and less rain begin in November. Although mornings and evenings will seem chilly and crisp with lows only reaching 7°C.
Afternoons will probably feel very comfortable with highs averaging 22°C and lots of sunshine.
The average amount of rain this month fell over just five days, averaging less than 20mm.
Bring a few items for warmer weather, such as short-sleeve shirts, but focus more on apparel, such as long-sleeve shirts, sweatshirts, and sweaters.
You won't need an umbrella, but you will need sunglasses.
Activities – When November rolls around in Mexico, it's time for the Day of the Dead Festival (Da de los Muertos). This is when Mexicans get together to pay their respects to those who have passed away among carnivals and wacky costumes. As peak season draws near, business picks up later in the month.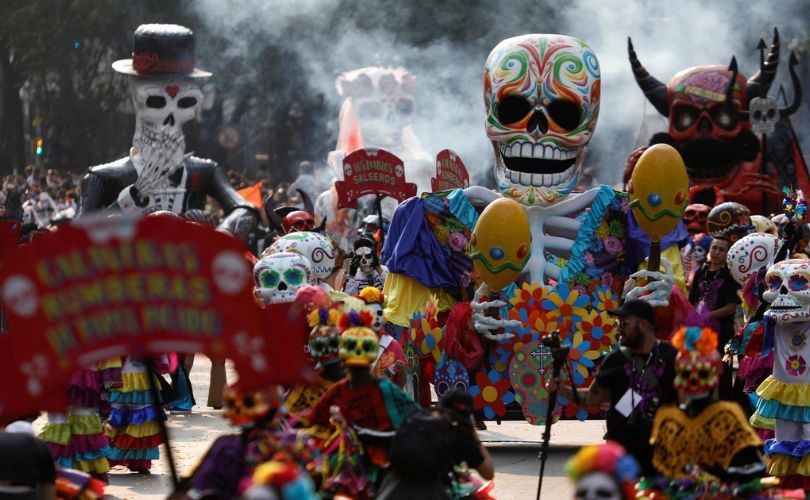 Key Festivals & Events – The National Tequila Fair, which is held annually in Tequila, Jalisco for two weeks in the second part of November, features bull fights, cockfights, pan flutes, fireworks, and demonstrations of the national cocktail.
On November 20, Mexico celebrates the 100th anniversary of the Mexican Revolution with parades, rodeos, and other events.
December in Mexico is as Cool as it Gets
A nearly dry month with the best possible temperature. The start of international winter travel coincides with the Mexican vacation season, when hotels are crowded and rates are high.
Weather – In this area, Mexico in December is severely cold, but for those accustomed to northern temperatures, it probably feels relatively pleasant.
The average high in the afternoon is 20°C, but there are occasionally days when the temperature reaches closer to 25°C as well as days when it doesn't rise over 10°C.
Again, it will be chilly at night and in the mornings, with lows as low as 5°C and a significant chance of frost.
As the holidays approach, anticipate increased crowds and price increases in addition to early in the month's ability to find cheaper hotel rates.
Activities – Gray whales are quite aware that December is a great time to be on the Mexican coast as they begin to assemble in big groups later in the month. It signals the beginning of the whale gazing season in Baja, and is a best time to visit Mexico if you love whale watching.
Key festivals & events – The most significant day of Christmas, which is December 24, when families assemble for midnight meals, is still associated with religion in Mexico.
With street fairs, religious processions, dancing, and fireworks, the Feast of Virgin Guadalupe commemorates Mexico's patroness. The largest celebrations take place in Mexico City, where tens of thousands of pilgrims converge on the Basilica of Guadalupe. The city's squares hosts dance, singing, and other events. Puerto Vallarta hosts events beginning December 1 and lasting until December 12, with the last days involving round-the-clock processions and a big fireworks show on December 12.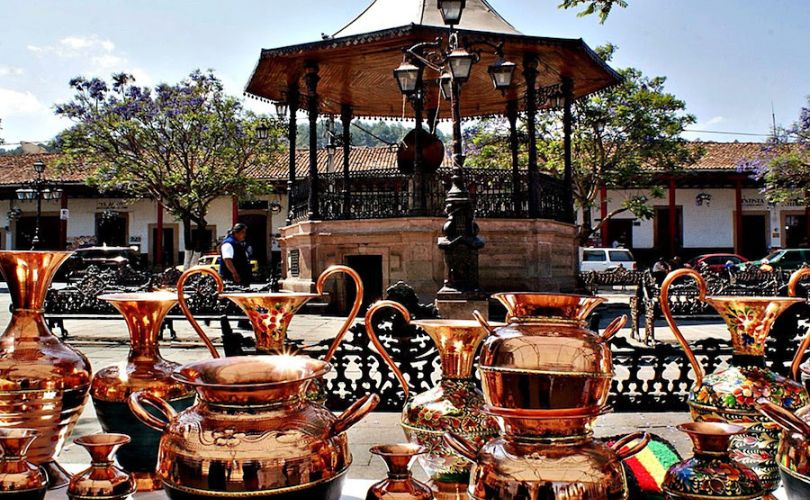 New Year's Eve festivities are held in Mexico on December 31. Most of them feature celebrations and fireworks at midnight, just like they do everywhere else. Both Santa Clara del Cobre, which is well-known for its lighted procession of Christ, and Tlacolula hold special celebrations, which include commemorative mock battles.
When are You Planning Your Trip to Mexico?
Hopefully, this was a helpful guide on the best time to visit Mexico, while also highlighting some of its year-round highlights.
If you are planning a trip to this country, you should definitely consider visiting as early as you can.
Whatever your reason for deciding to visit Mexico, whether it be for business or pleasure, there is little chance you will be disappointed when you depart.
The beautiful weather conditions, exhilarating activities and stunning views will no doubt make your vacation memorable and one that will last a lifetime. Good luck on your travels!